The Top 25 Best Grilled Chicken Recipes that are healthy, light and easy to whip up. From Grilled Chicken Thighs, to BBQ Chicken, to Chicken Salads and a Chicken Spice Rub – everything you need for one tasty grilling season! These simple chicken recipes will make a perfect summer dinner everyone will love.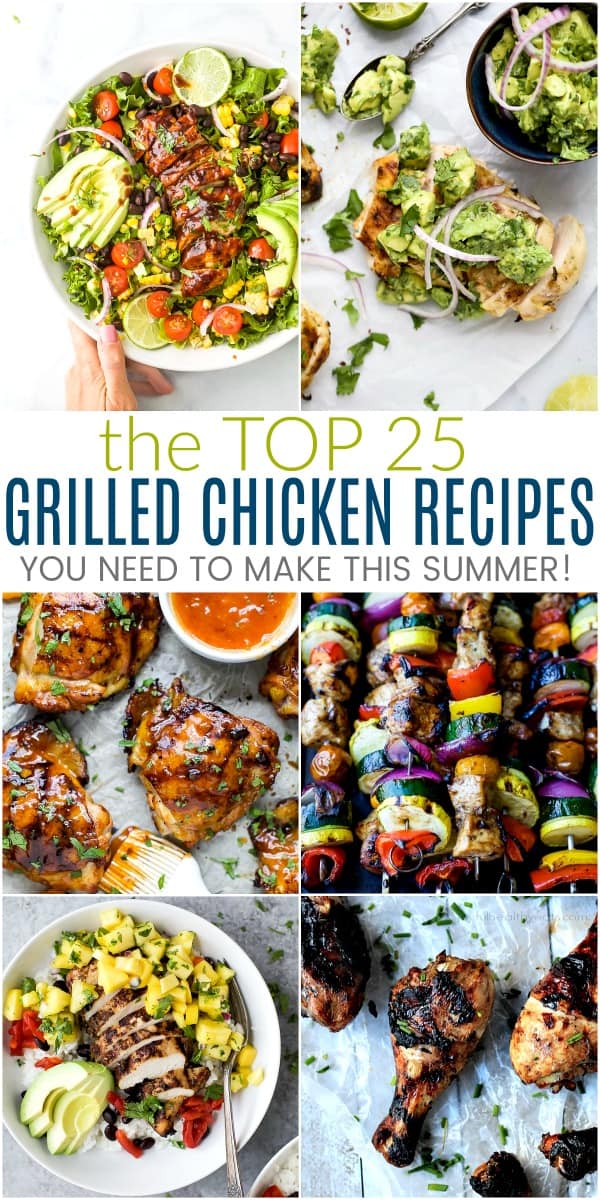 The Best Grilled Chicken Recipes
So believe it or not, one of the most searched items on my site is "grilled chicken recipes." The funny thing is, as I searched this item myself I realized, holy cow I really do have AH – LOT of Chicken Recipes but I also a ton of GRILLED Chicken Recipes. So I guess it makes sense why it's the most searched item.
Today I put together one show stopper collection of the BEST … no the TOP 25 Grilled Chicken Recipes on my site, that in my humble opinion, you need to make ASAP. All of these recipes have grilled chicken in them as the main part of the dish but most importantly they are bursting with flavor and scream summer!
So, pull out your grill brushes. Scrub down your grates and get to grilling, you've got a lot of delicious recipes to make!
This is my favorite spice rub for chicken of all time and leads to the most flavorful moist chicken you'll ever have, done in less than 20 minutes!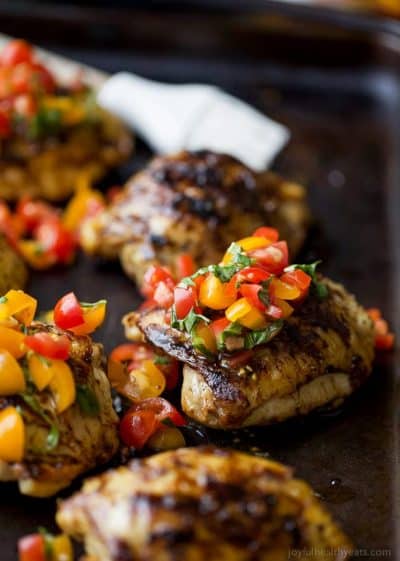 If you like Balsamic then you're going to love this Balsamic Grilled Chicken Thighs topped with a fresh tomato Bruschetta. An easy 30 minute meal that's refreshing light and filled with fresh summer flavor.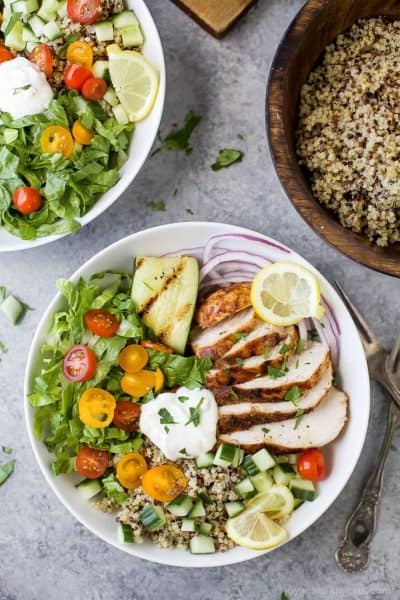 When in doubt, put it in a bowl! This Healthy Chicken Shawarma Bowl is served on a bed of quinoa & lettuce, topped with grilled chicken, fresh veggies and a Garlic Yogurt Sauce.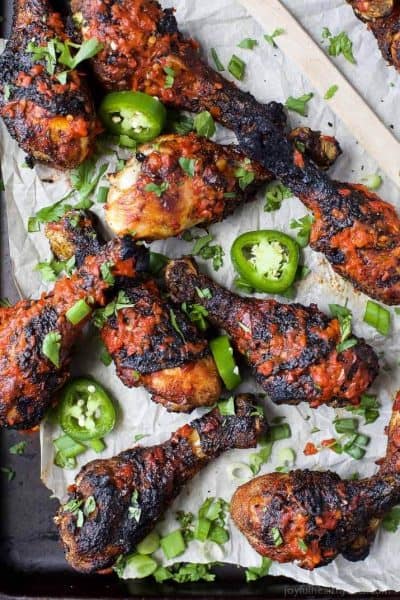 Change up your normal grill game with this Moroccan inspired dish! Moroccan Harissa Grilled Chicken Legs make the perfect grilling recipe to wow your crowd this summer!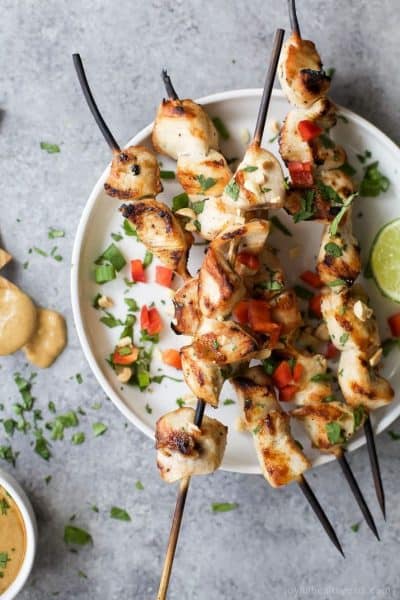 A meal the family will go nuts for, trust me, I know from experience! Grilled Sesame Lime Chicken served with a homemade Spicy Thai Peanut Sauce. Ya'll, I'm warning you right now just make a double batch of the sauce. You're gonna need it!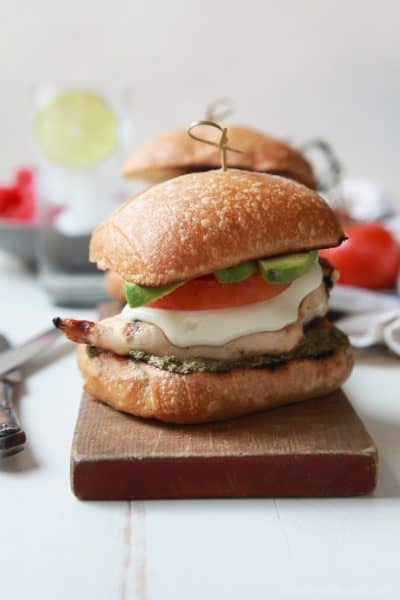 Sometimes you just need to make a sandwich and eat it too! Easy, delicious, and perfect for the warm weather this Grilled Avocado Caprese Chicken Sandwich slathered with a basil pesto is the stuff dreams are made of!
You'll be making this easy chicken recipe on repeat all summer, the glaze is so easy to make and ridiculously good! Sweet & Spicy CHIPOTLE APRICOT GRILLED CHICKEN THIGHS – juicy smoky chicken thighs slathered in an easy chipotle apricot glaze that'll make you swoon!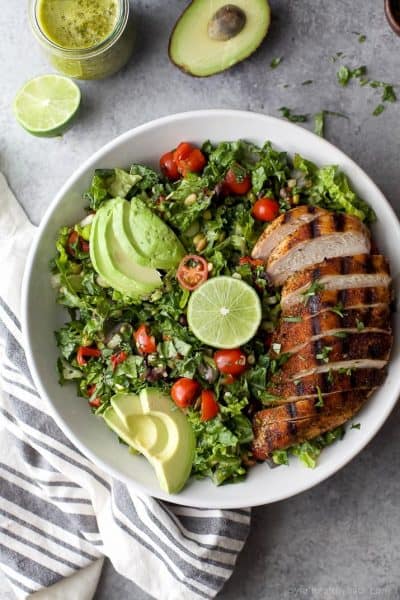 Up your Salad game this summer with an easy MEXICAN CHOPPED SALAD filled with kale, grilled vegetables, avocado and grilled chipotle chicken and drizzled with the most epic POBLANO DRESSING.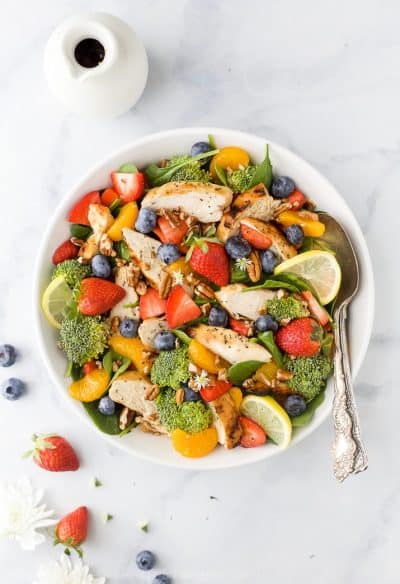 You're going to be over the moon for this Detox Strawberry Chicken Salad filled with juicy strawberries, mandarin oranges, blueberries and grilled chicken then drizzled with a Honey Mustard Dressing. It's the perfect light easy dinner to satisfy the family!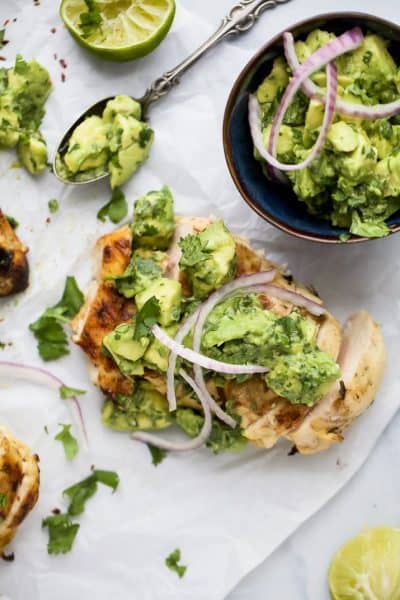 Tender Juicy Cilantro Lime Chicken made with a quick cilantro lime marinade to infuse the chicken and then grilled to lock in all the flavors then topped with a fresh zesty Avocado Salsa.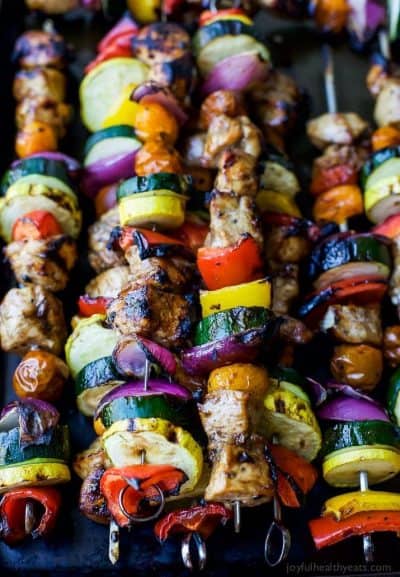 Summer Grilling is on ya'll which means kabobs should be your jam! And these GRILLED BALSAMIC CHICKEN KABOBS are filled with juicy sweet balsamic flavor and grilled to perfection – only 251 calories a serving!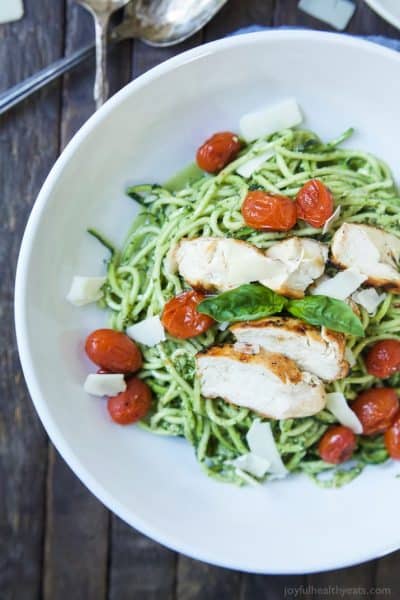 An easy dinner recipe for a busy week, and all you need is a spiralizer and a grill! Pesto Chicken Zoodles with juicy grilled chicken and burst tomatoes, full of bold flavors, high in protein, and in low carbs!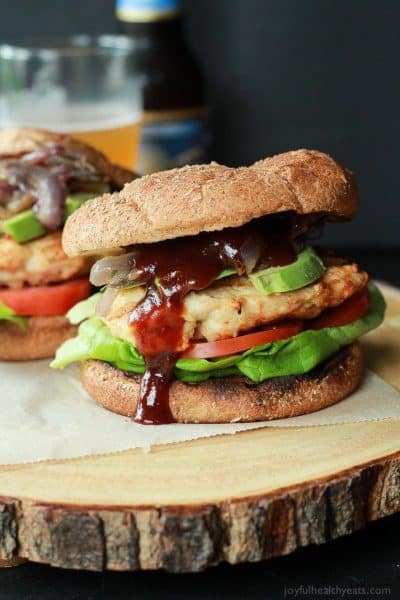 We can't talk about grilling without talking about burgers! This Juicy BBQ Chicken Burgers is moist and flavorful, topped with sweet Caramelized Onions and drizzled with savory BBQ Sauce. A must make for sure!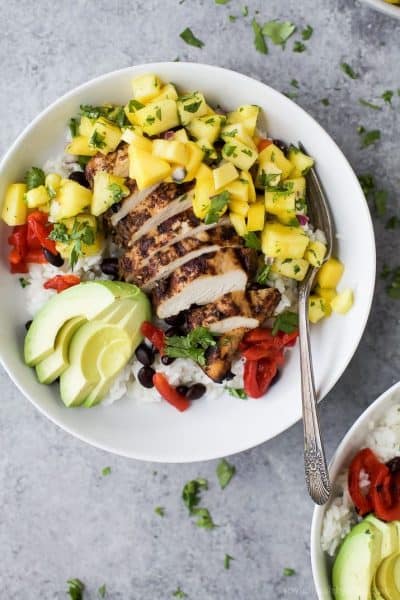 Spice up your menu and get ready for a trip to Jamaica with these Grilled Jerk Chicken Bowls served over Coconut Rice and topped with a Mango Pineapple Salsa.
Hands down this is one of my favorite sauces of all time! Sweet & Spicy HONEY SRIRACHA GRILLED CHICKEN THIGHS – juicy smoky chicken thighs slathered in an easy Honey Sriracha glaze. What more could you ask for!?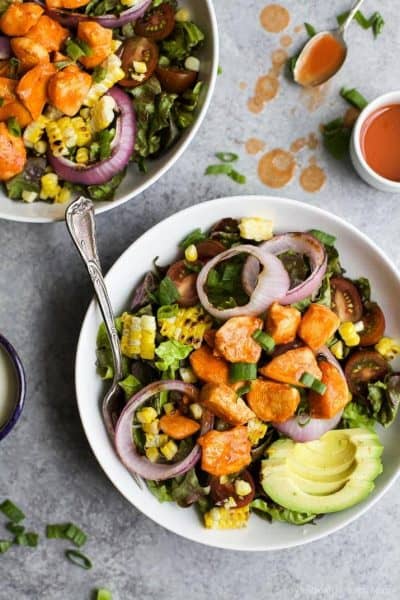 This is one of my husbands favorites and a great way to satisfy that "buffalo wing" craving! Grilled Buffalo Chicken Salad smothered in buffalo sauce and filled with grilled vegetables for one delicious bite!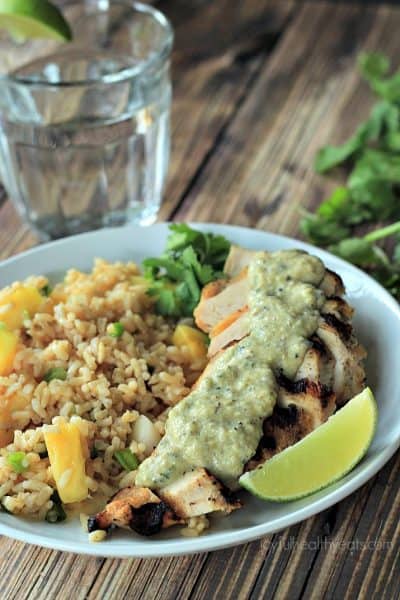 This one is an old one but a classic! Perfectly Grilled Chicken topped with a creamy roasted poblano sauce made from grilled tomatillo and poblano peppers. Done in less than 30 minutes!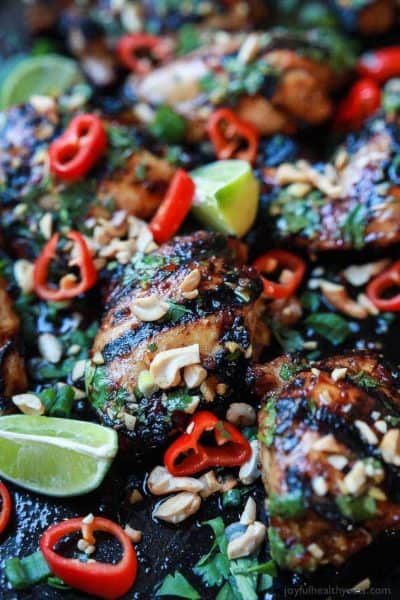 I'm a lover of all things Thai flavored and this Gluten Free Spicy Thai Grilled Chicken is no different. The sauce is filled with bold asian flavors that soaks into the chicken leaving you with extremely moist tender meat! Sooo good!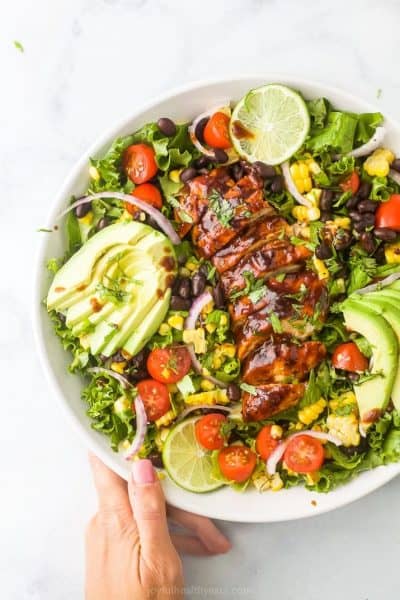 This light & easy 30 Minute BBQ Chicken Salad makes the perfect family dinner and comes together fast. Filled with juicy grilled bbq chicken, fresh veggies, black beans, avocado and a cilantro lime dressing – it's hands down better and healthier than Panera's BBQ Chicken Salad!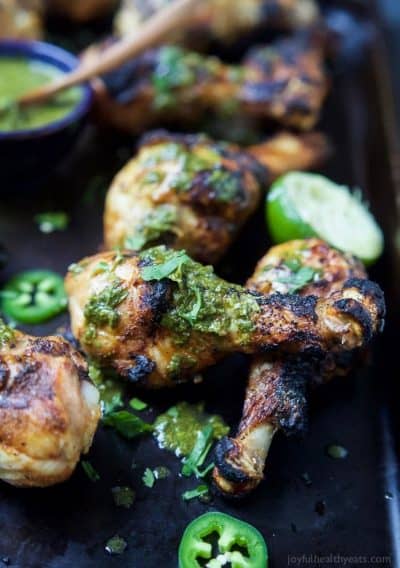 So much flavor packed in a little package! This Spice Rub Grilled Chicken is topped with a fresh Chimichurri sauce for one with fresh zesty flavor packed bite. Easy, healthy and done in 30 minutes.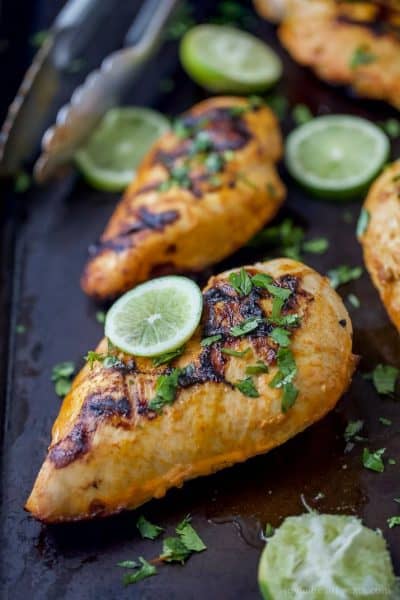 Juicy Thai Curry Grilled Chicken marinaded in a creamy curry coconut sauce then grilled to perfection! This thai chicken will be the star of your dinner table this summer!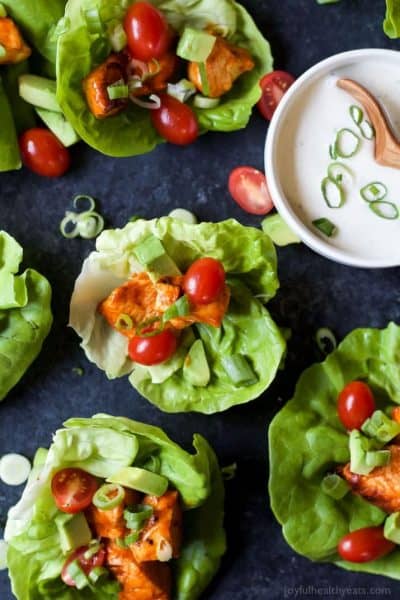 A healthier low calorie way to eat buffalo chicken! Grilled Buffalo Chicken Lettuce Wraps – tender buffalo chicken rolled up in a lettuce cup with fresh tomatoes, avocado and drizzled with ranch! It's a game changer for sure!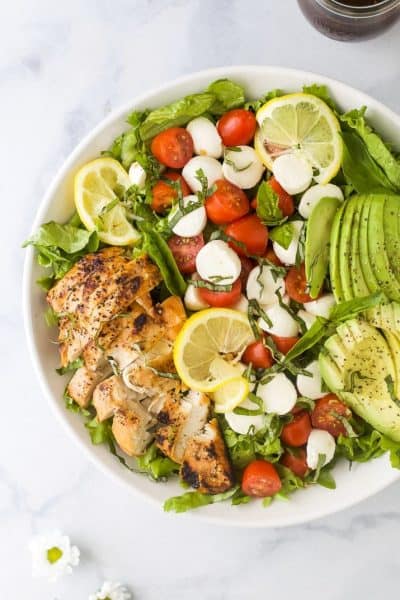 15 Minute Avocado Caprese Chicken Salad drizzled with a light Balsamic Vinaigrette. Seared chicken, fresh mozzarella, tomatoes and creamy avocados topped with shredded basil. A light refreshing salad that's perfect for summer!
Balsamic makes all things better. Am I right? This Sweet 'n Savory Balsamic Glazed Grilled Chicken Legs have a hint of fresh rosemary and grill up in no time.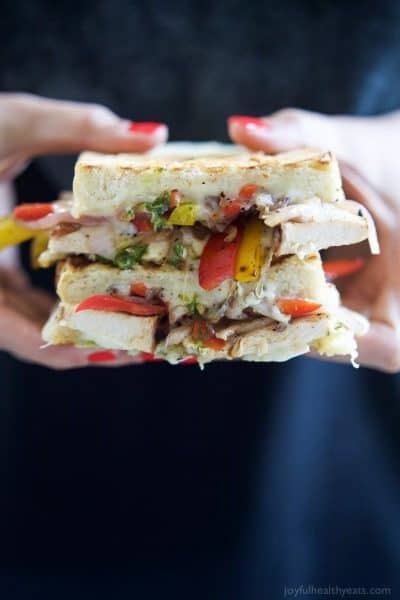 Come to momma! Grilled Chicken Fajita Panini filled with juicy spice rubbed chicken, grilled peppers and onions, creamy fontina cheese and zesty chimichurri for the perfect sandwich bite. OMGee ya'll! You want … no you NEED this sandwich in your life!
What to serve with Grilled Chicken?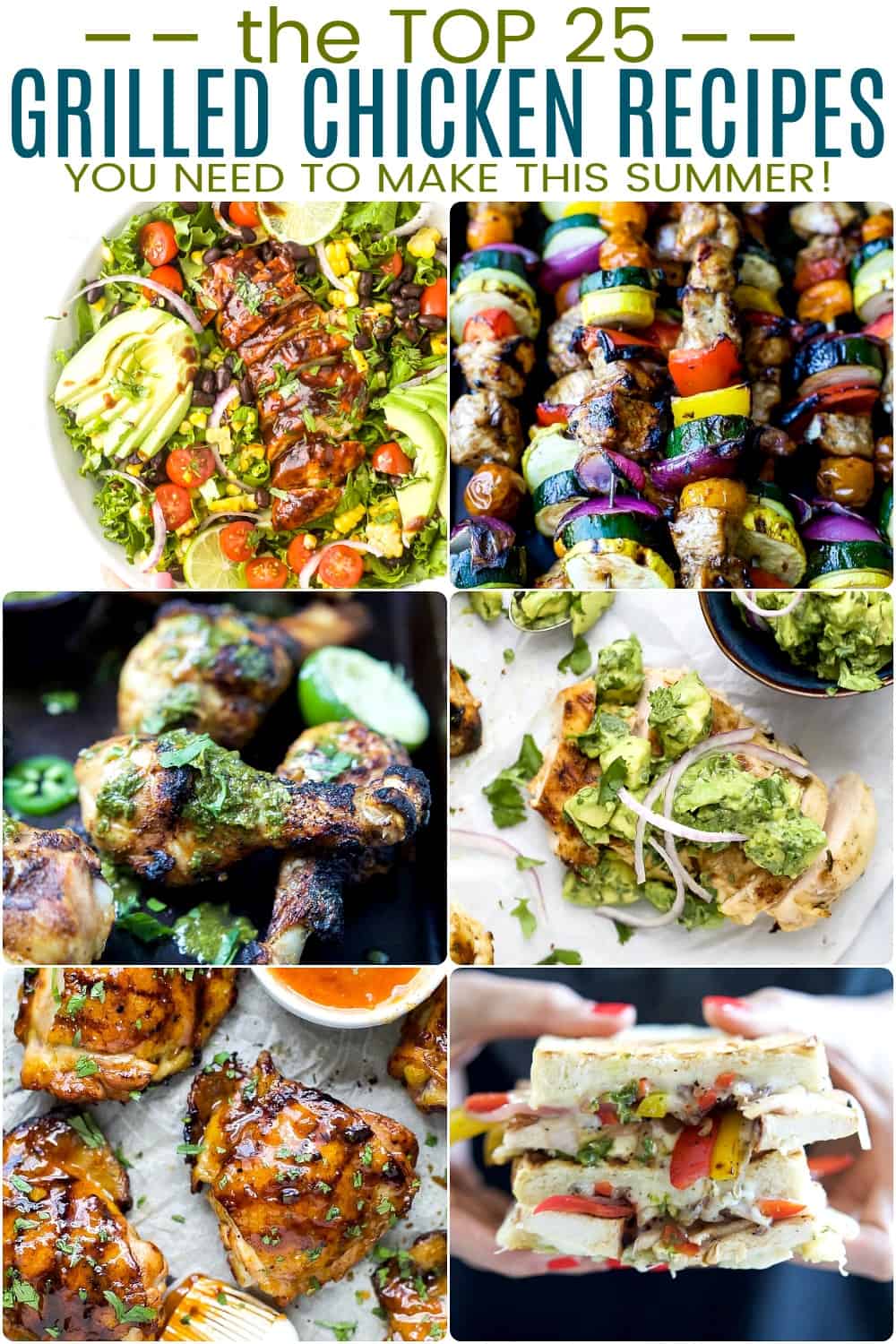 DON'T MISS A RECIPE ->