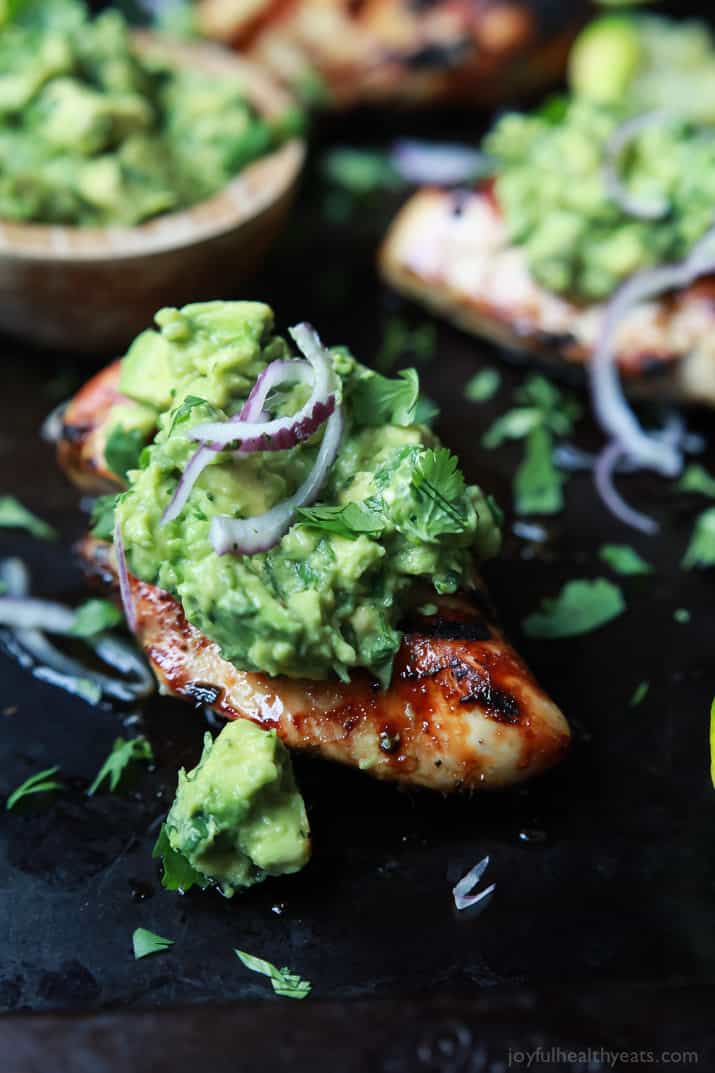 Grilled Cilantro Lime Chicken with Avocado Salsa – a healthy, easy, 30 minute meal packed with fresh zesty flavors. 
Recently we were in Breckenridge celebrating a late Christmas with my husbands family. My sister-in-law kept repeating all weekend… there are 17 of us… 17!!!
The coolest part of the weekend was that my husbands brother and his family (wife and two boys) were able to fly in from Cuenca, Ecuador where they are doing mission work! This was the first time in a year and half that they have been in the US. Kinda crazy right!?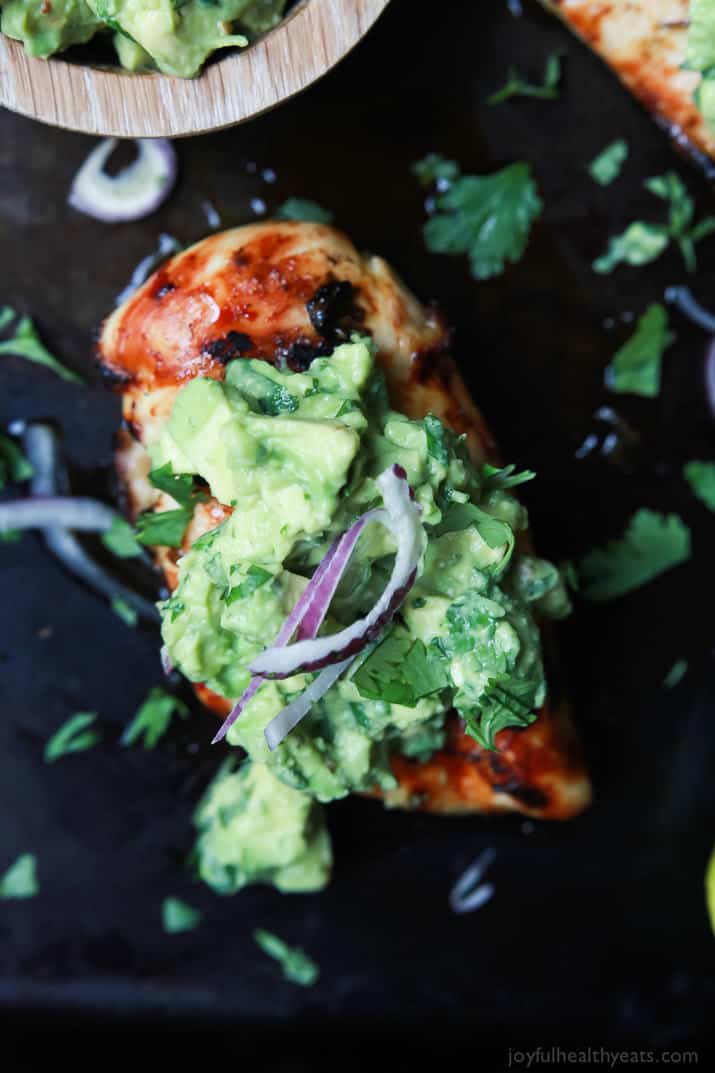 It was actually kinda funny seeing their reaction to certain things. They were craving Chick-fil-a, Tex-mex food, long walks through Target, Panera Salads, and buying in bulk at Costco. I think I walked through Costco with them for like 45 minutes as they just looked at up and down the aisles throwing everything they couldn't get back in Ecuador in the cart!
They ended up with eight suitcases, one cooler, and one rubbermaid container full of things from the states when they left Colorado! I'd say that was a successful trip! 🙂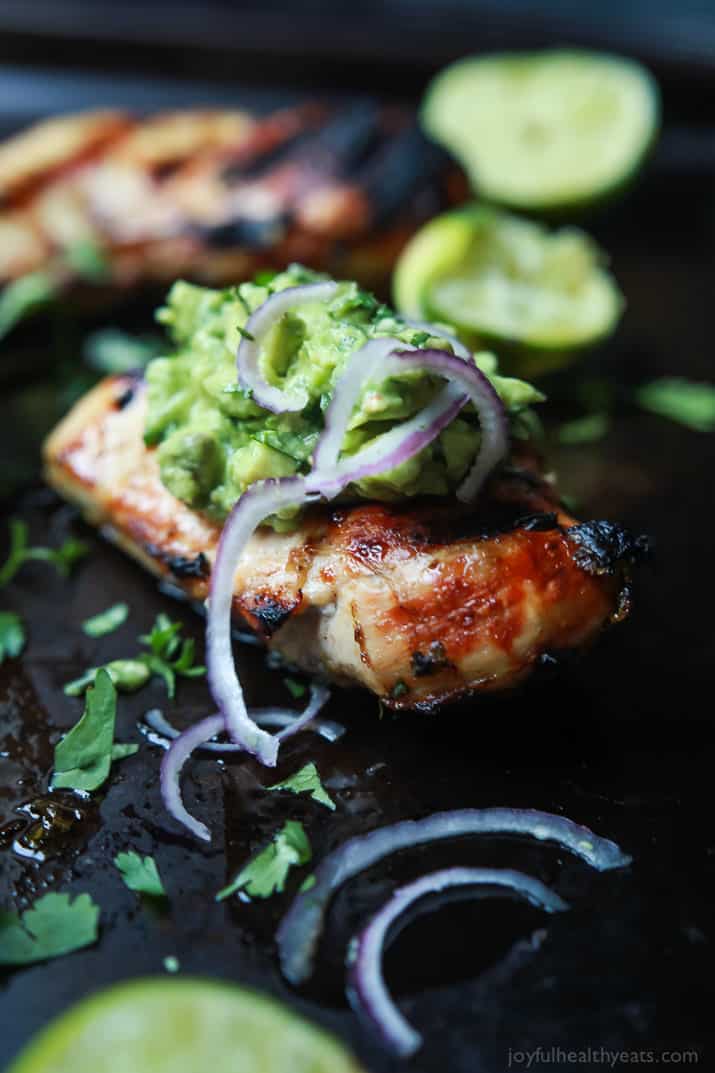 In the midst of the all the shopping my sister-in-law looked at me and said, "if you were in Ecuador for a year what would you miss most?"
Without even thinking about it I said, TEX-MEX food! I have been spoiled living with a plethora of Mexican food options in Texas and I would definitely miss it. The queso, the margaritas, the fajitas, the creamy enchiladas, all the chilis and spicy peppers … I'm not sure I could do without!
Or at least it would be really really hard!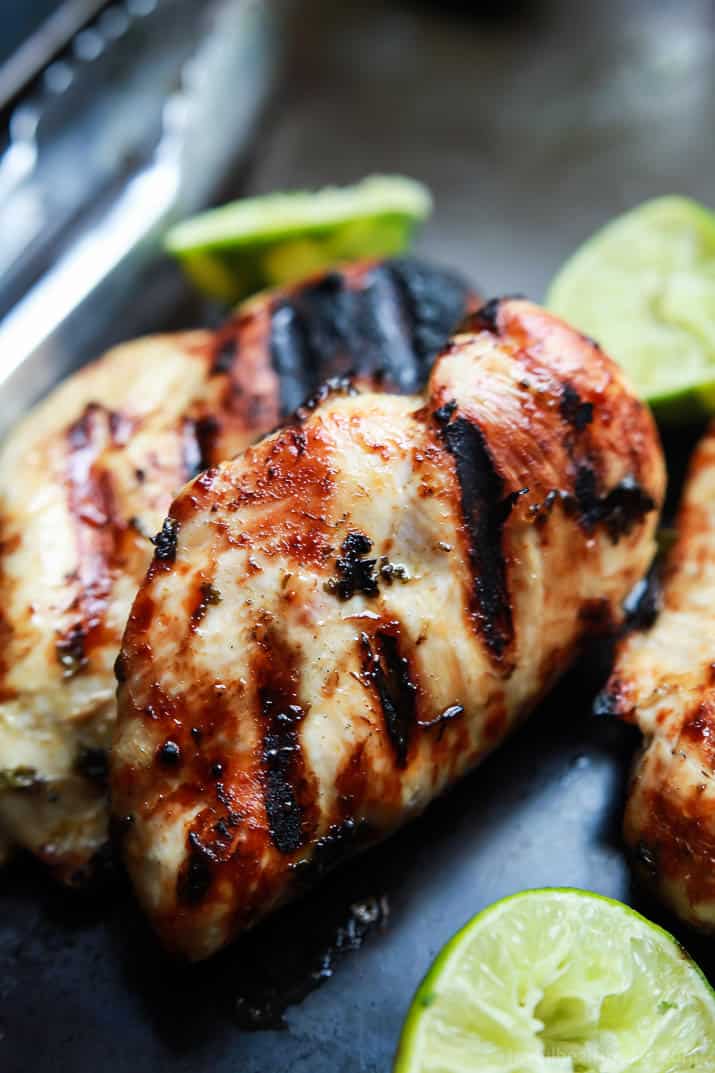 So in honor of my sister-in-law and her similar love for Tex-Mex food and all things yummy, today's recipe is all about the zesty flavors of latin cuisine!
This Cilantro Lime Chicken is marinated with fresh zesty lime juice, earthy ground cumin, and fresh cilantro. You could pan sear it if you're under 2 feet of snow or if you want a real delicious juicy chicken, grill it to create a charcoaled taste and sear in all  flavor.
While the Chicken itself is amazing, the kicker and element that takes this dish over the top is the avocado salsa on top!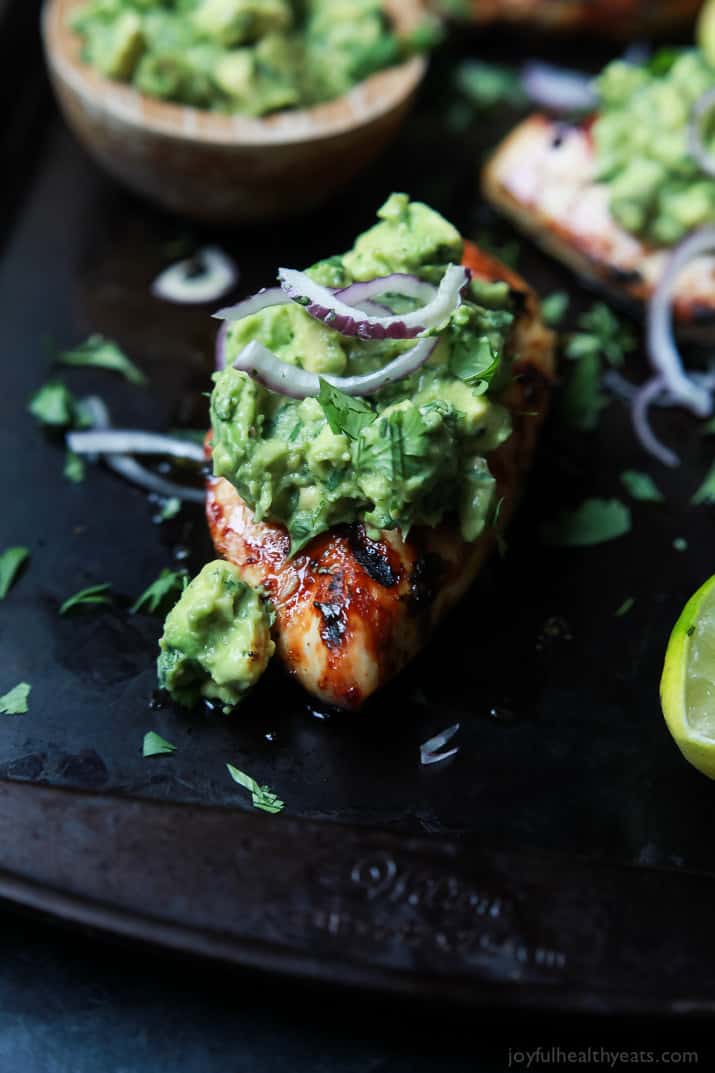 Holy Hannah is this stuff good! Although, can anything with avocado in it be bad? I think not!
The Avocado Salsa is creamy, zesty from the lime juice and red wine vinegar, slightly spicy from the red pepper flakes, and absolutely addicting! The combo of the Grilled Chicken with the Avocado Salsa will blow your taste buds out of the water!
I hope this recipe makes you think of summer! Enjoy my sweet friends and happy Monday!
Bon Appetit!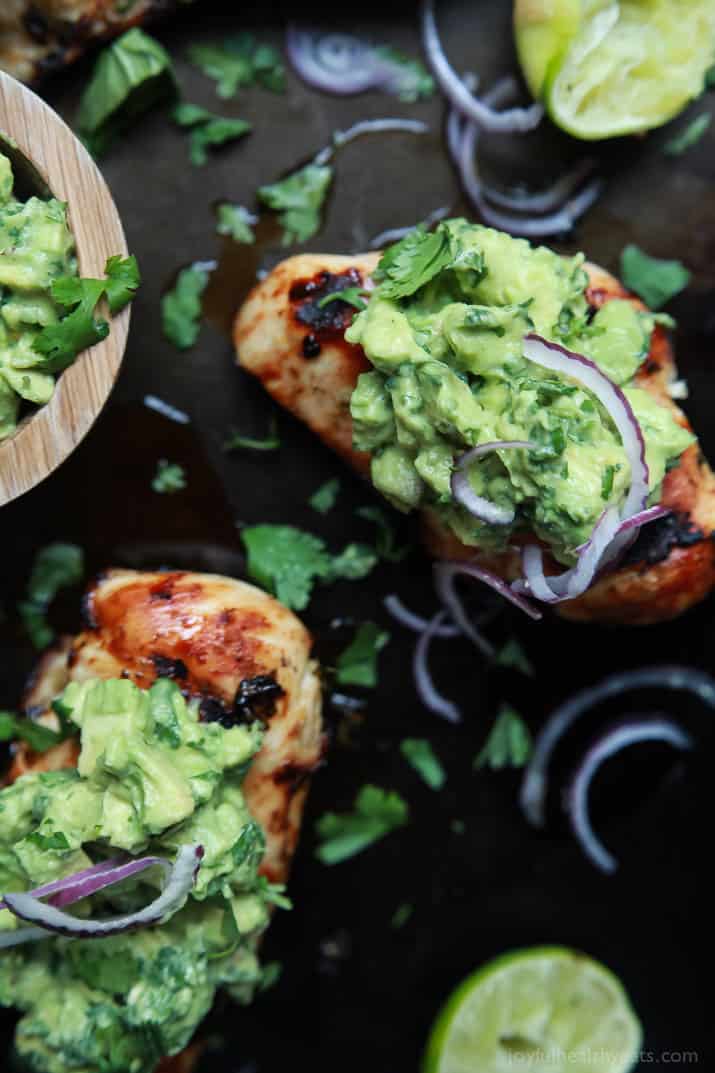 Print Cilantro Lime Chicken with Avocado Salsa
Author:

Prep Time:

15 mins

Cook Time:

12 mins

Total Time:

27 mins

Yield:

4

Category:

Paleo, Gluten Free, Poultry
---
Ingredients
Cilantro Lime Chicken:
1.5 lb. boneless chicken breast
1/4 cup lime juice
2 tablespoons olive oil
1/4 cup fresh cilantro
1/2 teaspoon ground cumin
1/4 teaspoon salt
Avocado Salsa:
4 avocados, diced
1/2 cup fresh cilantro, diced
3 tablespoons lime juice
1/2 tablespoon red wine vinegar
1/2 teaspoon red pepper flakes
1 garlic clove, minced
salt to taste
---
Instructions
To a small bowl, add 1/4 cup of lime juice, olive oil, 1/4 cup of fresh cilantro, ground cumin, and 1/4 teaspoon of salt. Whisk until mixed.
Add chicken and marinade to a large ziplock bag. Let chicken marinade for 15 minutes.
Preheat grill to medium high heat (about 400 degrees). Place chicken on grill and grill each side for 4-6 minutes, until chicken is no longer pink. Remove and let sit.
To make the avocado salsa: add avocado, 1/2 cup fresh cilantro, 3 tablespoons lime juice, red wine vinegar, red pepper flakes, garlic clove, and salt to a small bowl. Gently toss to mix.
Top Cilantro Lime Chicken with fresh Avocado Salsa.
---
Nutrition
Serving Size:

6 oz. chicken + salsa

Calories:

373

Sugar:

1 g

Sodium:

227 mg

Fat:

29 g

Carbohydrates:

14 g

Fiber:

10 g

Protein:

15 g

Cholesterol:

33 mg
IF YOU MAKE THIS RECIPE, BE SURE TO SNAP A PIC AND HASHTAG IT #JOYFULHEALTHYEATS. I LOVE SEEING WHAT YOU MAKE!
Want More Chicken Recipes?
Smoky Coconut Milk Braised Chicken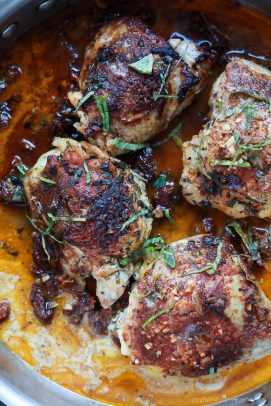 Lighter Baked Chicken Parmesan with Zucchini Noodles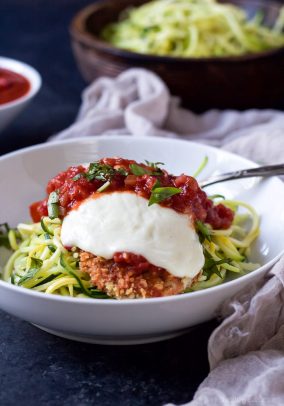 Skinny Chicken Alfredo Pasta with Broccoli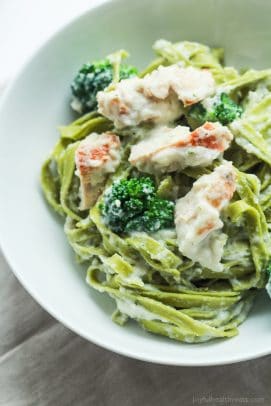 DON'T MISS A RECIPE ->