This grilled chicken breast recipe makes juicy grilled chicken that's made even more perfect with a flavorful homemade spice rub! If you're wondering how to grill chicken, this easy recipe is ready in only 20 minutes and makes the BEST grilled chicken of your life!
My Go-To Grilled Chicken Recipe – It's So Easy!
There are many ways to cook chicken. And since chicken is the main meat we eat in our house (much to my husband's chagrin, he's a beef man) I've cooked it just about every way I can think of.
Pan Seared. Baked. Pouched. Grilled. Rotisserie. Raw.
Just kidding not raw… just wanted to make sure you were paying attention. 🙂
I have to say my top two favorite ways to cook chicken are on the grill and by pan searing. Those two methods tend to be the best at giving the chicken an awesome flavor on the outside, searing in all the goodness, and the keeping the center moist instead of dry!
What's your favorite way to cook chicken?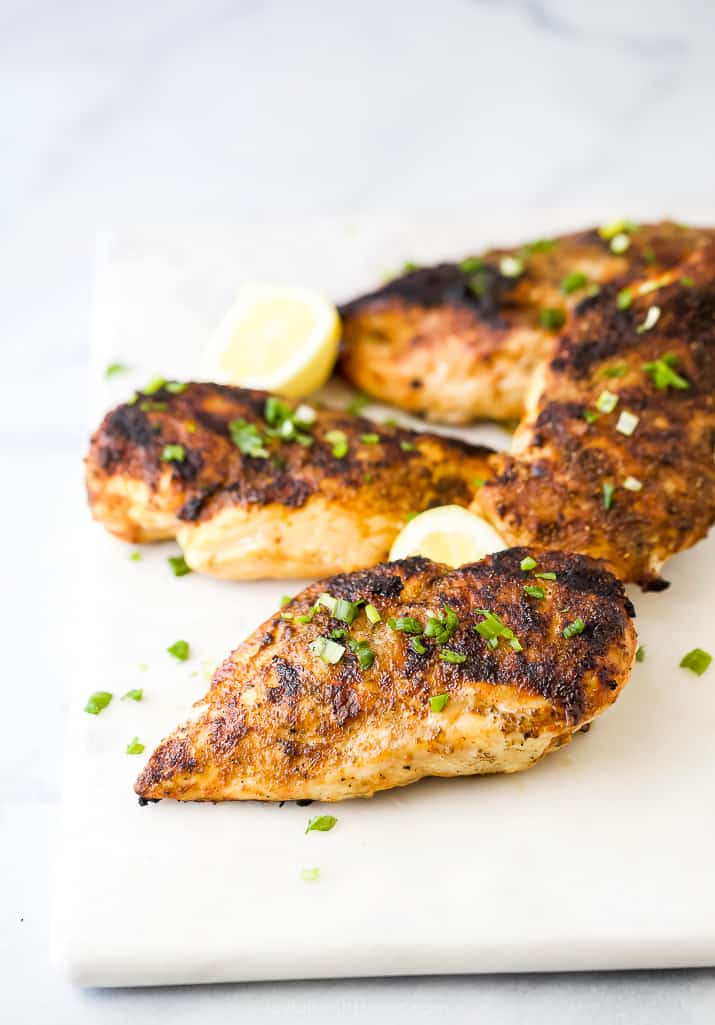 The Secret to Ultra Flavorful Grilled Chicken? Homemade Spice Rub.
Seasoning any protein with just salt and pepper can be great if it's done right, but sometimes I'm just looking for something a little more flavorful. Sure you could add BBQ Sauce and make it BBQ Chicken. But in todays recipe we are going straight up spice rub blend. YES!
You can purchase pre-made chicken seasoning packs, but this homemade chicken spice rub is so easy to make and packs so much flavor there is no reason not to give it a try. Here's what you'll need:
Chicken Seasoning Ingredients
Smoked Paprika – adds a nice smokiness to the chicken
Cumin – gives an aromatic nutty flavor
Coriander – really compliments the other spices and enhances the taste of the chicken
Garlic Powder – gives the spice rub a hint of garlic
Sea Salt – you gotta add salt, it's the primary seasoning in almost every dish
Black Pepper – for the slight hint of pepper
If you want more chicken spice rubs, definitely go check out my post that includes 5 different spice rubs. These rubs can be used for chicken or vegetables! You're welcome. There's a basic spice rub, smoky chipotle spice rub, mediterranean spice rub, lemon pepper spice rub and my favorite a buffalo spice rub!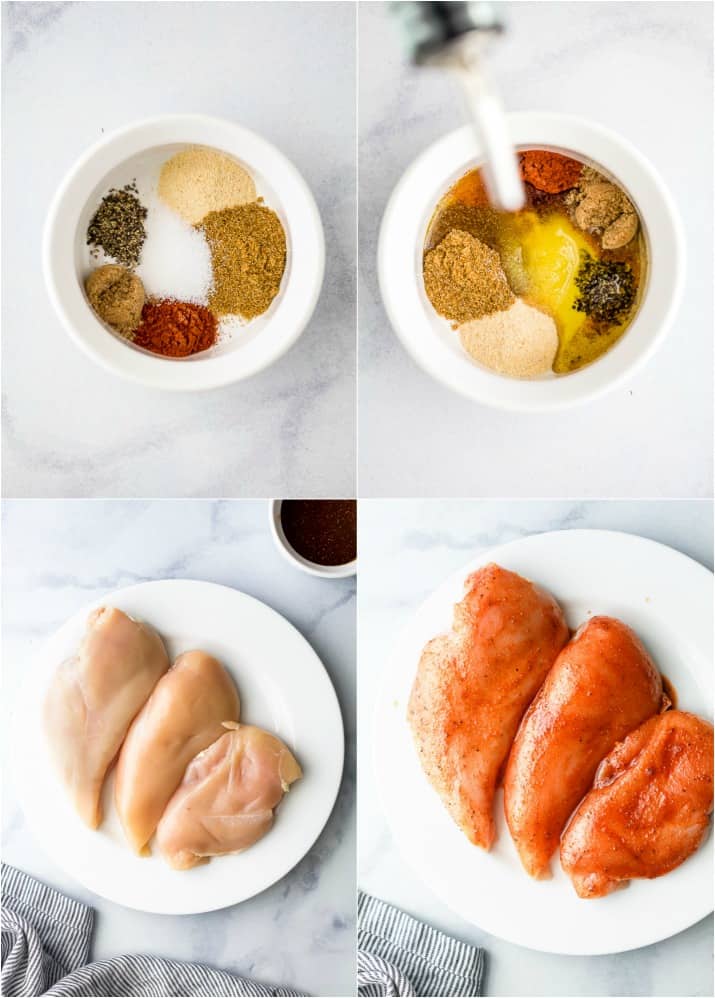 How to Grill Chicken Breast
Bring chicken to room temperature: Make sure that your chicken has rested at room temperature for at least 15 minutes to take the chill off.
Pound chicken: Next, to make sure your chicken cooks evenly, pound the chicken to an even thickness so that everything cooks the same.
Heat grill: Preheat your grill to medium high heat, approximately 375-400°F.
Make spice rub: In a small bowl mix the garlic powder, cumin, coriander, smoked paprika, sea salt, pepper, and olive oil. Mix until combined.
Season chicken: Rub seasoning mixture over both sides of the chicken.
Grill: Place chicken on grill and grill each side for 4-7 minutes depending on thickness or until no longer pink.
Rest & Serve: Let rest for 5 minutes to let juices reallocate and slice to serve.
In This Recipe

How Long to Grill Chicken Breast
In my opinion, the key to a perfectly grilled chicken recipe is not touching the chicken when it's on the grill. Once your chicken hits the grill grates let the grill do all the work.
Set your timer for 4-7 minutes, depending on the thickness of your chicken and flip. If the chicken sticks to the grill it's not done yet. Trust me, your protein will release when it's finished.
Chicken is considered "done" when the internal temperature reaches 165° F. Use a meat thermometer to check the temperature. Do NOT cut into the chicken to see if it's pink this will release all the juices and make your chicken dry. This seems like such a simple thing, but it's the key to keeping grilled chicken moist.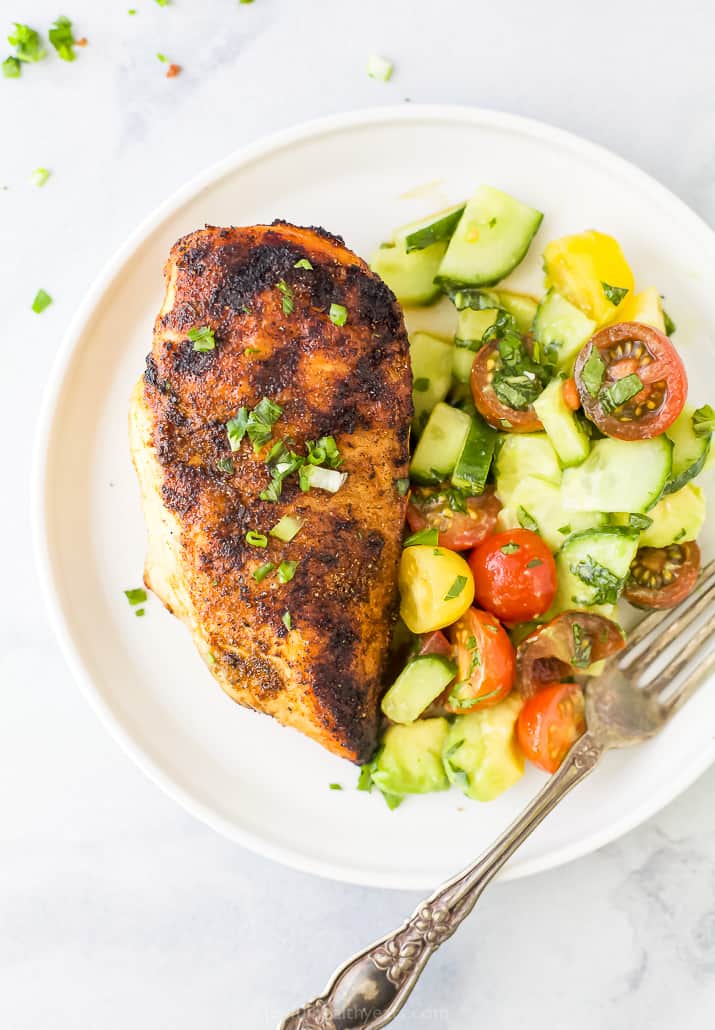 The best part about todays recipe is it's done in under 20 minutes, it's gluten free, and paleo! (And if you want to add a few more in there it's keto and low carb.. just saying.) Hand down the perfect meal for a weeknight – super light, full of flavor and healthy!
Can You Freeze Grilled Chicken?
Yes! First let your chicken come to room temperature.
Then freeze whole pieces of grilled chicken by wrapping each piece in plastic wrap and placing it in a ziploc bag. This helps prevents freezer burn and also ensures that your grilled chicken won't stick together. It also makes it easier to only defrost the amount of grilled chicken you want to eat in the future.
Serving Suggestions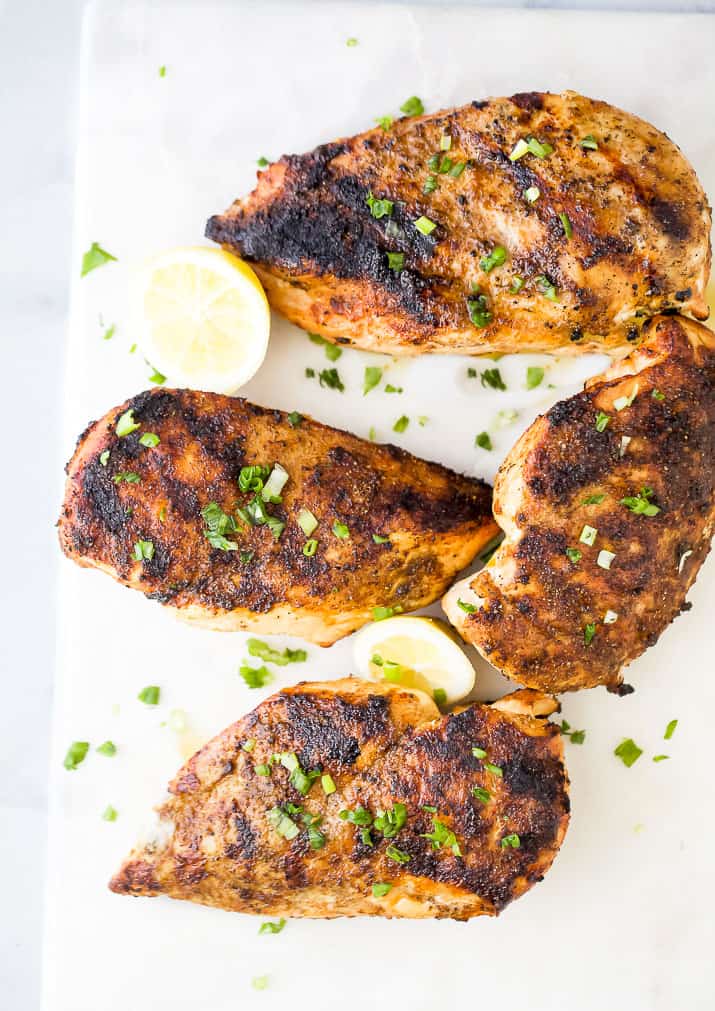 Hope you enjoy! Well, actually I know you will! So I hope you will actually make it!
Bon Appetit Friends!
Print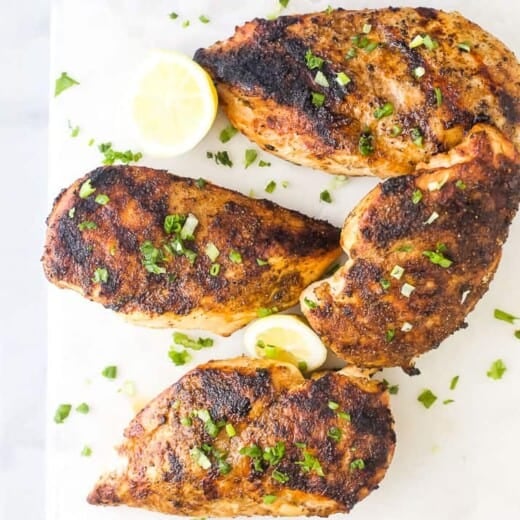 Juicy Grilled Chicken Recipe with Homemade Spice Rub
Author:

Prep Time:

5 minutes

Cook Time:

12 minutes

Total Time:

17 minutes

Yield:

4

chicken breasts

1

x

Category:

Chicken

Method:

Grill

Cuisine:

American
---
Description
An easy grilled chicken recipe that only takes 20 minutes! Full of flavor from an epic spice rub, it's the BEST grilled chicken you'll ever make.
---
4

chicken breasts

1 teaspoon

of garlic powder

1 teaspoon

of ground cumin

1/2 teaspoon

of ground coriander

1/2 teaspoon

of smoked paprika

1/2 teaspoon

of sea salt

1/4 teaspoon

of ground black pepper

2 tablespoon

of olive oil
---
Prepare grill: Preheat grill to medium high heat.
Make chicken spice rub: In a small bowl, mix garlic powder, cumin, coriander, smoked paprika, sea salt, pepper, and olive oil. Mix until combined.
Prep chicken: Rub mixture over both sides of the chicken.
Grill: Place chicken on grill and grill each side for 4-6 minutes depending on thickness. You just want to make sure there is no pink in the middle.
Rest & Serve: Let your chicken rest for 5 minutes, then serve!
---
Nutrition
Serving Size:

1 chicken breast (6oz.)

Calories:

246

Sugar:

0 g

Sodium:

409 mg

Fat:

9 g

Saturated Fat:

1 g

Carbohydrates:

0 g

Fiber:

0 g

Protein:

39 g

Cholesterol:

0 mg
Keywords: grilled chicken recipe, grilled chicken breast, how long to grill chicken, chicken spice rub, easy, best grilled chicken, chicken seasoning, healthy. quick, simple
Filed Under:
*** This post does contain affiliate links. Thank you for supporting Joyful Healthy Eats.**
DON'T MISS A RECIPE:
FACEBOOK | TWITTER | PINTEREST | BLOGLOVIN | INSTAGRAM