This Gluten Free Crunchy Thai Quinoa Salad tossed with a Light Sesame Dressing is the perfect side dish or lunch during the week!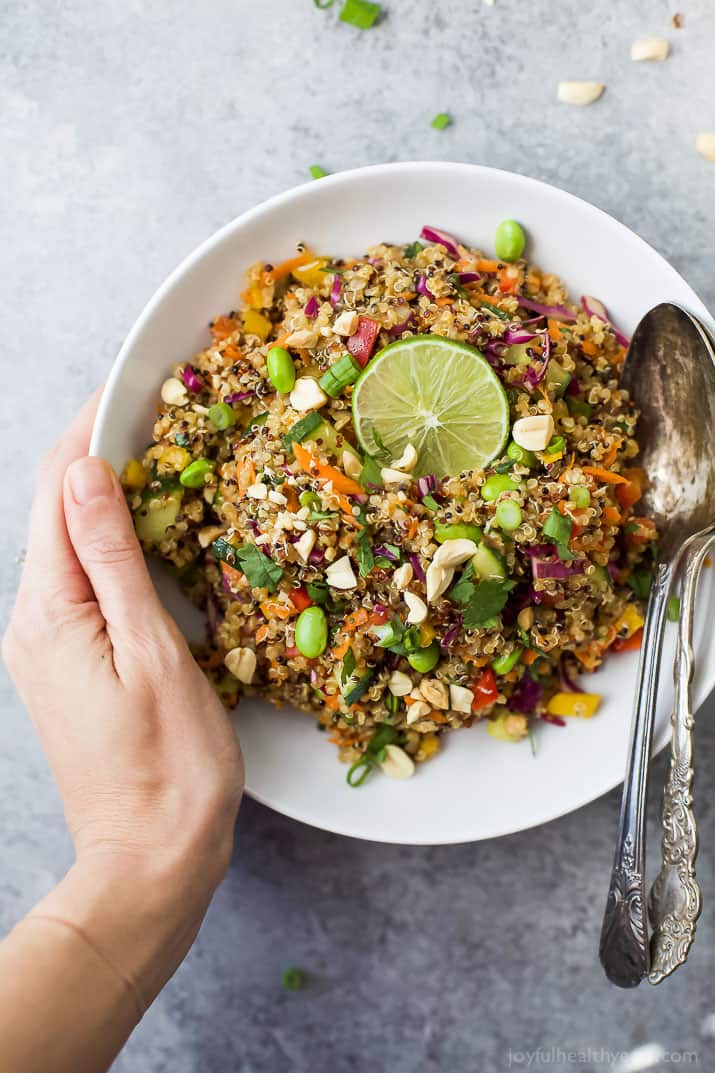 This Gluten Free Crunchy Thai Quinoa Salad is loaded with veggies then tossed with a Light Sesame Dressing. It's high in protein, fiber and flavor and guaranteed to become a favorite around your house! The perfect side to bring to that next party!
This weekend I have a little getaway. I'm going to the Austin Food & Wine Festival with one of my close friends and I cannot wait! Even though I'm super excited to get away and be me again (not momma), I'm also kinda freaking out.
There are so many more things to think about when you leave a baby for a weekend.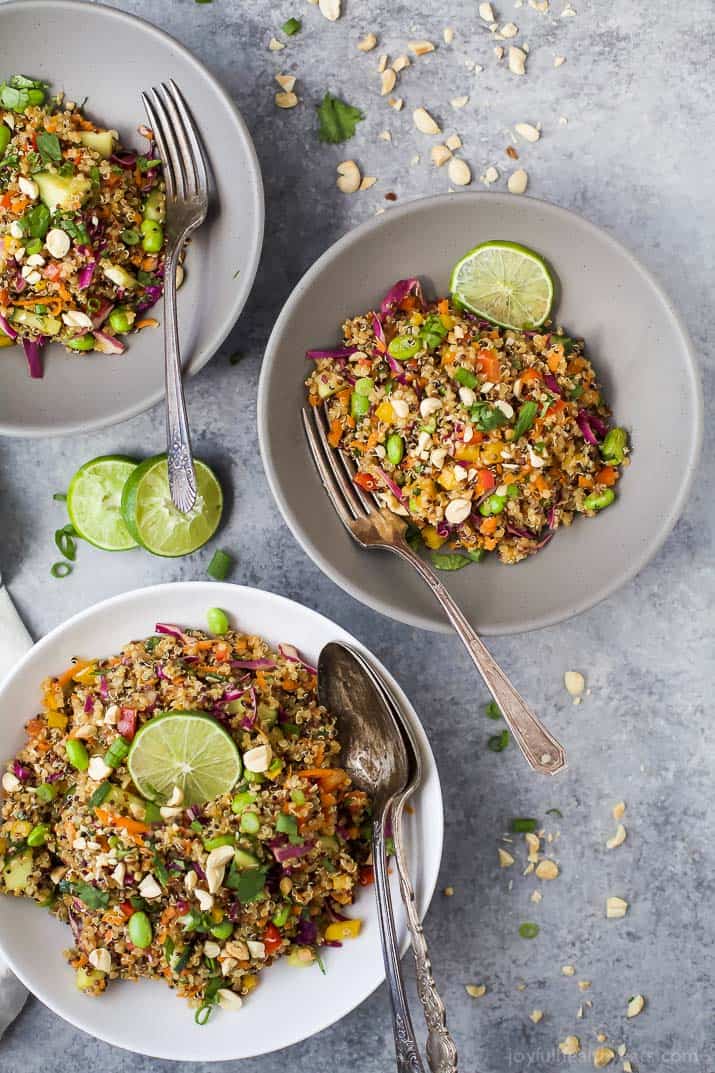 Mike is staying home with the kids which gives me peace of mind, but I still have a lot of things to line out before I leave. This weekend alone Cason has soccer practice Friday night, a game Saturday morning, then a birthday party for my nephew who turns one and then church the following morning. Mike will have to cart the kids around to all of that, by himself! Which translates to me needing to have the laundry done, birthday present purchased and wrapped and then dinners lined out so they can eat!
Although if worse comes to worse, Mike makes a mean breakfast burrito and bowl of mac & cheese. 🙂 And that's just stuff I need to do on the house front. I need to pack myself and think about pumping.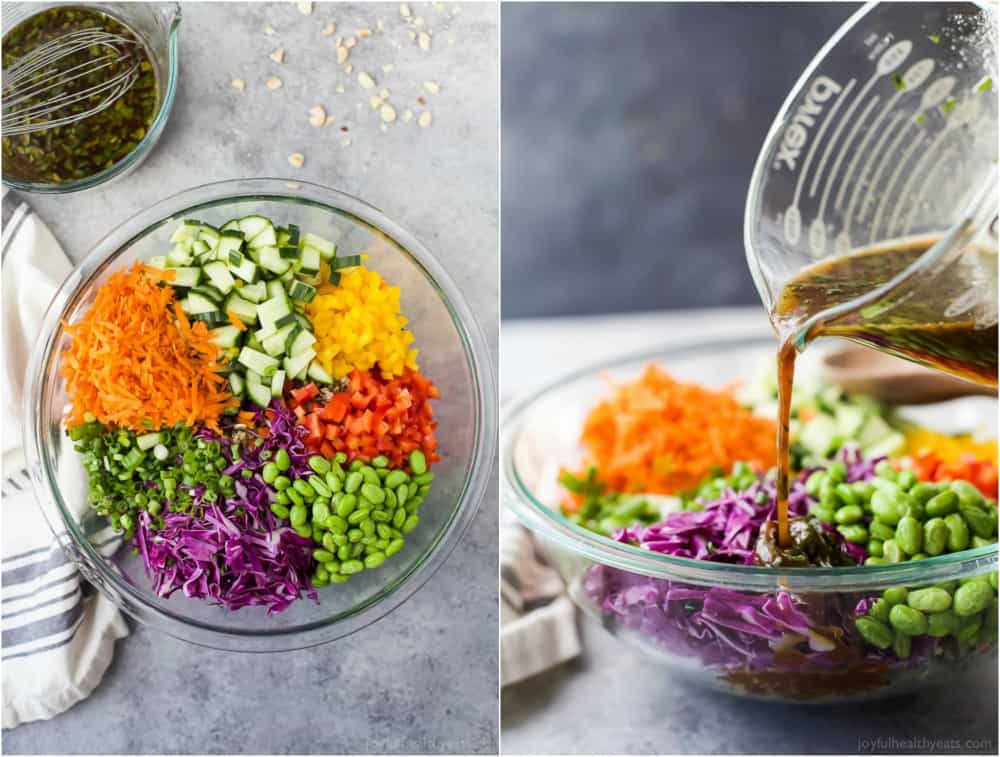 I'm not quite sure how that's going to work yet. But I'll figure it out. I'm only pumping 4-5 times a day anyways but I'll have to pump while we're out and about at the food tents and cooking demos.
I just bought one of those hands free breast pumps that is small enough to keep in a tote bag. So I'll probably just stuff it in my purse and have to pump and dump. Cuz I'll be trying all the foods & wines yo! Luckily I produce enough milk that my freezer is completely stocked so I'm covered in that department, I'll just have to replenish a little bit when I get home. #milkfordays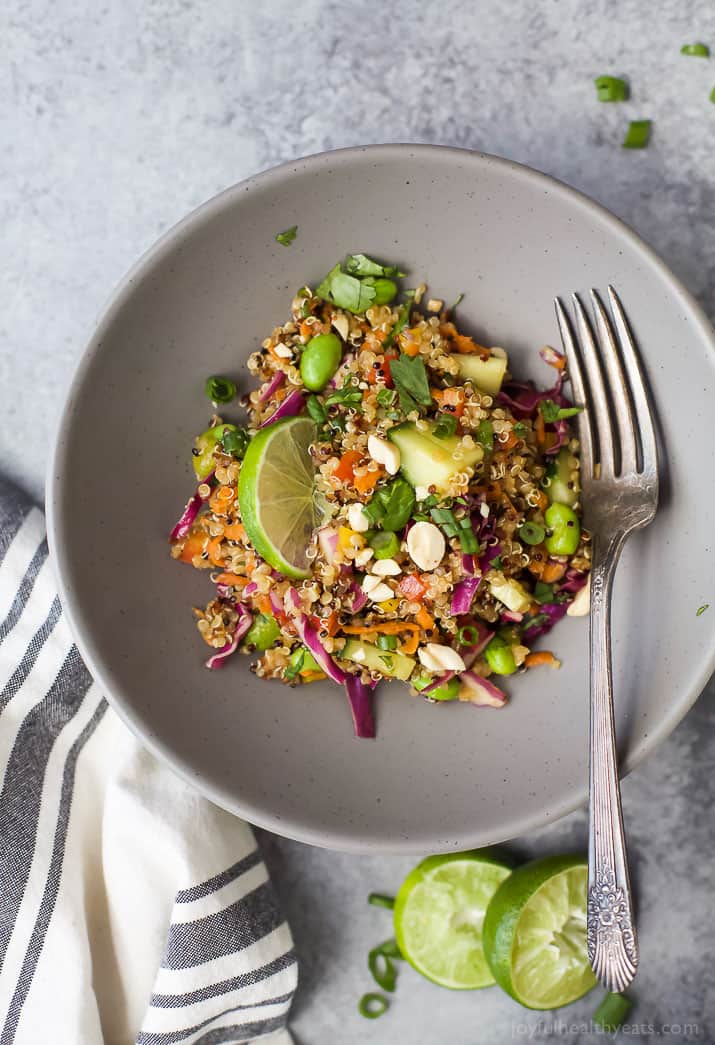 Ok, enough about that. Let's talk about this Thai Quinoa Salad, shall we?
If you can't tell yet, my mind and my recipes are already shifting towards all things spring and summer. I know some of you are still dealing with snow. But let's be honest, it's weird … you should be dealing with spring flowers not shoveling. I use to live in Wisconsin so I can say that, it's definitely not a normal thing to have snow in April. Hopefully these recipes will warm you up and usher in that warmer weather. Because as I'm writing this post, I'm sitting in my garage in shorts and flip flops in 80 degree weather watching my son ride his new Razor Scooter. Ahhhh….
Which on a side note, those things are no joke. I totally injured myself riding that thing last week when I went to pick Cason up from school. I rode it up to the school and hopped off for a second to say hi to one of the moms and the scooter swung around and gashed my ankle. Annoying!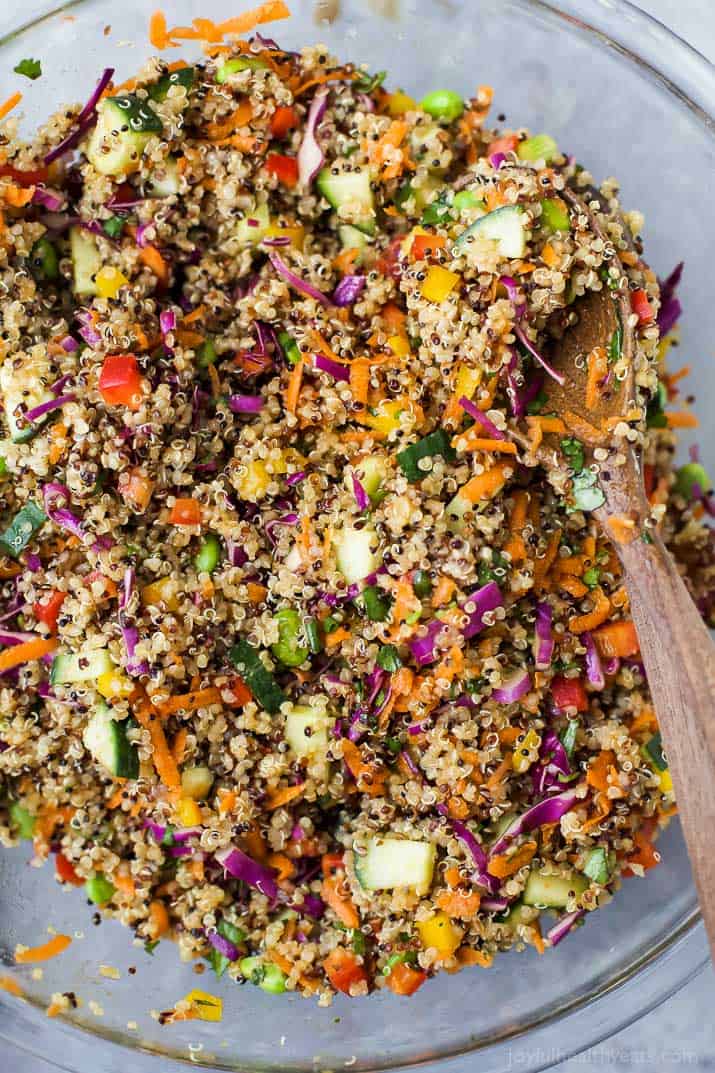 Ok, back to the point. Sorry, today I feel like my mind is all over the place.
I'm really trying to get you guys set for those Summer BBQ's and poolside parties. This Thai Quinoa Salad is light, refreshing, filled with all kinds of veggies and tossed with a light sesame vinaigrette. I know you're going to love it. It was great to have this on hand in the refrigerator because all I had to do was make a protein and we had dinner.
In fact, I ate this with my Honey Mustard Baked Salmon the other day and it was divine!
Make this salad for meals during the week or bring it as a side to your next party. It's perfect!
Bon Appetit friends and happy eating!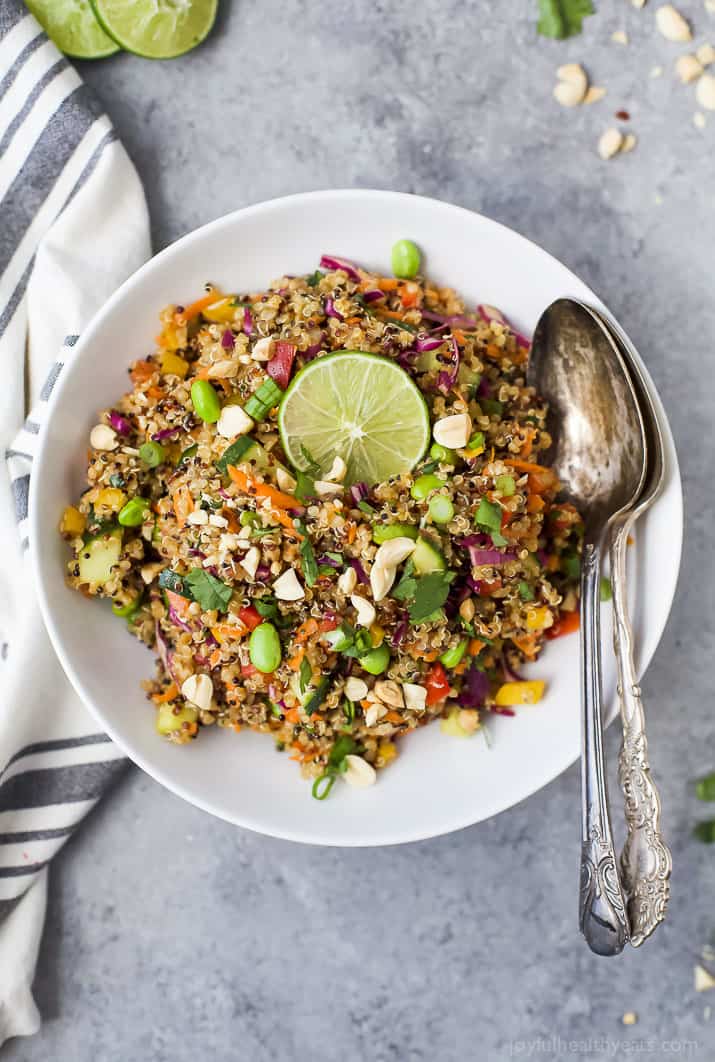 Print
Thai Quinoa Salad
Author:

Prep Time:

30 minutes

Cook Time:

15 minutes

Total Time:

45 minutes

Category:

Salad

Method:

Mix

Cuisine:

Asian
---
Scale
Ingredients
For the Salad:
1 cup

dry quinoa

2 cups

of water

1/2

red pepper, diced

1/2

yellow pepper, diced

4

green onions, diced

1 cup

of english cucumber, diced

1/2 cup

thinly sliced red cabbage

1 cup

grated carrots

1/4 cup

chopped fresh cilantro

1/4 cup

chopped unsalted cashews

1/2 cup

edamame
Spicy Sesame Dressing:
6 tablespoons

toasted sesame oil

2 tablespoon

avocado oil

2 tablespoon

lime juice

3 tablespoons

tamari sauce

2 tablespoon

rice wine vinegar

⅔ cup

fresh cilantro

1 teaspoon

ground ginger

1

garlic clove, minced

2 teaspoon

sriracha sauce

2 teaspoon

honey
Instructions
Add quinoa and water to a medium sauce pan. Bring to a boil. Reduce to simmer and cover. Cook for 15 minutes or until the liquid is gone.
Remove the quinoa from the heat and let rest for 5 minutes. Then fluff with a fork and add to a large serving bowl.
To the serving bowl with quinoa, add red pepper, yellow pepper, green onions, cucumber, red cabbage, carrots, cilantro, peanuts (or cashews) and edamame. Set aside.
To a small bowl, add toasted sesame oil, avocado oil, lime juice, tamari, rice wine vinegar, cilantro, ground ginger, minced garlic, sriracha and honey. Whisk the mixture until smooth and combined.
Pour over the quinoa salad when you are ready to serve. Toss the salad to everything is coated in the dressing and combined.
Serve.
IF YOU MAKE THIS RECIPE, BE SURE TO SNAP A PIC AND HASHTAG IT #JOYFULHEALTHYEATS. I LOVE SEEING WHAT YOU MAKE!
Want More Healthy Summer Side Dishes?
Grilled Corn Salad with Jalapeno Dressing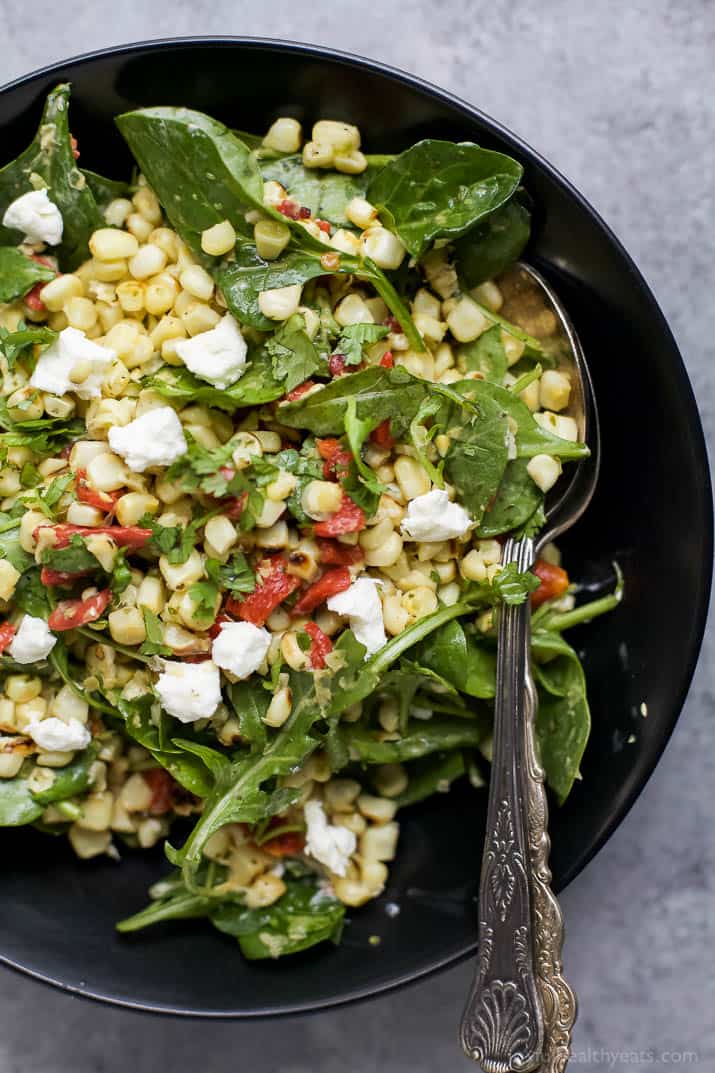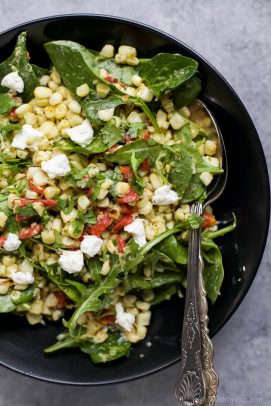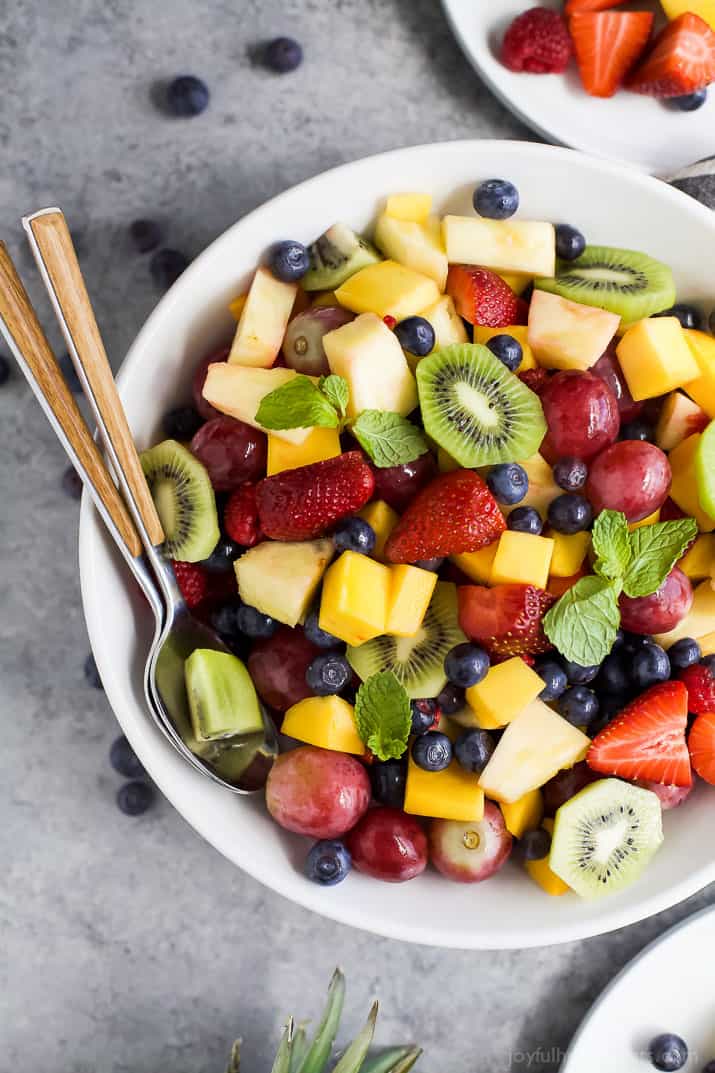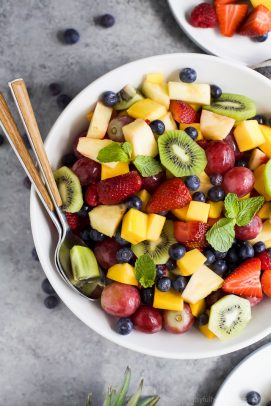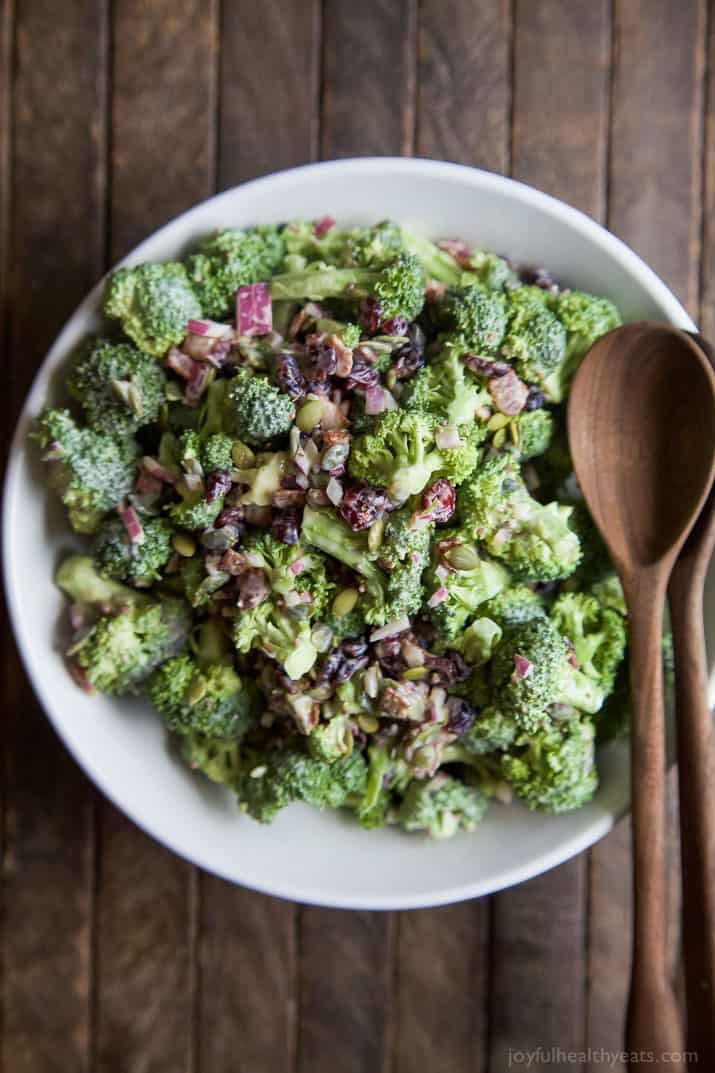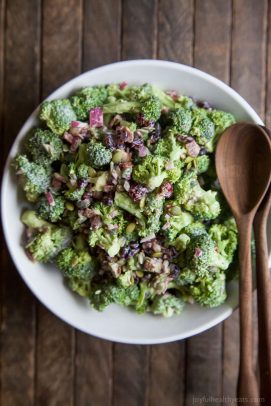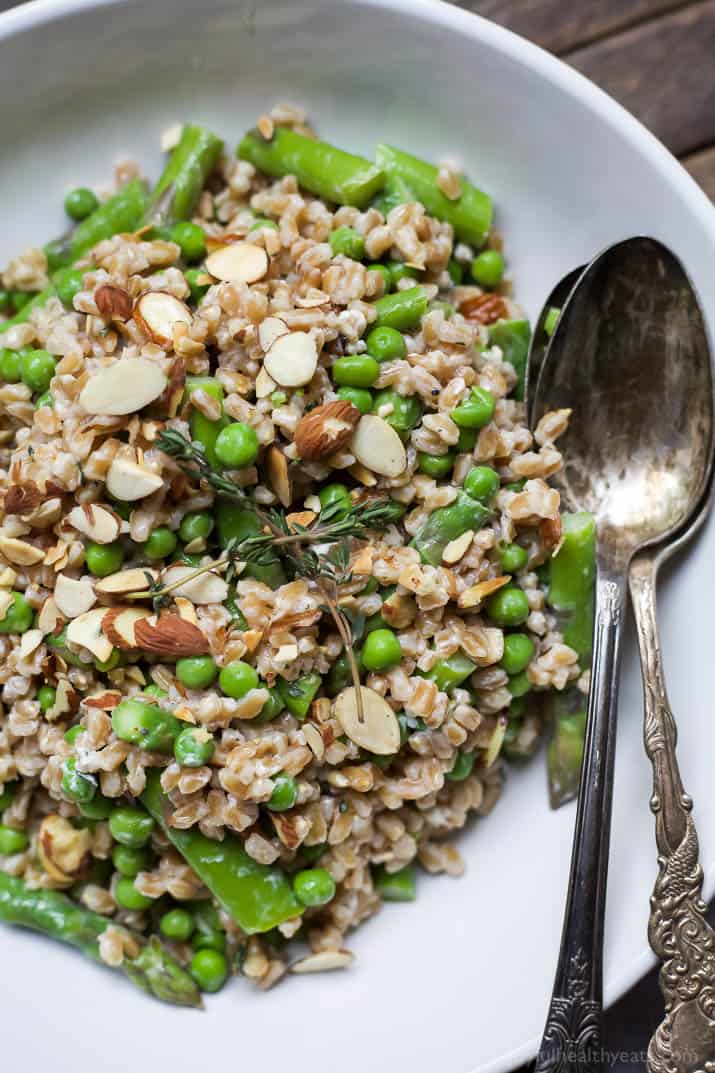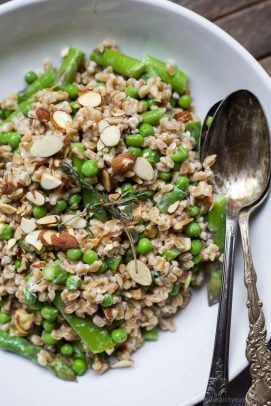 DON'T MISS A RECIPE ->