Chicken Shawarma Bowl on a bed of quinoa then topped with Garlic Yogurt Sauce – a flavorful dinner the family will love!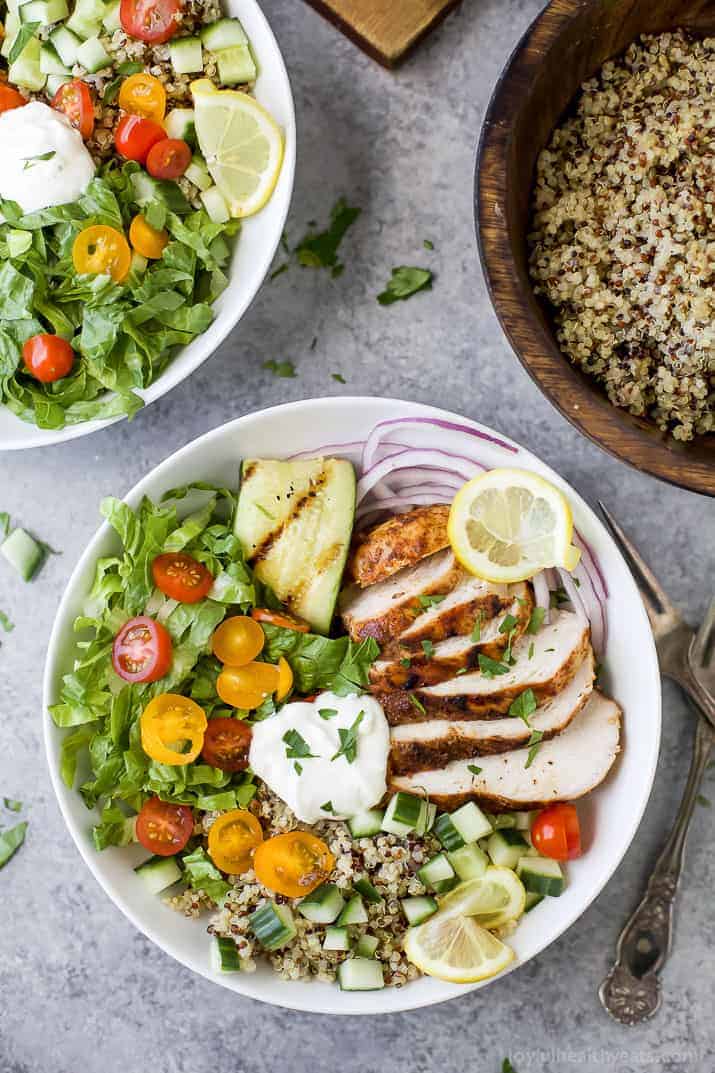 Healthy Chicken Shawarma Bowl served on a bed of quinoa and lettuce then topped with a Garlic Yogurt Sauce. This flavorful gluten free dinner recipe will be devoured in minutes.
Guys. I leave for Vegas in a couple days and I'm so excited.
Not because it's Vegas. But because I get to "get away" with my husband again. It's been a long time since Mike and I have been able to take a trip just us two.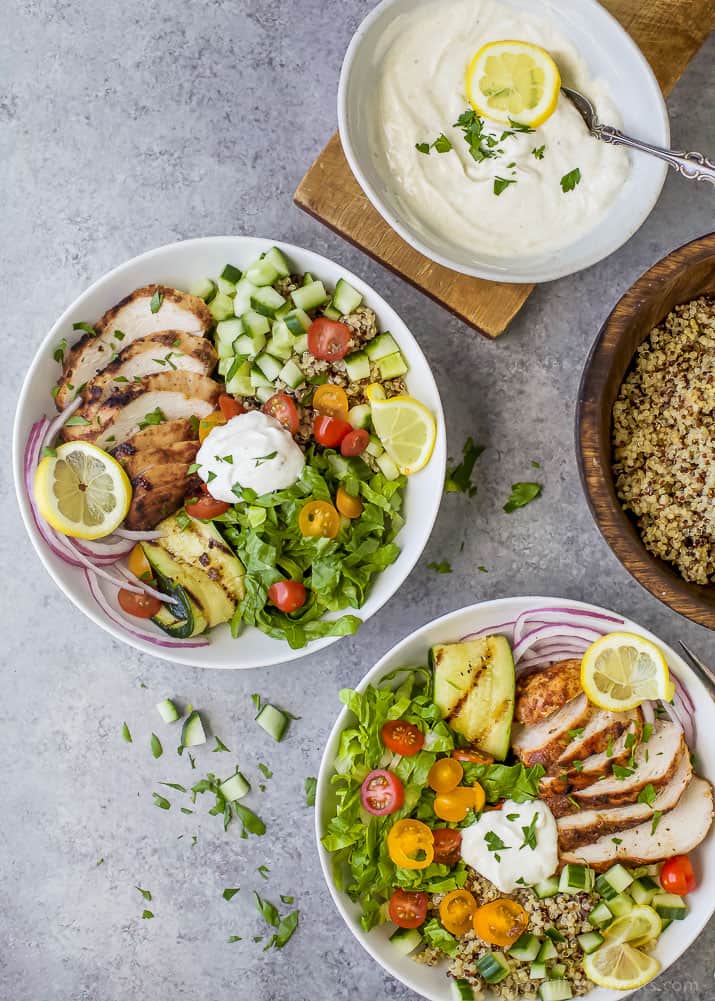 Do you take mommy and daddy trips?
Mike and I have always tried to make that a priority for our marriage. It's great taking family trips. Don't get me wrong. But after the kids are grown up and gone I want to know who the person is that I'm standing next to. I think it's important to invest not only in yourself and your family but also in your marriage.
I've feel even more strongly about it after having Maddie. Going back to "newborn" life has been great. But honestly it's also been a little hard on that quality time factor. Babies need to eat, and they need to eat a lot. Usually Mike and I's time together is at night after Cason goes to bed. But now after he goes to bed, Maddie is still awake for a little bit and then I wake her back up at 10pm for a "dream feed" so that she stays asleep for the night and wakes up at 7am. That schedule, while good, just makes our night a little choppy.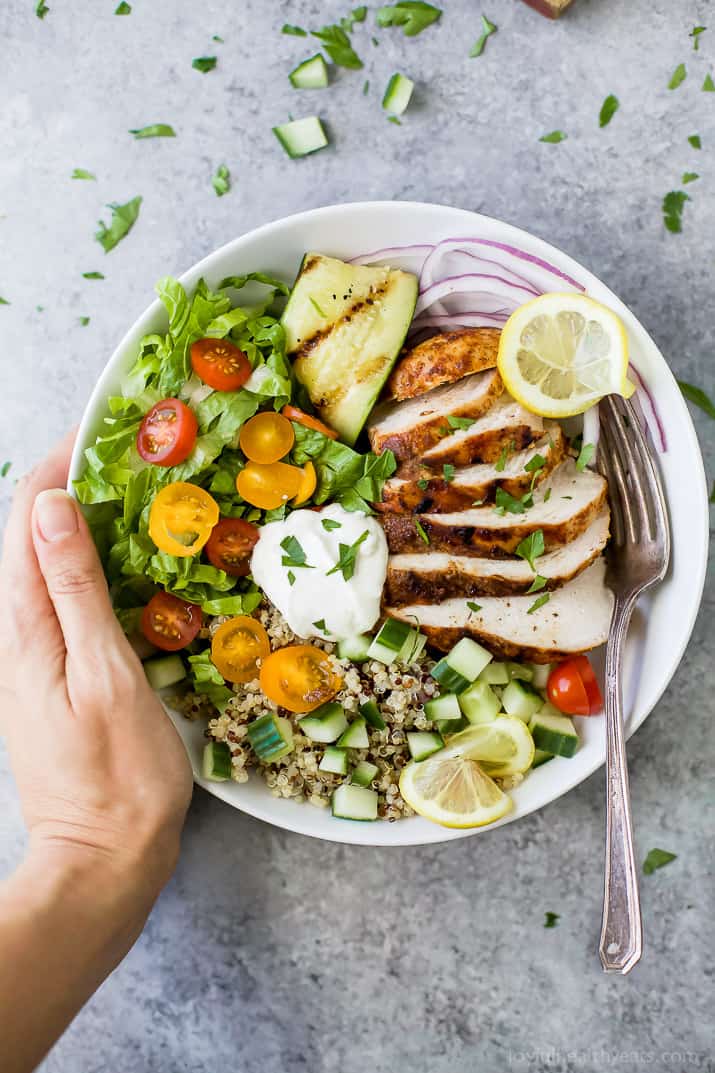 Both of us are exhausted by the end of the day and honestly just want to sit and veg. But the other day we both realized we haven't been connecting. Marriage is work. It's hard work. You get out of it what you put in!
So I'm looking forward to some quality time with my man. Hanging out by the pool, eating some good food, seeing a couple shows and maybe going to a club or two. (PS I can't dance, but if I have a little bit of giggle juice in me I think I can. haha.) Plus what's life if you can't laugh at yourself a bit. Right?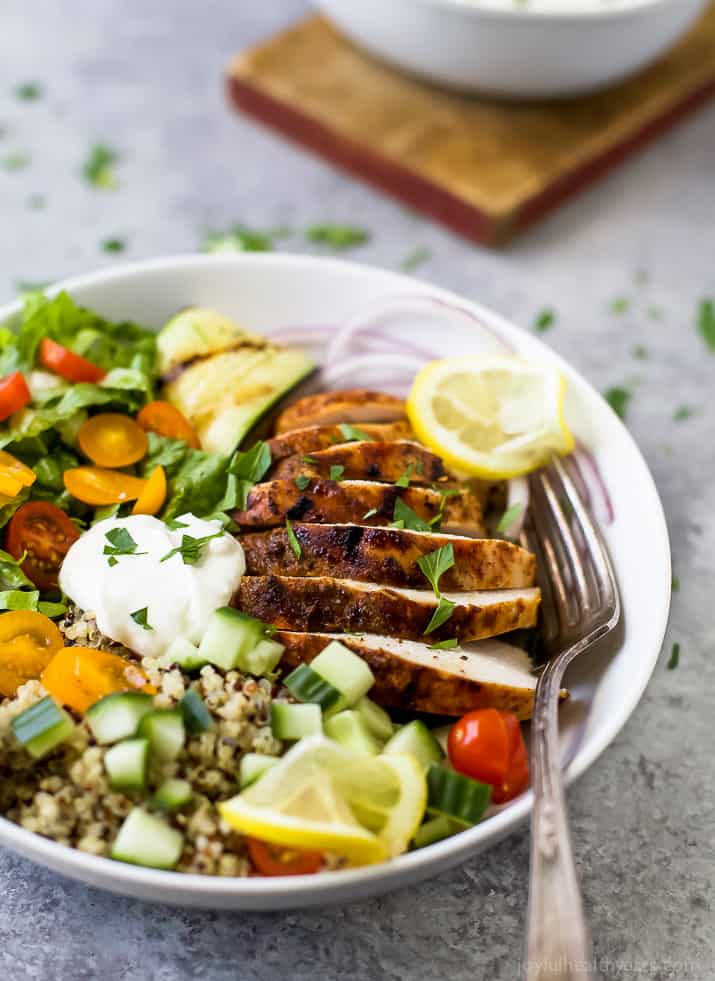 Ok, moving on to todays recipe. Chicken Shawarma Bowls. Guys, I'm pretty much all about that "bowl life" if you haven't realized that yet. I love that everything can be packed together and devoured all at once, so you get a little bit of everything. These Chicken Shawarma Bowls have quinoa, veggies, super flavorful moist Chicken and then a Garlic Yogurt Sauce to die for.
Chicken Shawarma is a Middle Eastern dish that's filled with rich spices like coriander, cumin, cinnamon and cardamon. Usually it's grilled and stuffed in a pita with veggies but today we are putting it in a bowl with grains. The chicken is marinaded overnight to really let the flavors soak in and then grilled till you get that nice crunchy char. The kicker here though is the Garlic Yogurt Sauce, it totally binds all the flavors together. You'll absolutely love it!
Bon Appetit friends and happy Monday!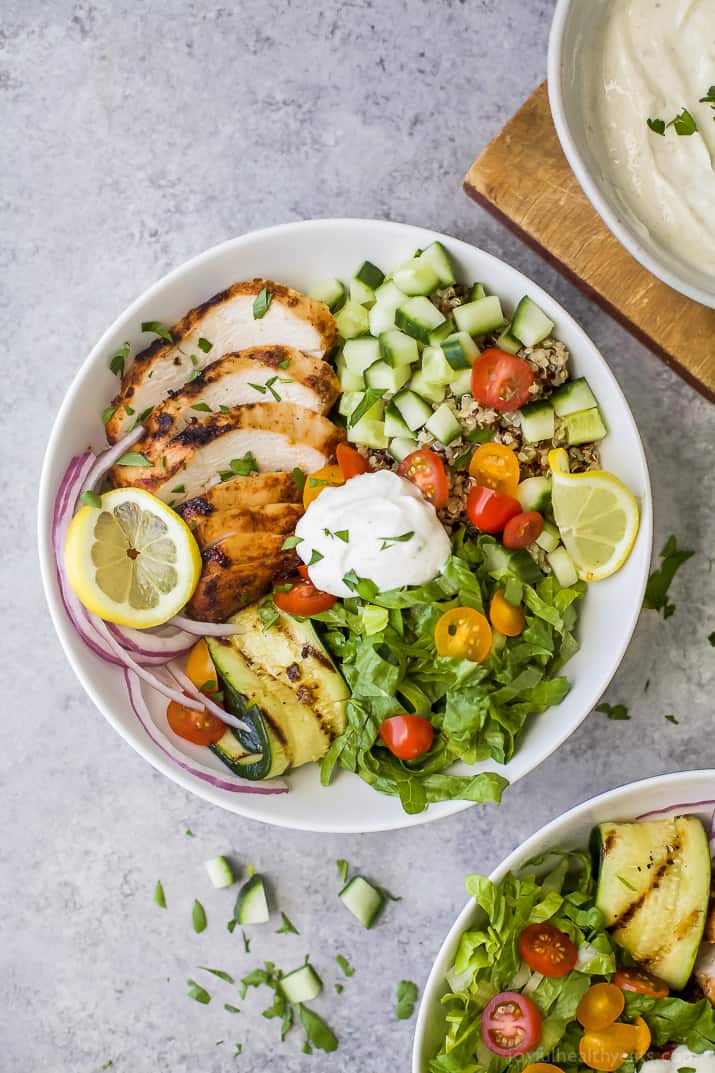 Print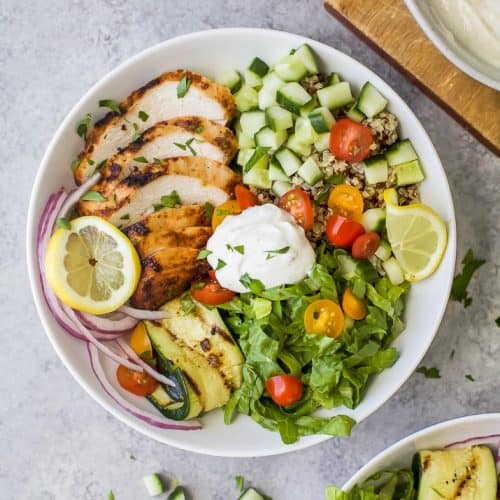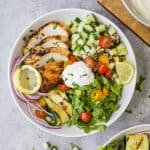 Chicken Shawarma Bowls
Author:

Prep Time:

12 hours

Cook Time:

30 minutes

Total Time:

12 hours 30 minutes

Yield:

4

Category:

Dinner

Method:

Oven

Cuisine:

Middle Eastern
---
Description
Loaded with fluffy quinoa and fresh vegetables, these easy Chicken Shawarma Bowls are a healthy and flavorful weeknight dinner that everyone will adore. Tender chicken breasts are marinated in a sweet and spicy seasoning blend, then grilled to perfection and tossed into a bowl with the veggies, quinoa, and a homemade garlic yogurt sauce.
Scale
Ingredients
For the Chicken Shawarma
1.5

lbs. boneless skinless chicken breast

1 teaspoon

cumin

1 teaspoon

coriander

1 teaspoon

smoked paprika

1/2 teaspoon

garlic powder

1/2 teaspoon

cinnamon

1/2 teaspoon

cardamom

1/4 teaspoon

black pepper

1/4 teaspoon

sea salt

2 tablespoons

lemon juice

2 tablespoons

olive oil
For the Garlic Yogurt Sauce
1 cup

plain greek yogurt

2 tablespoons

fresh lemon juice

2

garlic cloves, pressed (or finely minced)

1 teaspoon

cumin
salt & pepper to taste
For the Bowl
2 cups

cooked quinoa

1 cup

diced cucumber

1

zucchini, sliced lengthwise

1 cup

sliced cherry tomatoes

2 cups

sliced romaine lettuce
Instructions
Marinate the Chicken
To a small bowl add cumin, coriander, smoked paprika, garlic powder, cinnamon, cardamom, black pepper, sea salt, lemon juice and olive oil. Use a spoon to mix all the spices together.
Add chicken breast to a large ziplock bag, pour the spice blend over the chicken. Close the ziplock bag, mix the spice blend around in the bag using your hands and refrigerate chicken overnight.
Make the Sauce & Grill the Chicken
To a small bowl add plain greek yogurt, lemon juice, garlic cloves, cumin, salt and pepper to taste. Use a spoon to stir everything together.
Heat grill to medium-high heat, about 375-400°F. Spray grill grates with cooking spray or rub down with olive oil soaked rag. Place marinated chicken on grill along with zucchini slices.
Grill zucchini for 2-3 minutes per side.
Grill chicken for 5-7 minutes per side, until they are no longer pink. Let the chicken sit for 5 minutes to let the juices redistribute then slice.
Assemble the Bowls
Add 1/2 cup cooked quinoa, 1/2 cup sliced romaine, 1 zucchini slice, 1/4 cup of cherry tomatoes, 1/4 cup diced cucumber, 3-4 oz. of sliced chicken.
Top with a dollop of the garlic yogurt sauce.
---
Notes
To Store: If you expect to have leftovers, don't assemble all of the bowls right away. It's best to store everything separately. The chicken, sauce, quinoa and veggies should all be refrigerated in airtight containers. Assemble and enjoy your bowls within 2 days for the best results.
To Reheat: Reheat the chicken and zucchini on a greased grill over medium heat. The chicken will need about 5 minutes per side, and the zucchini will need about 2. Reheat the quinoa over the stove, adding a splash of water to compensate for lost moisture. Fluff up the quinoa before adding it to the bowls.
To Freeze: Wrap the chicken in plastic wrap and store it in a freezer bag for up to 4 months. Place the quinoa into a freezer-safe container and store it for up to 8 months. Thaw frozen ingredients in the fridge before reheating. I don't recommend freezing the sauce or the sliced veggies.
---
Nutrition
Serving Size:

1 bowl

Calories:

389

Sugar:

7 g

Sodium:

568 mg

Fat:

14 g

Saturated Fat:

2 g

Carbohydrates:

28 g

Fiber:

4 g

Protein:

43 g

Cholesterol:

85 mg
Keywords: chicken shawarma, shawarma spicy, chicken bowls
Want More Healthy Bowl Recipes?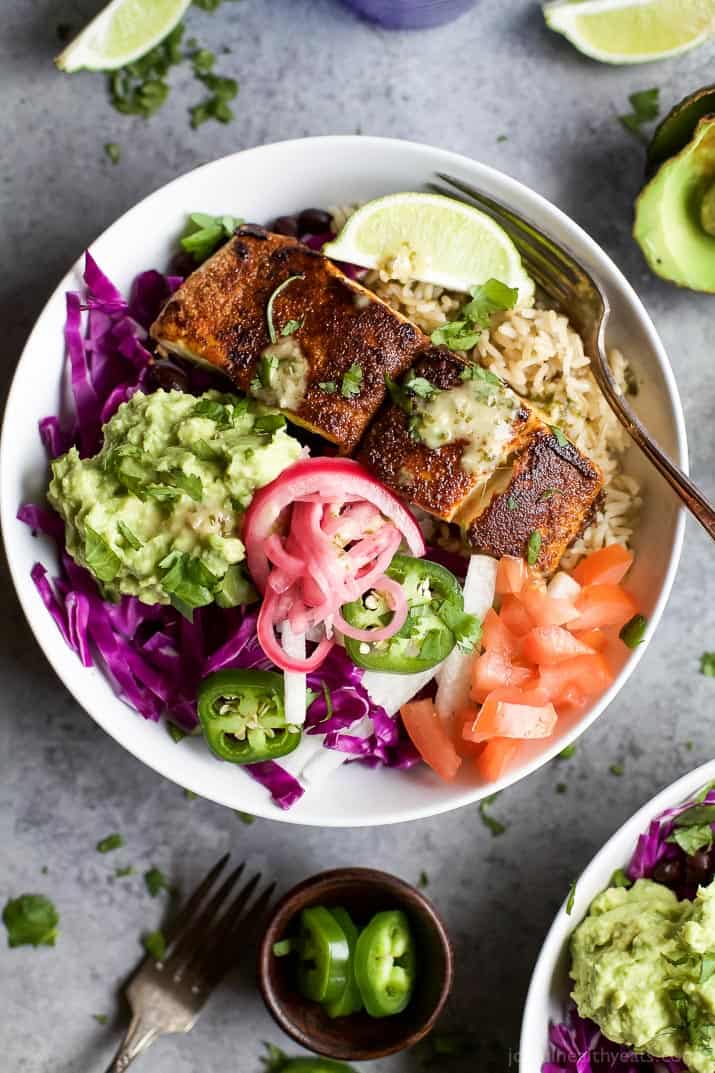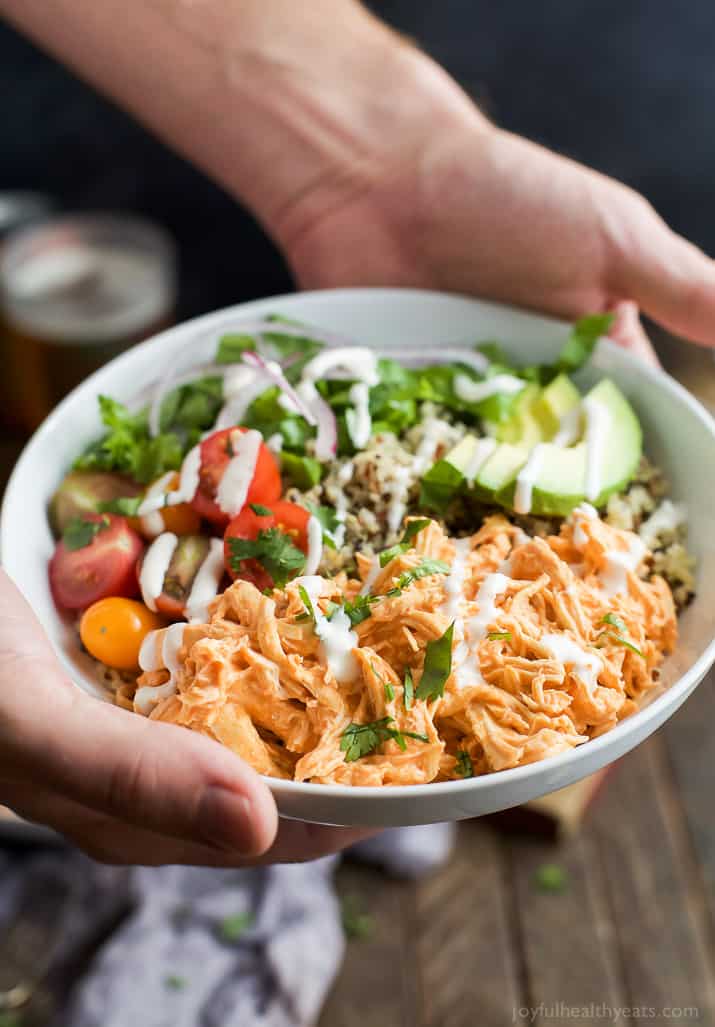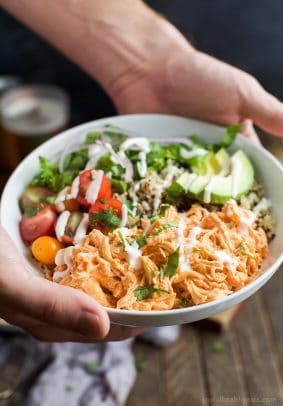 Jerk Chicken Bowls with Mango Pineapple Salsa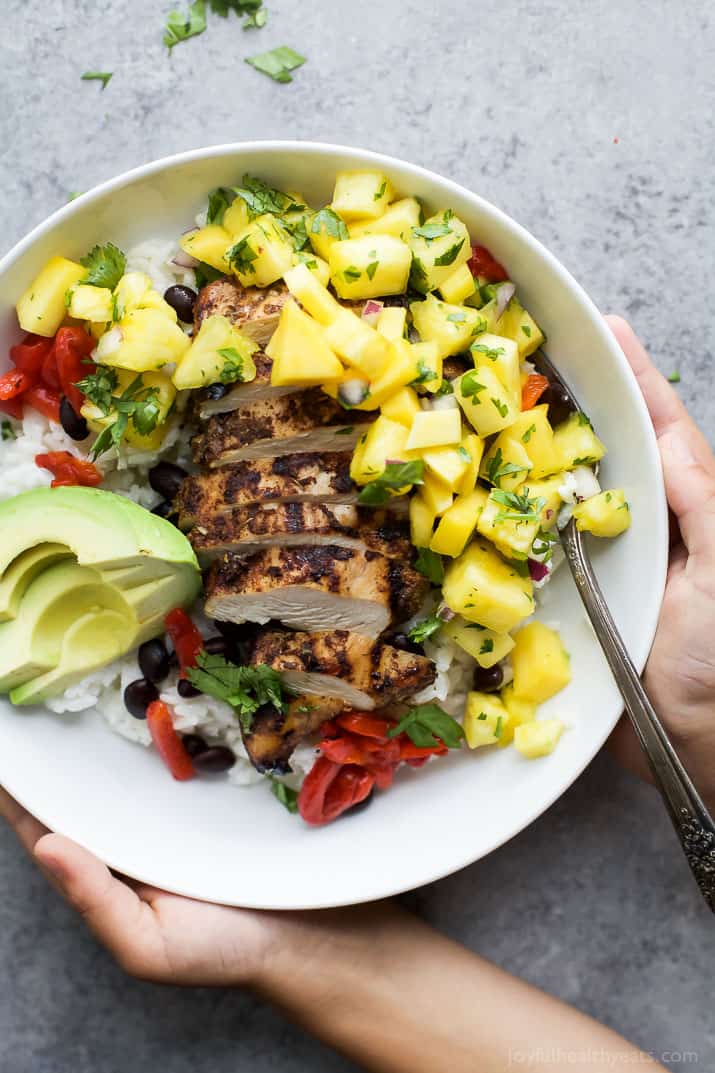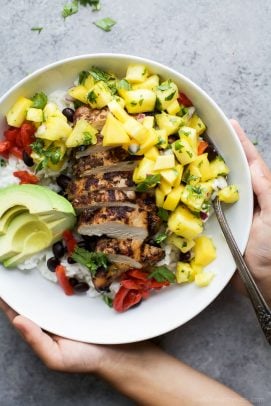 Roasted Vegetable Grain Bowl with Tzatziki Sauce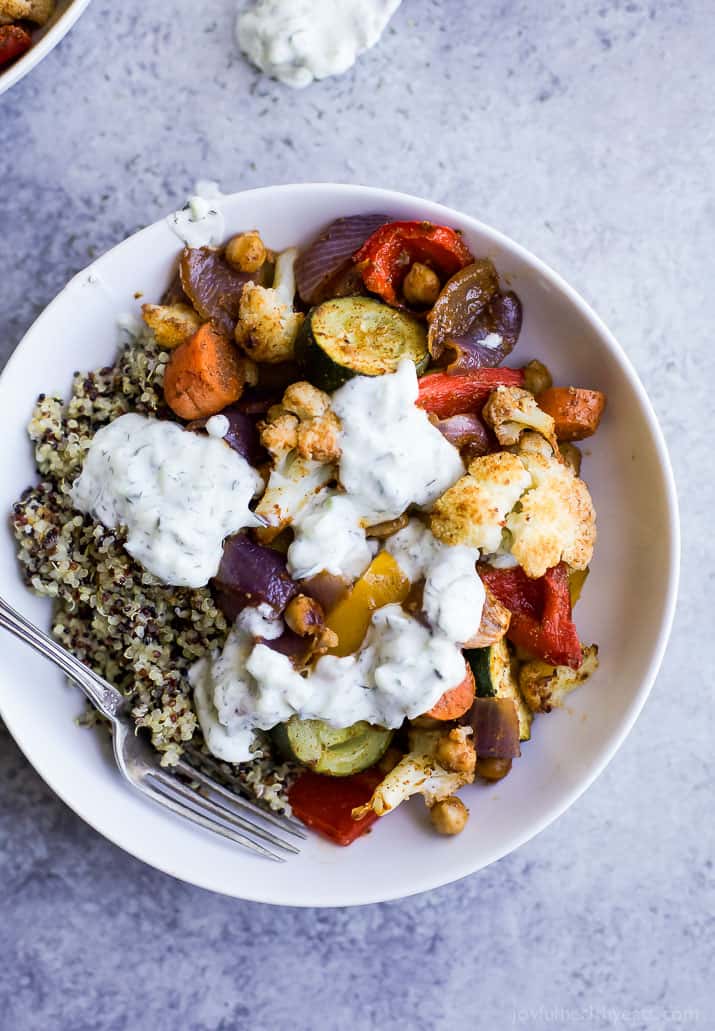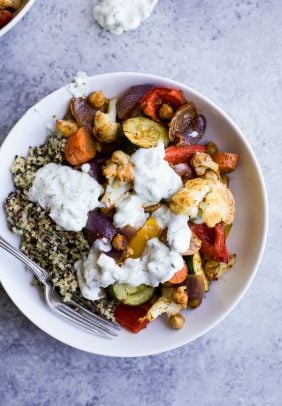 DON'T MISS A RECIPE ->