This Grilled Avocado Caprese Chicken Sandwich is made with crunchy bread, moist chicken and fresh basil pesto! It's a beautiful looking sandwich that's easy to make!
Love this sandwich recipe? Turn up the heat with my Southwestern Turkey Burgers with Guacamole & Spicy Aioli!
Grilled Avocado Caprese Chicken Sandwich
Yesterday at church, really the past couple of weeks I have not felt like myself. I am normally a bubbly person, silly on occasion, and engaging .. but the past couple of weeks I have felt heavy. I feel like every conversation I have is weighty, lacking joy.
Mainly because I've felt like I'm being thrown around a tornado, called "my life" right now. I didn't know which way was up or down, and couldn't seem to find the horizon to focus on.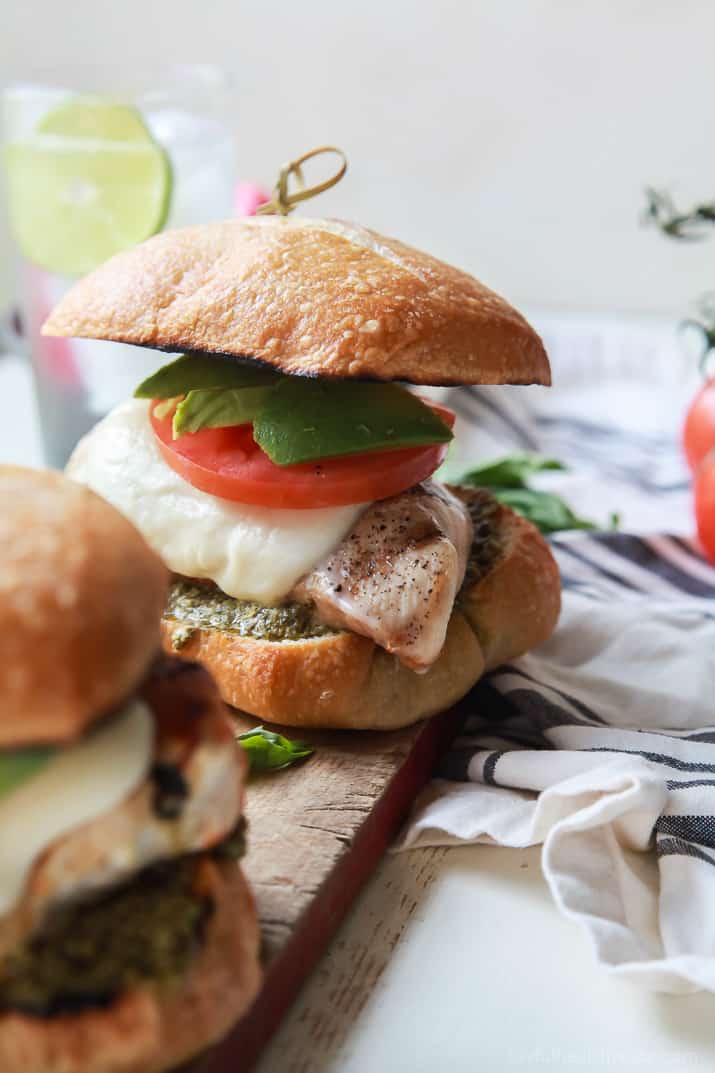 Last Friday I was leaving yet another doctors appointment with Cason, getting text messages every 30 minutes from people wanting to schedule viewings to see our house, trying to figure out where to put the dog and US while people were in our house, thinking about the fact I'm not pregnant again, and then my husband was leaving for the weekend. It was too much!
I've never had a panic attack before, but I felt like I was having one. I HAD to think about breathing in and breathing out to calm down my rapidly beating heart. I called Mike, told him the news that the orthopedic gave us and just starting crying.
I could not handle it. I consider myself a very strong person. I can carry a heavy load but my load was sinking me into the ground and to add emotional weight onto that load was burying me! Driving the car, talking to Mike, all I could do was cry out for help!
I needed a break. I needed to lift my head above the waves for a couple seconds before I got pelted with another set of waves.
I remember just praying, "Lord, I can't take anymore. I need a break. I need to be by myself. I need to have everything stop. I need you to fix things. What are you trying to teach me?"
I felt like all he said was "Krista, take a deep breathe. Breathe again. Now, breathe ME in. Let me come in and give you peace. I want to give you rest. Breathe me in!"
So that is what I have been doing all weekend. Breathing. In those moments of feeling overwhelmed, worried, anxious, tired, weary … I pray, take a deep breathe in to let Him fill me with his presence, turn on some worship music and keep taking one more step forward.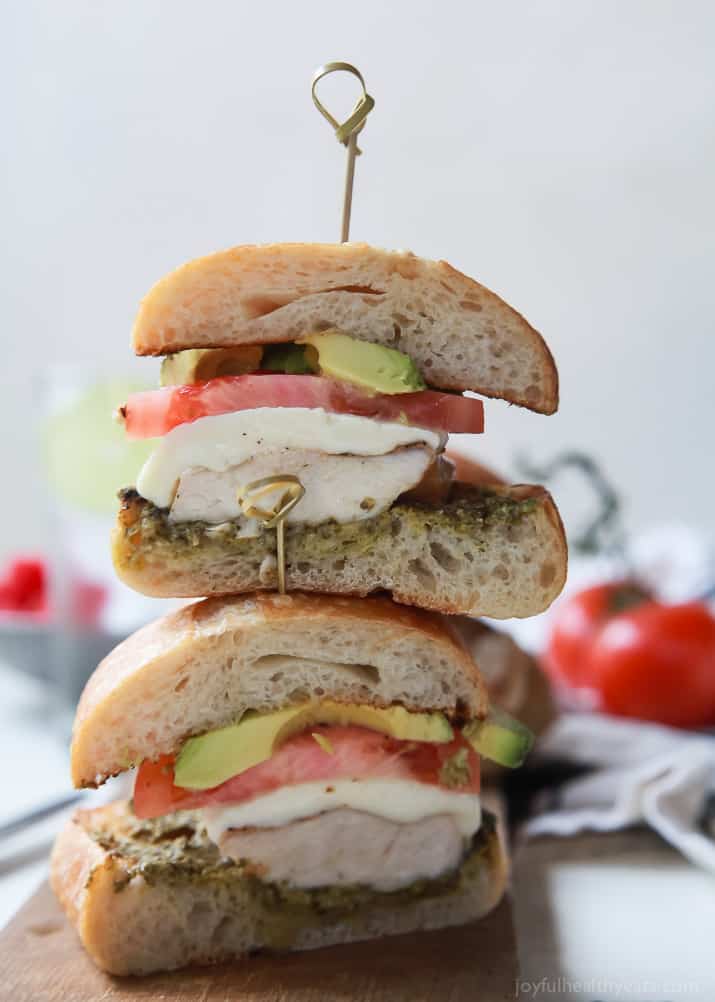 One of the songs that really encouraged me this weekend is called "Come to Me" by Bethel Worship
"I am the Lord your God. I go before you now. I stand beside you. I'm all around you. Though you feel I'm far away. I'm closer than your breathe. I am with you, where ever you go. And I am the Lord your Peace. No evil will conquer you. Extend out your hand in mine, come into my rest. Oh let your faith arise. Lift up your weary head. I am with you, where ever you go. Come to me, cuz I'm all you need. Can you hear him say come to me, I'm everything. I am your anchor in the wind and the waves. I am your steadfast, so don't be afraid. If your heart and flesh fail you, I'm your faithful strength. I am with you, where ever you go. When the storm rages, I won't be afraid. Cuz I have locked eyes on you face to face. Your voice I will follow, your eyes I will see. Oh come a little closer, come close to me."
With all the stuff going on right now I literally have to mentally remind myself to sit with the Lord, to let him fill me up. I am by nature a doer. I want to carry the load. I want to fix the problem. But I am realizing, I am not strong enough and that is ok! He is stronger and wants to carry my heavy load. Praise God for that!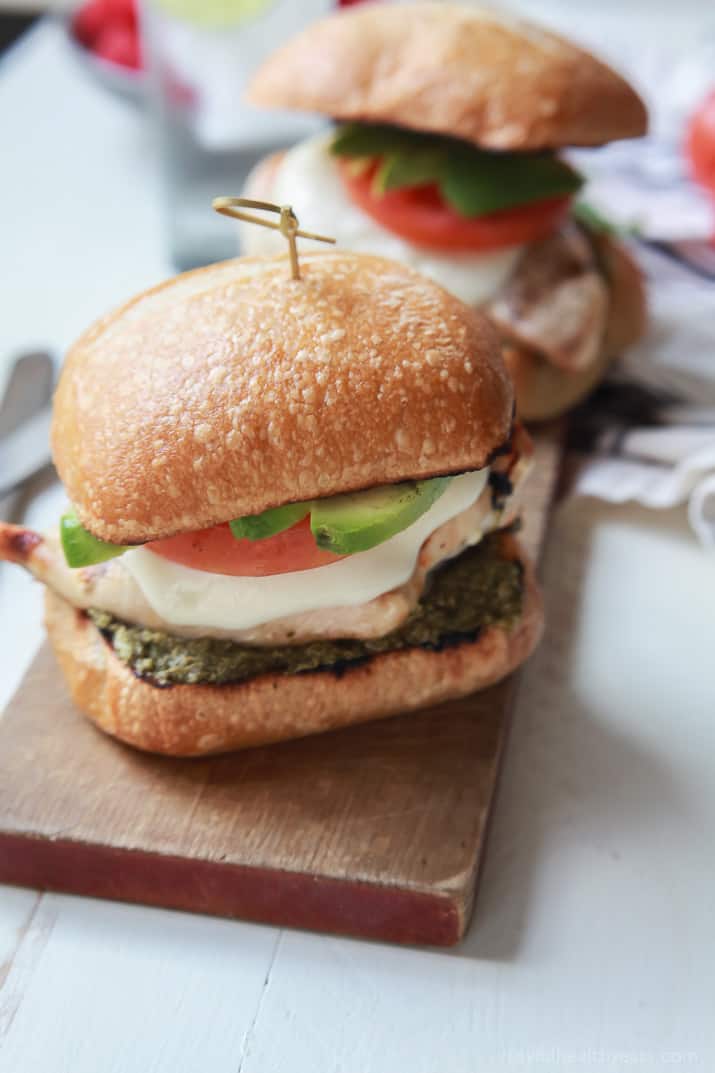 Alright friends. Thanks for listening (errr… reading). 🙂 That's what I love about you. I can share my heart and then move on to filling your tummies. You're the bestest!
Why This is The Best Chicken Sandwich
Ya'll. Avocado. Caprese. Grill. Sandwich. Need I say more. I mean, really, what else more do you need in life?
This chicken sandwich is done in less than 20 minutes, and filled with delicious grill flavor! The Chicken is extremely moist (ahem I know there are some of you out there who really want to make sure it's dead and may enjoy dry chicken, I don't and if you don't then be sure to follow the cook times. Muah), then it's topped with fresh lemony basil pesto, a sweet juicy tomato, creamy avocado, and ooey gooey fresh mozzarella… all on a toasted ciabatta bun.
Life doesn't get any better than this folks! Don't believe me, try it and prove me wrong!
Happy Monday and Bon Appetit! (ps who else is sad there is no more Bachelor on tonight? tear …)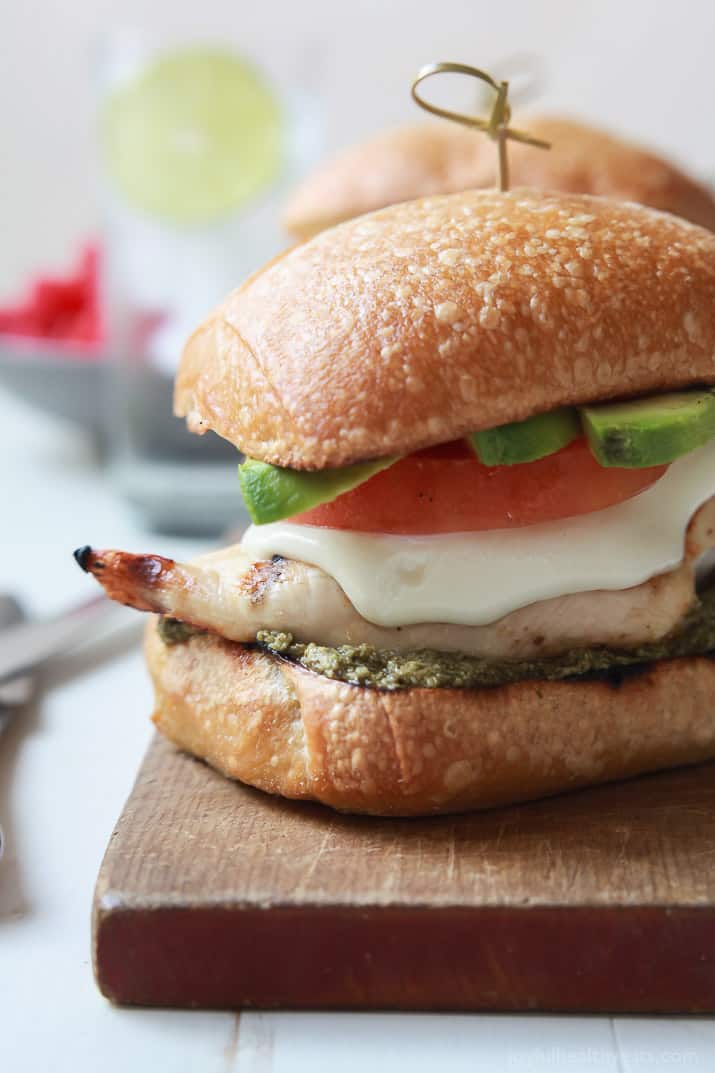 Print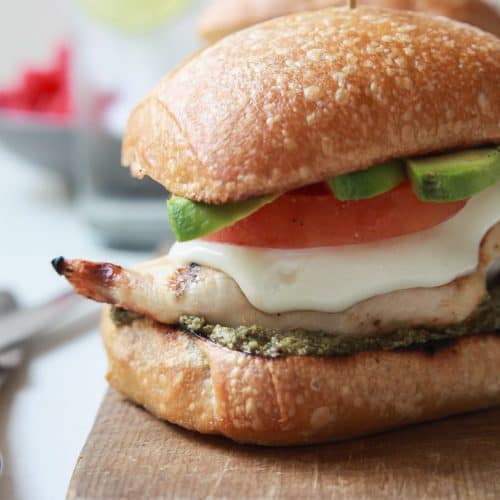 Grilled Avocado Caprese Chicken Sandwich
Author:

Prep Time:

5 minutes

Cook Time:

15 minutes

Total Time:

20 minutes

Yield:

4

sandwiches

1

x
Category:

Dinner

Method:

Grill

Cuisine:

American
---
Description
This Grilled Avocado Caprese Chicken Sandwich is made with crunchy bread, moist chicken and fresh basil pesto! It's a beautiful looking sandwich that's easy to make!
Scale
Ingredients
4

skinless boneless chicken breasts
salt & pepper to season

4

mini ciabatta rolls, sliced in half

1

large tomato, cut into

4

large slices

1

large avocado, sliced

3 oz

. fresh mozzarella, cut into

4

slices

6 tablespoons

basil pesto
Instructions
Heat grill to medium high heat.
Season chicken with salt & pepper on both sides.
Add chicken to the grill and grill each side for 5-6 minutes, until there is no more pink. For the last minute, add 1 slice of mozzarella to the top of each chicken. Close the grill and let the cheese slightly melt. Remove from grill and let sit.
Next add ciabatta bread to the grill, place the inside part of the bun on the grill and toast for 1-2 minutes until slightly charred. Remove.
Assemble the sandwich: spread 1 1/2 tablespoons of pesto on the bottom bun, place the grilled chicken and melted cheese on top of the bottom bun, then a slice of tomato, and a few slices of fresh avocado, add the top bun. Serve!
---
Nutrition
Serving Size:

1 sandwich

Calories:

432

Sugar:

3 g

Sodium:

572 mg

Fat:

19 g

Carbohydrates:

21 g

Fiber:

2 g

Protein:

44 g

Cholesterol:

107 mg
Keywords: avocado chicken sandwich, chicken caprese sandwich, chicken sandwich, chicken sandwich recipe, best chicken sandwich, avocado sandwich, grilled chicken sandwich recipe, grilled chicken sandwich
IF YOU MAKE THIS RECIPE, BE SURE TO SNAP A PIC AND HASHTAG IT #JOYFULHEALTHYEATS. I LOVE SEEING WHAT YOU MAKE!
Other Satisfying Sandwiches
Steak & Fontina Cheese Panini with Chimichurri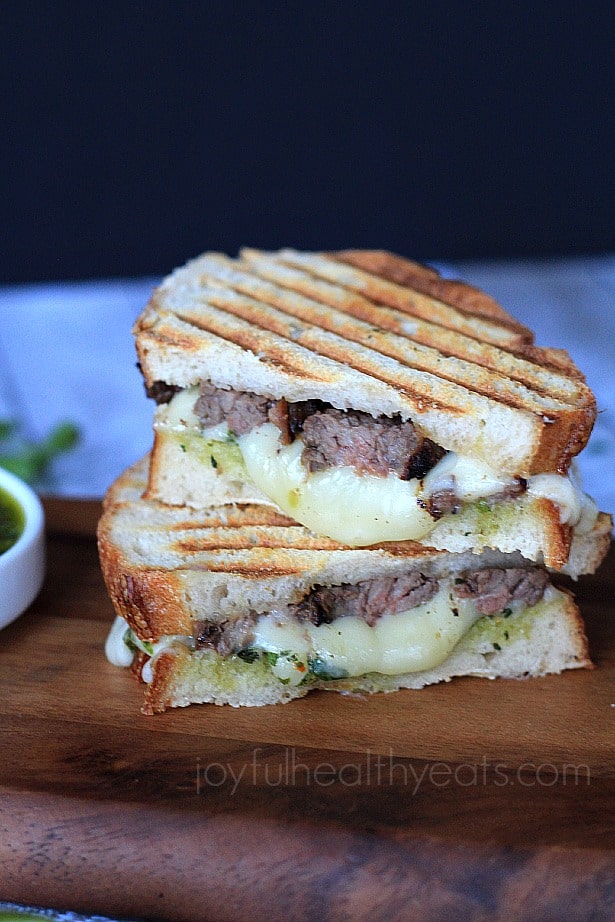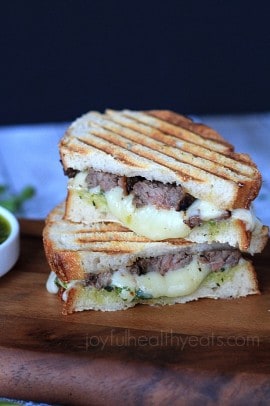 Grilled Portobello Burgers with Balsamic Reduction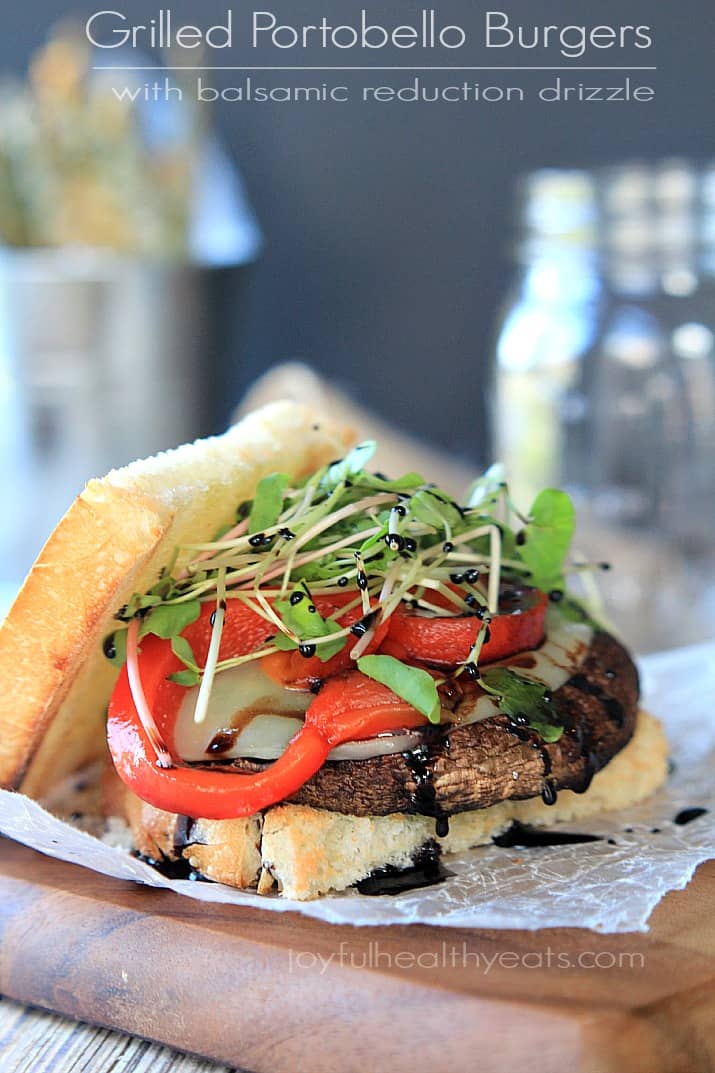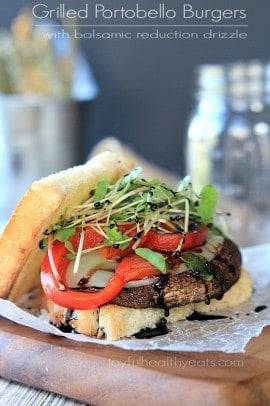 Southwestern Turkey Burgers with Guacamole & Spicy Aioli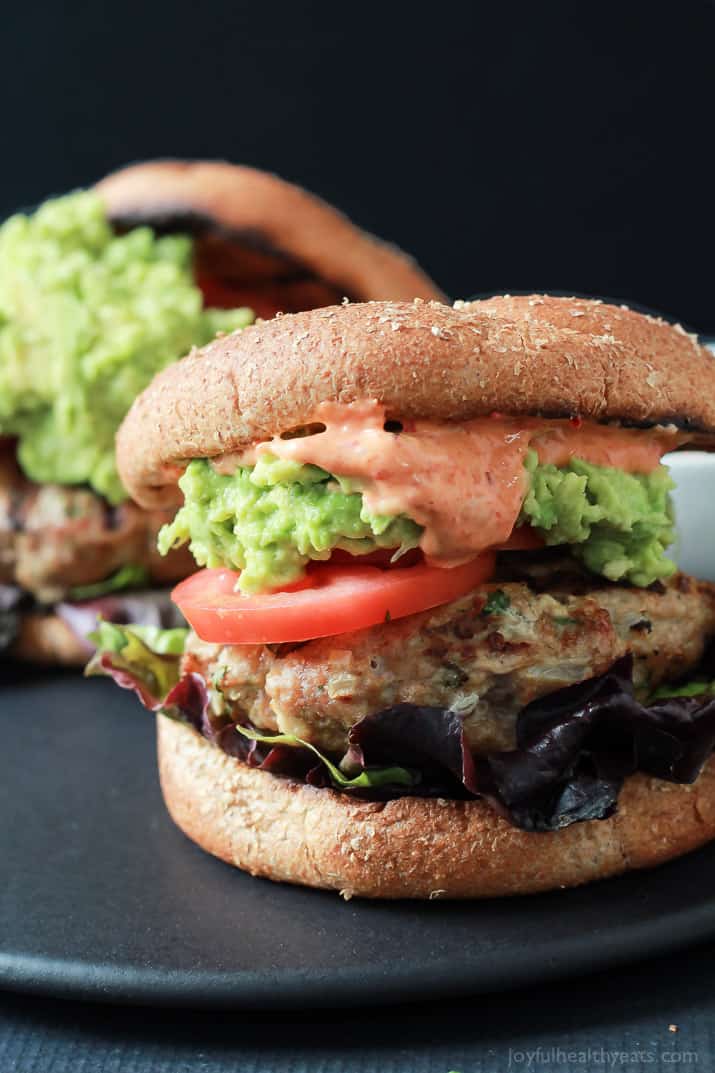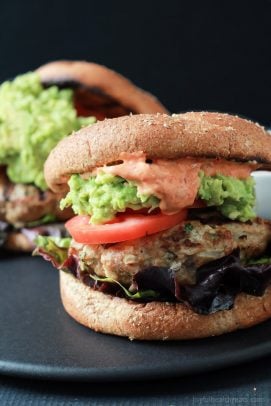 DON'T MISS A RECIPE ->