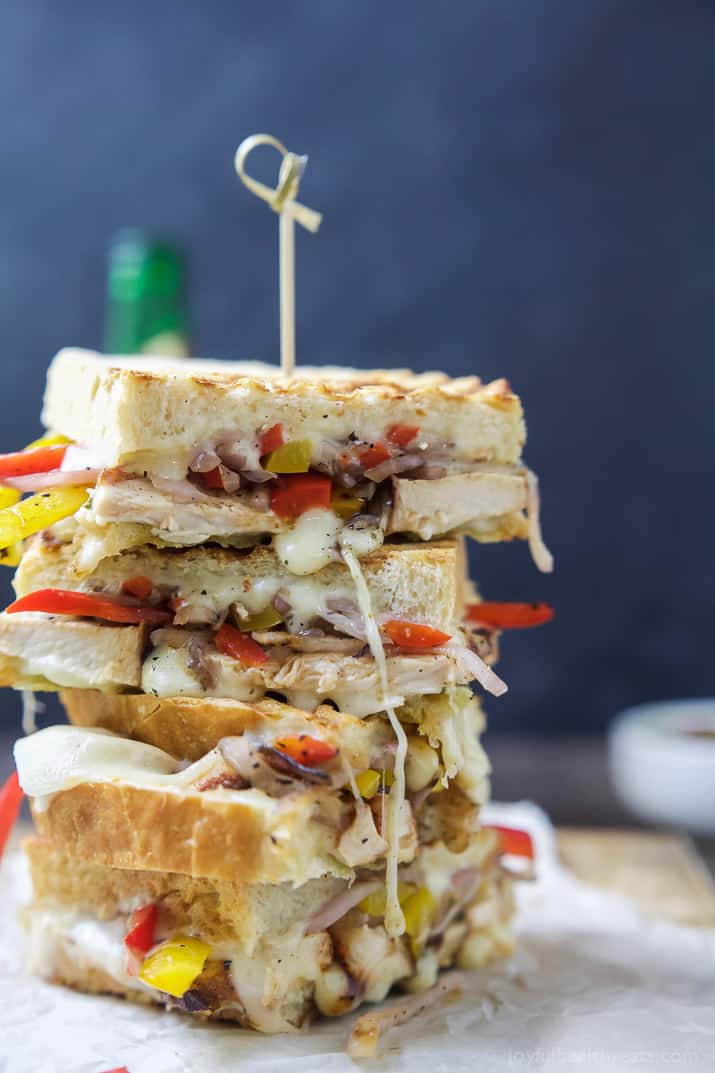 A Grilled Chicken Fajita Panini filled with juicy spice rubbed chicken, grilled peppers and onions, creamy fontina cheese, and zesty chimichurri for the perfect sandwich bite. You'll want this sandwich for lunch AND dinner!
Have you ever had one of those weeks where a phrase, a word, or a verse stays on repeat? Where no matter who you talk to, where you look, or what you're listening too somehow it appears?
Well that was me last week!
The phrase was actually a verse. It was …. "I do believe, help me overcome my unbelief."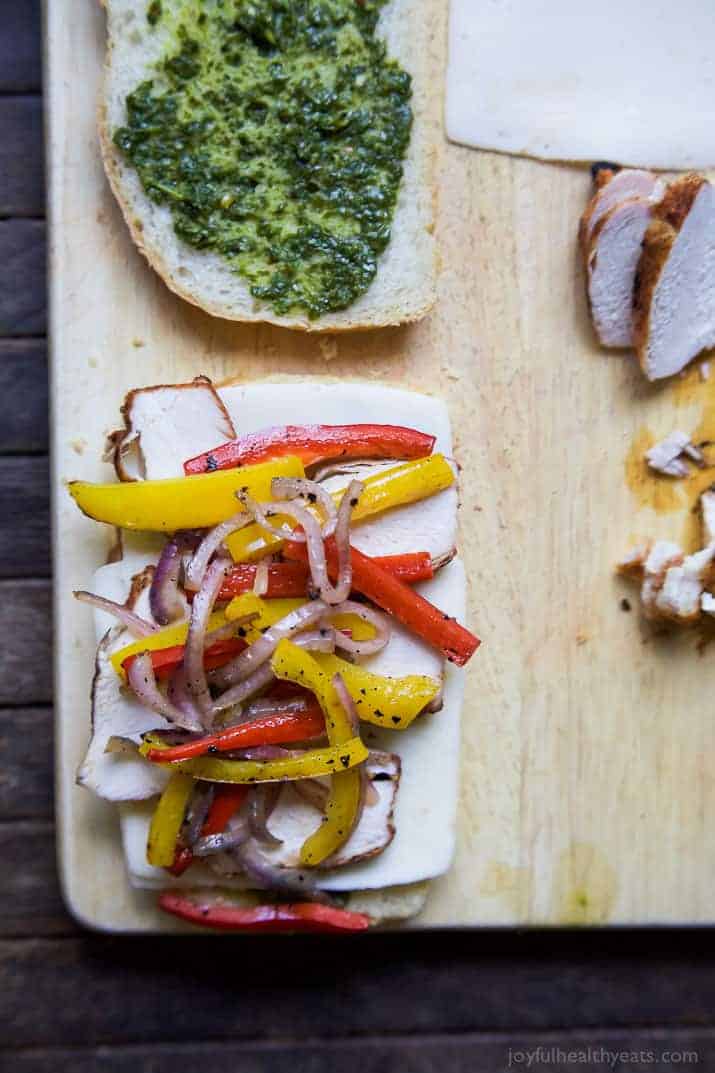 This verse is found in Mark 9:24. The background story is of a father who comes to Jesus asking him to heal his son who has been tormented by demons since childhood. At one point the father tells Jesus the demon "has often thrown him into fire or water to kill him. But if you can do anything, take pity on us and help us." Jesus replies "If you can? Everything is possible for one who believes."
To which the father immediately replies "I do believe, help me overcome my unbelief." Then Jesus casts the demon out and heals the boy.
A friend of mine told me this story last Thursday night, I didn't think it applied to me. But then I heard it again on Friday and again on Sunday morning. Usually when the Lord brings something like that up more than once it means he's trying to teach me something.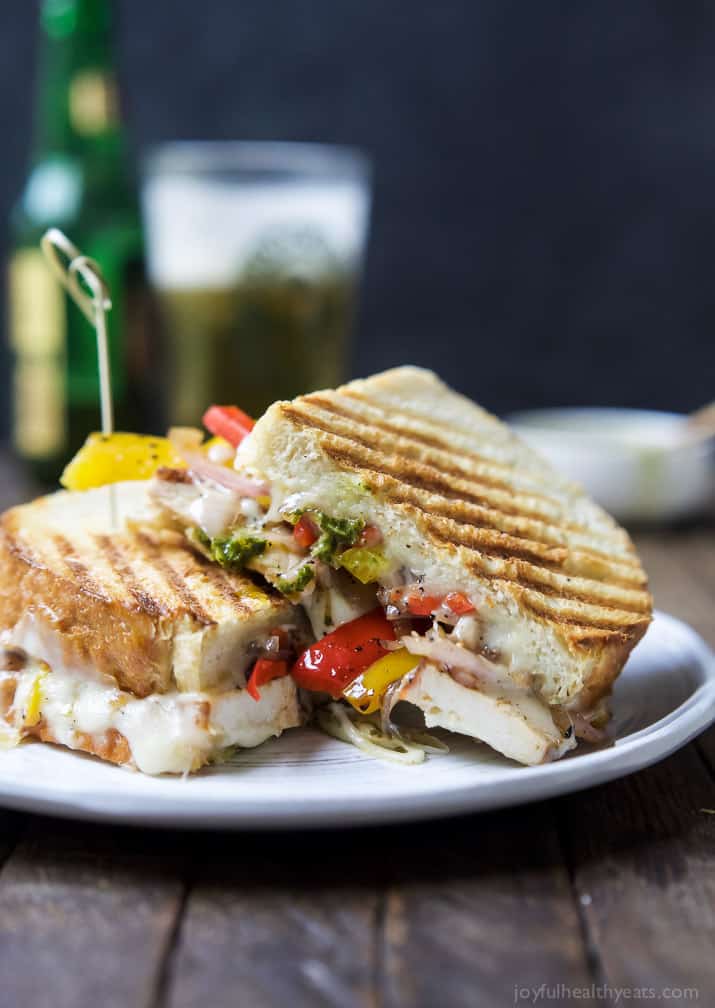 So I pressed in a bit, prayed about it and realized that God was showing me something. I DO struggle with unbelief.
I believe wholeheartedly that God is going to give us another baby and that it will be naturally. But there is still a little side of me that self protects, that just in case it doesn't happen I can say … well.. I had a feeling.
In poker terms, I'm not all in. I'm still holding onto a little bit and he wants me to be all in for him. And you know what, I want to be too! So Sunday morning, me and God had a talk and I told him. "I do believe, help me overcome my unbelief." It's a daily process of giving him my complete trust and belief, but so worth it!
Is there anything you aren't believing the Lord for? Marriage Restoration, restoration of a wayward child, physically healing, emotional healing. Why are you holding back? He created the universe, surely he can change your situation. Press into him and believe! Just some Monday morning thoughts.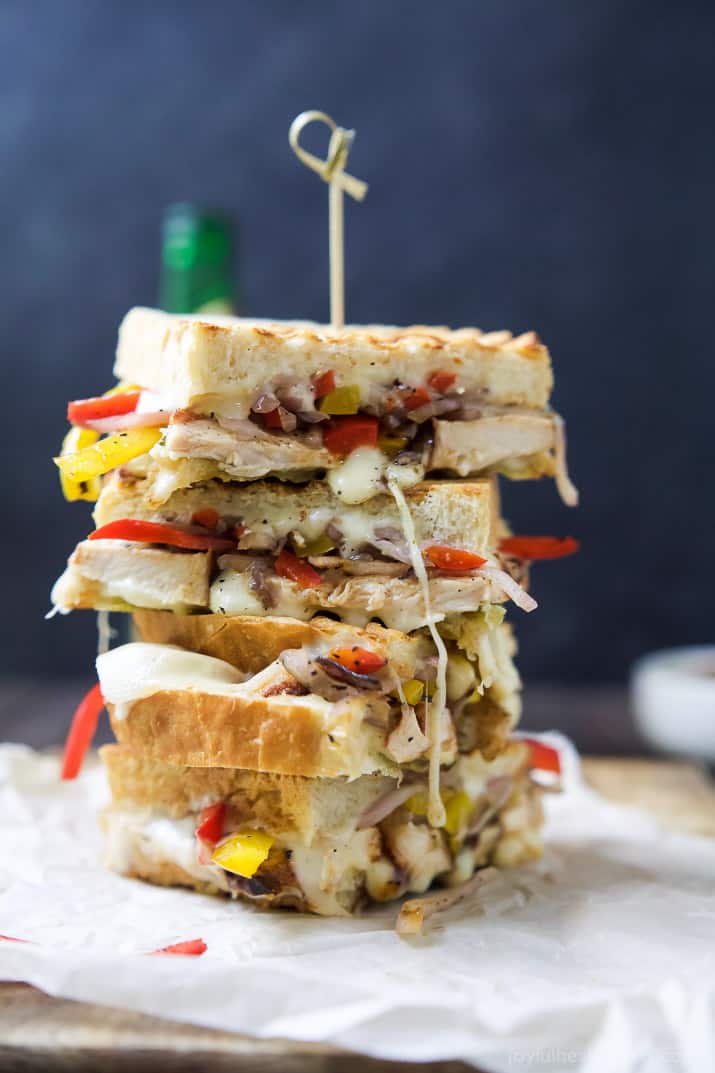 So one of my favorite appliances at our house, besides the spiralizer is our panini press. It's my go to appliance when I want a quick tasty sandwich. In my opinion all sandwiches are better when they are toasted and smushed! 🙂
This Grilled Chicken Fajita Sandwich is filled with flavor! The chicken in this sandwich is rubbed down with my favorite spice rub and then grilled for a nice smokey flavor. Fajitas aren't complete without grilled peppers and onions, and neither is this sandwich! To finish off this show stopper of a sandwich I surrounded the chicken fajitas with creamy fontina cheese and zesty chimichurri!
This sandwich is out of control good! I can guarantee there will be no left overs with this one! Bon Appetit my friends!
Print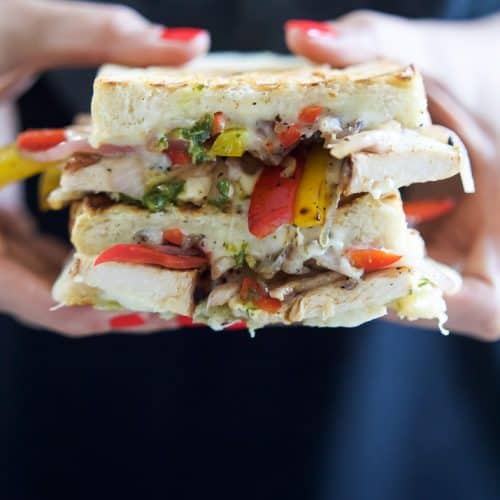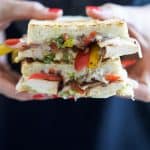 Cheesy Chicken Fajita Panini
Author:

Prep Time:

5 mins

Cook Time:

20 mins

Total Time:

25 mins

Yield:

4

sandwiches

1

x
Category:

Sandwich, Grilled, Easy Dinner Ideas, Kid Friendly
---
Scale
Ingredients
Grilled Fajita Chicken:
1 teaspoon

of garlic powder

1 teaspoon

of ground cumin

½ teaspoon

of ground coriander

½ teaspoon

of smoked paprika

½ teaspoon

of sea salt

¼ teaspoon

of ground black pepper

2

chicken breasts

12

slices of fontina cheese

1

loaf of sourdough bread (

8

slices)

1

red pepper, thinly sliced

1

orange pepper, thinly sliced

1/2 cup

red onion slices

1 tablespoon

olive oil
salt & pepper to season
Make chimichurri sauce
Instructions
Preheat grill to medium high heat.
In a small bowl, add garlic powder, cumin, coriader, smoked paprika, sea salt, and ground black pepper. Mix and season chicken with spice blend on both sides.
Place chicken on grill and grill each side for 5-6 minutes, or until there is no pink. Remove and let rest for 2 minutes, then thinly slice.
In the mean time add sliced onions and peppers to a bowl and season with 1 tablespoon of olive oil, sea salt, and pepper. Toss to coat.
Next, to a grill basket, add peppers and onions. Grill for 3-4 minutes. Remove from the grill.
To assemble the sandwiches, spread chimichurri sauce on one slice of bread, top with two slices of cheese, sliced chicken, grilled peppers and onions, two more slices of cheese, and top with the other slice of bread. Repeat process for 3 more sandwiches.
Place sandwich in a panini press and cook until bread is browned and the cheese is melted. Cut in half and serve!
IF YOU MAKE THIS RECIPE, BE SURE TO SNAP A PIC AND HASHTAG IT #JOYFULHEALTHYEATS. I LOVE SEEING WHAT YOU MAKE!
Want More Sandwich Recipes?
Grilled Avocado Caprese Chicken Sandwich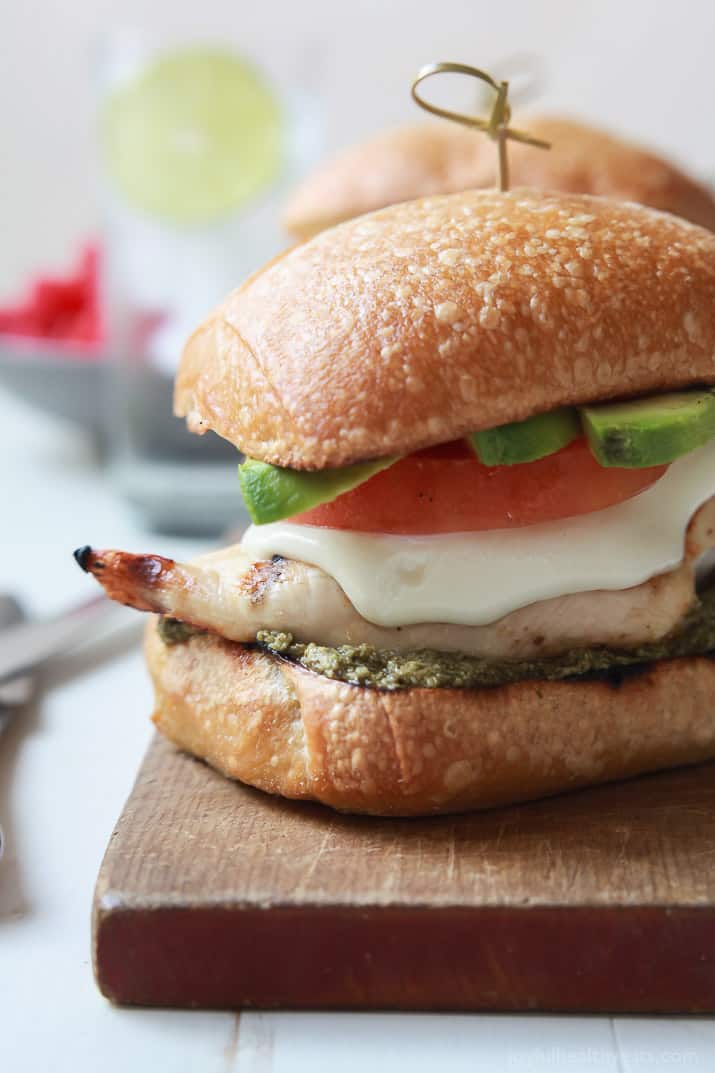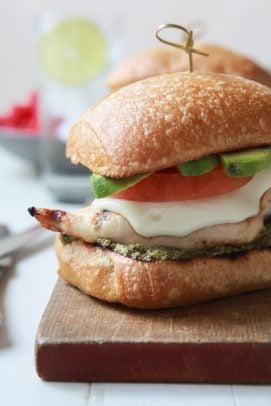 BBQ Chicken Burgers with Caramelized Onions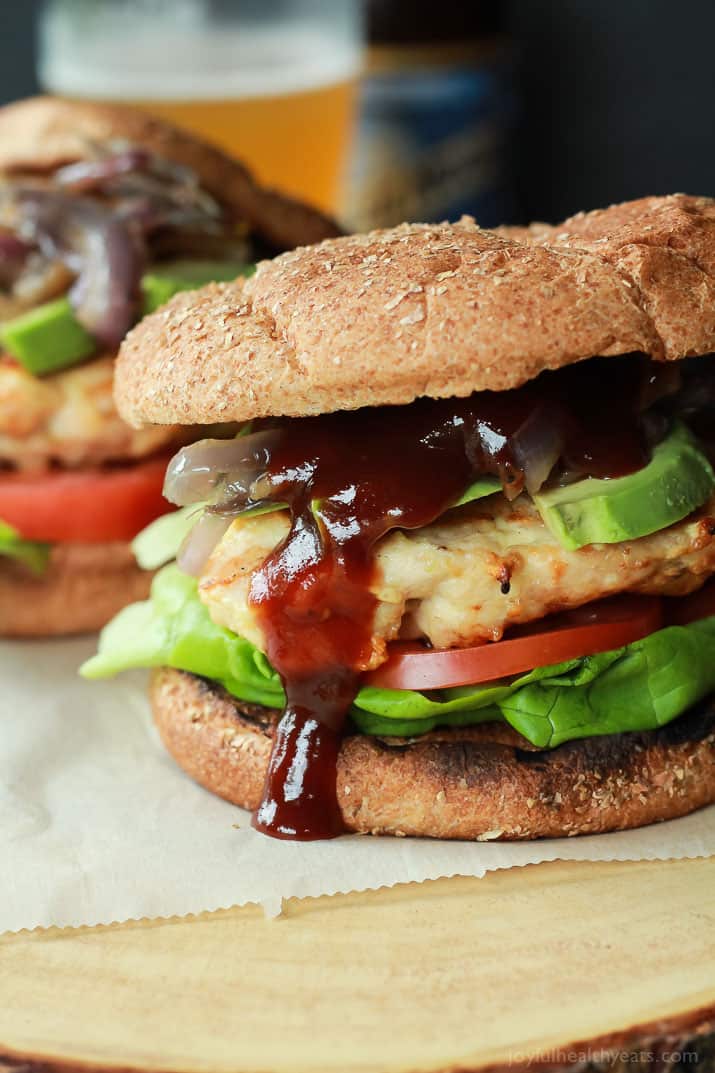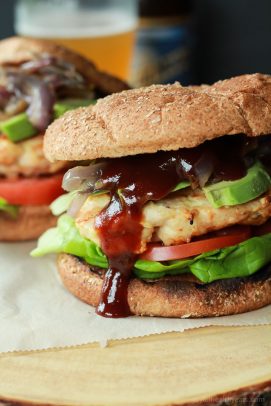 Blackened Mahi Mahi Fish Burgers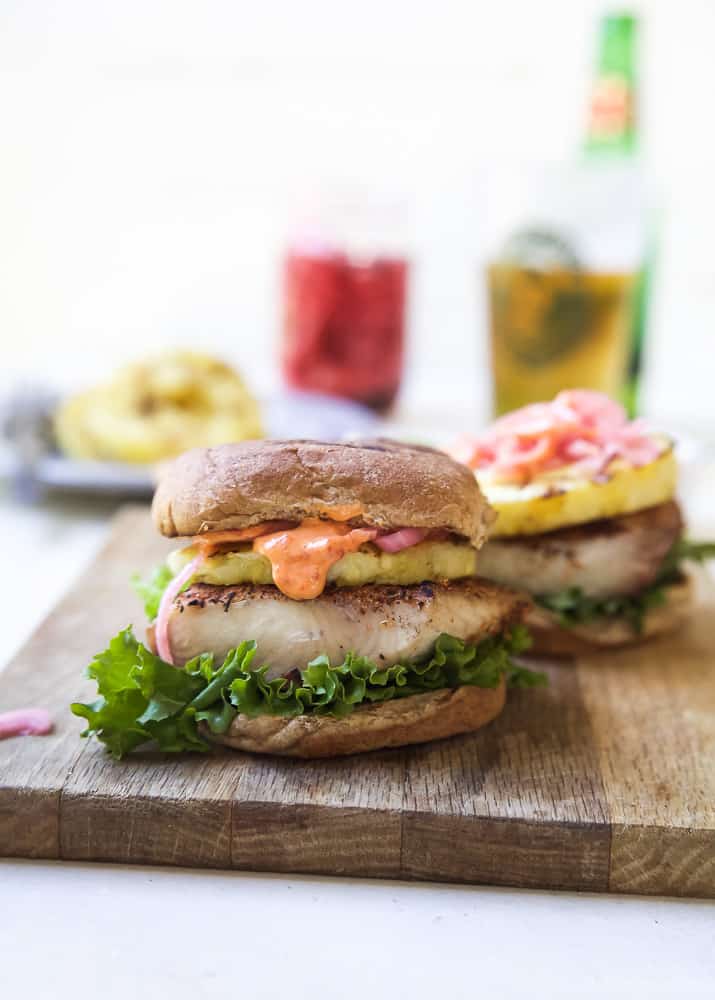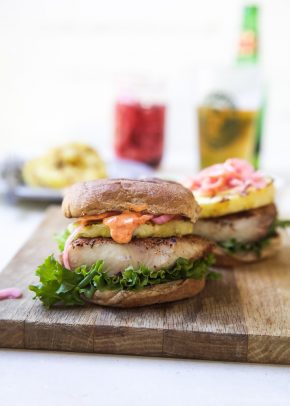 DON'T MISS A RECIPE ->