16 Easy & Healthy Chicken Salad Recipes Perfect for Dinner!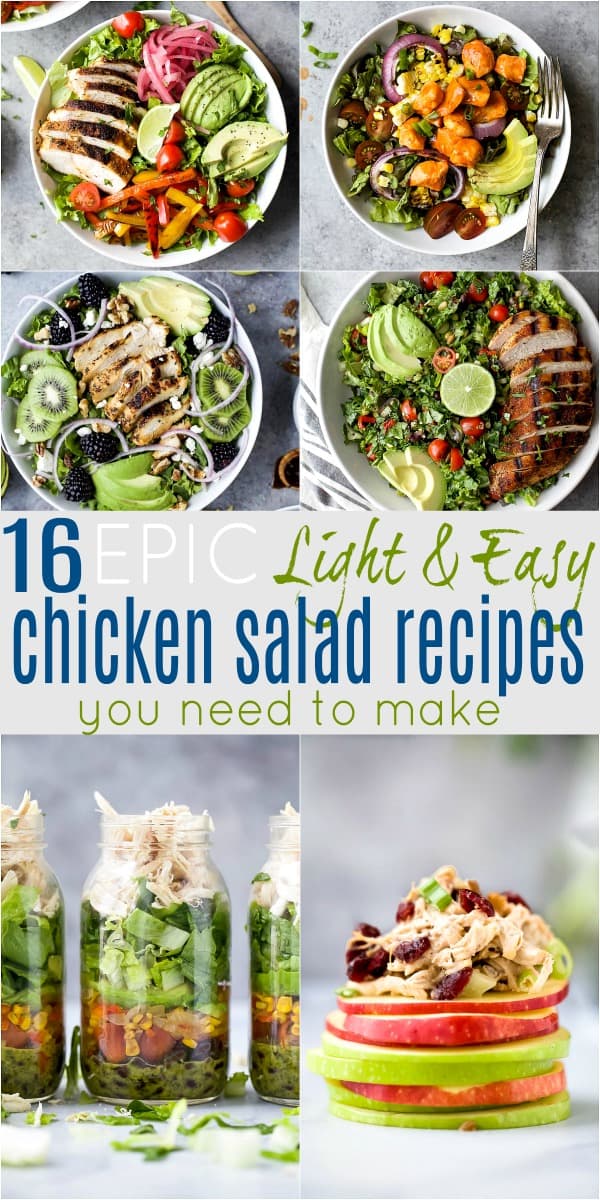 16 epic chicken salad recipes that are easy to make & healthy too! A delicious collection of healthy chicken salads that will make you want to eat salad for dinner everyday and NOT get bored!
Tis the season! Salad season that is. As comfort food starts to come to a close and the warmer weather shows it's beautiful face …
Healthy salad recipes are on a rise.
As I was putting this fun delicious roundup together for you, I was looking at all the salad recipes from my site. I realized I had an overwhelming amount of chicken salad recipes, don't get me wrong I've got a good amount of steak salads too! But chicken is the winner by far and large! Sooo… here they are. All of my favorite light & easy chicken salad recipes in one spot and for your pinning, printing and making pleasure. Even if you go through each and every one of these recipes (which I highly recommend) I guarantee you still won't be board of salads. In fact, you'll be begging for more!
Bon Appetit friends!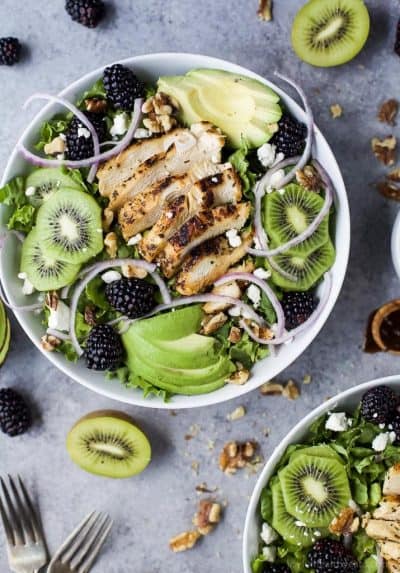 An easy light Blackberry Kiwi Balsamic Chicken Salad that's naturally gluten free. This baby is filled with fresh fruit, feta cheese, tender chicken then covered in Balsamic Dressing!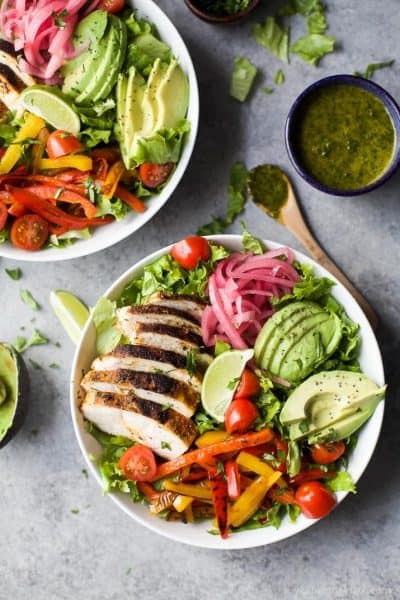 Watch out Taco Tuesday! This 30 Minute Chicken Fajita Salad is gonna be a new favorite! Filled with chipotle chicken, sautéd peppers and onions, creamy avocado and drizzled with a zesty Chimichurri Dressing.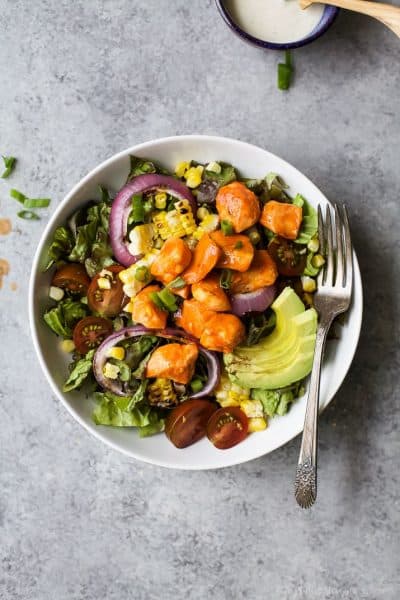 Any Buffalo Wings lovers out there? Well now you can have your wings and not feel guilty about it! This Grilled Buffalo Chicken Salad is smothered in buffalo sauce and filled with grilled vegetables for one delicious bite!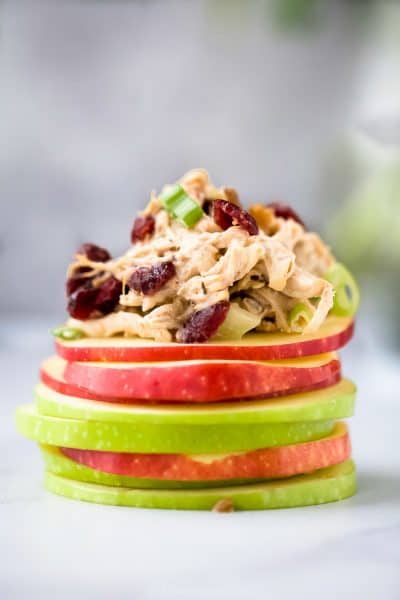 A meal done in 15 minutes? Yes please! This LIGHT & EASY CRANBERRY CHICKEN SALAD RECIPE is high in protein and gluten free! Made with yogurt, dijon mustard, herbs, and fresh lemon then tossed with pecans and cranberries.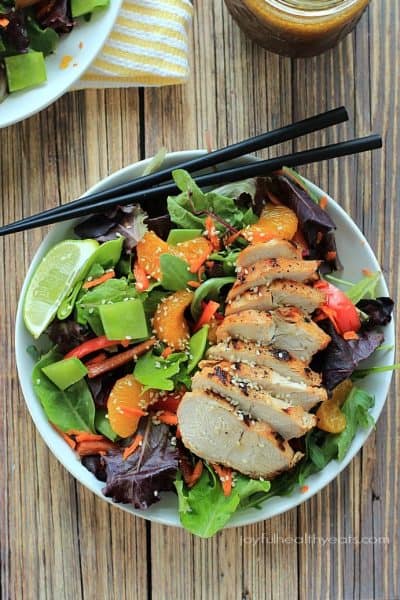 Take-out just got a healthy facelift! Asian Chicken Salad packed with vegetables, sweet oranges, grilled chicken and drizzled with a killer Sesame Ginger Dressing!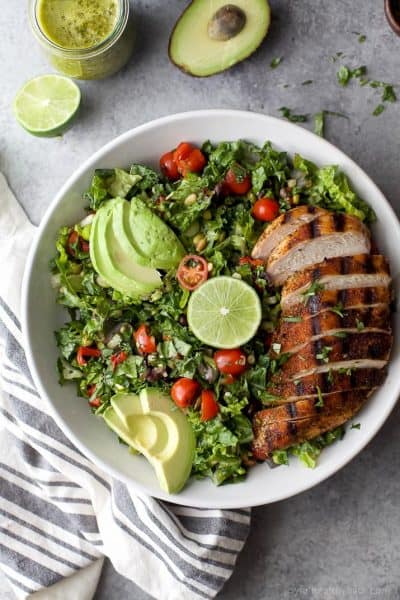 Up your Salad game and your dinner table this MEXICAN CHOPPED SALAD filled with kale, grilled vegetables, avocado and grilled chipotle chicken then drizzled with a POBLANO DRESSING. It's perfection, trust me!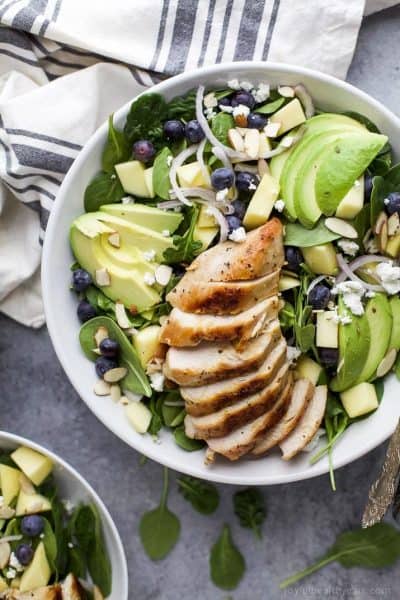 You can't get fresher or easier than this fruit forward Grilled Avocado Mango Chicken Salad a refreshing healthy 30 minute salad perfect for the summer!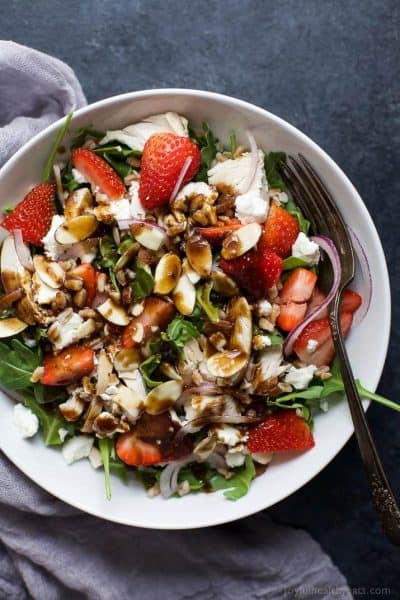 Ever put grains in your salad? Well you'll start after you try this Farro Arugula Strawberry Chicken Salad – a healthy salad filled with juicy strawberries, farro, goat cheese, chicken and covered in balsamic dressing!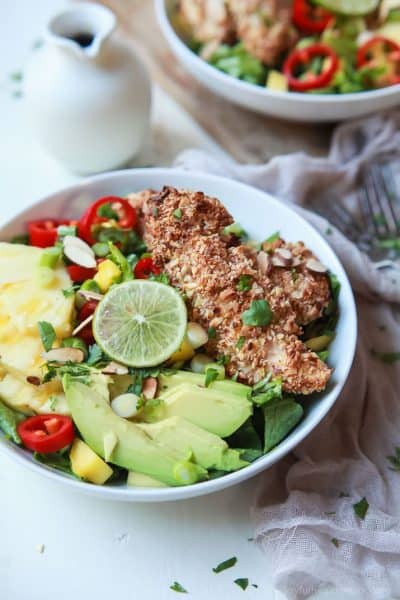 Get bikini ready with this Tropical Coconut Chicken Salad loaded with fresh exotic fruits & homemade Almond-Coconut Crusted Chicken Tenders.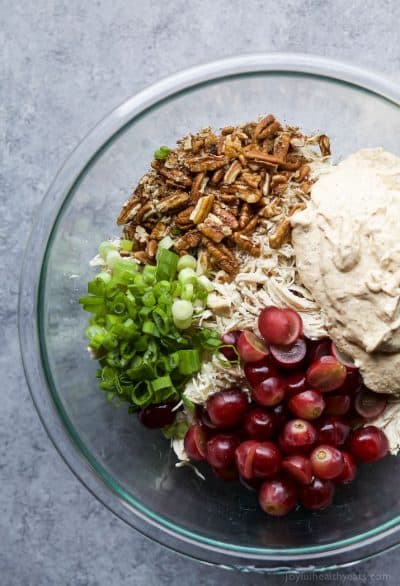 The BEST easy & light classic chicken salad recipe, made with greek yogurt, mustard, spices and fresh lemon juice then tossed with grapes and pecans. Perfect for a quick lunch!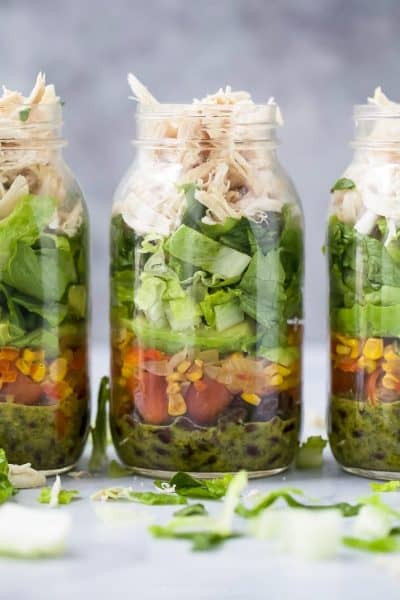 If you haven't made a Mason Jar Salad yet, now's your chance! This Southwest Chicken Salad has a zesty Cilantro Lime Dressing and is filled with veggies and protein from top to bottom – plus it only takes 30 minutes!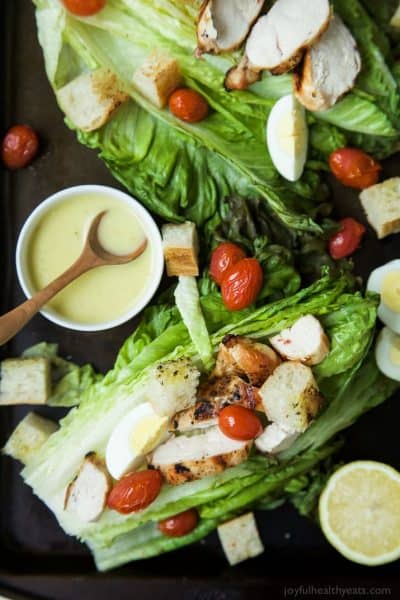 If you haven't grilled lettuce yet you're in for a treat! ThisGrilled Chicken Caesar Salad recipe is epic – and the Light Caesar Dressing is egg and anchovy free!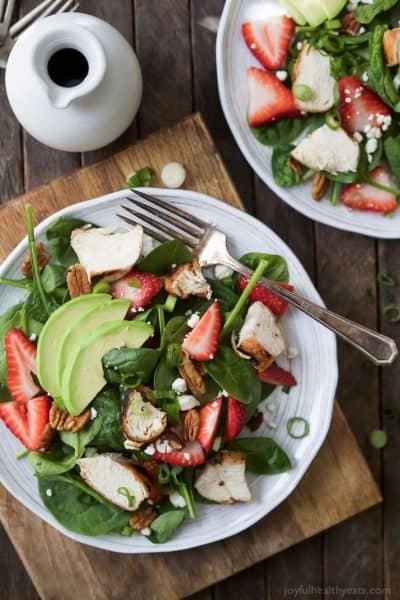 A light healthy salad made with minimal ingredients! Strawberry Avocado Chicken Salad filled with fresh Berries, Feta, creamy Avocado, and Grilled Chicken.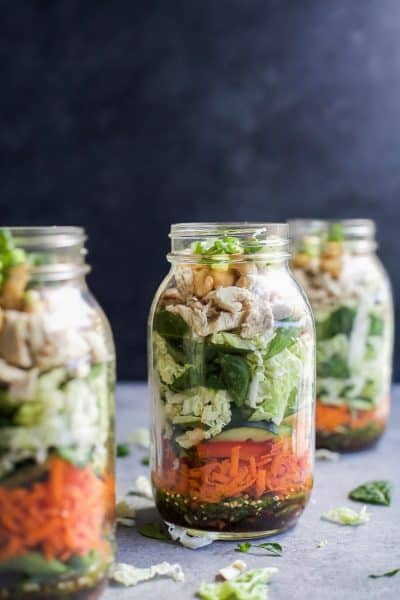 This ASIAN CHICKEN MASON JAR SALAD will be the envy of the lunch room! Loaded with veggies, napa cabbage, rotisserie chicken, cashews and topped with a Sesame Dressing – done in 30 minutes!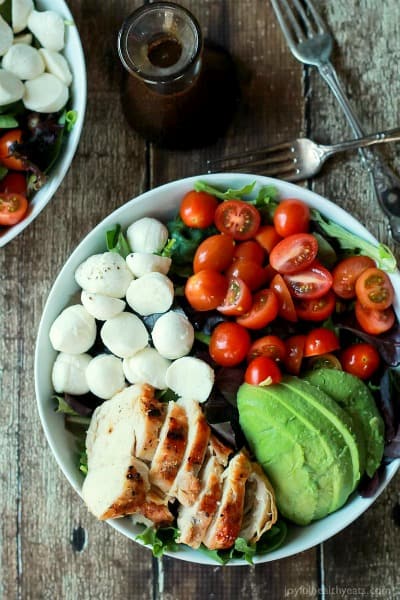 Dinner for two coming right up, although you may not want to share! Avocado Caprese Chicken Salad topped with a light Balsamic Vinaigrette and only takes 15 minutes to make!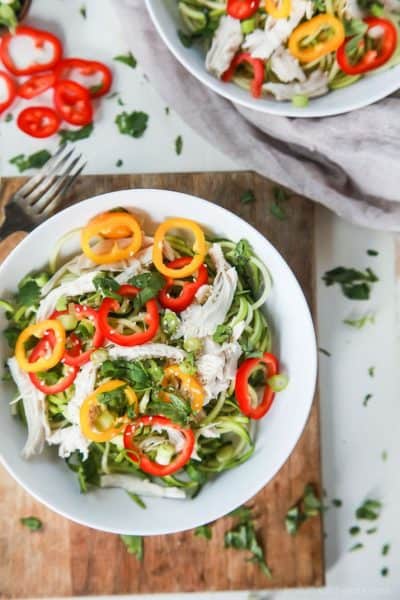 One of my favorites, you're gonna love the zucchini noodles as the base instead of lettuce! Thai Chicken Zucchini Noodle Salad topped with a Sesame Vinaigrette – done in 15 minutes and only 324 calories.

DON'T MISS A RECIPE ->