These 15 Healthy Dinner Ideas with Frozen Chicken use pantry staples and are super easy to make. You're gonna love how simple these dinner recipes are!
Looking for more freezer meals? Try my Crock Pot Short Rib Tacos or my Honey Mustard Baked Salmon.
Easy Freezer Meals with Frozen Chicken
Well, since we are all quarantined to the house it's time to get creative in the kitchen. I would venture to guess that most of you have chicken in your freezer. I know I do! Chicken is usually the "meat of choice" around our house. Unless my husband has a say, in which case it's steak! 🙂
One of the biggest things I've noticed when going to the grocery store is that people are buying pasta and rice like it's going out of style. I wanted to encourage you that you don't have to store up on carbs! You can have a healthy EASY and delicious meal with fresh or frozen ingredients and pantry staples. Case in point! These 15 easy meals I'm giving you … All of them you can make with the frozen chicken you have in your freezer. I guarantee it will curb the taste you have for restaurant food and be a welcome change to those carb heavy foods. Let's answer a few staple questions first and then I'll give you the goods.

How Long Does Frozen Chicken Last?
The good news is that as long as your chicken is frozen at or below 0°F then they will last indefinitely. Bad news is they won't taste great indefinitely. The best time to eat frozen chicken is within 9 months of being frozen. After that the taste will change.
Can You Cook Chicken from Frozen?
Yes, you can safely cook your frozen chicken, as long as you follow a couple general guidelines according to the USDA. In order to skip the thawing process and transform your frozen chicken into a fully-cooked, safe-to-eat meal, use your oven, stove top, crock pot or instant pot and simply increase your cooking time by at least 50%. Voila you are now a master at cooking frozen chicken.
How Do You Thaw Frozen Chicken?
There are two ways to thaw chicken breast:
Natural Thaw: Place frozen chicken breast in the refrigerator covered and let sit overnight. They should be thawed by morning.
Warm Water: Turn faucet on and fill a large bowl or sink with warm water, (about 140°F) then place chicken in water and submerge. Stir water occasionally to prevent cold water pockets. Your chicken should be thawed within 30 minutes or so.
15 Easy Chicken Recipes from Frozen Chicken
Ok are you ready to dig into these freezer meals using frozen chicken? Let's get started!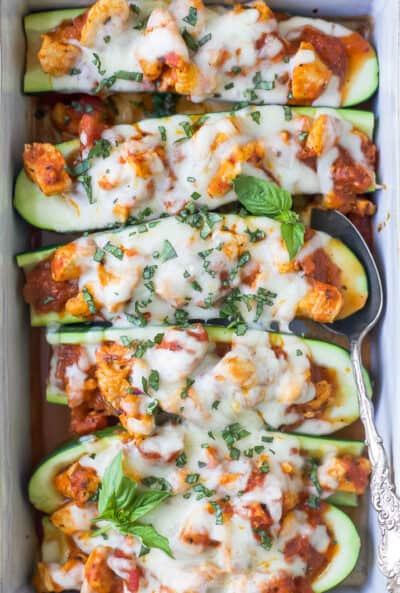 Thaw out your frozen chicken and make these Chicken Parmesan Zucchini Boats! Zucchini stuffed with lean chicken tossed in a flavorful marinara sauce and topped with melted mozzarella. These Zucchini Boats are a great low carb, high protein dinner that's fast and easy to make.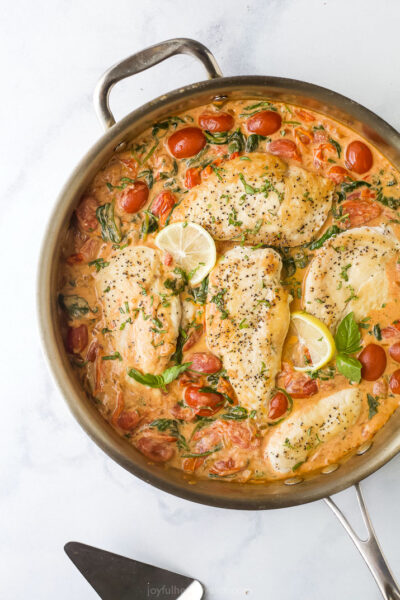 This Creamy Tuscan Chicken recipe is a quick dinner idea your family will love! Just thaw out that chicken, pan sear it and nestled in a creamy garlic white wine sauce with spinach and burst tomatoes. It's a restaurant quality dinner that's ready in 30 minutes!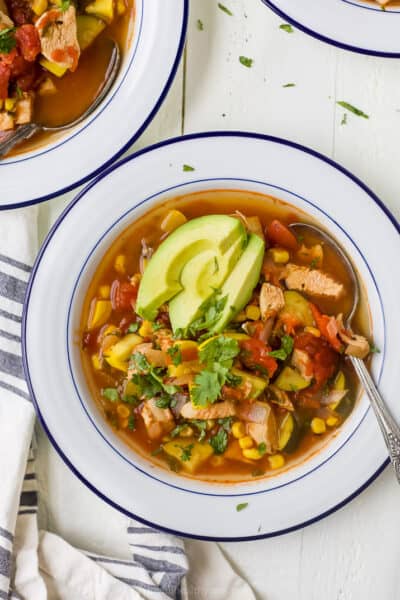 Just throw our chicken in this soup and voila… Hearty Chicken Tortilla Soup filled with vegetables, chicken, chipotle peppers and fresh cilantro. It's the best chicken tortilla soup EVA! Top it with avocado for the ultimate finish!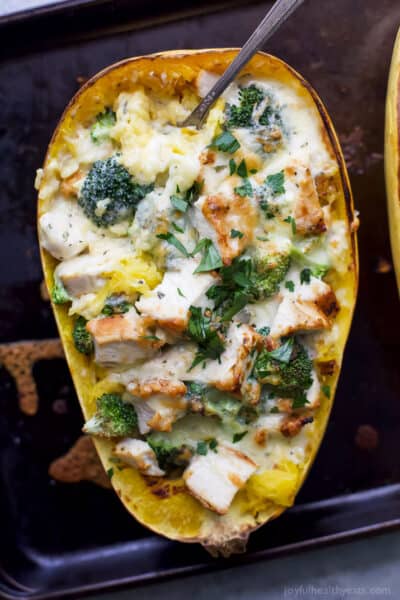 Y'all. This is one of my all time favorites and all of these ingredients are easy to find in the grocery store! Chicken Alfredo Spaghetti Squash Boats filled with a cheesy mixture of chicken and fresh broccoli! This low carb dinner idea is so easy & delicious. It screams comfort food.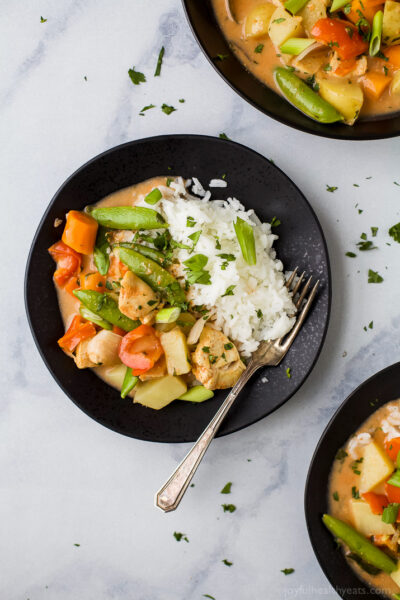 Crockpot Chicken Curry made with boneless skinless chicken breast, veggies, coconut milk and curry paste! Curry has never been easier! This fast family friendly chicken recipe is perfect for a flavorful weeknight dinner.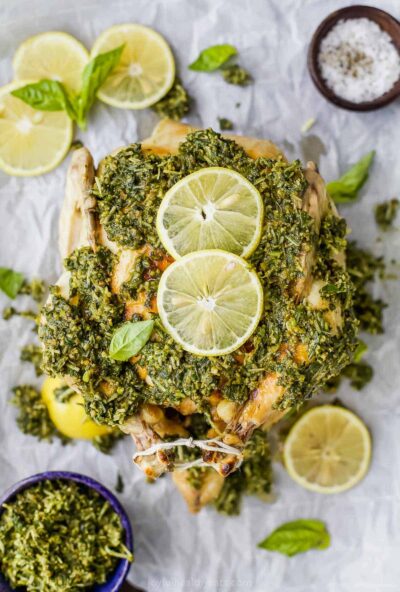 The BEST Instant Pot Rotisserie Chicken you'll ever make! Moist tender chicken with crispy skin covered in a fresh Pesto Sauce, all in just 45 minutes! You'll love the new technique I use – frozen chicken to tender juicy chicken in minutes!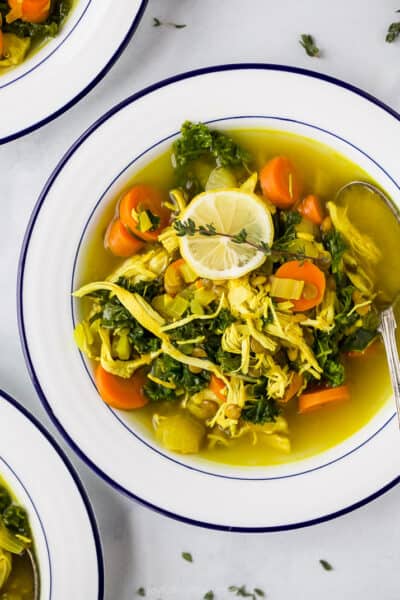 Trust me, this baby is needed right now! Homemade Chicken Soup recipe is guaranteed to boost your immune system! A healing chicken soup filled with veggies, turmeric, herbs, chicken and lentils. It's the best chicken soup for flu season or to fight off that cold and great way to use up that frozen chicken!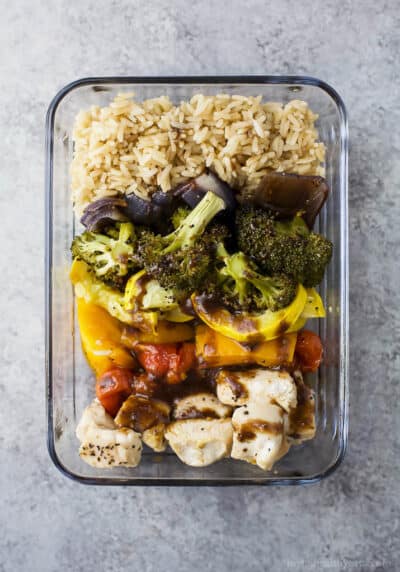 Roasted Veggie Balsamic Chicken Grain Bowls are super easy meal prep recipe with 28 grams of protein & less than 350 calories a serving! It's a great lunch option that you can make with chicken that's sitting in your freezer. They're the perfect healthy and nutritious dinner option!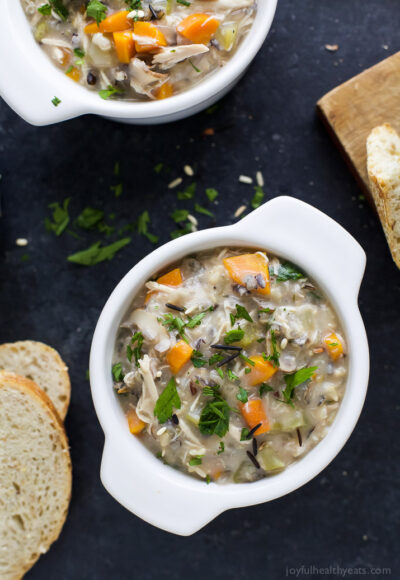 This easy Crockpot Chicken and Wild Rice Soup goes perfectly with a slice of crunchy bread. It's all the comfort you need during this season of life! A great set-it-and-forget-it dinner idea with only 5 minutes of prep time.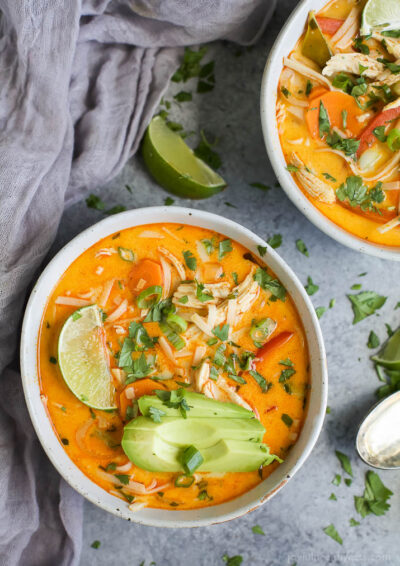 The Most Epic Thai Chicken Noodle Soup you'll ever make! Each bite of this Chicken Noodle Soup is full of thai flavor from the red curry paste, loaded with chicken, veggies and rice noodles. The perfect dinner recipe ready in only 30 minutes!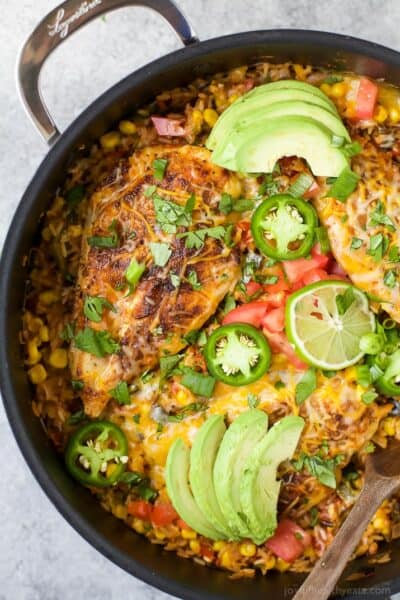 Completely obsessed with this one because y'all know i love tex-mex anything! ONE PAN SOUTHWESTERN CHICKEN AND RICE – an easy healthy dinner recipe all made in one pan for easy cleanup! It's perfect for the family and bursting with flavor!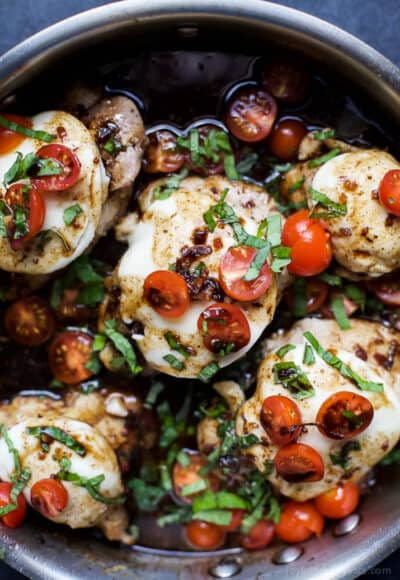 One Pan Balsamic Glazed Caprese Chicken – an easy recipe done in less than 40 minutes. Thaw out those chicken thighs and turn them into this delicious tender juicy pan seared chicken cooked in a balsamic glaze. I guarantee your family will be begging for you to make this again!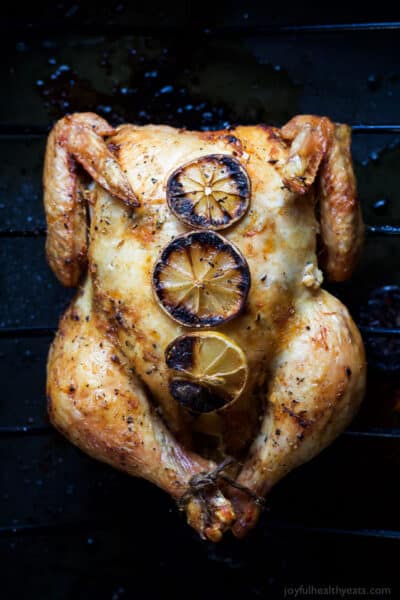 Who needs store bought Rotisserie Chicken, you can make your own!! You will fall in love with the crispy skin and smoky lemon garlic butter of this Oven Roasted Chicken Recipe, an easy, gluten free, paleo weeknight meal the family will love!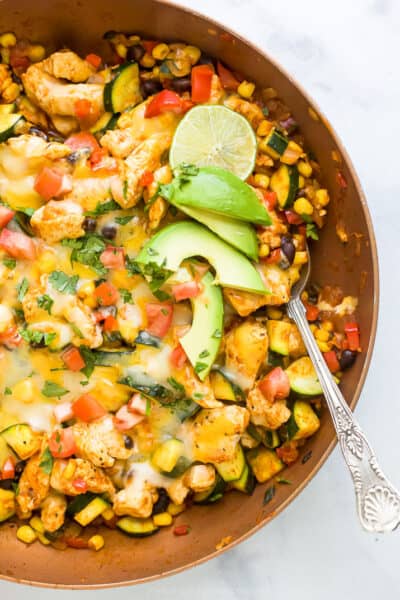 Hands down one of my favorites! We make this 30 Minute Zucchini Chicken Enchilada Skillet at least once a week. A healthy gluten free dinner idea that comes together in one pan filled with zucchini, corn, black beans, zesty enchilada sauce then covered in cheese!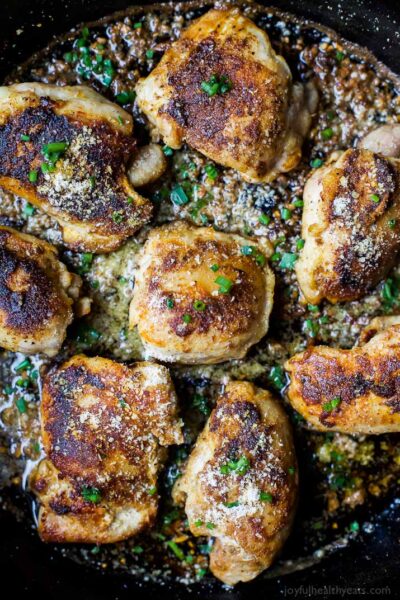 These
Skillet Garlic Parmesan Chicken Thighs
are an amazing one-pan skillet meal. Tender pan seared chicken thighs topped with a buttery garlic parmesan sauce that will make you swoon! A mouth-watering recipe done in 30 minutes with only 262 calories per serving!