This Homemade Red Enchilada Sauce is perfect for so much more than just enchiladas! You can serve it with pasta or rice, or add it to your favorite soup. Its rich, smokey, and bold flavors are unmistakable.
The Most Flavorful, From-Scratch Enchilada Sauce (It's Easy!)
I'm going to teach you how to make one of my favorite (and admired) restaurant ingredients – Red Enchilada Sauce. It's not intimidating at all and it's actually quite beautiful!
Do you know the feeling when you're eating a meal at a restaurant and you're eating a dish with so many components and you wonder – how did they pull this all together? I often think about that a lot when dining out. Often at Mexican restaurants where there are so many sauces, dips, methods of preparation, etc. that go into just one dish!
I'll order enchiladas and just stare at the sauce for a few moments. The color is gorgeous in a culinary sense! Its deep red color is a telltale sign that the sauce is authentic and going to be downright delicious. It goes perfectly on the enchiladas, but I also couldn't help but wonder what else I could use this rich tomato-based sauce on.
I worked hard to recreate this beautiful sauce for you! Now you can create this spicy, smokey, tangy, and slightly sweet sauce right in your own kitchen. It's simple, authentic, and goes well with everything from enchiladas to pasta to soups.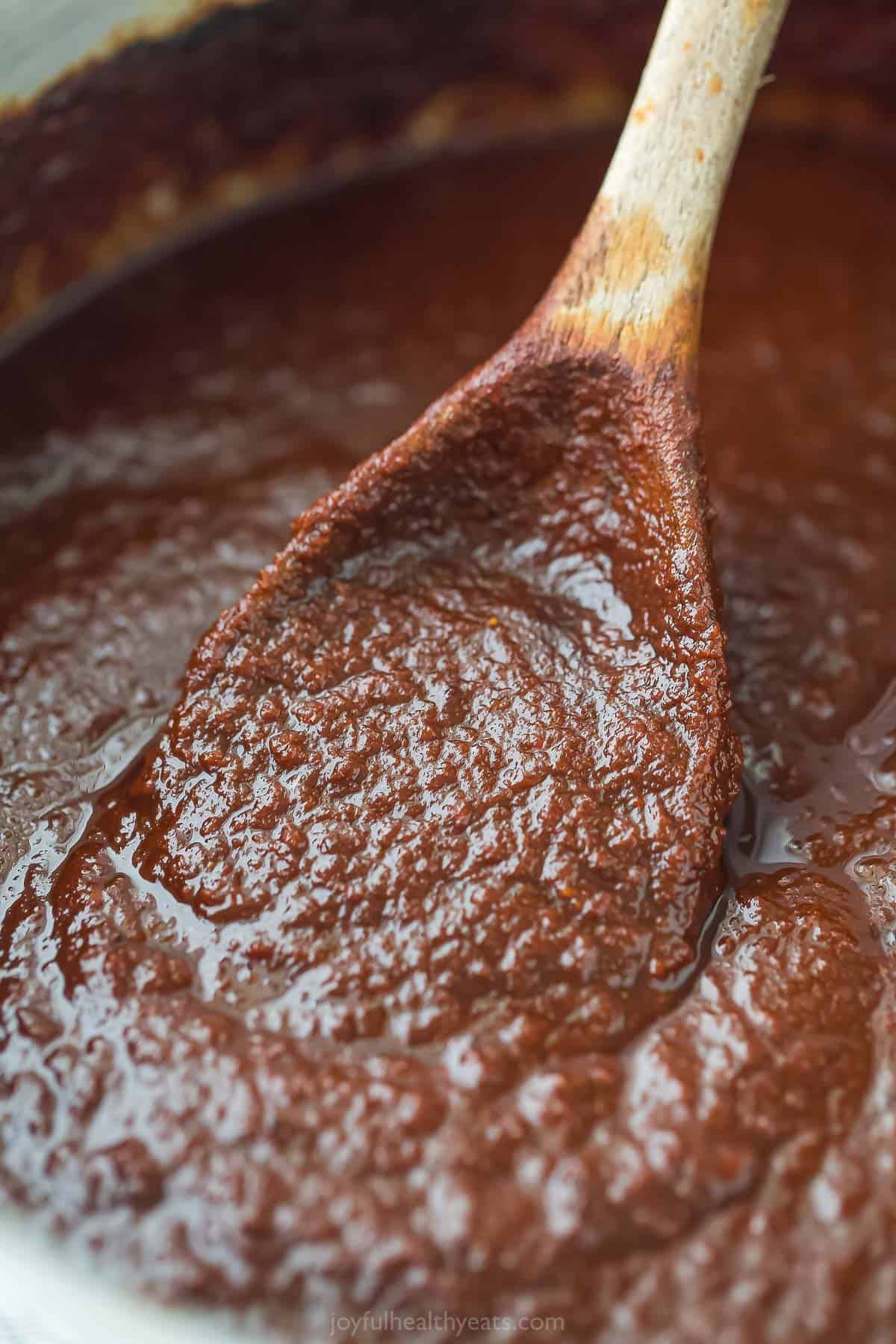 What Is Red Enchilada Sauce Made From?
The simple list of ingredients is listed below. Remember to check out the recipe card for the exact amounts of each item!
Dried Peppers: For this recipe, you'll use a blend of ancho chili, guajillo, and chili de Arbol peppers. You can most likely find them at your supermarket or Latin foods markets. If you can't find one, you can compensate with the others to get the full weight of dried peppers.
Avocado Oil
White Onion: You could also use a yellow or sweet onion. Red onions could also work in a pinch.
Roma Tomatoes: You can use another tomato if you'd like. But Roma tomatoes are great because they do not have a high water content or a lot of seeds.
Garlic: Use fresh cloves for the best results. I don't recommend using any sort of dried garlic seasoning here.
Chicken Broth: Use low-sodium chicken broth so that you can control the salt level. Vegetable broth can be used as well, but it won't have the same rich flavor.
Water
Cumin: I don't recommend substituting the cumin. It is one of the key ingredients for authentic flavor.
Oregano: Also, try and keep the oregano! It's another spice that is used often in Mexican cooking. You could use fresh oregano if you'd like (but I suggest reducing it to half the amount).
Salt
Cinnamon: This is one of my favorite ingredients! It adds a really special earthy flavor with a bit of sweetness.
Apple Cider Vinegar: Adding acid will elevate the flavor of the sauce (without making it taste like vinegar!). You could also use lime juice.
Honey: Adding a little sweetness cuts the bitterness from the other ingredients. Use more or less as you need to adjust that bitter flavor.
Is Red Enchilada Sauce Spicy?
This recipe can be spicy, but it doesn't have to be! This all depends on the type of chili used. In this recipe, each chili is rated "mild" on the Scovilles scale.
How to Make It
I'll walk you through each step of the recipe while making Homemade Enchilada Sauce. Each step is very simple but carefully created!
Boil chicken stock and water. This is the liquid that is going to soften the dried peppers. And it needs to be hot first to speed things up.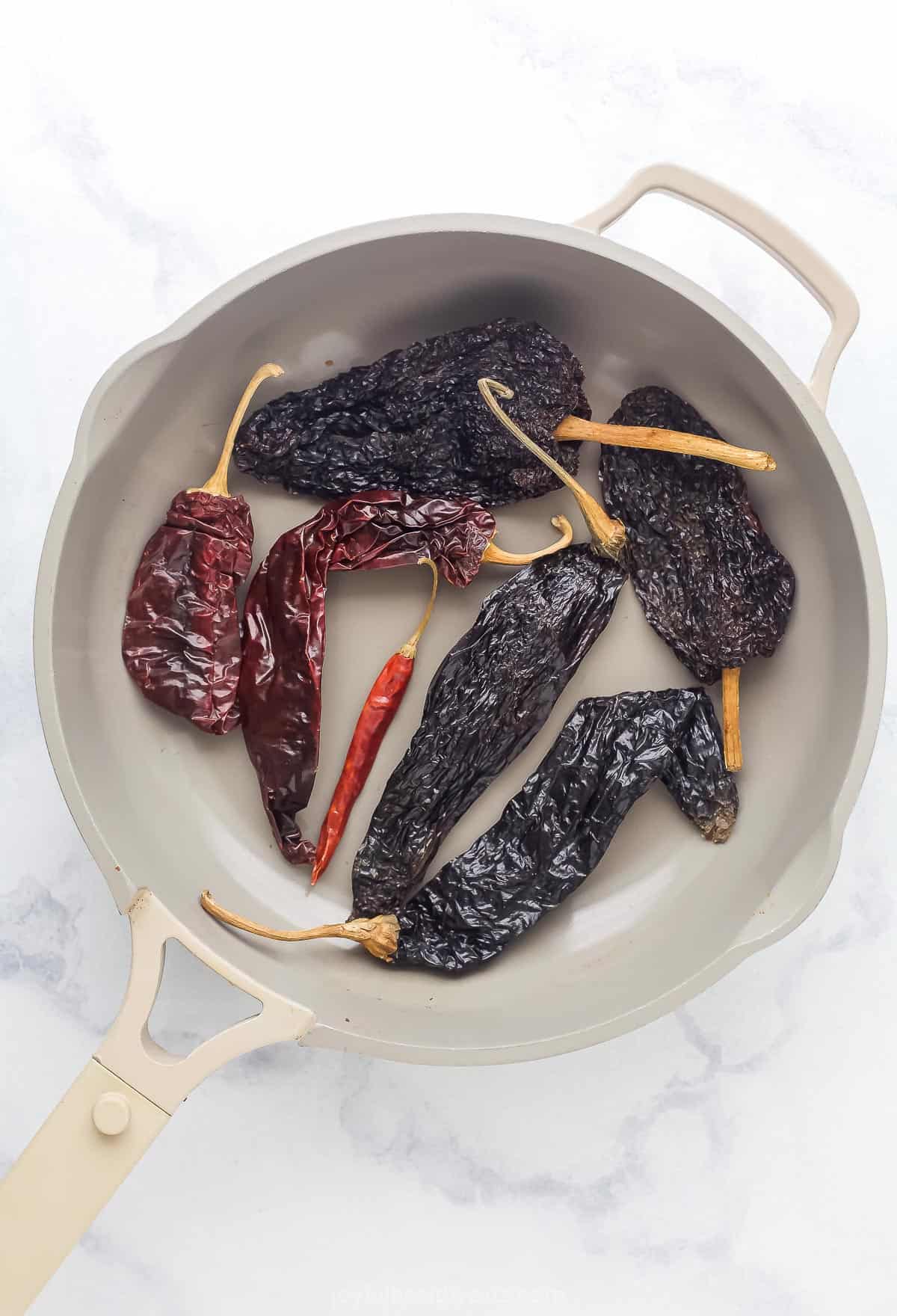 Toast the dried chilis. You'll do this in a hot saute pan. But be careful that you aren't charring the peppers. You're simply heating them so that they begin to become fragrant and their natural flavors start to release.
Remove the seeds, stems, and membranes from the peppers. Make sure that you use gloves for this part! Then place the peppers in a large bowl.
Next, soak the peppers. Pour the hot water and broth over the peppers. Let them sit for about 20 minutes.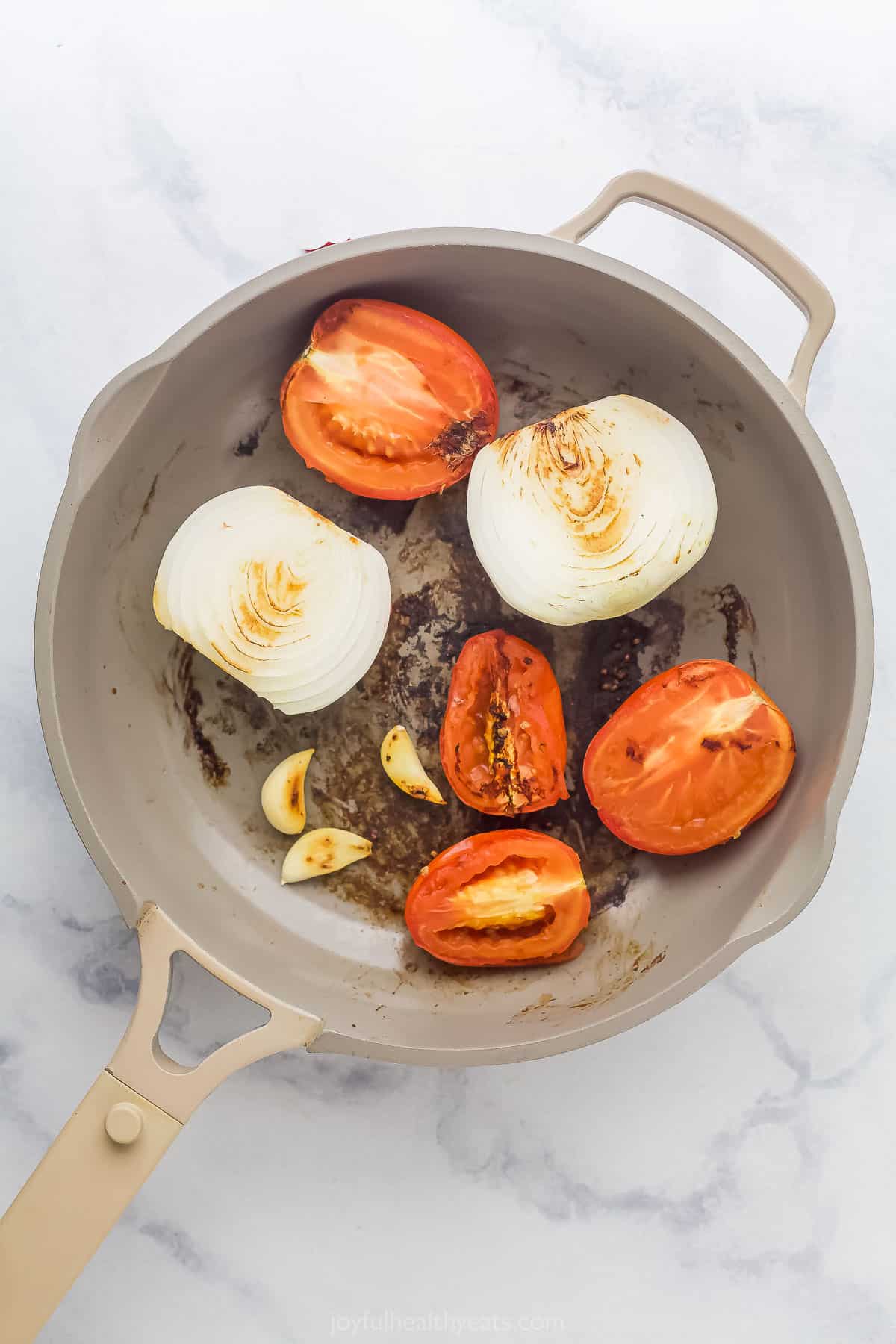 Char the onions, garlic, and tomatoes. Do this in the same saute pan and get a good char on both sides. This is another step that helps develop the layers of flavor.
Strain the peppers and put them in the blender. You could reserve this liquid in case you want to thin the soup later on.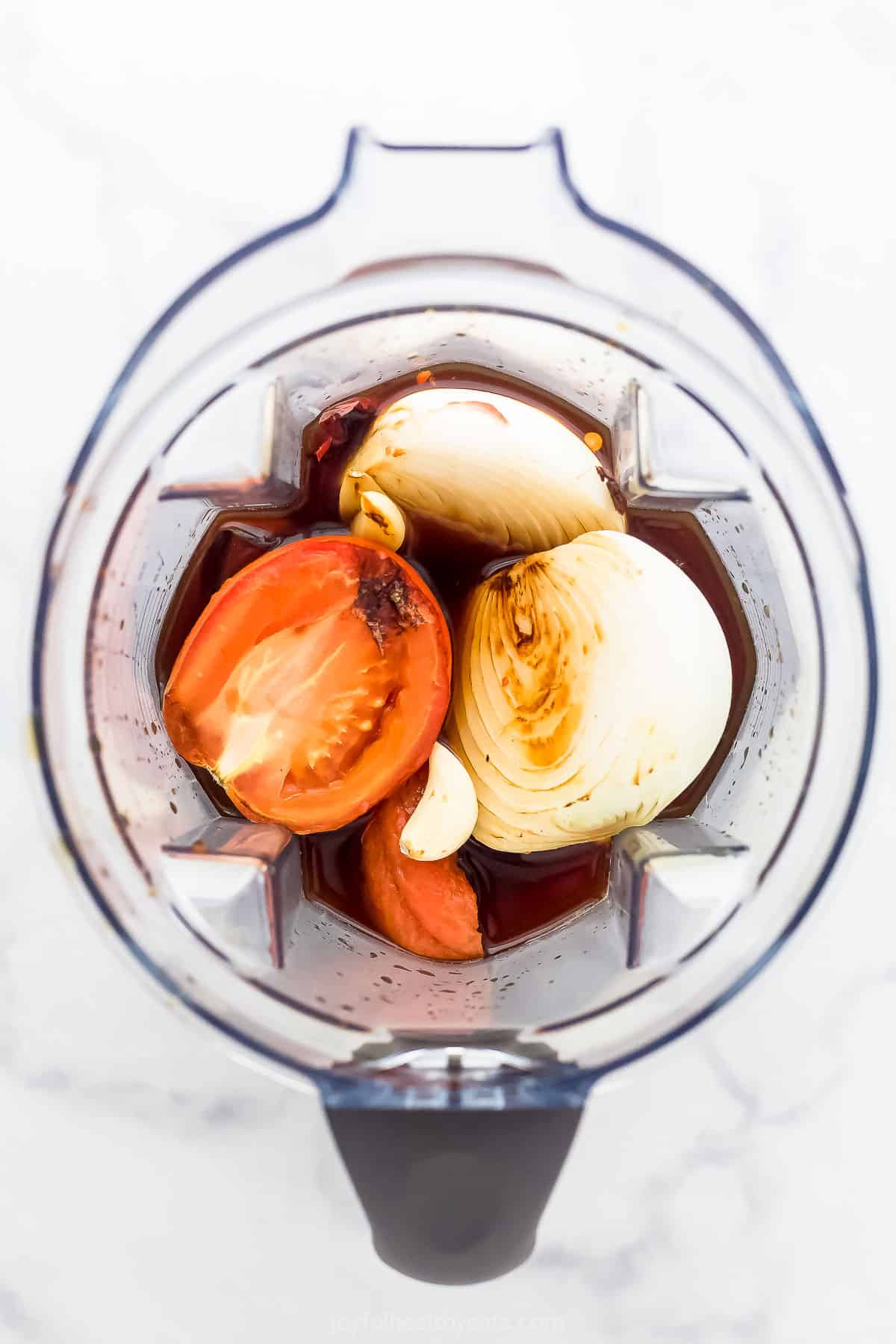 Add everything to a blender. I like to use a Vitamix so that I know it will be pureed perfectly. You can strain the sauce if it's chunkier than you'd like.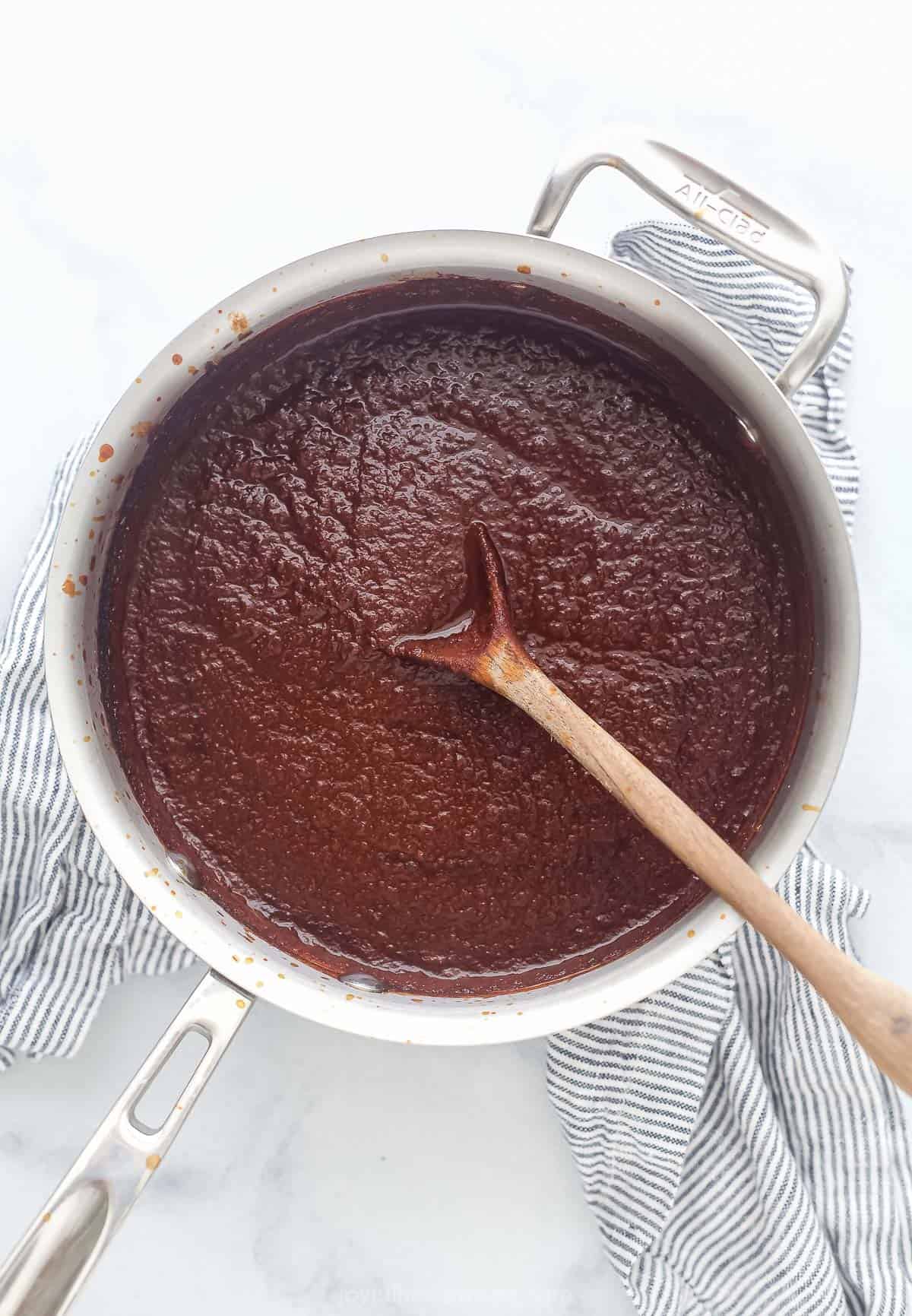 Now, add the sauce to a large pot. You're going to heat the sauce and do a few final flavoring touches. First, you'll add the honey and apple cider vinegar. Then, let it simmer for about 20 minutes.
Serve the sauce immediately or store it. This sauce can be stored in the refrigerator or freezer.
Why Toast Dried Chilis?
Flavor happens when you toast things. It's that simple. It deepens and enriches the flavor of the chilis when they're toasted beforehand and it only takes a few minutes. It's a win-win!
Recipe Notes
This recipe requires just a few simple steps. Here are a few things to keep in mind when making this sauce to make sure that it comes out perfectly!
To make the sauce thicker: Simmer the sauce a little longer if you would like it to be thicker.
To make the sauce thinner: You can add more chicken broth or even a little water to thin the sauce out.
Add cocoa. Some people like the rich, earthy flavor of adding unsweetened cocoa to this sauce. Start small and taste as you go!
Using a regular blender: If you don't have a high-powered blender, you can finely chop the onions, garlic, and tomatoes (after charring) before putting them in your blender. This will help avoid some of the larger chunks.
How to Use Enchilada Sauce
The secret about Red Enchilada Sauce is that it doesn't need to go on just enchiladas. Here are some of my favorite ways to use this homemade sauce.
First things first. It's amazing on enchiladas and these recipes are great to try: Sweet Potato Black Bean Enchiladas, Chicken Enchilada Casserole, and Vegetable Enchiladas.
Add to soups and stews. Adding this sauce to your favorite soups will elevate the flavor. Keep in mind, that the sauce is spice heavy, so you may want to reduce the spices in the soup.
Use it as a pasta sauce. It goes great on your favorite pasta noodle.
Mix it in with shredded chicken. It would also go great with shredded beef and pork.
Serve it with eggs and other breakfast foods. Pour it over scrambled eggs and hash browns for an elevated breakfast. Try adding to my Breakfast Enchiladas.
Storing and Freezing Guidelines
This is a great make-ahead recipe that can be stored in the refrigerator or freezer.
I recommend storing it in an air-tight container or jar. I personally think that mason jars work great! Enchilada sauce will stay fresh in the fridge for up to 5 days. You can also freeze it for up to 3 months.
It's best to thaw the sauce overnight in the fridge before using it.
Print
My Go-to Homemade Red Enchilada Sauce
Author:

Prep Time:

25 minutes

Cook Time:

20 minutes

Total Time:

45 minutes

Yield:

4 cups

1

x

Category:

Homemade Sauces

Cuisine:

Mexican
---
Description
This Homemade Red Enchilada Sauce is smokey, spicy, slightly sweet, and perfectly rich. Its authentic flavor goes great with so many dishes.
---
2.5 oz

. dried ancho chili peppers

2 oz

. dried guajillo peppers

1 oz

. dried pasilla peppers

1

dried chili de arbol pepper

1 tablespoon

avocado oil

1

medium white onion

2

roma tomatoes

3

garlic cloves

2 cups

chicken broth

2 cups

water

1 teaspoon

cumin

1 teaspoon

oregano

1 teaspoon

salt
pinch of cinnamon

1 tablespoon

apple cider vinegar

2 tablespoons

of honey (or more if bitter)
---
Instructions
To a small saucepan, add 2 cups of water and 2 cups of chicken broth. Bring to a boil.
Heat a large cast iron skillet to medium-high heat. Add dried peppers and heat for 1-2 minutes per side, do NOT burn or char. (this will cause them to be bitter, it's better to under cook then overcook)
Remove peppers from the pan and place on a cutting board. Using gloves, remove the stem, seeds and membranes of the peppers and place prepared peppers in a medium bowl.
Pour the boiling water broth combo over the peppers and let sit for 20 minutes, until the peppers are very tender.
In the meantime, to the same large skillet, add avocado oil, tomatoes, onions, and garlic. Saute for 3-4 minutes or until browned or charred. Repeat on the opposite side.
Add peppers, pepper liquid, tomatoes, onions, garlic, cumin, oregano, salt, and a pinch of cinnamon. Blend until pureed and smooth. Note: You may need to strain through a sieve if the sauce is chunkier than you'd like. I use a vitamix blender so it does a good job on the texture.
Once pureed, heat a medium saucepan to medium heat. Add enchilada sauce to the pan along with apple cider vinegar and honey, stir and simmer for 20 minutes to really enhance the flavors and let them blend together.
Store in an air tight container in the refrigerator or serve right away.
---
Keywords: enchilada sauce, mexican red sauce, homemade enchilada sauce
Filed Under:
More Flavorful Sauces and Condiments
DON'T MISS A RECIPE ->
FACEBOOK | TWITTER | PINTEREST | BLOGLOVIN | INSTAGRAM