Spiralized Vegetable Enchiladas are a easy light 30 minute meal.
Spiralized Vegetable Enchiladas are a easy light 30 minute meal. Perfect for your next taco night!
I think sometimes we get so bogged down with life we forget to "fill ourselves up."
This past year has been rough. From moving out of the our house, to renting, to my husbands business having a really rough period, to not being able to build our dream house, and then visiting the fertility doctor. I've gotten so wrapped up the heart break, the frustration, and sheer exhaustion of not seeing the light at the end of the tunnel that I've forgotten to "fill myself up."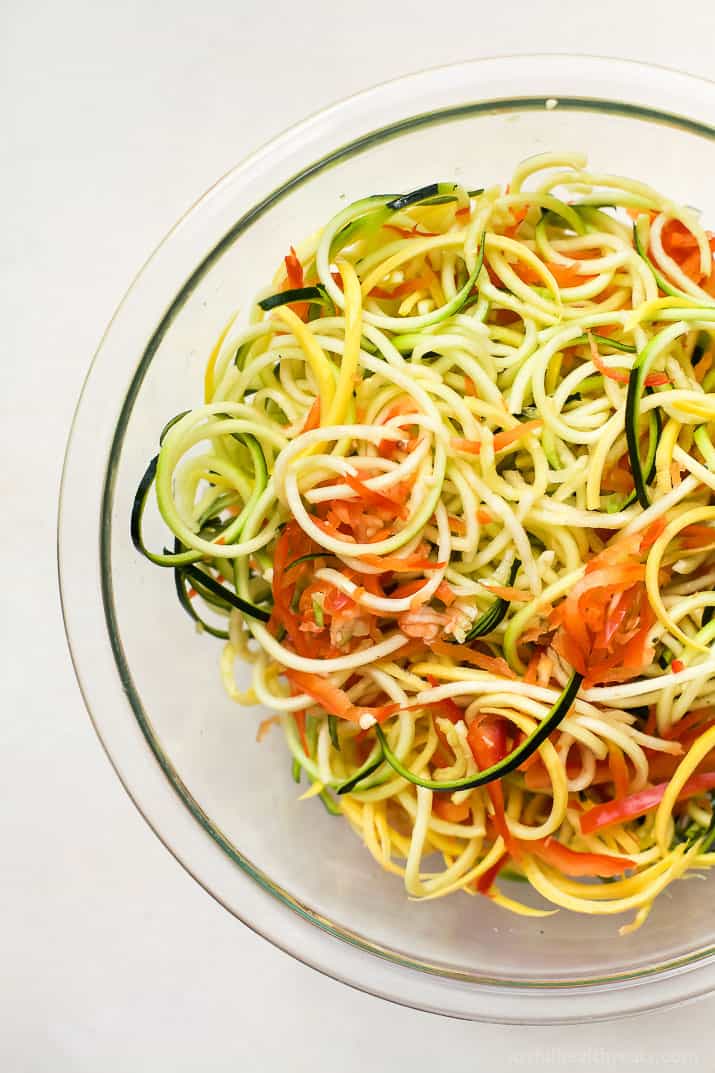 The past two years I've attended the Chopped Conference in Kansas City, which is a food blog conference. Each year I have left feeling like my heart tank is full. This year was no different.
Honestly, just making sure I got there was half the battle. I kept having issues with roommates being able to go and then not go, so much so that I wasn't sure if I even wanted to go. But none the less, I decided to attend and I am so glad I did. I met some great new faces in the blogging world and reconnected with some old friends.
I learned about how to shoot videos … gasp. Which I may try to start doing! "May," being the key word .. they still kinda freak me out. I need a little encouragement from you guys! Do you even want to see videos?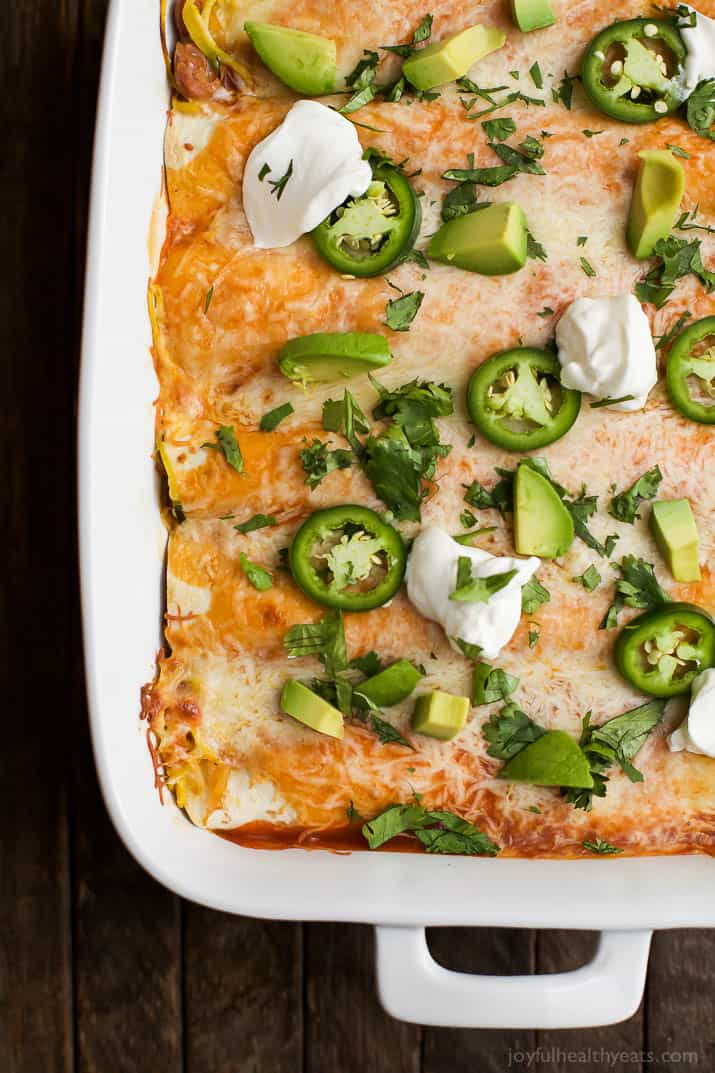 And learned about some techie SEO stuff, which is always enlightening. But the highlight of the conference was the talk led by Ali from Gimme Some Oven. The main phrase she pressed into was actually something that Coach Turner from Friday Night Lights use to say. Did anybody ever watch that show? If not, you need to soon. Best show ever! And your life will forever be changed!
But anyways, before each game Coach would tell his team. "Clear Eyes. Full Hearts. Can't Lose."
She pressed into each one of those phrases as it related to the blogging world. But to me, it touched something I wasn't expecting, something that had nothing at all to do with blogging.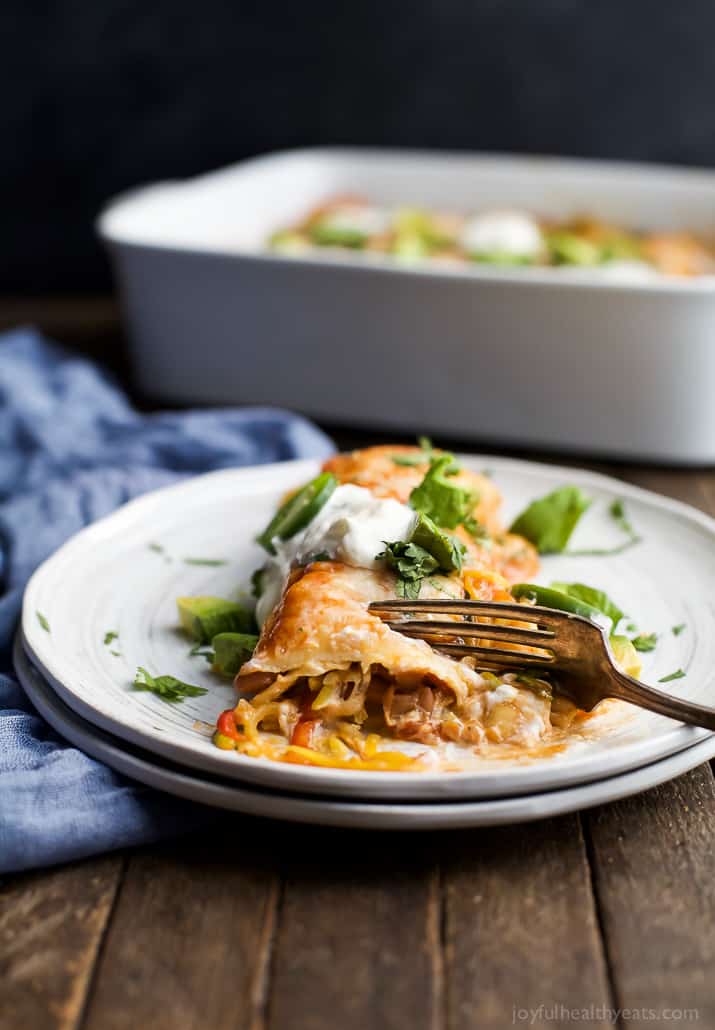 Like I said in the beginning of the post. We've been going through a challenging year. I have been questioning God's goodness in all this and been focusing on the hardness of it all. I tried to press in to the Lord but he was silent, which made me mad. I have told him a "piece of my mind" quite a few times. My eyes have not been clear. I was looking through foggy tired eyes instead of eyes that have been rested and that know there is a purpose for hardship.
Full Hearts. This is the part of the talk that made me start crying. I really can't nail down specifically why I started crying, and even as I write this I start to tear up. But … FULL hearts … how I long for my heart to be full again. The feeling of being so full of joy that it overflows into everyone else you talk to. To not feel like I'm in a rip current that I can't get out of, or like I'm slowing drowning. I felt like God was filling me up just a little bit in that session, releasing some of the weight that I've been carrying around or maybe just healing a part of me that became open to him again. I was reminded that just because I feel low now, does NOT mean it's the end. There is always another mountaintop, but there is something to learn in valley.
Can't Lose. If we have clear eyes, and full hearts … we can't lose. We can get through those hard valley of life and it just makes those mountaintop moments all the sweeter! But remember, when you are on that mountaintop someone else may be in their valley, use that full heart you have to encourage those around you! Believe me, they need it! I know Ali's full heart encouraged mine!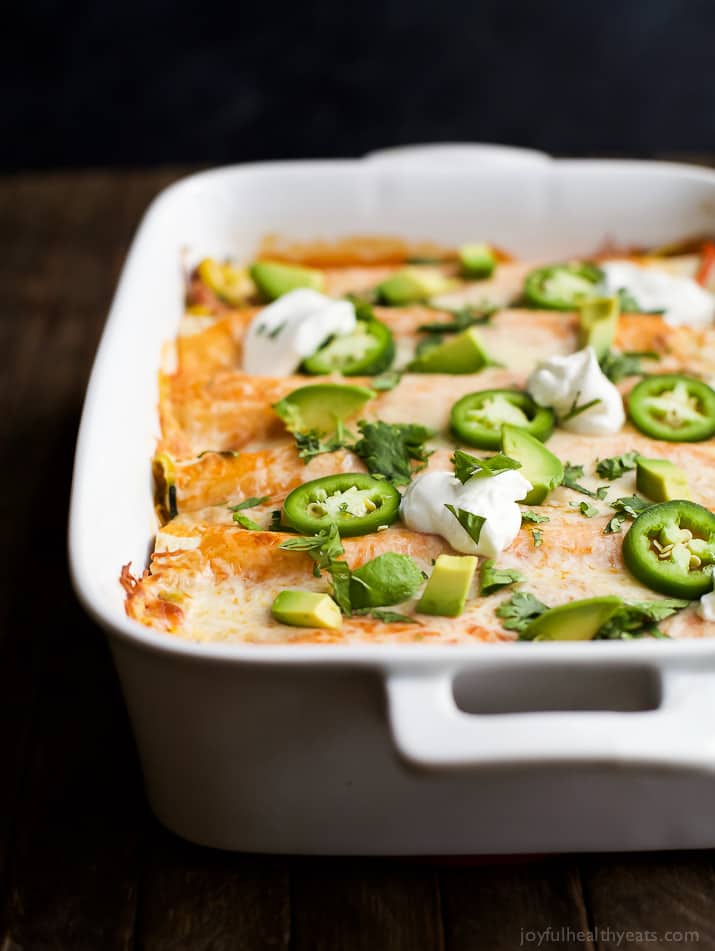 Ok. On to the recipe for today. Something that always makes me happy is Mexican Food. Gimme a margarita, a taco, or guacamole and I'm one happy camper. And these Spiralized Vegetable Enchiladas are no different.
My favorite part about this whole meal is the spiralized veggie part! It's just fun to have curly vegetables in your enchiladas and it's a great way to sneak the vegetables in for you kids … or even your husband. 🙂 hehe The vegetables are slightly cooked and then tossed with a few spices to enhance the flavors, rolled in tortillas and then covered with enchilada sauce and CHEESE!
This meal takes 30 minutes to whip up and 5 minutes to devour! It's the perfect addition to your taco tuesday menu or just a quick easy dinner idea for the week! I hope you enjoy sweet friends!
Bon Appetit!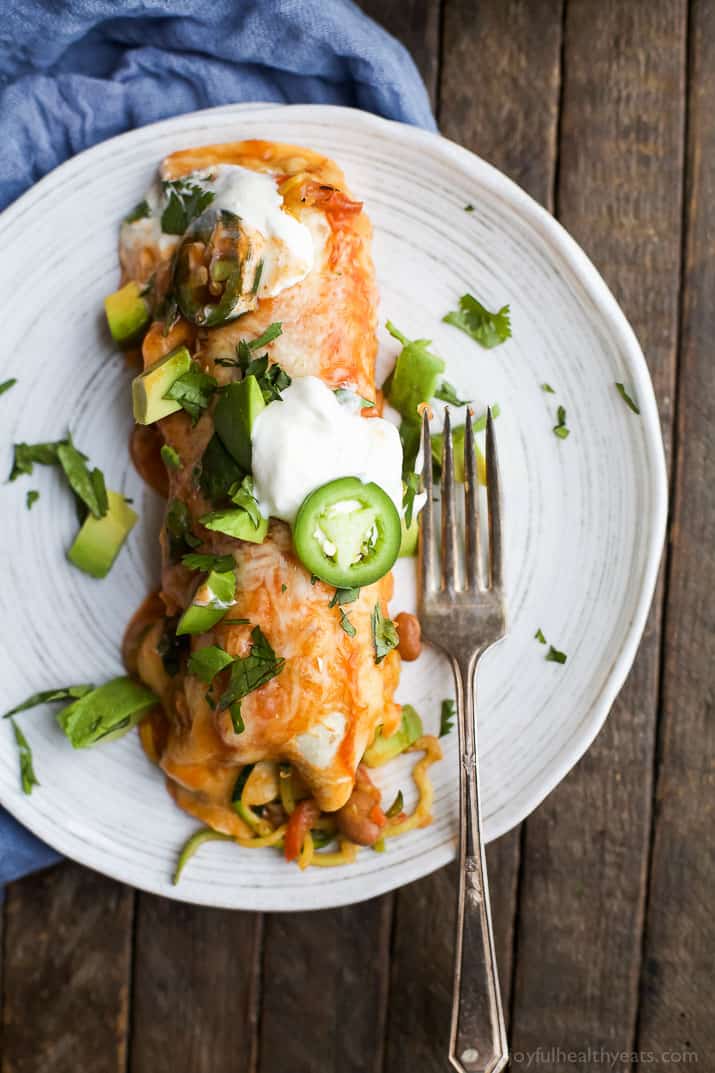 Print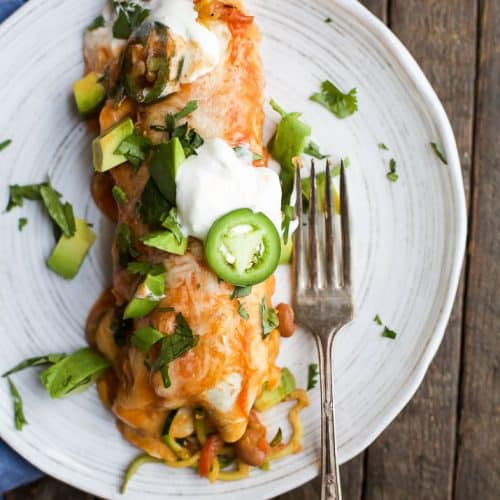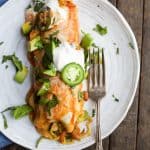 Spiralized Vegetable Enchiladas
Author:

Prep Time:

5 mins

Cook Time:

25 mins

Total Time:

30 mins

Yield:

6

1

x
Category:

Vegetarian, Kid Friendly, Easy Dinner Ideas,

Method:

Oven

Cuisine:

Mexican
---
Description
Spiralized Vegetable Enchiladas are a easy light 30 minute meal. Perfect for your next taco night!
Scale
Ingredients
1 tablespoon

olive oil

1

red pepper, spiralized

1

zucchini, spiralized

1

yellow squash, spiralized

1/2

red onion, spiralized

1 teaspoon

ground cumin

1/2 teaspoon

smoked paprika

1/2 teaspoon

garlic powder

1/2 teaspoon

salt

1/4 teaspoon

ancho chili powder

1/4 teaspoon

ground pepper

15.5 oz

. can low sodium pinto beans, drained and rinsed

6

flour tortillas (I got burrito size)

19 oz

. can of red enchilada sauce

3/4 cup

shredded Monterey jack cheese
garnish: fresh cilantro, avocado, and sliced jalapeno
Instructions
Preheat oven to 375 degree.
Heat a large skillet to medium high heat. Add olive oil and spiralized red onion. Saute for 2 minutes. Add in the spiralized red pepper, zucchini, yellow squash, ground cumin, smoked paprika, garlic powder, salt, ancho chili powder, and ground pepper. Stir and saute for 4 minutes until veggies are cooked down.
Add in the pinto beans. Stir and saute for 1 minute.
Spread 1/2 cup of the enchilada sauce on the bottom of a 13×9 baking dish.
Add 1/3 -1/2 cup of the veggie mixture to each tortilla. Roll. Place them in the baking dish, seam side down.
Cover the prepared enchiladas with 1 cup of enchilada sauce. Then top with cheese.
Cover with tin foil.
Bake at 375 for 15 minutes.
Broiler HIGH for 3 minutes to brown the cheese.
(optional) Garnish with fresh cilantro, diced avocado, and sliced jalapeno.
---
Notes
To spiralize the red pepper, cut off or chop off the stem. Place the bottom of the pepper on the blade part, and press so the handle is holding the pepper tight. Then spiralize it, core and all.
To spiralize the red onion, chop the ends off (leave the onion whole). Remove the peel from the onion. Place onion on the blade part and press the handle up against the other end. Spiralize it.
Keywords: easy dinner ideas, easy weeknight dinners, vegetarian enchiladas
F YOU MAKE THIS RECIPE, BE SURE TO SNAP A PIC AND HASHTAG IT #JOYFULHEALTHYEATS. I LOVE SEEING WHAT YOU MAKE!
Want More Vegetarian Meals?
Moroccan Cauliflower Chickpea Pita with Tzatziki Sauce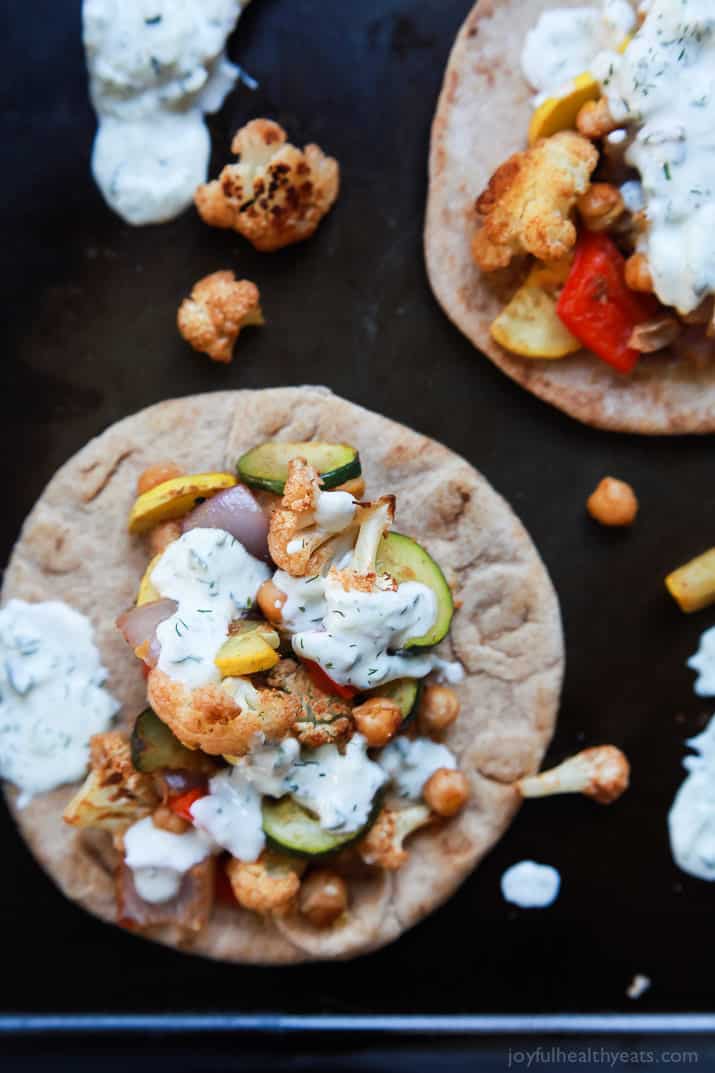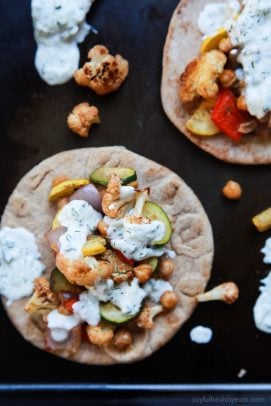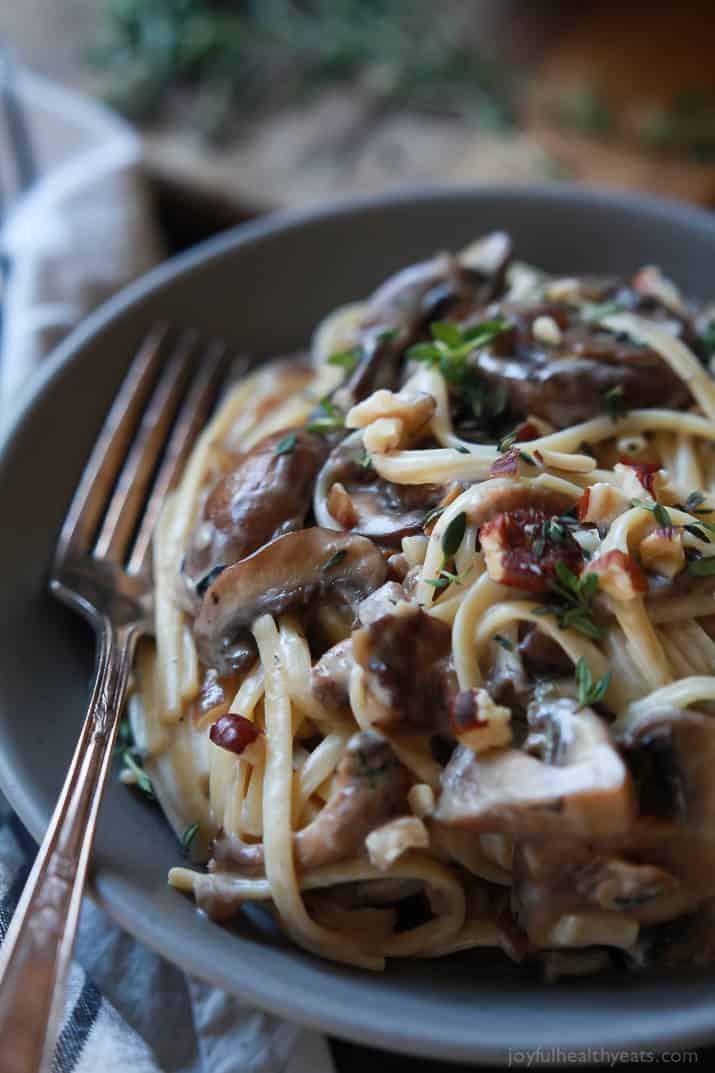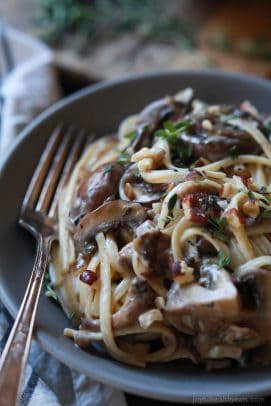 DON'T MISS A RECIPE ->