Most weeks Mike and I crave something with a little Mexican flavor and these Chicken Enchiladas with Creamy Tomatillo Sauce hit the spot. They were a perfect blend of creaminess from the greek yogurt, so you didn't need to add sour cream, and had just enough heat from the jalapeño, but not too much so as not to leave your mouth feeling on fire.
What kind of enchiladas are your favorite? Spinach? Cheese? Ground Beef?
Here's how you get started. Preheat oven to 400º. Peel off shell and chop up 1 onion (quartered), 7 tomatillos (halved), 3 garlic cloves (smashed), 1 jalapeño (seeded) and cut in half. Sprinkle with 1 tsp. of olive and salt & pepper.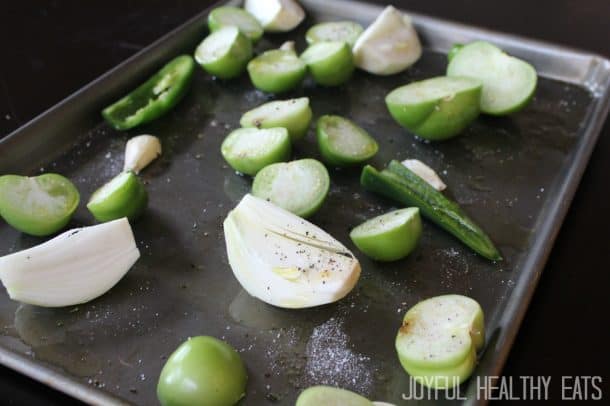 Roast vegetables for 25 minutes. Set aside and let cool down. Reduce temperature of oven to 350º.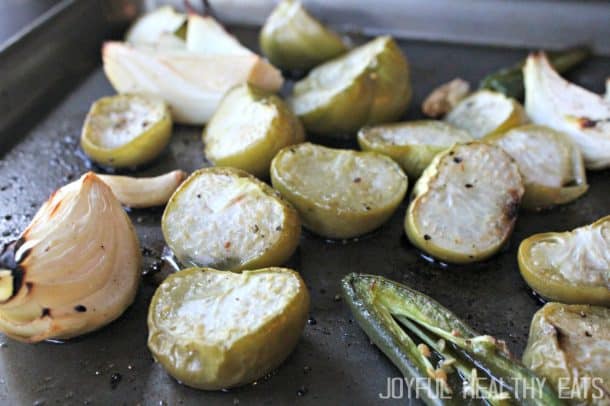 In the meantime, poach 3 chicken breasts until cooked through and shred with a fork. Set aside.
Once vegetables are cooled, throw them all in a blender for a little party, add 1 tsp. of olive oil, 1/4 cup of fresh cilantro, juice from one lime, 3 T. of plain greek yogurt, salt & pepper.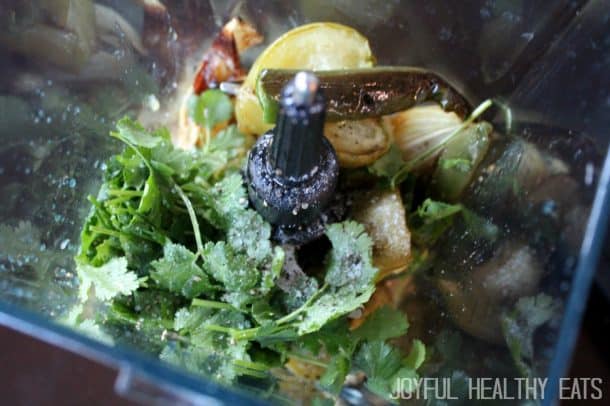 Blend until smooth. Now, it's time to assemble. In a 9″x13″ baking dish, spread 2-3 T. of tomatillo sauce on bottom. (this will keep the enchiladas from sticking to the bottom).
To make enchiladas, take a Mission Brand medium sized soft flour tortilla (I used whole wheat), add 1/2 cup of shredded chicken, 1 T. of monterrey jack cheese, 1 tsp. of fresh cilantro. (eyeball it). Start rolling from one end until completely rolled. Place enchilada seam side down in baking dish.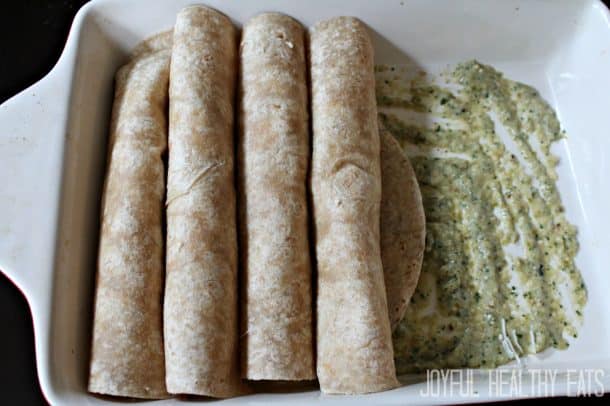 Once finished, take remaining creamy tomatillo sauce and spread across top of enchiladas. Sprinkle 1/2 cup of monterrey jack cheese on top to finish it off.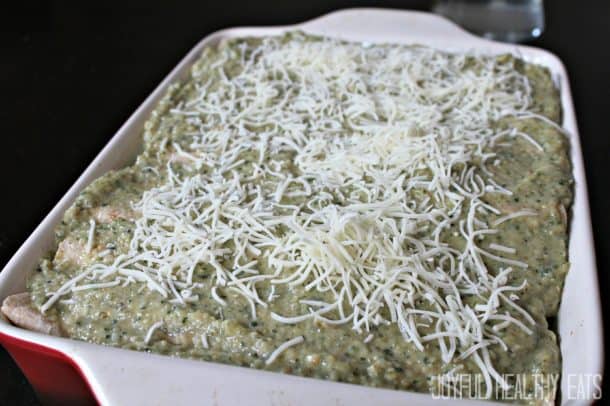 Bake in oven at 350º for 20 minutes.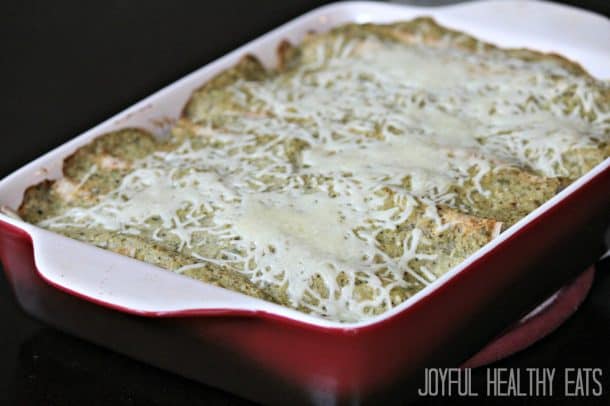 Top with spinach, diced tomatoes, cilantro, avocado. (whatever suits your fancy)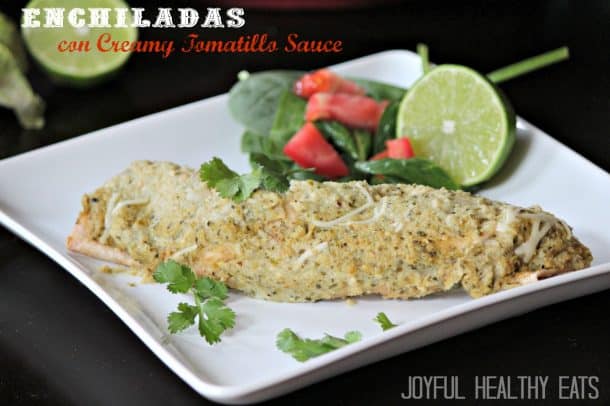 Print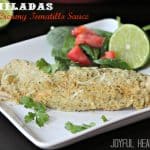 Chicken Enchiladas con Creamy Tomatillo Sauce
Author:

Prep Time:

15 mins

Cook Time:

45 mins

Total Time:

1 hour

Yield:

10

enchiladas

1

x
Category:

Poultry & Pork, Mexican Food
---
Scale
Ingredients
Creamy Tomatillo Sauce:
7

tomatillos, halved

1

onion, quartered

3

garlic cloves, smashed

1

jalapeño, seeded and halved

1 tsp

. olive oil
salt & pepper

1/4 cup

fresh cilantro

3

T. plain greek yogurt
juice from

1

lime

1 tsp

. olive oil
salt & pepper
Enchilada Filling:
3

Chicken Breasts, poached

10

Mission Brand whole wheat flour tortillas (medium sized tacos)

1 cup

shredded monterrey jack cheese
fresh cilantro
---
Instructions
Preheat oven to 400º.
Peel off shell and chop up onion, tomatillos, garlic cloves, and jalapeño.
Sprinkle with 1 tsp. of olive and salt & pepper.
Roast vegetables for 25 minutes. Set aside and let cool down.
Reduce temperature of oven to 350º.
In the meantime, poach 3 chicken breasts until cooked through and shred with a fork. Set aside.
Once vegetables are cooled, put in blender and add 1 tsp. of olive oil, 1/4 cup of fresh cilantro, juice from one lime, 3 T. of plain greek yogurt, salt & pepper.
Blend until smooth.
In a 9×13 baking dish, spread 2-3 T. of creamy tomatillo sauce on bottom. (this will keep the enchiladas from sticking to the bottom).
To make enchiladas, take a medium sized soft flour tortilla, add 1/2 cup of shredded chicken, 1 T. of monterrey jack cheese, 1 tsp. of fresh cilantro. (eyeball it). Start rolling from one end until completely rolled. Place enchilada seam side down in baking dish.
Take remaining creamy tomatillo sauce and spread across top of enchiladas. Sprinkle 1/2 cup of monterrey jack cheese across top.
Bake in oven at 350º for 20 minutes.
Top with spinach, diced tomatoes, cilantro, avocado. (whatever suits your fancy)
---