Wondering how to make guacamole? This easy guacamole recipe is ALWAYS a hit! A mix of creamy and chunky avocado with hints of jalapeño heat, juicy tomato and zesty lime juice. Simply the best guacamole!
The Best Homemade Guacamole Recipe
One of the most important items in our house is avocado. If I don't have enough avocados in the refrigerator (yes that is where I keep them), let's just say we are not in a good place in life. As a standard, I usually have at least 7 avocados in my house at all times. We slice them up and put them on sandwiches, in salads, on top of eggs and of course in tacos. But above all – we make homemade guacamole.
Y'all. If you live down south, specially in Texas. Knowing how to make guacamole is like a right of passage. You aren't Texan if you can't make a "get the last scoop out of the bowl and maybe lick it" kind of guacamole. And you're in luck. I know how to make it and I'm sharing everything I know. From how to pick an avocado, how to store it, how to slice and the right ratios for the best guacamole!

How to Pick the Right Avocados for Guacamole
The best way to pick an avocado is to feel it. I put the avocado in the palm of my hand and gently squeeze with my fingers. If the avocado gives a little bit, but not too much, you know it's ripe and ready-to-eat. Ripe, ready to eat avocados sometimes have a darker color to them. However, color can vary so it's always best to go by feel first then color. It will feel lightly soft but it will not feel "mushy" to the touch.
Ripe avocado is perfect to use day of or next day, longer than that and it will get brown. If you want to buy an avocado to use in a couple of days I will buy a hard to the touch avocado, sometimes they look green.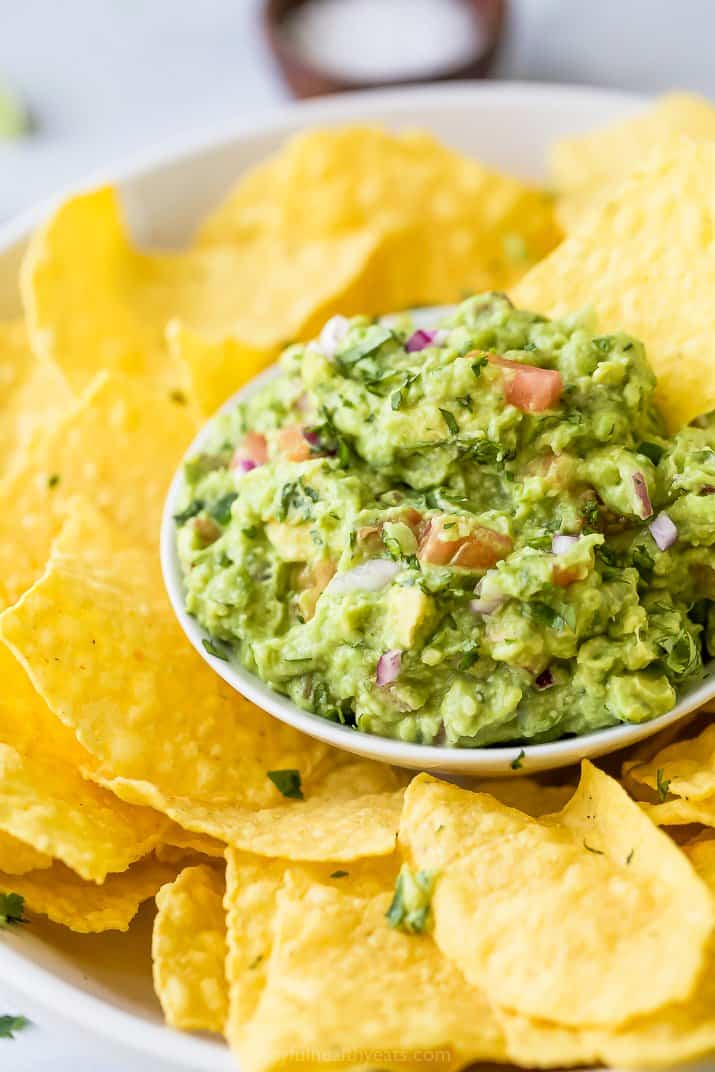 How to Store Avocados
There are a couple of ways to store avocados. But there are my foolproof go to ways to get the most out of your avocado:
Ripe Avocados: For Ripe Avocados you should use them immediately or store them in the refrigerator (usually in the fruit drawer). They should keep for up to 5 days, depending on the temperature of your refrigerator.
Not Ripe Avocados: I like to store not-ripe avocados on my counter until they ripen, then I move them to my refrigerator so they keep longer.
Freezer: You can also store whole avocados in the freezer. Just slice the avocado in half, peel and seed. Brush the avocado halves with a bit of lemon juice and wrap them tightly in a plastic wrap. Don't leave any room for air then store wrapped avocado halves in a large freezer safe ziplock bag, be sure to press all of the air out. Store in freezer for up to 3 months. Just thaw when you're ready to use.
Homemade Guacamole Ingredients
Everyone has their own opinions about how guacamole should be made. Some like it simple with just avocado, lime juice and salt. And others like it the best way possible, which is my way. (haha)
Avocado – Use ripe avocados for guacamole. For the perfect consistency, I recommend using a potato masher or two forks to gently mash up the avocados.
Tomato – I find the best tomatoes to use for guacamole are Roma tomatoes. I usually halve them and then scoop out the seeds so you use just the good part, this also helps make sure your guacamole doesn't get liquidity. Other tomatoes you could use are vine ripe tomatoes or grape tomatoes.
Onion – I prefer to use red onions in my guacamole because they are a little sweeter, but yellow onions are fine to use as well. Just make sure that whatever you use they are finely diced.
Garlic
Salt – Add as much salt as you prefer, just make sure you add it.
Lime Juice – Just trust me, fresh lime juice is best. Buy fresh limes and squeeze that juice out, it will brighten your guacamole and helps make sure your guac doesn't turn brown right away.
Cilantro – Fresh Cilantro is the best way to go. I roughly chop my herbs and then add them in last, right before serving.
Jalapeño – Everything is better with a little spice. I like to make sure that I finely dice the jalapeño so you don't have big chunks that catch you off guard. Remember from my Restaurant Salsa post, the "heat" of a jalapeño pepper is in the membrane and seeds. So if you like a spicy guacamole – add the seeds. Likewise, if you prefer a milder guacamole do not add the seeds. The best way to remove the membrane and seeds from a jalapeño is by using a spoon and scraping them out.

How to Make Homemade Guacamole
Remove avocado skins: Take 3 large avocado, remove pit and scoop avocado out of skin.
Mash avocado: Add to a medium bowl. Using a potato masher or two forks, mash up the avocado to your desired consistency.
Add mix-ins: Next, add in roma tomato, onion, garlic, jalapeño, lime juice and salt. Gently stir together.
Serve immediately.
How to Keep Guacamole from Turning Brown
Just like apples, when Guacamole sits out it oxidizes and turns brown. (insert sad face) Lime juice definitely helps slow down the process but it doesn't prevent it. Just face it, leftover guacamole will eventually start to brown.
Believe me, I've tried almost every trick in the book to wake up the next morning to green guacamole. I've tried adding a little bit of water on top and storing it in an air tight container. Meh. It's ok, but I don't want to have to pour water off every time. Leaving the pit in does not help. It does nothing to prevent browning and there's no scientific facts to back it up.
The most successful way that I've found to keep my guacamole green is patting it down so it's nice and flat and then placing plastic wrap directly on the guacamole to prevent oxidization. As in it's completely touching the guacamole on every surface it can. I've had it work for a day or two for me. So it's definitely worth a shot.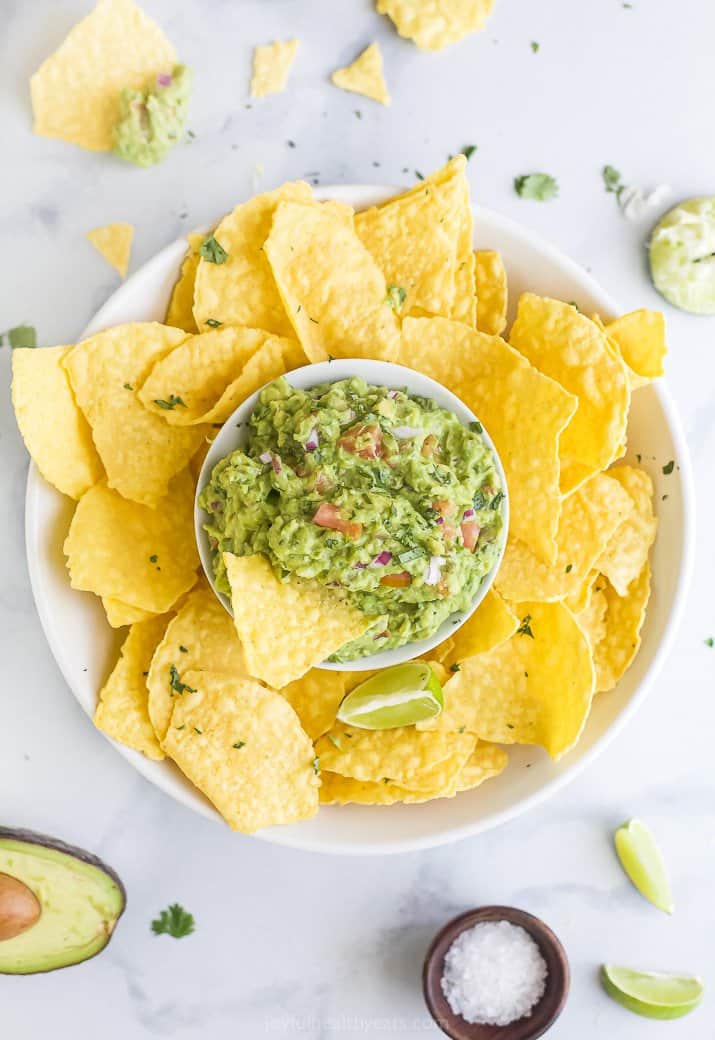 Variation and Mix-In Ideas
You can't beat an authentic guacamole. But. If you want to jazz up it up a little bit, here are my favorite add ins.
Bacon – Bacon and avocado are like the ultimate combo, they both make everything better. So when paired together, it's divine!
Fruit – Some of my favorite fruits to add are pineapple, mango and strawberry.
Roasting your Vegetables – Adding a different flavor element to your guacamole by roasting your tomatoes, jalapeños or garlic definitely adds a fun element to this dip!
Cheese – Sometimes we like to add crumbled queso fresco, goat cheese or even feta to add a creamy salty flavor.
Pickled Onions
Chipotle Peppers – If I want some "heat" in my guacamole, I love adding a teaspoon or so of diced chipotle peppers in adobe sauce sauce.
Citrus – Even though I usually use lime juice, you could also use lime or orange makes a fun twist.
Spices – Cumin, smoked paprika and ancho chili powder can add a fun twist
Pepitas – These salty seeds adds a nice fun salty crunch as well.
What Goes with Guacamole?
Try some of these easy recipe ideas to compliment your guacamole!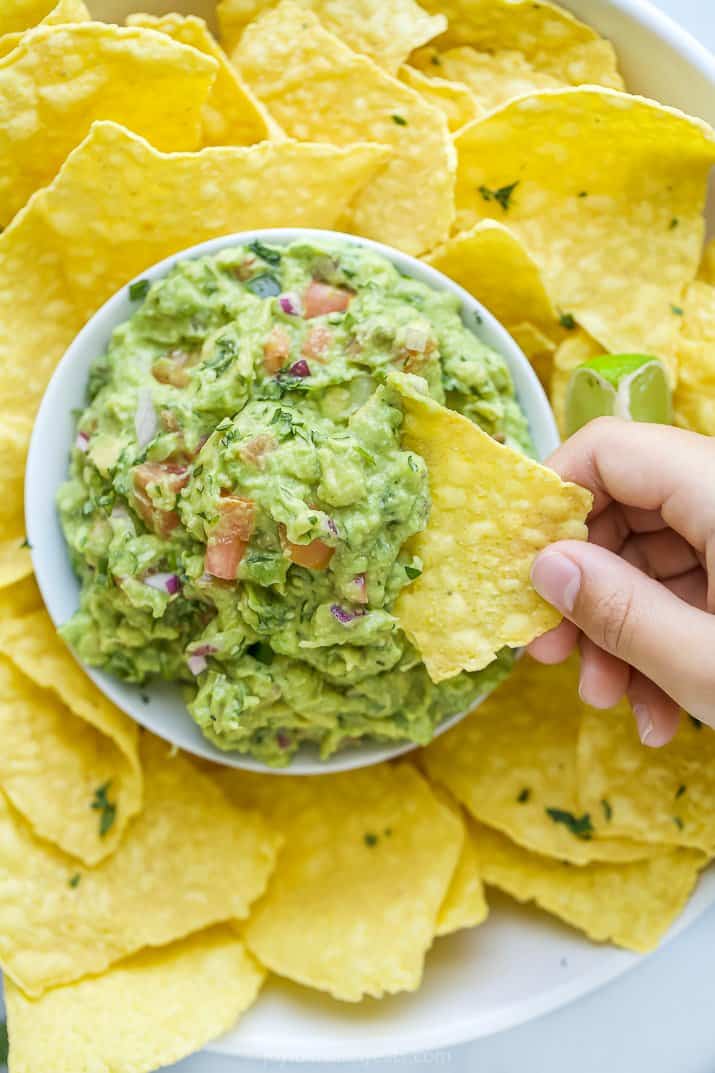 Print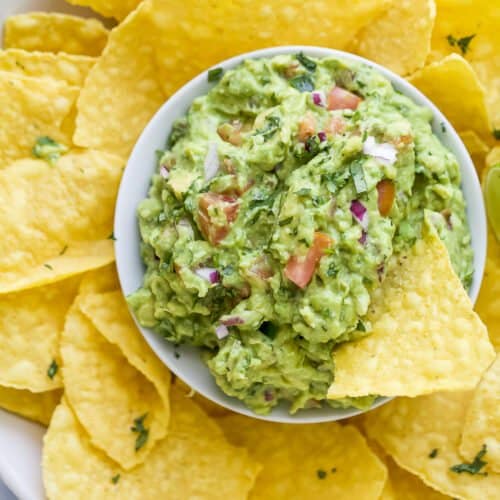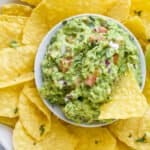 Easy Homemade Guacamole Recipe
Author:

Prep Time:

10 minutes

Total Time:

10 minutes

Yield:

2.5 cups

1

x
Category:

Appetizer

Method:

Assemble

Cuisine:

Mexican
---
Description
Learn How to Make the Best Guacamole Recipe that'll be the hit at every party! A mix of creamy and chunky avocado with hints of jalapeño heat, juicy tomato, cilantro and zesty lime juice.
Scale
Ingredients
3

large avocados, mashed

1/3 cup

diced roma tomatoes, seeds removed

1/4 cup

diced red onion

1/4 cup

chopped fresh cilantro

2

garlic cloves, minced

2

–

4

tablespoons diced jalapeño, seeds removed

2 tablespoons

of fresh lime juice
salt to taste
Instructions
Take 3 large avocado, remove pit and scoop avocado out of skin. Add to a medium bowl. Using a potato masher or two forks, mash up the avocado to your desired consistency.
Next, add in roma tomato, onion, garlic, jalapeño, lime juice and salt. Gently stir together.
Serve immediately.
Keywords: guacamole recipe, how to make guacamole, easy guacamole, best guacamole, simple guacamole, guacamole dip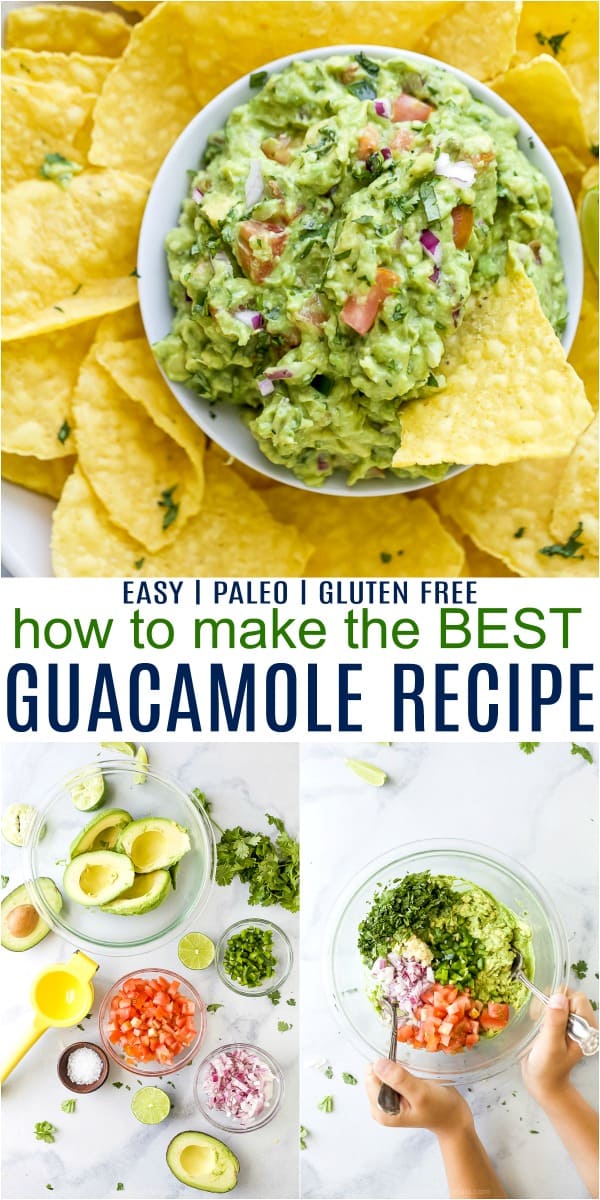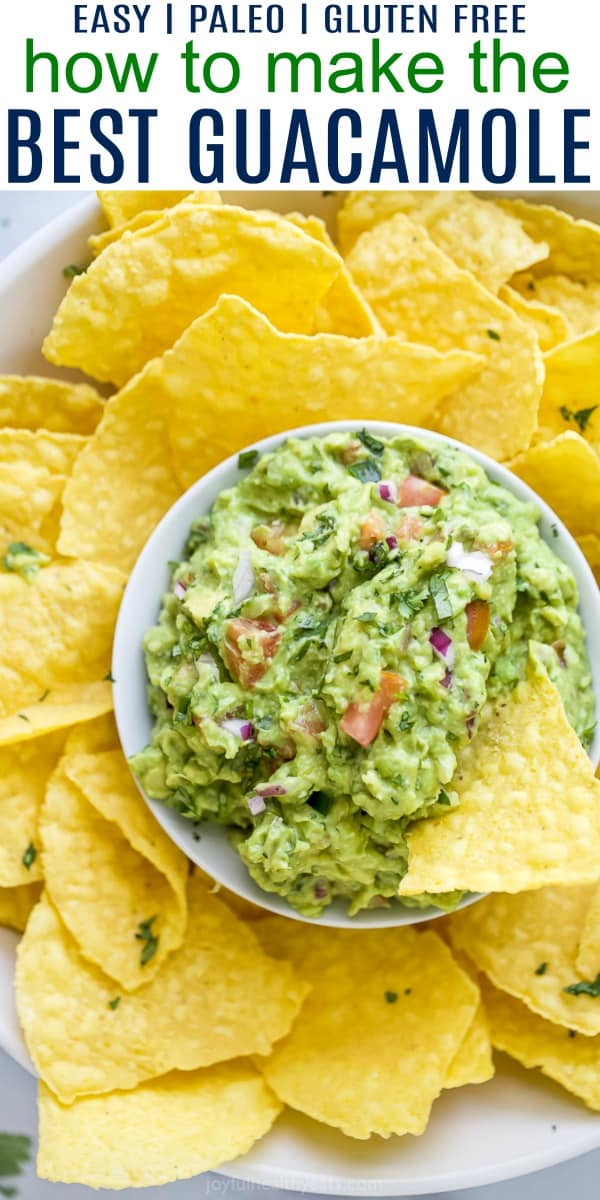 DON'T MISS A RECIPE ->