Easy Chicken Enchilada Zucchini Boats with red chili sauce and melted cheese, on the table in 30 minutes
Easy Chicken Enchilada Zucchini Boats with red chili sauce and melted cheese. A 30 minute meal that's gluten free, low carb, high protein and perfect for a weeknight dinner.
Well currently I am sitting in my bed in excruciating pain.
I got home from church this morning with the kids. Mike had to stay for the second service to help. When I got home, I made lunch, fed all my people and then started to pick up a little bit around the house. As I was bending down by Maddie to pick something up …
Pop.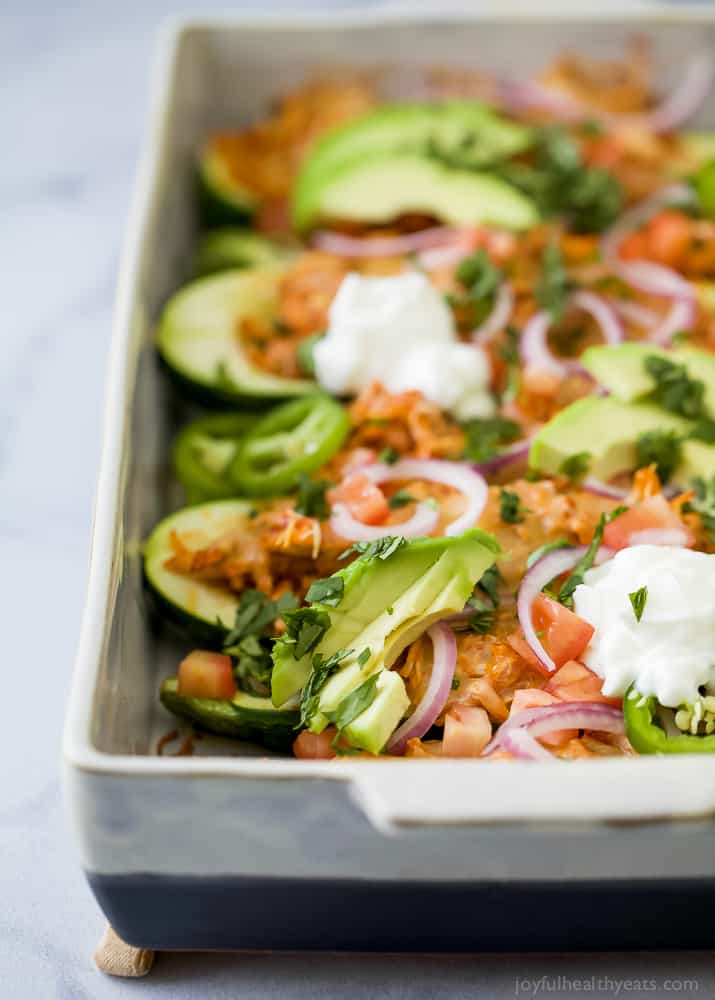 I felt something in my lower back pop and then came the excruciating pain came in like a flood. So much so that I actually fell down to the ground on all fours. But then quickly realized that position didn't feel good either. I didn't know what else to do except try to lay down. I slowly crawled over to the couch and pulled myself up to lay down.
It was just me and the kids at home. Cason was looking at me concerned because my eyes are filled with tears and all I could keep saying was, "ouch. ouch. ouch." And all he's saying to me is, "mommy are you ok? what happened?
As soon as I got on the couch I took a couple deep breathes. Called Mike and just said. "I need you. I did something to my back." He responded "Ok. I'm coming. I need to leave."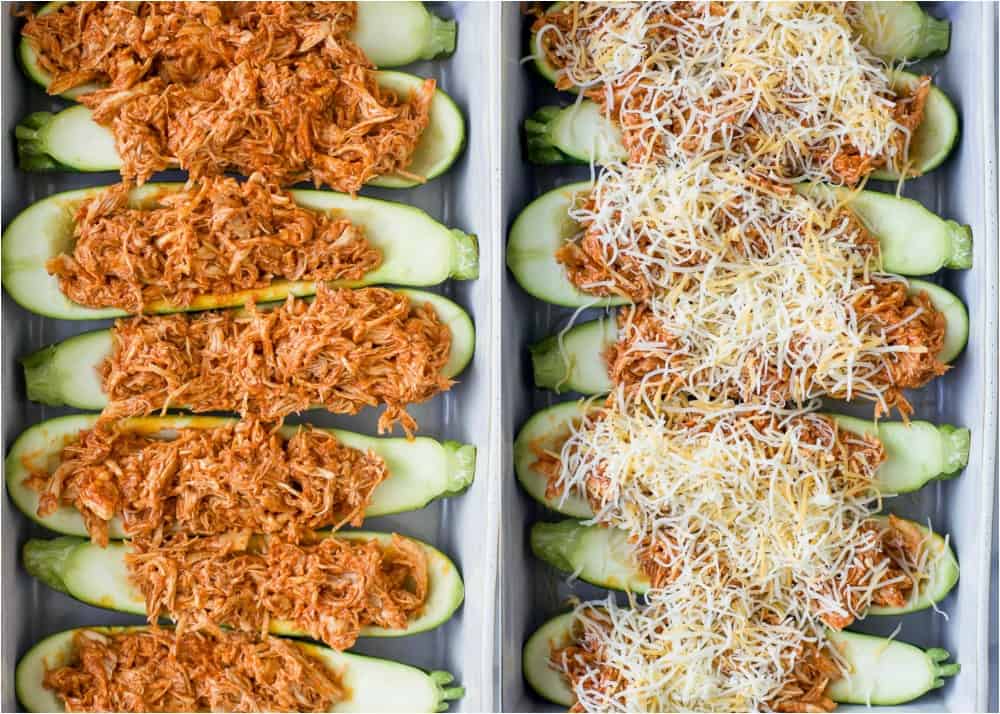 Guys. I've been around people who've had back problems before, but I've never experienced the back pain.
I have a whole new respect for people with back issues. If I'm being honest, when Mike had back problems I thought he was being a typical guy and just milking it.
It's no joke! I literally can't move without pain. And just like your core, you use your back for just about everything too. Even laying down hurts!
I guess the good news is it allows me to sit and work on my computer. haha
Because I do have a lot of work to catch up on. Namely, writing posts and getting things ready for the fall, the holiday months and some exciting stuff I have coming at you after the new year!
Anything in particular you guys want to see for the holidays? Recipes you want to see revamped or "healthified?" Shoot me a quick email!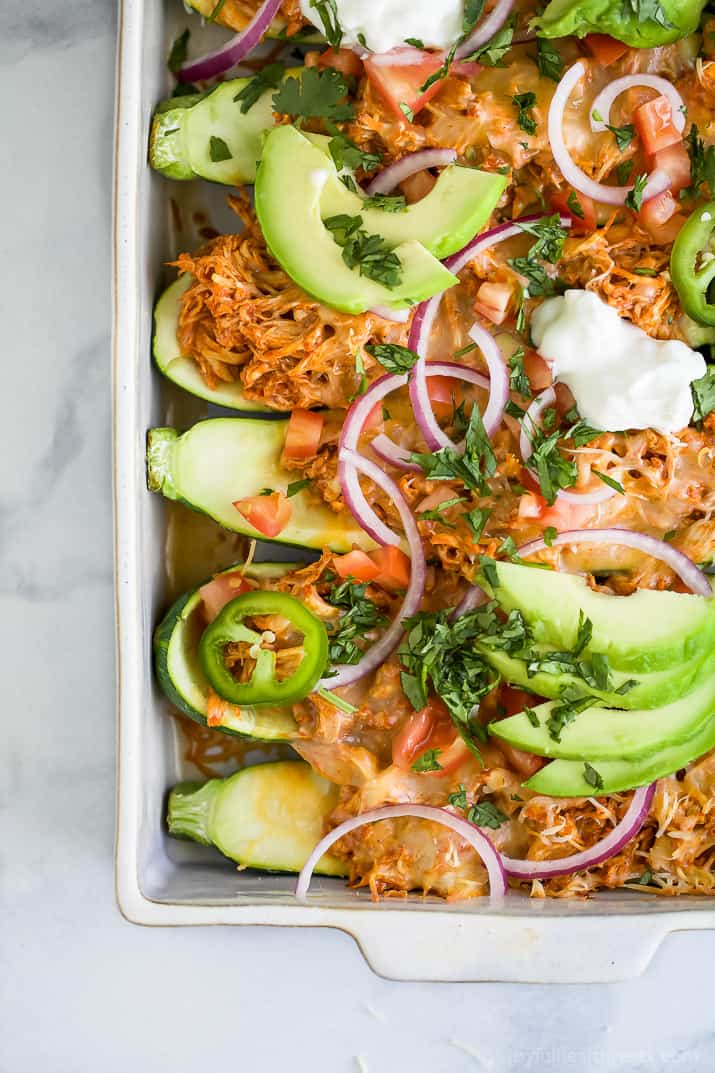 Alright, on to todays recipe –> these EASY CHICKEN ENCHILADA ZUCCHINI BOATS.
Here are a few tips to ensure you have awesome Zucchini Boats every time:
Use a spoon to scoop out the inside.
When I scoop I almost make the zucchini look like they are canoes. There is a side so the filling doesn't fall out and a hole so you have a place to put all the delicious filling.
Don't par cook the zucchini! Cook them raw with the filling inside. This will ensure they don't turn to mush. The finished product is a slightly cooked with a nice crunch to it. You'll love it.
Once you've mastered the zucchini boat process the possibilities are endless! Pick a protein, a sauce, top it with cheese and some of your favorite toppings and you've got a winner!
Enchiladas are always a hit in my house. Or at least the flavors are.. they aren't a hit for me because I HATE … no … loathe rolling them. These Chicken Enchilada Zucchini Boats solve my "rolling woes." All I have to do is shred the chicken, add the enchilada sauce top it with cheese and I'm done.
This meal comes together in minutes. It's high in protein, low in carbs, less than 200 calories a serving and high on delicious flavors. 🙂 It's the perfect quick weeknight meal and guaranteed to be a hit with the fam.
Bon Appetit friends!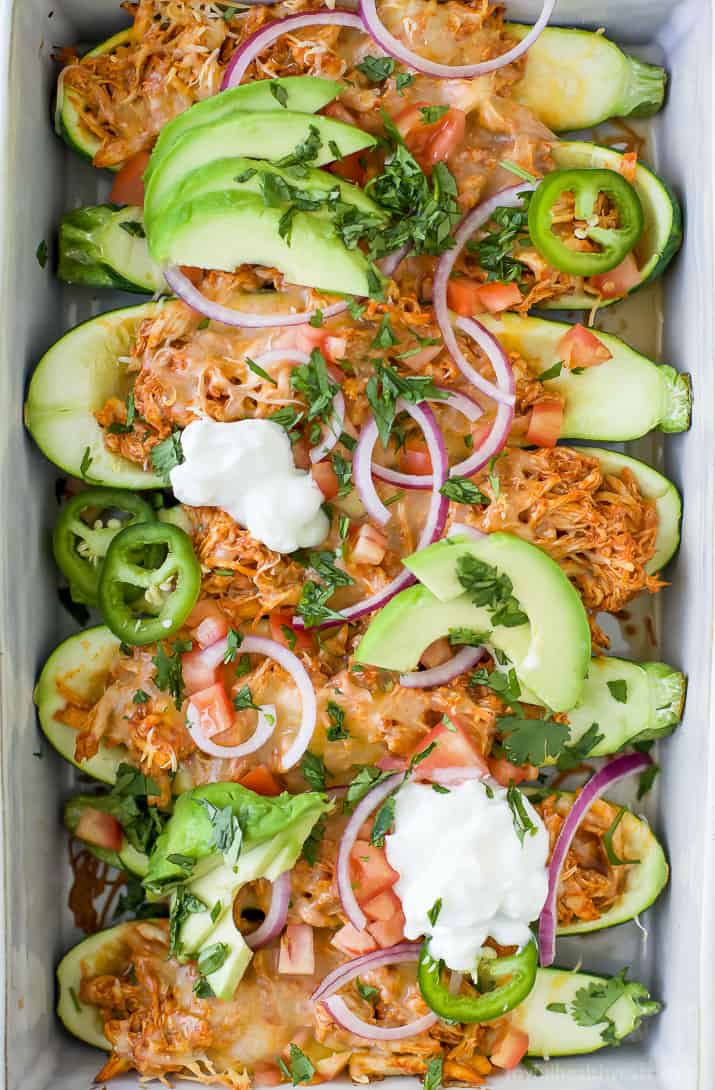 Print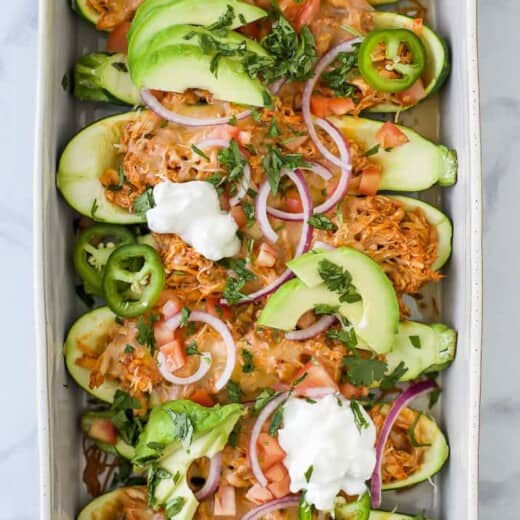 Chicken Enchilada Zucchini Boats
Author:

Prep Time:

5 min

Cook Time:

25 min

Total Time:

30 minutes

Yield:

4

1

x

Category:

gluten free, low carb, chicken, 30 minute meal

Method:

oven

Cuisine:

american, mexican
---
Description
Easy Chicken Enchilada Zucchini Boats with red chili sauce and melted cheese. A 30 minute meal that's gluten free, low carb, high protein and perfect for a weeknight dinner.
---
Chicken Enchiladas
2 cups

shredded rotisserie chicken (white meat)

8 oz

package frontera red chili enchilada sauce

4

large zucchinis, sliced in half lengthwise and scooped out to create a "boat"

1/2 cup

shredded mexican cheese

1/4 cup

chopped fresh cilantro
OPTIONAL TOPPINGS:
diced tomatoes
sliced red onion
diced avocado
sliced jalapeno
---
Instructions
Preheat oven to 350 degrees F.
In a medium bowl add shredded rotisserie chicken and enchilada sauce. With a fork, mix everything together so the chicken is completely coated.
In a 13×9 inch baking dish, add zucchini boats flesh side facing up. Scoop the chicken mixture into the "boat" part of the zucchini.
Sprinkle with shredded mexican cheese.
Cover the baking dish with tin foil. Bake for 20 minutes.
Remove the tin foil from the pan. Bake for another 5 minutes uncovered.
Garnish with fresh cilantro. Serve.
Add additional toppings for more deliciousness!
---
---
Nutrition
Serving Size:

2 zucchini boat

Calories:

151

Sugar:

2 g

Sodium:

723 mg

Fat:

4 g

Saturated Fat:

2 g

Carbohydrates:

14 g

Fiber:

6 g

Protein:

17 g

Cholesterol:

32 mg
Keywords: gluten free recipes, stuffed zucchini boats, chicken enchiladas, simple chicken recipes, baked chicken recipes, low carb, 30 minute meals, zucchini boats, kid friendly, easy mexican food, healthy dinner ideas
Want More Zucchini Boat Recipes?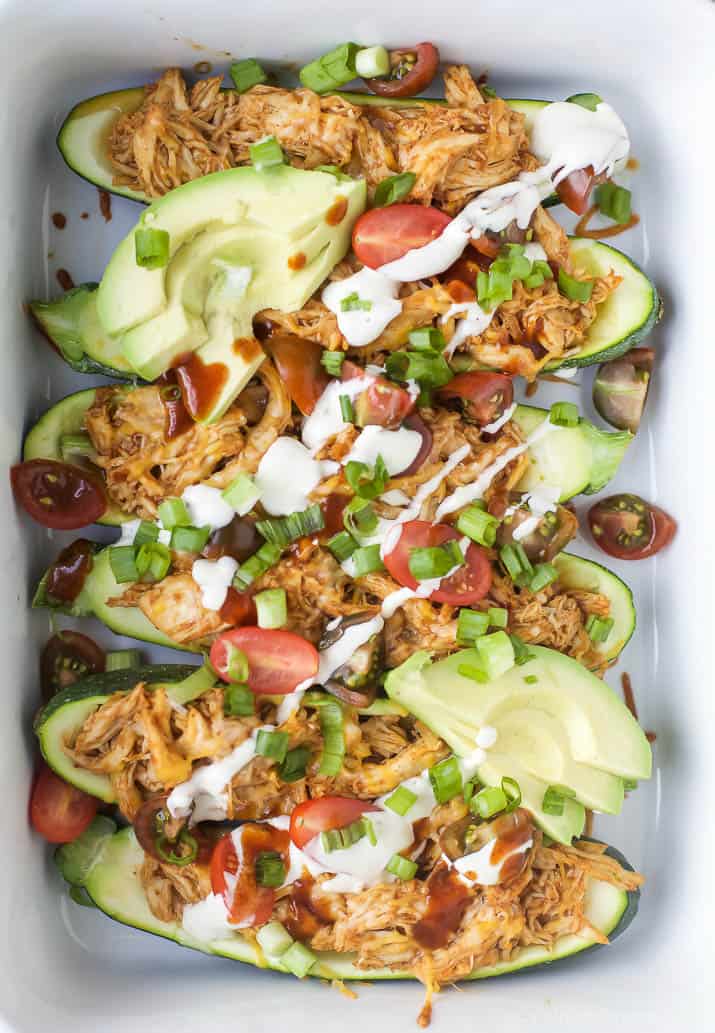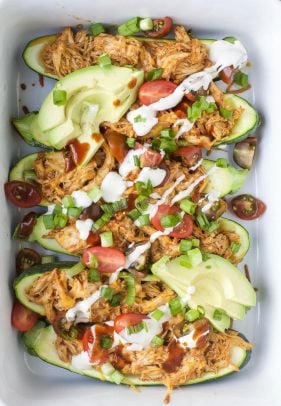 Ground Beef Enchilada Zucchini Boats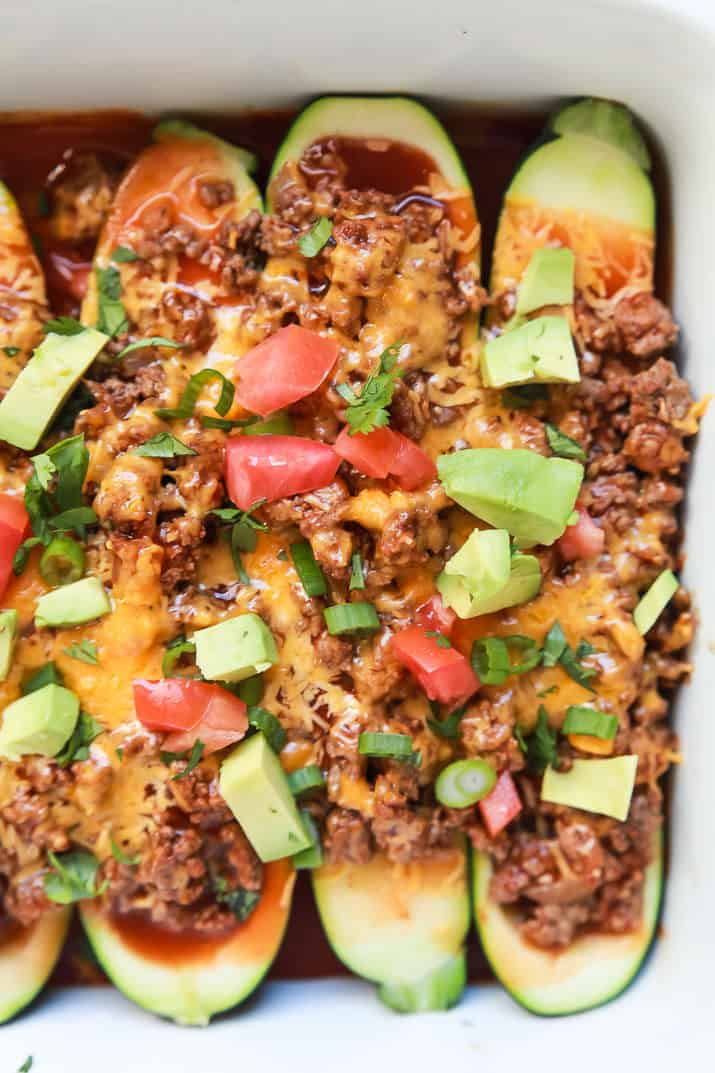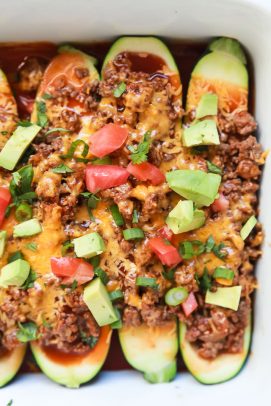 Buffalo Chicken Enchilada Zucchini Boats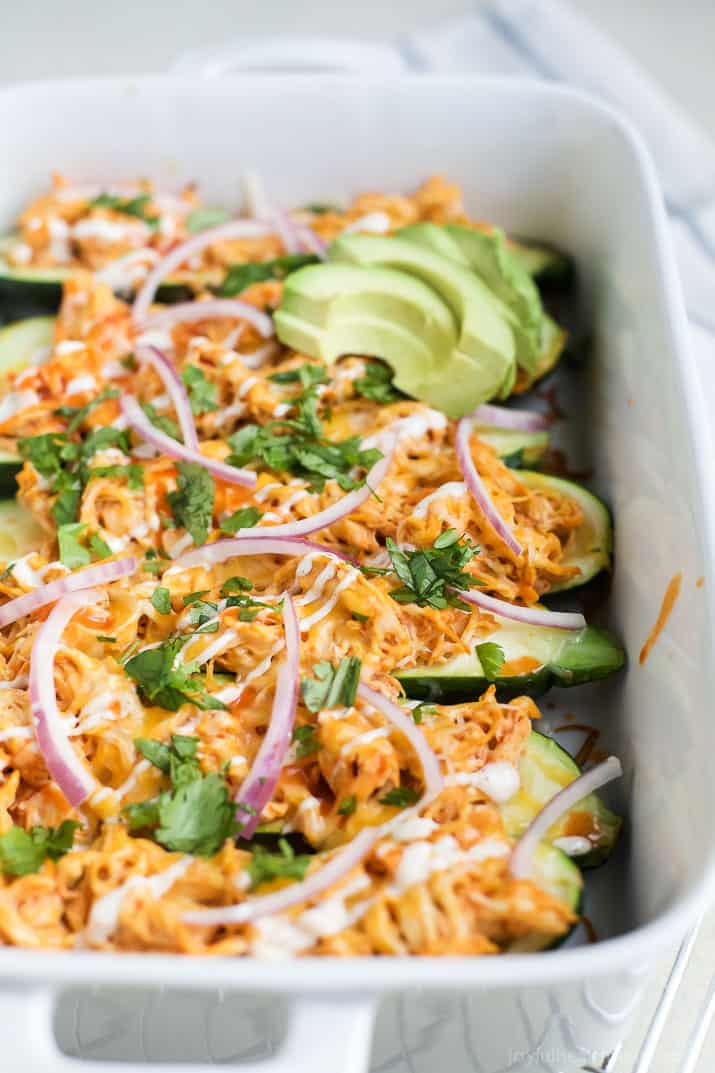 DON'T MISS A RECIPE ->