The BEST Instant Pot Rotisserie Chicken in just 45 minutes!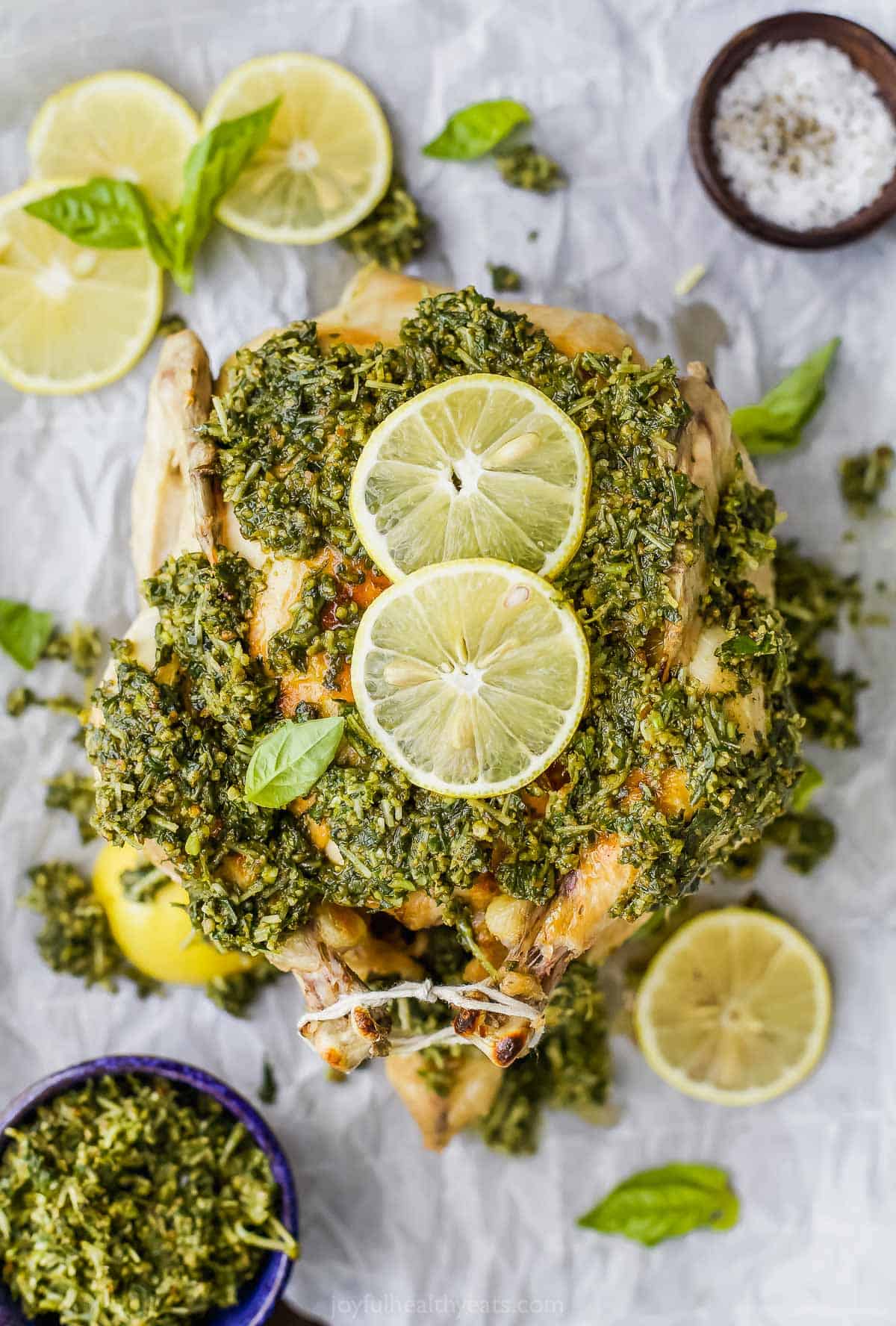 The BEST Instant Pot Rotisserie Chicken you'll ever make! Moist tender chicken with crispy skin covered in a fresh Pesto Sauce, all in just 45 minutes! This Rotisserie Chicken is a favorite and you'll love the new technique I use!
Instant Pot y'all. It's a game changer!
I've been diving face first into the instant pot world and I'm so thankful you guys have come with me on the journey!
Have you liked all the recipes so far? I've noticed on Instagram that a lot of you have tried my Low Carb Zuppa Toscana. Woot Woot! It's definitely a goodie!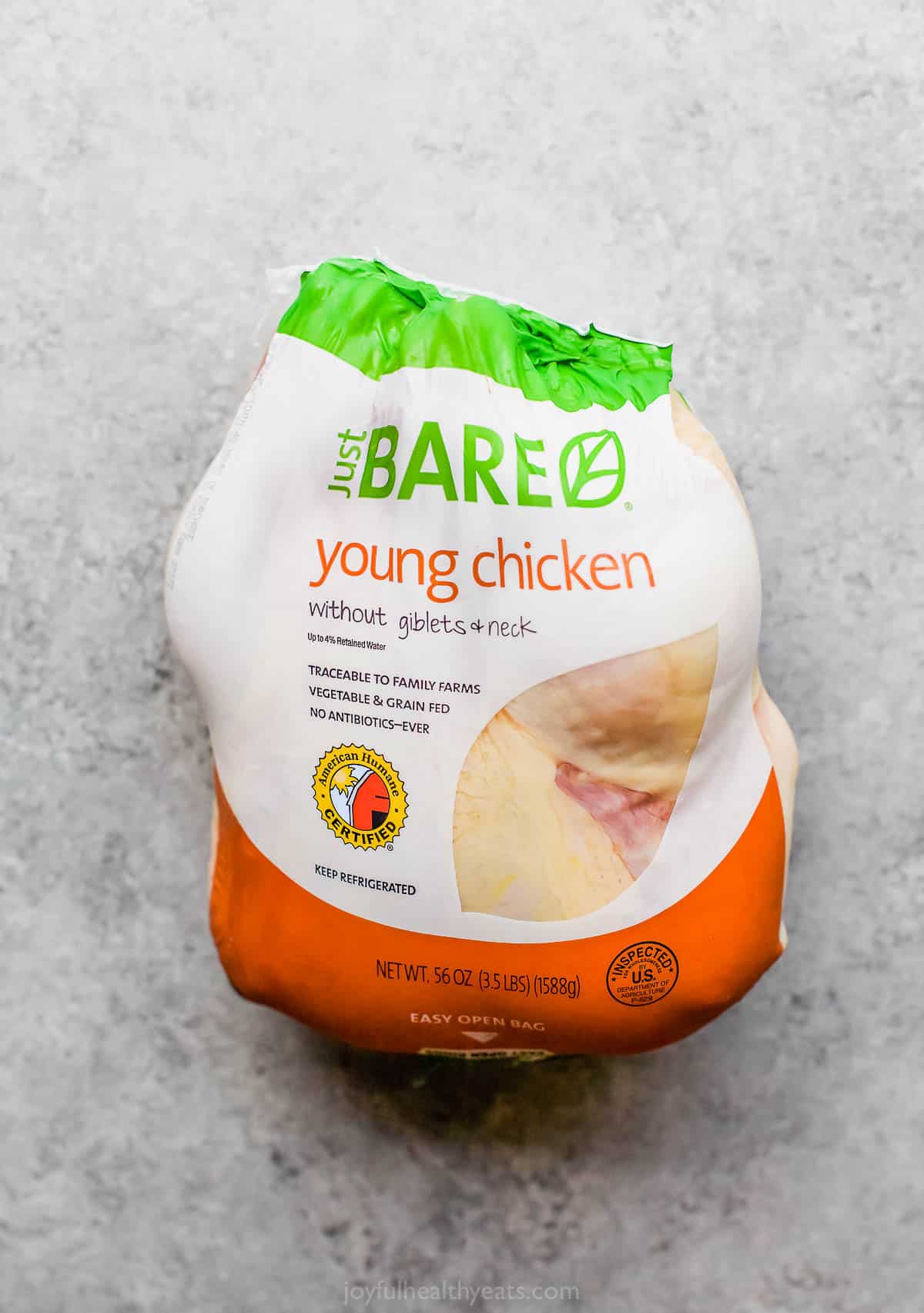 The next thing for me to tackle in the Instant Pot was a whole chicken! I've made chicken in the crock pot before, and it was good. But, you just don't get the same "crispy skin" effect you get when you roast something. Well I was determined to change that. I wanted a juicy, moist bird with crispy skin and y'all I've mastered it!
IN THE INSTANT POT!
If you want good chicken, you have to start with good quality chicken. My go-to brand is ALWAYS Just BARE® chicken. Honestly, I use them every time I make chicken. I've even turned a lot of my friends over to using them as well. Go to Just BARE's website to find out where you can purchase some near you. I guarantee you won't regret it.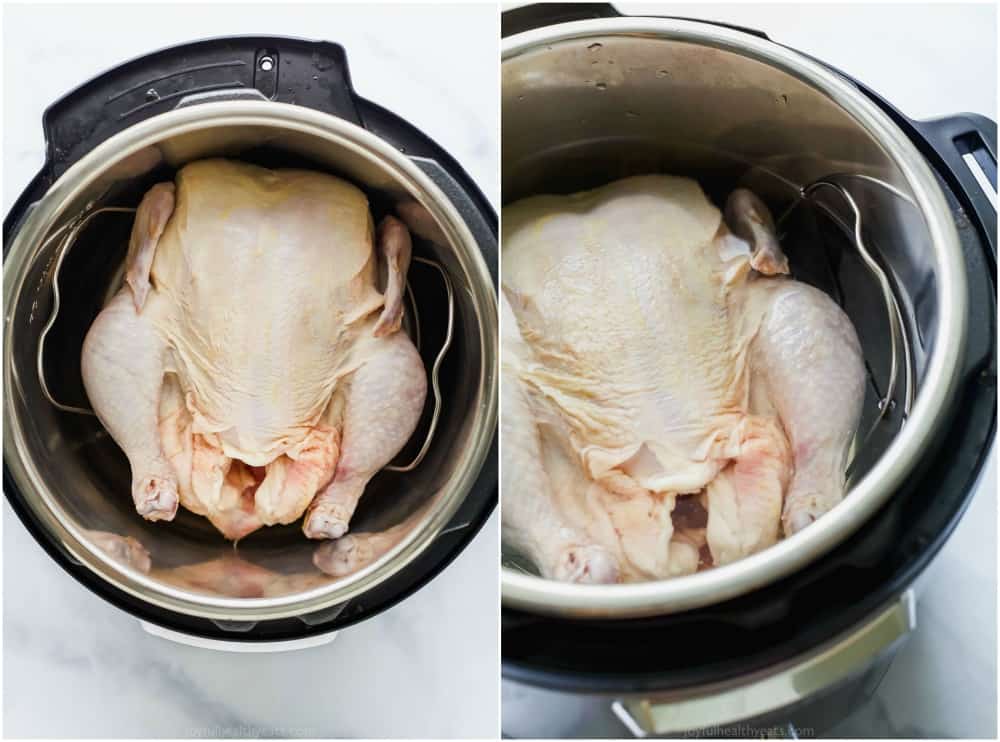 So why do I like Just BARE so much?
It's chicken. Nothing more, nothing less. I know what is and what isn't in it. They don't add hormones* or artificial ingredients or any antibiotics ever. All of the chickens are raised with vegetable and grain feed.
They highly value animal care and even have a third party audit to evaluate the integrity and quality of how the animals are being raised. Which means happy chickens. 🙂
Just BARE is American Humane Certified!
You can trace where your food came from. Their Just BARE Natural products have a traceable code that will tell you about the farm your chicken came from, where they are located, how long they have been farming and if they farm anything else. Talk about farm to table!
All of their products are hand trimmed and then packaged. What does that mean? You don't have to worry about cutting off the fat or trimming up your chicken. Take it out of the package and it's ready to cook. Even the whole chicken, which is featured today, has the neck and giblets removed. Everything is ready to go.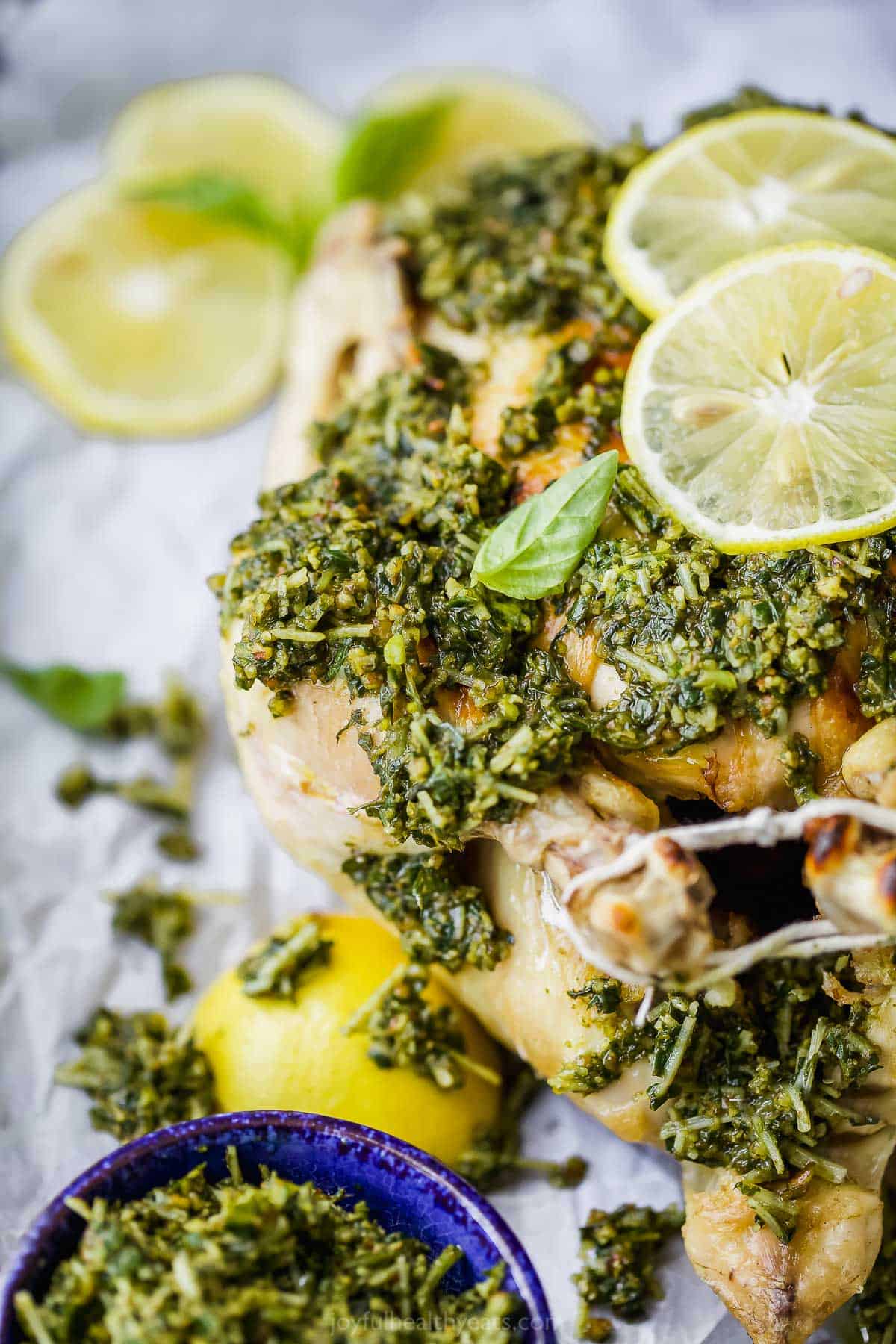 Speaking of ready to go.
Let's get this show on the road. Shall we?
I'm sure there are a lot of questions surrounding how to make a whole chicken in the Instant Pot. Can you put the chicken in frozen? Do you sear it? How do you get the crispy skin? How do you dry out the chicken? What setting do you put the chicken on?
Here's what I found!
You can put the chicken in the Instant Pot frozen. However, you'll have to cook it longer and the meat does come out a little drier. So I recommend letting the chicken thaw out in your refrigerator overnight or placing it in your sink with cold water. With the method I use in this recipe you do not need to sear the skin to get crispy skin. In my method I'm actually cooking the chicken in water, so I'm poaching it and then putting it under the broiler to sear the skin and make it crispy. I found this was the BEST method to give me that "crunch factor." Also, with this method it ensures that that meat of chicken stays nice and moist and does not dry out! You'll see as soon as you cut through that first bite!
Now, here's the kicker.
When you read the instructions you're going to think I'm crazy because you are cooking the chicken on HIGH PRESSURE setting for zero minutes. Yes, you read that right. It takes a while for the instant pot to "come to pressure" and that entire time it is cooking the bird. The next step is to let it natural release for 20-22 minutes, this is also still cooking the bird. FOLLOW THE PROCESS despite how strange it may sound. It works!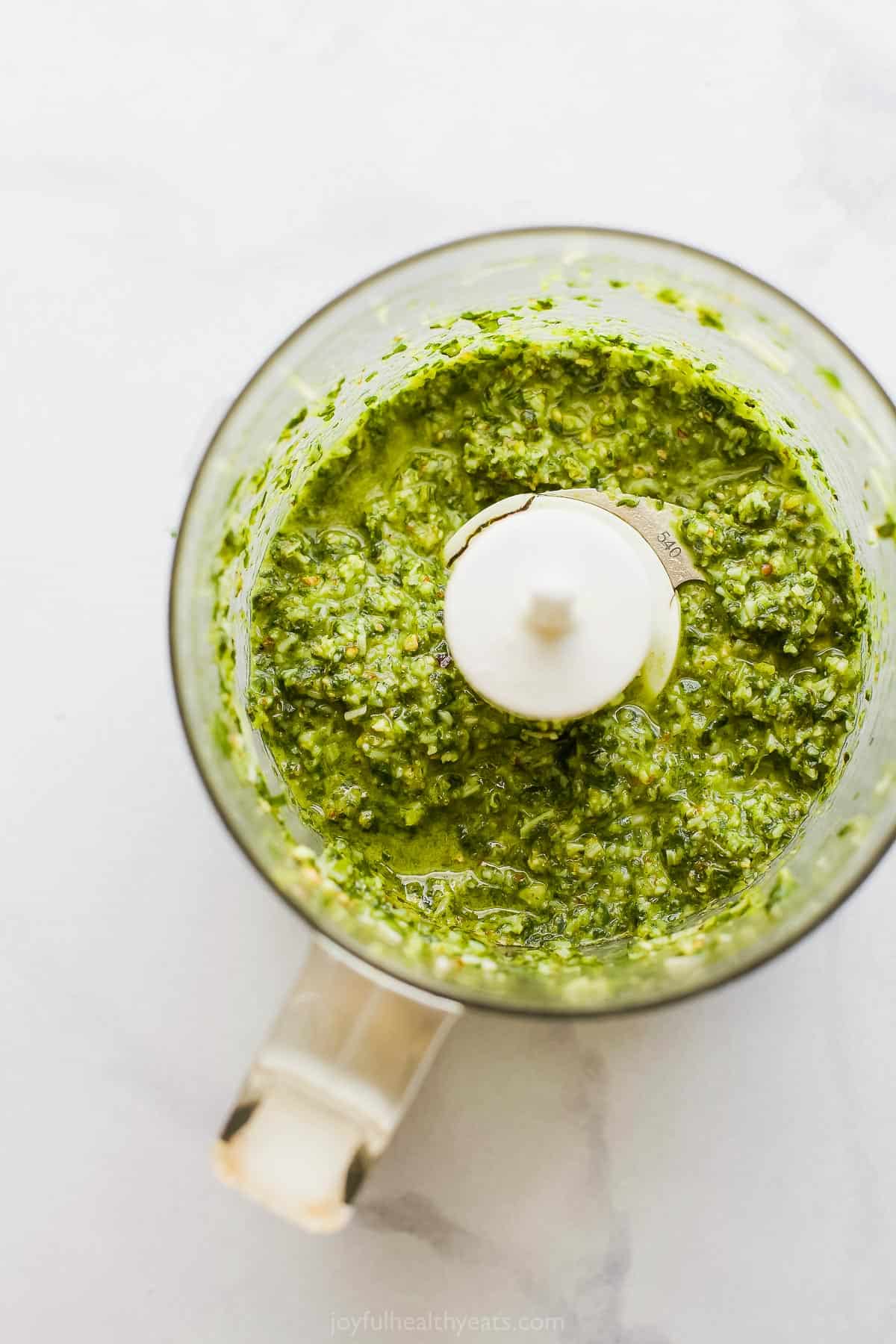 I tried this recipe two ways.
I put the pesto on the bird after it came out of the Instant Pot but before it went in the broiler.
I put the pesto on after the bird came out of the broiler.
Verdict.
I liked it better after it the chicken had time to crispy up and then I put the pesto on. I found the pesto kept its freshness and gave a nice burst of flavor.
So, there you have it! A how to and my findings on how to make the BEST Instant Pot Rotisserie Chicken. You're going to absolutely love it!
The process. The taste. And the amazing Just BARE product.
Bon Appetit friends!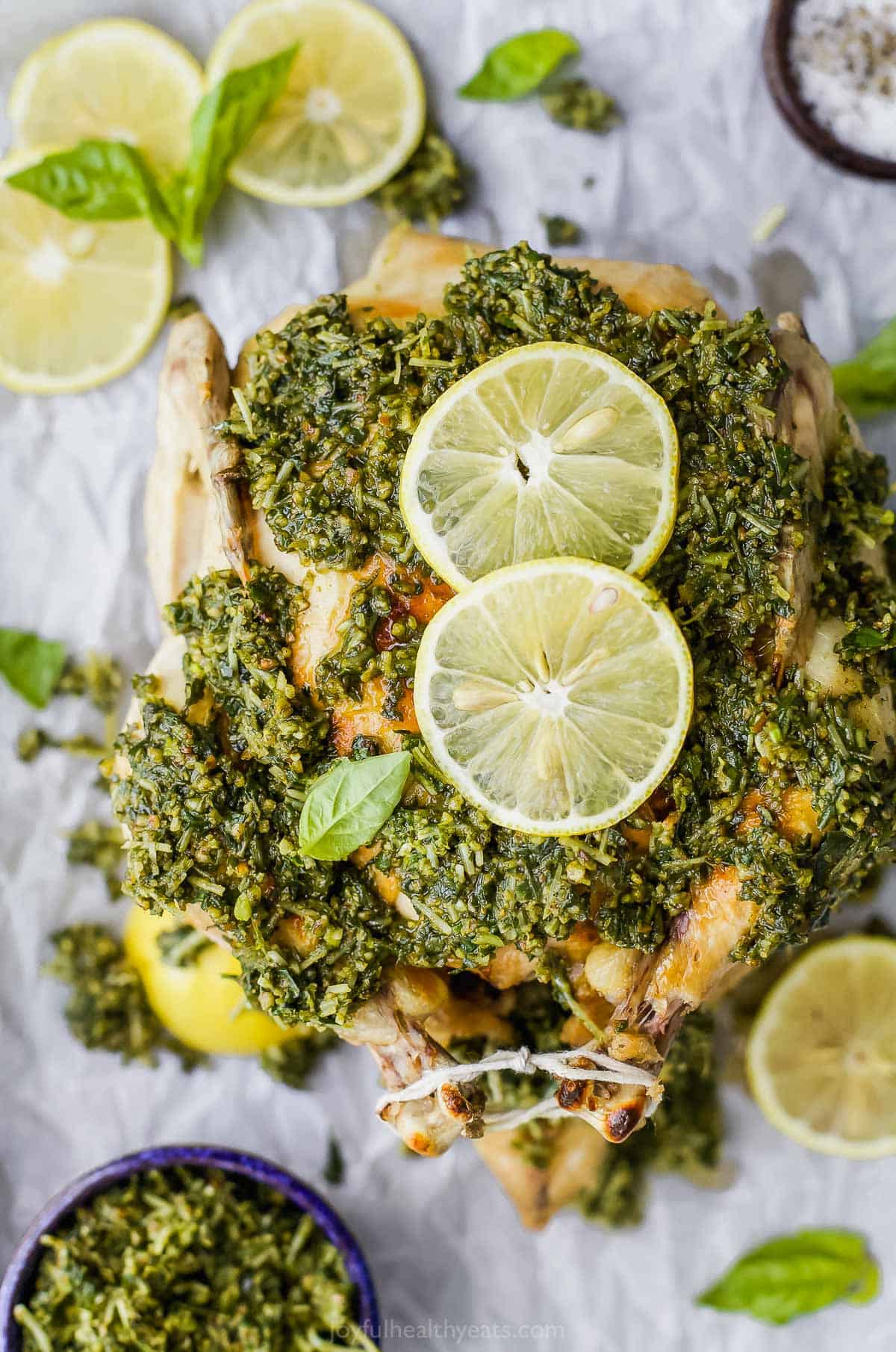 *** This recipe was sponsored by Just BARE Chicken. However, like always all opinions are 100% mine! Thank you for supporting the brands that support Joyful Healthy Eats. ***
Print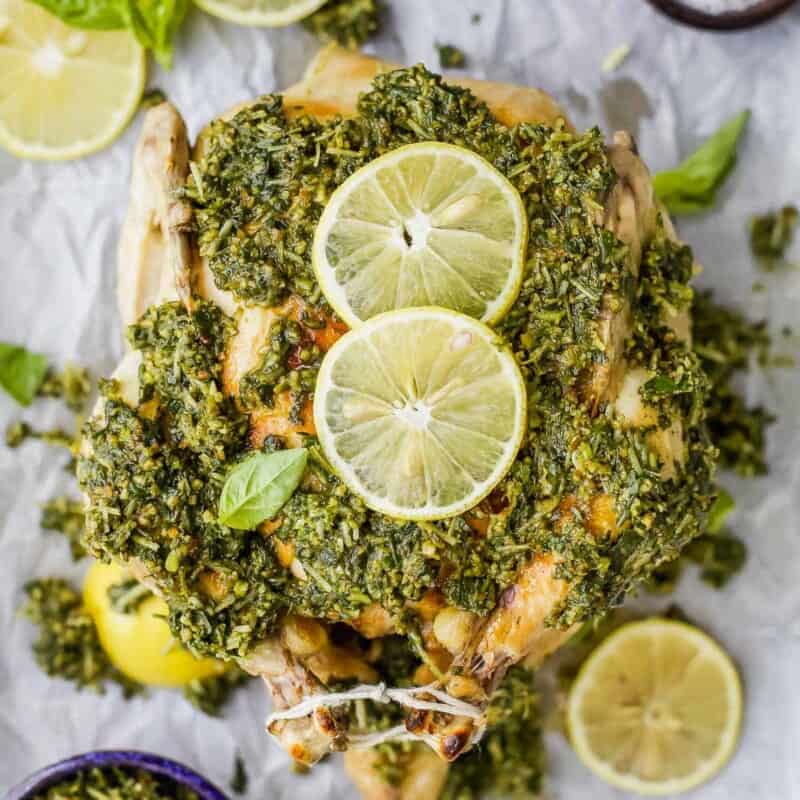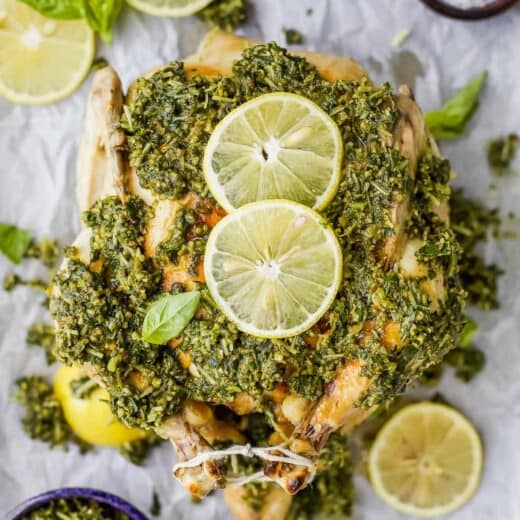 The BEST Instant Pot Pesto Rotisserie Chicken
Author:

Prep Time:

5 min

Cook Time:

37 min

Total Time:

42 minutes

Yield:

1

whole chicken

1

x

Category:

Instant Pot, Chicken, Gluten Free, Kid Friendly, Sponsored, Easy Healthy Recipes, Christmas, Holiday

Method:

Instant Pot

Cuisine:

American
---
Description
The BEST Instant Pot Rotisserie Chicken you'll ever make or eat! Moist tender chicken with crispy skin covered in a fresh Pesto Sauce, all in just 45 minutes! This Rotisserie Chicken is a favorite and you'll love the new technique I use!
---
Basil Pesto:
1 cup

fresh packed basil

2 tablespoons

raw pecans

1/4 tsp

. salt

1/4 tsp

. pepper

1

garlic clove

1 tsp

. lemon zest

1/3 cup

of olive oil (or

1/2 cup

depending on the type of consistency you like)

1/4 cup

of shredded parmesan cheese
---
Instructions
Instant Pot Chicken:
To a pressure cooker add 2 teaspoons fine sea salt and 8 cups of cold water. Place steaming rack in the instant pot. Carefully lower the whole chicken breast side up into the water. Make sure the water covers at least 90% of the chicken.

Close lid, make sure it is sealed and pressure cook at High Pressure for 0 minute. Yes you read that right.

Natural Release for 20 – 22 minutes, depending on the size of your bird. (if 4 lbs do the whole 22 minutes) Open the lid very carefully.

Carefully remove the chicken from the Instant Pot using a pair of tongs or a long wooden spoon or fork to remove. Be carefully as you lift the bird out because there will be hot water inside the carcass of the chicken.

Once removed. Pat chicken dry and make sure all liquid is out of carcass. Place the whole chicken on a wire rack lined baking sheet, breast side up. Measure the temperature of the thickest part of the chicken, using a meat thermometer. Make sure the internal temperature reaches at least 161°F (72°C).

Finish in Oven: Place the whole chicken under broiler on HIGH for 5 – 15 minutes until the skin is slightly browned.

Remove chicken from the oven and top rub homemade pesto into skin.
For Pesto:
Place basil, pecans, garlic, salt, pepper, and lemon zest in a food processor or blender and blend until basil is finely chopped.
Slowly add the olive oil till smooth.
Once completely blended. Place the pesto in a bowl and stir in the parmesan cheese.
Notes
*Note 1: If the internal temp doesn't reach this food safe minimum, place it back into the hot liquid for a longer time (5 – 10 minutes) & close the lid.
* Poaching method inspired by Pressure Cooking Recipes
*Federal regulation prohibits the use of hormones in poultry
---
Nutrition
Serving Size:

4 oz.

Calories:

348

Sugar:

2 g

Sodium:

784 mg

Fat:

25 g

Saturated Fat:

6 g

Carbohydrates:

2 g

Fiber:

1 g

Protein:

24 g

Cholesterol:

124 mg
Keywords: Instant Pot Rotisserie Chicken, Rotisserie Chicken, Gluten Free Recipes, Kid Friendly, Easy Dinner Recipes, Easy Healthy Recipes, Homemade Pesto, How to Instant Pot Rotisserie Chicken, Pressure Cooker Recipes, Easy Chicken Recipes, Rotisserie Chicken Recipes, Healthy Instant Pot Recipes, Healthy Instant Pot Chicken
Filed Under:
Want More Whole Healthy Chicken Recipes?
1 Hour Garlic Herb Butter Roasted Chicken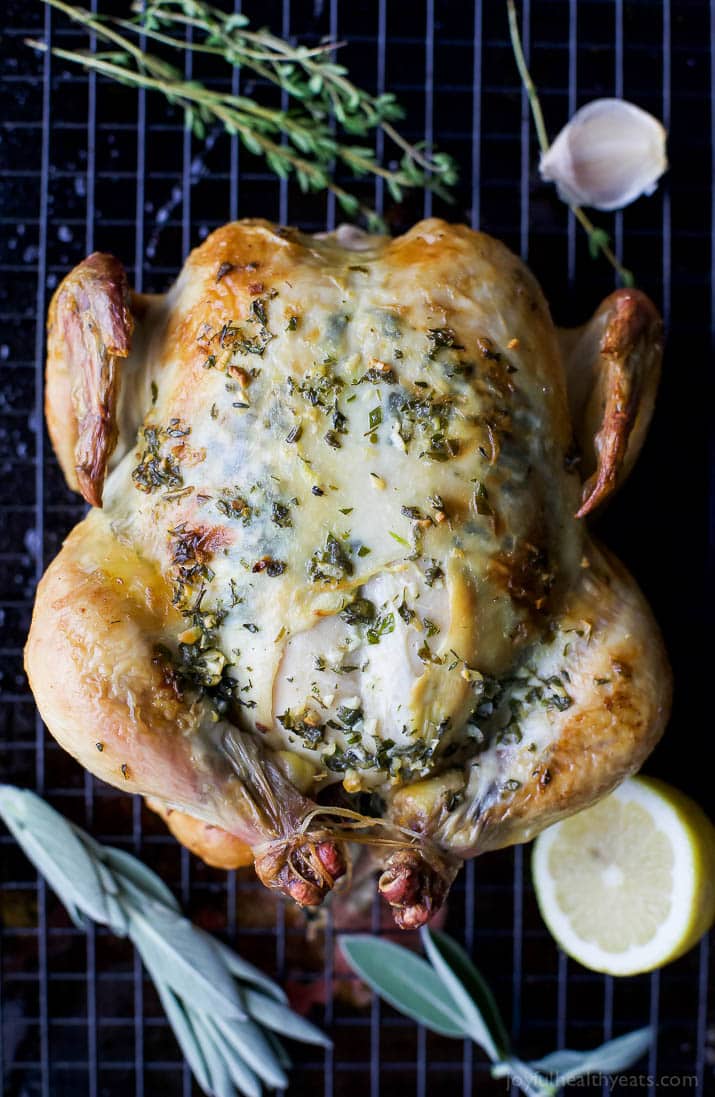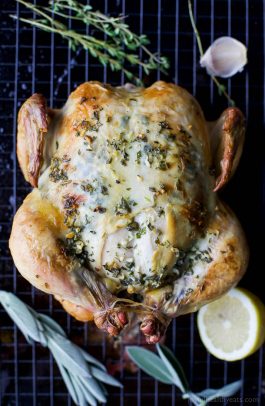 Glazed Honey Garlic Beer Can Chicken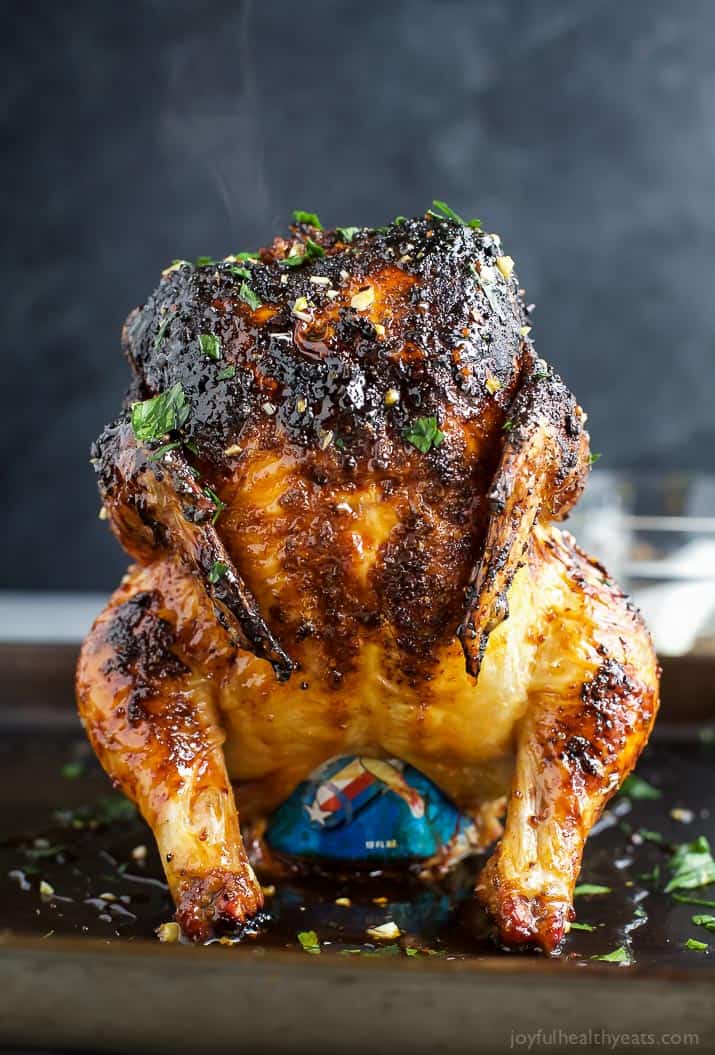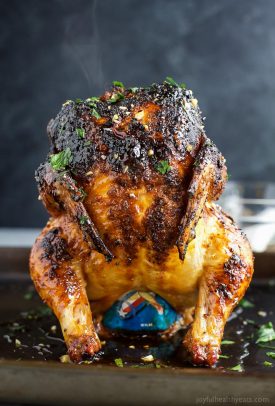 Oven Roasted Chicken with Lemon Garlic Butter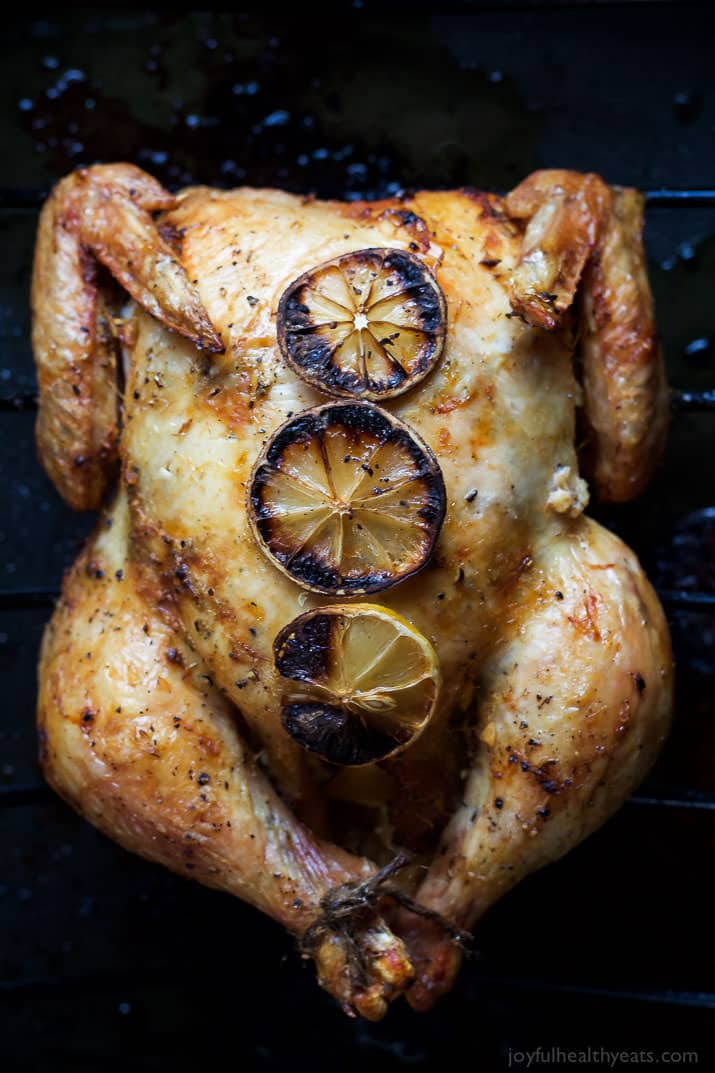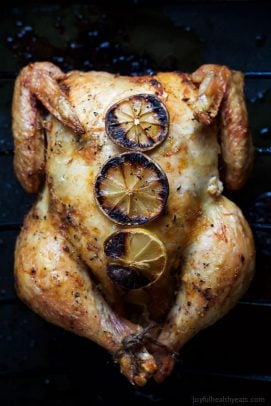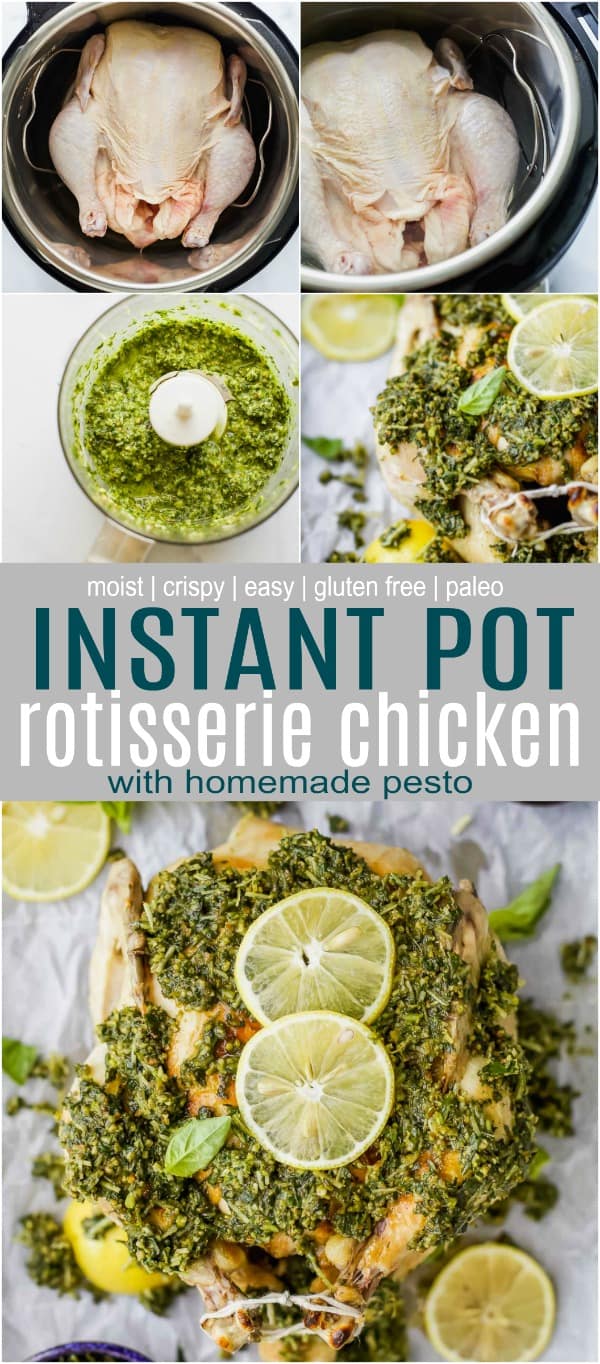 DON'T MISS A RECIPE ->