The Best Thai Chicken Noodle Soup you'll ever make! Each bite of this Chicken Soup is full of Thai flavor from the red curry paste to the ginger, then loaded with chicken, veggies, and rice noodles. The perfect comforting dinner recipe is ready in only 30 minutes!
If you're looking for more Chicken Soup Recipes you need to try my Homemade Healing Chicken Soup, Chicken Tortilla Soup, or my Light Lemon Chicken Orzo Soup.
Healthy & Nourishing Chicken Noodle Soup
This is one of the recipes that I'm very proud of. There's something really special about cooking Thai food at home, and this Thai Chicken Noodle Soup is a great example!
We love to order Thai takeout because the food has such bold and fun flavors. The authentic tangy, sweet, and spicy flavors almost seem impossible to replicate at home. But that's not the case at all! This soup is so easy to make and you can find the ingredients right at your regular grocery store. It's really pretty incredible how amazing this soup turns out with little effort!
This soup is also really quick to put together for an easy weeknight meal. You need just 30 minutes to make this soup at home. So, instead of ordering Thai takeout, why don't you try this soup instead? I promise you won't regret it. And your family will keep asking for it over and over again!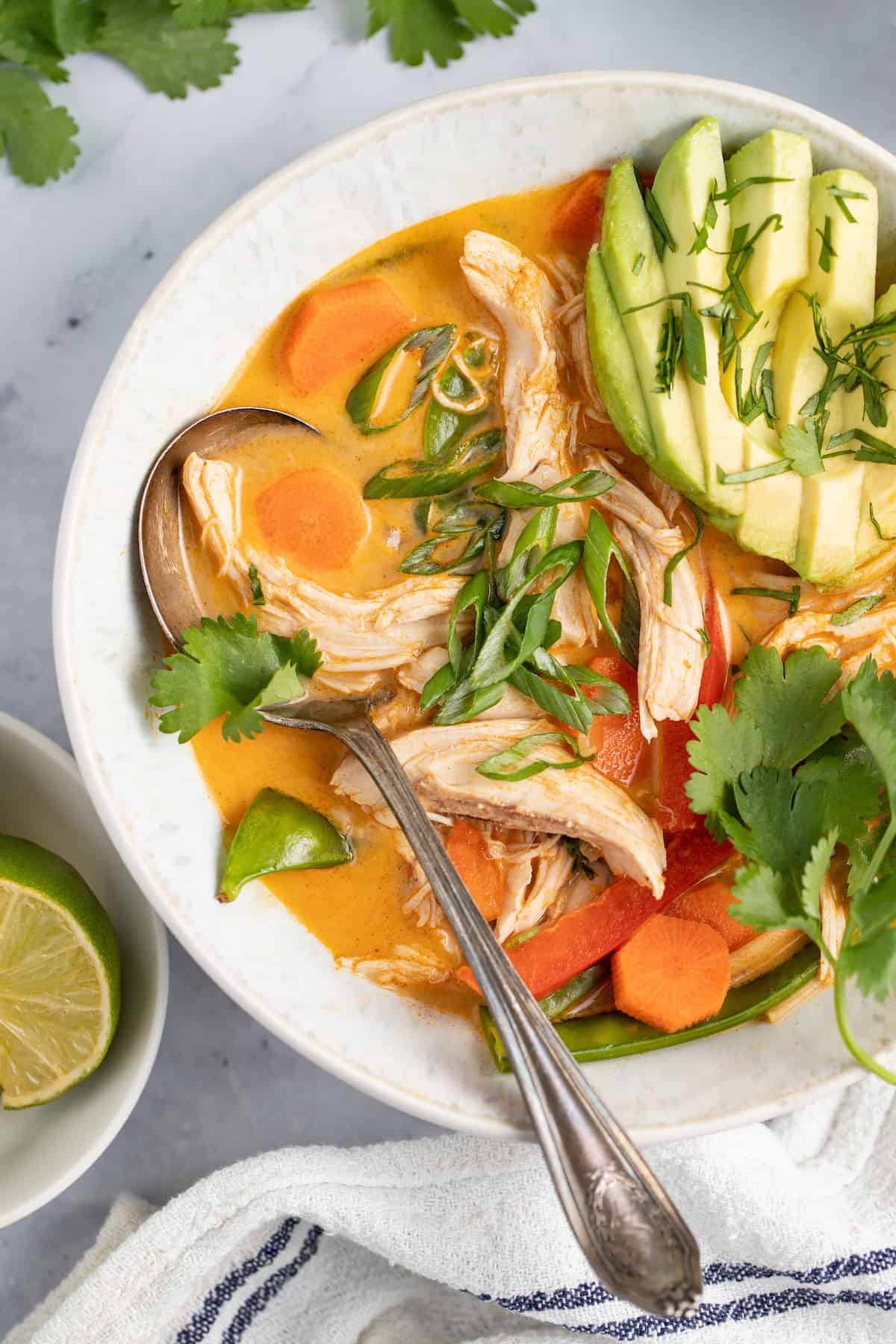 What Gives This Soup Thai Flavors?
The main ingredients that give this chicken soup its signature Thai flavors are – fresh ginger, fresh garlic, a rich red curry paste (made with lemongrass, coriander, shallots, ginger, garlic, and red chilis) coconut milk, lime juice, and fresh cilantro.
What I love about this recipe is how easy it is to make and how much flavor I can pack into it in just 30 minutes! It will seriously blow your mind! I even have a Vegetarian version of this recipe for those of you eating a meatless diet. It's just as flavorful without any chicken.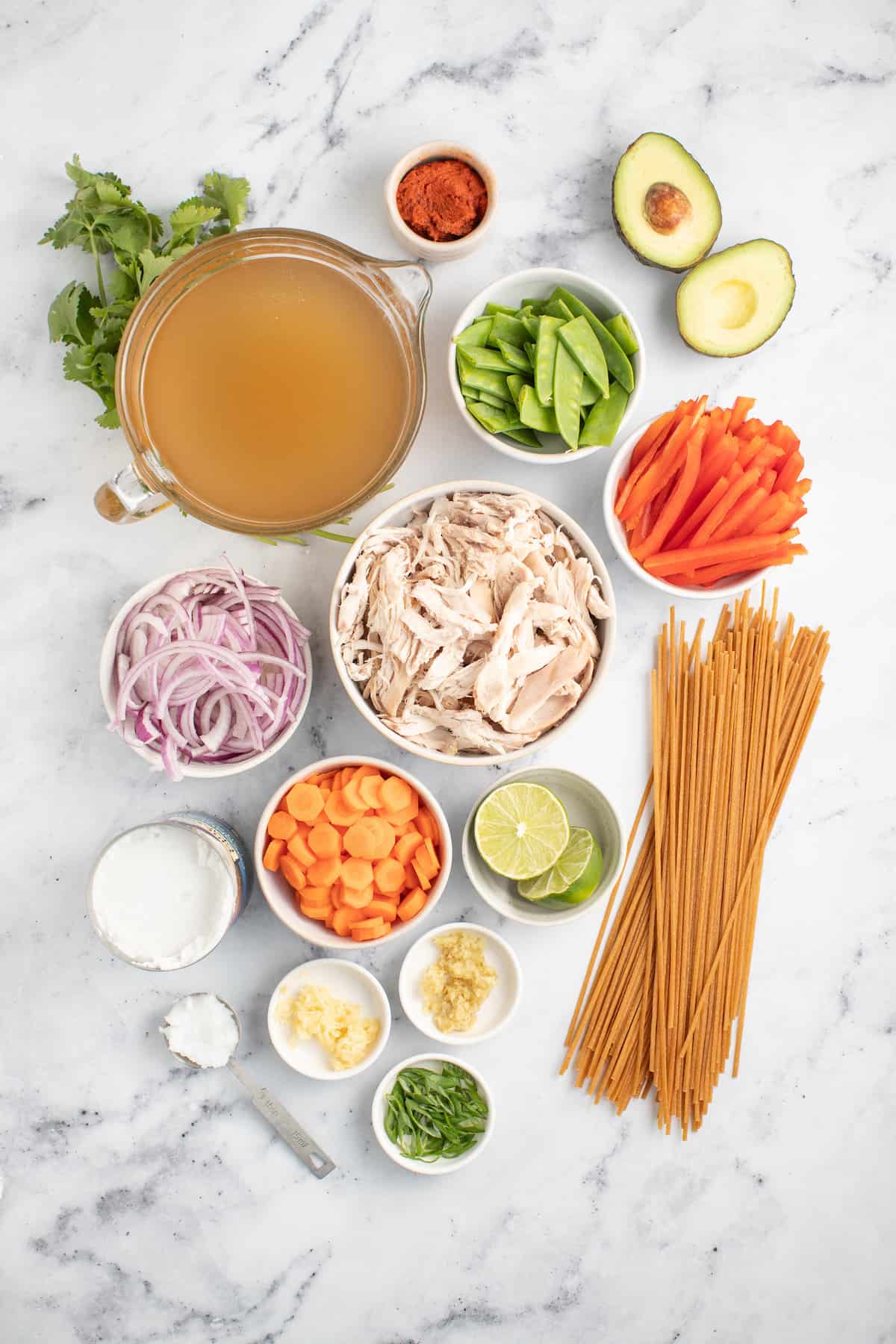 Recipe Ingredients
The recipe ingredients are listed below for Thai Chicken Noodle Soup. Remember to check out the recipe card below for exact measurements.
Chicken: For a short cut I like to use already cooked rotisserie chicken. However, if you prefer you could use boneless chicken breast and poach in chicken broth.
Coconut Oil: Or whatever cooking oil you have, but I like to use coconut oil for the slightly nutty flavor.
Aromatics: The key aromatics in this soup are minced fresh garlic, fresh ginger, and red onion.
Red Curry Paste: You can't have a curry without curry paste! I like to use the Thai Kitchen Brand Red Curry Paste, it's the perfect amount of heat and rich curry flavor.
Chicken Broth: Adding chicken broth instead of water helps develop the depth of flavor in the soup, especially because this is a quick soup. The more you can add flavor the more flavor you'll have in the end! (if you're watching your sodium count use low-sodium chicken broth.)
Carrots: The carrots add nutrients, freshness, and a nice crunch.
Snow Peas: Adds a nice pop of green and sticks with the Asian theme. You could also use blanched green beans if you don't have snow peas.
Red Pepper: I like to julienne these to have a different shape from the other vegetables.
Brown Rice Noodles: Instead of using spaghetti or egg noodles I prefer to stick with the Thai theme, so I use rice noodles in this chicken noodle soup to give it almost that Pad Thai feel.
Coconut Milk: Always use canned coconut milk for this recipe. It can be found in the international or Asian aisle at your grocery store. Coconut milk from the can adds thickness and a slight sweetness that pairs perfectly with the flavors.
Fresh Lime Juice: The acid from lime juice cuts from the heat and creaminess in the rest of the dish. It's also a great way to add flavor without adding more salt.
Fresh Cilantro: I love to finish all of my dishes with fresh herbs for that final fresh pop of flavor.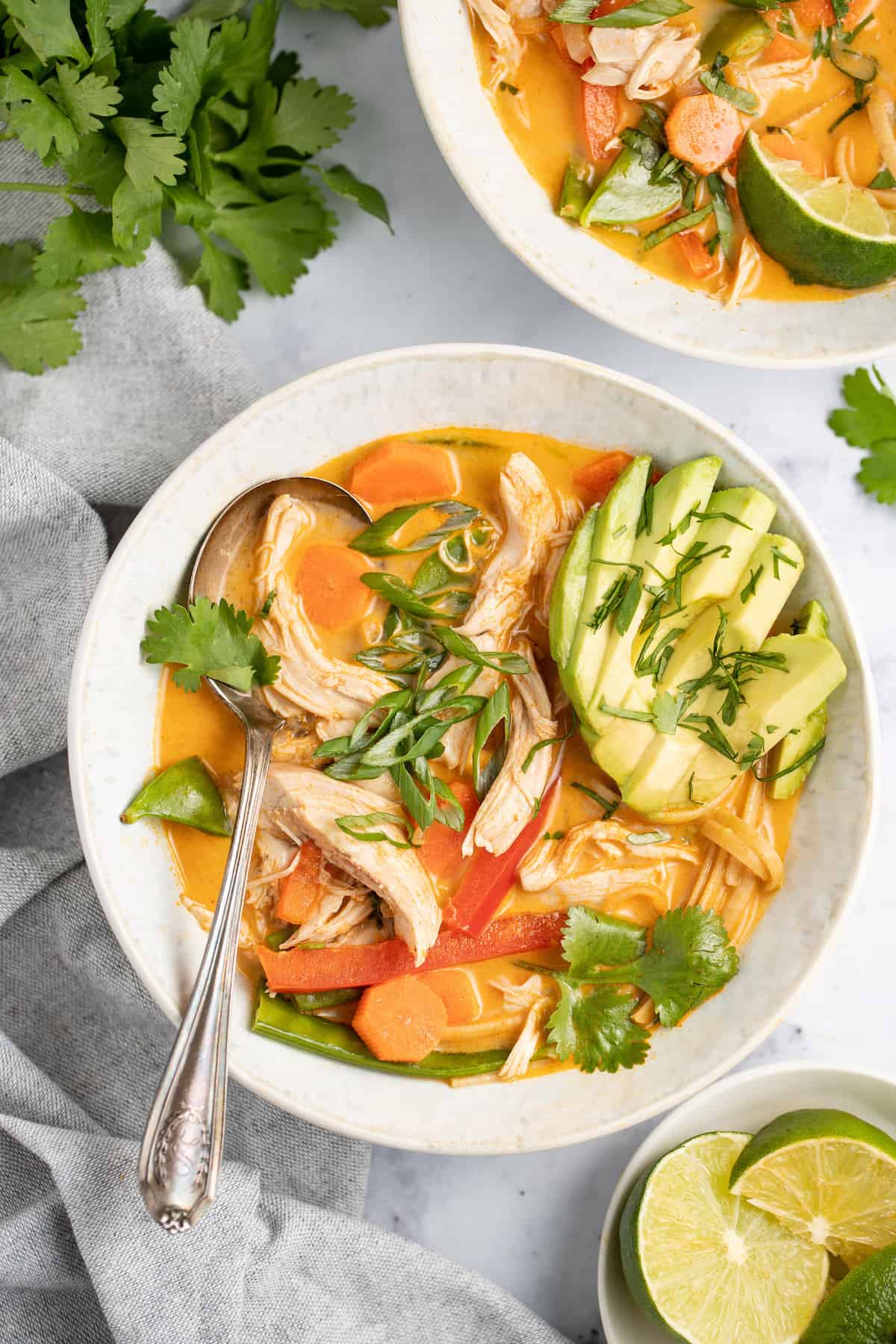 How to Make Thai Chicken Noodle Soup
Here is how to make this soup in just 30 minutes! The flavors are complex but the steps are simple.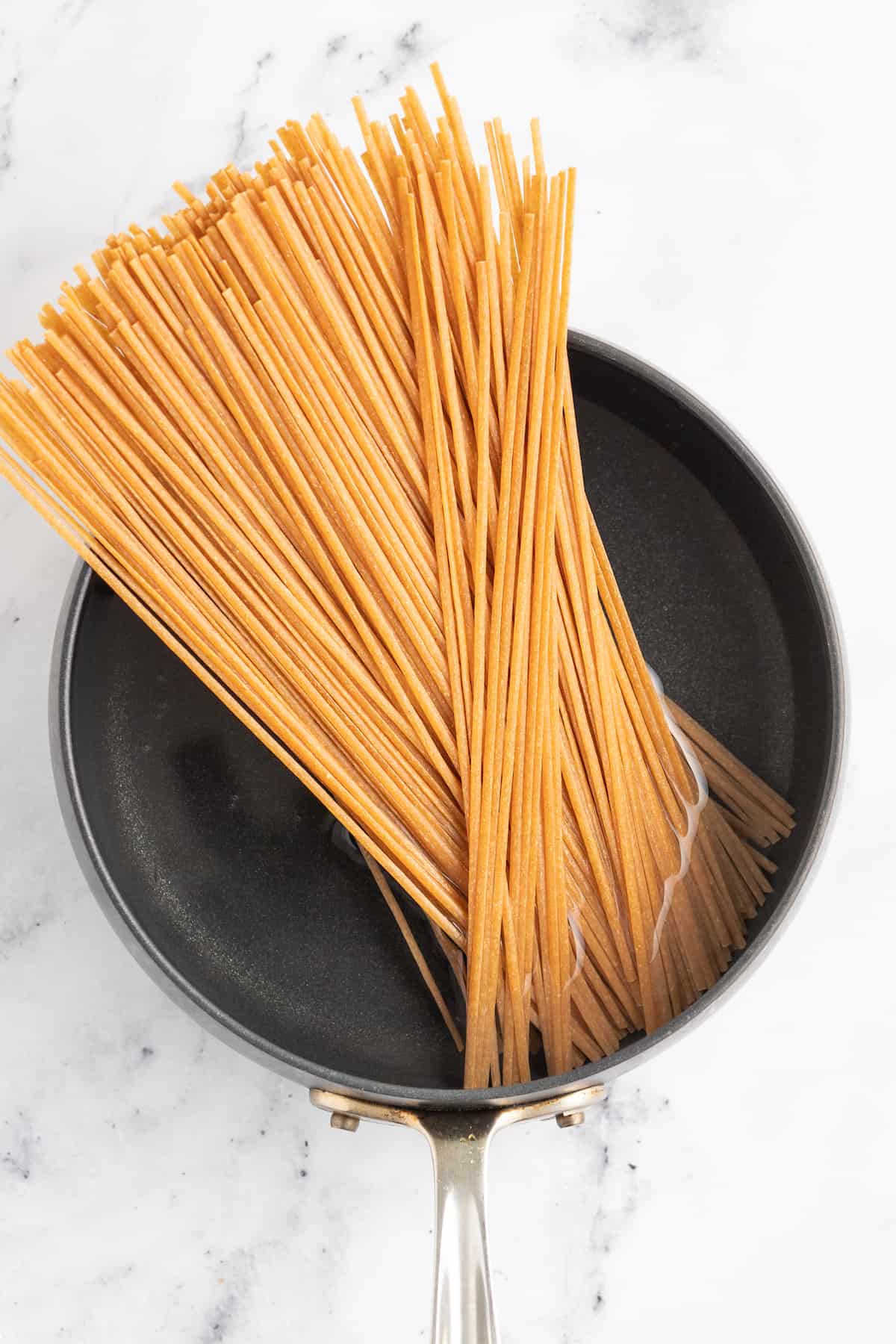 First, cook the noodles. Bring a medium pot of water to a boil. Add brown rice noodles to a pot of boiling water and cook for 4 minutes. Remove the noodles from your pot, drain the water, and immediately place the noodles in an ice bath to cool and stop the cooking process. Set aside.
Next, heat your pot and get the other ingredients ready. Heat a large dutch oven or soup pot to medium-high heat and add the coconut oil.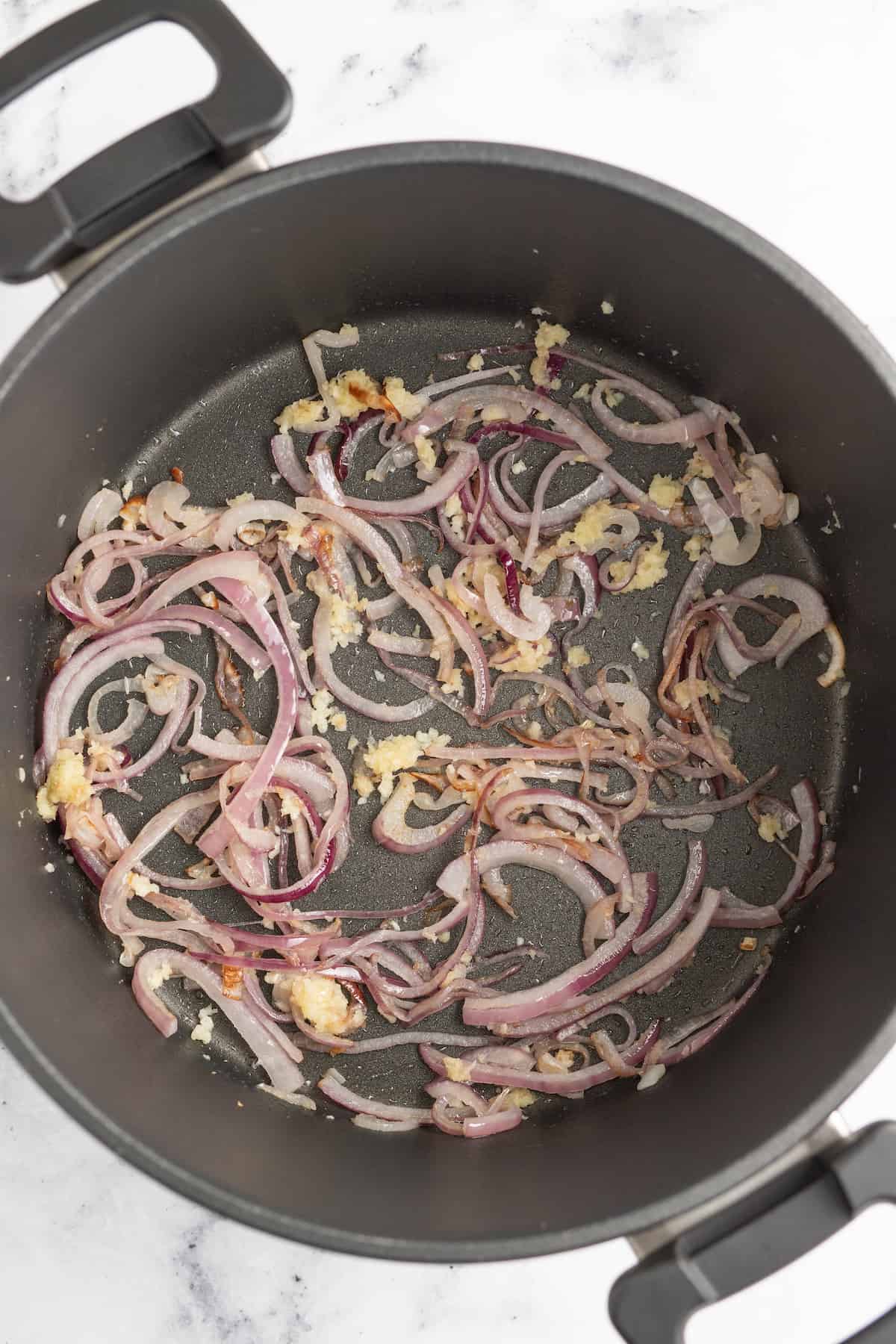 Saute the aromatics. Once the oil is melted add red onions and saute until translucent, about 3 to 4 minutes. Next, add fresh garlic and fresh ginger. Saute for 30 seconds, until fragrant. Then add red curry paste, and stir the paste until it thickens, 2 to 3 minutes.
Then add the broth and bring it to a boil. Once the curry paste is thickened add in chicken broth and bring to a boil, then reduce to a simmer.
Add in the good stuff! Now, it's time to add in the shredded chicken, cooked noodles, carrots, red pepper, and snow peas.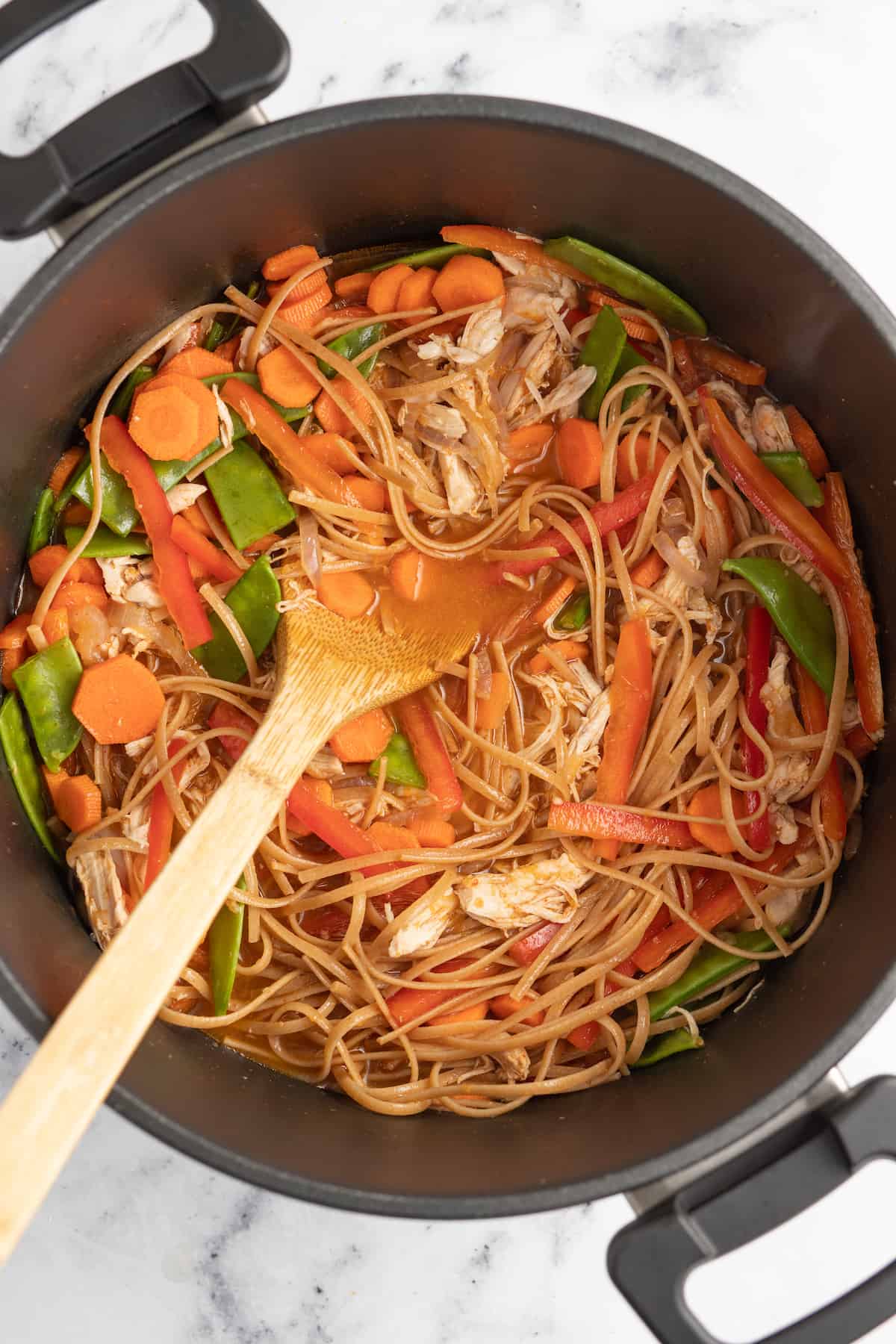 Simmer and stir everything together. Simmer for 4 to 6 minutes, until snow peas are vibrant green and carrots are fork tender. Remove about one cup of broth from the pot to mix with the coconut milk.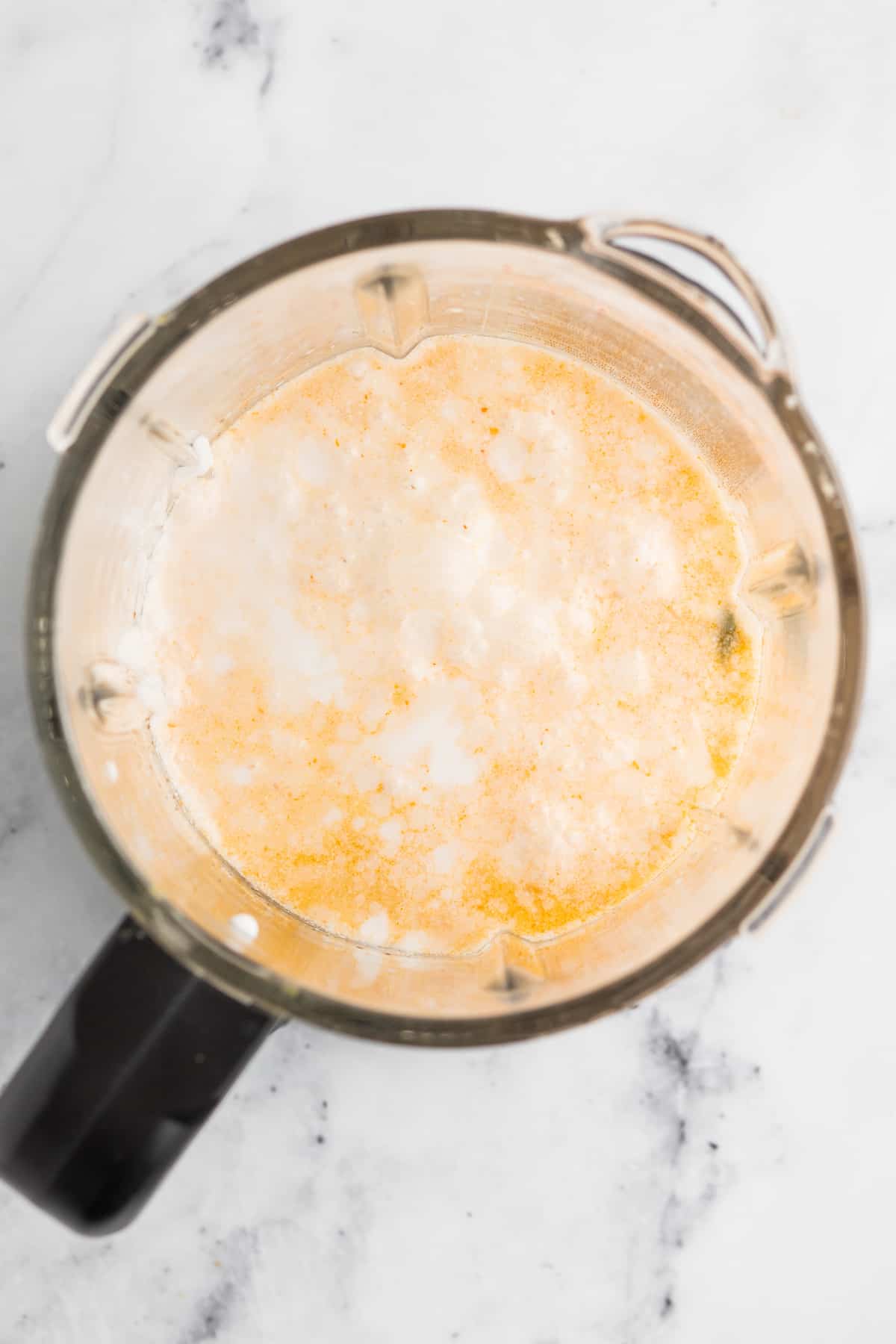 Now to make it creamy. Add the 1 cup of broth to a blender along with one can of coconut milk. Blend until the mixture looks creamy and the broth and milk no longer separate.
Add the mixture to the pot. Add the coconut milk mixture back to the soup pot, stir, and simmer for 5 minutes.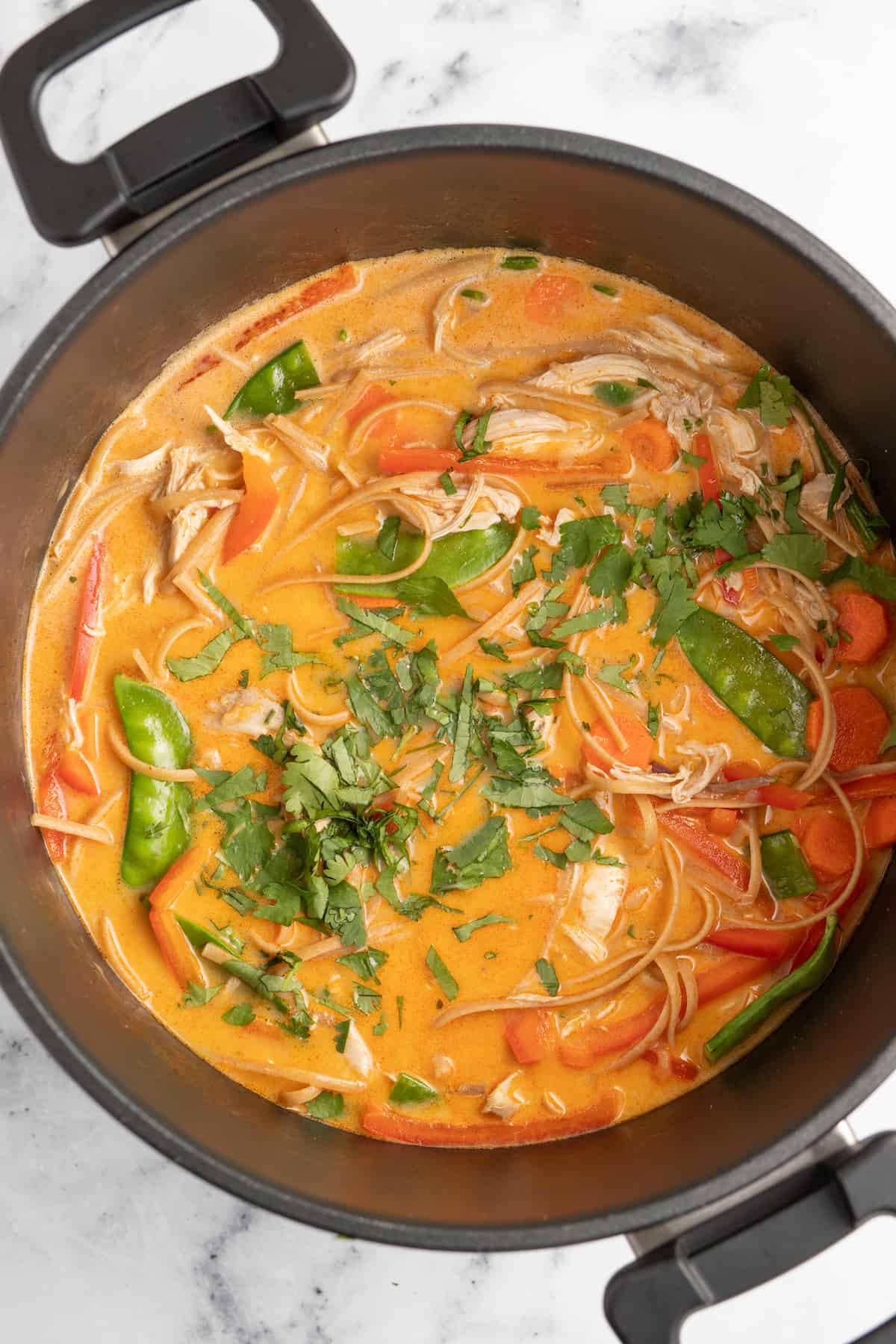 Then add the finishing touches. Right before you're about to serve the soup, finish with fresh lime juice and fresh cilantro. If you'd like, top it with sliced avocado and sliced green onions.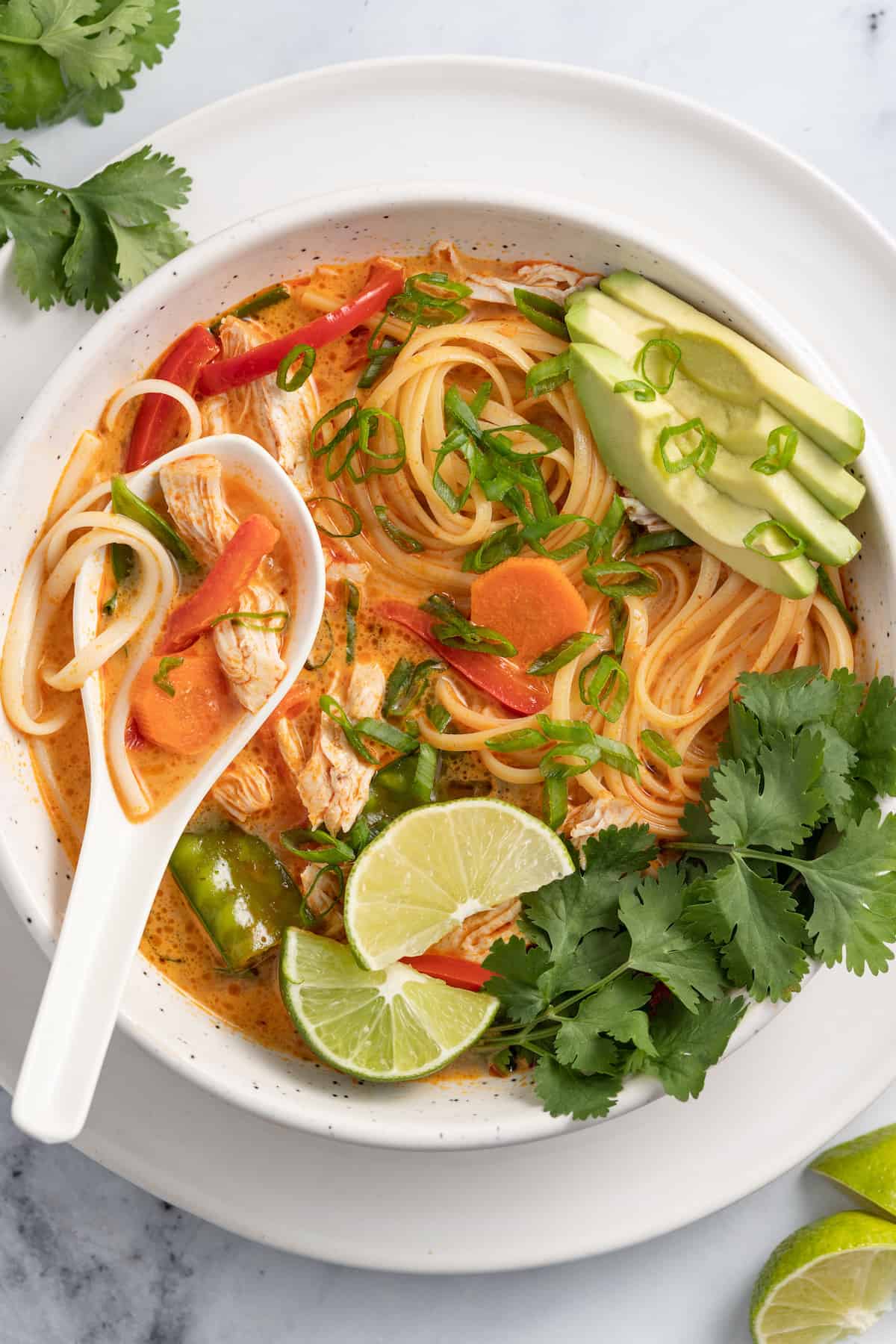 Can I Cook The Noodles in The Soup?
When making a noodle soup you can choose to cook the noodles directly in the broth or a separate pot and then add them to the soup. In my opinion, when cooking the noodles in your soup broth you lose some of the broth because the noodles soak it up.
So, I like to cook the noodles separately and then add them after they've been cooked. I find it helps you maintain as much broth as possible, which is what you want. After all, it is soup!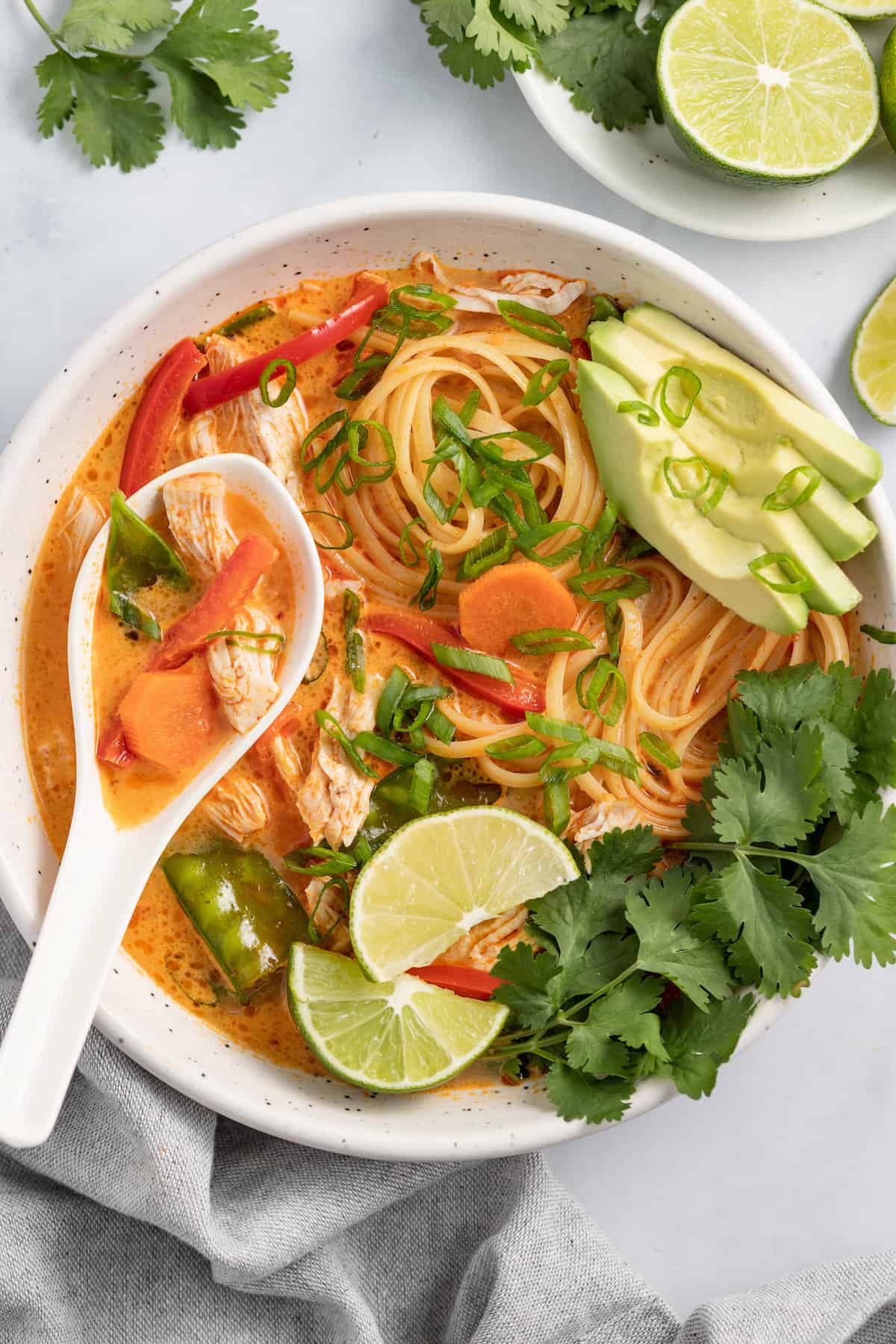 Tips & Variations
Some helpful tips and variation ideas are below.
Use different bell peppers or add spicy ones. You can also use orange, yellow, or red peppers in this soup. I don't recommend using green bell peppers though because they aren't as sweet. You could also add some slices of spicy Thai chilis if you want the soup to have a little kick.
Make sure the can of coconut milk is at room temperature. It will pour out a lot easier if it's at room temperature.
Other herbs will work, too. You can also use fresh chives, basil, or parsley as a garnish.
Use shrimp instead of chicken. Cooked shrimp works well with this recipe if you want a seafood version.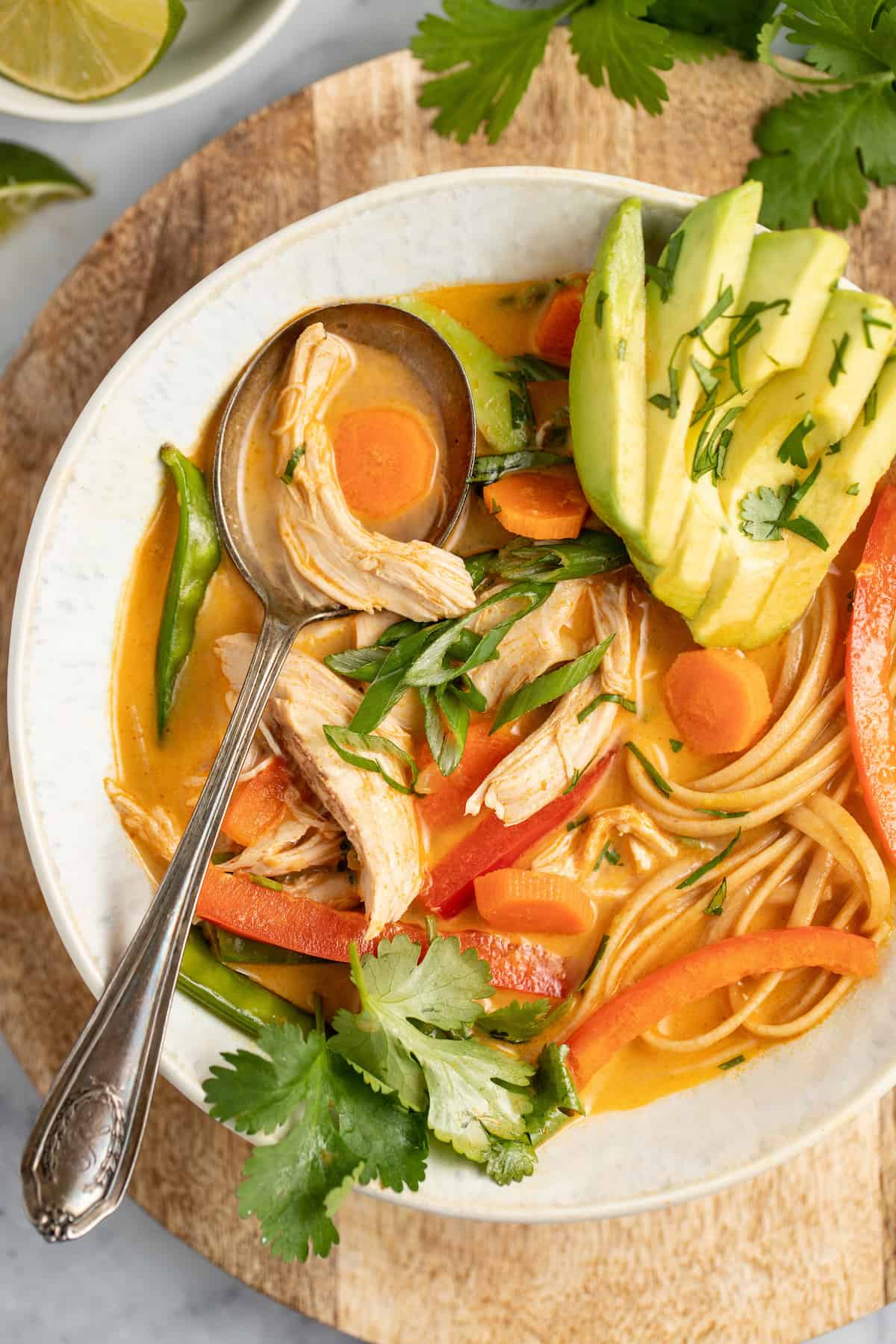 What To Serve With Thai Chicken Soup
Here are a few of my other favorite recipes that go well with this soup.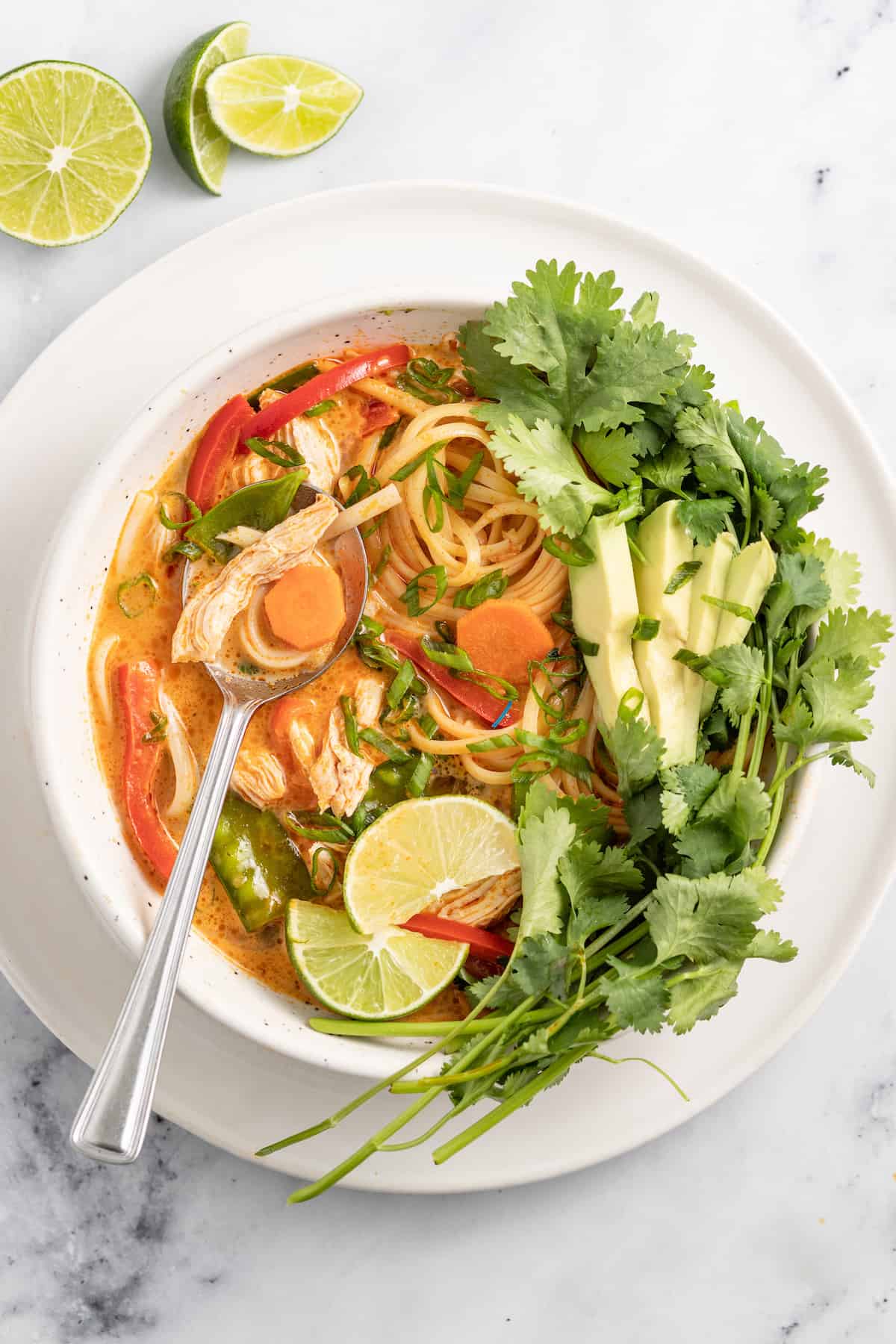 How to Store and Reheat Leftovers
You can store this Thai Chicken Soup in an air-tight container in the refrigerator and it will last 3 to 4 days. Then reheat the soup in a saucepan on the stovetop.
Can I Freeze This?
If you would like to freeze this Thai Chicken Noodle Soup, allow the soup to cool and store it in a freezer storage bag for up to 2 months.
To reheat from frozen, place frozen soup in the refrigerator for 24 hours and then warm it up on the stove to serve.
Print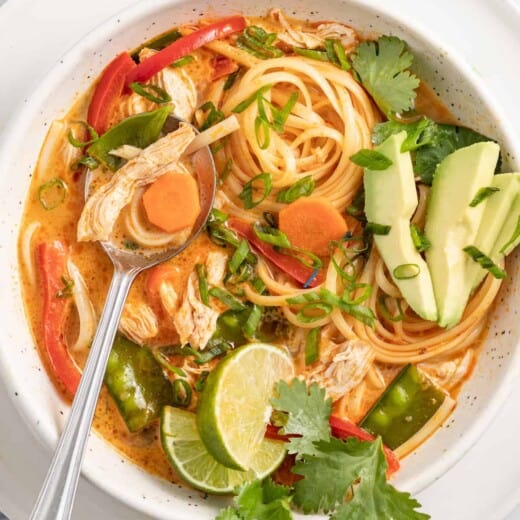 Thai Chicken Noodle Soup
Author:

Prep Time:

5 minutes

Cook Time:

25 minutes

Total Time:

30 minutes

Yield:

8

1

x

Category:

Soup

Method:

Stovetop

Cuisine:

Thai
---
Description
The Most Epic Thai Chicken Noodle Soup you'll ever make! Each bite of this Chicken Noodle Soup is full of Thai flavor from the red curry paste, loaded with chicken, veggies, and rice noodles. The perfect dinner recipe is ready in only 30 minutes!
---
1.5

lbs. boneless skinless chicken breast, cooked and shredded

1 tablespoon

coconut oil

1 cup

red onion, thinly sliced

2

garlic cloves, minced

1 tablespoon

minced fresh ginger

3 tablespoons

red curry paste

6 cups

chicken broth

2

carrots, sliced

1/2 cup

green beans or snow peas

1

red pepper, julienned

8 oz

. brown rice noodles

14 oz

. coconut milk (in a can)

2 tablespoons

of fresh lime juice

1/3 cup

fresh cilantro diced
Optional: top with sliced avocado and sliced green onions
---
Instructions
Heat a large dutch oven or soup pot to medium high heat.
Add in coconut oil. Once melted add red onions, saute until translucent, about 3-4 minutes. Next add in the garlic and ginger. Saute for 30 seconds, until fragrant, stirring the entire time.
Add in the red curry paste, stir the paste into the aromatics (onion, garlic and ginger) until it thickens, about 2-3 minutes.
Next, add in the chicken broth. Bring to a boil and reduce to simmer. Add in the shredded chicken.
In the meantime bring a medium pot filled with water to a boil. Add brown rice noodles to the pot and cook for 4 minutes. (or whatever your directions say) Remove from pot, drain water and cool the noodles with cold water to stop the cooking process.
Add noodles, carrots, red pepper and green beans or snow peas to the chicken broth pot.
Scoop about a cup of the broth out of the pot and add it to a blender or food processor, along with a can of coconut milk. Blend until the mixture looks creamy and the broth and milk no longer separate.
Add the coconut milk mixture back to the soup pot. Stir and simmer for 5 minutes.
Right before you're about to serve it. Finish the soup with fresh lime juice and fresh cilantro. Stir and serve!
Optional: top with sliced avocado and sliced green onions
---
Nutrition
Serving Size:

1 1/2 cups

Calories:

282

Sugar:

3 g

Sodium:

931 mg

Fat:

9 g

Saturated Fat:

6 g

Carbohydrates:

29 g

Fiber:

1 g

Protein:

21 g

Cholesterol:

49 mg
Keywords: Thai chicken soup, chicken noodle soup, chicken soup recipes
Filed Under:
More Chicken Soup Recipes
DON'T MISS A RECIPE ->
FACEBOOK | TWITTER | PINTEREST | GOOGLE+ | BLOGLOVIN