Learn How to Grill the Best Burgers out there with this easy burger grilling guide. Everything you need to know – the best meat for burgers, how to shape, how to season and how long to cook. Change up your burger game this summer by learning how to really grill a burger!
How to Grill the Best Burgers
Let's be real for a second, mkay? There is NO way I could get through an entire grilling series without talking burgers. Burgers are basically their own food group in the summer. My husband and now son request them on a weekly basis so trust me, I've tried all the things and can now tell you my foolproof method to grilling the BEST burgers out there.
These burgers will be bringing all the "boys to the yard." haha!

Which ground beef ratio to use for grilling burgers?
You can make amazing Turkey Burgers, Portobello Burgers or even Salmon Burgers. But if you're a beef loving Texan like me, you're gonna go with ground beef! Now that we've established the type of meat let's talk fat ratio. Most research out there will tell you the more fat the better when it comes to burgers, after all it cooks out when it's on the grill. That being said the most popular ration used across the board is 80/20. However, recently I started using 85/15 and I like it better. You still end up with a great juicy flavorful burger but just with a little less fat. No dry burgers here! If you're store doesn't have an 85/15 I'd recommend buying one package of 80/20 and one package of 90/10 then combine the two. It will be perfect!
How to Form Burgers
There is definitely a method to shaping the perfect burger. In my opinion, simple is better. Let the flavor of the meat speak for itself. Here is what I recommend.
Don't over handle or mix the meat. It will become tough and dry out faster.
Use a burger press to get the perfect shape every time. This is the one I use and you can measure it out based on 1/4 lb., 1/3 lb. or 1/2 lb. patties.
Bigger is better. Remember the burgers will shrink when you put them on the grill. So as a general rule I form the patties about 3/4″ larger than the bun itself.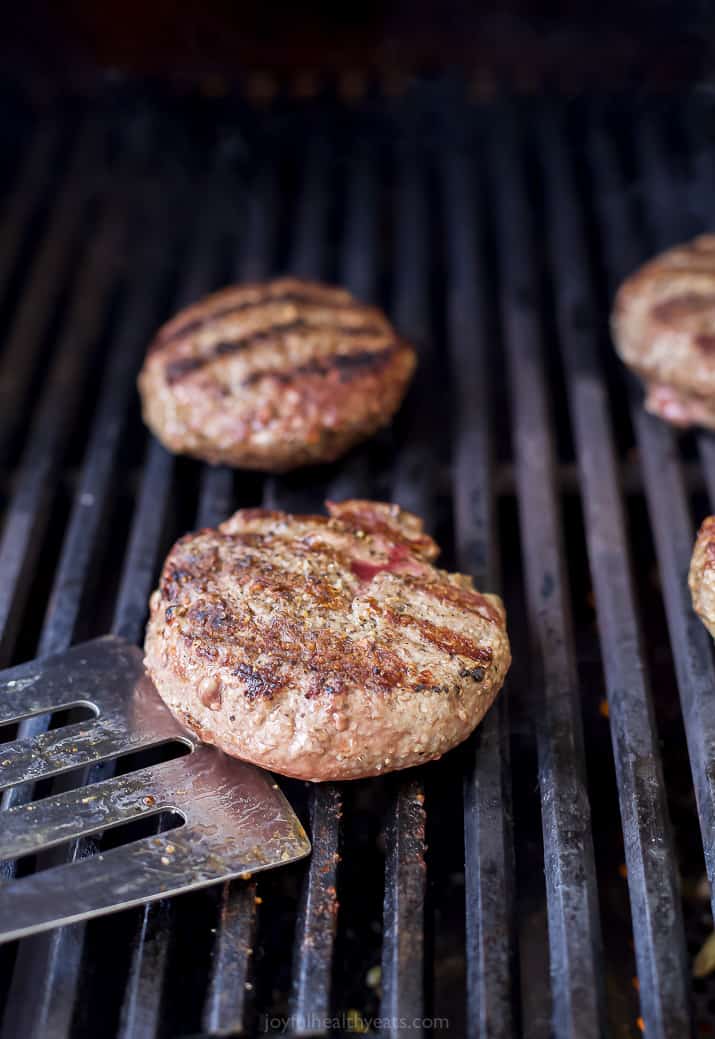 Do I need to add anything to my burgers to make them stick together?
When it comes to meatballs or meatloaf I usually add an egg or breadcrumbs to the mixture to help them hold together.
However, burgers with a high quality fat content ranging between 15%-20% fat shouldn't need anything to help it hold together. It will do that on it's own. No need for fancy seasonings either. I like to use salt, pepper and sometimes a little garlic powder.
How hot should the grill be for burgers?
For burgers the optimal grilling temperature rule is – the hotter the better. Heat your grill to medium high heat (between 350-400°F). For a charcoal grill, arrange the coals on one side to create a high heat zone which will also lead to you having a low heat zone as well (direct and indirect grilling). Having a high and low heat helps to ensure you don't burn the burgers if there are flare ups.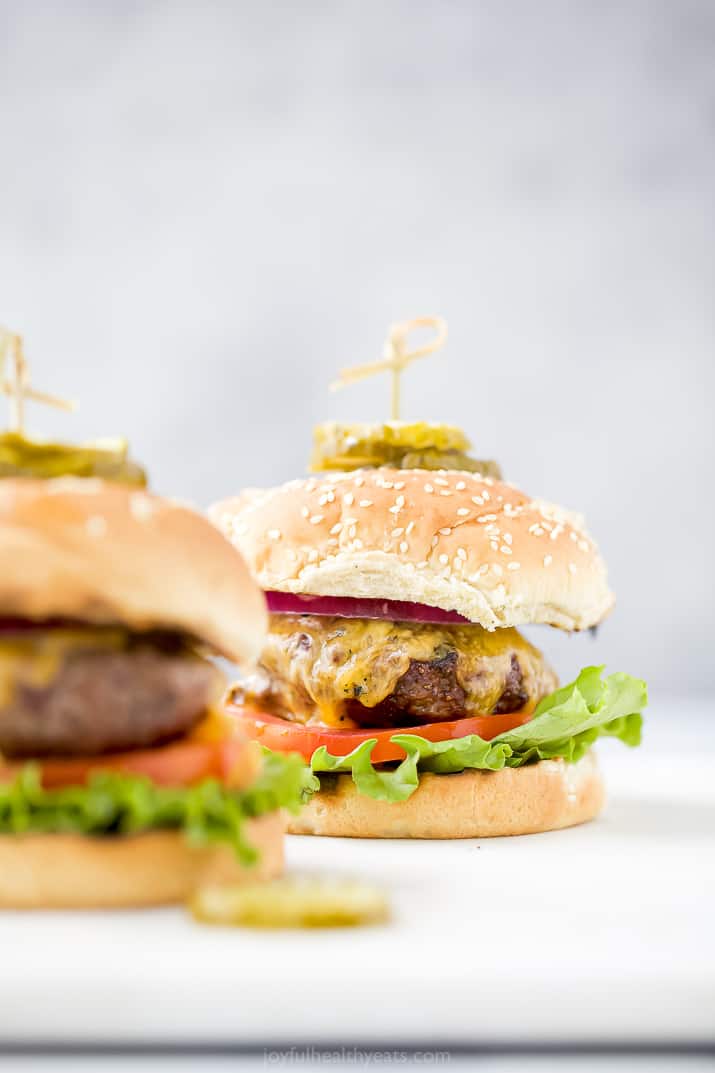 How long do I need to grill?
Please remember this is a guide, all grills are different and all burgers vary in size and thickness. The key to testing the doneness of a burger is measuring the internal temperature with an Instant Read thermometer. Place patties on the grill over direct heat. Cook to your desired doneness:
For Rare burgers, cook for 4 minutes total (125°F)
For Medium-Rare burgers, cook for 5 minutes total (135°F)
For Medium burgers, cook for 6 to 7 minutes total (145°F)
For Well-Done burgers, cook for 8 to 9 minutes total (160°F)
Flip burgers only once during cooking process. Do NOT press down on the patties at any time.
Tips for the Grilling Burgers
As you can imagine I've made 1000 of burgers over the years. Some good. Some bad. But I have perfectly the art of how to grill burgers and I'm sharing all my tips with you!
Press down in the Middle. Burgers will seize up as soon as they hit the grill and start to shrink, which will cause the center of the burger to puff up. By pressing the burger down in the center you help create an even
Keep it Simple. If you have quality meat you don't need to over season with a multitude of spices. I keep it simple but just using salt and cracked black pepper. On occasion I will add garlic powder as well.
Season Each Patty. Don't add the seasoning to the meat and then mix in a bowl. Believe me, I've seen this done and it just leads to over handling of the meat and therefore a tough dry burger.
Don't Touch it. The more you fuss with the burger the more juice you let out. Grilling experts recommend searing for 2-3 minutes per side and flipping only once for optimal results.
Never Press Burgers Down. I seriously don't know why people do this. Every time you press down on a burger you are literally pressing the juice and moistness out of your burger – aka making it dry. DON'T press down on your burgers.
Use a Meat Thermometer. Checking the internal temperature of your burger is key before serving. I can give you general grill heat and times but every grill is different and the thickness of every burger varies as well. So using a meat thermometer to ensure your burger is at desired temperature is key.
Let it Rest. Any protein that is placed on a searing hot grill will seize up and all the juices will go to the center. When you take it off the grill let it rest for at least 5 minutes, this will allow all those juices which are in the center to redistribute through the burger again, ensuring that every bite you have is juicy.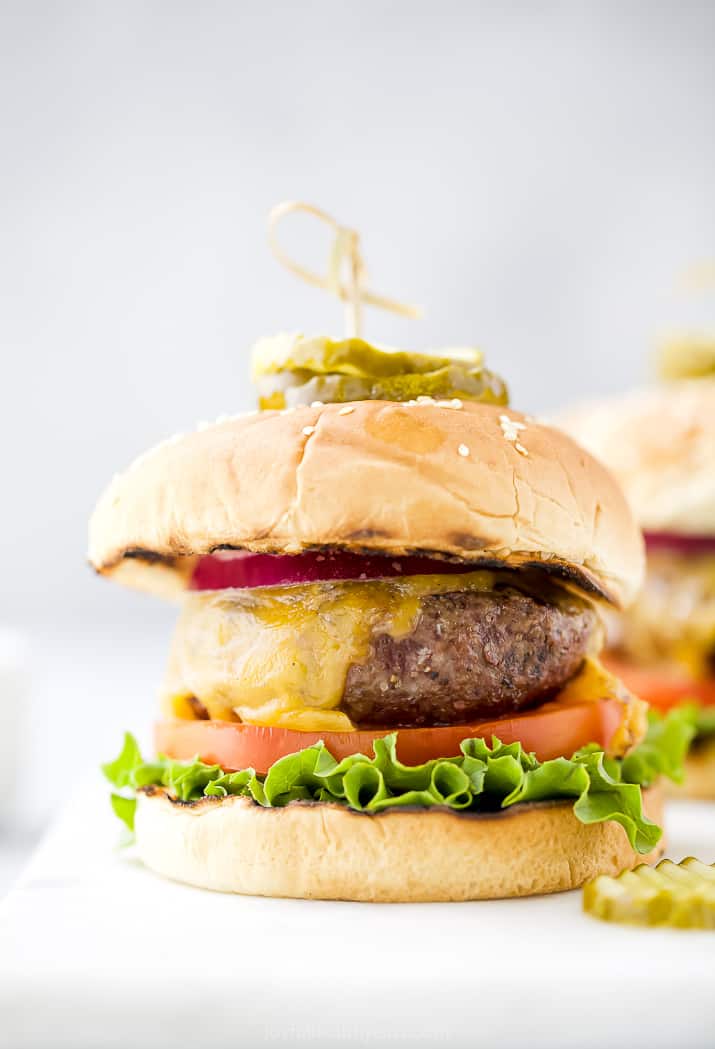 Our Favorite Burger Toppings:
You can't go wrong with the classics but sometimes it's fun to jazz up your toppings and make burgers like a restaurant or even make a burger bar. (which I've so done before and it's glorious)
Classic: Serve on a toasted bun with lettuce, tomato, onion and pickles.
Baja Style: Serve on a toasted bun with lettuce, pico de gallo, guacamole and pickled jalapeños.
Bacon Cheeseburger: Serve on a toasted bun with melted cheddar cheese, crispy bacon, lettuce, tomato, and grilled onions.
Keto Style: Very similar to my Keto Bacon Cheeseburger, the best way to make a burger keto is serving on a "lettuce bun" with cheese and bacon to up the "fat" and lower the carbs.
Low Carb Lover: Serve burger on a "lettuce bun" and top with your favorite toppings.
Texas BBQ: Serve on a toasted bun with melted cheddar cheese, smoky bbq sauce, grilled onions and pickles.
Mushroom Burger: Serve on a toasted bun with melted swiss cheese, sautéed mushrooms and onions then topped with a creamy horseradish sauce like this Low Carb Mushroom Burger.
What to serve with Burgers?
When it comes to making the best Burgers you of course need to have a strong side along with it to take the meal over the top! Here are some of our favorites sides to serve with burgers.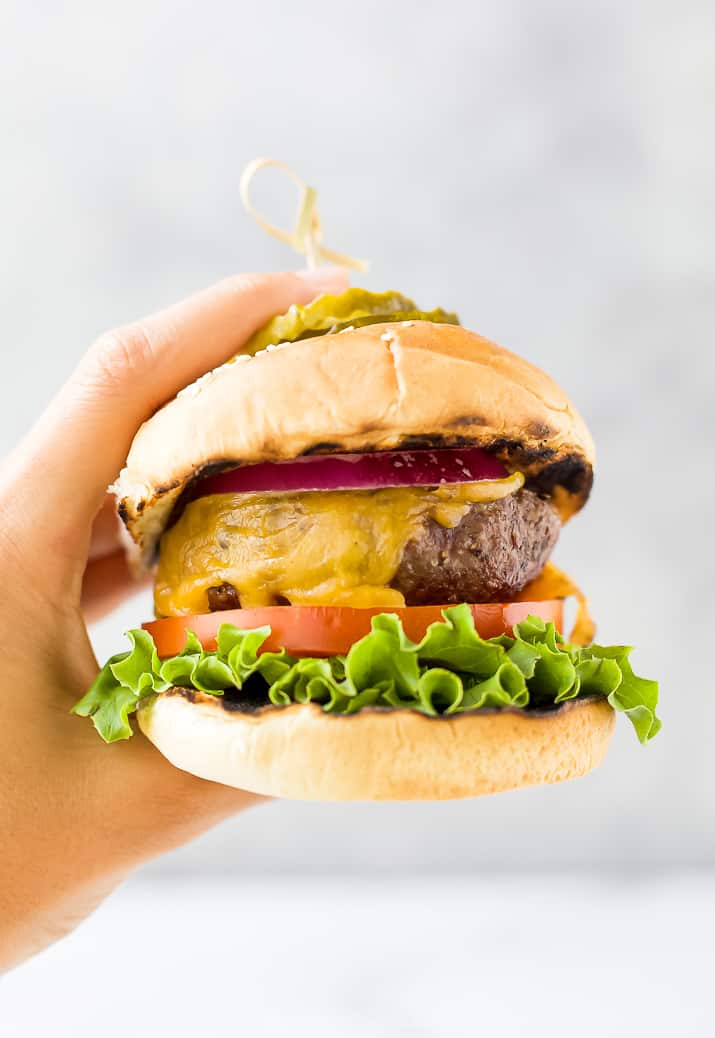 Print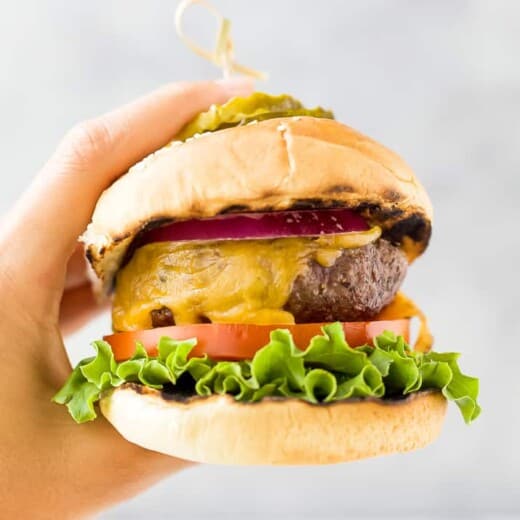 Ultimate Guide for How to Grill the Best Burgers
Author:

Prep Time:

10 minutes

Cook Time:

10 minutes

Total Time:

20 minutes

Yield:

6

burgers

1

x

Category:

Beef

Method:

Grilling

Cuisine:

American
---
Description
Learn How to Grill the Best Burgers out there with this easy ultimate burger grilling guide. Everything you need to know – the best meat for burgers, how to shape, how to season and how long to cook.
---
2

lbs. grass fed ground beef (

80/20

or 85/15)
salt and pepper

6

hamburger buns
---
Instructions
Divide ground beef into 4 (1/2 pound patties) or 6 (1/3 pound patties). Form into patties, being sure not to over handle, that are 1″ thick and a little bigger than the size of your bun. Using a burger press for consist patty sizes.
Using your thumb, gently indent the center of each burger patty. Season both sides with salt and pepper.
Next, heat grill to medium high heat (about 350-400°F).
Place burger patties on the hot grill and close lid. Sear for 2-3 minutes or until you see browning and grill marks.
Gently flip the burgers and grill an additional 2-3 minutes for rare, 4-5 minutes for medium-rare or 6-7 minutes for medium well. Be sure to use your thermometer to confirm temperature. If you're adding cheese to your burger, add the last 1 minute of grilling and close lid to melt the cheese. NOTE: time will be less if cooking 1/3 pound burgers.
Remove burgers from grill and let rest for 5 minutes before serving.
Serve burgers however you like.
---
---
Keywords: how to grill burgers, best burger recipe, how long to grill burgers, how long to cook burgers on grill, how to cook burgers on grill, burger recipe, burger grill time
Filed Under: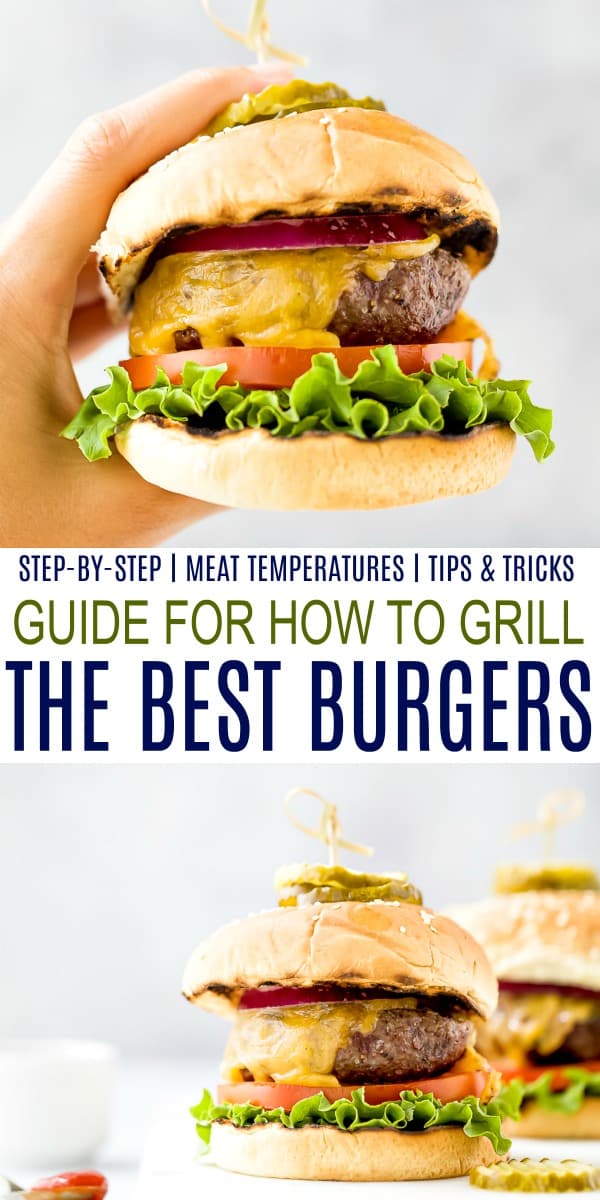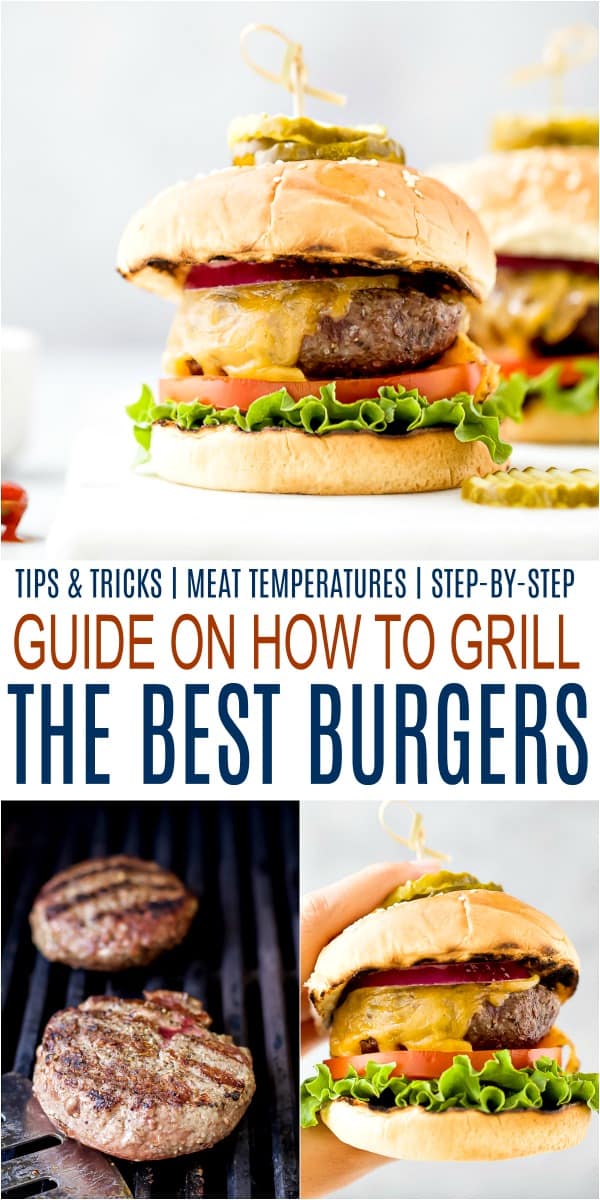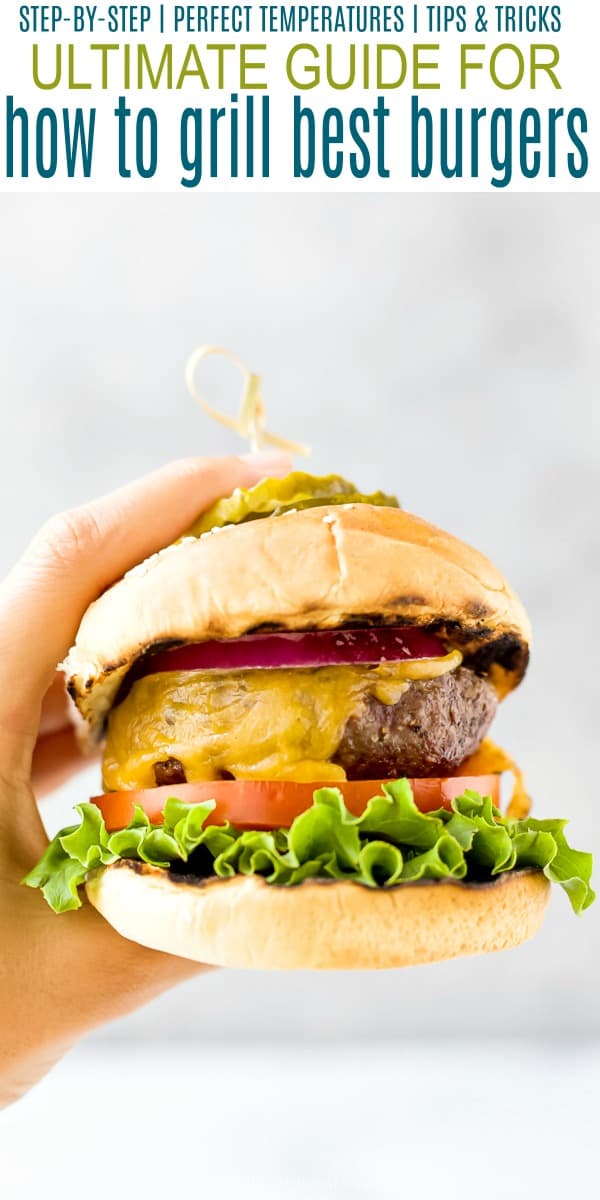 DON'T MISS A RECIPE ->