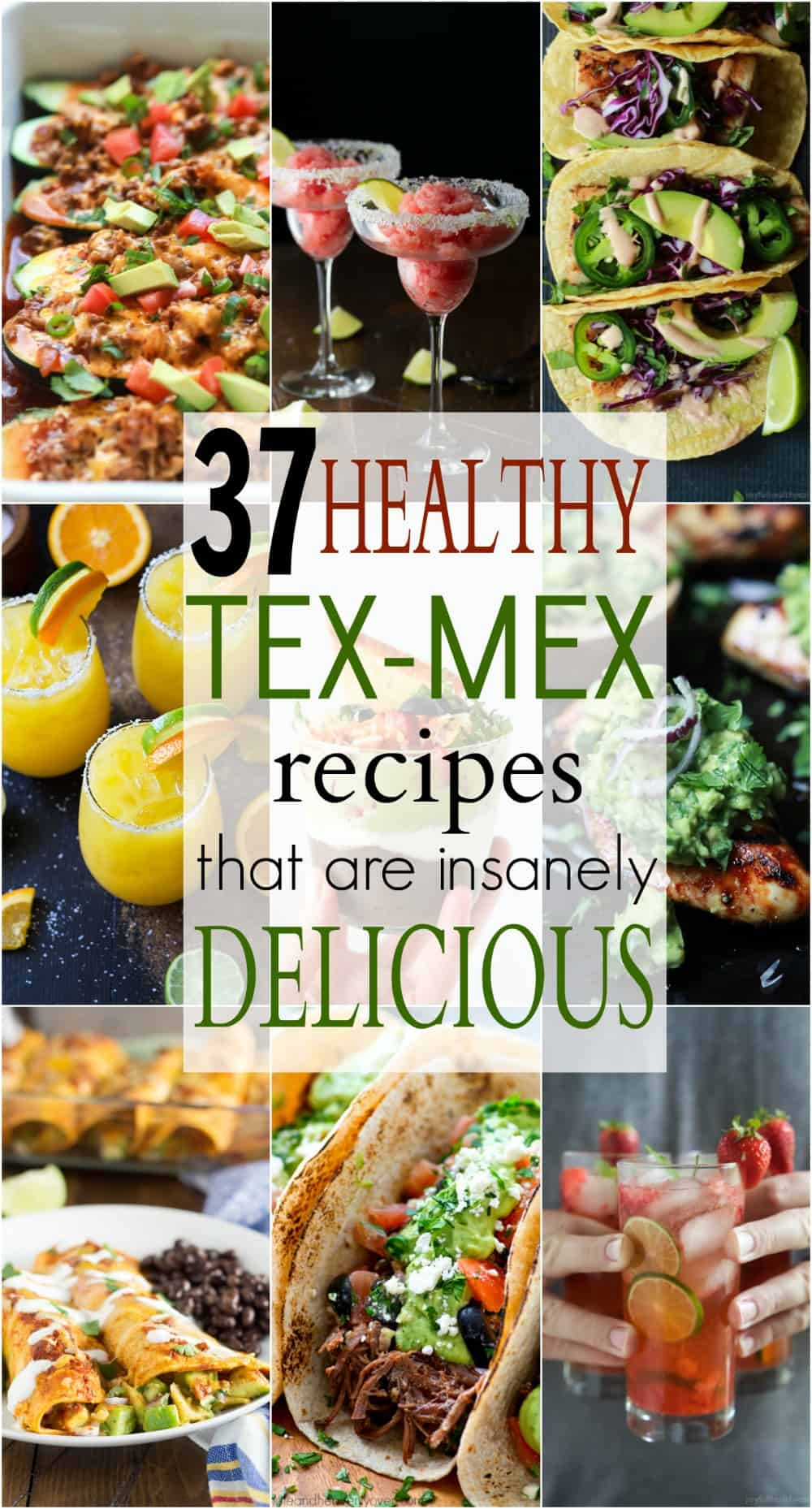 37 Easy Healthy Tex-Mex Recipes that will ensure you have the best "fiesta" on the block! These recipes will blow your mind AND your taste buds. Bring on the Mexican Food! Ole!
It's the weekend and I couldn't be more excited! Today is the day we get to actually MOVE into our new house. The past week we have been nomads, moving from one house to the next. Let's put it this way, we will have moved 3 times in less than a week! Sound exhausting? Well it is.. especially with a 4 year old (plus his "stuff) and a 75 lb. lab (and her "stuff".)
I am ready to have a house, to unpack, to settle in, AND to cook again! Yippee!
One of the first things I'm going to do at the new house is throw a big fiesta! After all it is Cinco de Mayo… although I'm pretty sure Cinco de Mayo needs to happen everyday! So while I get ready for my fiesta and Cinco de Mayo festivities AND UNPACK you get to see all the stuff I'm planning! To be exact… 37 Outrageously delicious Mexican recipes to drool at!
Bon Appetit my friends!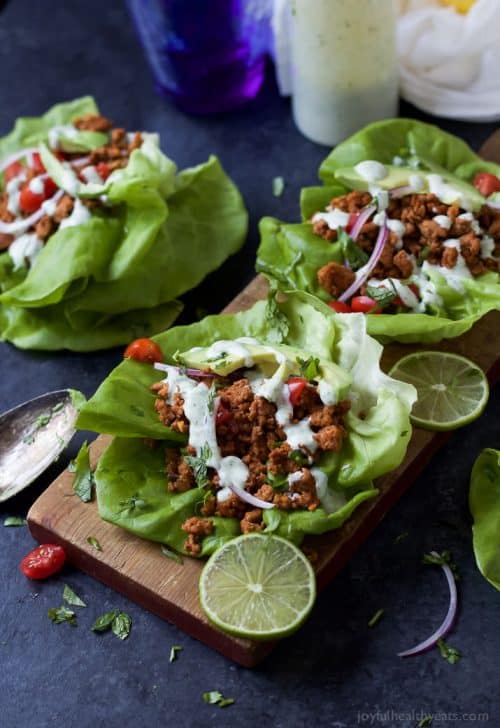 Ground Turkey Tacos in Lettuce Wraps topped with a fresh Cilantro Lime Crema – a great healthy weeknight meal option that's full of flavor and gluten free!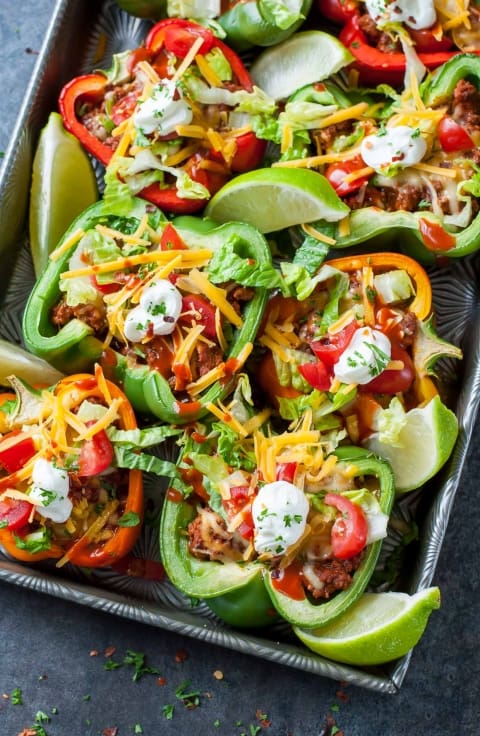 Take taco night to the next level with these Baked Bell Pepper Tacos! With instructions for vegan, vegetarian, and paleo options, these peppers are ready to transform your typical taco fare with a clean-eating twist!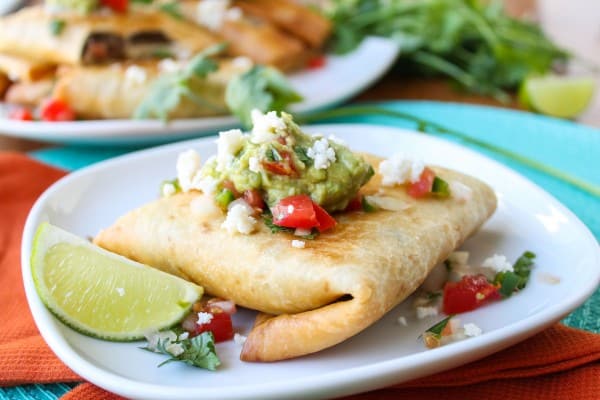 Easy Chicken, Tomatillo, and Chipotle Chimichangas perfect for a Taco Tuesday night!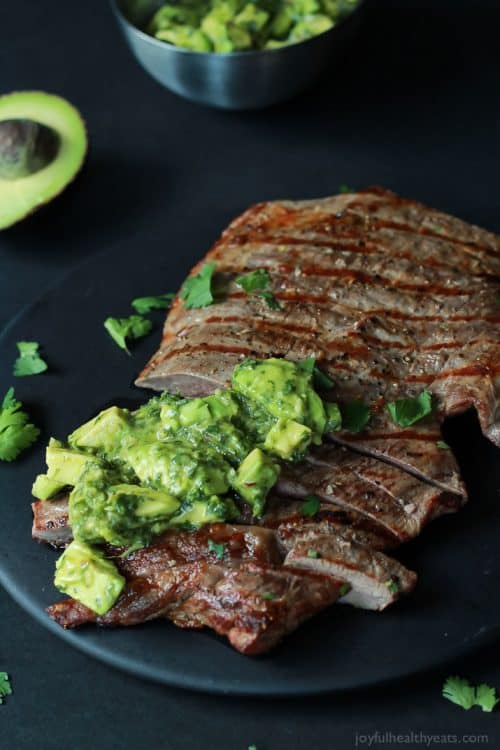 Juicy Grilled Flank Steak topped with a fresh Avocado Chimichurri, done in 15 minutes – it's grilling made simple but still full of flavor! De-lish!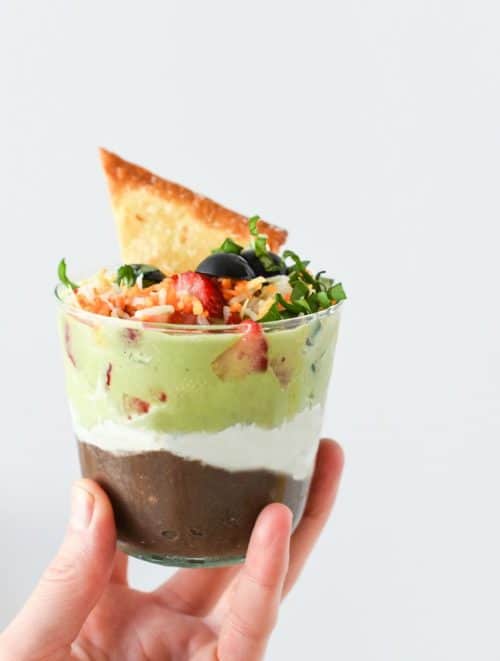 Put a new twist on a fun classic with this Seven Layer Dessert Dip. It's a fun allergen friendly treat for Cinco de Mayo.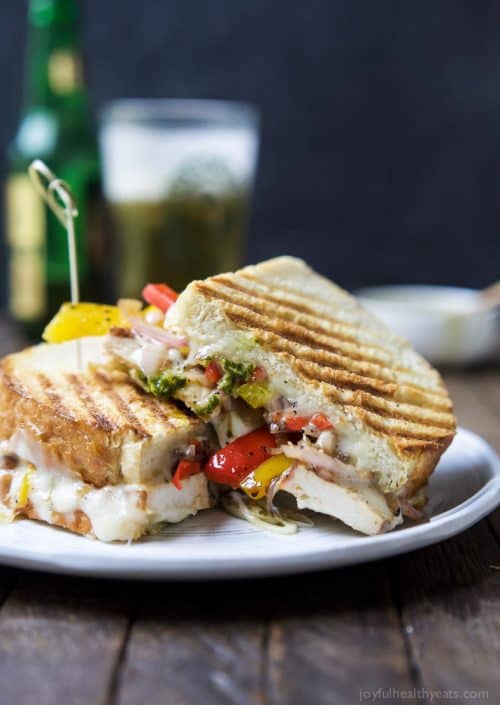 Grilled Chicken Fajita Panini filled with juicy spice rubbed chicken, grilled peppers and onions, creamy fontina cheese, and zesty chimichurri for the perfect sandwich bite.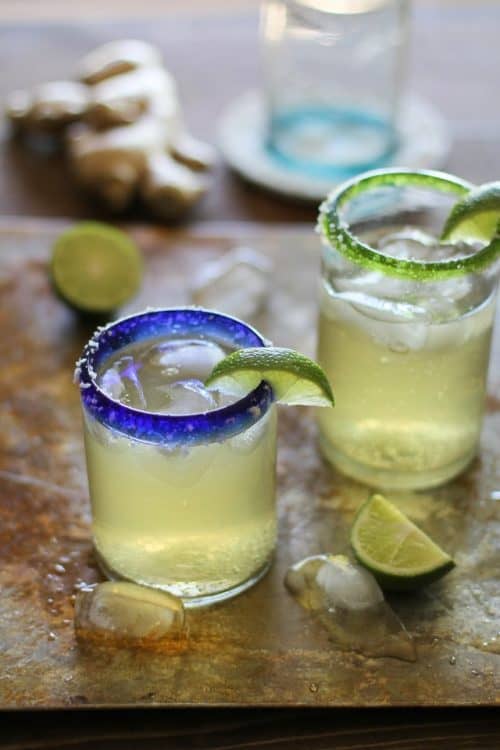 Spicy, sweet, zesty ginger margaritas, people! I can't think of a better way of washing down enchiladas.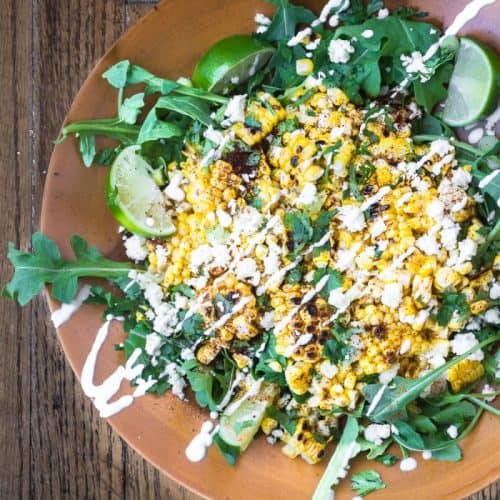 Mexican Street Corn Salad is a must-try before the summer's out.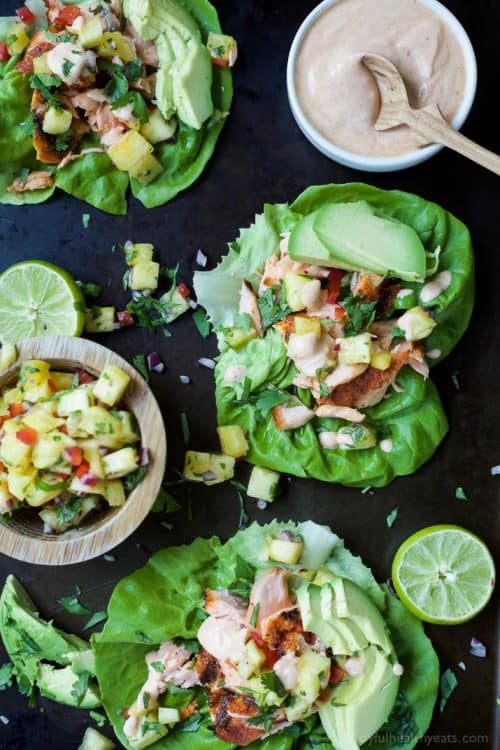 The perfect healthy twist on the original fish tacos! These Southwestern Grilled Salmon Tacos are bursting with flavor and topped with fresh pineapple salsa and a Chipotle Lime Crema! Addicting!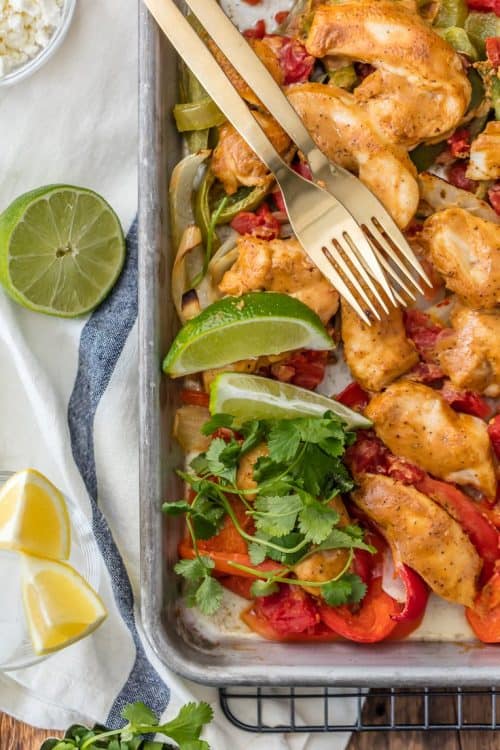 SKINNY BAKED SHEET PAN CHICKEN FAJITAS are our favorite healthy dinner! Such an easy recipe that everyone will love.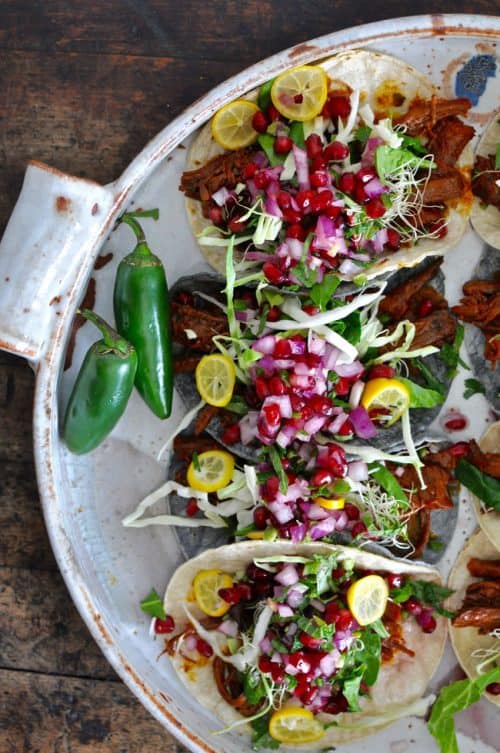 Slow roasted achiote beef is a perfect match for a bright and sunny pomegranate and jalapeño salsa. Gluten and dairy free!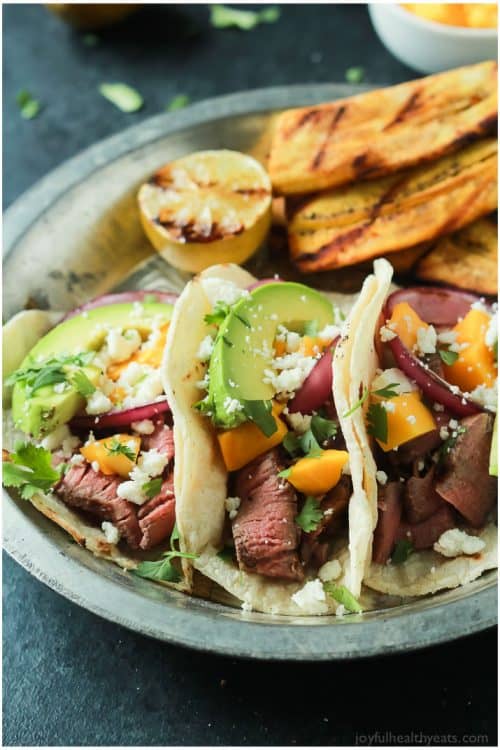 These Grilled Steak Street Tacos are filled with tender Filet Mignon, fresh mango, creamy avocado, and charred onions. The perfect 20 minute steak dinner that tastes like a flavor bomb went off in your mouth!
The fresh flavors of strawberry, coconut and lime make up the festive stripes of these Cinco de Mayo themed popsicles.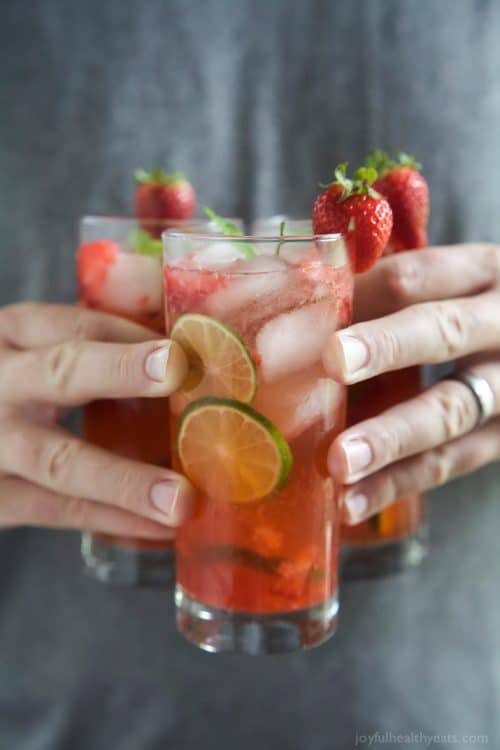 The perfect Strawberry Mojito Recipe – easy, fresh, minty, fizzy, limey and filled with sweet juicy strawberries for the most refreshing cocktail this summer! It is sure to quench your thirst!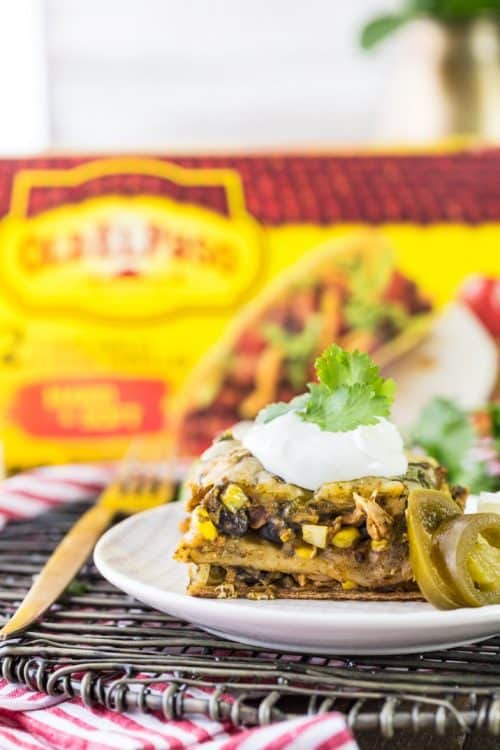 This Chicken Mexican Lasagna Bake is relatively guilt-free and SO delicious! Perfect for a weeknight meal with the entire family.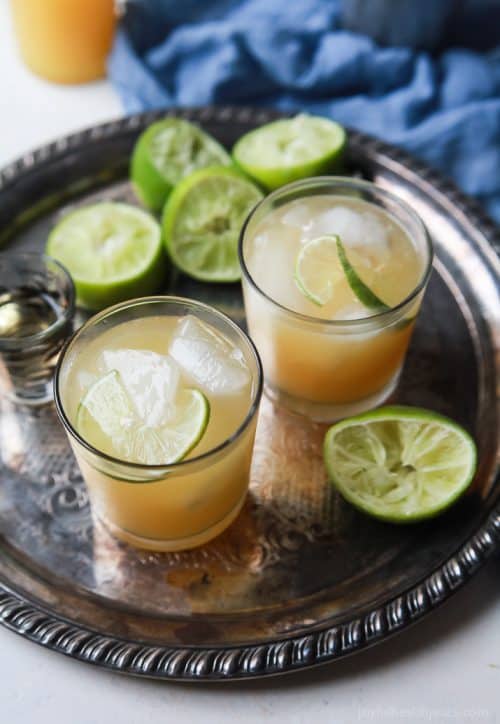 Making the Ultimate Margarita Recipe is easier than you think, only 5 ingredients and you're in Margarita Heaven! It's a winner every time!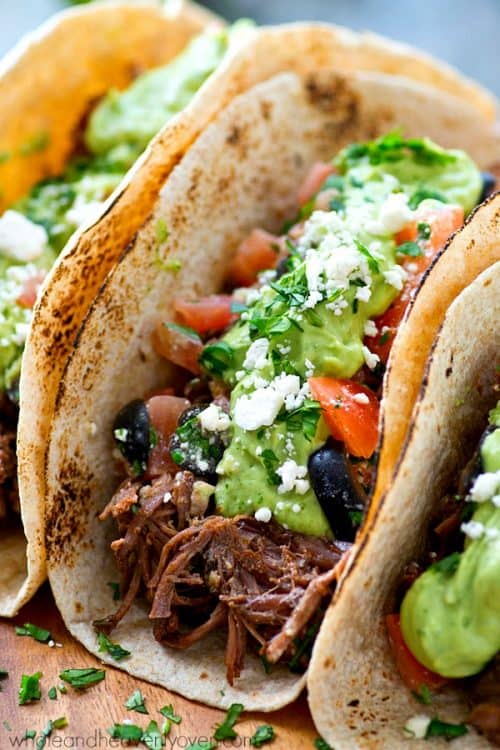 Kicked up chipotle crockpot beef tacos piled high with a fresh greek salsa and the most amazing avocado crema ever! Meet your new favorite taco.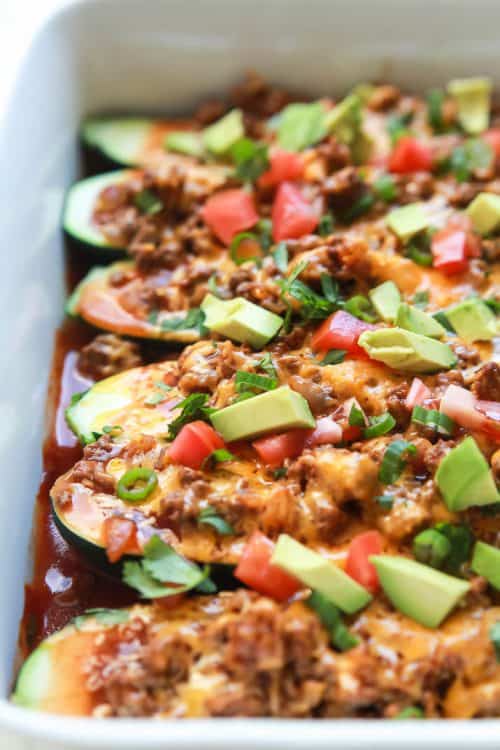 Ground Beef Enchilada Zucchini Boats – a healthy gluten free version of classic Beef Enchiladas that you'll fall in love with! A little over 30 minutes to make but well worth it for the bold flavors and low calorie count of 222 calories a serving!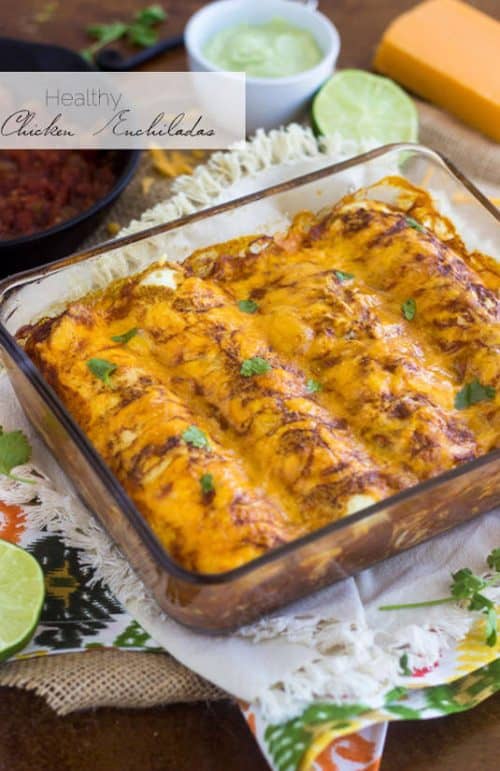 This quick and easy, healthy chicken enchilada recipe is gluten free, and low carb, thanks to a secret ingredient: egg white "tortillas!"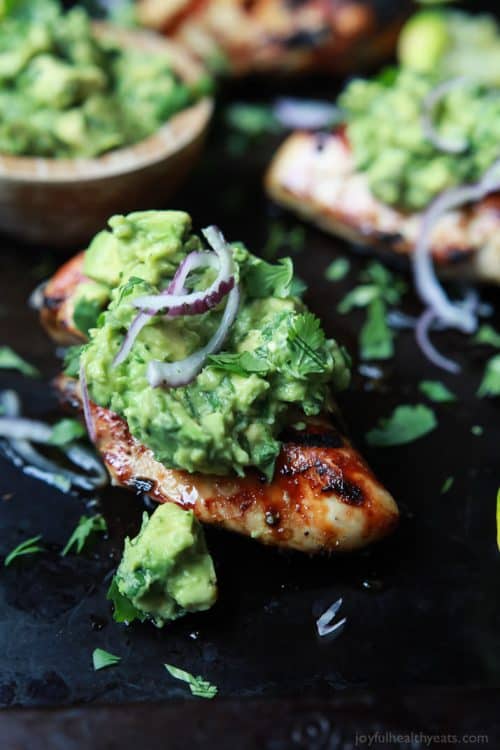 Grilled Cilantro Lime Chicken with Avocado Salsa – a healthy, easy, 30 minute meal packed with fresh zesty flavors.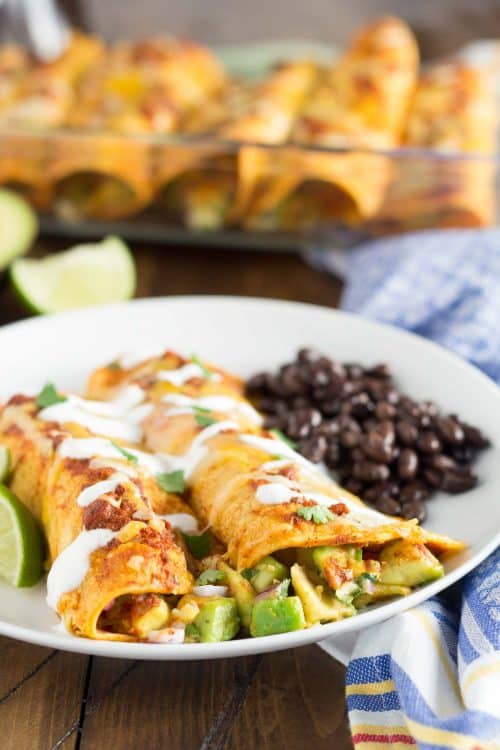 Enchiladas stuffed with creamy avocado and cheese, and smothered in the best homemade enchilada sauce. These avocado enchiladas are my favorite easy enchilada recipe!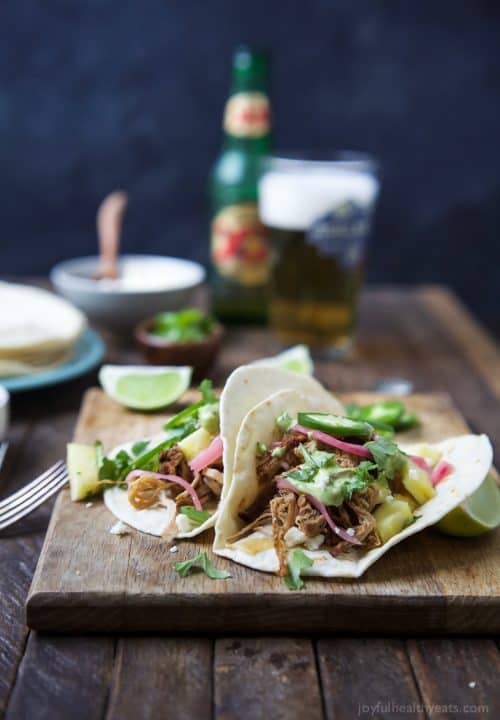 Crock Pot Pork Carnitas Tacos – the easiest pork carnitas you'll ever make with the BEST flavor from a secret ingredient. Then these tacos are topped with a creamy Cilantro Lime Avocado Crema for the ultimate bite!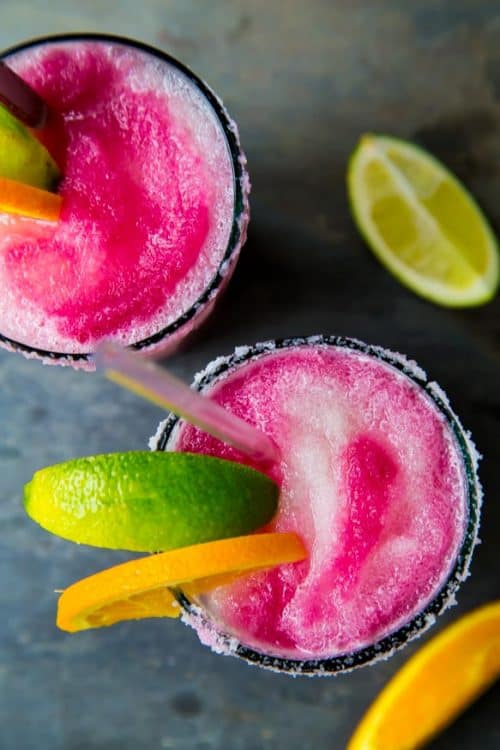 Sangria Swirled Frozen Margaritas for two! Perfect for Cinco de Mayo!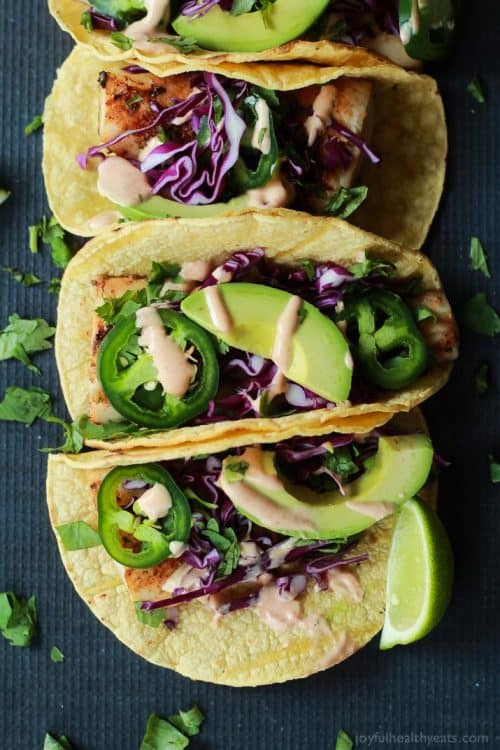 The BEST Grilled Mahi Mahi Fish Tacos you will ever have. Topped with fresh crunchy purple Cabbage, Avocados, and a drizzle of Chipotle Lime Crema – all wrapped in a warm tortilla! All in under 20 minutes!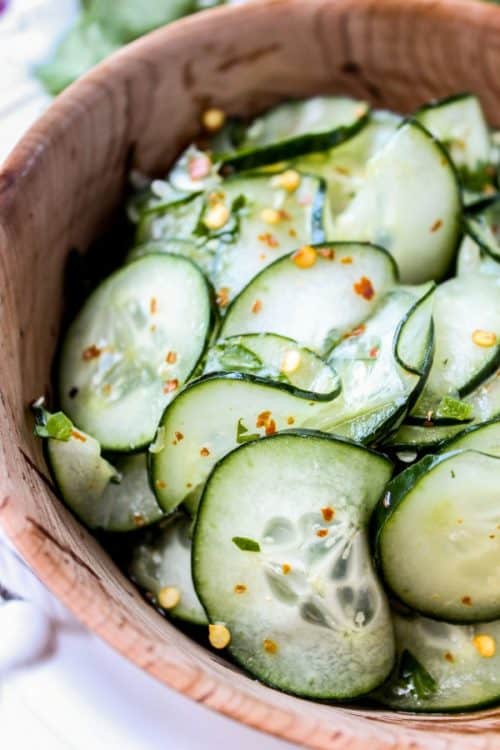 This easy cucumber salad is fast and fresh with a bit of a kick. The cilantro adds the perfect twist!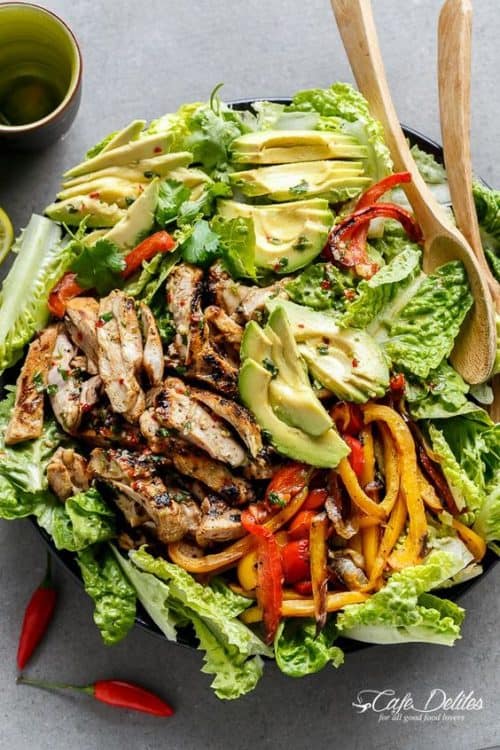 Tender and juicy chicken thighs grilled in a chili lime marinade that doubles as a dressing! Creamy avocado slices, grilled red and yellow peppers, and succulent chicken pieces.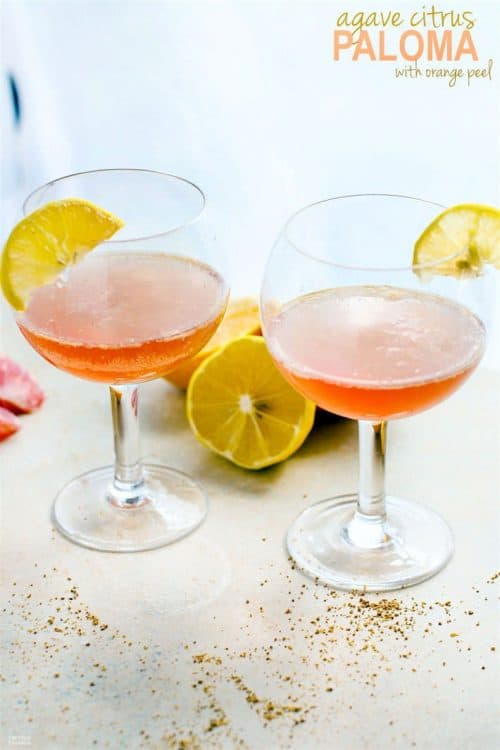 Light and Naturally Sweetened Winter Citrus Paloma Tequila Cocktail! A slightly different twist on the traditional tequila cocktail recipe with a healthy dose of Vitamin C!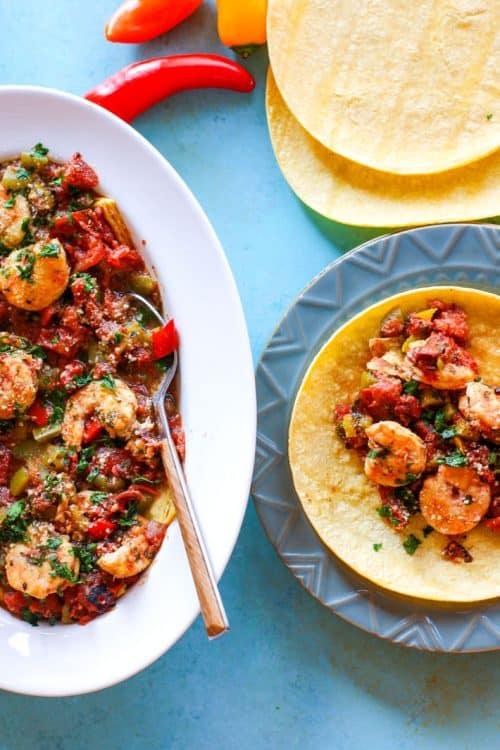 Gluten Free Crock Pot Fire Roasted Shrimp Tacos! We love making crock pot tacos. This recipe requires little prep, but produces tons of flavor and nutrients! Great for busy days and easy dinners!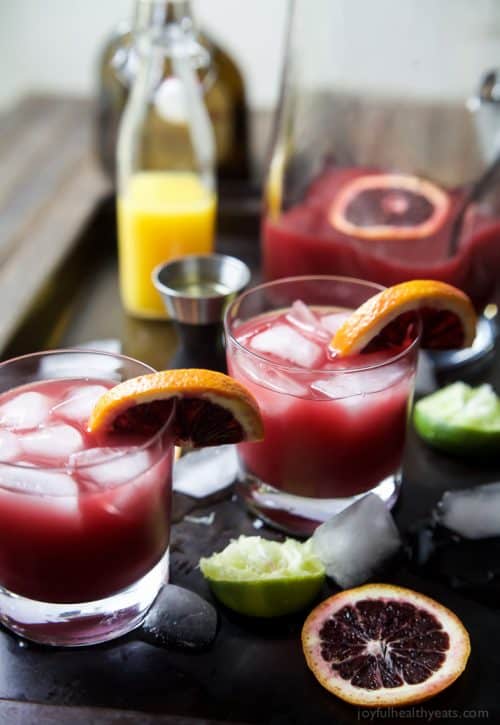 A simple Blood Orange Margarita that's friendly on the waist using no simple syrup. This Margarita Recipe is the perfect party drink – it's fresh, citrus-y, packs a flavor punch and makes enough for a crowd!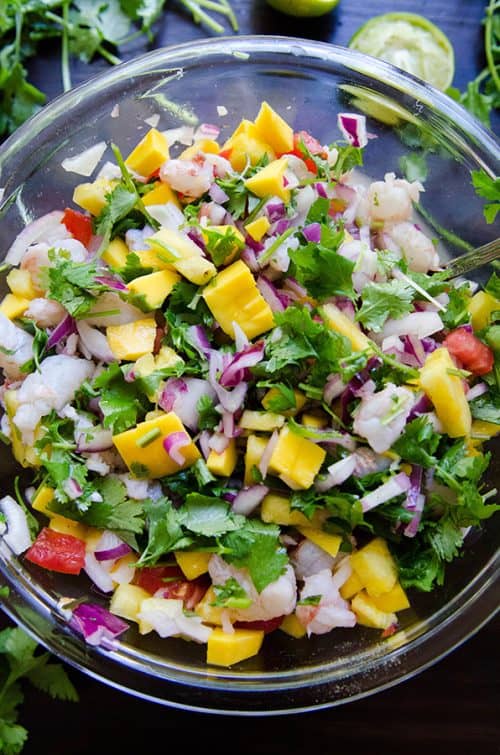 Tropical Rock Shrimp Ceviche With Pineapple, Mango & Lime, serve it up with some chips and call it a day!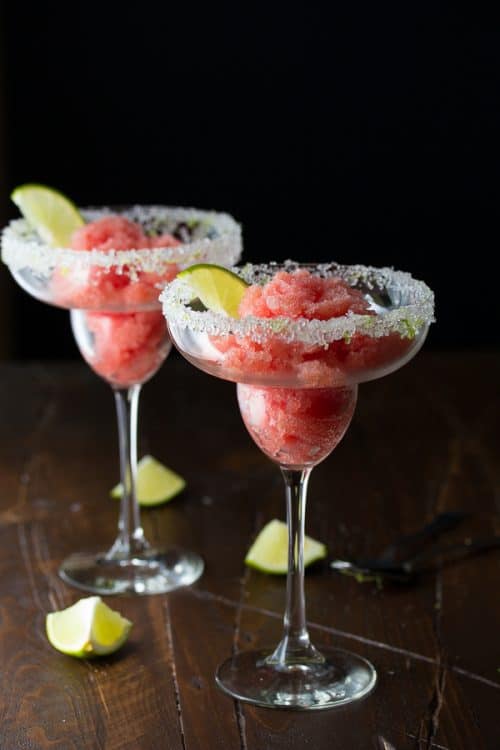 What do you call watermelon granitas infused with tequila and lime? Mar-granitas! These guys make the perfect cocktail for a hot, summery day, and they are surprisingly easy to make!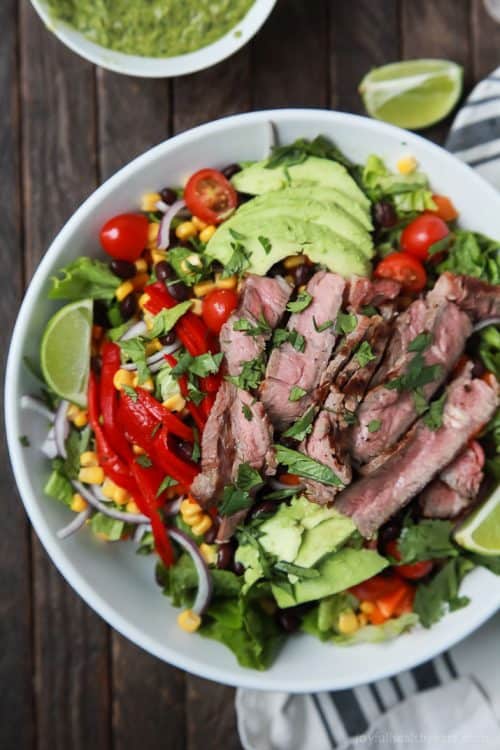 An easy healthy Southwestern Steak Salad loaded with vegetables, tender Ribeye Steak and then topped with a homemade Cilantro Avocado Dressing! Done in 15 minutes, low on calories and rivals any restaurant salad!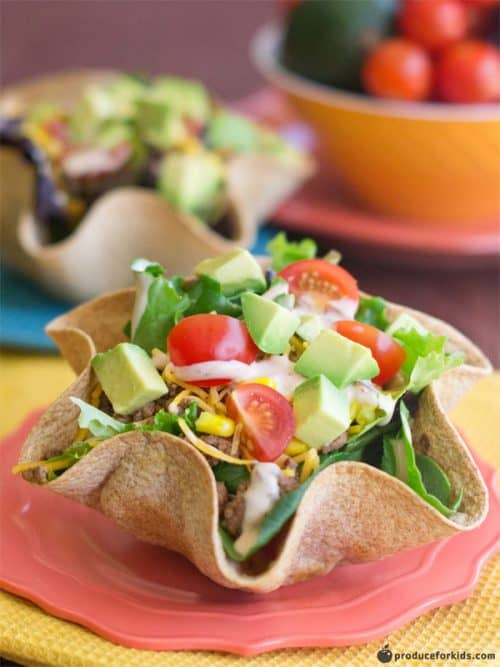 A healthy makeover for your next taco Tuesday! Kids will love to assemble their own taco salad bowls with a variety of toppings. Mix in more veggies like onions, shredded carrots and chopped sweet peppers.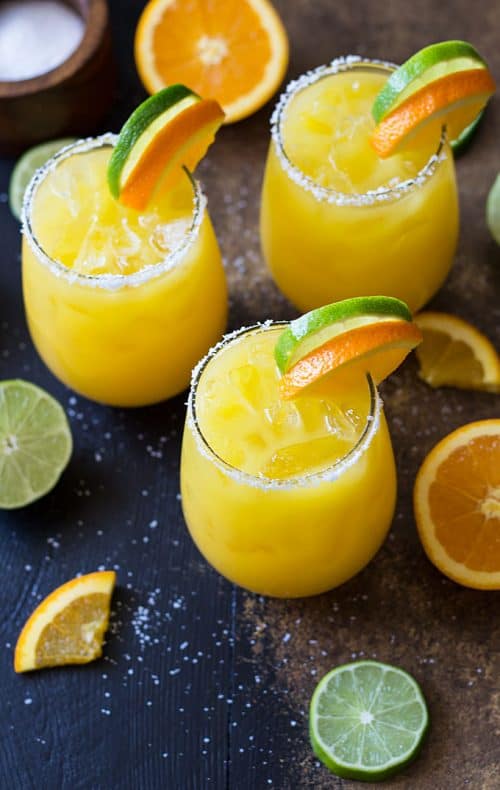 Creamsicle Margaritas, this margarita has the flavors of creamy oranges, tequila and lime.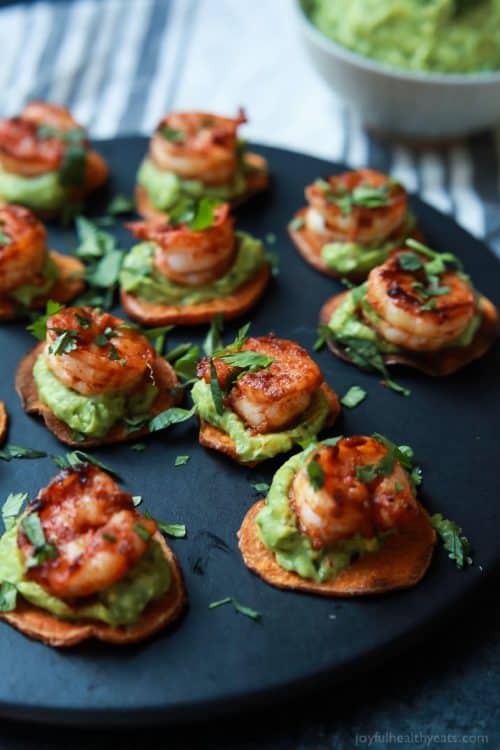 Cajun Shrimp Guacamole Bites, the perfect appetizer for your next party! Creamy, spicy, healthy, paleo, and delicious!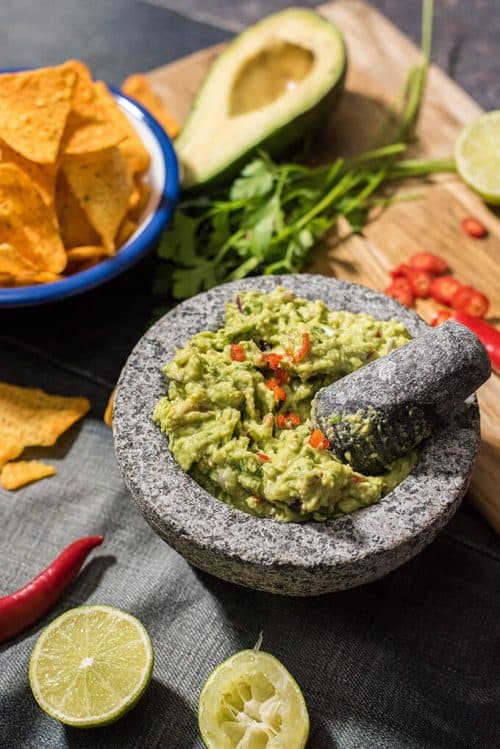 A rich, flavorsome, citrusy guacamole is best when served fresh. I don't even need tortilla chips or anything else, just give me a spoon and a big bowl of this –oh so yummy guacamole disappears in seconds.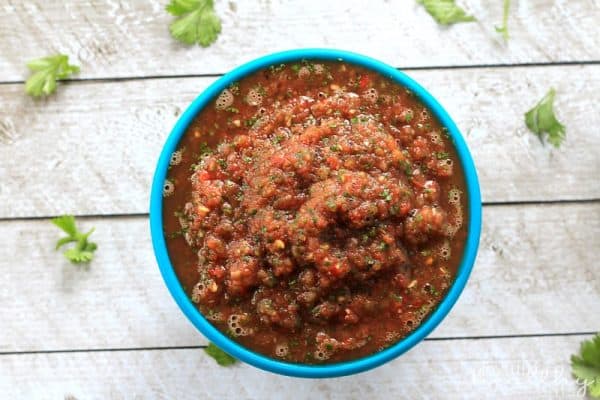 An easy to make Restaurant Style Salsa that is homemade and done in less than 5 minutes, perfect for those Salsa lovers who need to have it NOW!
DON'T MISS A RECIPE ->