Tried-and-true Baked Spinach Artichoke Dip that's over the top creamy and cheesy with plenty of garlic flavor! Not to mention that it's loaded with iron-rich spinach and artichokes. It's so simple and this party favorite is ready in under 45 minutes!
We love to serve this with my Creamy White Queso Dip or Avocado Bruschetta.
The Best Spinach Artichoke Dip Recipe
Everyone wants to bring the best dip to the party. You know, the one that everyone is buzzing about and asking "did you try that dip!?". Well, here it is my friends, the one-and-only Hot Spinach Artichoke Dip.
Sure, you've probably made it before but let me tell you that this recipe is "the one". It's so creamy and rich from cream cheese, mozzarella, and parmesan. Smooth mayonnaise also brings a ton of flavor to the dip. Not to mention the fresh garlic and bits of red pepper!
I promise you and your friends are going to love it and rave about it at the next party! It's a recipe to be proud of. So let's make the best-ever Spinach and Artichoke Dip!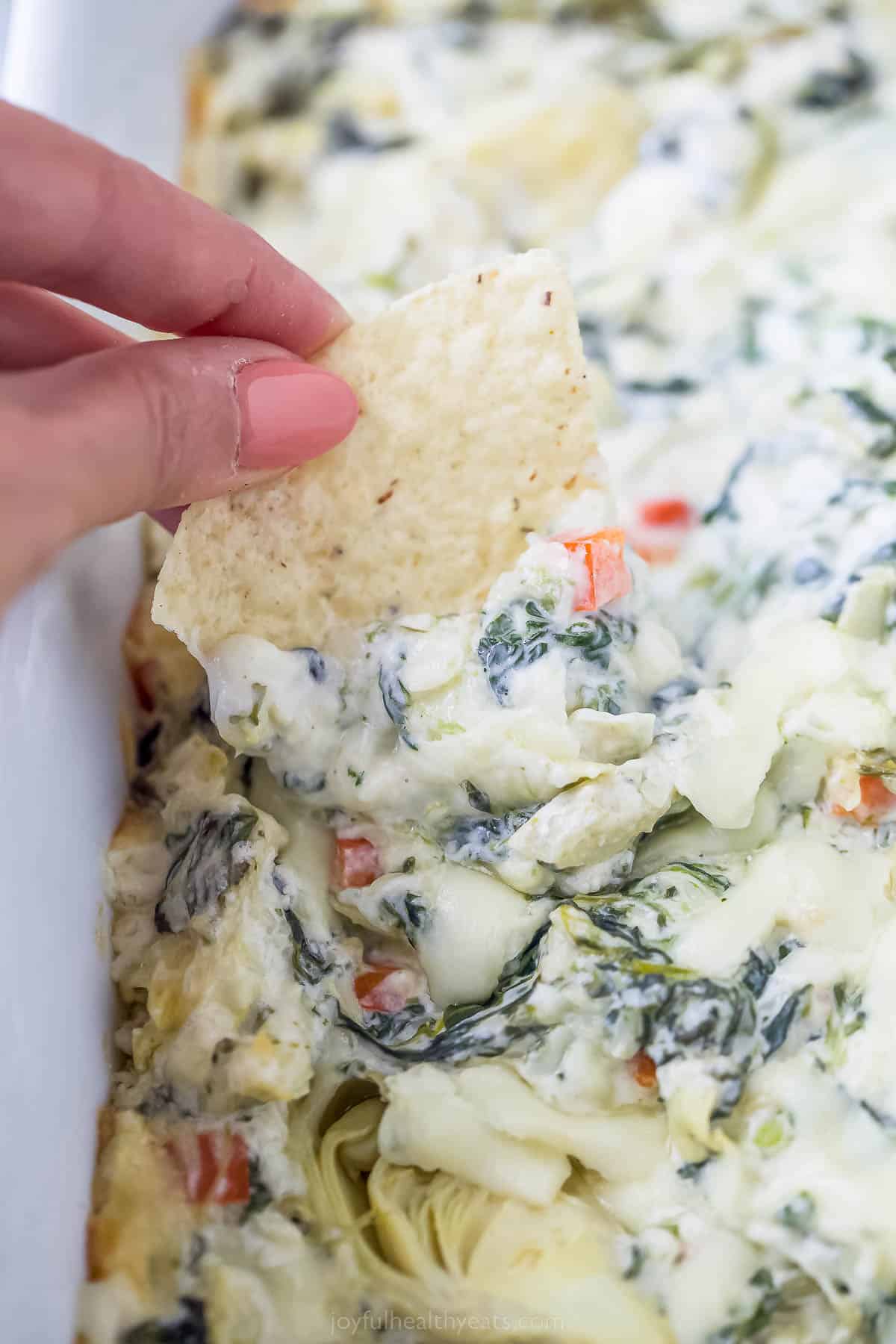 What You'll Need
Here's what you need to make this classic spinach artichoke dip.
Garlic: Always use fresh garlic for this recipe! There's really no substitute for that distinct pungent flavor. If anything, I suggest you add more! I don't think there's such a thing as too much garlic.
Frozen Spinach: I find that frozen spinach works really well for this recipe. Plus, it's easy to keep a few packages on hand for a last-minute appetizer idea.
Red Peppers: You could use pimentos if you're in a pinch (I suggest using half of the amount). Also, jarred roasted red peppers would be really delicious.
Mayonnaise: This is the ingredient that I feel some people try to omit from this recipe. But honestly, there's not a fair substitute that brings the same creaminess and flavor.
Cream Cheese: This dense and creamy cheese thickens the mixture. You could use light cream cheese if you're trying to lighten the dish up a bit.
Mozzarella Cheese: This shredded cheese brings that delicious gooeyness!
Parmesan Cheese: I love adding parm to this recipe. It adds richness and salt. It's also one of those ingredients that make it taste just like the spinach artichoke dip you would order at a restaurant.
Salt and Pepper: I love to load up on the black pepper, but season to your taste preference!
Can I Use Fresh Spinach?
Yes, you can use fresh spinach but frozen spinach just seems to work better for this recipe. You would need to buy a lot of fresh spinach to come up with the 10 ounces needed for this recipe. And spinach can get expensive!
Frozen spinach is already portioned and ready to go. Plus, it tends to be more affordable.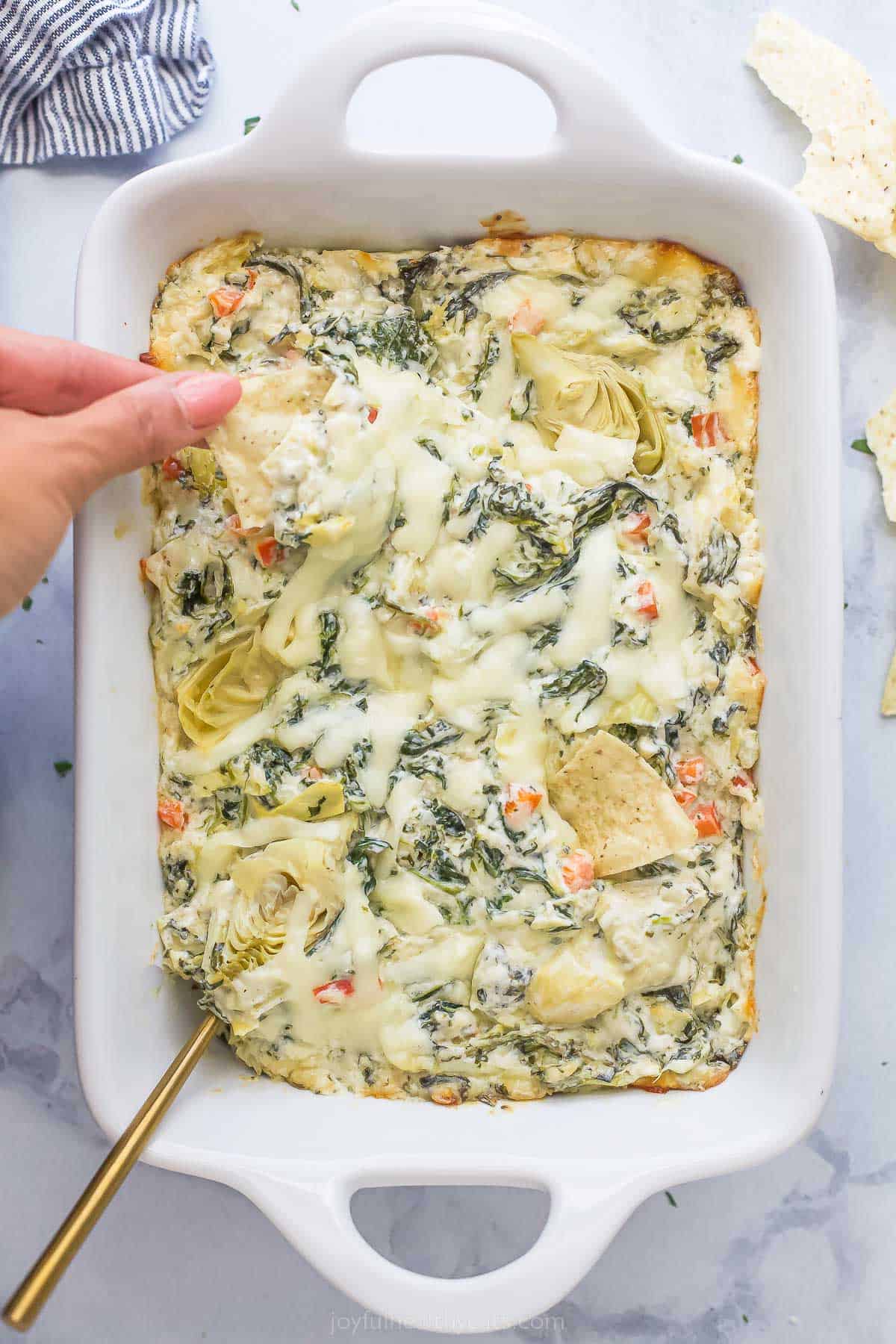 How to Make Spinach Artichoke Dip
Here's how to make this super easy party dip! You only need about 10 minutes to prepare everything.
First, you'll want to thaw the frozen spinach. You can do this in the microwave. Always be sure to ring out as much water as you can before adding it to the recipe.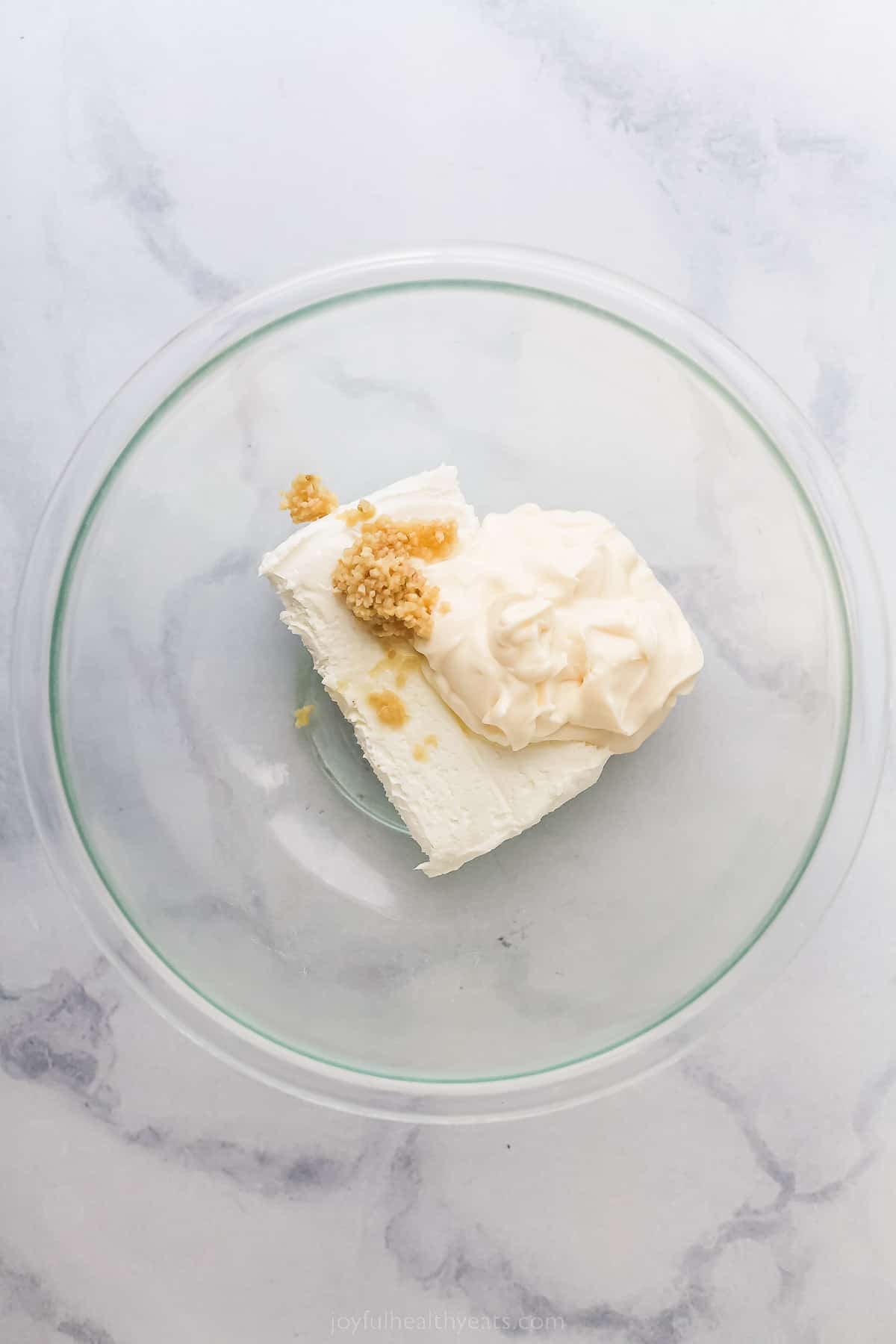 Next, whip together the garlic, mayonnaise, cream cheese, salt, and pepper. Do this until it's light and fluffy.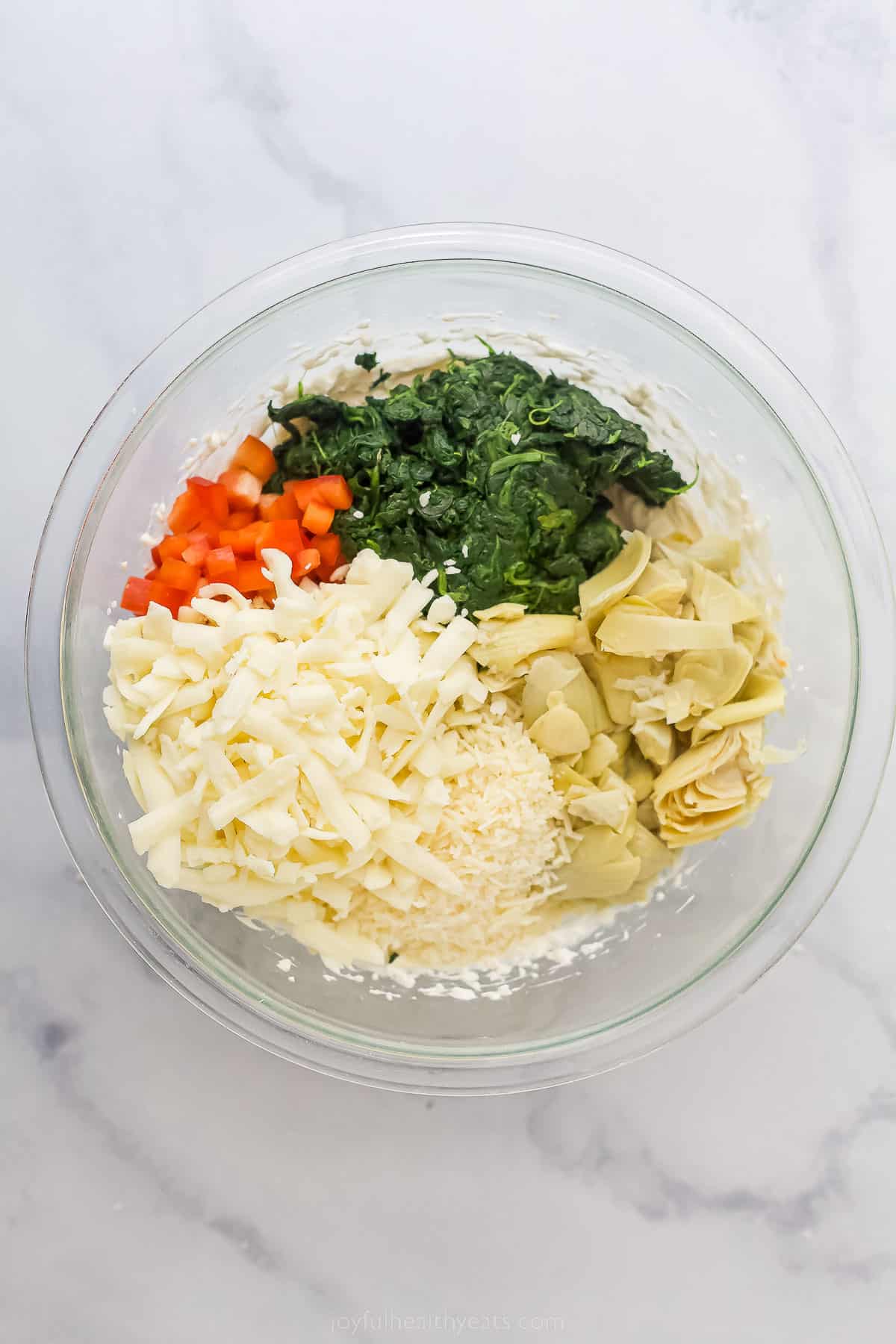 Then fold in the other ingredients. You'll want to fold everything together gently until it's all incorporated. Make sure you reserve 1/3 cup of mozzarella cheese for the topping.
Spread the dip into a pan and sprinkle with mozzarella cheese. And then back for 30 minutes. The dip will be done with the top starts to be golden brown and bubbles a bit.
This dip is best served immediately! Don't forget your dipping snacks like tortillas, toasted bread, or veggie sticks!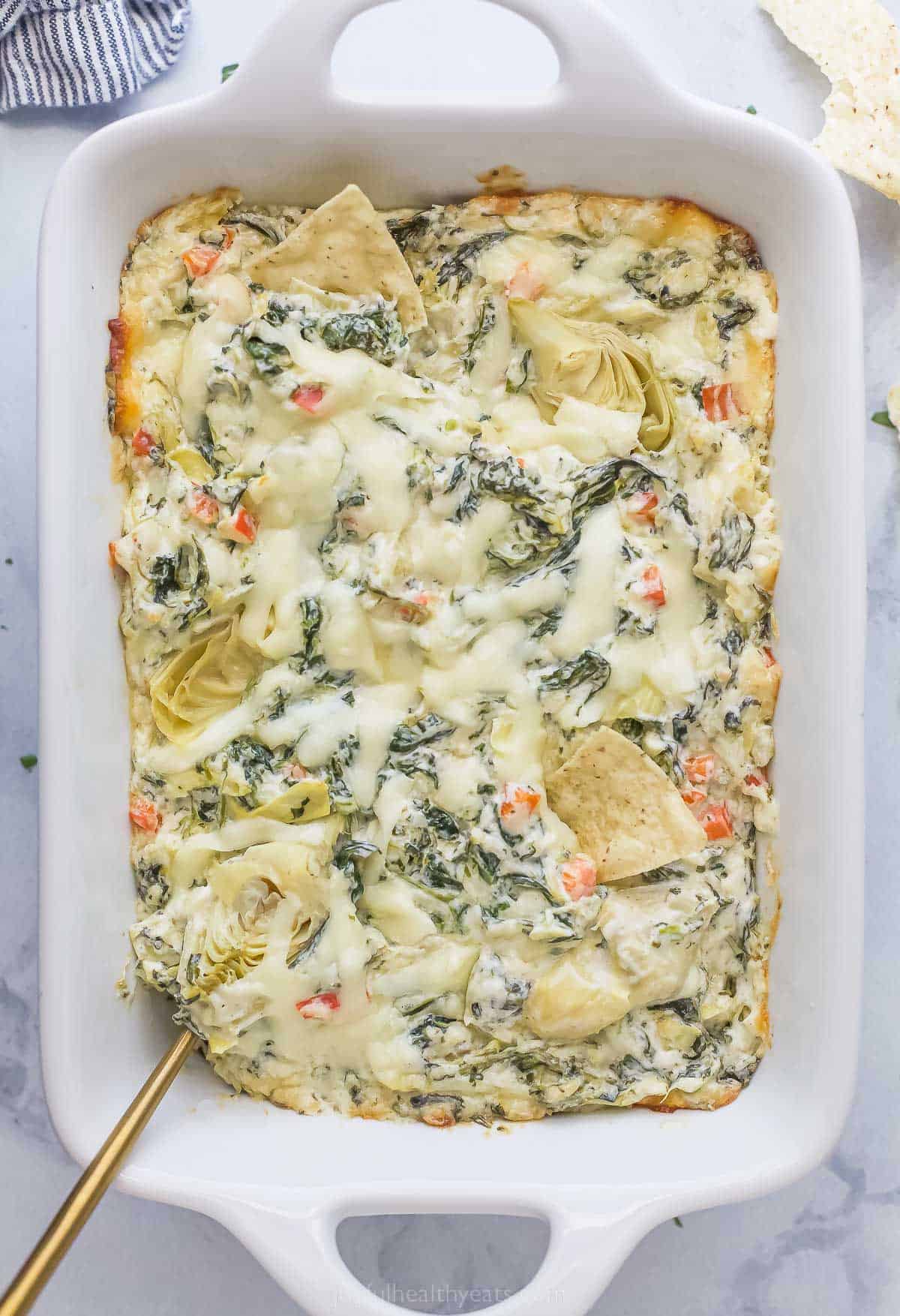 Tips for Success
Below you'll find some helpful tips that I learned while making this recipe. Hopefully, they help you make your dip the talk of the party!
Let the cream cheese come to room temperature. It will whip much easier if it's been sitting out for a few minutes on the countertop.
Don't adjust too many of the ingredients. This recipe works with the ingredients listed and tastes best with these exact ones! Sure, you could use low-fat mayo or cream cheese, but I do believe they will change the taste of this recipe. Sometimes it's ok to indulge in a recipe like this one!
Taste for seasoning. The salt level and taste will depend on the quality of the cheese that you're using. There are no raw ingredients in this recipe, so it's ok to taste it before you bake it. Adjust the seasoning BEFORE baking.
Common Questions
Here are some answers to questions that are often asked when making hot spinach dip.
Is spinach artichoke dip healthy?
This is a tough one! The truth is that this dip is loaded with healthy ingredients like artichokes, spinach, and red peppers. But you should keep in mind that's very rich and contains cream cheese, mayonnaise, and other cheeses.
My take is that it's ok to have this recipe every once in and awhile! After all, it does have healthy veggies and you have the option to use a healthy dipper to help balance it out. I suggest using carrot sticks as an alternative to bread or tortilla chips.
Should spinach and artichoke dip be served hot or cold?
Most of the time you'll find this dip served hot. It's delicious that way and the cheese gets gooey and it's a big dish of melted deliciousness. But you can serve this dip cold if you'd like. It will have a different texture (more like a vegetable dip that you might find at a grocery store).
Can I make this recipe lighter?
There are a few ways that you can make this recipe a little healthier.
First, you can use low-fat versions of mayonnaise and cream cheese. You could also substitute plain Greek yogurt for the mayonnaise.
Secondly, you can increase the spinach amount and/or the artichoke amount. Think of it as you're diluting the creamy mixture with more vegetables! You could also add some chopped kale. Keep in mind you may need a bigger pan if you're adding more veggies.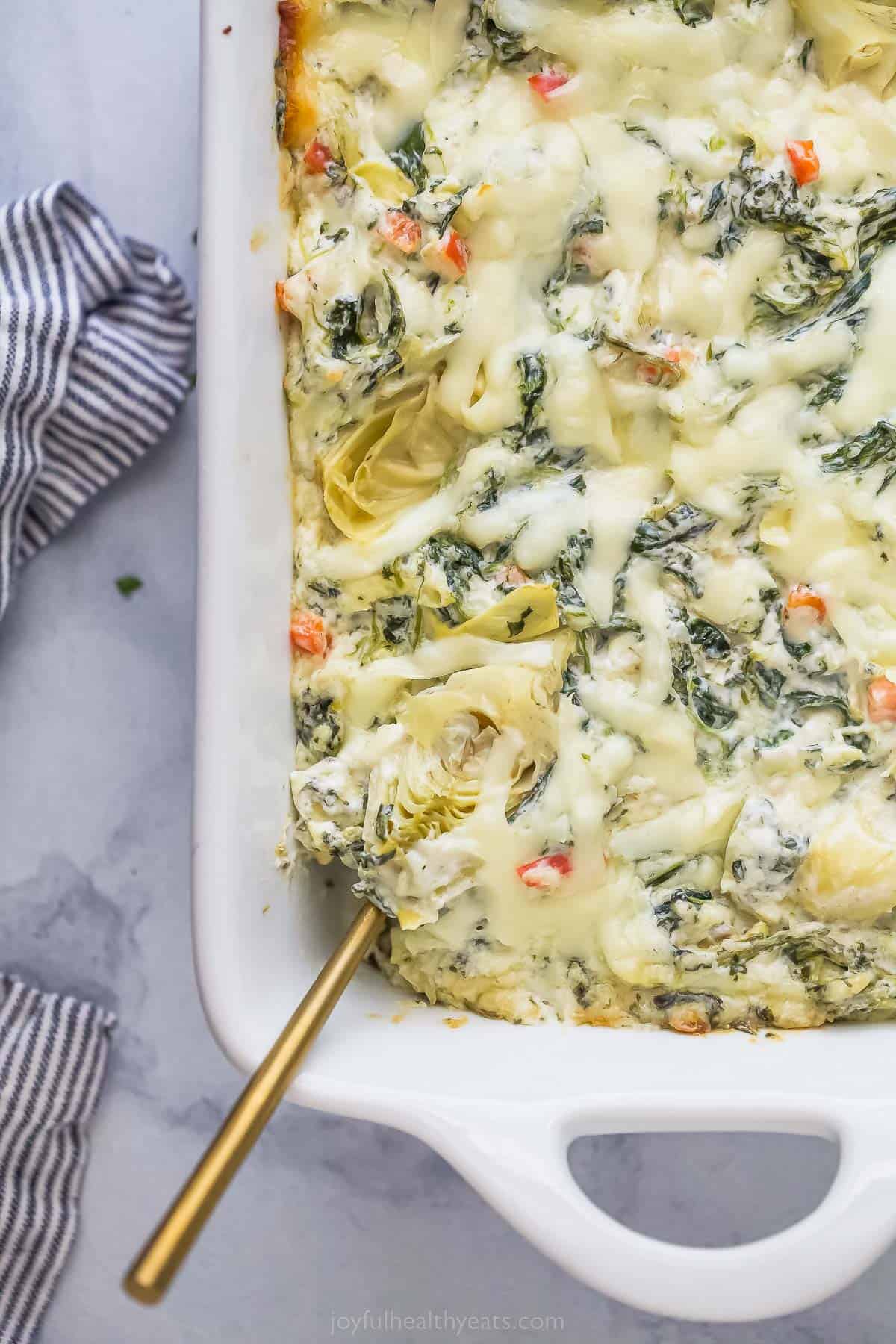 Serving Suggestions
Here are some of the best ways to serve Spinach Artichoke Dip!
Crusty sliced bread: Slices of baguette are perfect! You can toast them or not. I like to toast them and then rub a clove of garlic oil on each slice!
Tortilla Chips or Baked Pita Chips: You can keep it simple with a bag of chips from the store or try my homemade pita chip recipe.
Add it to your Game Day spread: This dip would be a great addition to my Ultimate Game Day Charcuterie Board or literally any of these Gorgeous Charcuterie Board Ideas
Gluten-free dippers: Use veggies like carrots, celery, or broccoli as dippers!
Can This Be Made in Advance?
You can make this dip ahead of time very easily! There are a few different ways you can do it. You have the option to store it pre-baked or after baking.
Store before baking: I suggest storing it pre-baked if you've got the time. Then you can store it right in the mixing bowl or casserole dish and heat it right before serving.
Store after baking: You can also bake it completely and then reheat it before serving. You might want to do this if you are making the casserole at home and then heating it at party.
How to Store & Reheat
If by some miracle there are dip leftovers, here's what you need to do! You can store any leftovers in an air-tight container in the fridge for up to 5 days. You can reheat it in the microwave or even in a small saucepan.
Print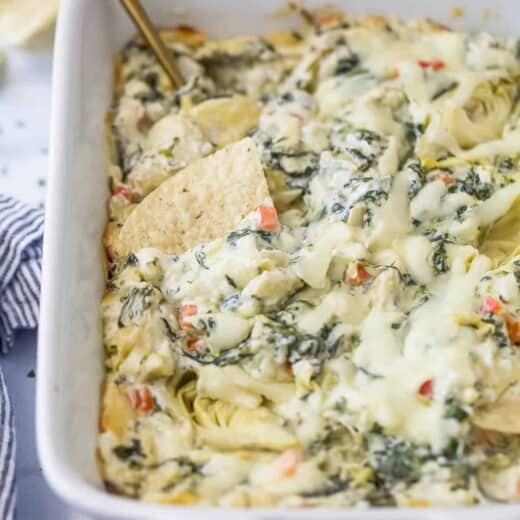 Baked Spinach Artichoke Dip
Author:

Prep Time:

10 minutes

Cook Time:

30 minutes

Total Time:

40 minutes

Yield:

8

–

1

0

1

x

Category:

Appetizer

Method:

Oven

Cuisine:

American
---
Description
Tried-and-true Baked Spinach Artichoke Dip that's over the top creamy and cheesy with plenty of garlic flavor! Not to mention that it's loaded with iron-rich spinach and artichokes. It's so simple and this party favorite is ready in under 45 minutes!
---
10 oz

. frozen spinach

8 oz

. cream cheese

1/2 cup

mayonaisse

2

garlic cloves, minced

1/2 teaspoon

salt

1/4 teaspoon

pepper

14 oz

. can of artichokes, drained and finely diced

1/2 cup

of fresh red peppers, diced

1/2 cup

shredded parmesan cheese

1 1/3 cup

of shredded mozzarella cheese
---
Instructions
Preheat oven to 350°F.
Place frozen spinach on a plate and microwave for 2-3 minutes until spinach is cooked. Once spinach has cooled, squeeze all the liquid out and set aside.
To a large bowl, add cream cheese, mayonnaise, garlic, salt and pepper. Using a handheld mixer, blend until the cream cheese is fluffy.
Next, add in spinach, artichoke, red pepper, parmesan cheese and 1 cup of mozzarella. Using a spoon, mix everything together until well combined.
Transfer spinach artichoke mixture to an 8×8 baking dish. Top with the remaining 1/3 cup of mozzarella.
Bake for 25-30 minutes, or until slightly browned on top. Serve immediately.
---
---
Nutrition
Serving Size:

3/4 cup

Calories:

266

Sugar:

1 g

Sodium:

448 mg

Fat:

22 g

Saturated Fat:

8 g

Carbohydrates:

7 g

Fiber:

1 g

Protein:

8 g

Cholesterol:

46 mg
Keywords: spinach and artichoke dip, easy spinach artichoke dip, hot spinach artichoke dip, best spinach artichoke dip, party dip recipes
Filed Under:
More Party Dip Recipes:
DON'T MISS A RECIPE ->
FACEBOOK | TWITTER | PINTEREST | BLOGLOVIN | INSTAGRAM