This Game Day Charcuterie Board is the ultimate appetizer platter. It has all the foods you love to snack on while watching the big game. From pretzels to guacamole to bacon-wrapped jalapenos – it has something for everyone!
Love charcuterie boards? Check out these simple charcuterie board ideas!
An Easy Charcuterie Board for Game Day!
It's football season! It's a time of year to get excited about sports…and food! I admit I'm probably more into the food than I am the football. And I'm 100% ok with that!
I love making a snacking spread for everyone to enjoy while sitting back and enjoying the big game. This Game Day Charcuterie Board is the perfect assortment of snacks to keep everyone happy!
It's got something for everyone. In fact, it resembled an appetizer assortment that you might order at a sports bar (hot wings and queso anyone?!). But this one you can make right at home and save yourself some money! Plus, it's 100% customizable. If you don't like something, just swap it with another snack. I've got lots of options for you!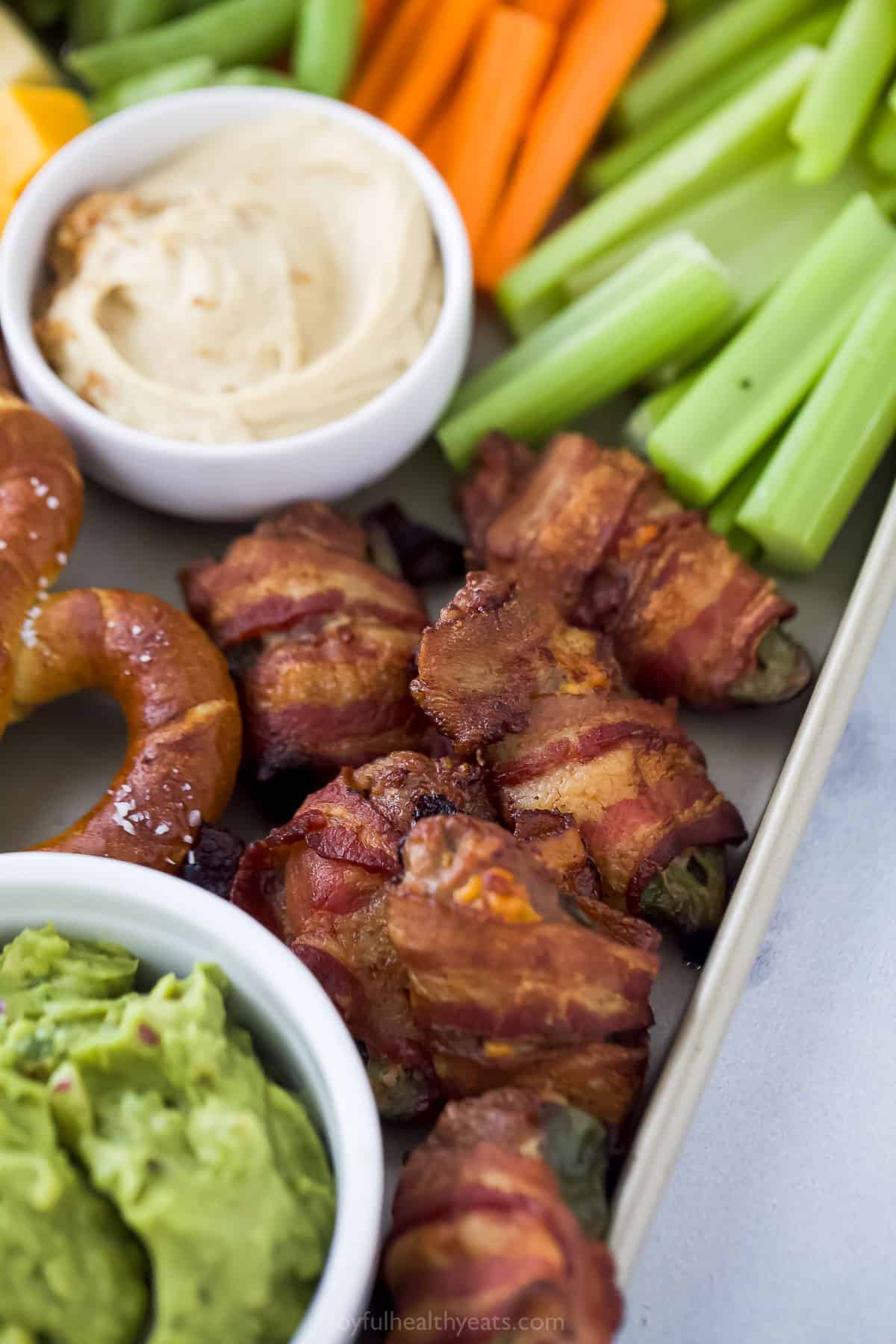 What Is Usually on a Charcuterie Board?
Ok, ok…so this is not a "normal" charcuterie board. Believe me, I am a big fan of the typical charcuterie boards. They usually feature the same categories of foods – dried meats, cheese, bread or crackers, fruits and veggies, and of course, some sort of dip or spread.
But they aren't exactly game-day foods. So instead of the typical salami, aged cheese, grapes, baguette, and jam…this version is a more laid-back and sporty assortment!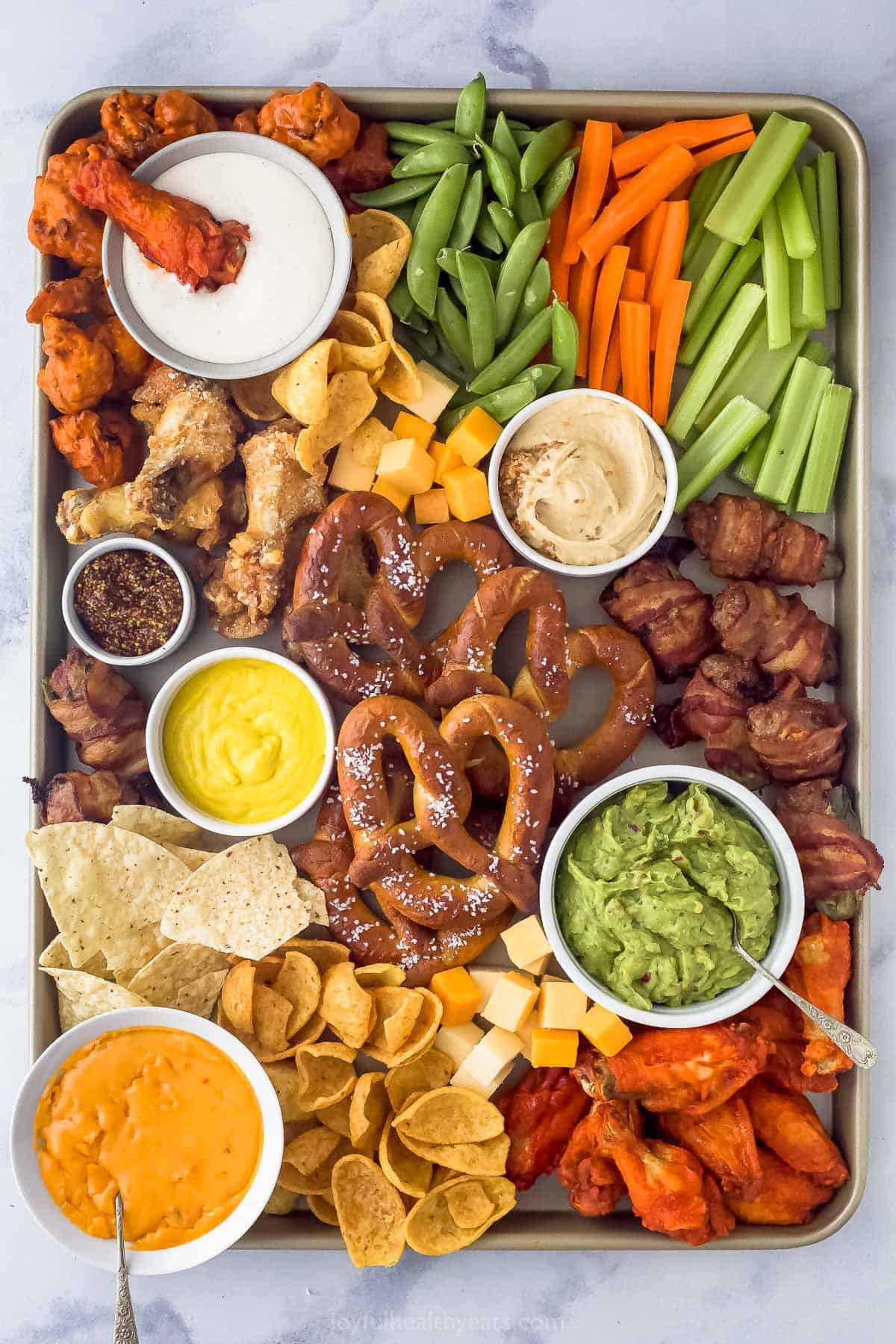 What You'll Need
Here is what you'll need for the ultimate game day spread. Remember, you can always swap something out if it's not something you like!
Snacks
Buffalo Cauliflower Wings: This is one of my favorite vegetarian game day foods. They are so easy to make and have all of the spicy flavors you love from regular buffalo wings. You can toss them with BBQ sauce if you don't want them spicy.
Chicken Wings: Every game day needs chicken wings! You can make whatever kind you'd like. I've got you covered with recipes! (Buffalo Wings, Garlic Parmesan Wings, Honey BBQ Wings, and Honey Sriracha Wings are all on the website.)
Soft Pretzels: You can usually find these in the freezer section at the grocery store. My kids love them, especially when you dip them in the queso!
Bacon Wrapped Jalapenos: This is the ultimate salty and spicy snack. The fat from the bacon pairs perfectly with spicy, cheese-filled jalapenos. Not into spicy peppers? That's ok, try my Cheesy Bacon Stuffed Peppers instead.
Cheese Cubes: You can use any cheese assortment you'd like.
Fritos and/or Tortilla Chips: Adds a little crunch to the board. Plus, it gives you something to dig into the tasty dips with!
Vegetables: Adding something healthy here to balance the board out! You can use whatever you'd like. Some suggestions include carrot sticks, celery, snap peas, and sliced bell peppers.
Dips
Guacamole: Here's How to Make the Best Guacamole (the only guac recipe you'll ever need!).
Homemade Queso: This White Queso is easy and uses real cheese – no Velveeta needed here.
Creamy Hummus: Making hummus is pretty simple. My recipe for Easy Roasted Garlic Hummus is a great place to start. Of course, you can buy pre-made hummus, too, to save time. But I highly recommend making it yourself!
Ranch: Are you Team Ranch or Team Blue Cheese? There's no harm in having both!
Yellow Mustard: Perfect for dipping the pretzels into. You could also use honey mustard.
Stone Ground Mustard: Another bold dipping sauce for the soft pretzels. It also goes really great with the cheese cubes.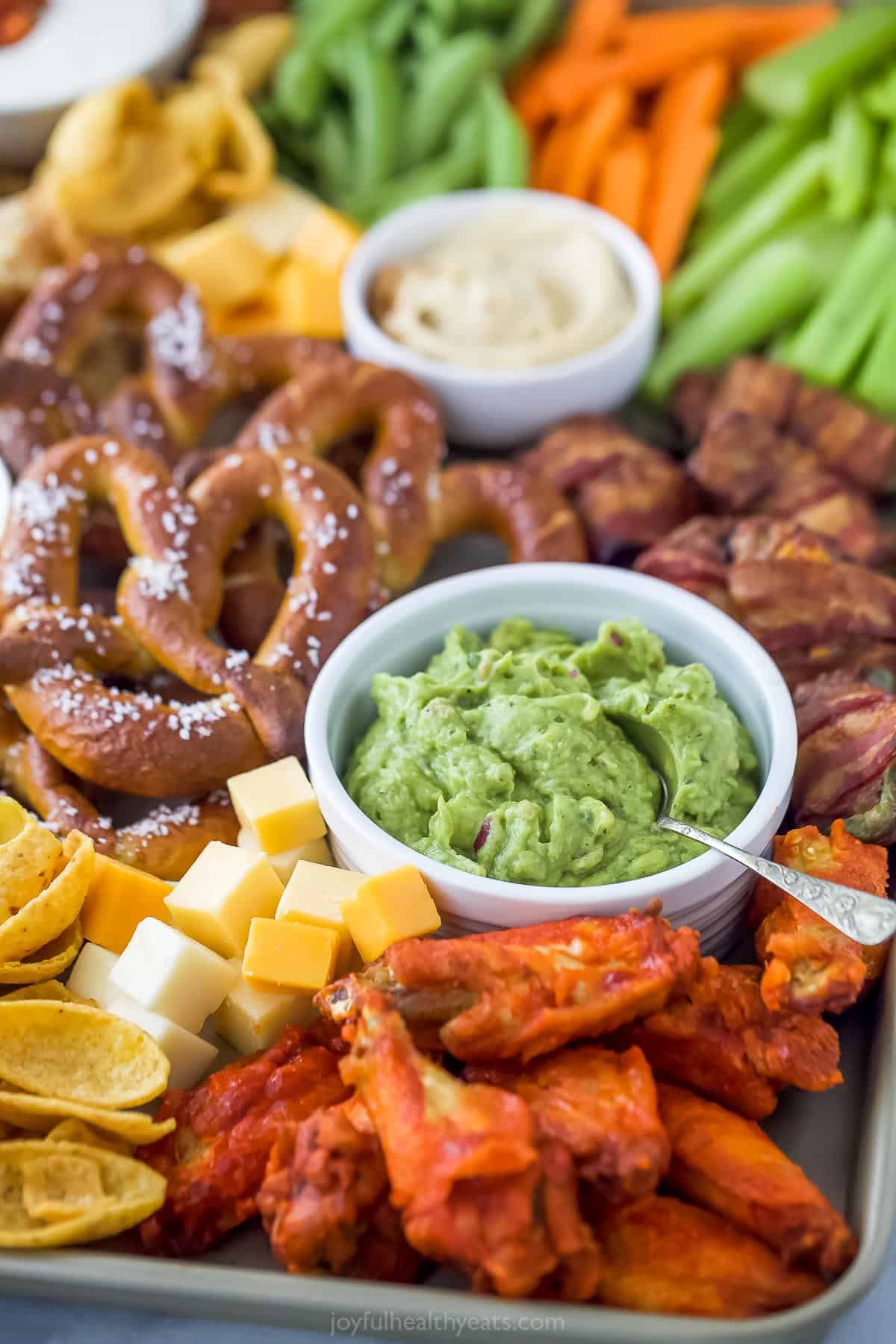 Let's Make a Charcuterie Board for Game Day!
A lot of the snack items will be made ahead of time. So, when it comes time for the game, all you need to do is build the board and enjoy!
Start with a large and clean board. You can use a large sheet tray or you can also use a very large cutting board or platter. You're going to need a lot of space and something with edges, ideally. This way things won't shift and slide around.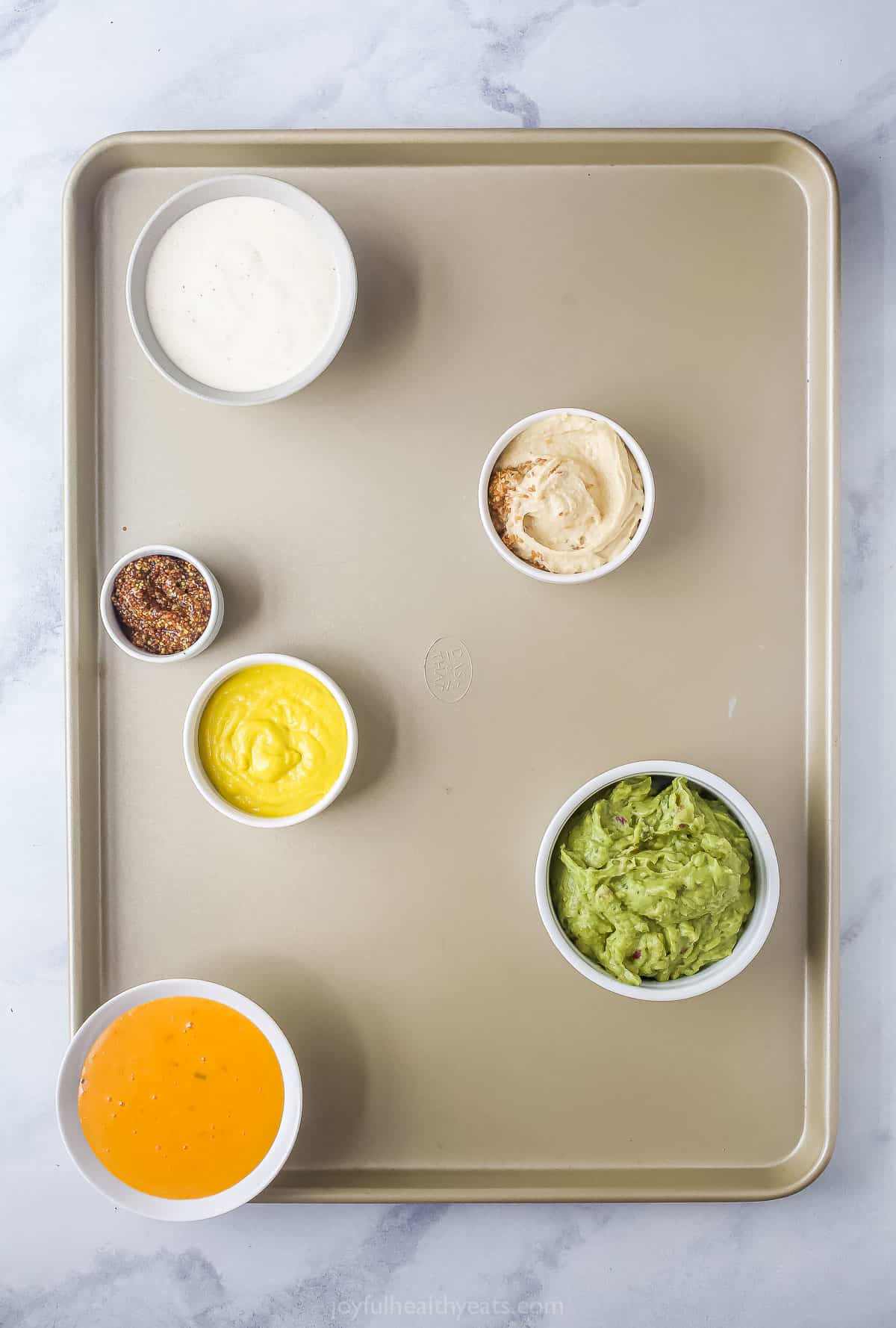 Start with the sauces. First, put your sauces into small bowls. Then, arrange them on the board.
Next, add the chicken wings and cauliflower wings. Put them into the corners of the board.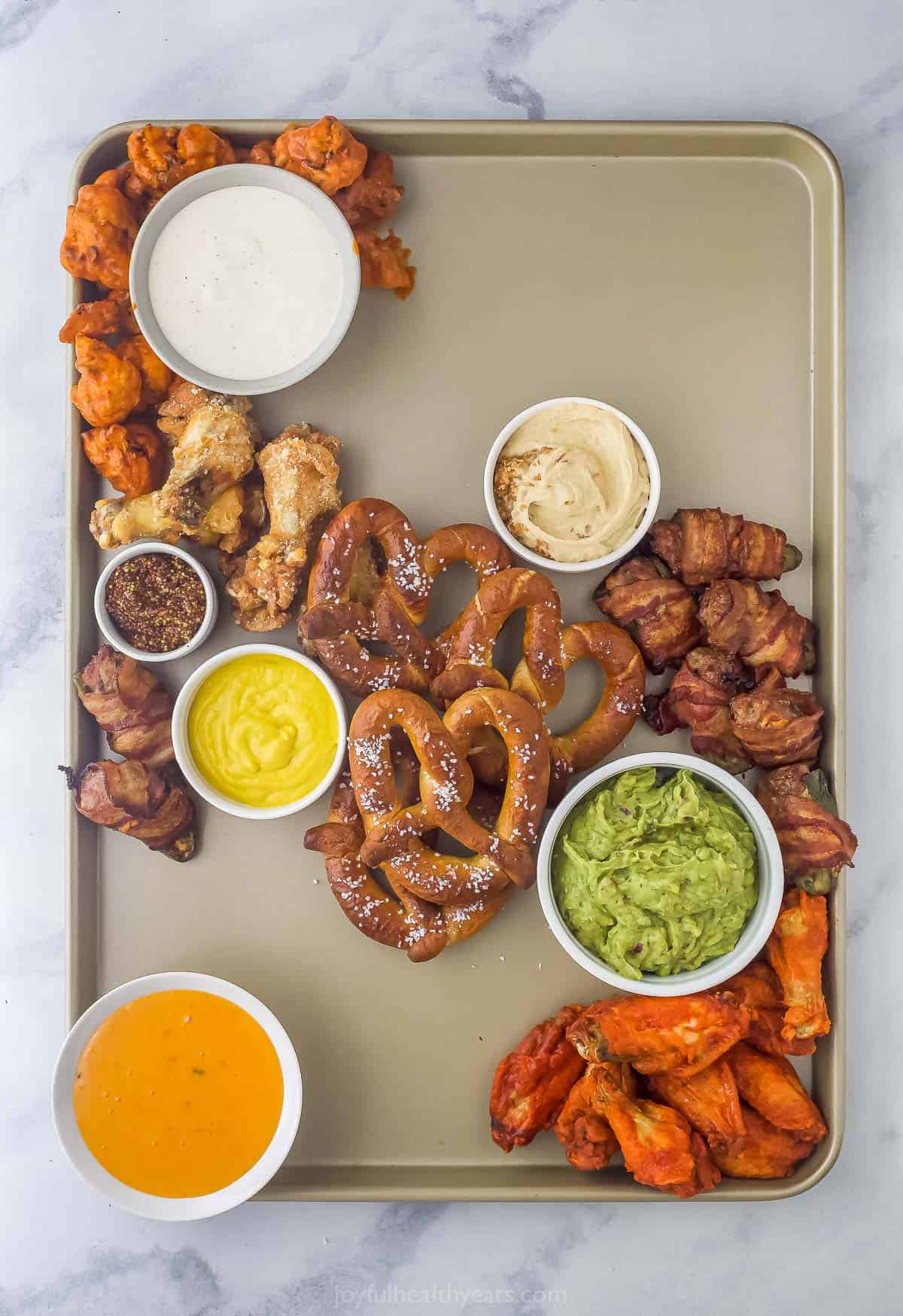 Now, the pretzels and bacon-wrapped jalapenos. Put the soft pretzels in the middle of the board. And then arrange the jalapenos in some of the open spaces.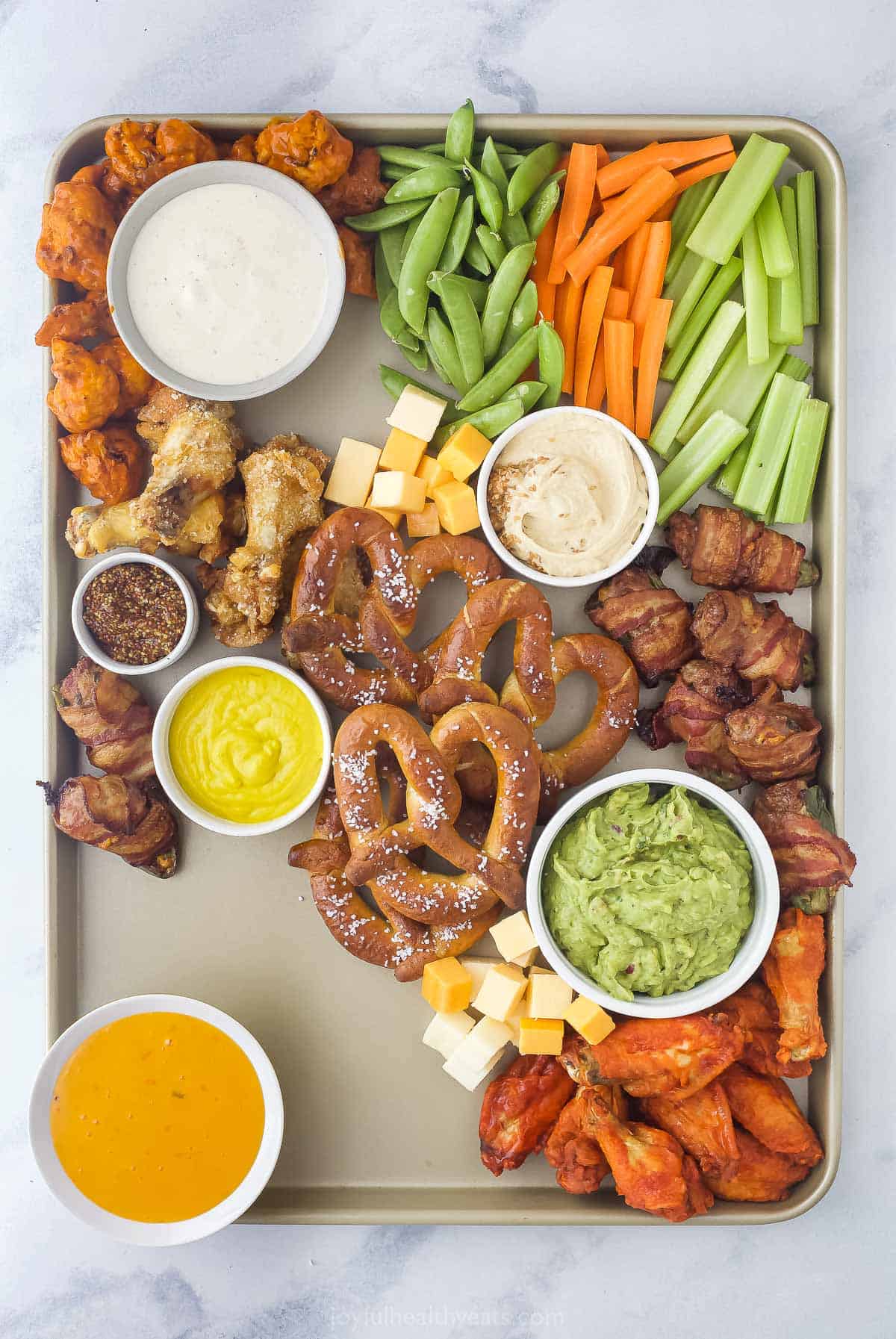 Add the vegetables and cheese cubes. Place the veggies and cheese into some of the other larger open spots on the board.
Finally, fill in with chips. Use the tortilla chips and Fritos to fill in any empty spaces.
Can I Prepare a Charcuterie Board the Day Before?
You can make a lot of these items the day before, but I recommend waiting to actually build the board. Remember, you may want to reheat some of the items before serving them on the board.
For example, the wings, jalapeno peppers, and cauliflower bites can be made ahead of time but I recommend putting them in the air fryer for a few minutes to crisp them back up. You could also reheat them in the oven. But I don't recommend using the microwave because they won't stay very crispy.
You can certainly cut up the cheese and prep the veggies the day before. And, you can also put the sauces into the bowls ahead of time, too. Just cover them with plastic wrap and store them in the refrigerator.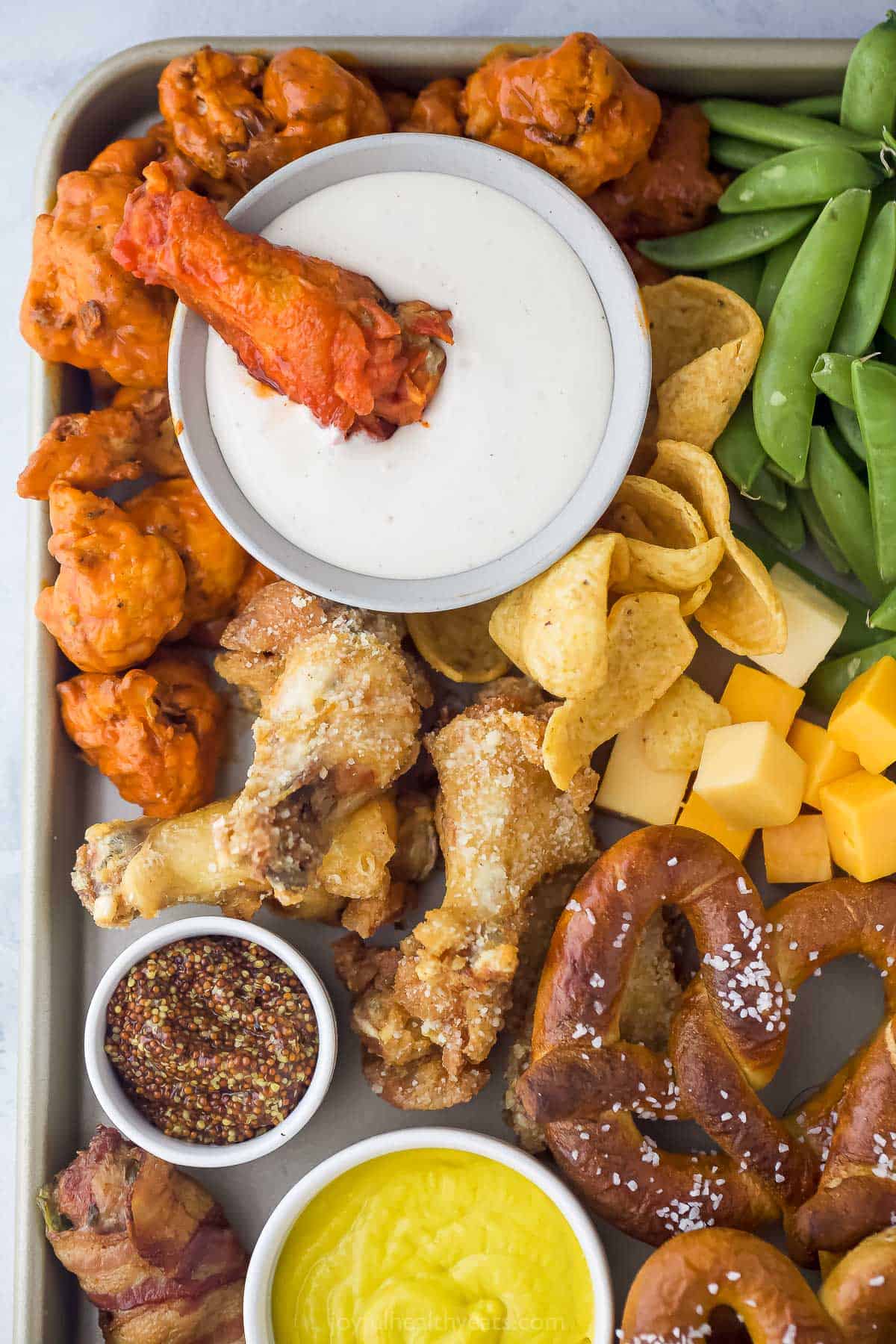 Tips, Variations, and Substitutions
This board is totally customizable! I want nothing more than for you to come up with the best game day spread for you and your guests. Here are some other ideas that you can use:
Use whatever wing sauce you'd like. Sometimes, my kids don't even like sauce on their wings. So you can also serve them dry! You can toss them in sweet chili sauce, a dry rub, or even just salt and pepper.
Add different kinds of vegetables. Using raw vegetables is the easiest option. You can add other green vegetables like washed raw broccoli or green beans. You could also grill your veggies for an added touch. Grilled potato wedges or zucchini spears would be delicious!
Throw some fruit on there! Add some of your favorite cut up fruit to the board. This will definitely be a hit with the younger ones. Grapes and berries are great options.
Try different sauces and spreads. You can use salsa instead of guacamole. Or you could have a cheese spread instead of queso. You could even add my Boom Boom Sauce! [LINK].
How Long Can a Charcuterie Board Sit Out?
The games can go on and on, but can this Game Day Charcuterie Board?! We want to make sure the food stays safe to eat as the game moves on.
The food shouldn't sit out for longer than 2 hours. That's if it even lasts that long!
Print
Game Day Charcuterie Board
Author:

Prep Time:

20 minutes

Cook Time:

40 minutes

Total Time:

60 minutes

Yield:

10-12

Category:

Appetizer

Method:

Mix

Cuisine:

American
---
Description
This Game Day Charcuterie Board is the best how-go guide to making the ultimate assortment of snacks. It's got a little bit of everything – salty pretzels, spicy chicken wings, vegetarian cauliflower bites, bacon-wrapped jalapenos, and the best assortment of dips!
---
Game Day Snacks:
Spreads/Dips:
Guacamole
Homemade Queso
Creamy Hummus
Ranch
Yellow Mustard
Stone Ground Mustard
---
Instructions
Put spreads/dips in small bowls and arrange around your board.
Place chicken wings and cauliflower wings on various corners of the board.
Now, arrange the large soft pretzels down the middle and gather the bacon-wrapped jalapenos in random spots of the board.
Place the vegetables on the board and then the cheese cubes.
Lastly, fill in any open spots of the board with fritos and tortilla chips.
---
Keywords: charcuterie board ideas, unique charcuterie board ideas, super bowl snacks, football snacks
Filed Under:
More Great Snacking Recipes
DON'T MISS A RECIPE ->
FACEBOOK | TWITTER | PINTEREST | BLOGLOVIN | INSTAGRAM