How to make the Best Burger Charcuterie Board! Grilled Burgers piled high with cheese, all the burger toppings you can think of, condiments and toasted buns for the ultimate build-your-own burger board! Perfect for parties and summer grilling!
You can't have burgers without some epic fries! Make sure to try my Chipotle Sweet Potato Fries or Crispy Baked Garlic Parmesan Fries.
How to Make the Best Burger Charcuterie Board
Summer is here and charcuterie boards are all the rage! I've seen everything from fry boards, to cocktail boards, nacho boards, steak boards, pancake boards, to summer fruit boards and now Burger Boards.
Y'all! A burger charcuterie board is the way to WIN summer. It's perfect for a weekend get together, fathers day, 4th of July, Labor Day … basically all the days!

What is a Burger Charcuterie Board?
Think of it like a Burger Bar, but it's all on a large cheese board instead of spread across the counter. I like to make sure my board is large enough so I can fit everything on it. Todays cheese board is 20″ in diameter but I've also used a rectangular cutting board that was 18″x24″. Here are the items you'll find on my board:
Burger – This is a given, since it's a burger board. I like to use 90/10 or 80/20 ground beef ratio, the more fat the more flavor. The good news is the grill will burn off most of that anyways. If you want to get real fancy, you could mix in some ground brisket. This will add tons of flavor! Be sure to check out my Guide for How to Grill the Best Burgers and get all my tips, tricks and favorite grilling accessories!
Buns – Choose your favorite bun. We love brioche, sesame topped or sourdough. But you could also do an english muffin for something different. Whatever you choose, just make sure you toast them on the grill right before serving. It makes a world of difference.
Cheese – You could go classic with a cheddar and get fancy with muenster, gouda, whipped goat cheese or spice things up with pepperjack.
Toppings – Start with at least the classics, which would be lettuce, tomato and onion. But we'll get more into my favorite toppings later on.
Condiments – Keep the staples and you can't go wrong – ketchup, bbq sauce, mayo and mustard.

How long should you grill burgers?
This is not a one size fits all scenario. Patties come in all shapes and sizes. The key to testing the doneness is measuring the internal temperature with an Instant Read thermometer. Place patties on the grill over direct heat. Cook to your desired doneness:
Rare, cook for 4 minutes total (125°F)
Medium-Rare, cook for 5 minutes total (135°F)
Medium, cook for 6 to 7 minutes total (145°F)
Well-Done, cook for 8 to 9 minutes total (160°F)
Flip only once during cooking process. Do NOT press down on the patties at any time.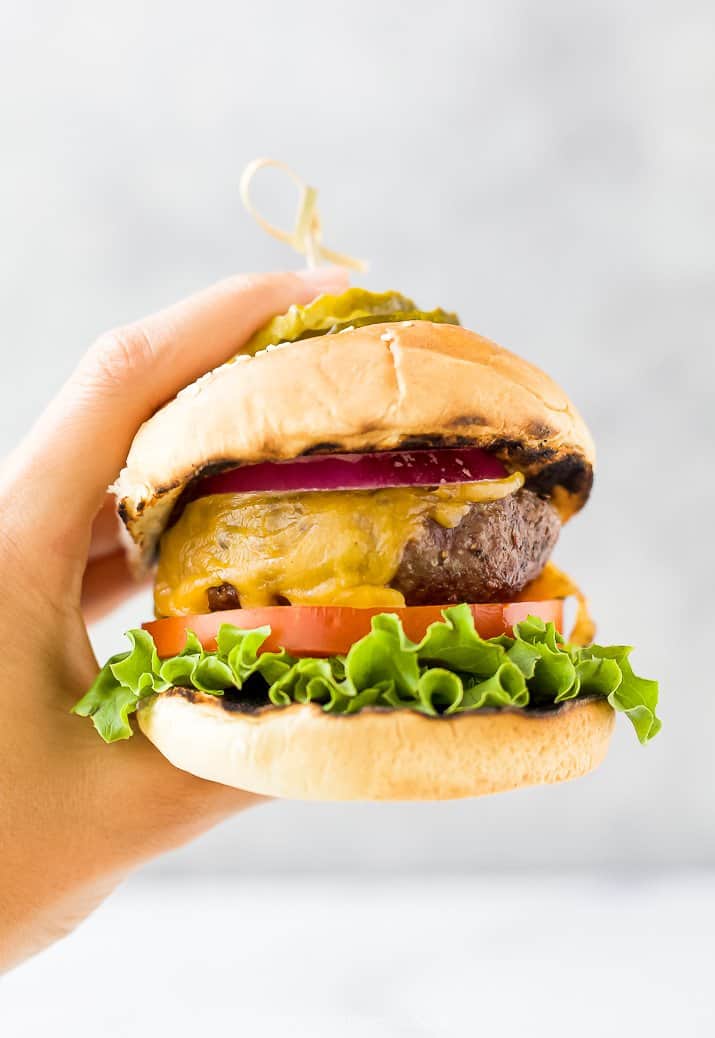 Burger Toppings to serve on your Board:
When it comes to burgers, you can't go wrong with a classic topped with pickles, lettuce, tomato and onion. This is your chance to shine to really add some fun toppings that will allow people to be adventurous and take their burgers to the next level. Here are the items you'll see on my board, besides lettuce, tomato and onion. Those are a given.
Bacon Jam – Enough said. One tablespoon of this and OMG! Forget about it! Here's the bacon jam that I order.
Candied Bacon – Bacon that's baked in the oven with maple syrup, brown sugar and black pepper. It's literal heaven! Trust me.
Bourbon Caramelized Onions – Caramelized Onions are bomb by themselves but add in 1/4 cup of bourbon and yes please!
Eggs – This is one of my husbands favorites, there nothing like an over easy egg. As soon as you take a bite the yolk pops and oozes it's deliciousness over everything.
Spicy Pickles – My homemade sweet & spicy pickles are the things dreams are made of. But if you don't have time to make them, we love McClures Pickles as well.
Pickled Jalapeños – Spice things up a bit and let people add a few pickled jalapenos. I go the pickled route because they are usually milder in heat compared raw jalapenos.
Sriracha Mayo – One of my favorites and all you is two ingredients – 1/3 cup mayo and 2 to 3 teaspoons of sriracha.
Pickled Onions – Add a little tangy zip to your burger with my homemade pickled onions instead of those plain boring raw onions.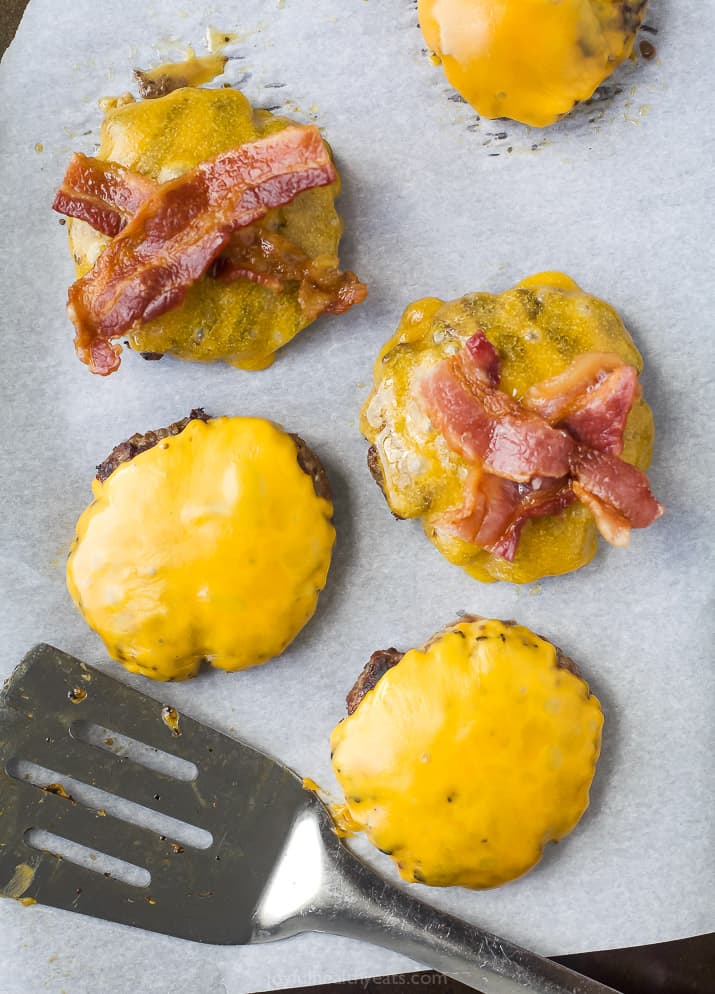 Winning Burger Topping Combos
When I'm putting together my board I like to think of 3-4 winning topping combos that someone could create out of the items on the board. For example, a keto burger, California style, mushroom and swiss, etc. You can even make cute little chalkboard signs next to your board to give people hints with how to top their burgers. Here are some of favorite combos for you to drool over! (Oh and ps you can spot all of those items on my board)
Double Bacon Burger – This one is topped with a melted cheddar cheese, bacon jam, candied bacon, lettuce and tomato. (because we gotta add a little veg into all that bacon) As far as the meat, I recommend a regular ground beef patty. But we've also used a turkey burger base or ground bison before and it's turned out great!
California Burger – My idea of a California style is light and fresh, loaded with vegetables with a little spice. The topping combo for this California burger is sriracha mayo, avocado, lettuce, tomato, red onion and pickled jalapeños. (you could also add pickled onions in there for another twist) If you're gonna do cheeses with this one I'd say muenster, gouda, swiss or pepperjack.
Texas Burger – I can't post a topping combo list and NOT give you a Texas Burger! This baby is loaded up with goodness! Start with a cheddar burger and top with bbq sauce, bourbon caramelized onions, candied bacon, lettuce, tomato and spicy pickles. Come to momma! This burger is calling my name!

How do you make a Burger Board?
Just like a classic cheese board there is a process, and once you get the key elements down you'll be whipping out boards in no time. The best part about this build your own burger board is you can prep and lay everything out ahead of time and lay the burgers down at the last second. Here's how I like to put mine together.
Condiments: I like to put all my condiments in little jars and bowls. Then place them all around the board first. This half moon shape was fun to do but you can scatter them as well. I build my board from there.
Toppings: Place the toppings all together either in the center of the board or along the edges.
Cheese: Fan the cheese out so it is easy to grab.
Buns: Line the buns along the edge, preferably not next to something that would get them soggy or wet. (i.e. lettuce, tomatoes, pickles, etc.)
The Meat: Lastly, the star of the show. I do this at the last possible second right before serving so my burgers are nice and warm and melting with cheese! Fan them along the edge of the board for easy access. Or you could also put them on a round plate in the center of the board to ensure they don't touch other items on the board.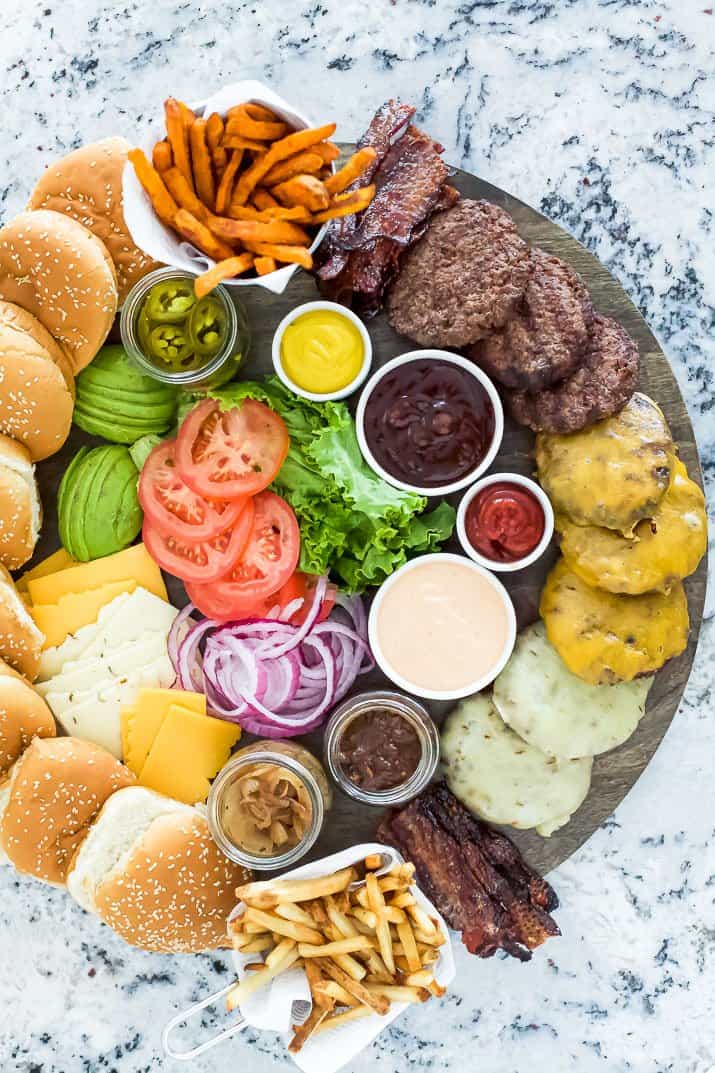 ** This post contains affiliate links. Thank you for supporting Joyful Healthy Eats**
Print
How to make a Burger Board
Author:

Prep Time:

15 minutes

Cook Time:

10 minutes

Total Time:

25 minutes

Yield:

8

burgers

1

x

Category:

Grilling

Method:

Grill

Cuisine:

American
---
Description
How to make an Epic Burger Board – all your favorite toppings for the ultimate build-your-own burger bar. Perfect for your next party or summer entertaining.
---
8

ground beef burgers

8

buns
Assorted Cheeses: cheddar, pepperjack, swiss, gouda, muenster
Toppings: lettuce, tomato, pickles, onions
Condiments: ketchup, mustard, bbq sauce, sriracha mayo
Candied Bacon
Bacon Jam
Bourbon Caramelized Onions (or grilled onions)
---
Instructions
Grill Burgers and Toast Buns
Arrange items around a large charcuterie board.
Serve.
---
Keywords: best burger, burger toppings, burger board
Filed Under:



DON'T MISS A RECIPE
FACEBOOK | TWITTER | PINTEREST | BLOGLOVIN | INSTAGRAM