Have you ever wanted to know How to Make Pickled Onions? Look no further. This method will have your onions pickled in minutes! They're delicious on just about anything, especially a burger!
Easy Pickled Onions Recipe
Humpty Dumpty sat on a wall. Humpty Dumpty had a great fall. All the kings horses and all the kings men couldn't put humpty dumpty back together again.
How many of us are like Humpty Dumpty in life?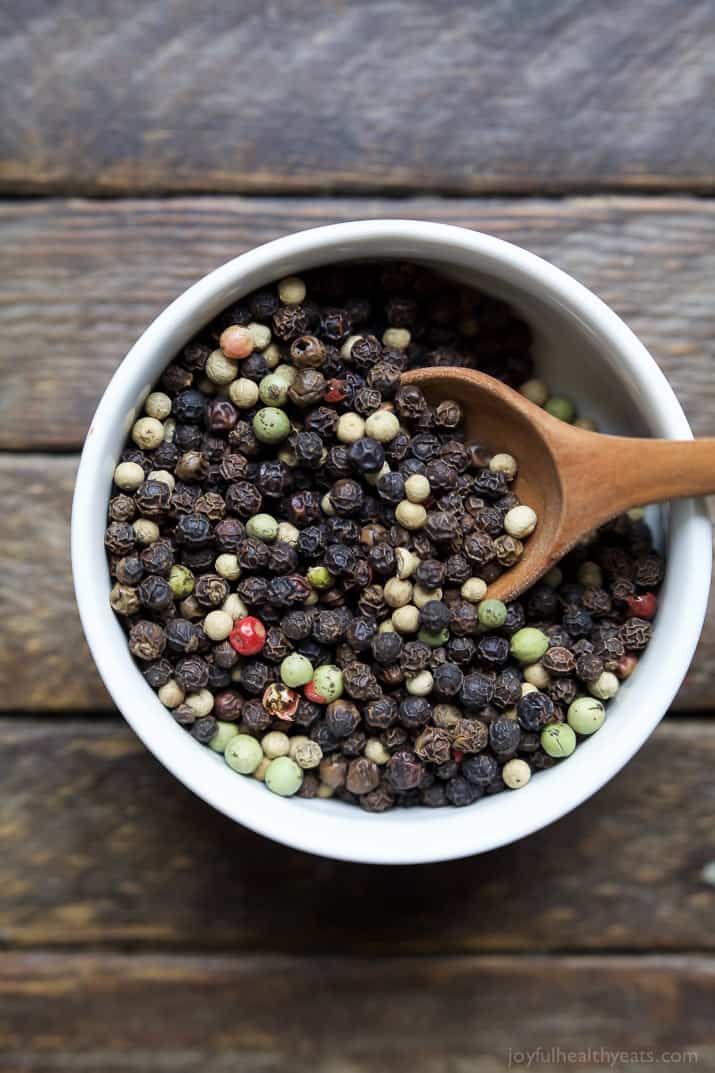 This weekend our pastor posed this question and as I sat there it hit me how true it was.
Life can give us all some pretty rough cards. In those times, who do we turn to to "fix us" or "put us back together again." Do we go to God and ask him to heal us? Do we ask him to restore the heartache we've experienced in life? The broken marriages and broken relationships? The abuse? The hurt?
Or … do we try to get "all the kings horses and all the kings men" to put us back together?
Translation: Are you going to God or are you going to friends, family, spouses, co-workers, etc. to help "put you back together" or temporarily mend your wound instead of experiencing true healing?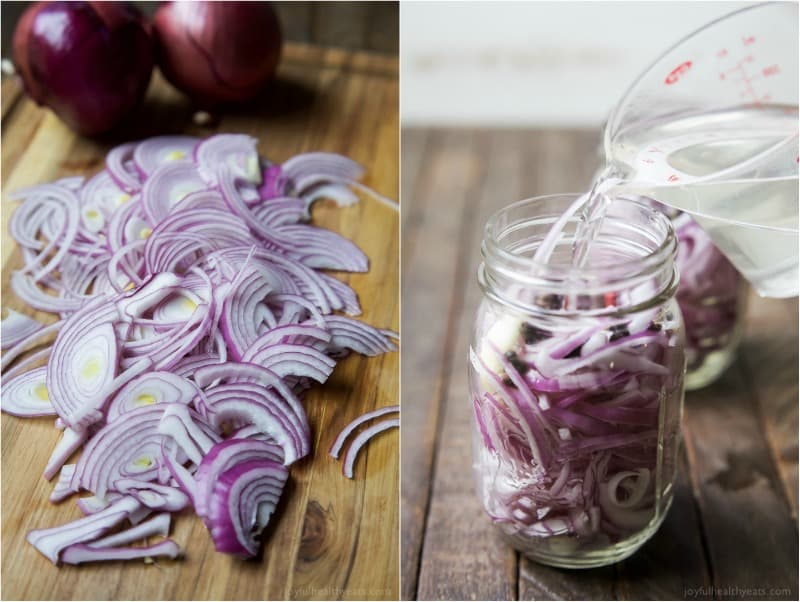 Guys, do we realize that our God created the universe! He parted the Red Sea so we could walk into freedom! He healed the blind! He fed 5000 people with just 2 fish and 5 loaves of bread. He healed the lame! He cast out demons and broke people out of bondage! He conquered sin and death! He breathed and we came into being!!
Do we really believe that he can't "put us back together again?"
Why do we choose to eat the crumbs off a table when we have a filet mignon sitting right in front of us!?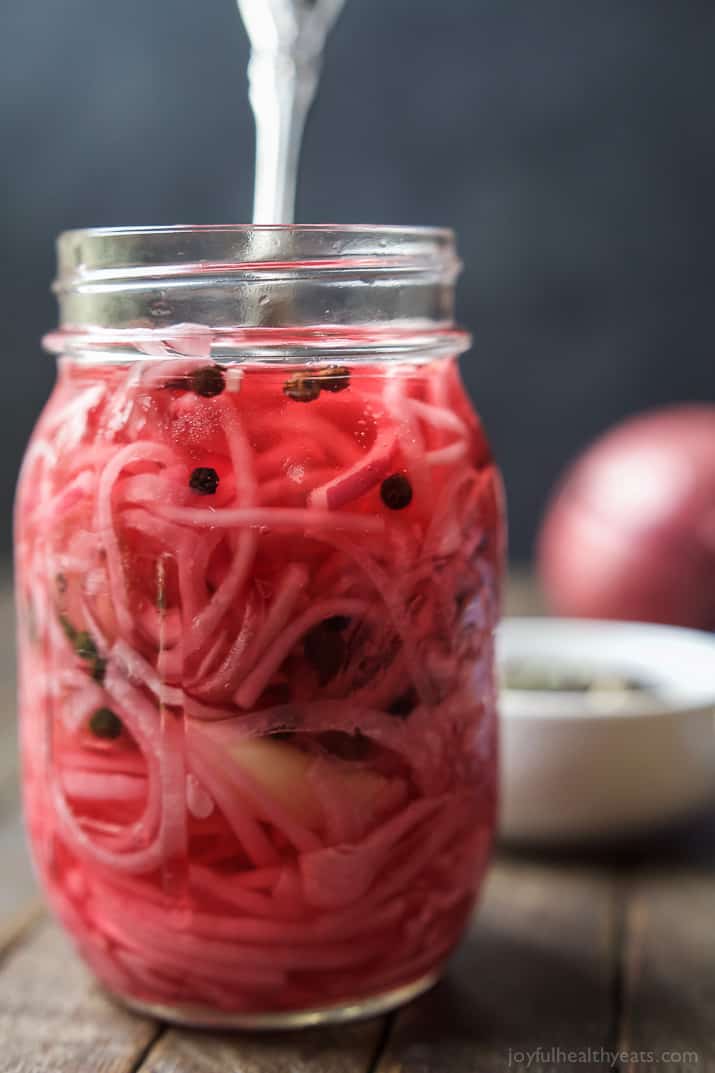 Even as I type this I'm speaking to myself! I know there are times in life when I choose to go to a friend for advice, or wisdom on a decision, justification for holding onto unforgiveness, even validation for my feelings of anger instead of going to God. Heck, sometimes I even search through self help books hoping, searching, for an answer or for healing.
He is the ultimate healer! Nothing else compares! I know from experience!
He was the one thing that was able to bring me peace when I was consumed with fear. He has given me comfort during the 3 years of trying to have another baby. He brought restoration to my parents marriage. He healed my mom of alcohol addiction. He has given me hope. I honestly, cannot even imagine going through all of those things without his healing presence!
So let's make a deal, instead of trying to get everyone else to "fix us" let's go to God! Deal?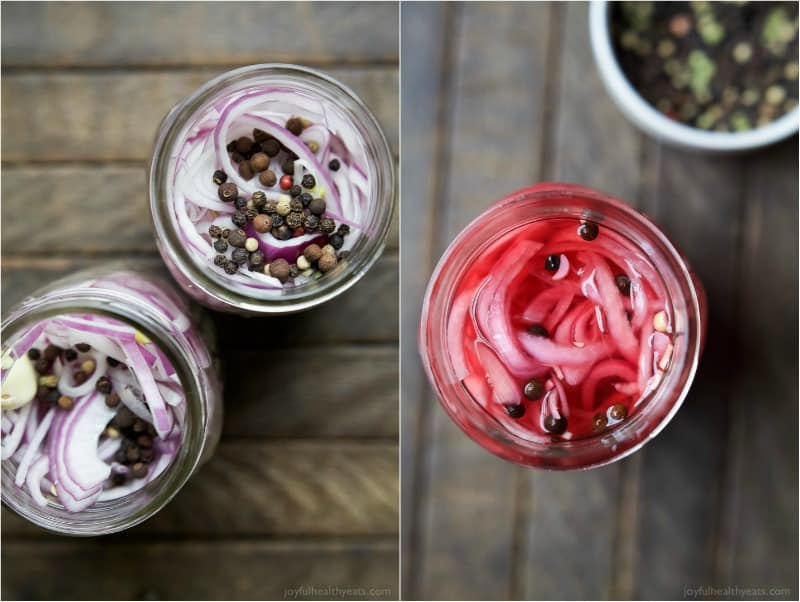 Ok, while we're on the subject of deals. Let's make a deal that you will start pickling … all the things … mkay?
I have to be honest. I LOVE pickled anything but was a little intimidated to try it myself. It seemed complicated!
Um.. what was I thinking. Pickling is literally the easiest thing ever!
Quick & Easy Way to Pickle Onions
Add the veggies you want to a mason jar, in this case it was sliced red onion, along with some spices. Then heat up some vinegar to almost boiling, add in sugar and salt. Pour that vinegar mixture over your veggies and let it sit… um your done. Easy as that!
The best part about pickled onions is it's an easy way to add flavor to any dish. You can add them to sandwiches, quesadillas, burgers, salads, appetizers, or even eggs in the morning. Fermented foods are a great for our digestive system as well… added bonus! 🙂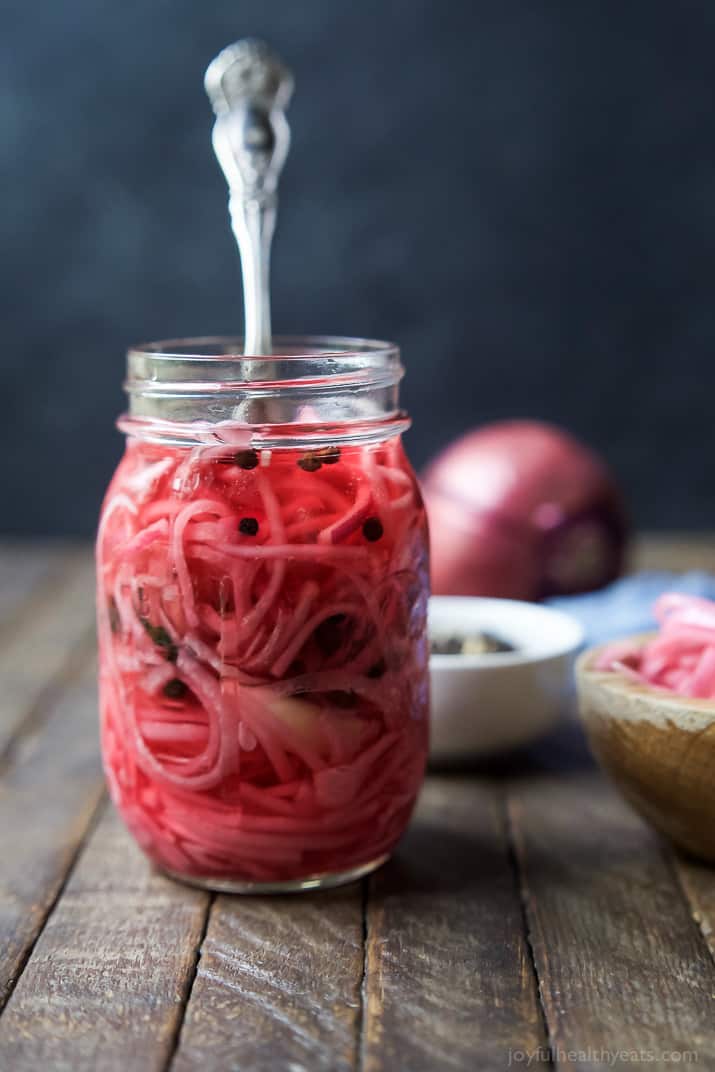 Print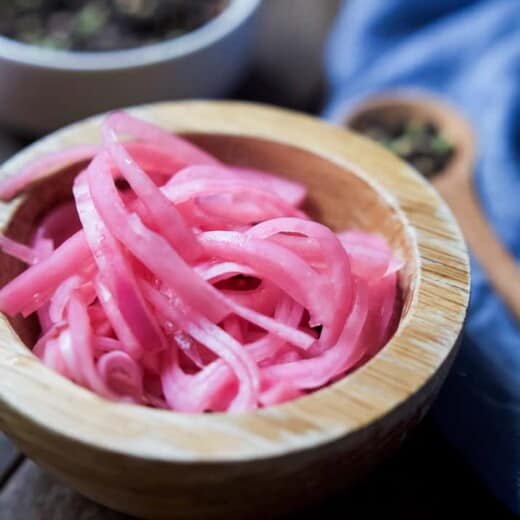 How to Make Pickled Onions
Author:

Prep Time:

5 minutes

Cook Time:

5 minutes

Total Time:

10 minutes

Yield:

2 cups

1

x

Category:

Condiment

Method:

Stove

Cuisine:

American
---
Description
Have you ever wanted to know How to Make Pickled Onions? Look no further. This method will have your onions pickled in minutes! They're delicious on just about anything, especially a burger!
---
1

large red onion, thinly sliced

1 cup

white distilled vinegar

1/2 cup

rice vinegar

1 tablespoon

sugar

1 tablespoon

sea salt

1 teaspoon

whole peppercorns

1 teaspoon

whole allspice
garlic clove
---
Instructions
Place onions, garlic clove, whole peppercorns, and whole allspice in a large mason jar.
Add white vinegar and rice vinegar to a small saucepan. Bring to an almost boil and add in sugar and sea salt. Cook until sugar and salt dissolve.
Pour vinegar mixture over onions. Cover and let sit out at room temperature for at least one hour. Cover tightly and store in refrigerator.
---
Keywords: how to make pickled onions, how to pickle onions, pickled onions recipe, pickled red onions recipe, pickled onions recipe with white vinegar, pickled red onions, quick pickled onions
Filed Under:
IF YOU MAKE THIS RECIPE, BE SURE TO SNAP A PIC AND HASHTAG IT #JOYFULHEALTHYEATS. I LOVE SEEING WHAT YOU MAKE!
More Condiment Recipes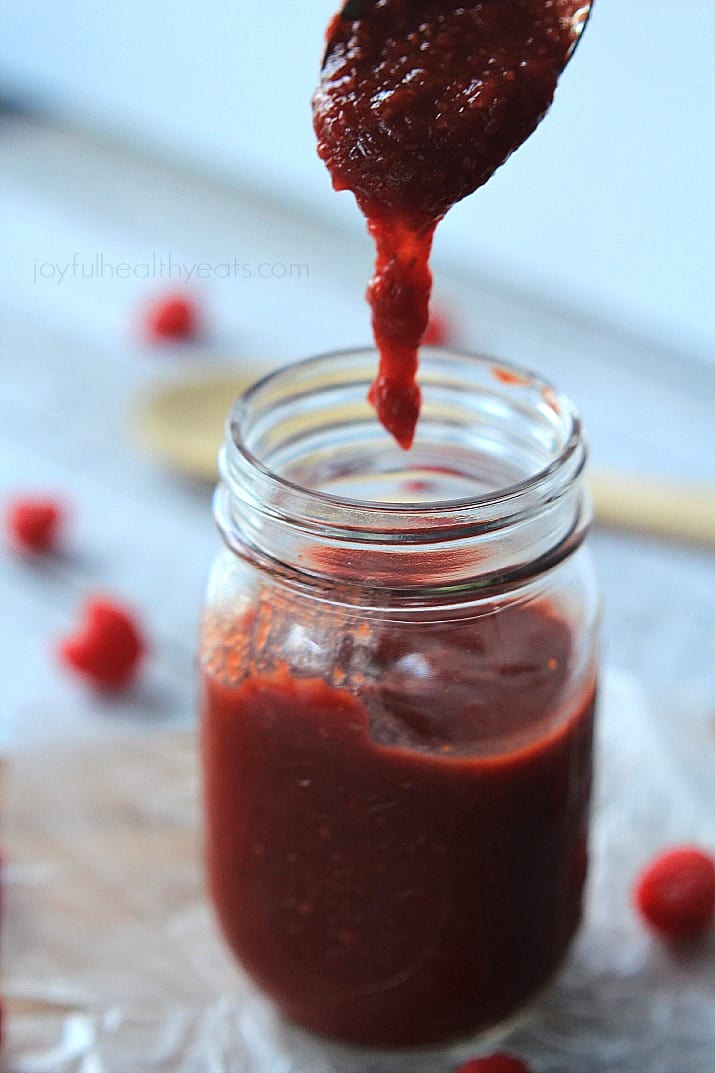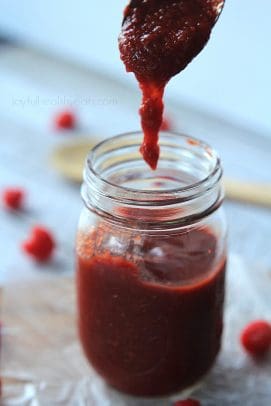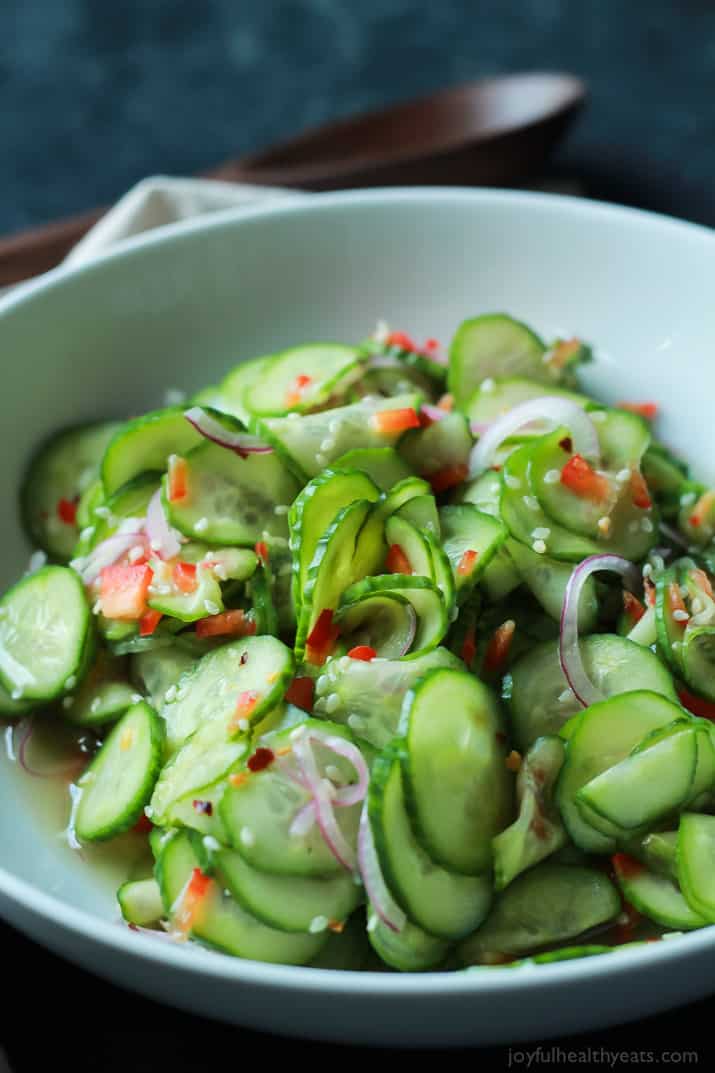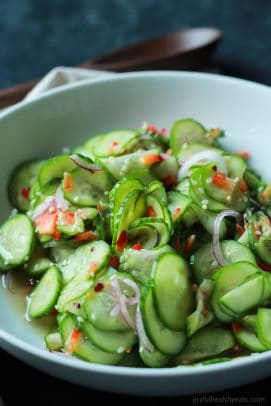 How to Make the BEST Balsamic Caramelized Onions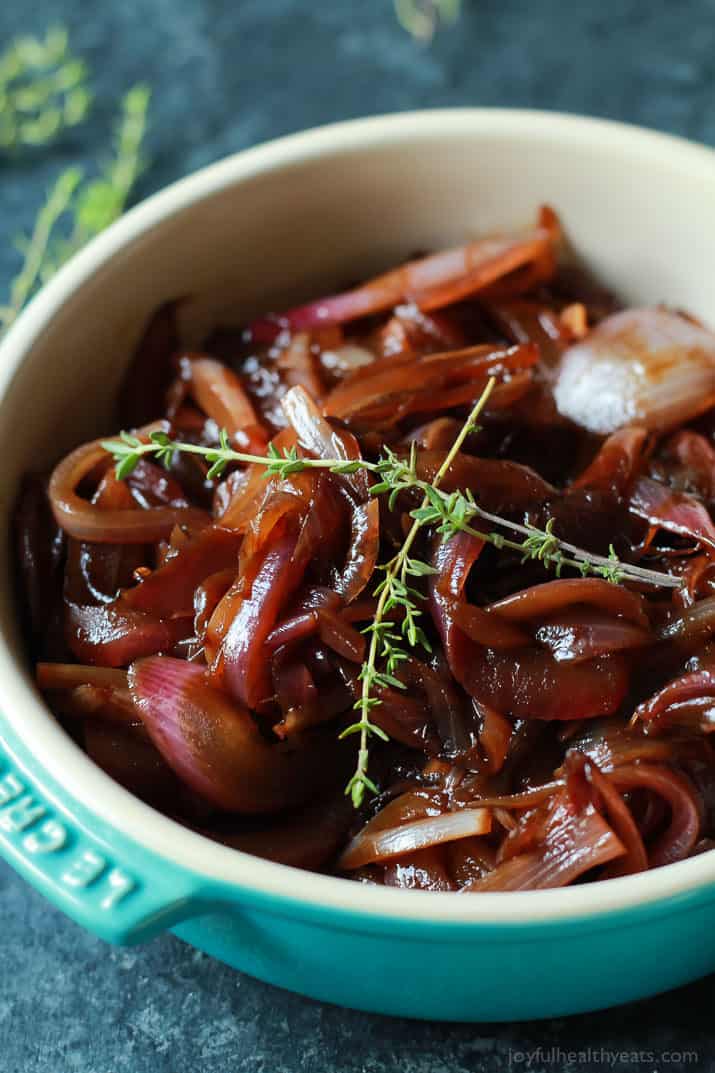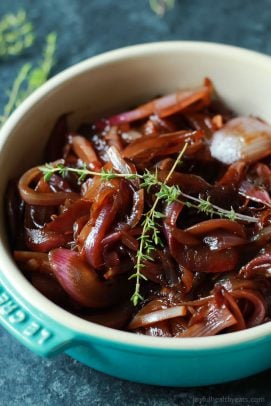 DON'T MISS A RECIPE ->
FACEBOOK | TWITTER | PINTEREST | GOOGLE+ | BLOGLOVIN