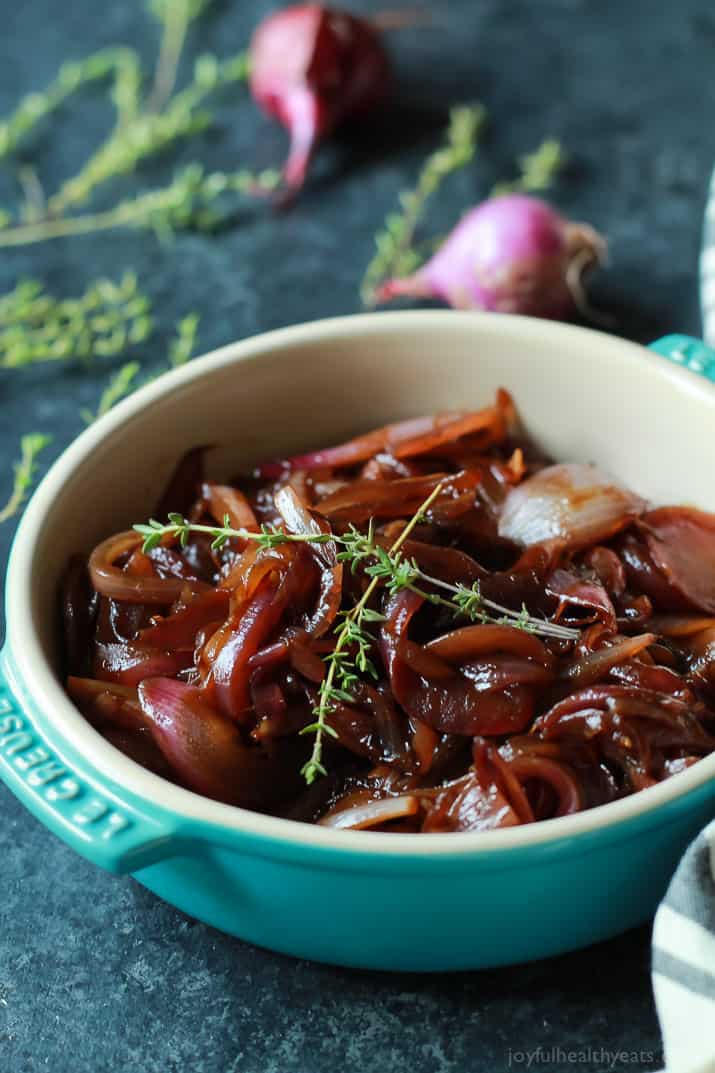 How to make the BEST Balsamic Caramelized Onions using only 5 ingredients, these are mind blowingly good!
Never in a million years would I have guessed that I would be doing what I'm doing now. A Food Blogger of all things!
I got my degree in Sports Wellness & Management with the sole purpose of being a gym rat at a college. I wanted to work for the Athletic Director as an administrative assistant and coach volleyball. Why an administrative assistant?
When I was in college all the athletes would go to the gym and hang out there. The admin at my college was super cool, she would sit and just listen to everything that was going on in our lives. There would be 2-10 people in her office at any given time, especially right before practice time, just talking and sharing life.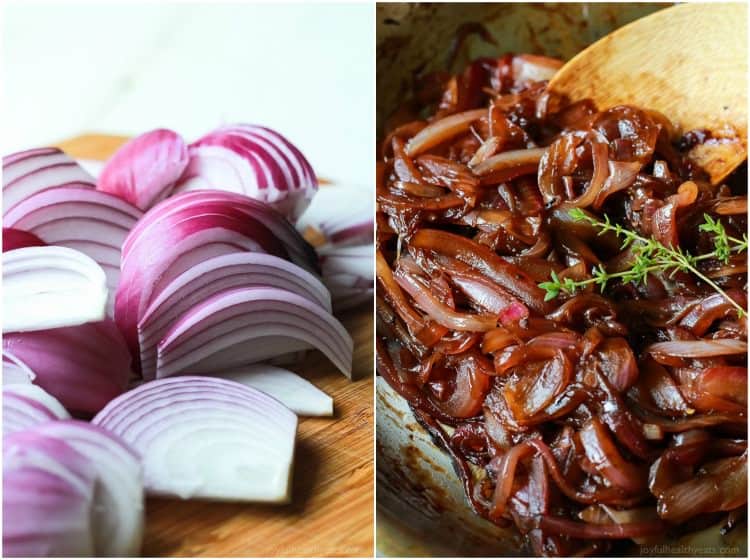 I loved that! I loved that she made herself available. It was like a ministry to her, to listen and encourage college students who are at a very transitional time in life! I wanted to be that person, the person who is always there to listen, will encourage and challenge you in the stage of life your in! For a long time I thought it was going to be in the sports world because that is what I grew up in. I played volleyball since I was five, traveled around the country for tournaments till I graduated from college. It was what I knew. Sports. I even got a degree in it!
When I got married my world was rocked and that first year was a tough one with lots of learning and letting go of my fears. But that desire to love, encourage, and challenge was still in my heart. Our second year of marriage I decided to lead a women's bible study at my house, it was life changing to say the least!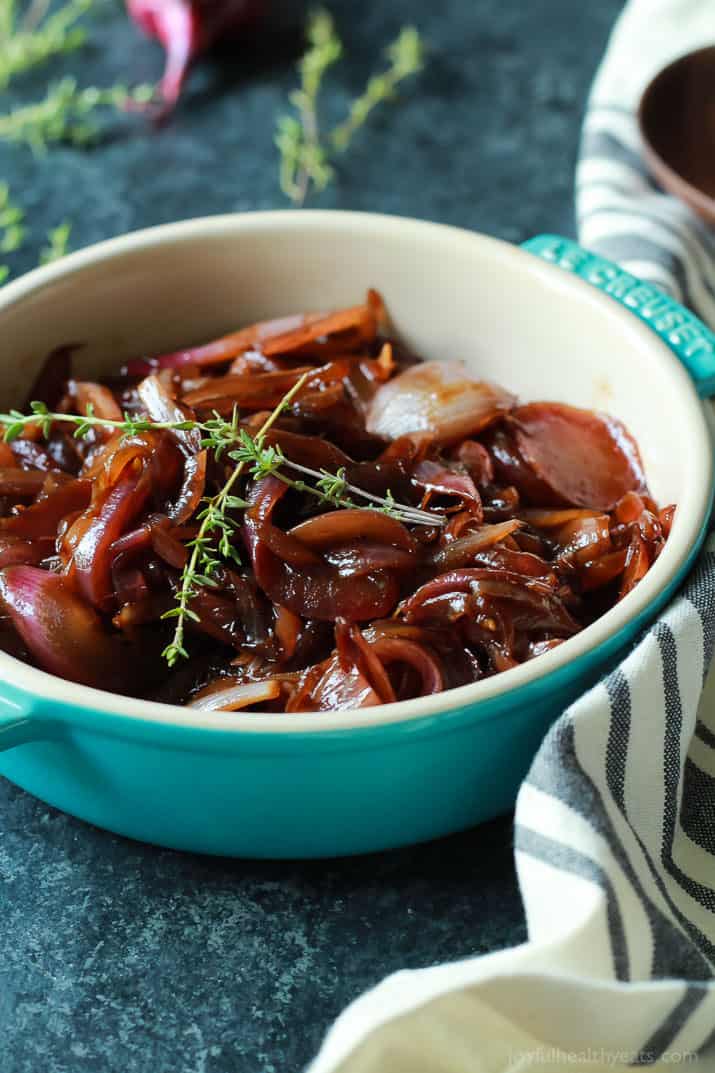 We went through lots of good books, "Captivating", "Lies Women Believe and the Truths that Set them Free", "Breaking Free", and "Do you Think I'm Beautiful?" Even as I write this tears start to come to my eyes, I think of where my heart was at that time. How broken it was and how much I was searching for something to fill it. I think of the break throughs each one of us had during this time. We were a group. Unbreakable. All of us in a time when God was calling us closer to himself. Then it ended and I have been searching for something like it ever since.
Once you have life changing community you can't get enough. It leaves it mark on you and you want more.
The fact that I'm a food blogger still shocks me, I never considered myself a creative person. But blogging has brought that out of me. I enjoy it. I love taking pictures and learning new things. And in God's goodness he has brought that community I have been craving back around. You are that community. My other blogger friends are that community! I am so thankful for that! I am able to listen again, to encourage, to challenge, and just love. And that is what makes my heart go pitter patter. Hugs to you!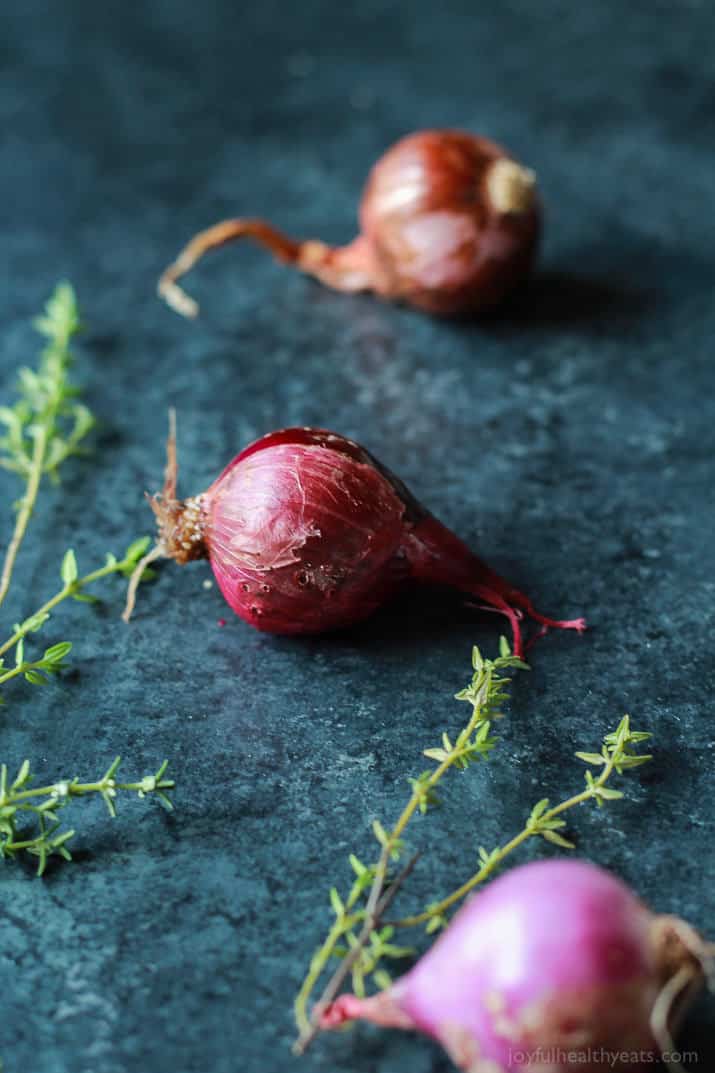 These Balsamic Caramelized Onions also make my heart go pitter patter. They are like candy! No.. really! I seriously could and DO eat these by the fork full! They take 20 minutes to make with only 5 ingredients and are absolutely life changing!
I made these to go as an accompaniment to some New York Strip Steaks for my husbands birthday dinner with friends a few weeks ago. My husbands business partner literally just ate these by themselves after he finished his meal. They are that good!
You could use these Balsamic Caramelized Onions as a condiment on a sandwich or burger, put it on top of steak or chicken, top it on a salad or add it to a crostini! They are multi purposeful which makes them even more amazing!
I don't have very many staples in the house, but these Balsamic Caramelized Onions are definitely one of them… well that and Balsamic Vinegar. 🙂 Hope you enjoy!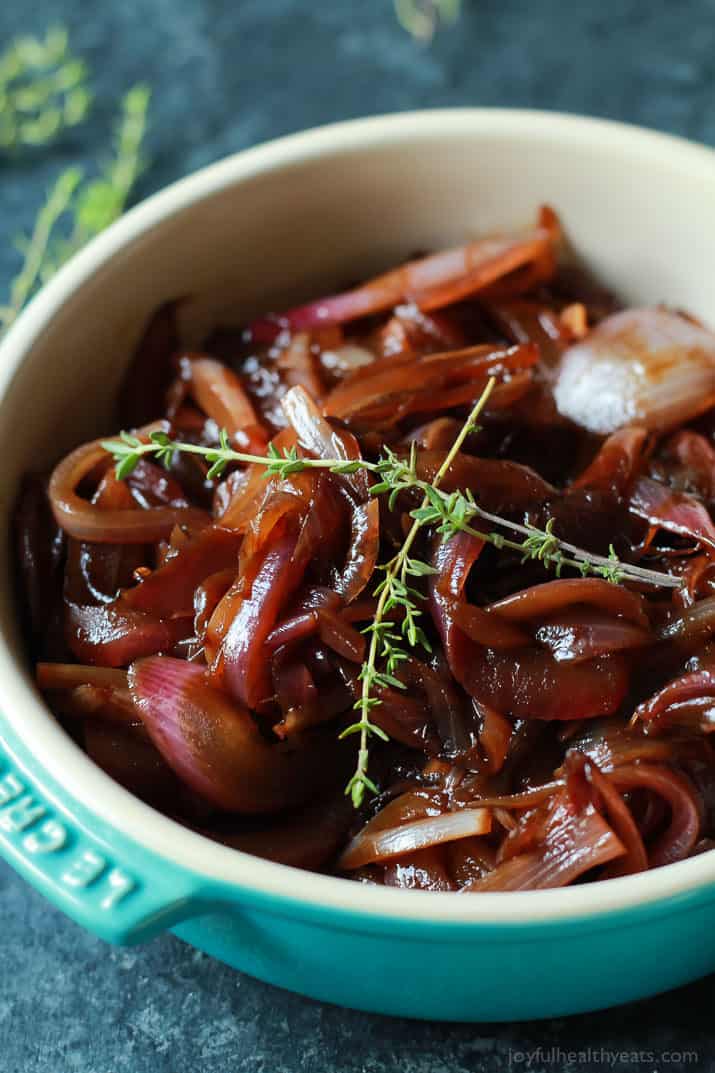 Print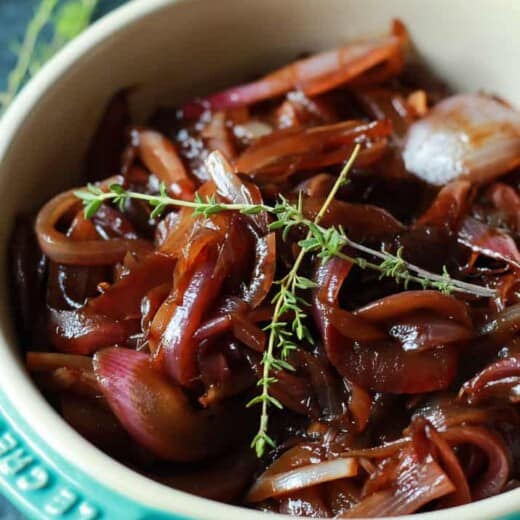 Balsamic Caramelized Onions
Author:

Prep Time:

2 mins

Cook Time:

20 mins

Total Time:

22 mins

Yield:

1 1/2 cups

1

x

Category:

Condiments, Vegetarian, Gluten Free, Side Dishes

Method:

Stovetop

Cuisine:

American
---
Description
These Balsamic Caramelized Onions are the perfect addition to pasta, sandwiches, and just about any meal!
---
2

red onions, sliced

1 tablespoon

butter

1/2 teaspoon

salt

1/4 teaspoon

ground pepper

3 tablespoons

balsamic vinegar
---
Instructions
Heat a medium size skillet to medium high heat.
Add butter and onions to pan.
Saute until onions are translucent, about 5-6 minutes. Add in salt and pepper.
Stir and continue to saute, stirring throughout for another 10 minutes. (the liquid will start to leave and onions will slightly brown, be sure they don't burn or blacken)
Add balsamic vinegar to onions, stir and saute for another 2-3 minutes until vinegar has soaked into onions.
Remove from heat. Store in air tight container for up to one week.
---
---
Nutrition
Serving Size:

2 tablespoons

Calories:

46

Sugar:

4 g

Sodium:

160 mg

Fat:

1 g

Carbohydrates:

8 g

Fiber:

1 g

Protein:

1 g

Cholesterol:

4 mg
Keywords: caramelized onions recipe, best caramelized onions, caramelized onions for burgers
Filed Under:
IF YOU MAKE ONE OF THESE RECIPES, BE SURE TO SNAP A PIC AND HASHTAG IT #JOYFULHEALTHYEATS. I LOVE SEEING WHAT YOU MAKE!
Want More Recipes with Caramelized Onions?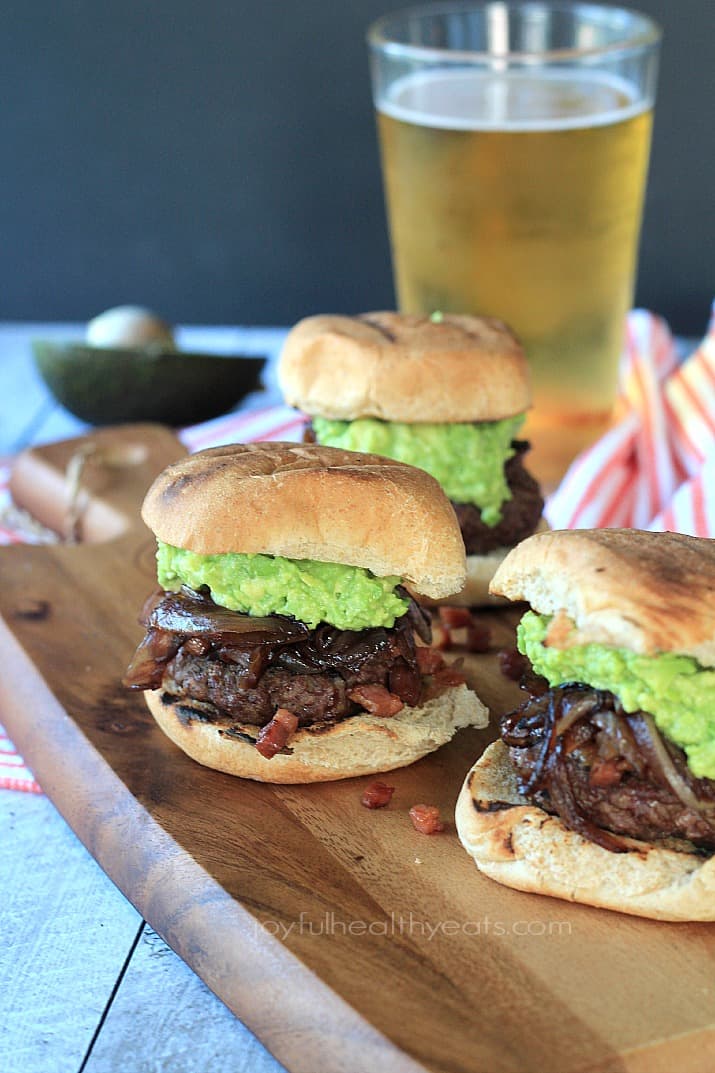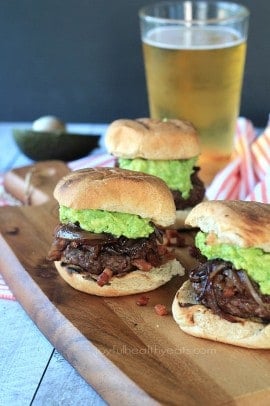 30 Minute Pita Pizza with Balsamic Caramelized Onions & Arugula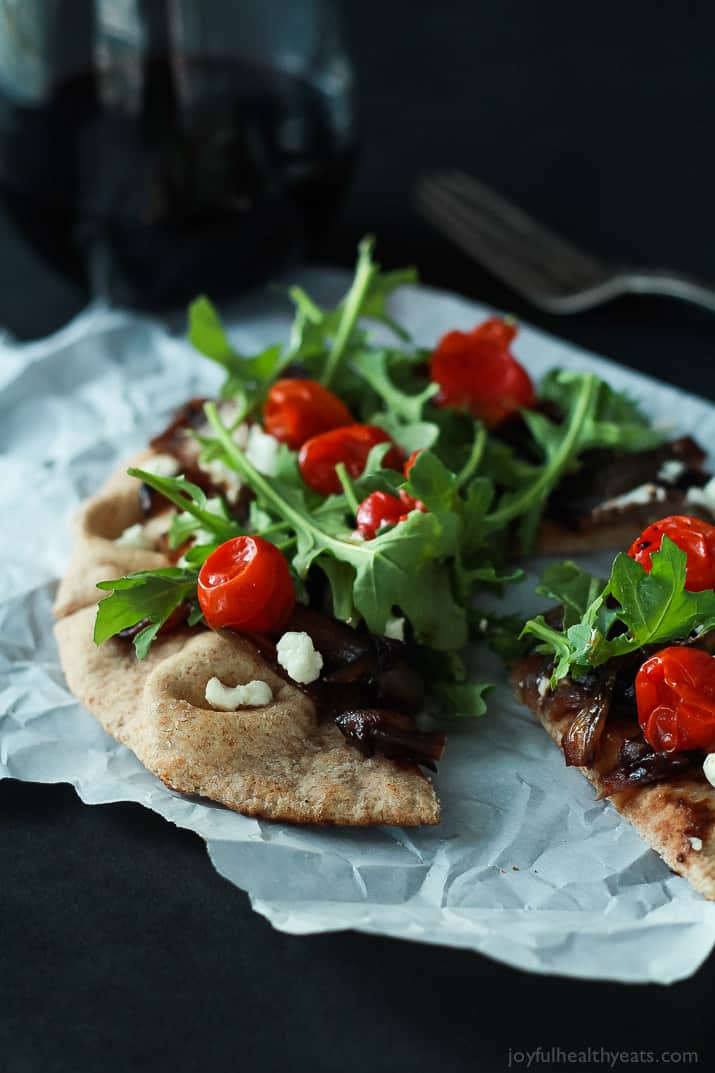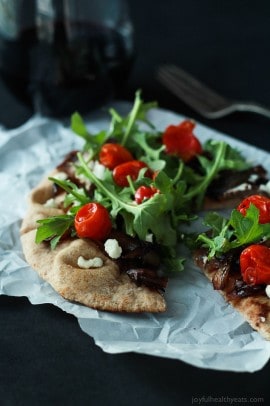 Pan Sautéed Brussels Sprouts with Bacon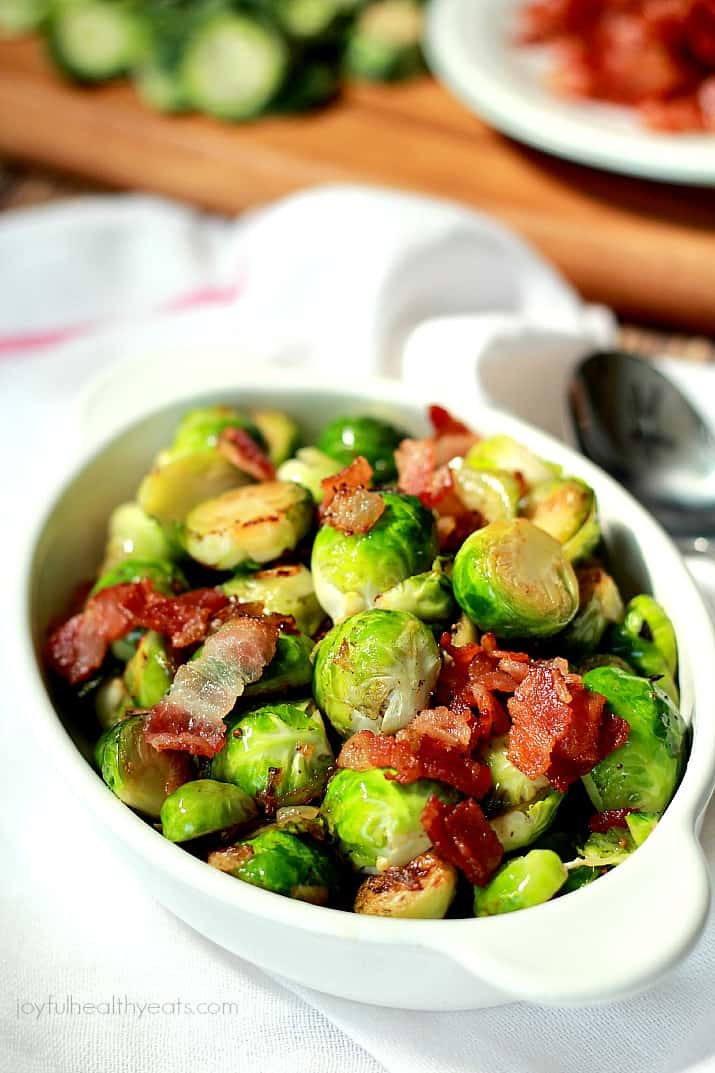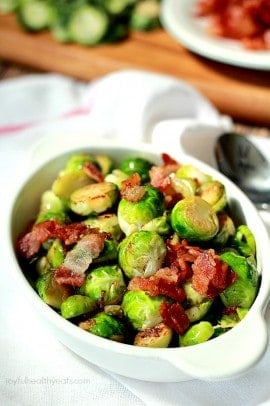 DON'T MISS A RECIPE ->
FACEBOOK | TWITTER | PINTEREST | GOOGLE+ | BLOGLOVIN