Easy Homemade French Onion Soup – this soup recipe is a classic and sure to please any crowd!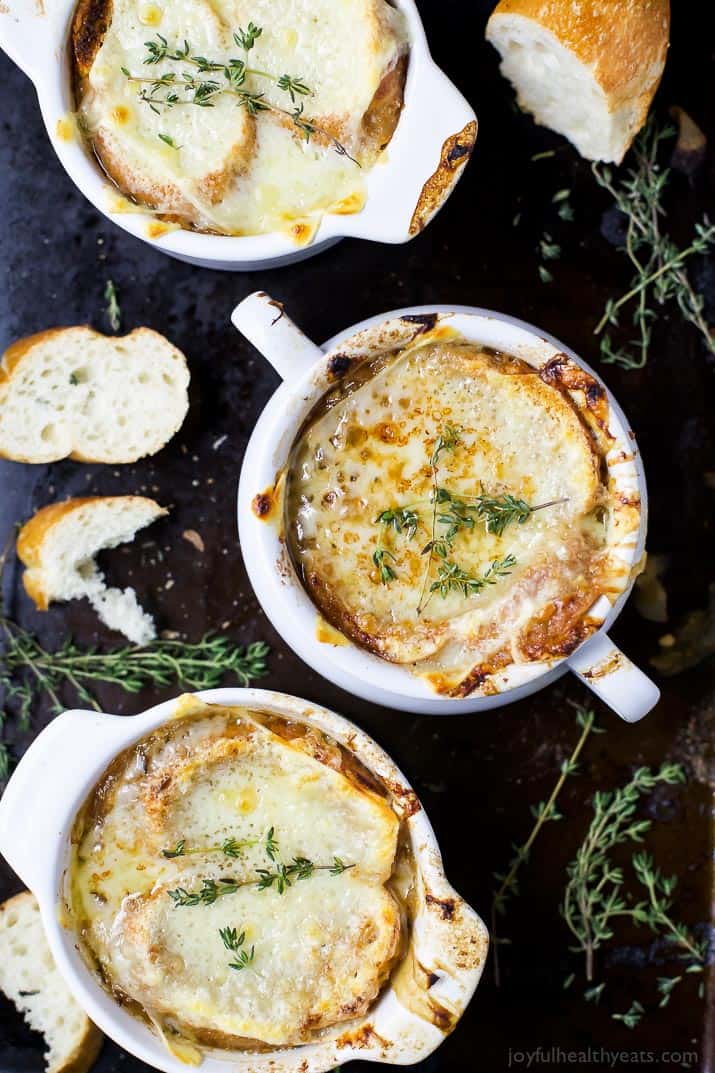 Easy Homemade FRENCH ONION SOUP – filled with caramelized onions, deep beef flavor then topped with gooey cheese! This French Onion Soup is a classic for the fall and sure to please any crowd!
French Onion Soup is probably one of my favorites to order at a Steak House.
I love the depth of flavor you get from caramelizing the onions over a long period of time. But then again, I'm a sucker for caramelized onions in general. I could eat them plain! Then the richness you get from the beef stock combined with the onions and fresh herbs is comforting to me. But of course, you can't forget the cherry on top! The baguette and melted cheese all over are the finishing touch to this classic soup!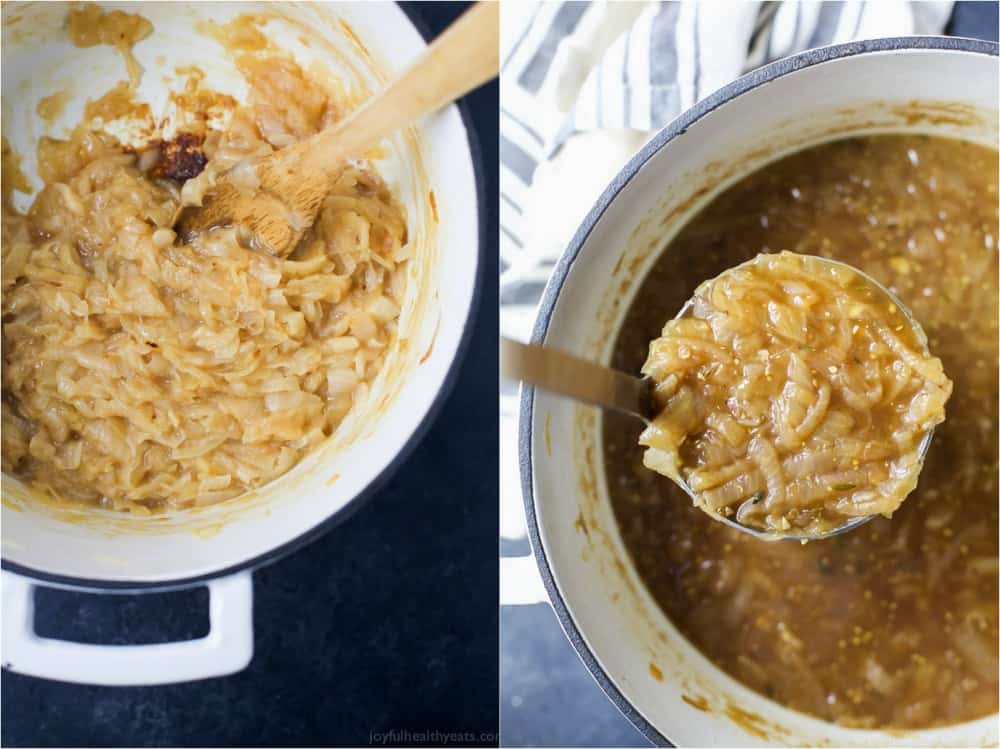 It's been a while since I've made it. But as I was sweating out the onions to get them nice and caramelized, it brought back all the feels.
This time around, things turned out a little different than they normally do.
The flavor was still great. But let's just say I had a little mishap with the end product.
I love the soup making process. And it is definitely a process, especially french onion soup. It's a labor of love because caramelizing that amount of onions takes about 40 minutes. But each ingredient you add along the way, adds another layer of flavor and more depth.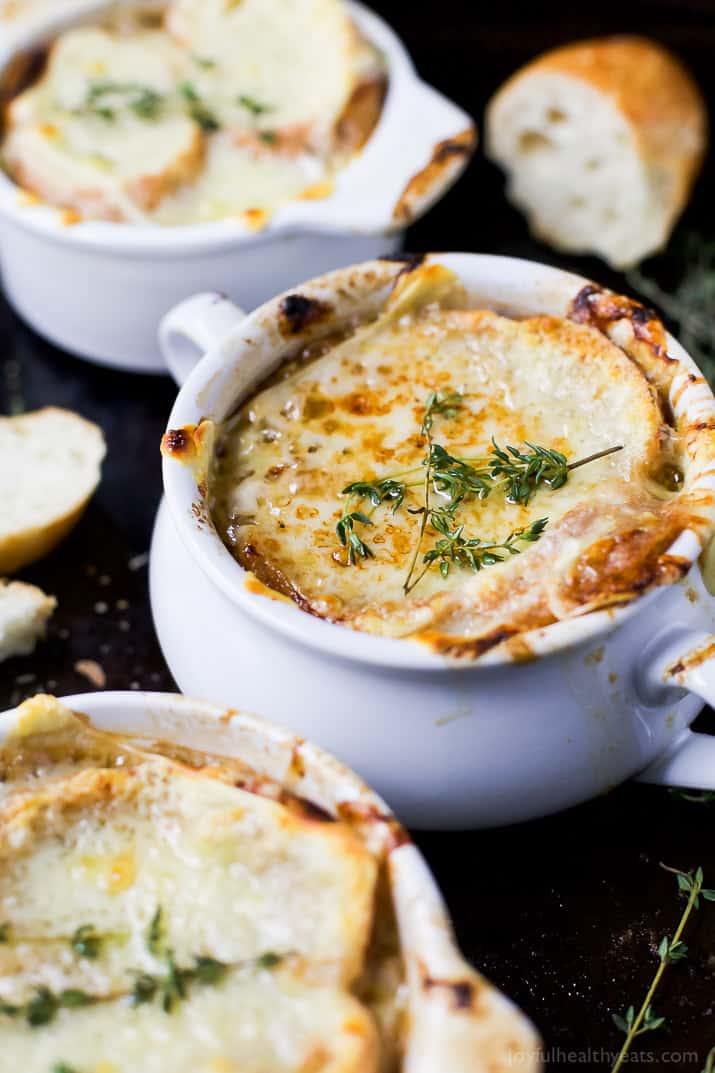 By the time I had finished the soup I was starving. Hello.. pregnant… eating for two! I preheated my broiler, started slicing the bread and was trying to move quickly through my photo process so I could get to the eating part! 🙂
I brought out a baking sheet and placed my oven safe crocks on the pan then started to ladle my soup in crock. I carefully topped each crock with a slice of baguette and two slices of cheese. I gave them a kiss goodbye and said "I'll see you in a little bit." But really I just stood at the oven door watching as the cheese started to bubble and turn golden brown while filling the house with smells!
Because I was being a "helicopter mom" with my soup, I opened the door and tried to decide if I needed more cheese. After all the photos need to look amazing and more cheese usually helps with that right?
Easy Homemade FRENCH ONION SOUP - this soup recipe is a classic and sure to please any crowd!
Click To Tweet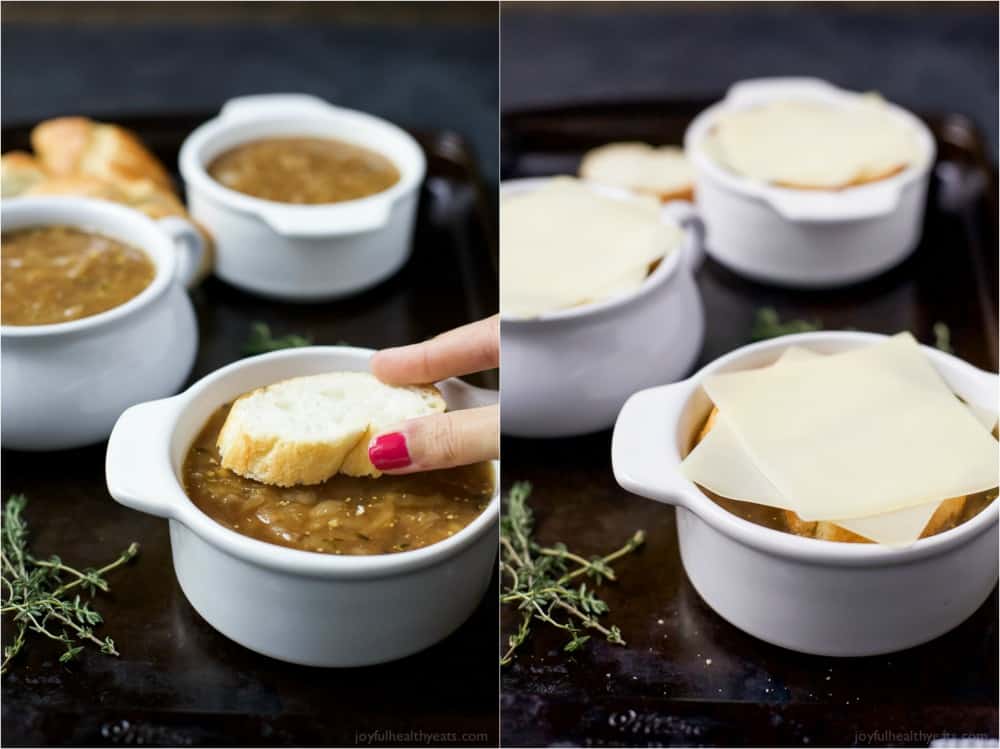 So I pulled the oven shelf out to get a better look. Left it open, walked over to get more cheese and CRASH!!!
French Onion Soup all over the oven door, the counter and all over the floor. Luckily I didn't break any glass, which was a miracle. Cason came running and I just shouted. SHOOOOOOT!! Mike got off the phone and came running into the kitchen to see what all the commotion was. At this point Cason was asking me a zillion questions and all I could think was… I need to get these back in the oven so I can get my gooey cheese shot.
Such is the life of a food blogger! It's all about the shot. Ugh.
So. I started to salvage what I had left and reapply the bread and cheese, while Mike worked on the floor. I wiped the oven door off and put the soups back in the oven. As soon as I shut the door I started to see French Onion Soup slowly start to run down in between the glass panels of the oven door.
Ugh… really!!! How in the world, did it get in between the panels!!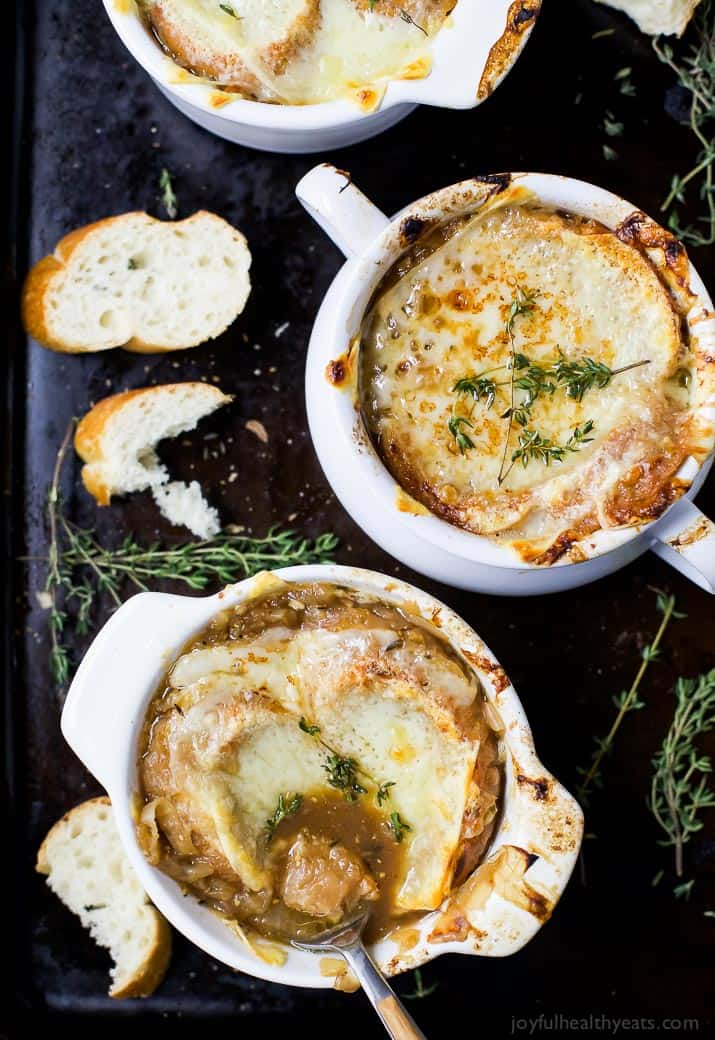 I took a deep breath. Pulled the soups out, took my amazing photos then dove into the soup with my family. WHICH THEY LOVED!!!
And spent the rest of the night disassembling the oven door (which had 3 different glass panels… who puts three!!!), scrubbing them until the crusted cheese and dark brown onion soup came off and then reassembling the doors so we had an oven again. Needless to say. Next time I will be taking the baking sheet out of the oven to top it with cheese instead of leaving it in the oven with the oven shelf pulled out.
Even though my story is crazy. This French Onion Soup still totally hit the spot. It was everything I had hoped and dreamed it would be. Rich with flavor and so comforting, you get pops of fresh herb and then the buttery Gruyere cheese! I added a few surprise ingredients to give it a little tang that I know you're going to love!
Bon Appetit friends!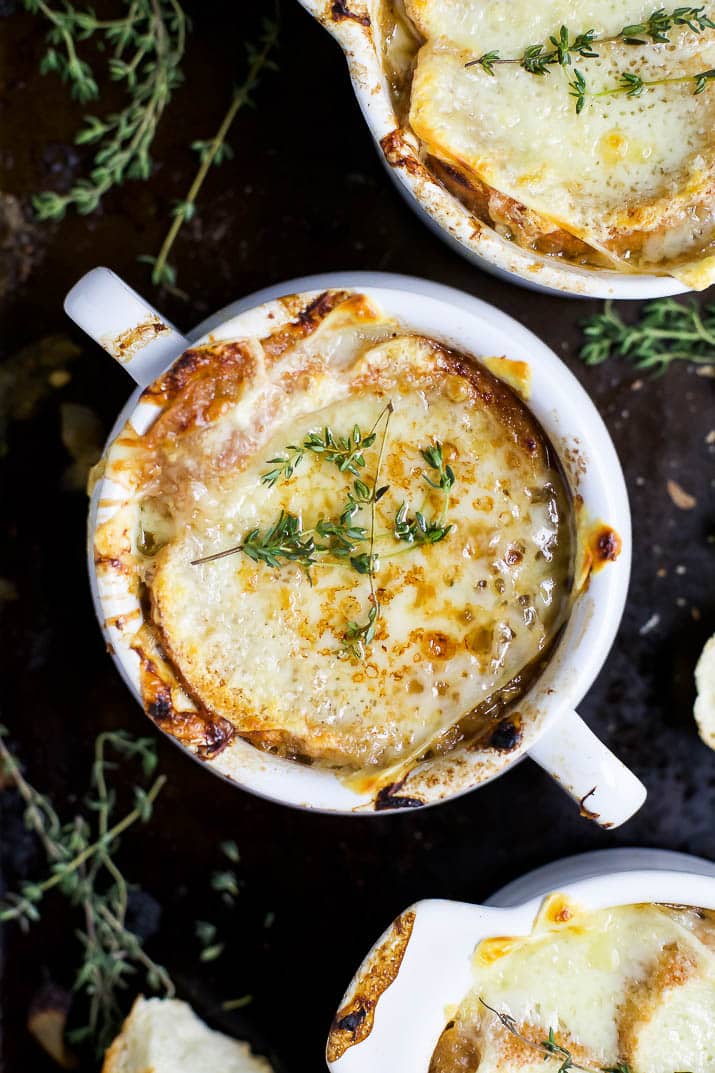 Print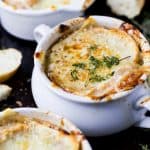 Classic French Onion Soup
Author:

Prep Time:

10 mins

Cook Time:

55 mins

Total Time:

1 hour 5 mins

Yield:

4-6

Category:

Soup, Kid Friendly,
---
Description
Easy Homemade FRENCH ONION SOUP – filled with caramelized onions, deep beef flavor then topped with gooey cheese! This French Onion Soup is a classic for the fall and sure to please any crowd!
---
Ingredients
2 tablespoons unsalted butter
5-6 large sweet onions, sliced
4 garlic cloves, minced
2 tablespoons fresh thyme
1 1/2 tablespoons stone ground mustard
1/2 cup white wine (Could use white cooking wine)
1 teaspoon worcestershire sauce
6 cups beef stock
1 bay leaf
salt and fresh black pepper to taste
baguette
sliced gruyere cheese
---
Instructions
Heat a large dutch oven to medium high heat.
Add butter to the pan along with all the sliced onions. (It will probably overflow, but don't worry they will go down)
Cook onions until they are cooked down by more than half and caramelized (a light brown color) not burnt. About 40 minutes, stirring occasionally.
Next add in garlic, thyme, stone ground mustard and worcestershire sauce to the onions. Stir everything in and saute for 1 minute.
Add in the white wine to deglaze the pan. Scraping all the good flavor off the bottom of the pan.
Next add in the beef stock and a bay leaf. Stir around and then cover.
Simmer for 10-15 minutes.
Remove bay leaf from soup.
Preheat oven to HIGH broiler.
Scoop desired amount of soup into oven safe bowls and place the bowls on a baking sheet.
Add a slice of baguette to each bowl, along with 1-2 slices of gruyere cheese.
Place under broiler until the cheese is bubbling, about 2-4 minutes. (keep an eye on it)
Remove from broiler and serve!
---
Nutrition
Serving Size:

1 bowl of soup (bread & cheese not included in nutrition info)

Calories:

189

Sugar:

17 g

Sodium:

601 mg

Fat:

4 g

Saturated Fat:

3 g

Carbohydrates:

27 g

Fiber:

3 g

Protein:

7 g

Cholesterol:

10 mg
IF YOU MAKE THIS RECIPE, BE SURE TO SNAP A PIC AND HASHTAG IT #JOYFULHEALTHYEATS. I LOVE SEEING WHAT YOU MAKE!
Want More Comfort Soup Recipes?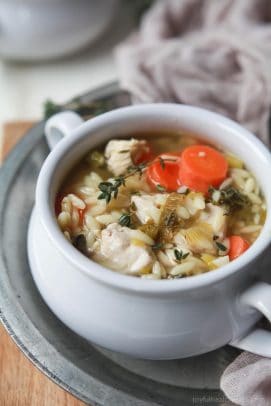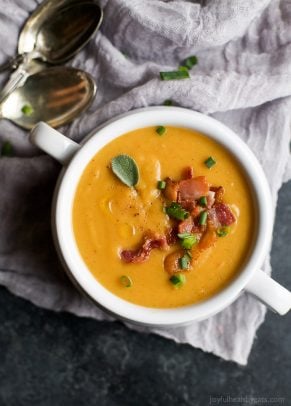 Creamy Bacon Roasted Butternut Squash Soup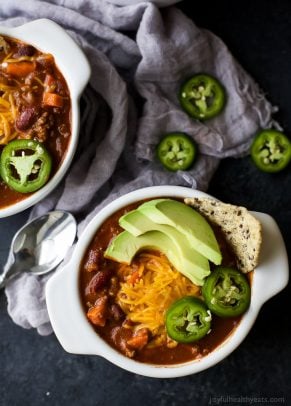 DON'T MISS A RECIPE ->