These Ground Beef Enchilada Zucchini Boats are a healthy, gluten free version of beef enchiladas that you'll fall in love with! They're full of bold flavors and only 222 calories a serving!
If you're looking for a classic beef enchilada, you should make The Ultimate Beef Enchilada Recipe!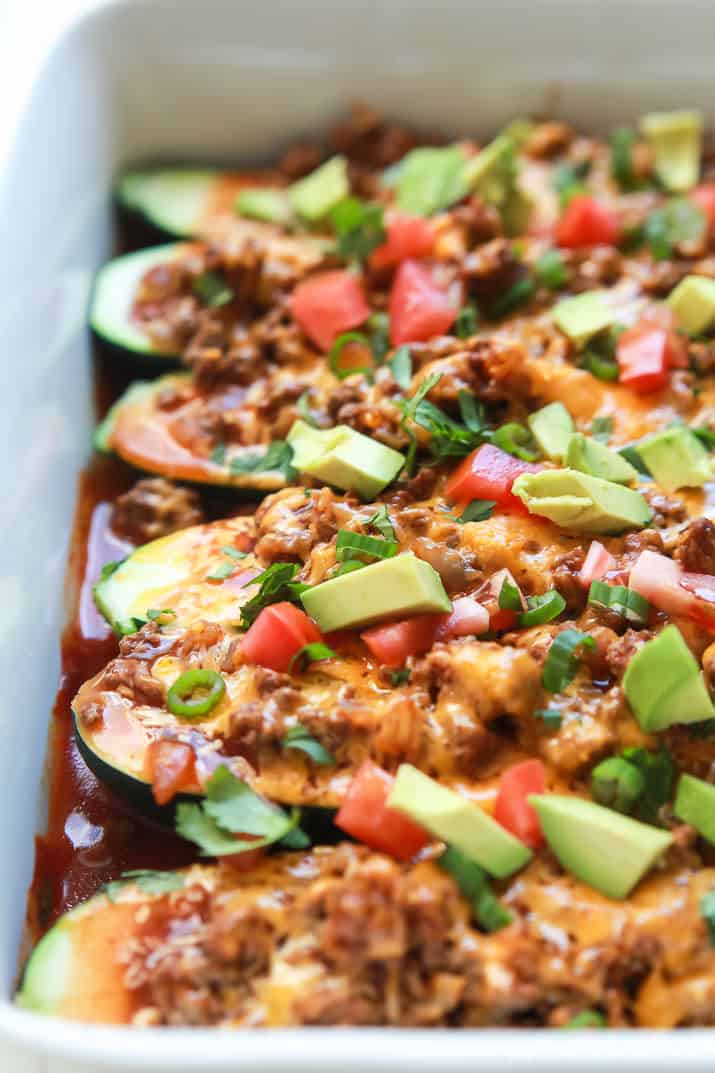 Ground Beef Enchilada Zucchini Boats
This past Sunday morning I stood in our church watching the colorful lights bounce around the ceiling, musicians playing their instruments on stage, and worship music flash across the big screen. As I stood there I had a hard time singing. Normally the worship portion of church is my favorite time. But that day it was different.
I was upset. I didn't want to worship. I felt like the past month or so, God just up and left me and all the things I felt he had promised were forgotten. Why should I worship? So I stood there silent … just watching.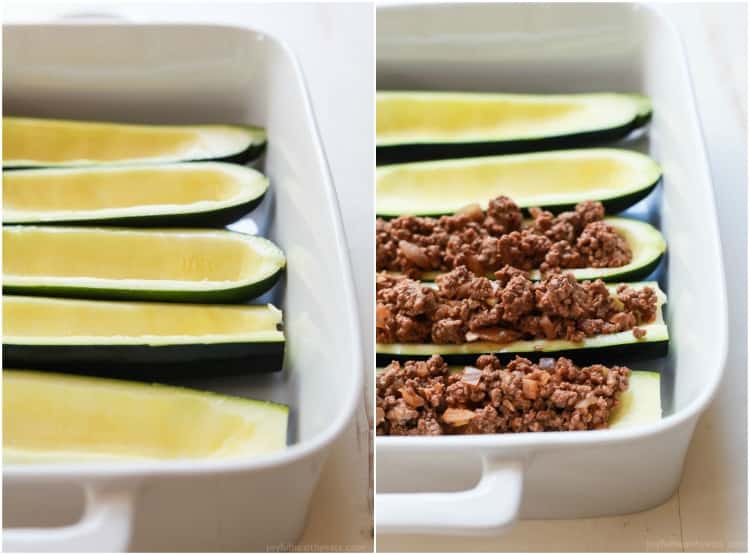 My world felt like it had been rocked by things God has spoken to my friends and I but weren't coming to fruition. I had been struggling with continuing to "believe" that God had good things for me or even cared when seemingly it was pointless. Why have hope when you're going to be disappointed, or at least that was my thought process.
On top of all these feelings our family started to have some drama after the holidays. I felt like I went right back to the "protect, defend, and be the strong person" mode I cloaked myself with when I was growing up. This mode is not healthy. I take on the problems of other people and make them my own, then try to solve everything in MY OWN strength. I didn't even recognize I was doing it, it's like second nature, luckily my husband did recognize it. One morning he felt called to send me a youtube video of the song Just Be Held by Casting Crowns.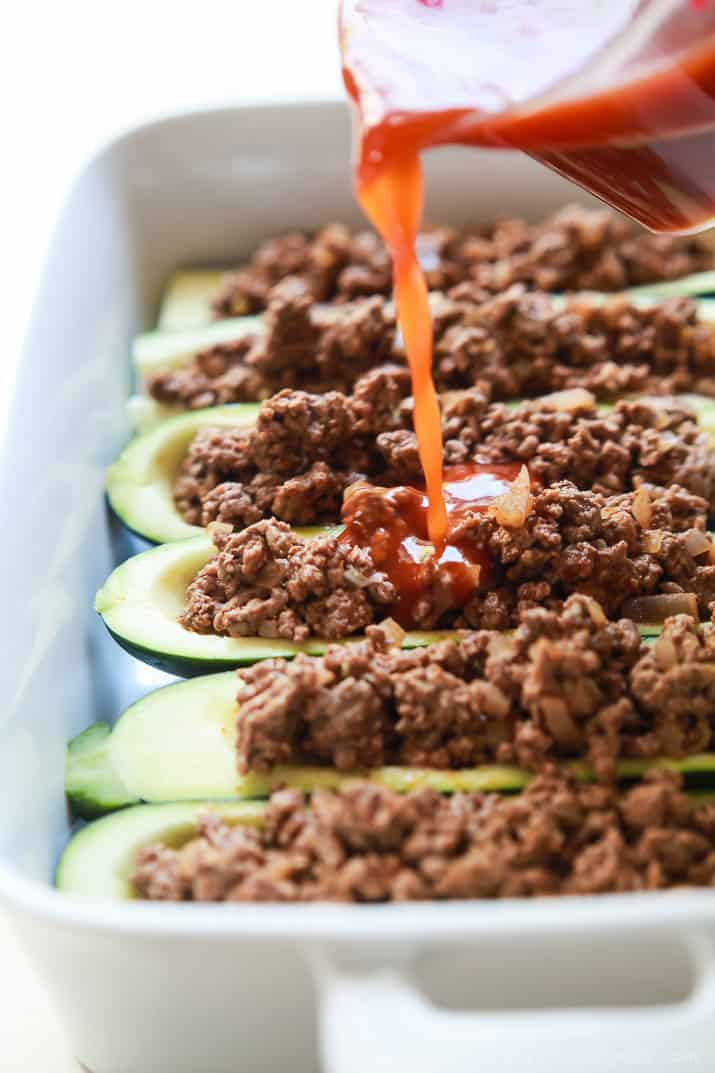 As I listened to it tears just started to stream down my face. It was everything I was feeling and more.
Hold it all together
Everybody needs you strong
But life hits you out of nowhere
And barely leaves you holding on
And when you're tired of fighting
Chained by your control
Theres freedom in surrender
Lay it down and let it go
So when you're on your knees and answers seem so far away
You're not alone, stop holding on and just be held
Your worlds not falling apart, its falling into place
I'm on the throne, stop holding on and just be held
Just be held, just be held
If your eyes are on the storm
You'll wonder if I love you still
But if your eyes are on the cross
You'll know I always have and I always will
And not a tear is wasted
In time, you'll understand
I'm painting beauty with the ashes
Your life is in My hands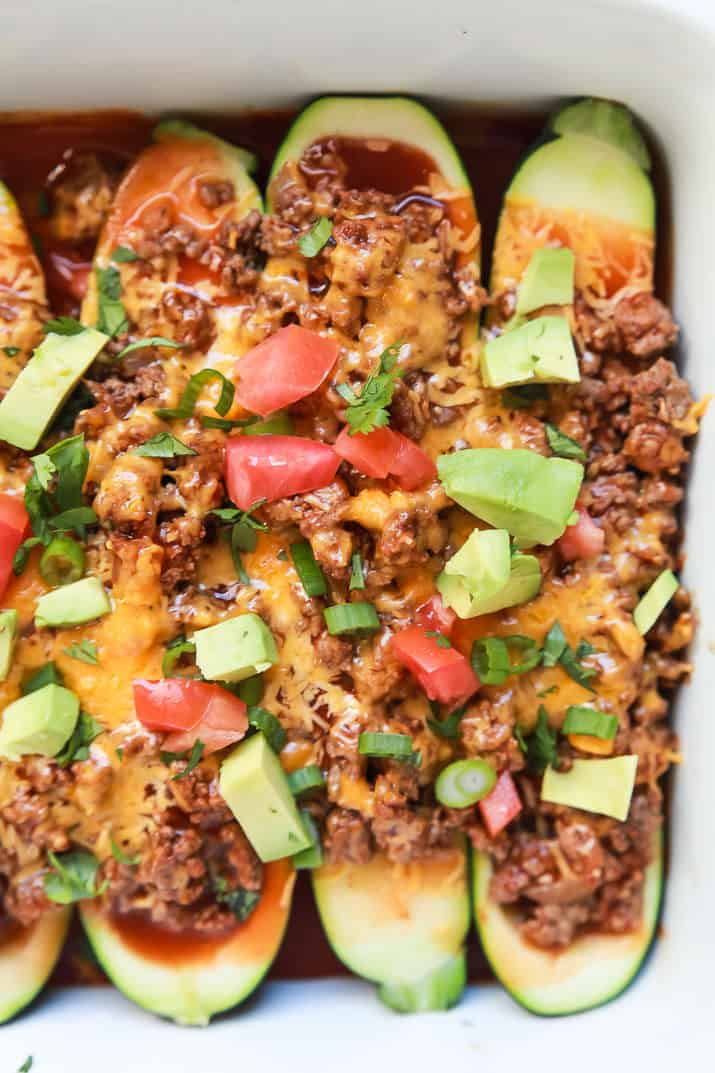 I think I just felt like everything was spiraling out of control. I have had to have faith so many times in life and I just got tired. Tired of fighting. I wondered if God really cared, why things had to be so hard. Then God used Mike to drop this song on my lap like a present with a big red bow on it.
Just be Held. That's all he wanted to communicate. Rest in me. Let go of control and Be Held. I love you and I always will. I'm working on a beautiful masterpiece with your life.
I was focusing on the storm instead of the beauty of the cross! I love how God has perfect timing and speaks right to our heart when we need it most! Don't you?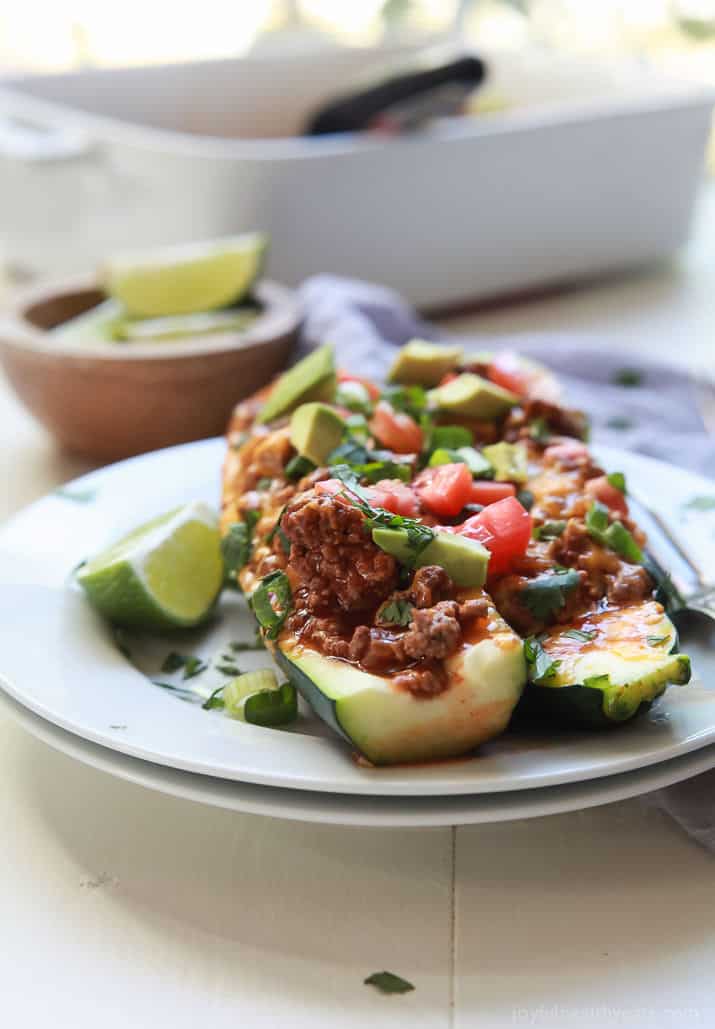 Ok, now on to this incredible dinner recipe you will big puffy heart!
Why I Love This Beef Enchilada Recipe
This culinary masterpiece was born out of my full on passion for Mexican food! I wanted to create a way to eat enchiladas without all the carbs but still loaded with flavor! These Ground Beef Enchiladas are stuffed into a carved zucchini boat instead of wrapped in a tortilla. Sounds strange at first but believe me, you will be floored by the outrageous flavor and won't even miss the tortilla!
These Enchilada Zucchini Boats are ready in just over 30 minutes, only 222 calories a serving, filled with bold tex-mex flavor you'll love and absolutely gorgeous to look at. I mean really… look at all those colors!
I seriously cannot wait to hear what you guys think of this one! Bon Appetite my friends!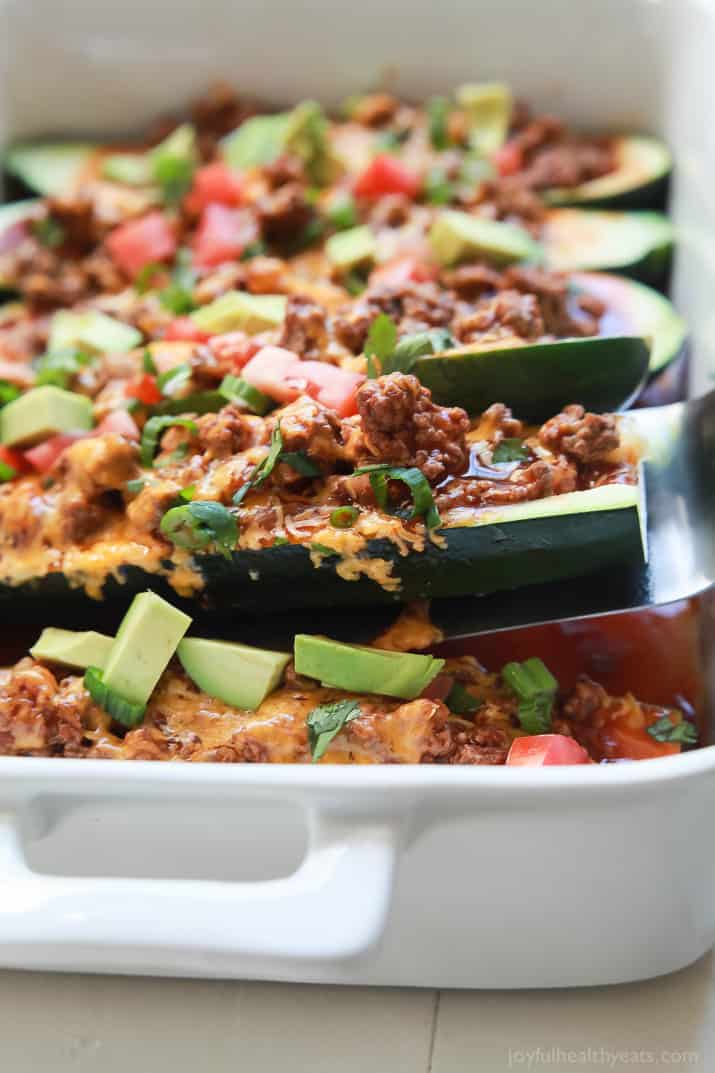 Print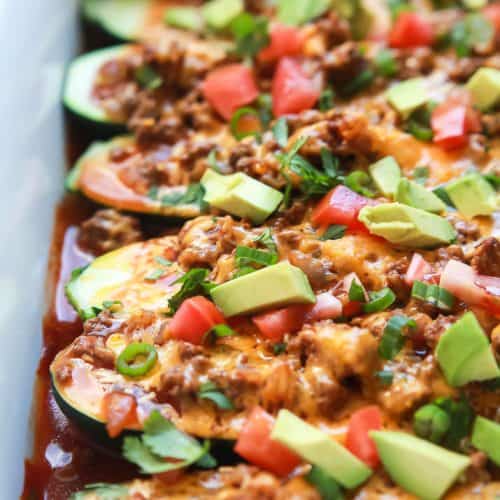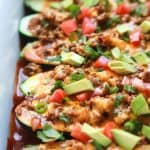 Ground Beef Enchilada Zucchini Boats
Author:

Prep Time:

5 minutes

Cook Time:

35 minutes

Total Time:

40 minutes

Yield:

4

-

6

servings

1

x
Category:

Dinner

Method:

Oven

Cuisine:

American
---
Description
These Ground Beef Enchilada Zucchini Boats are a healthy, gluten free version of beef enchiladas that you'll fall in love with! They're full of bold flavors and only 222 calories a serving!
Scale
Ingredients
1 tablespoon

olive oil

1/2 cup

diced red onion

1

lb. lean ground beef

2

garlic cloves, minced

1 teaspoon

smoked paprika

1 teaspoon

ground cumin
salt to taste

3

large zucchinis, sliced in half lengthwise and scooped out to create a "boat"

1 1/2 cups

of old el paso red enchilada sauce

1/2 cup

shredded cheddar cheese

1/4 cup

chopped fresh cilantro
optional toppings:
diced tomatoes
diced green onions
diced avocado
Instructions
Heat a medium large skillet to medium high heat.
Add olive oil and onions to the pan. Saute until translucent or soft, about 2-3 minutes.
Add in the ground beef. Cook until there is no more pink in the meat, breaking up meat into small pieces along the way.
Add in minced garlic, smoked paprika, ground cumin, and then salt to taste. Stir until combined.
In a 13×9 inch baking dish, add zucchini boats flesh side facing up. Scoop the ground beef mixture into the "boat" part of the zucchini.
Pour the red enchilada sauce over the filled zucchini boats.
Sprinkle with shredded cheddar cheese.
Cover the baking dish with tin foil. Bake for 20 minutes at 350.
Remove the tin foil from the pan. Bake for another 5 minutes uncovered.
Garnish with fresh cilantro. Serve.
Add additional toppings for more deliciousness! 🙂
---
Nutrition
Serving Size:

1 1/2 boats

Calories:

222

Sugar:

6 g

Sodium:

491 mg

Fat:

10 g

Carbohydrates:

11 g

Fiber:

2 g

Protein:

21 g

Cholesterol:

58 mg
Keywords: zucchini boats, zucchini boats recipe, beef enchiladas recipe, easy beef enchiladas, beef enchiladas, ground beef enchiladas, how to make beef enchiladas, healthy enchiladas, best zucchini recipe
IF YOU MAKE THIS RECIPE, BE SURE TO SNAP A PIC AND HASHTAG IT #JOYFULHEALTHYEATS. I LOVE SEEING WHAT YOU MAKE!
Other Healthy Beef Recipes
Honey Sriracha Mongolian Beef with Rice Noodles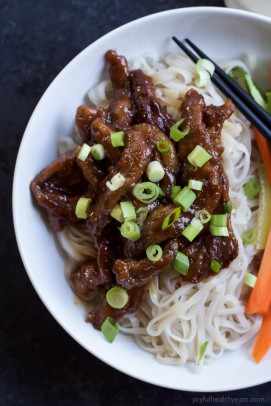 Chili Rubbed Flank Steak with Chimichurri on Parsnip Puree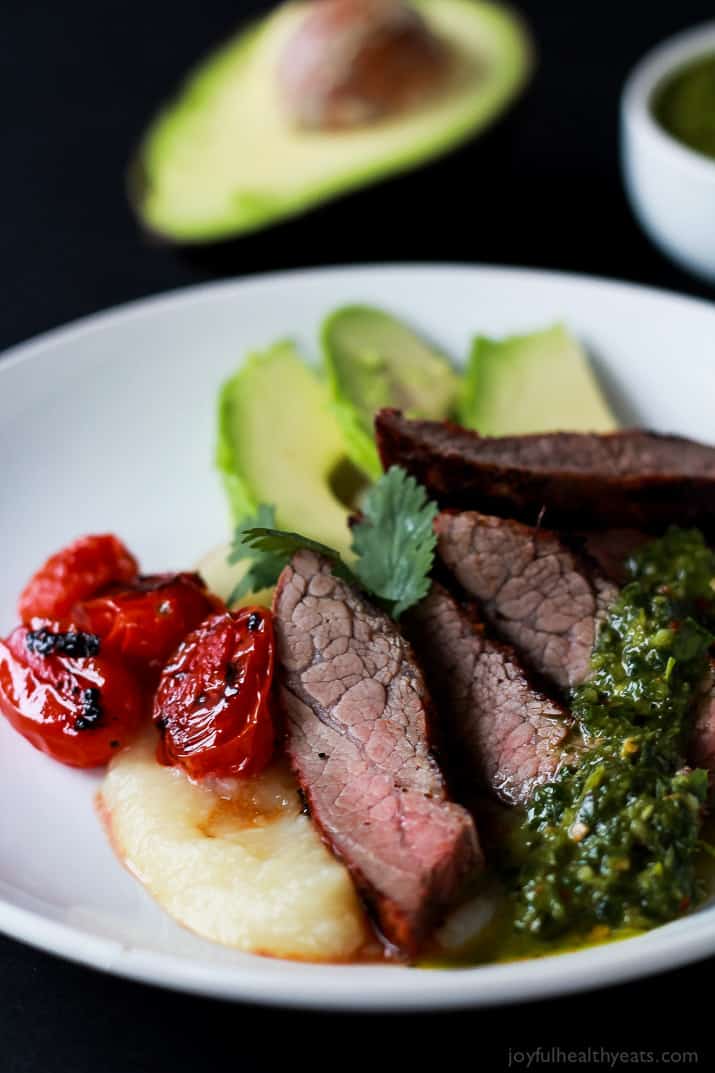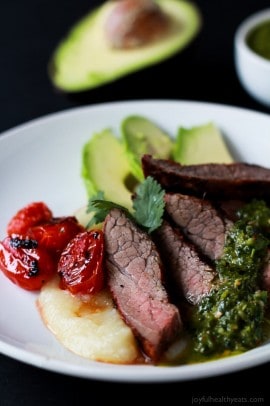 Beef & Broccoli Stirfry with Cauliflower Rice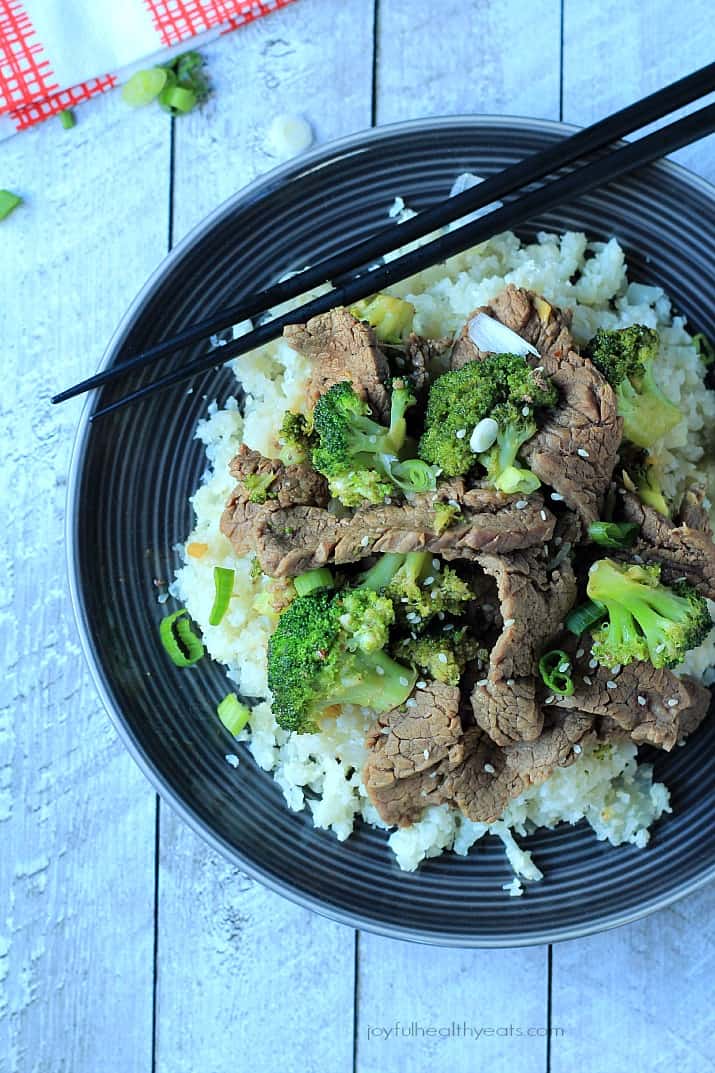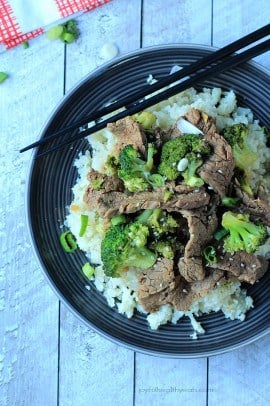 DON'T MISS A RECIPE ->