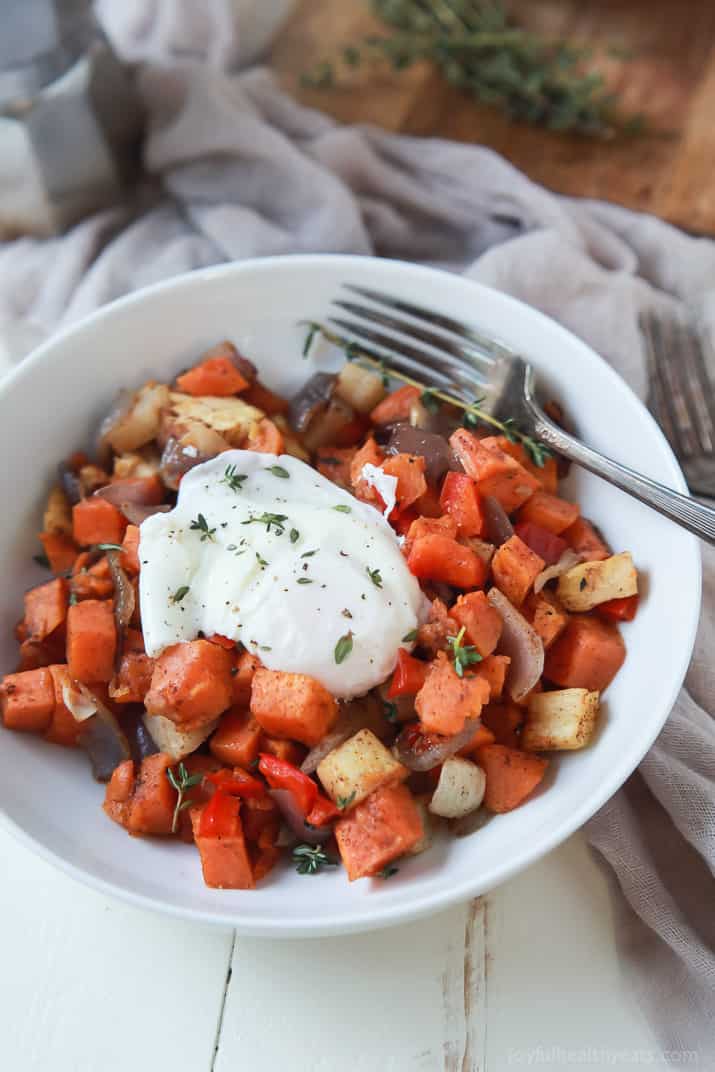 An Easy Sweet Potato Hash topped with Poached Eggs, you'll love the secret spice in this hash! It's the perfect breakfast or dinner for your family and easily fits into Paleo Diet.
Food has always been a passion for me. It started with just eating and consuming everything in site with no regard for the caloric intake. As I got older, probably high school and college years, I started to see people in my family struggle with their weight. I vowed I would never get to that point. I had lived a healthy lifestyle by default because I was an athlete but once those college days were done I realized I needed to start paying attention to what I was putting in my body or I would end up in a place I didn't want to be.
I think like a lot girls "weight loss" or "weight maintenance" consisted of rationing food or skipping meals. Less calories in, more weight lost, makes sense right? Wrong! And let's be honest, it's not a fun way to live either.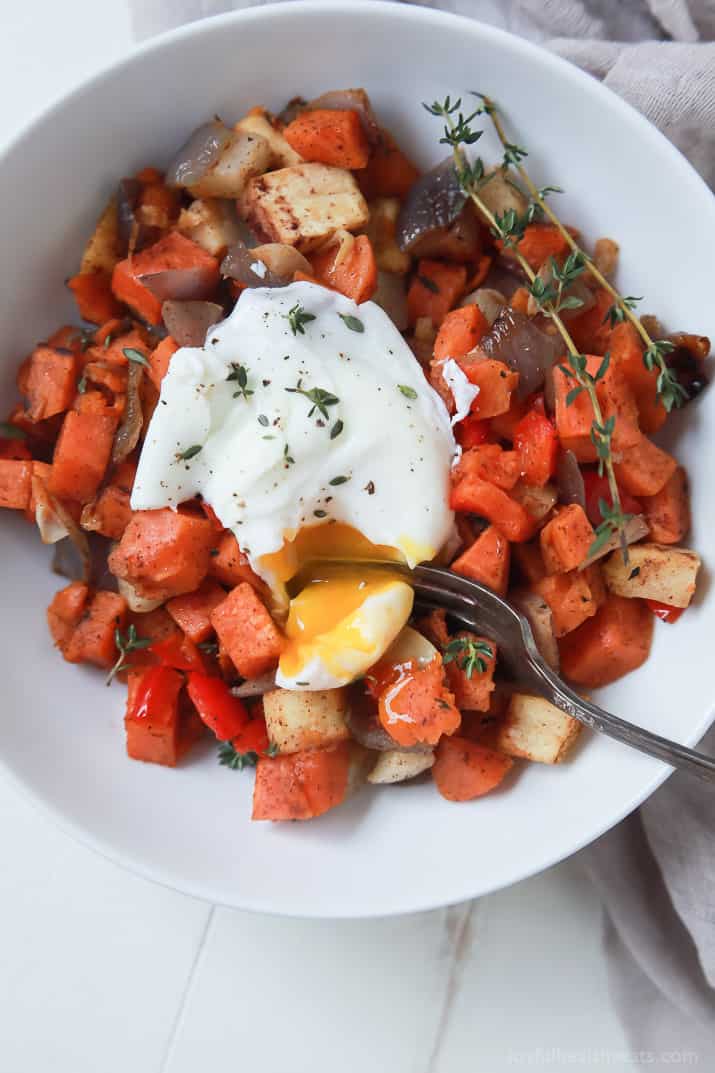 When I started blogging and writing a "healthy blog" at that, I didn't realize how much my own diet needed to change. I needed to live what I was preaching and skipping a meal during the day was NOT healthy!
Your body needs the nutrients to grow, to keep your metabolism up, to continue to build new cells and to fight off infection.
In general we tend to eat a lot of vegetables, lean proteins (like ground turkey, fish, chicken, some red meat), some fruits, and whole grains. I hadn't really paid too much attention to buying organic verse non organic to be honest. I would buy organic in the "dirty dozen" but that was it, though I had always been interested in learning more about it. Why do people buy organic? Why do you buy organic? Or grass fed beef?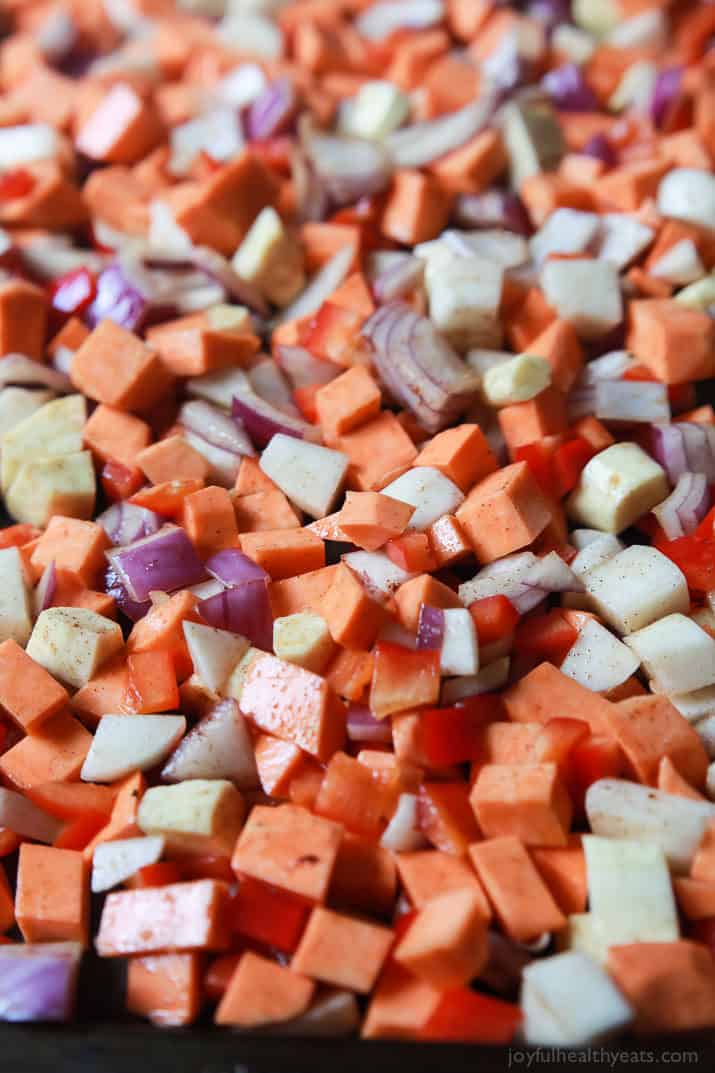 Recently I took a trip to Chicago that was sponsored by Best Food Facts, a organization that helps to try and answer all your health and food related questions by going directly to the experts in that field. I was in Chicago for three days, we ate at some amazing restaurants, visited a local farm (Spirit Farms) and heard from the owners about what they do, and rode a combine while they were harvesting corn. My favorite part and probably where I had my "aha" moment was at dinner the last night where we met with an Chicago Based Organic Apple Farmer on one end of the table and then a Monsanto Representative (which is one of the leading companies producing GMO products for farmers) on the other end.
Needless to say it was very interesting and I felt like I was able to hear both sides, the pro's and con's.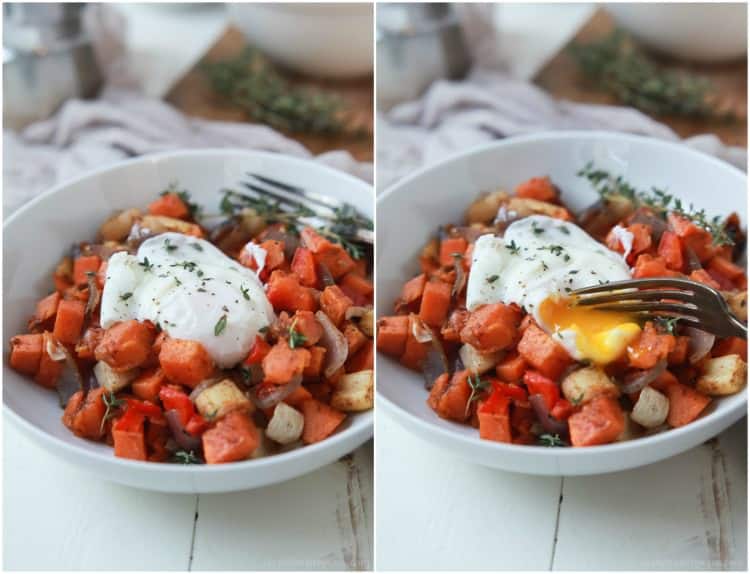 So here are the take-ways I got from that dinner!
GMO – stands for Genetically Modified Organism
What they are actually doing is taking beneficial traits from one plant (such as drought tolerant, insect resistant, etc) and introducing it to another to create a strong crop that will thrive in the environment it grows in. For example, creating a GMO crop that helps things grow in an African environment under the extreme heat, lack of water, and aggressive bugs will help produce crop when otherwise those crops would most likely not survive. That would be beneficial correct?
Farmers are not loading their crops with pesticides. Pesticides are expensive and farming is a business. Every time the farmer has to go out and "spray" the crops they have to pay for the application in which they are applying the chemical (i.e. a sprayer, tractor, or 3rd party), the fuel, and the cost of the chemical itself! It is not cost effective to continue to spray the crops.
In the United States, the Environmental Protection Agency (EPA) regulates pesticides at the national level under the authority of the Federal Insecticide, Fungicide and Rodenticide Act (FIFRA) and other laws. Basically meaning the crop needs to be at a certain level of pesticide residue before it can be sold to consumers.
There are 8 crops out on the market that are GMO (and 2 that have been approved but are not yet commercially available) this includes Corn (field and sweet), Soybeans, Cotton, Canola, Alfalfa, Sugar Beets, Papaya (Hawaiian), and Squash. There are two others that have been FDA approved but are not commercially available yet; the artic apple and innate potato. Anything else that says "Non GMO" is just a marketing ploy by the seller. It's kinda like when products say "gluten free" when they are naturally gluten free. One of those, "well duh" moments! But people still buy it.
The facts are, our population is growing and we need to produce more food as we grow. Just like technology, medical, and architecture continues to be innovative; farming has to continue to grow in becoming more effective if we are going to continue to feed our population.
Overall, before this trip I was on the Non GMO team but wasn't completely sure why. I just knew I didn't want to fill my body with chemicals. After the trip I think that there is a need for both GMO crops and non GMO crops in this day and age. We as a culture need to continue to be innovative with farming but also need to be conscious of the things we are putting on our crops. We need to be able to feed a growing population, while also trying to help other undeveloped countries who do not have the technology we have grow their own crops successfully! GMO crops help in this manner. Those are my thoughts and a few of the things I've learned.
Now on to the recipe side of things, this Easy Sweet Potato Hash with Eggs! The Sweet Potatoes are diced into small pieces and roasted along with a combination of other root vegetables, ground cinnamon, and fresh thyme! The variety of flavors from the hash alone will have your head spinning, then topped with a poached egg and runny yoke.
MMMMmmmm… ya'll! You will fall in love with this dish! The Roasted Sweet Potato Hash can easily be made the day ahead so all you'd need to do is make the eggs in the morning to have one delicious high protein breakfast! It's comforting, healthy, full of flavor, and easy to make and definitely for you!
Bon Appetite my friends!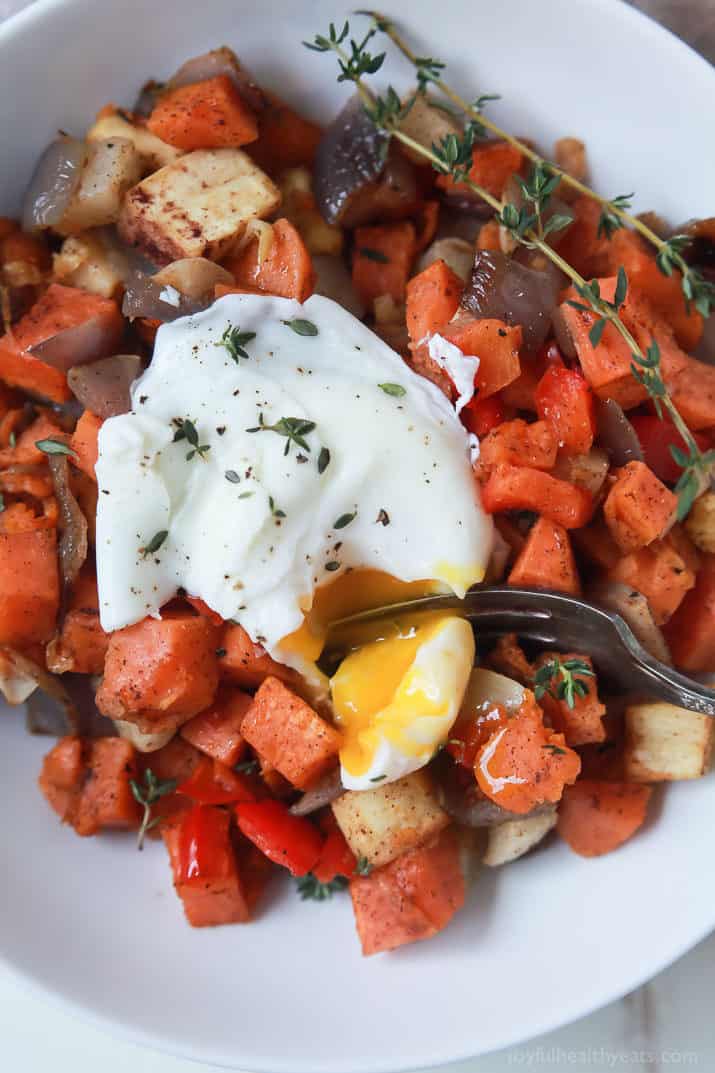 ** This post was sponsored by BestFoodFacts.org. All opinions and statements are 100% my own and from my heart. **
Print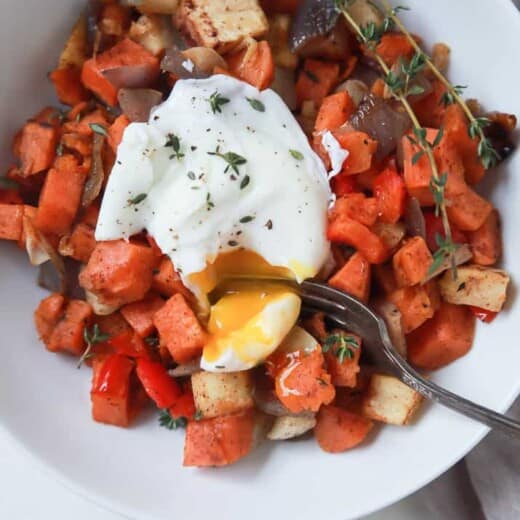 Root Vegetable Hash with Poached Egg
Author:

Prep Time:

5 mins

Cook Time:

30 mins

Total Time:

35 mins

Yield:

4

1

x

Category:

Gluten Free, Breakfast, Kid Friendly, Vegetarian

Method:

Stovetop/Oven

Cuisine:

American

Diet:

Gluten Free
---
Description
An Easy Sweet Potato Hash topped with Poached Eggs, you'll love the secret spice in this hash! It's the perfect breakfast or dinner for your family and easily fits into Paleo Diet.
---
2

turnips, 1/4″ dices

2

parsnips, 1/4″ dices

2

sweet potatoes, 1/4″ dices

1

red pepper, 1/4″ dices

1

red onion, 1/4″ dices

2

–

3

tablespoons olive oil

1/2 teaspoon

ground cinnamon

1 teaspoon

salt

2 teaspoons

fresh thyme, diced

6

eggs
---
Instructions
Preheat oven to 400 degrees.
In a large bowl add, turnips, parsnips, sweet potatoes, red pepper, red onion, olive oil, ground cinnamon, and salt. Toss to coat everything.
Spread vegetables out on a baking sheet.
Bake for 20 minutes. Remove from oven, using a spatula move the vegetables around. Bake for another 5 minutes. Remove from oven, top with fresh thyme, and divide among 4 plates.
Poach eggs. Top each plate with two eggs. Serve
---
---
Nutrition
Serving Size:

1 1/2 – 2 cups hash + 2 eggs

Calories:

326

Sugar:

14 g

Sodium:

785 mg

Fat:

16 g

Carbohydrates:

33 g

Fiber:

8 g

Protein:

13 g

Cholesterol:

317 mg
Keywords: roasted root vegetables, hash recipe, paleo breakfast
Filed Under:
IF YOU MAKE THIS RECIPE, BE SURE TO SNAP A PIC AND HASHTAG IT #JOYFULHEALTHYEATS. I LOVE SEEING WHAT YOU MAKE!
Want More Breakfast Recipes?
Cajun Shrimp with Smokey Gouda Grits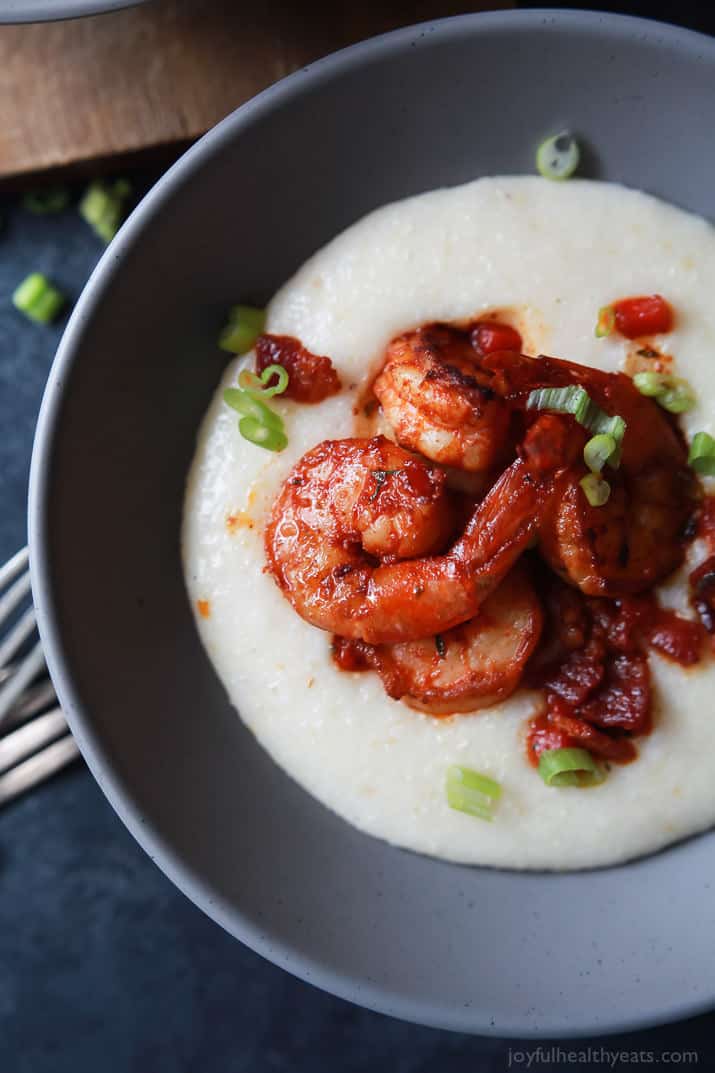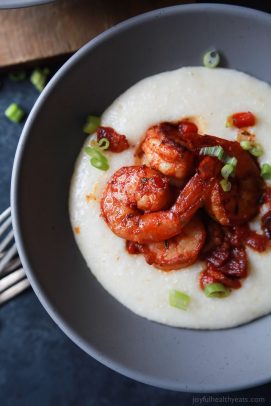 Fluffy Whole Wheat Pancakes with Apple Cinnamon Compote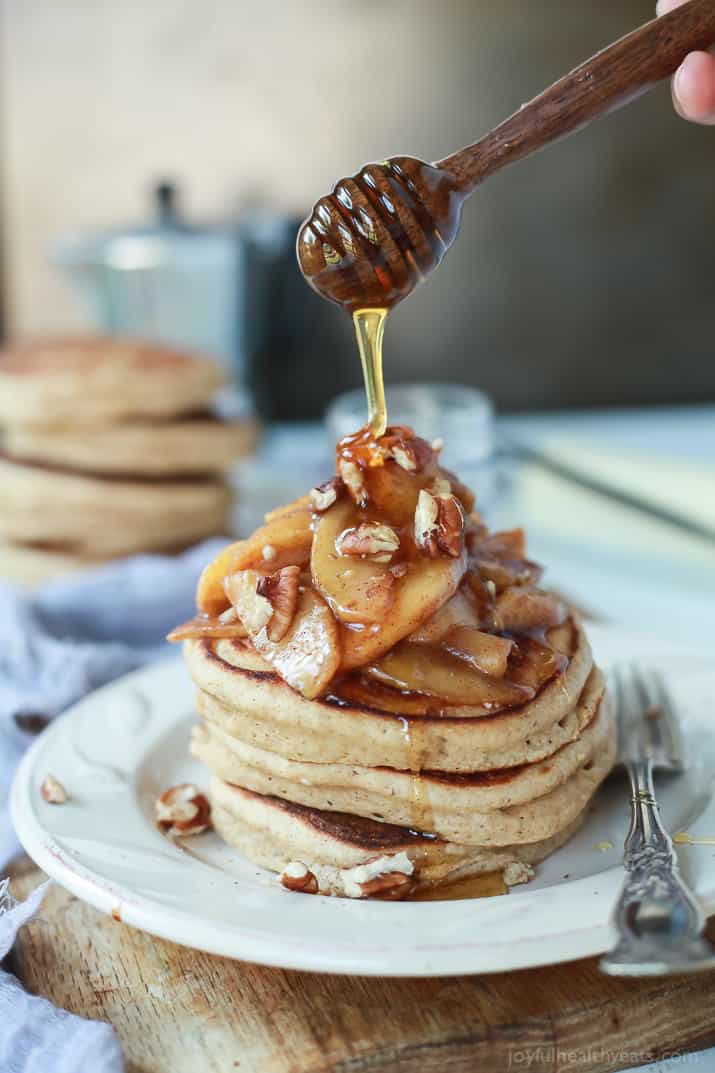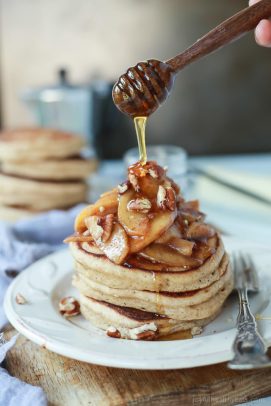 Ricotta Avocado Toast with Poached Egg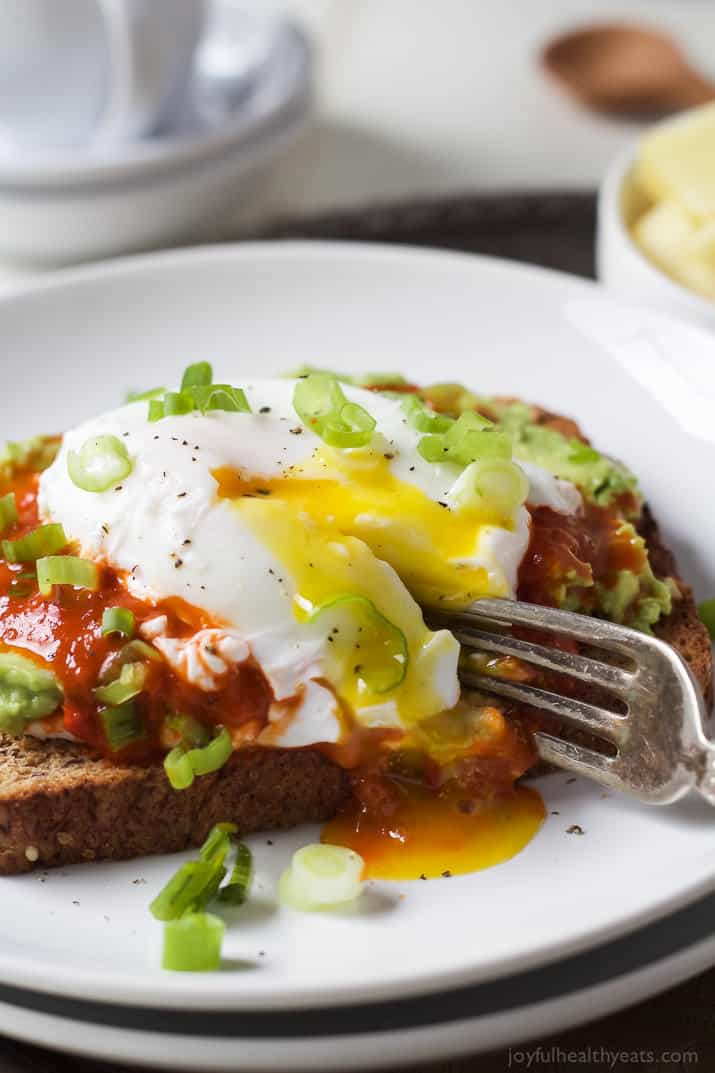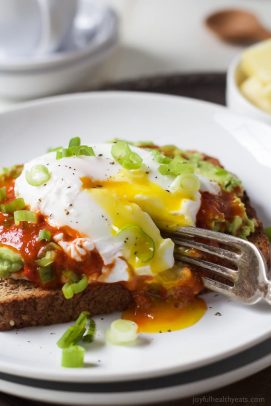 DON'T MISS A RECIPE ->