Look no further, 64 of the BEST Thanksgiving Recipes to ensure you have the ULTIMATE and most flavorful Turkey Day feast around!
Look no further, 64 of the BEST Thanksgiving Recipes to ensure you have the ULTIMATE and most flavorful Turkey Day feast around! From how to brine a turkey, to holiday cocktails, healthy side dishes, homemade rolls and sweet desserts – everything you need!
Seriously! How it is already Thanksgiving! Time sure flies when you're having fun and getting big and pregnant! haha
On a side note, I think I'm most looking forward to this years Thanksgiving. Since Mike and I have been married we've always had a heart for hospitality. Having people over to our house and just serving them. But we haven't always had the space in our home. Since we've moved we FINALLY have the space and have had more people over in the past 6 months than we have in the past 5 years. It has been great. And this year we are having a feast about ALL THANKSGIVING FEASTS! I think we'll have around 20+ people at the house so we'll need to bring in extra tables but it is going to be awesome. We might even warm up the pool so the kids can swim.
With all those people comes ahhh – lot of food! So I'm making my list like 3 weeks early this year! Here are a few of the BEST recipes I could find for one ULTIMATE Thanksgiving Feast! I hope you enjoy. I've got recipes from how to do your Turkey, classic side dishes, unique side dishes, holiday cocktails, appetizers and of course all the pies and desserts you could dream of. Bon Appetit friends and happy holidays!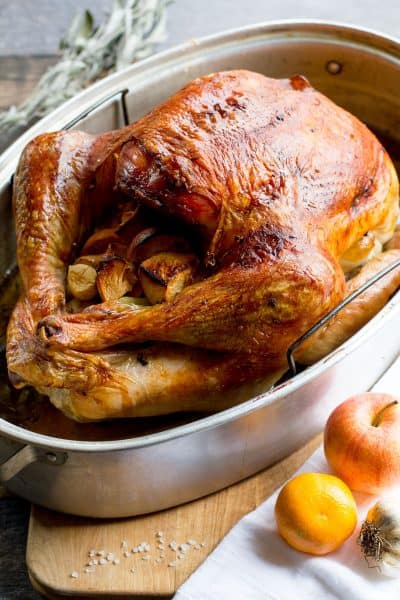 A quick how-to on How to Dry Brine a Turkey and end up with one gorgeous bird!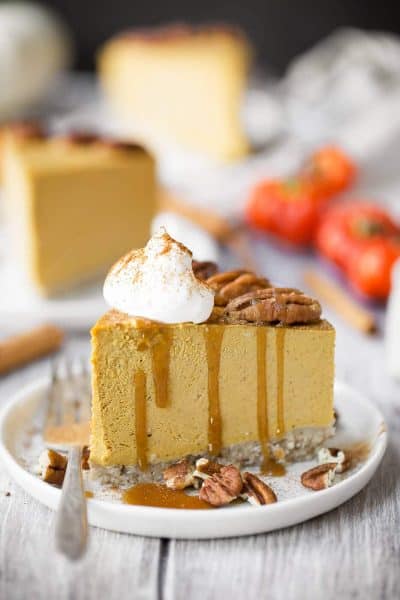 No bake easy vegan pumpkin cheesecake an easy and delicious cheesecake. A moist macadamia pecan based crust, with creamy pumpkin cashew center and a decadent vegan caramel sauce on top.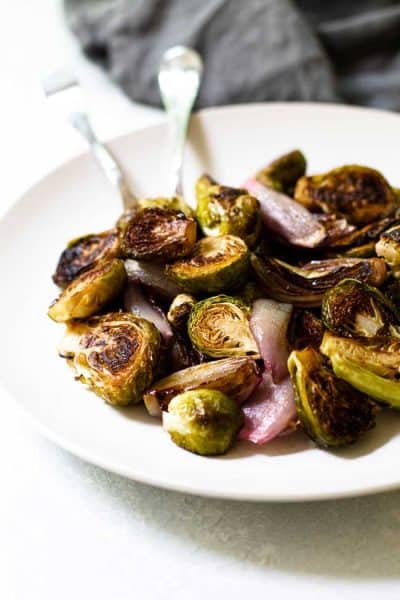 Balsamic roasted brussels sprouts and shallots is an easy side dish that takes only a few minutes to prep.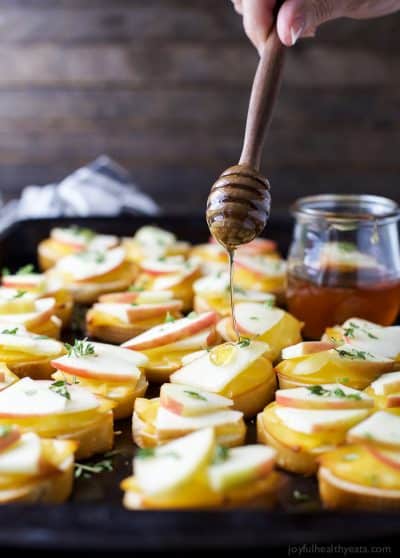 Smoked Gouda & Apple Crostini drizzled with Honey – an easy holiday appetizer with only 5 ingredients! This crostini hits all the high notes – sweet, salty, savory and crunchy! (and freakin delicious)
These Bourbon Apple Cider Cocktails with cinnamon simple syrup are just what I want to sip on at the end of the day.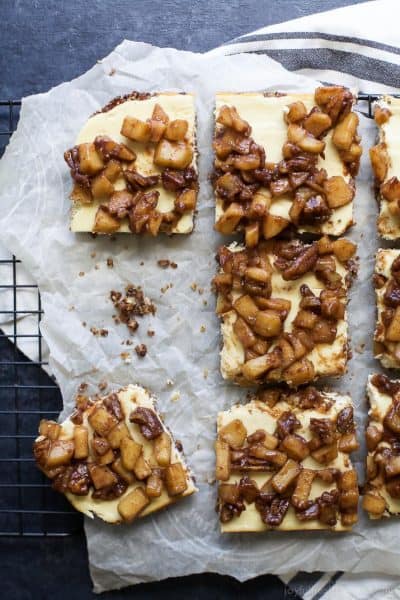 A new take on apple pie! These Gluten Free Apple Crisp Cheesecake Bars are the new dessert favorite! These cheesecake bars are creamy, dreamy, scream fall and the apple crisp topping is to die for!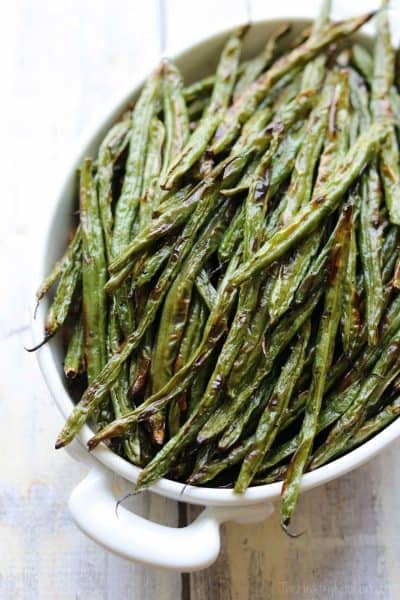 These Blistered Green Beans are the perfect accompaniment to practically any meal! You basically need one ingredient: green beans!
POMEGRANATE MARGARITAS an easy cocktail you can rock all year round! Filled with pomegranate juice, fresh lime juice, tequila, orange liquor and a little something extra!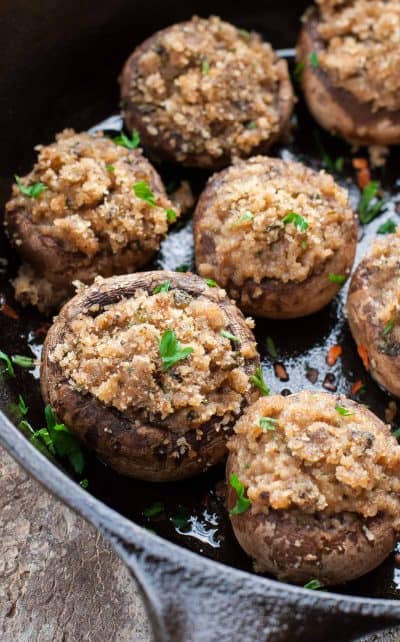 These classic stuffed mushrooms are a total crowd pleaser! Serve them up as a quick and easy party appetizer or as a vegetarian side dish for the holidays.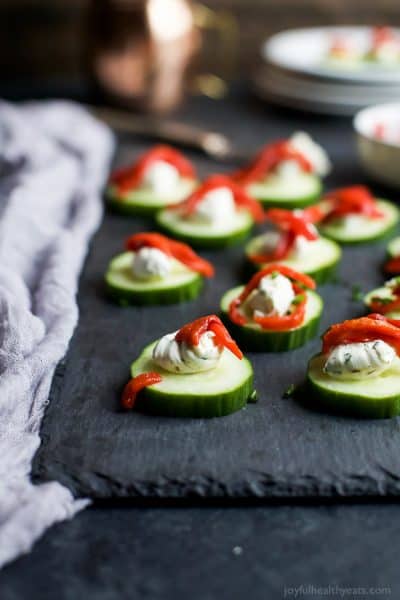 Fresh Simple Cucumber Bites topped with a zesty Herb Cream Cheese and sweet Piquillo Peppers. The perfect refreshing appetizer recipe for your next party!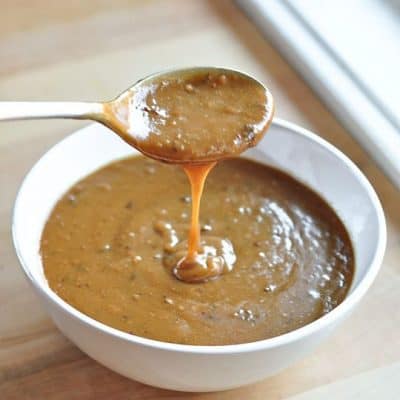 This is a deeply flavorful Turkey gravy enhances everything on the plate with a touch of savory goodness.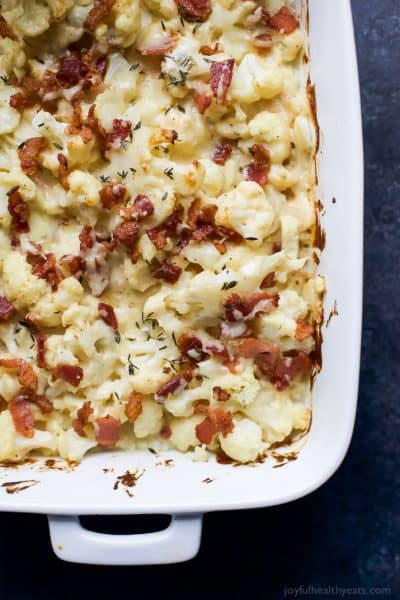 BACON CAULIFLOWER AU GRATIN, a creamy white cheddar cheese sauce tossed with cauliflower, fresh thyme and topped with bacon. A must have side dish for this holiday season that takes comfort food to a new level!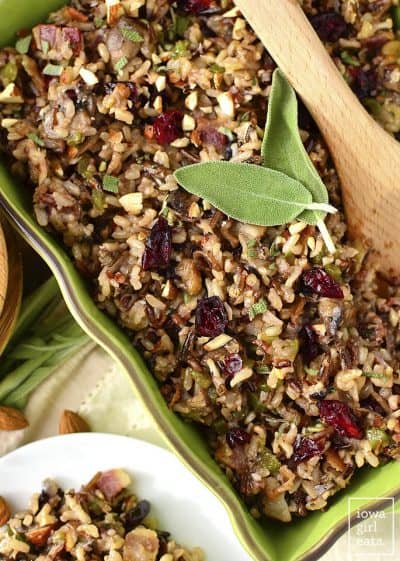 Best Ever Wild Rice Stuffing is full of fall flavors like herbs, bacon, mushrooms, parmesan, dried cranberries, almonds, and garlic. A delicious side for the holidays!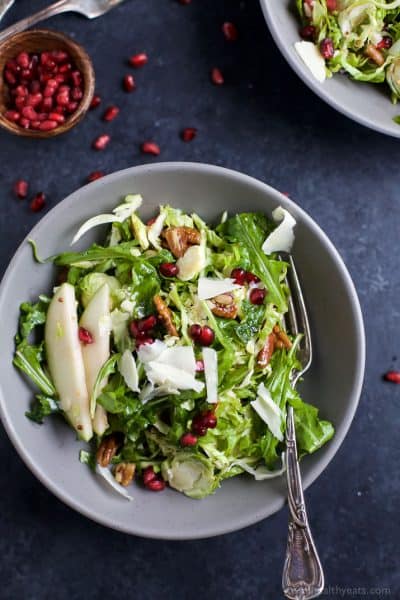 Shaved Brussel Sprout Salad filled with apples, pomegranate, candied pecans, and white cheddar cheese then tossed with a light Lemon Vinaigrette. This Brussel Sprout Salad is the perfect side dish for the holidays!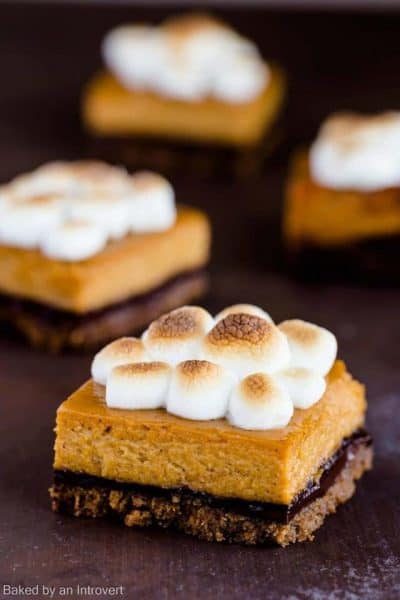 Pumpkin S'mores Bars will be the talk of the party this holiday! The base is a thick layer of graham crackers smothered in melted chocolate and topped with creamy pumpkin pie filling.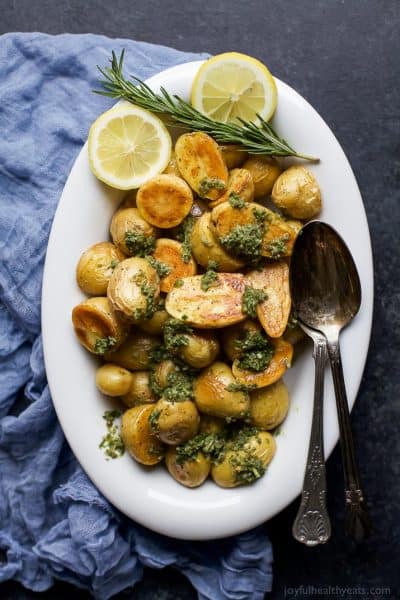 Crispy Roasted Potatoes drizzled with a fresh Sage Salsa Verde – the perfect change up on your holiday table. Sub the plain old mashed potatoes with these flavorful Roasted Potatoes!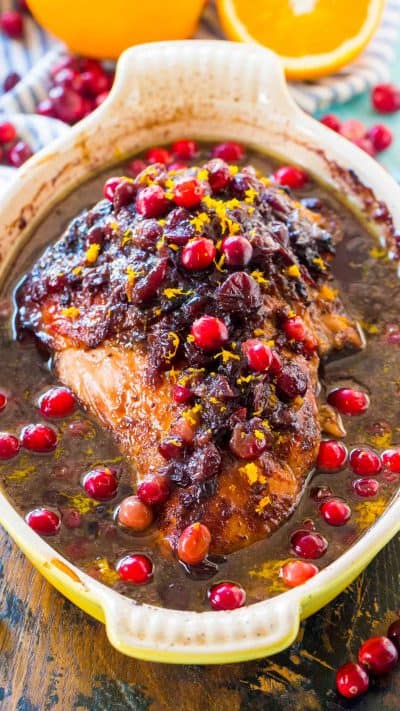 Cranberry Orange Turkey Breast is such a great, easy and delicious alternative to cooking a whole turkey. The meat turns out juicy and flavorful.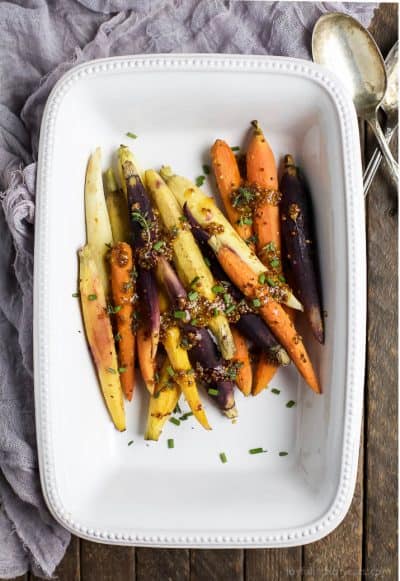 Jazz up your Carrots during the holidays with these RAINBOW MAPLE DIJON GLAZED CARROTS. Sprinkle them with some fresh herbs for an extra pop of flavor! These are a must for your dinner table this Thanksgiving!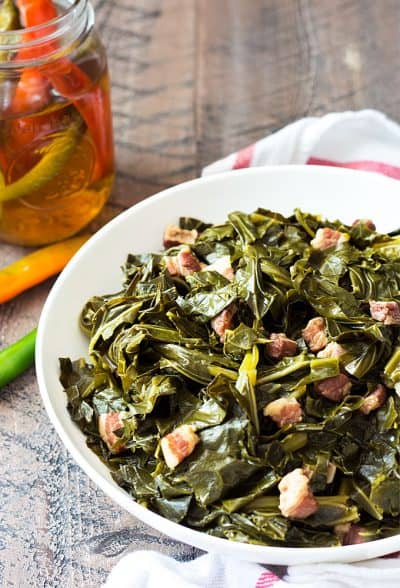 How to Cook Southern Style Collard Greens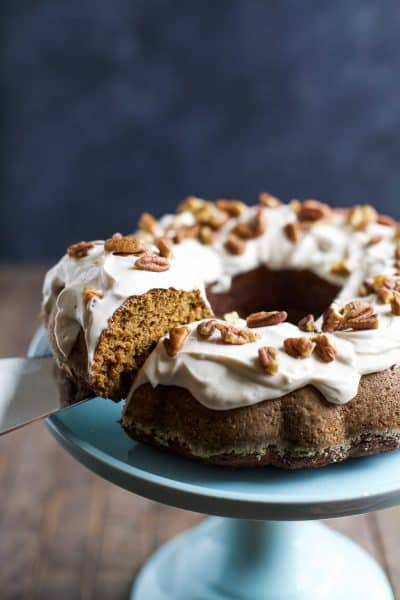 PUMPKIN … the star of fall recipes and definitely a shining star in this Moist Pumpkin Bundt Cake topped with a light Cream Cheese Frosting. You're gonna love the secret ingredient in the frosting to make it lighter!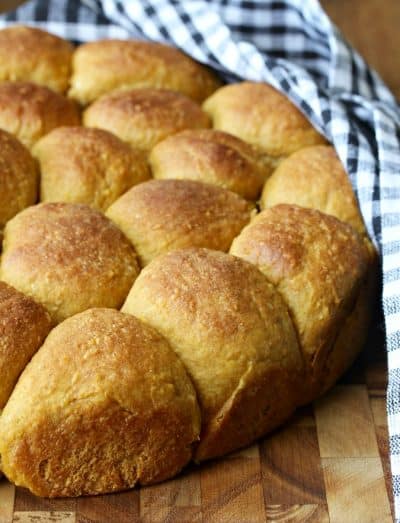 These Pumpkin Cornmeal and Rye Pull-Apart Rolls are moist, mildly sweet, and absolutely perfect for dinner rolls, sliders, and however else you like to enjoy good bread.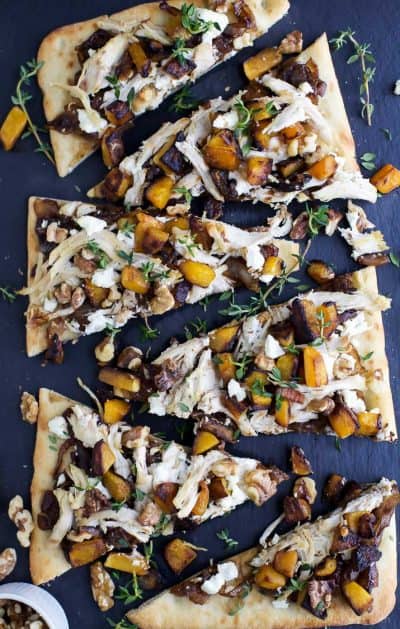 Butternut Squash Chicken Flatbread Pizza with balsamic caramelized onions and goat cheese. An easy pizza recipe that comes together in less than 30 minutes, or serve this as an appetizer at your next holiday party!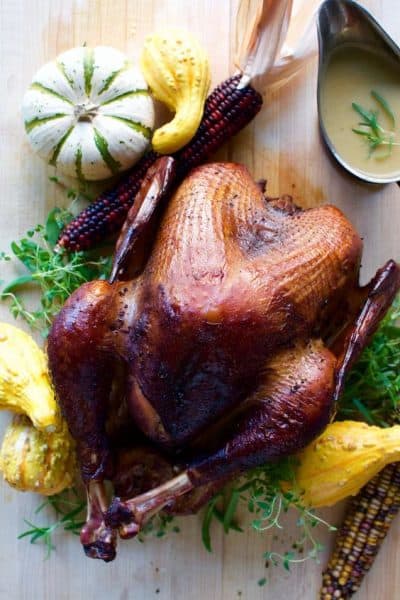 The ins and outs of how to smoke your Thanksgiving turkey using your grill, some charcoal, and a few handfuls of hickory chips, plus a spicy, smokey dried morita chile gravy. This is the way to do Thanksgiving.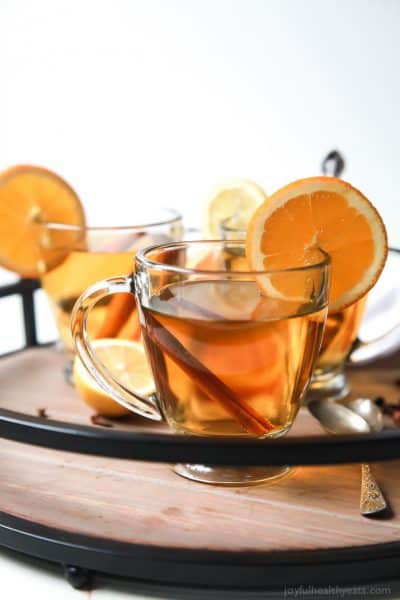 This Crock Pot Apple Cider Recipe is the perfect drink to have in your hand this holiday season. It's easy, delicious, comforting, and makes your house smell amazing!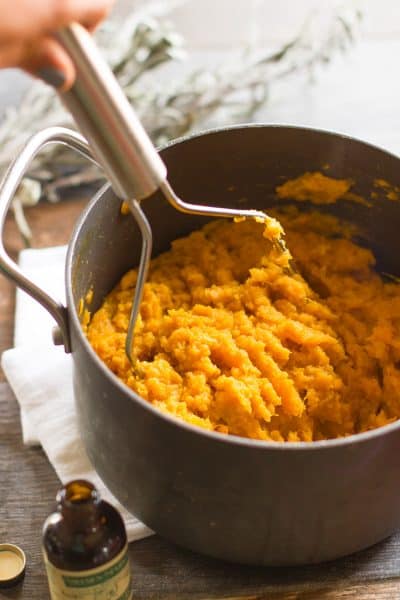 These Brown Butter Mashed Sweet Potatoes straddle the line between sweet and savory. They are the perfect healthy alternative to the sugar-laden sweet potatoes normally served for Thanksgiving.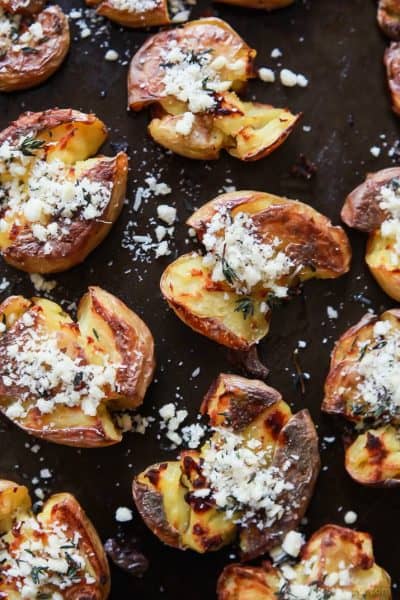 Garlic Herb Smashed Potatoes – these potatoes are crispy on the outside while soft on the inside and then filled with fresh garlic herb flavor! A must this holiday season!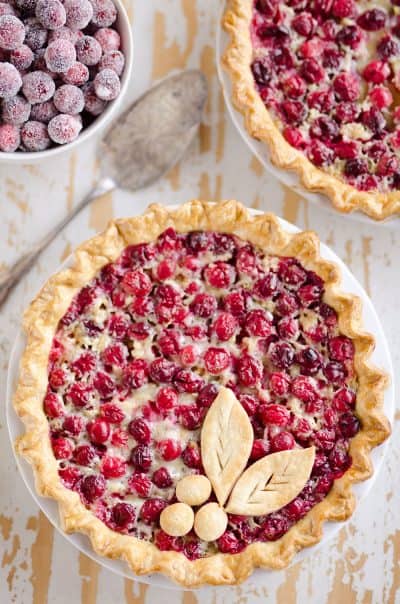 Cranberry Orange Custard Pie is a festive and unique dessert recipe to add to your holiday menu. A flaky pie crust is filled with silky sweet custard laced with orange zest and tart cranberries.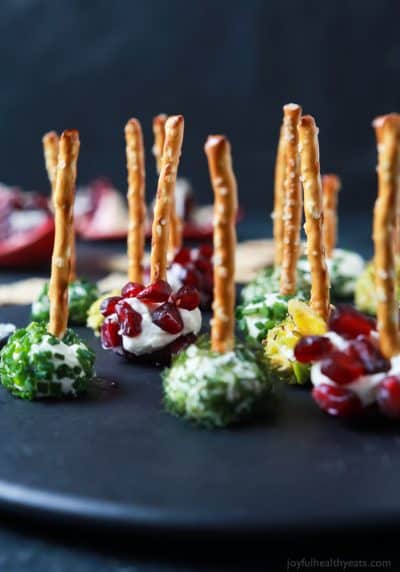 Everyone loves a good cheese ball, but your guest will fall in love with these Assorted Holiday Goat Cheese Balls coated with a combination of fresh dill, chives, pistachios, and pomegranate seeds!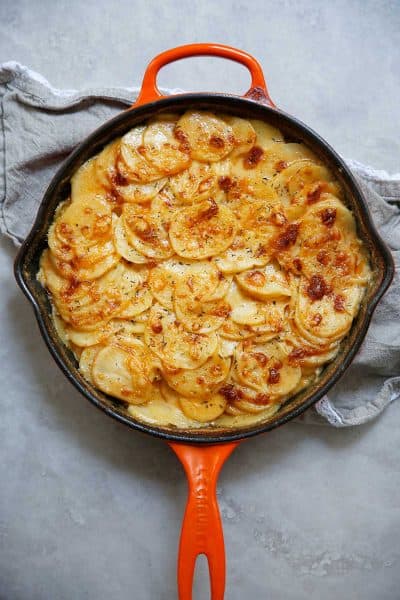 These easy, Cheesy Scalloped Potatoes are about to become a new go-to side for holiday entertaining! Creamy, just the right amount of cheese, lightened up, and baked to perfection!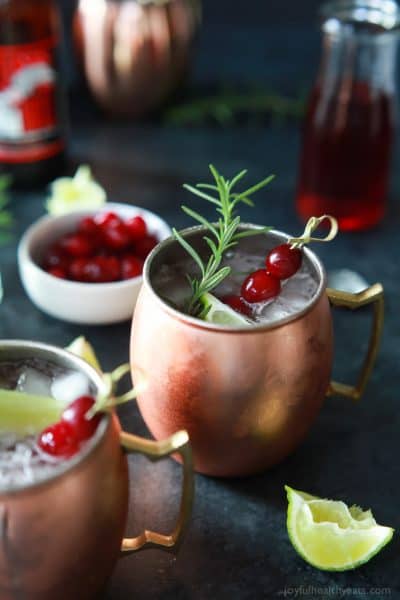 Cranberry Moscow Mule with Rosemary Infused Vodka, you'll love this holiday twist on a classic and so will you're guests! Light, refreshing, delicious, and filled with holiday cheer!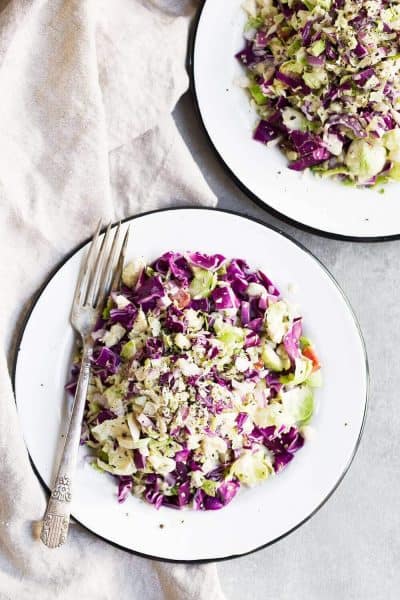 This Whole30 Brussels Sprout Slaw recipe is the perfect addition to any meal!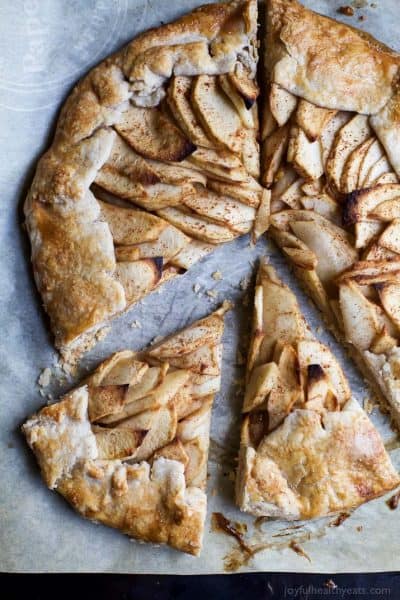 This Rustic Cardamom Apple Galette topped with a Maple Mascarpone is the thing pie dreams are made of. It's easy to make, mind blowing in flavor, and Gluten Free .. you'll fall in love!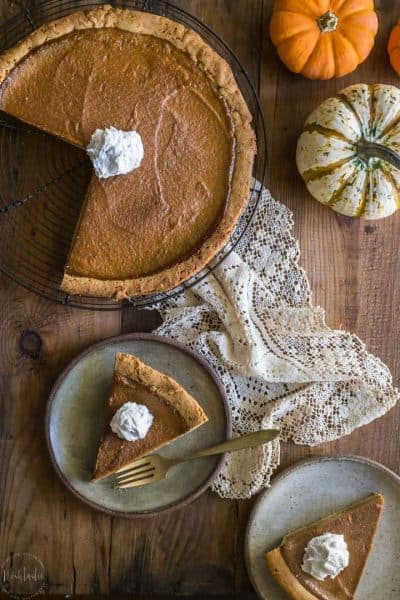 Look no further for an easy delicious Paleo Pumpkin Pie with a fantastic, flaky, made from scratch homemade Paleo Pie Crust!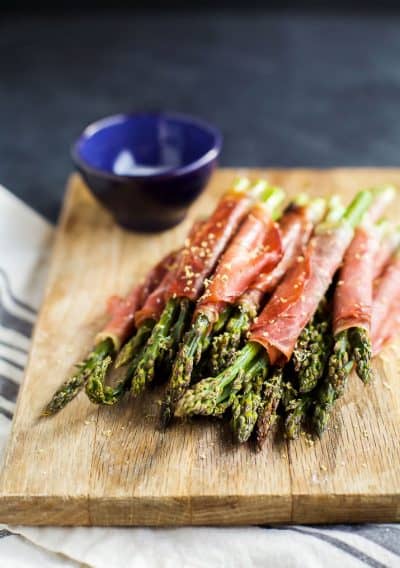 Prosciutto Wrapped Asparagus – one of the easiest recipes you'll make using just two ingredients! Perfect for an appetizer, snack, or side dish for the holidays!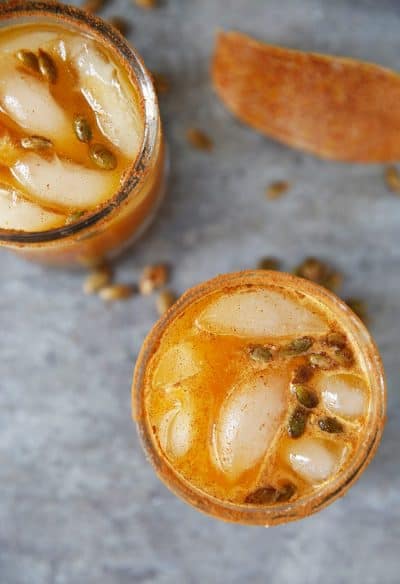 This Pumpkin Smash Cocktail, made with Stoli Gluten Free, has all the flavors of Fall in one delicious cocktail!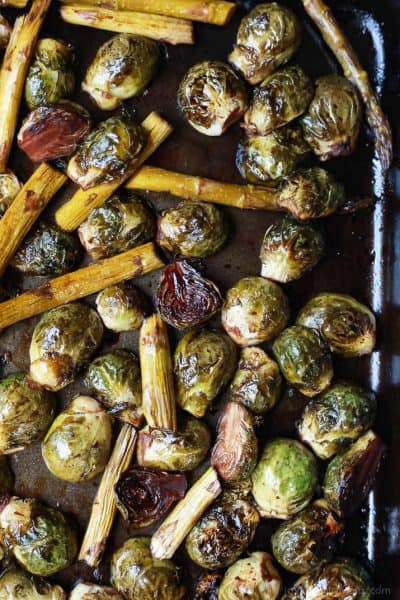 These Balsamic Glaze on these Roasted Brussels Sprouts will turn any brussels sprout hater to a lover. The pop of pomegranate make this perfect for the holidays! Easy, low in calories, healthy, and absolutely delicious!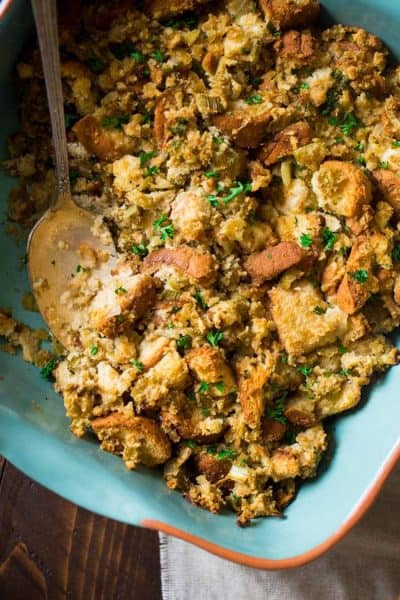 This gluten free stuffing is moist and so packed with flavor, you would never know how easy it is to make! Perfect for Thanksgiving or any holiday meal!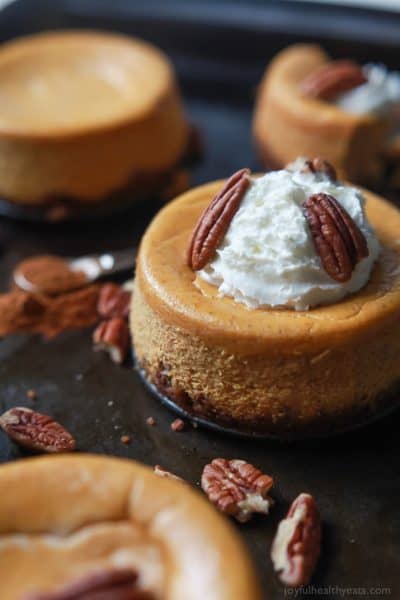 This Skinny Mini Pumpkin Cheesecake is every bit as good as the Cheesecake Factory's. Easy, light, creamy and full of pumpkin flavor, definitely a dessert recipe your family will devour!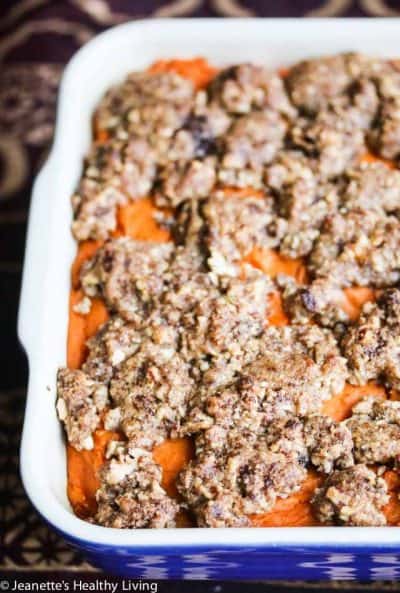 This Sweet Potato Casserole with Praline Topping is decadent – a real treat for the holiday season. Roasted sweet potatoes and sweet spices ensure lots of flavor, and the praline topping takes this sweet potato casserole over the top.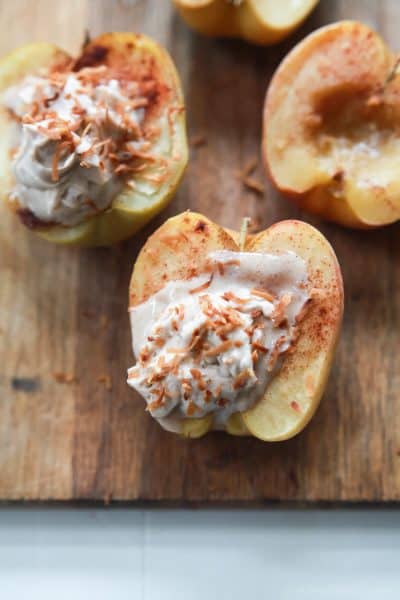 The perfect sweet treat this fall, tastes just like Apple Pie .. but better! And it takes half the time! Baked Apples topped with a slightly sweet creamy Cinnamon Mascarpone Cheese then garnished with Toasted Coconut.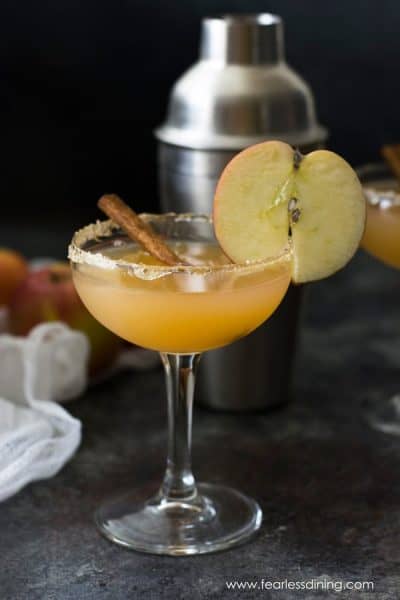 Holiday Cinnamon Bourbon Apple Cider – crisp apple flavor blends beautifully with bourbon, add a hint of cinnamon, and you have the perfect fall cocktail!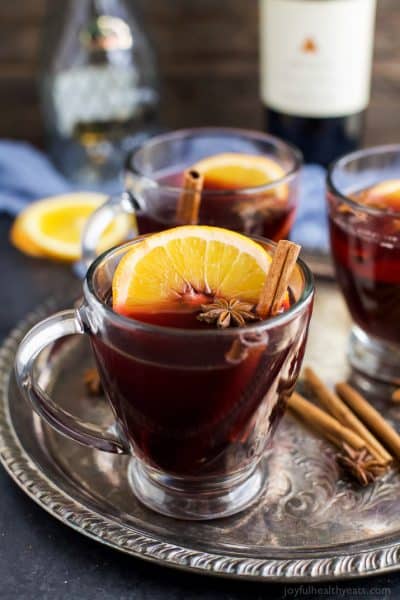 Holiday Spiced Mulled Wine, an easy party cocktail that will please a crowd. This Mulled Wine is perfect for any Holiday Party and sure to warm you up from head to toe!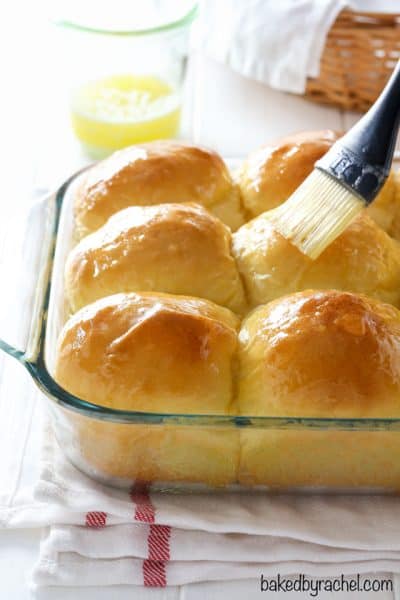 Super soft and fluffy Homemade Sweet Potato Rolls. A perfect addition to any holiday meal.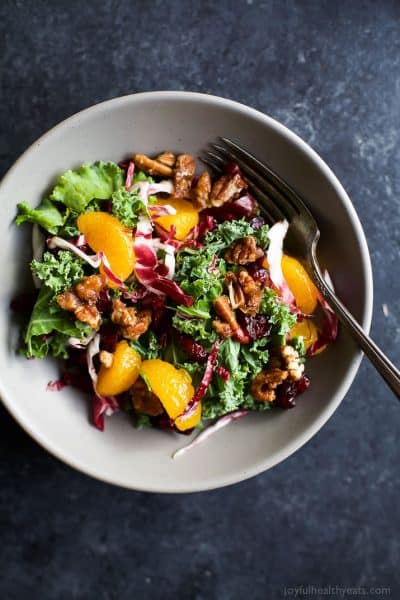 A simple KALE SALAD filled with mandarin oranges, tart cranberries and candied pecans for the perfect bite! I guarantee this salad will win over any kale hater and become a staple at your house!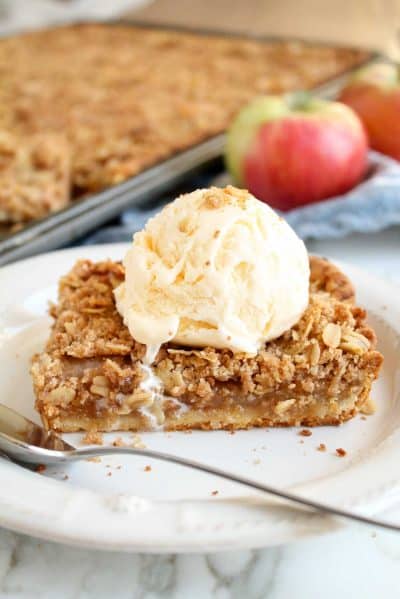 Apple crumble slab pie combines the buttery, flaky crust of an apple pie with an oat crumble topping and peak fall apples.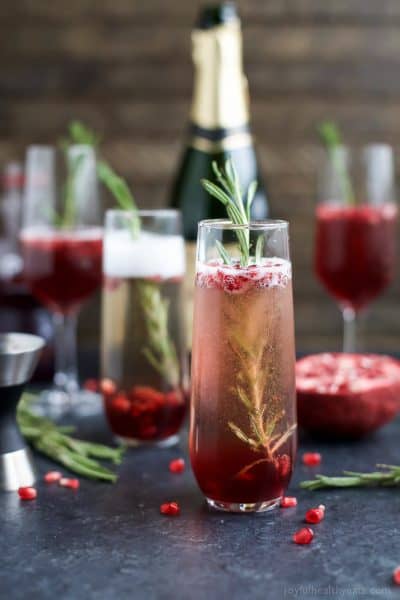 4 Ingredient Sparkling Pomegranate Mimosas are a fun cocktail to start your weekend with! Perfect for the holidays, great for brunch or a girls weekend!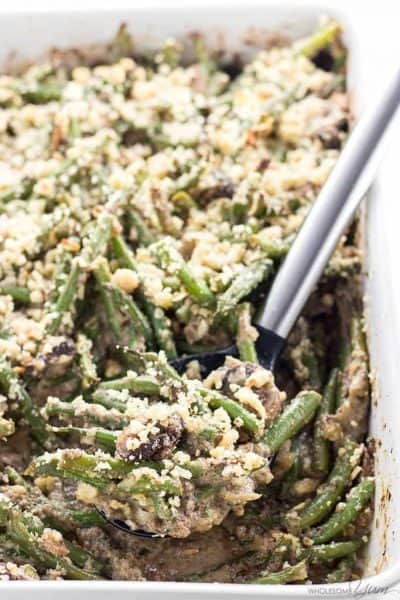 An easy, gluten-free green bean casserole recipe with just a few ingredients! You can make this low carb green bean casserole ahead, too.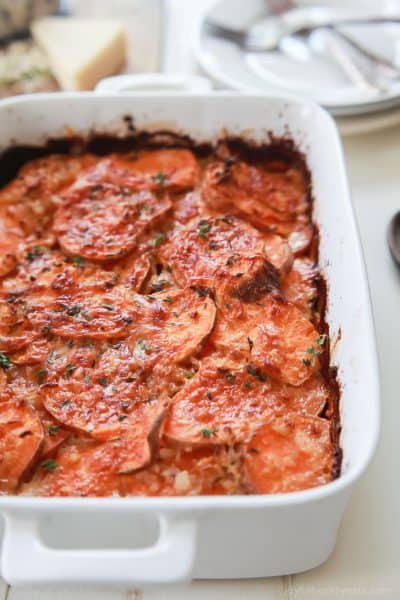 Easy Cheesy Scalloped Sweet Potatoes – the ultimate side dish made healthier but keeping the same comforting flavor you love! Way better than that Sweet Potato Casserole topped with marshmallows and better for you! It's delicious!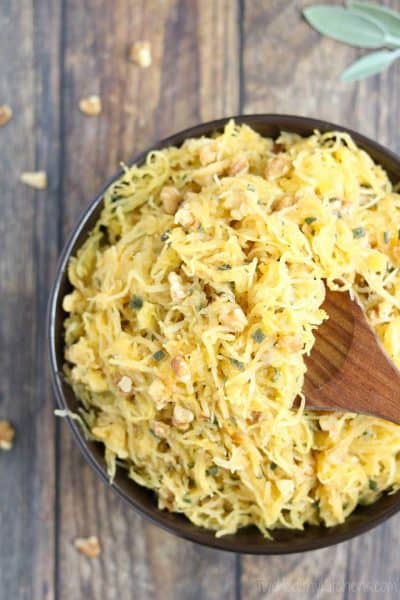 This fantastic recipe for Microwave Spaghetti Squash is easy enough for weeknights, but impressive enough for Thanksgiving dinner and holiday suppers.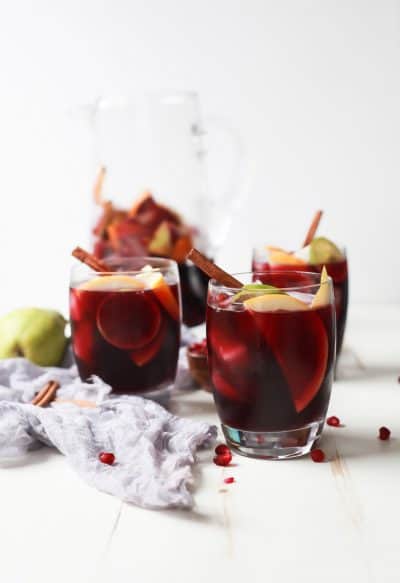 The Ultimate Holiday Sangria Recipe filled with citrus, pomegranate, crisp pear, and cinnamon for one irresistible sip! Find out my secret method to making the BEST sangria!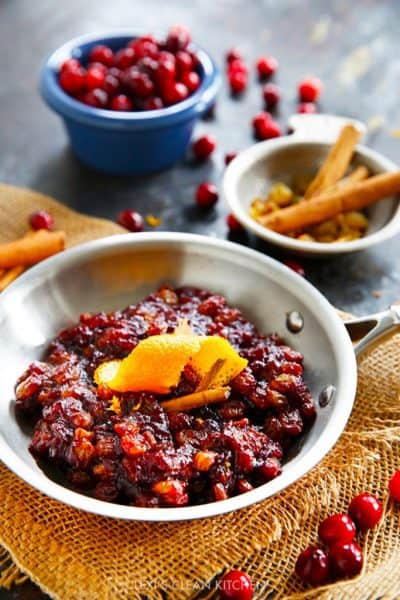 Cranberry Spice Relish aka the best ever cranberry sauce. Sweet and flavorful, the perfect dollop on top of your slices of turkey.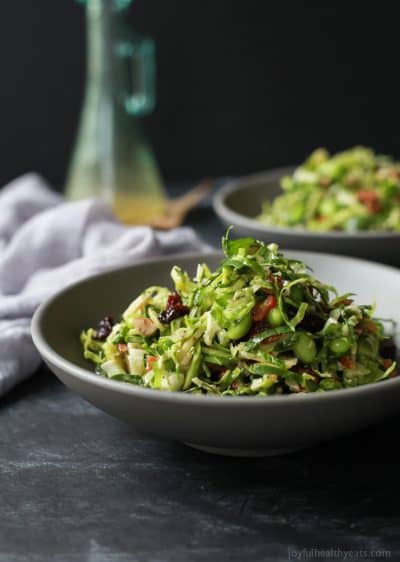 A light Autumn Kale & Shaved Brussel Sprout Salad infused with crispy bacon, edamame, and a surprise sweet fruit that compliments the dish perfectly. Packed with nutrients – its the ultimate side dish this holiday season!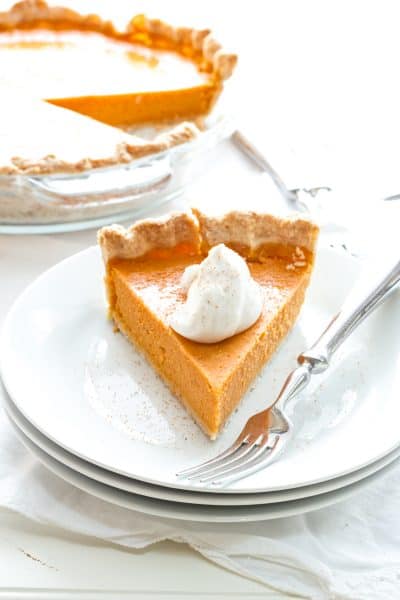 This healthier Coconut Sweet Potato Pie is a perfect Thanksgiving alternative to pumpkin pie.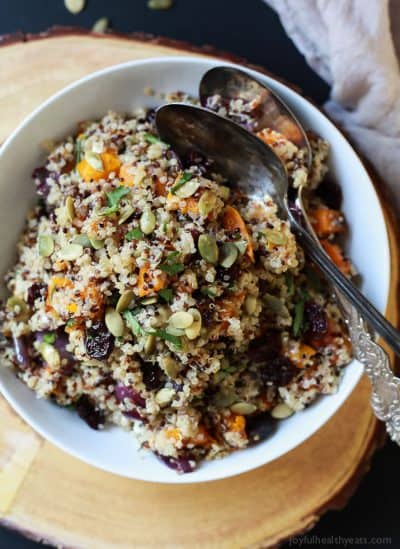 The BEST Roasted Butternut Squash Quinoa Salad with a secret creamy element and surprise spice that makes this salad dish pop with flavor.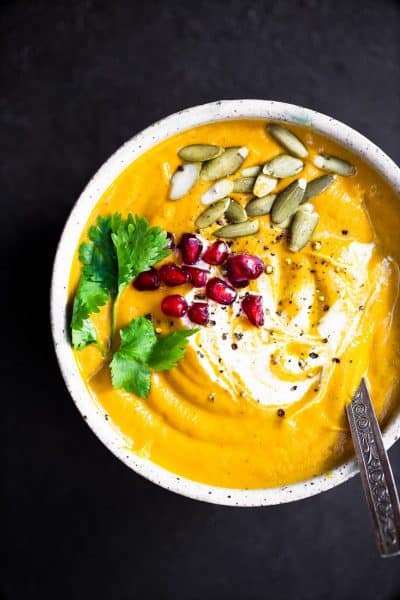 A quick and delicious easy vegan pumpkin soup recipe that is a total game changer. The aromatic spices inside and creamy canned coconut milk send the warm Fall flavors completely over the top.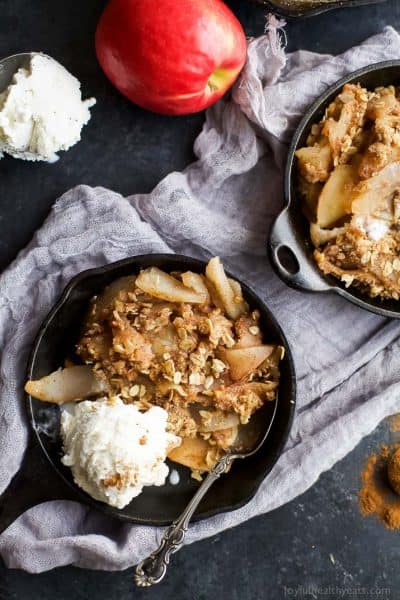 A divine CINNAMON APPLE PEAR CRISP that will take you to dessert bliss in one bite. The oatmeal topping is incredible with the perfect amount of crunch and uses less sugar than most.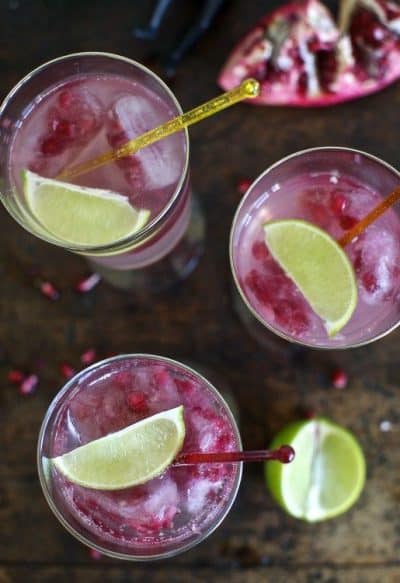 A fun Thanksgiving Paloma the pomegranate ice cubes aren't necessary—but they sure are pretty! If you didn't plan ahead you can just add a few seeds to the drink and use regular ice cubes.
Spiced Pear Upside Down Cake – you're gonna love this fall twist on a classic upside down cake with half the sugar. A spiced brown sugar topping filled with pears on top of a moist fluffy vanilla cake. De-lish!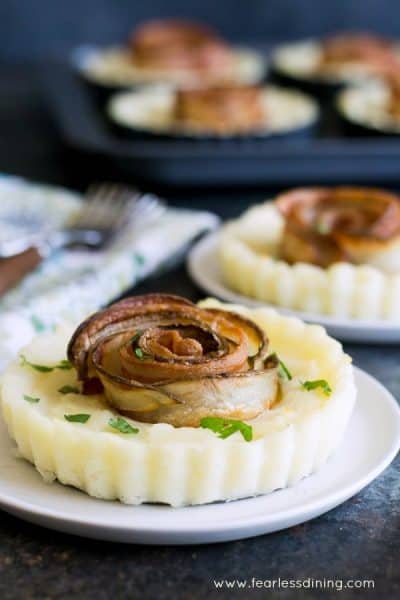 ONE BITE OF THIS MASHED POTATO PIE WITH POTATO BACON ROSES IS ALL IT TAKES TO BE HOOKED.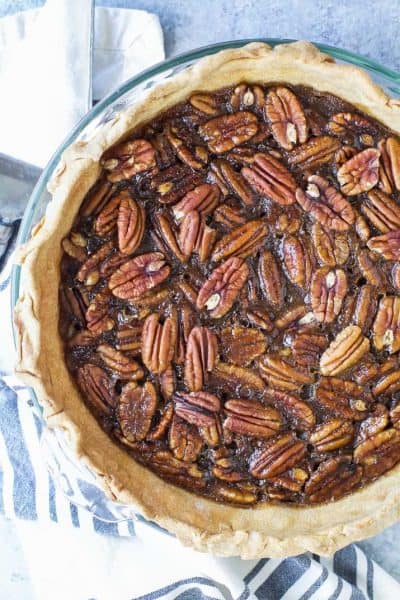 An easy & delicious Homemade Pecan Pie made without corn syrup! The perfect holiday dessert recipe that's sure to please even those Pecan Pie experts!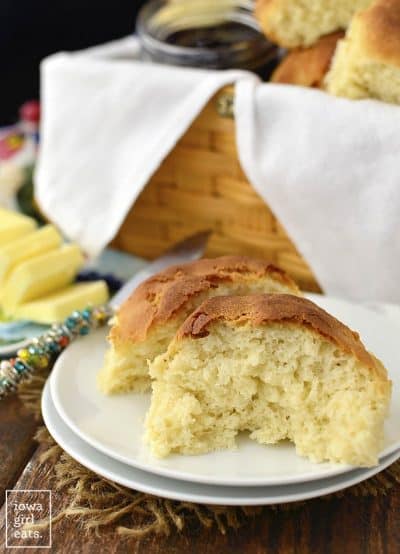 Gluten-Free Dinner Rolls are prepped in 5 minutes in just one bowl. A soft, doughy, and totally crave-able gluten-free side dish for dinner!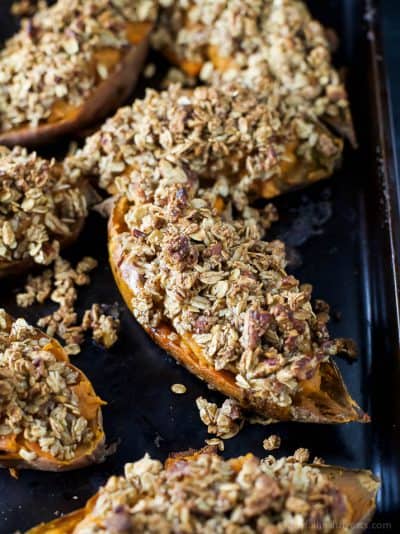 Twice Baked Sweet Potatoes with Oatmeal Pecan Streusel – a healthy alternative to that Sweet Potato Casserole! A perfect gluten free Thanksgiving side dish that's sure to please a crowd!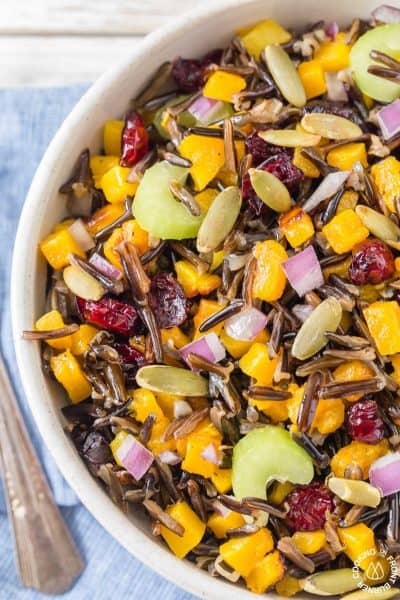 This Butternut Squash and Wild Rice Salad starts with roasted squash and Minnesota wild rice then tossed with crunchy celery, sweet dried cranberries, pumpkins seeds and drizzled with a maple walnut vinaigrette.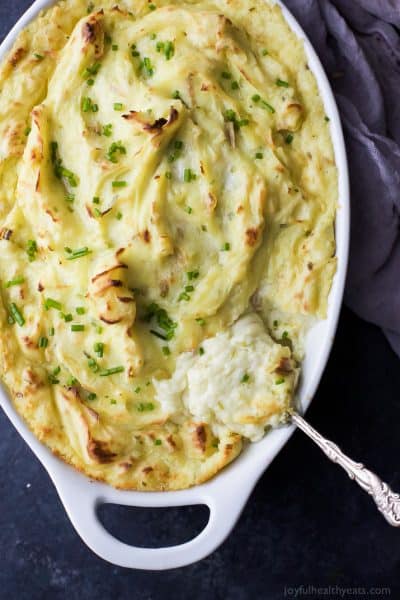 Sour Cream & Chive Mashed Potatoes – creamy, thick and filled with garlic and chive flavor! The perfect mashed potatoes for this holiday season – they are a staple at our house!