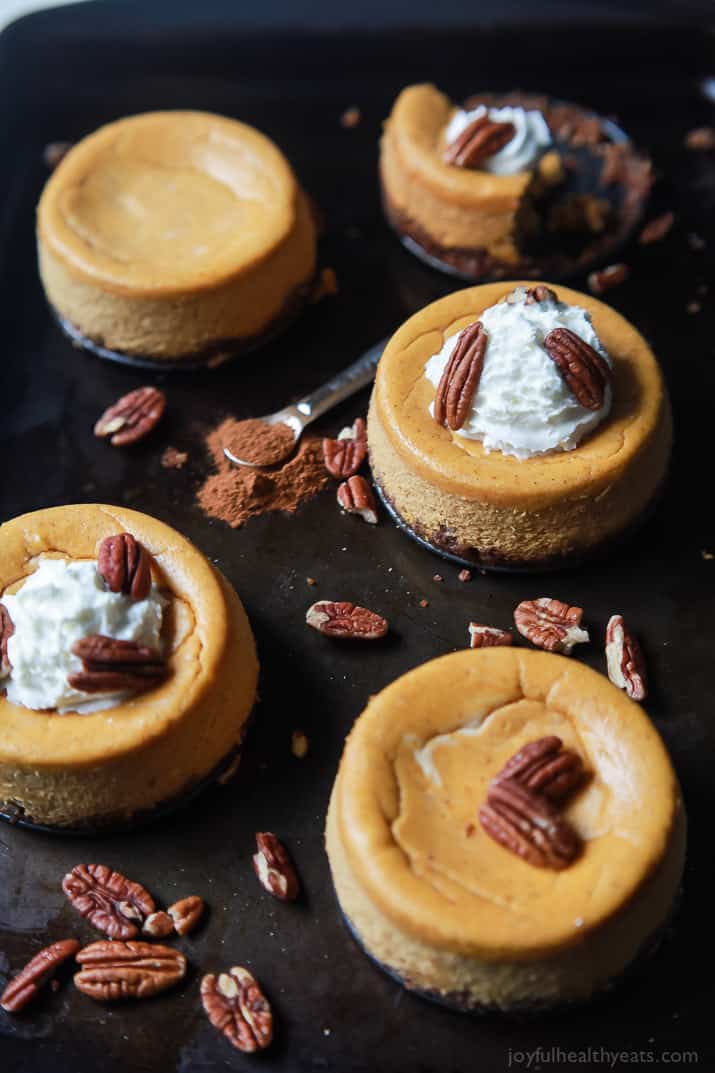 This Skinny Mini Pumpkin Cheesecake is every bit as good as the Cheesecake Factory's. Easy, light, creamy and full of pumpkin flavor, definitely a dessert recipe your family will devour!
The past three weeks have been a little crazy for me. I went to Kansas City, then to Chicago, was home for a week but had my parents at our house because my brother had a baby, then went back to Chicago and came back to my mom at our house.
All of those are good things and I LOVED every minute of them. But as I sit in my house right now I am overwhelmed. I am overwhelmed and my mind goes down rabbit trails of things that are not uplifting or good.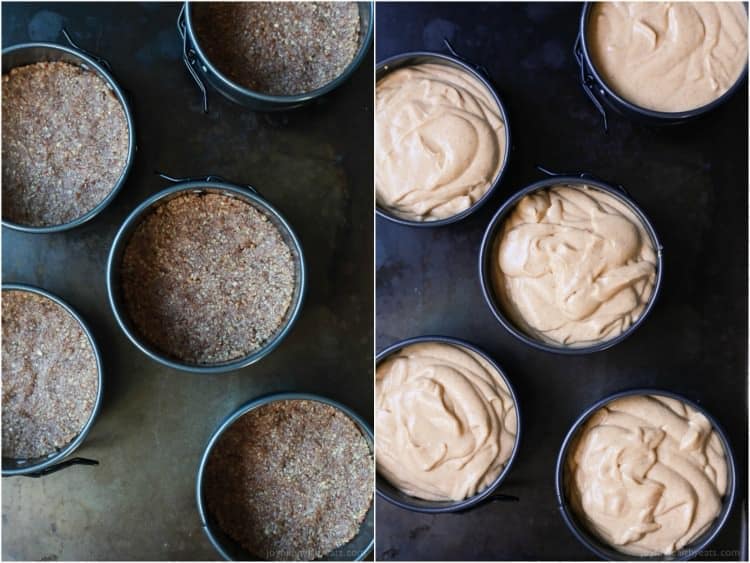 Here's my rabbit trail, tell me if you can relate:
I haven't worked out in a week, ugh, I feel gross. My house looks like a bomb went off in it. Dust is creating its own zip code on my furnishings. Dog hair has become the new carpet in our house. Laundry is overflowing from every bin possible in our house – which leads to no underwear for anyone in our house. I'm behind on the recipes for the blog. I'm behind on a big project. Haven't responded to emails in forever and my son has decided that he is in charge and no longer wants to listen to anything I have to say which means I feel like the world's "meaniest" mommy because I have to discipline!
Can anyone else relate?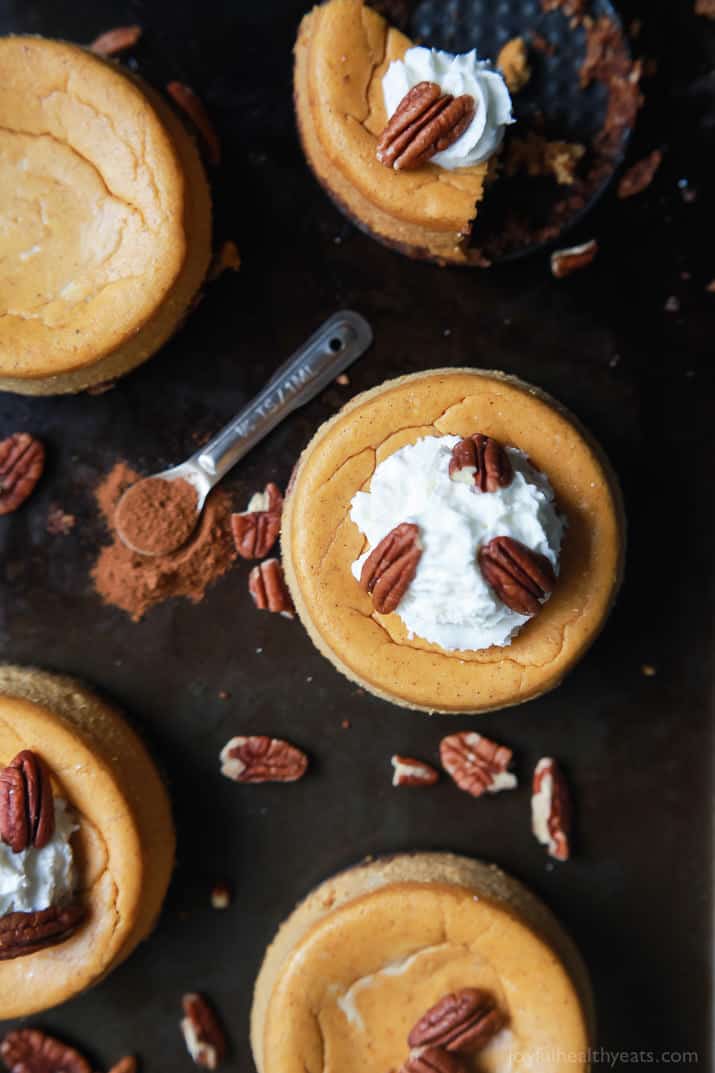 I felt like a failure. Mike came home yesterday, walked into our bedroom and I just looked at him and said. "I'm sorry." He said, why? So I word vomited (everything above) and then said, and I forgot to take the sheets off the bed! Sigh…. (i'm a hot mess)
He just responded super sweetly and said, "Hun, I'm not mad. Don't worry about it." Then he said, "I know when you have a lot on your plate and get overwhelmed you just pull back from everything. Why don't you try doing one thing at a time instead of everything all at once?"
First off, I love that my husband can speak truth to me because I do do exactly what he's saying. I usually have everything in order, but when things get out of order to the point where I can't handle it I just retreat and want someone or something to fix the problem.
Secondly, what a genius idea. Doing one thing at a time!! Stress would be relieved and I would be a much happier momma if I didn't try to clean the house, do the laundry, make my blog recipes, photograph them, do the dishes and work out ALL in one day! What was I thinking anyways!? That's craziness, not restful, and performance driven!!!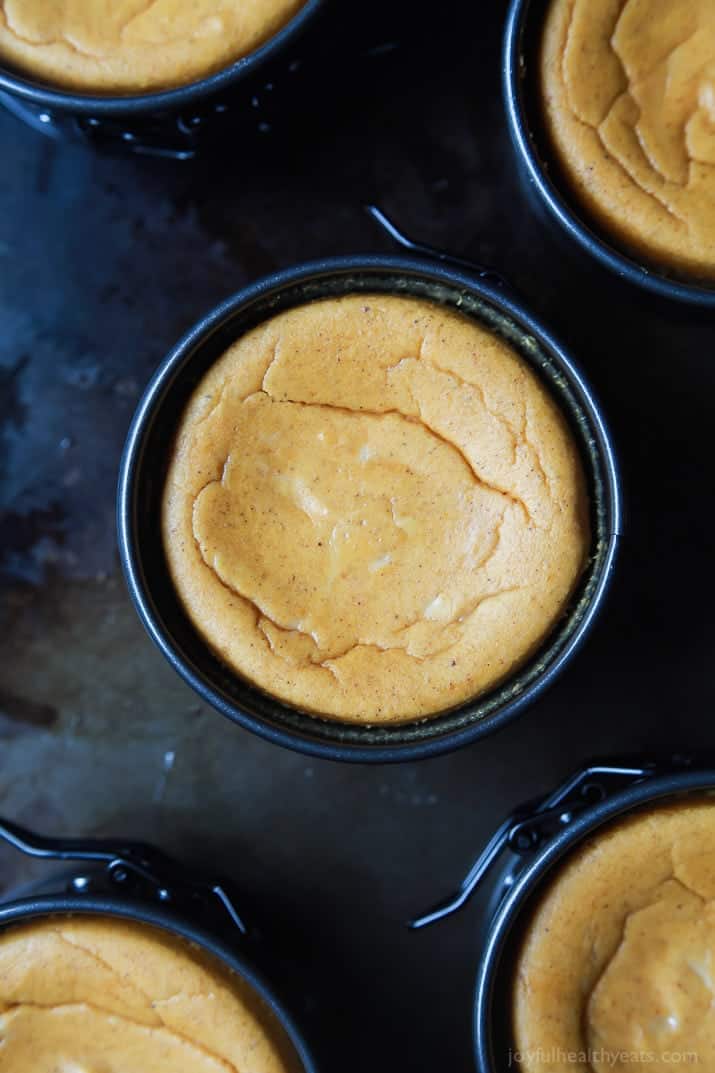 So today my story of success is I finished the laundry and let the rest of the house be a mess. I'll clean the house tomorrow, it can wait. Time with my little man cannot! Are there things that you need to cut back on or omit from your life completely to spend more time on the things that matter and the things that bring you joy? Well your not alone!
On a food note, something that brings me joy AND that cannot wait is this Skinny Mini Pumpkin Cheesecake! I want you to know that I made this two times to perfect it! Usually after the first attempt at a baking item I give up, I'm too lazy to try it again and I'm not a baker. But I was determined with these Cheesecakes and I'm glad I persevered because Holy Hannah are they good!
My original plan was to make the mini cheesecake bites but I couldn't find any of the mini cheesecake pans… and if I can't find them then I know you wouldn't be able to find them. So I went to plan B, these Wilton 2105-2174 Mini Springform Pan, Set of 3
">4×4 cheesecake springform pans that you can buy at Target! They turned out gloriously!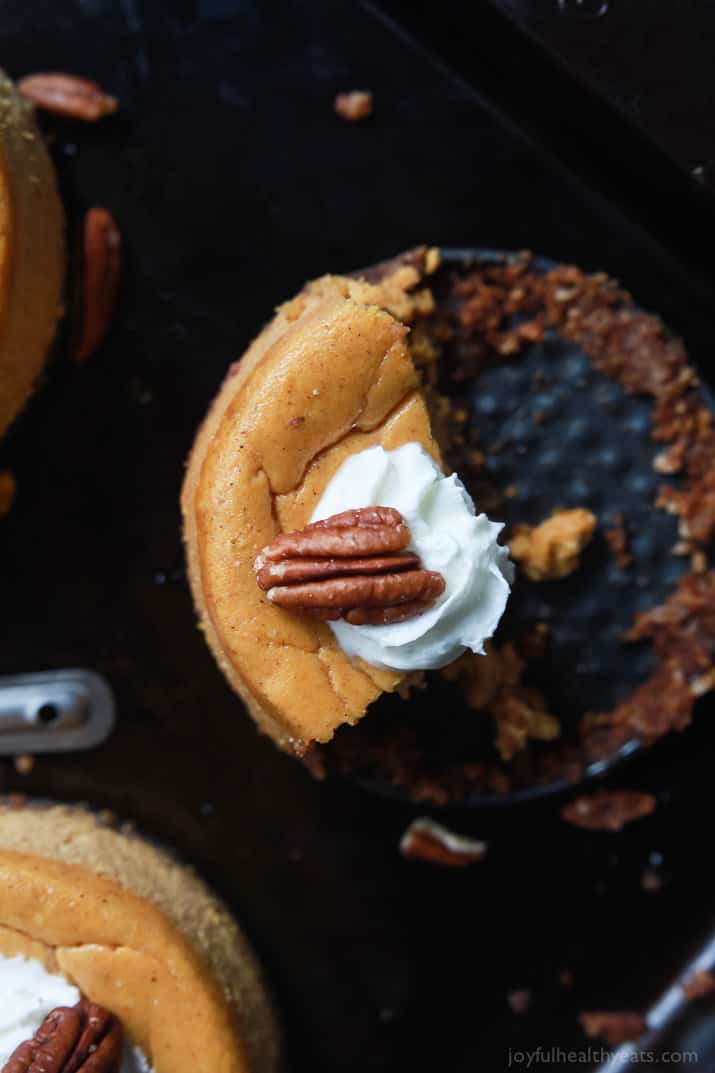 Creamy Pumpkin Flavor with a tangy taste from the cream cheese mixed with fresh fall flavors like nutmeg, cinnamon and cardamom! But my favorite part about this Pumpkin Cheesecake is the pecan crust because its so uniquq! With most cheesecakes there is a graham cracker crust filled with sugar and butter but this one has honey, pecans, cinnamon, and a little bit of butter to bind it together! That's it! Ya'll the crust is the perfect compliment to this cheesecake and I seriously cannot wait for you to try it!
So instead of making pumpkin pie this year, change it up and make this delicious, light, airy, creamy Pumpkin Cheesecake. I promise you won't regret it! It's the perfect way to finish off a holiday meal!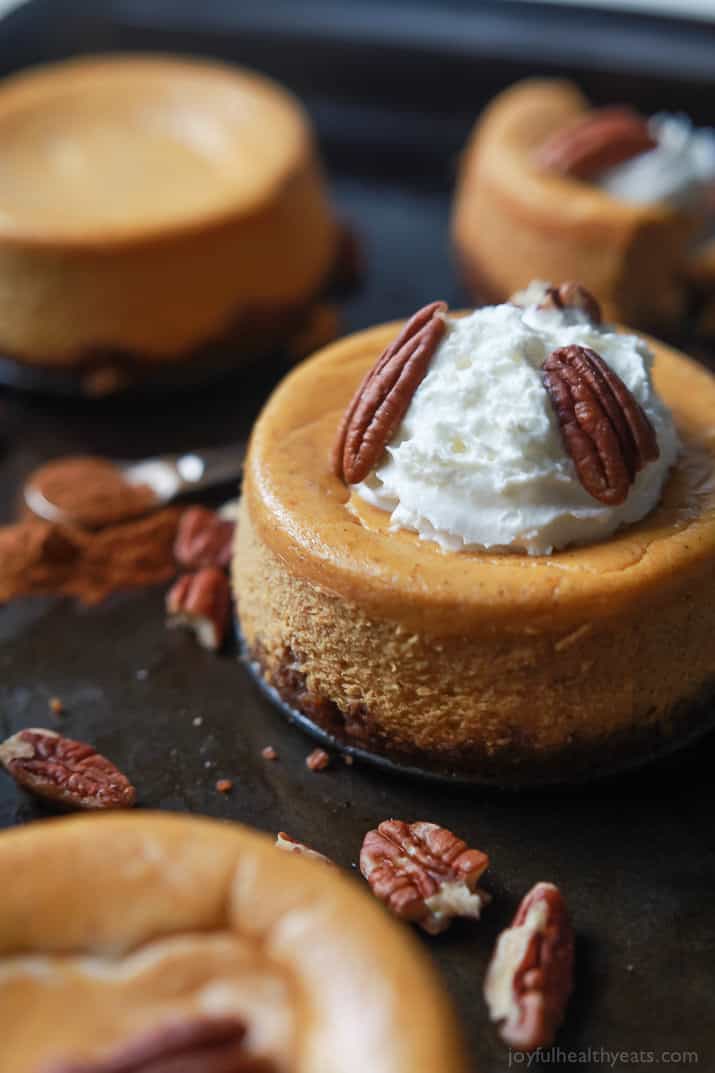 Print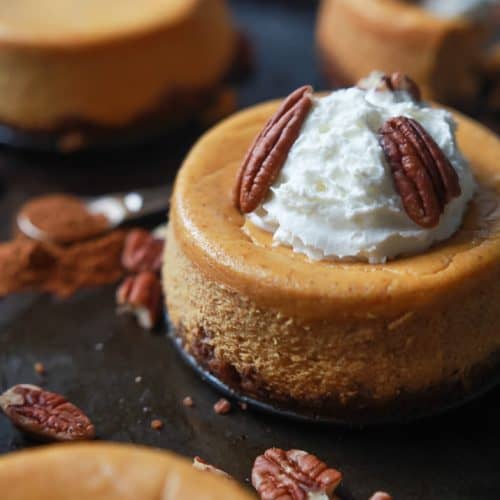 Skinny Mini Pumpkin Cheesecakes with Pecan Crust
Author:

Prep Time:

10 mins

Cook Time:

1 hour 40 mins

Total Time:

1 hour 50 mins

Yield:

5

mini cheesecakes

1

x
Category:

Dessert, Gluten Free, Holiday
---
Scale
Ingredients
Pecan Crust:
2 cups

pecans

2 tablespoons

unsalted butter, melted

2 tablespoons

raw honey

1/2 teaspoon

ground cinnamon
pinch of salt
Pumpkin Cheesecake:
2

(8oz) packages of cream cheese, softened

3/4 cup

brown sugar

1 teaspoon

vanilla extract

1 cup

pumpkin puree

3

eggs, room temperature

1 teaspoon

ground cinnamon

1/2 teaspoon

nutmeg

1/4 teaspoon

cardamom
Instructions
Preheat oven to 325.
Place five 4×4 mini cheesecake springform pans on a baking sheet.
Add pecans to a food processor (or blender) chop until finely diced. To the food processor with nuts, add in butter, honey, 1/2 teaspoon of cinnamon and a pinch of salt. Blend until everything is mixed and the "crust" holds together a bit.
Evenly distribute pecan crust among five springform pans. Press the crust down on the bottom of the pan, do not go up the sides.
Bake crust for 5 minutes. Remove and let sit.
In a stand mixer using the whisk attachment, add cream cheese, brown sugar, and vanilla extract. Whisk until the cream cheese is smooth (no lumps).
Next add in pumpkin puree, eggs, ground cinnamon, nutmeg and cardamom. Blend until all ingredients are mixed and the cheesecake mixture is light and fluffy. About 4-5 minutes.
Evenly distribute pumpkin cheesecake among the mini springrform pans on top of baked pecan crust.
Bake cheesecake for 35 minutes. Leaving the cheesecakes in place, turn off the oven, and leave the door open for 1 hour.
Remove the cheesecakes from the oven and place in the refrigerator to cool.
---
Nutrition
Serving Size:

1/3 slice of a mini cheesecake

Calories:

261

Sugar:

14 g

Sodium:

137 mg

Fat:

20 g

Carbohydrates:

18 g

Protein:

5 g

Cholesterol:

67 mg
IF YOU MAKE THIS RECIPE, BE SURE TO SNAP A PIC AND HASHTAG IT #JOYFULHEALTHYEATS. I LOVE SEEING WHAT YOU MAKE!
Want More Fun Pumpkin Recipes?
Pumpkin Spice Latte Coffee Cake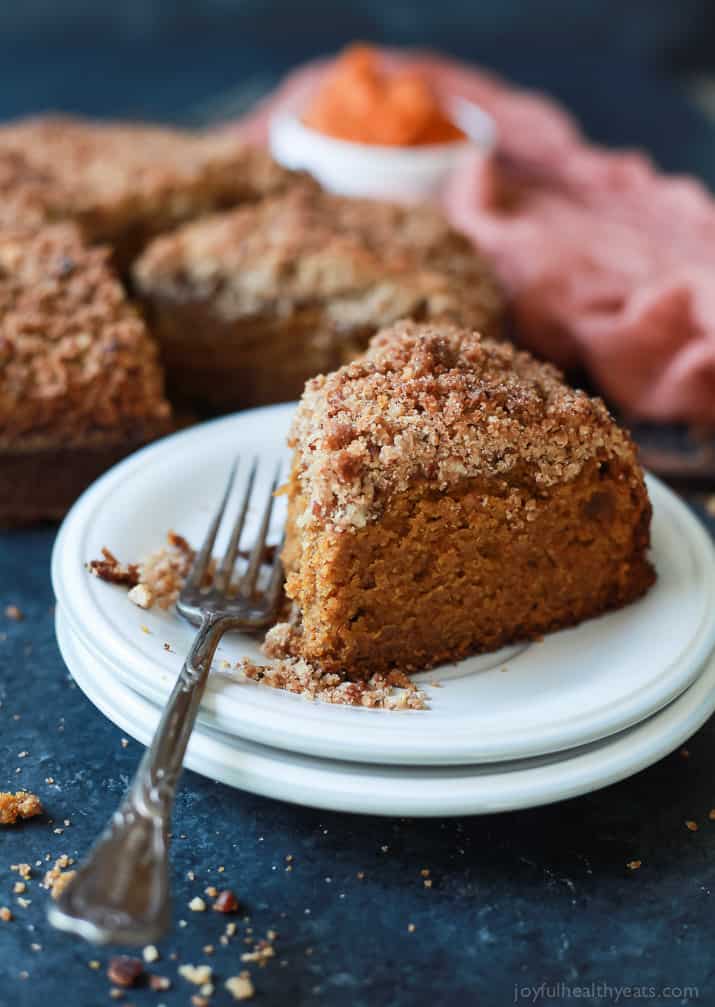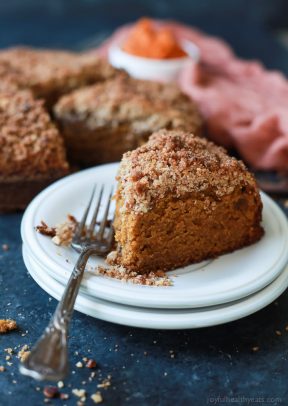 Skinny Chocolate Chip Pumpkin Bars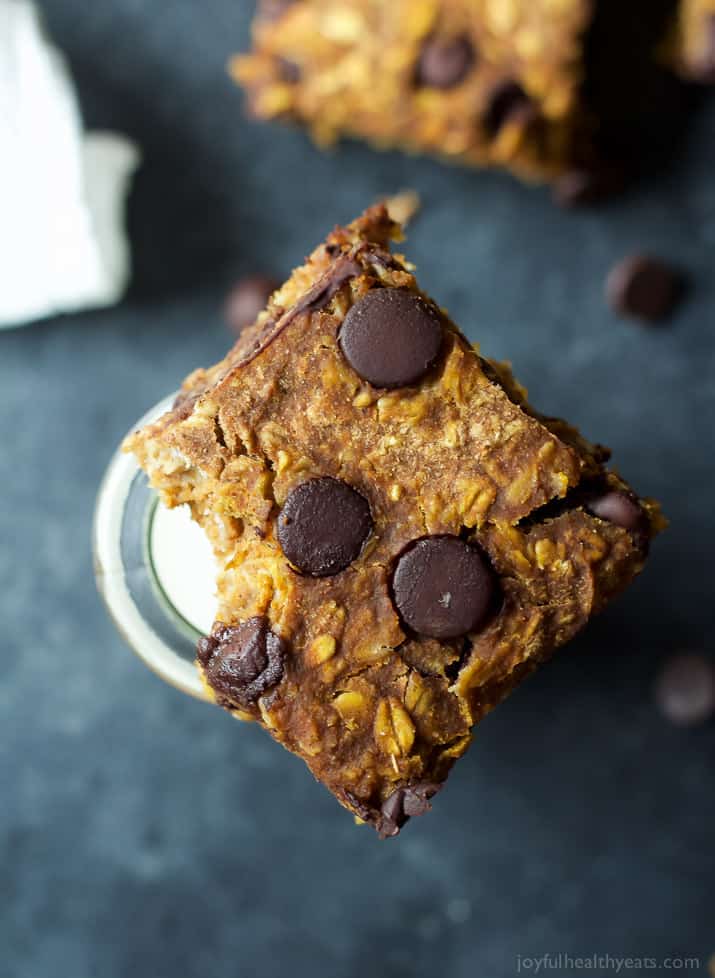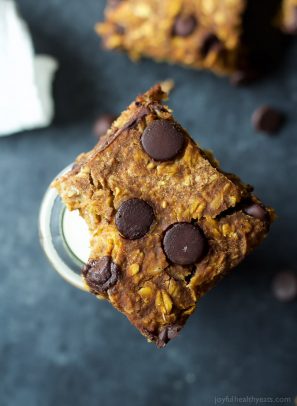 No Bake Pumpkin Cheesecake with Gingersnap Pecan Crust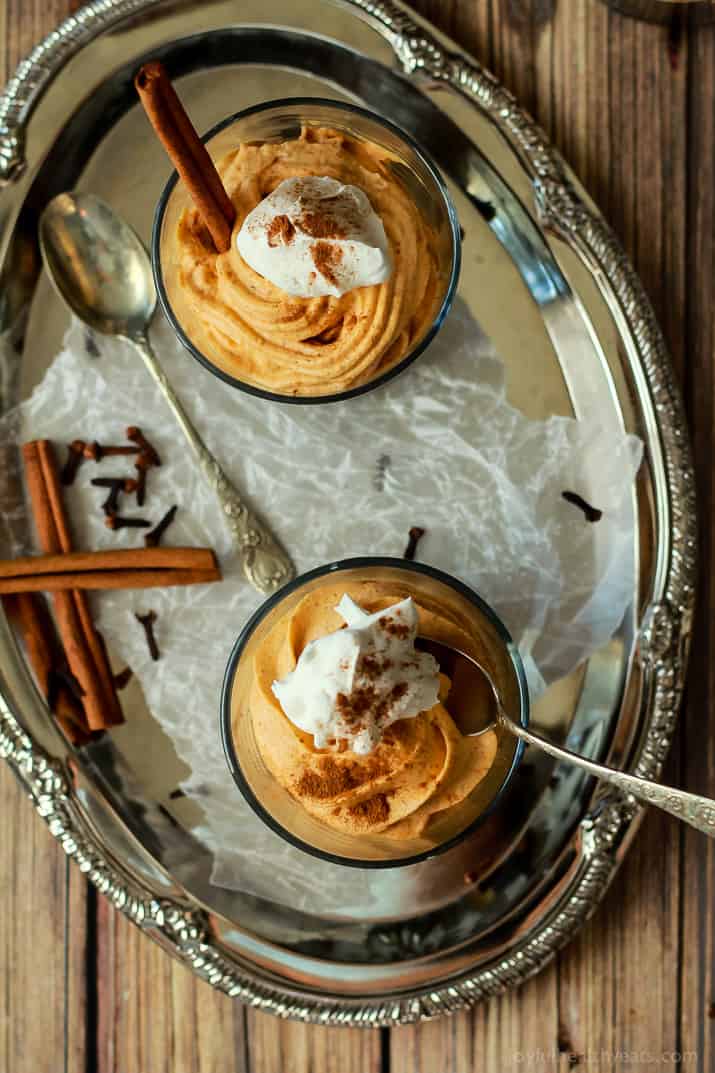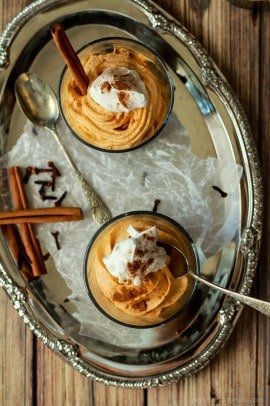 DON'T MISS A RECIPE ->