This is the Ultimate Food and Wine Pairing Guide for this holiday season! You'll look like a rockstar sommelier with this easy wine pairing guide broken down by wine type and which foods pair best with that wine! This is a must have for holiday entertaining!
If you are a wine lover like me then you definitely need to check out my Top 5 Wineries to Visit in Wine Country and my Cheese and Wine Pairing Guide!
Holiday Food and Wine Pairing
When I was thinking of Holiday Entertaining one of the most asked questions is, how do you pair food and wine? After all, there is nothing like opening a nice bottle of wine and serving it with the wrong thing. It can make the wine taste bad and take away from the experience. But paired with the right thing, whoazer, it can enhance the food (ahem.. make you look more amazing than you already are) and elevate the experience of the evening!
I've had the privilege of talking with a few sommeliers and here's what I've learned!

There Are Two Basic Rules When Pairing Food and Wine
You can buy a wine that compliments the food.
Or a wine that enhances the flavor of the food.
Think of it kinda like food. When you're eating a big juicy steak that can be a little fatty, adding a chimichurri sauce or lemon juice will cut through the fat and balance the dish. It's the same with wine. If you have a creamy buttery gouda cheese, pairing it with an acid Sauvignon Blanc would cut through the buttery taste and balance the flavors! Easy peasy!
What Wines Go With What Foods?
Red Wines typically go better with full flavored meats. (steak, lamb, etc.)
White Wines will pair better with lighter dishes. (fish, seafood, chicken, etc.)
Match wine flavors and intensity to the food you are serving it with. For example, a white fish served with a lemon sauce will pair well with an acidic Pinot Gris or Sauvignon Blanc. Likewise a bold flavorful steak with a peppercorn sauce will pair well with a shiraz or bold Cabernet Sauvignon.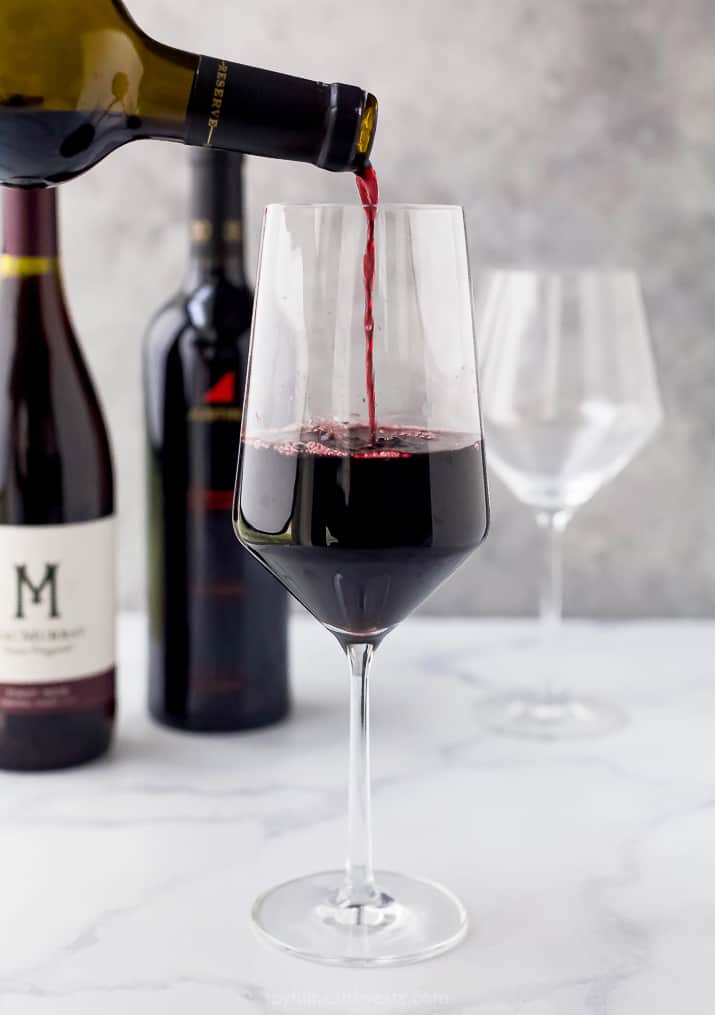 The Ultimate List for Food and Wine Pairings:
As I was putting together this guide I thought it would be best to go through each wine – tell you the flavor notes and then tell you which foods to pair it. Ultimately, leaving you with all the information you need to be confident in your wine pairings this holiday season.
Champagne
When you think of Champagne you probably don't think of pairing it with food because it's more of a celebratory wine. However, this dry bubbly wine pairs well with a few items that you'd be surprised by.
Reisling
Reisling is typically known to be a sweeter white wine. You won't get a lot of acid from this wine and it will have a smoother finish than a Sauvignon Blanc. Surprisingly it pairs well with spicier foods, so think BBQ or Thai food.
Sauvignon Blanc
Sauvignon Blanc is a light, crisp and acidic wine that pairs well with lighter foods – yet also still has a lot of flavor. This flavorful wine will pair well with things like:
Chardonnay
Chardonnay is a full bodied white wine that has a lot of oak and buttery notes. This wine can usually stand up against bolder flavors in food when other white wines might not meet the mark. Some of my favorite things to pair with Chardonnay are:

Pinot Noir
Pinot Noir is a lighter red wine that is more fruit forward in flavor than other red wines. It's a light bodied red but also has some weight behind it and can stand up to some meat dishes. So don't be afraid to pair it with meats and even some fishes. This is one wine that can swing both ways!
Shiraz/Syrah
Shiraz/Sryah is starting to become a more popular wine throughout the globe. This wine is made in a lot of different countries, therefore creating a lot of different varietals. This wine has notes of fruit but also a lingering pepper taste. It pairs well with spicy foods or international foods (like Indian, Ssian, or Thai foods).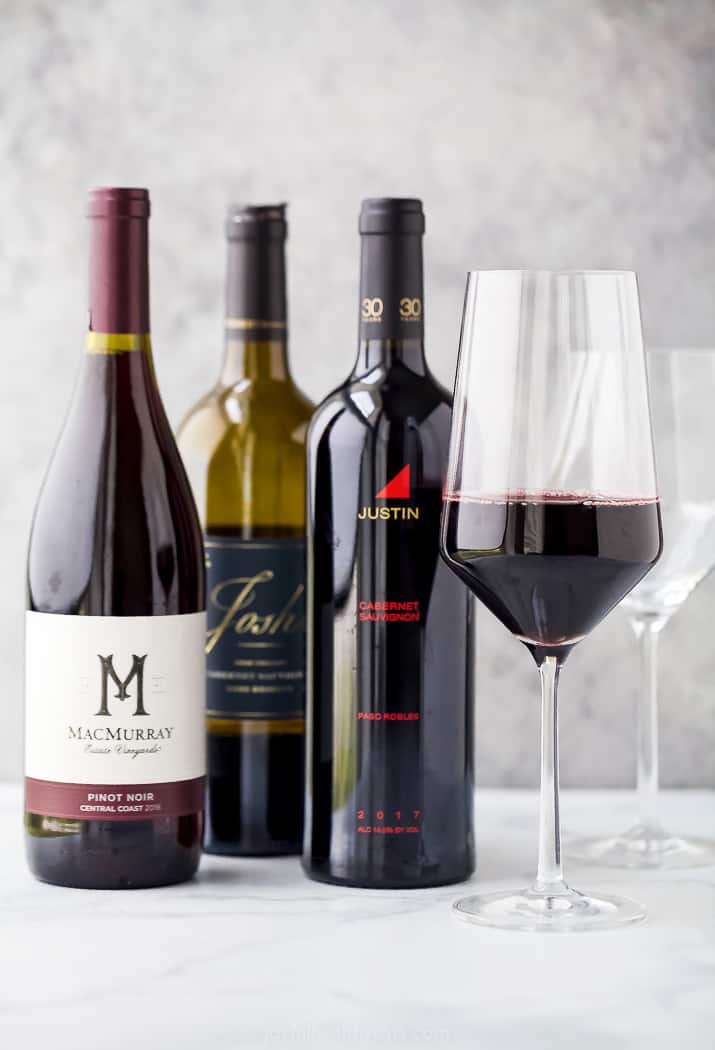 Merlot
Merlot is a wine that not many people drink these days, and honestly I'm not a fan. It has hints of fruit, a bit herbaceous in flavor and not as much tannin as a Cabernet Sauvignon. Here are a few foods that would pair well with this wine:
Cabernet Sauvignon
A full bodied red wine that is probably the most popular of red wines. It has bold tannins and subtle notes of fruit. It pairs great with beef dishes and the perfect wine to serve at a nice dinner. Foods that Cabernet Sauvignon pairs well with are:
Ok folks. I hope that this full comprehensive guide to wine pairings truly helps you out this holiday season and helps you create the most epic pairings that people will be talking about for years! If you have any questions, please don't hesitate to give me a shout!
Cheers!
Some of my favorite wine accessories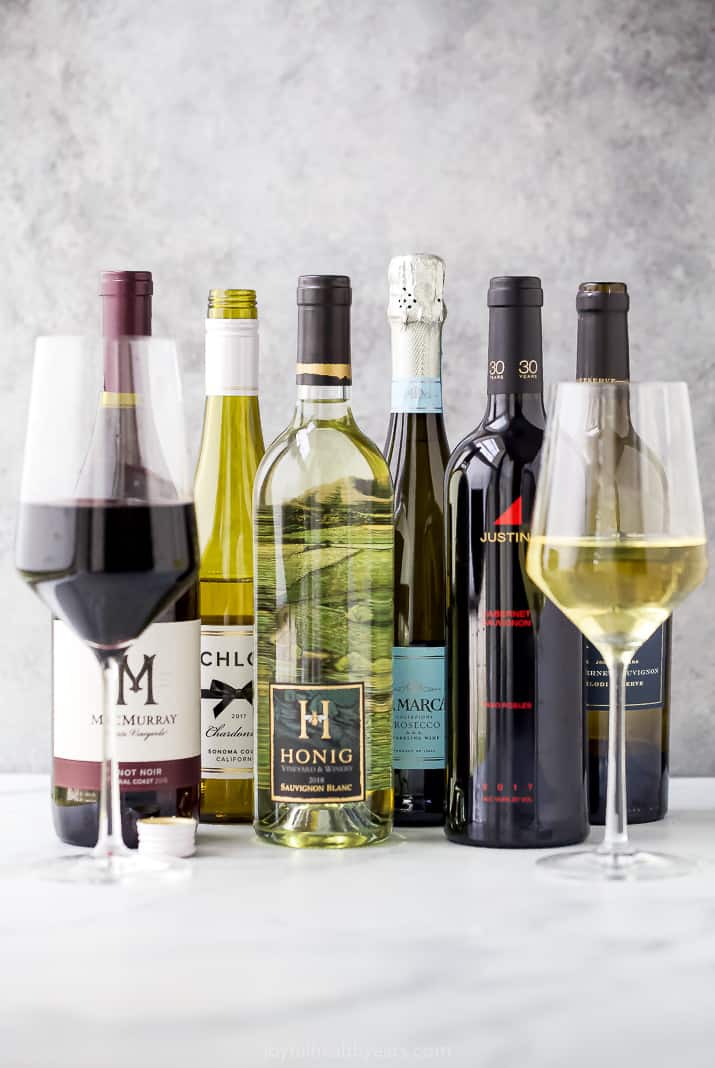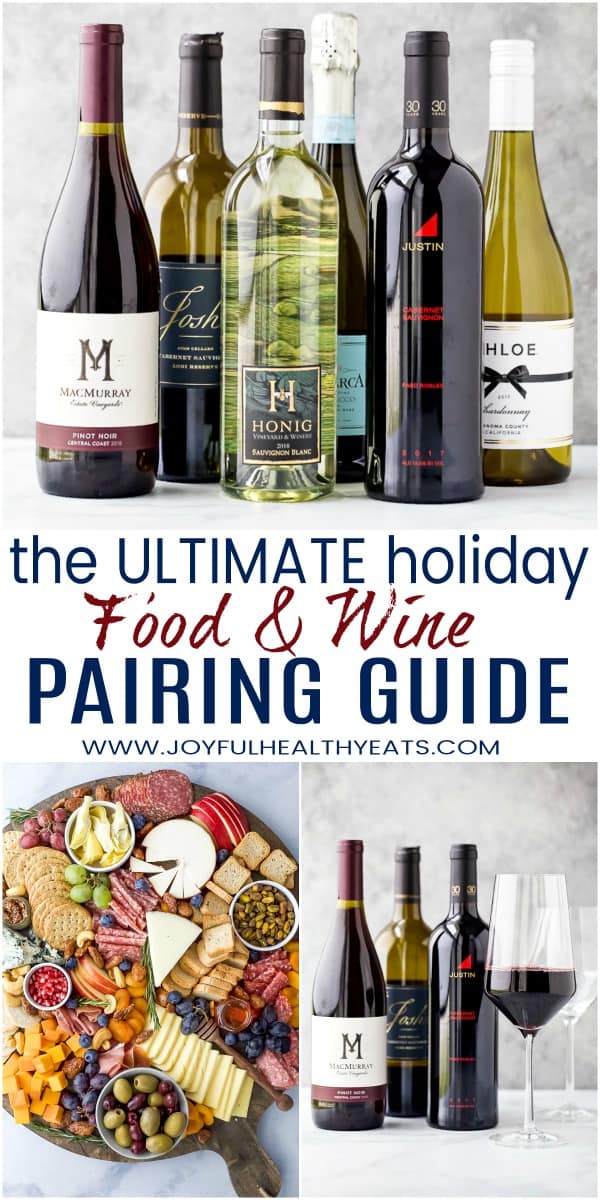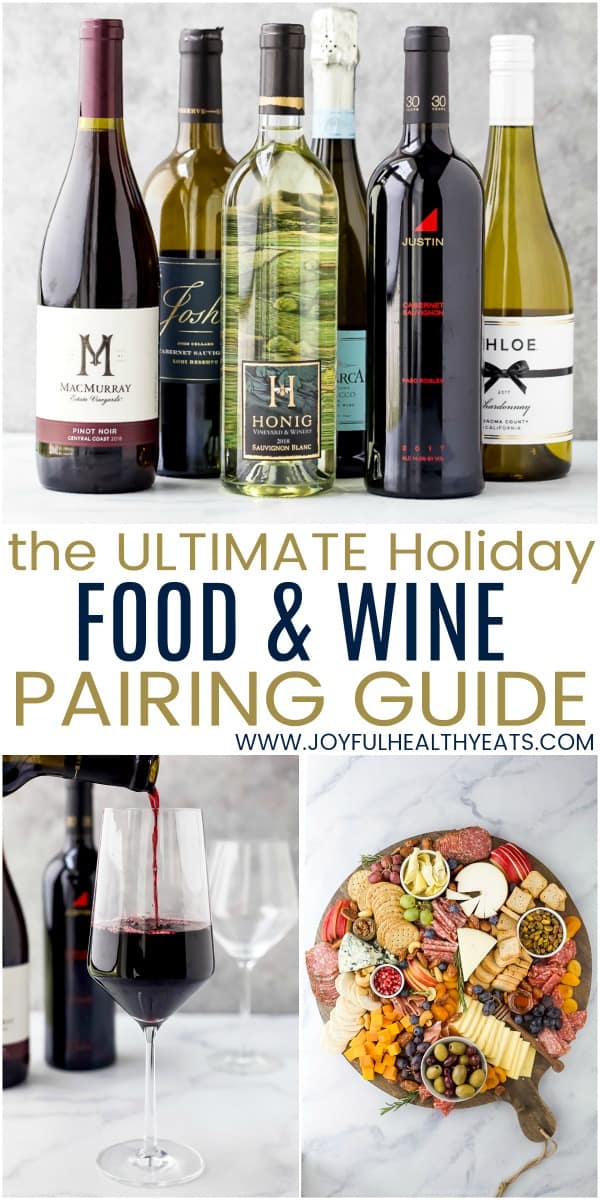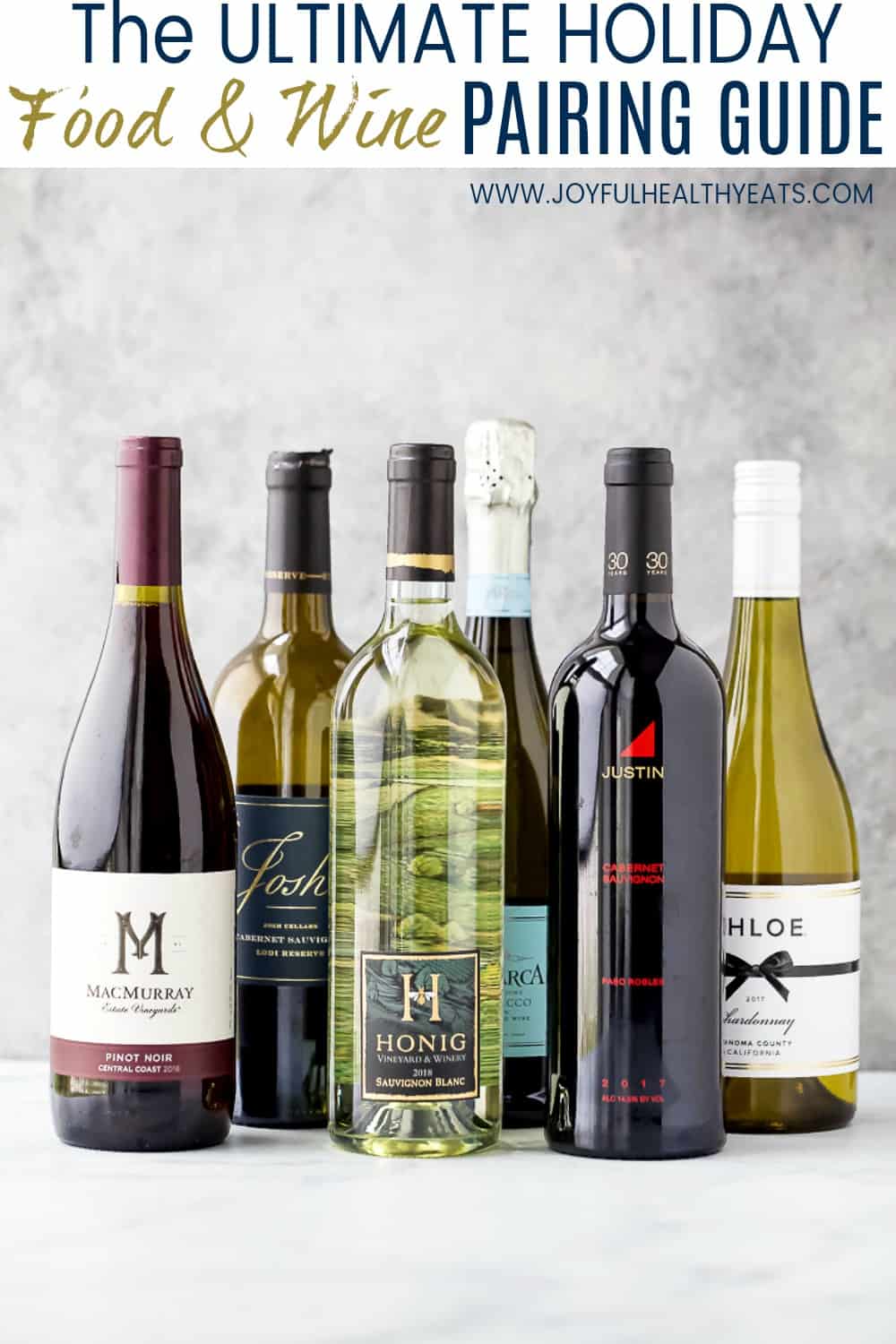 DON'T MISS A RECIPE ->