This Pan Seared Filet Mignon with Chimichurri is the ultimate date night meal! It's so simple but has restaurant-quality flavors from the bright and tangy homemade chimichurri sauce.
The Best Filet Mignon Recipe
My mouth is watering just writing this post! You are going to love this quick and easy date night recipe. This Pan Seared Filet Mignon with Homemade Chimichurri has easily become one of my husband's favorites and you'll soon wow your partner, too!
You're going to want to treat yourself to a nice piece of steak for this recipe. It's well worth it and you won't have any regrets! And a filet is incredible on its own (even just a little salt and pepper does the trick) but with this recipe, we're making a quick chimichurri sauce that is finger-licking good. (You know how much I love chimichurri sauce! Remember this Skirt Steak recipe?!)
Chimichurri Sauce is tangy, bright, and herby. And when it's poured over a perfectly cooked steak – oh my gosh, there's nothing like it! So look no further for the perfect Valentine's Day stay-at-home dinner. This filet mignon recipe is it!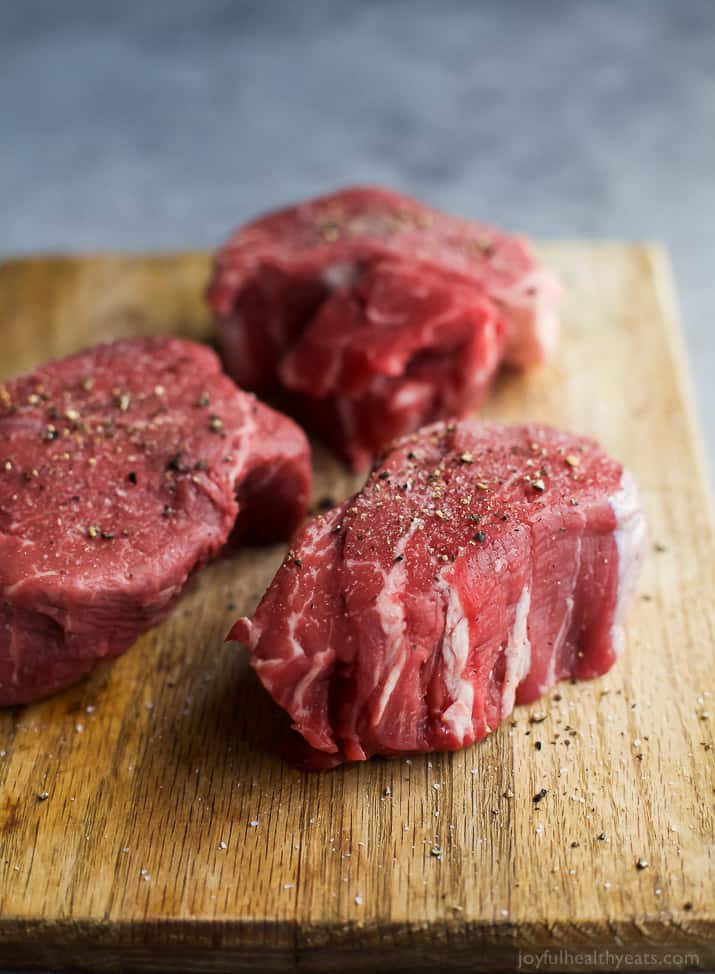 What's So Special About Filet Mignon?
A filet mignon is a special occasion piece of meat. You won't want to cook it all the time (it's more expensive than other cuts) but it's worth the splurge every now and then.
This cut of beef is from the beef tenderloin which is one of the least-used muscles of the cow. So what does that mean? It means that it's incredibly tender and flavorful. It also doesn't have a lot of the fat that other cuts like rib eyes have.
Fortunately, I've got a lot of different steak recipes to suit whatever you and your partner like. I like this recipe for a fancy restaurant-quality dinner, but there's no shame in trying my Rib Eye version, either!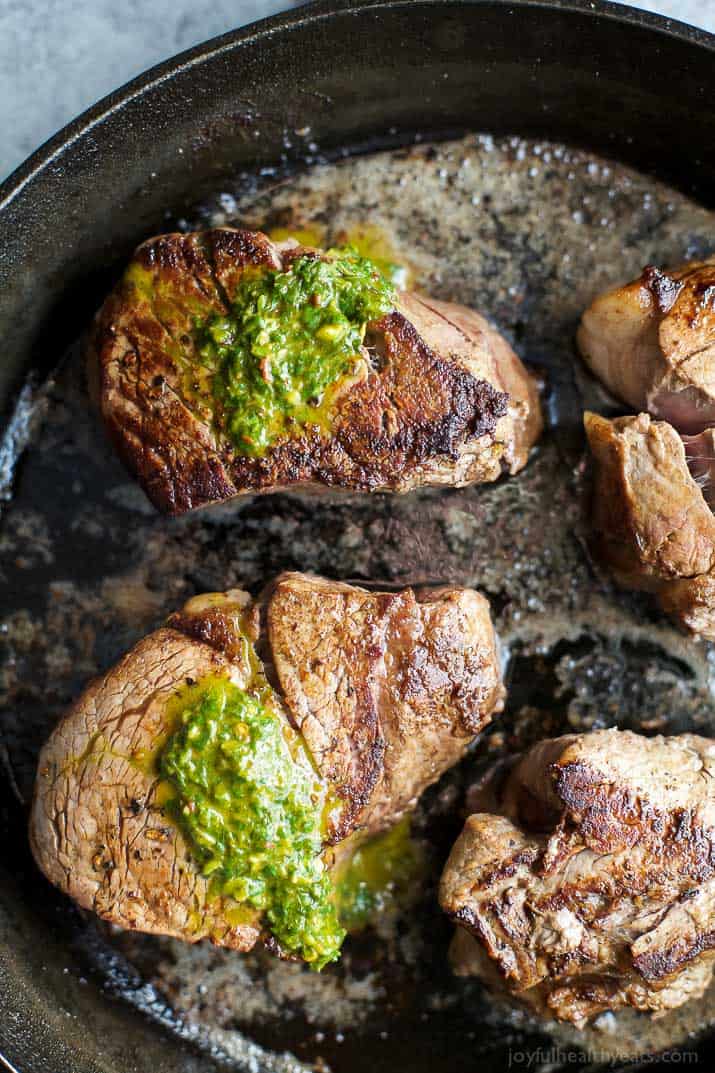 Recipe Ingredients
Here is what you need to make this steak with chimichurri sauce at home.
Filet Mignon: This is one of the more expensive and lean cuts of beef that works great for a fancy meal at home. If you want to use a different type of beef, you can follow the steps for my Skirt Steak version or Cowboy Steak (rib eye).
Salt and Pepper: Keeping it simple with seasoning still results in incredible flavor!
Butter: For cooking the steak…and it's the best way (in my opinion).
For the Chimichurri Sauce
Garlic: Always use fresh garlic for this sauce! It packs a really good punch in all the right ways.
Cilantro: Fresh cilantro is what gives this sauce a bright green color. You can also use a mix of herbs like mint, chives, and/or parsley.
Red Wine Vinegar: You could use rice wine vinegar or apple cider vinegar as a substitute.
Lime Juice: Freshly squeezed lime juice is what's best for this recipe
Olive Oil: A good substitute would be avocado or sunflower seed oil.
Smoked Paprika: I love the smokey flavor of using this spice. It would be a little bit sweeter if you used regular paprika.
Red Pepper Flakes: Use more or less depending on how spicy you want the sauce to be.
Salt and Pepper
How to Make Pan Seared Filet Mignon with Chimichurri
The simple steps for making this dish are below.
First, preheat the oven and a cast iron skillet. You need to oven to be warm so that it's ready to finish cooking the steak. Now is also a good time to take the steaks out of the fridge so that they come to room temperature before cooking them.
Then season the steaks on both sides. And then add them to the HOT pan with the butter. The pan must be very hot in order to get a good sear on both sides.
Finish cooking the steaks in the oven. The time in the oven will depend on how well you want the steaks cooked. When the time is up, remove them from the oven and let the steaks rest for a little bit.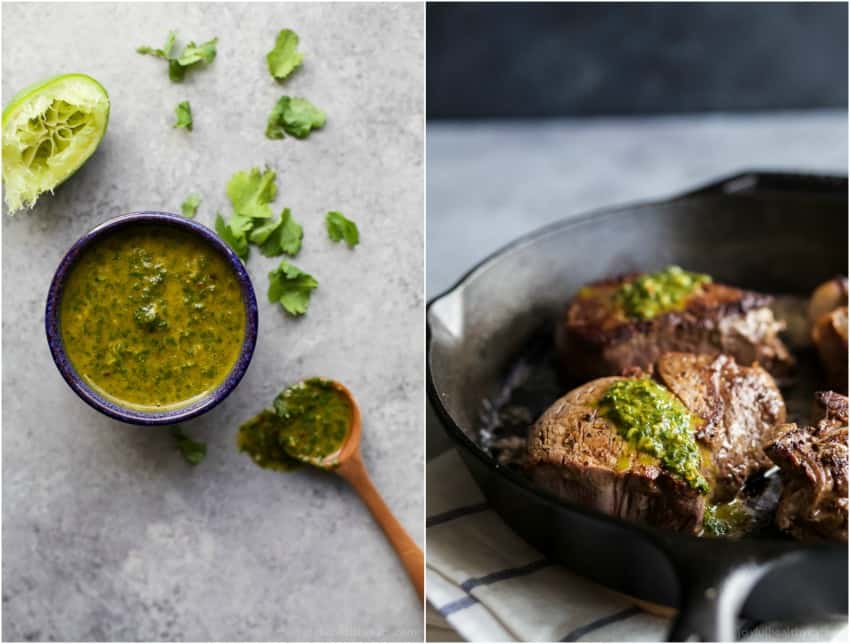 While the steaks rest, make the chimichurri sauce. Simply blend all of the sauce ingredients in a food processor or blender until they are smooth.
Then serve the Pan Seared Filet Mignon with a scoop of the chimichurri sauce. And enjoy every delicious bite!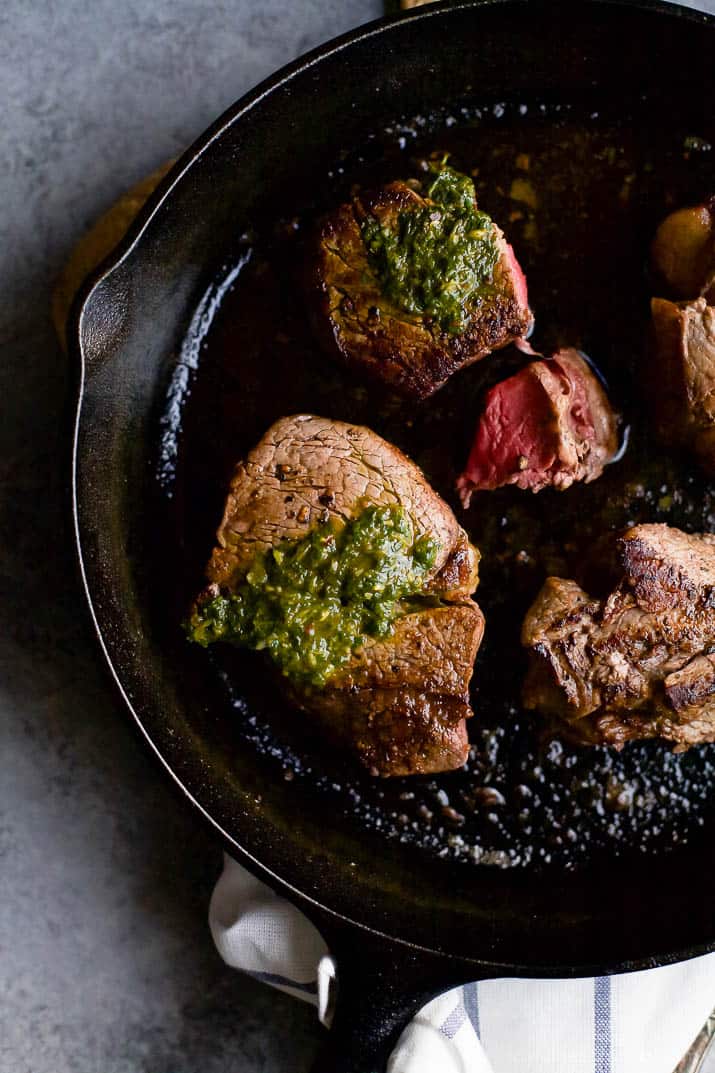 Tips for A Perfectly Cooked Filet Mignon
Follow these helpful tips and your filet mignon will come out perfectly every time!
Don't cook a cold steak. This is the first step that you'll take to ensure that your steak is perfect. You want the steak to sit out at room temperature for about 30 minutes.
Be generous with the salt and pepper. If you don't use enough the natural flavor of the beef won't come through in the dish. Trust me, it's ok to add a few extra pinches!
Let the steaks rest after cooking. The most important step if you ask me! If you cut into a steak too soon, all of the juices will run out and it just won't be as flavorful and tender. Be patient and let it rest for a little bit before serving.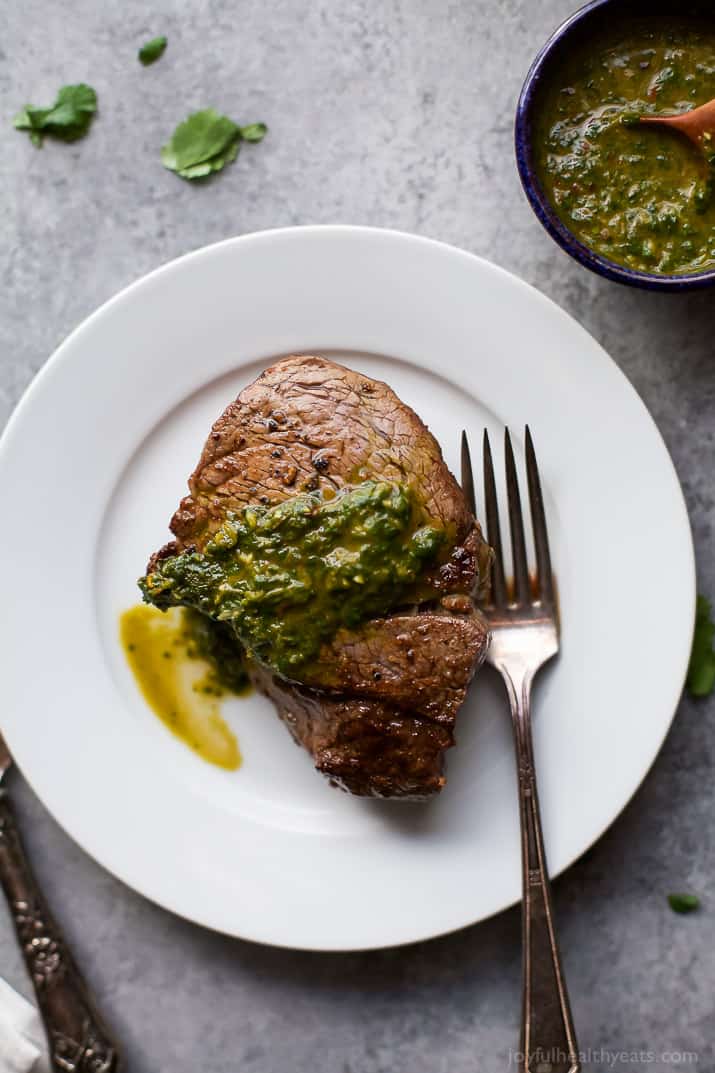 What To Serve With Steak
Here are some of my favorite sides and other recipes to serve with this Pan Seared Filet Mignon with Chimichurri Sauce.
How to Store & Reheat Leftovers
I honestly think that you and your lucky date are going to devour this dinner because it's SO delicious. But if there are leftovers, that's great because steak leftovers are very tasty!
I suggest keeping the cooked filets and sauce separate. Keep them both in air-tight containers in the fridge and they will stay fresh for 1-2 days.
The chimichurri sauce may start to brown as it stays in the fridge. My suggestion to avoid this is to pour a thin layer of olive oil on top of the sauce and leave it (don't mix it in!). It creates a natural barrier so the sauce stays fresh longer.
Print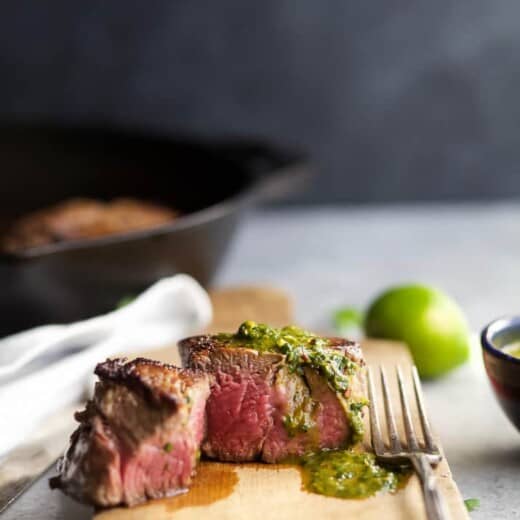 15 Minute Filet Mignon with Chimichurri
Author:

Prep Time:

5 minutes

Cook Time:

10 mins

Total Time:

15 minutes

Yield:

4

servings

1

x

Category:

Dinner

Method:

Oven

Cuisine:

French
---
Description
This 15 Minute Pan Seared Filet Mignon with Chimichurri is the ultimate date night dinner recipe. It's easy to make and tastes like something you'd order at a restaurant with a citrus and herby sauce and a delicious spice blend for the steak.
---
4

6 oz. filet mignon, brought to room temperature
salt & pepper to season both sides

2 tablespoons

of butter
Chimichurri:
1

garlic clove

1 cup

fresh cilantro

2 tablespoon

red wine vinegar

1 tablespoon

lime juice

3 tablespoons

olive oil

¼ teaspoon

smoked paprika

½ teaspoon

red pepper flakes
salt & pepper to taste
---
Instructions
Preheat oven to 415 degrees.
Make sure filet mignon are brought up to room temperature before you cook them. Usually take them out of the refrigerator 30 minutes prior to cooking. Generously season both sides of the filet.
Heat a large skillet till it is searing hot! It needs to be HOT for you to get a nice sear.
Add butter to the pan. Then place the filets in the skillet. Sear the first side for 2 minutes, DO NOT touch them at all. After the 2 minutes is up, flip the filet and repeat by searing for 2 minutes.
After the two minutes if up, immediately place the skillet in the oven. Uncovered. Let filets bake for 5-6 minutes for medium rare. (I did 6 minutes and it was perfect) If you like you steak cooked more then add 1-2 minutes for each temperature (ex. medium would be 6-7 minutes)
Remove the steaks when done and let sit.
In the meantime, add the following to a small food processor – garlic clove, fresh cilantro, red wine vinegar, lime juice, olive oil, smoked paprika, red pepper flakes, salt, and pepper to taste. Blend until smooth.
Serve each filet mignon with a scoop of chimchurri
---
Keywords: filet mignon cast iron, best filet mignon recipe, pan seared steak, easy steak recipes
Filed Under:
More Easy Steak Recipes