A Creamy Lemon Tart Recipe with an almond crust shell naturally sweetened with maple syrup – the perfect holiday dessert!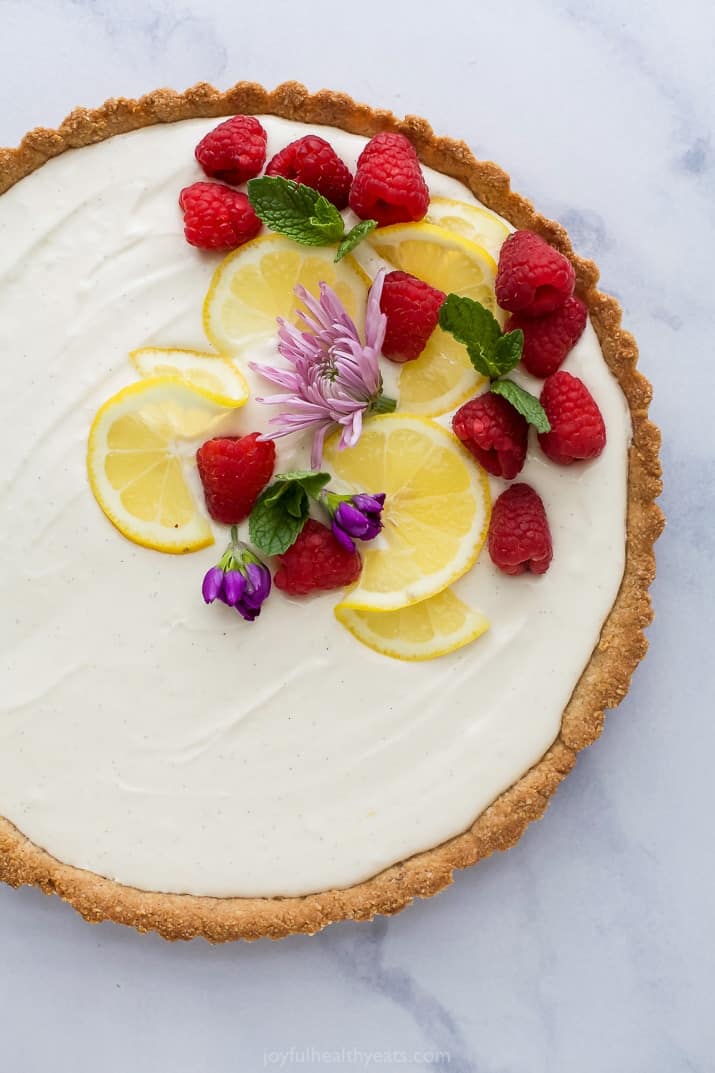 A Creamy Lemon Tart Recipe with an almond crust shell. This easy lemon tart is made with cream cheese, yogurt, lemon juice and naturally sweetened with maple syrup! It makes the perfect light dessert!
So. Funny story about this tart. I made it during spring break week. I know that doesn't sound funny. But to me, it means that I made it while I had two kids at home and no backup because my sitter was sick. Again, that means I have a 6 year old boy who is throwing footballs around the house yelling touchdown and tackling the dog. All while his baby sister, who is 1 year old, is trying to either climb up my leg so I hold her or she's crawling around the floor trying to kick a soccer ball screaming "ki, ki, kik."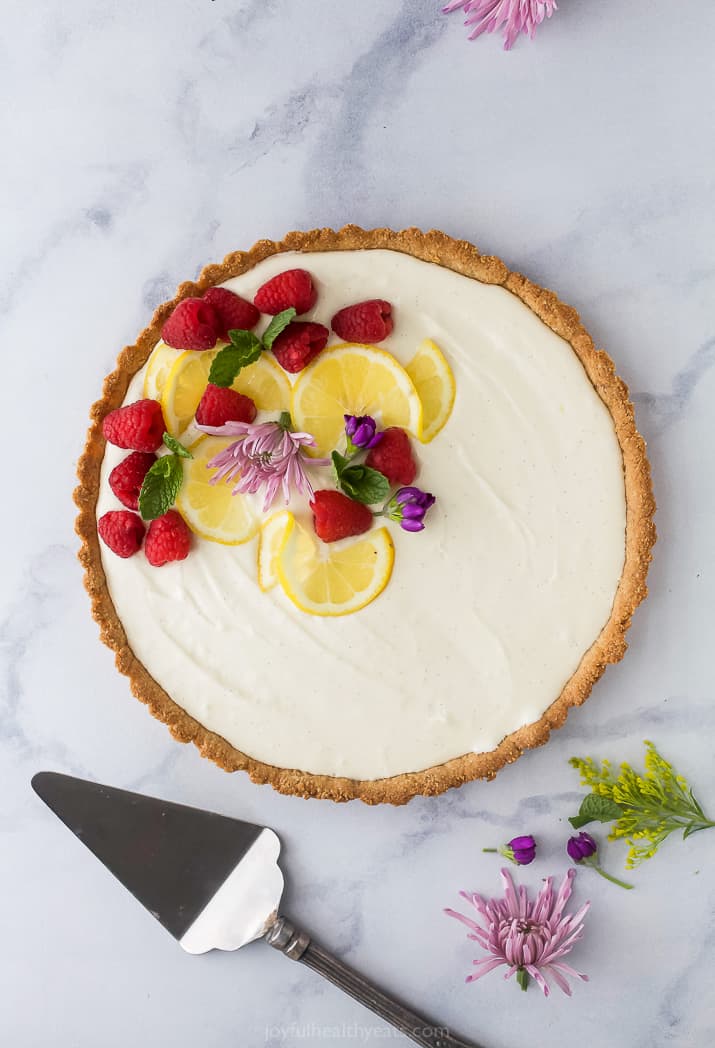 It's mayhem. Complete and utter mayhem. Any mom will tell you! But I love it.
And I attempted to make this delicious creamy lemon cheesecake tart in the middle of it! I even attempted to photograph it. And I'd say I did a good job… until Maddie almost knocked it off the table I was photographing on and stuck her hand in it. Or when I had my son help me get an action shot of a piece being pulled away from the whole tart with a spatula, and then the piece flipped and landed upside down on the tart pan.
Hand to forehead.
Oh this Lemon Tart. I will never forget this Lemon Tart and the story that goes with it!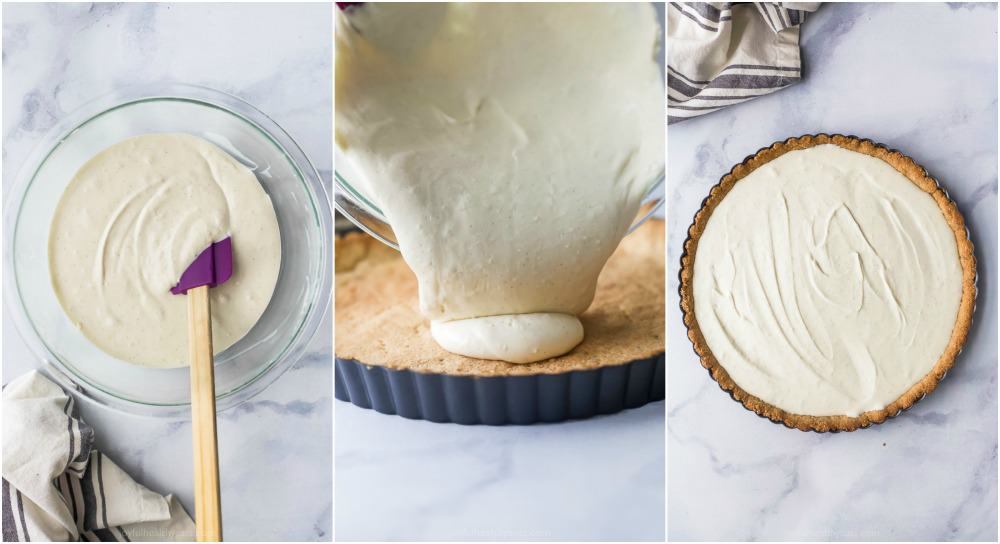 The good news is, even after all the crazy surrounding this tart, it still turned out absolutely delicious. I even had to make it again two days later! Now, before I get any "haters" I'm gonna say this up front. This is a non traditional Lemon Tart.
What is a Classic Lemon Tart?
A classic french lemon tart is made with a buttery flaky pie crust shell and filled with a creamy lemon curd or custard that is made with egg yolks, butter, (sometimes heavy cream) sugar and lemon juice.
This Lemon Tart Recipe has an almond crust shell that is made with almond flour, cinnamon, maple syrup and coconut oil. Press the mixture into the sides and bottom of the tart pan and bake at 350 degrees F for 12-15 minutes, or until it is golden brown.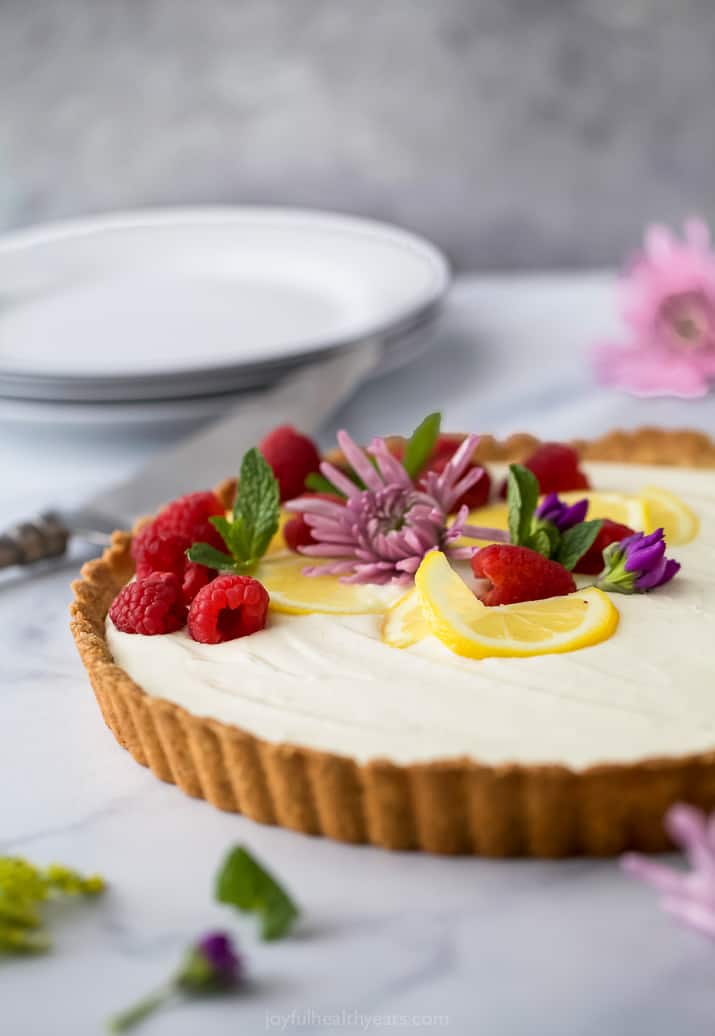 Now. Let's talk lemon filling, shall we?
How to make Lemon Tart Filling?
Typically Lemon Tart Filling is made with egg, butter, lemon juice, lots of sugar and sometimes heavy cream. It makes this filling very silky and heavy.
Heat a large saucepan to medium heat. Add whole eggs, egg yolks, sugar, lemon juice and salt. Whisk until smooth.
Cook the mixture, whisking constantly, until the mixture starts to thicken. You will know it's ready when it can coat the back of a spoon, about 3 minutes.
Remove the mixture from the heat and add the butter to the pan a few pieces at a time, gently whisking until incorporated.
Once all the butter is incorporated immediately strain the filling into the bowl. Pour mixture over a strainer into a large bowl. Pour the mixture into prepared tart shell and let chill in refrigerator for 2 hours!
But today's recipe has a much lighter and healthier feel to it with a creamy no bake lemon filling made with cream cheese, yogurt, maple syrup, lemon juice, lemon zest and vanilla.
It is absolutely heavenly.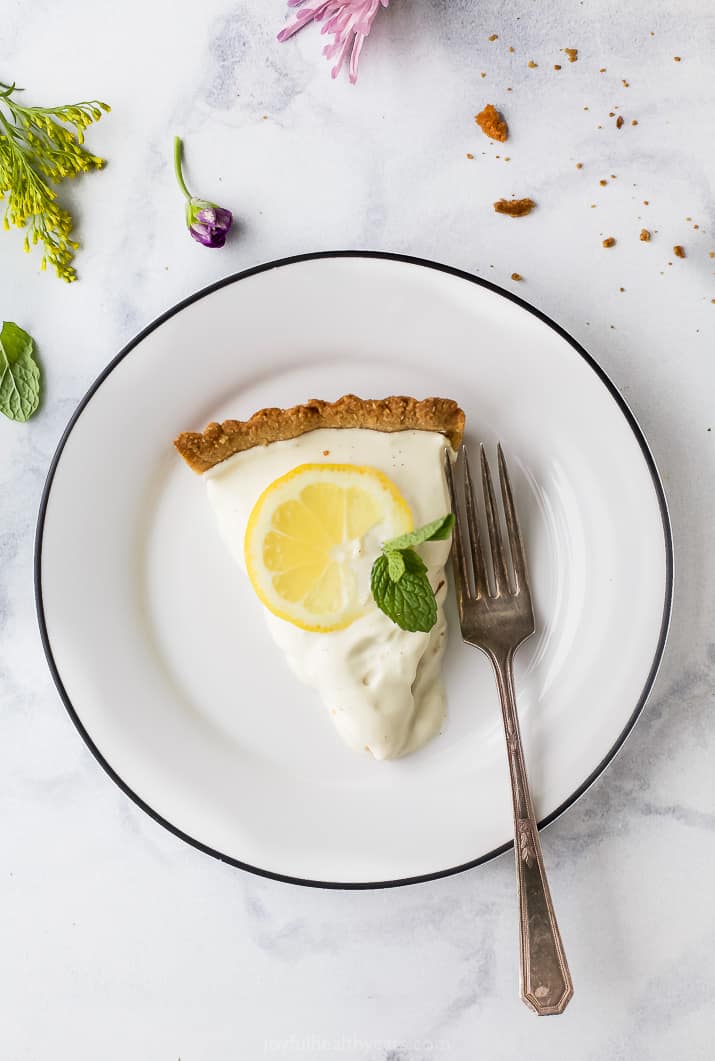 Nothing about this dessert is traditional. But everything about it is dreamy. I've made this recipe twice in the past week and I don't regret it one bit! So, if you're in the market for a creamy light slightly sweet DELICIOUS dessert recipe .. this is it!
It's perfect for Easter, Mothers Day and any of those summer backyard BBQ parties that are just around the corner.
Can't wait to hear what you think! Bon Appetit friends and Happy Monday!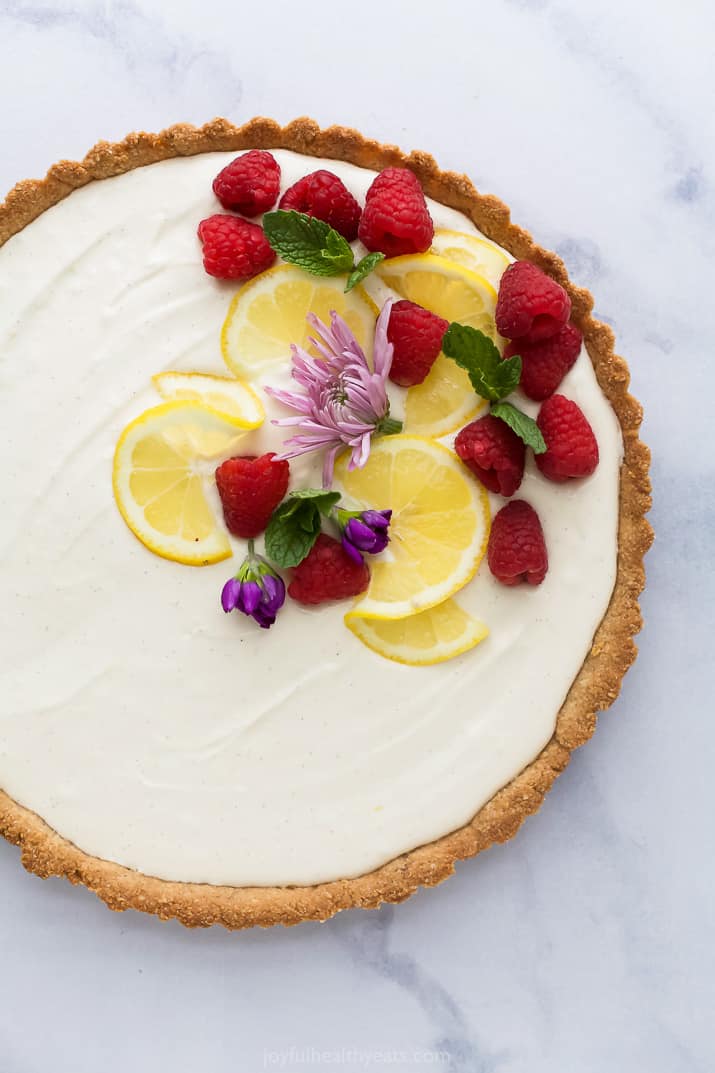 Print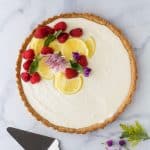 Creamy Lemon Tart with Almond Crust
Author:

Prep Time:

1 hr

Cook Time:

15 min

Total Time:

1 hr 15 min

Yield:

1

0

1

x
Category:

Dessert, Gluten Free, Kid Friendly, Holiday

Method:

Oven

Cuisine:

American
---
Description
A Creamy Lemon Tart Recipe with an almond crust shell. This easy lemon tart is made with cream cheese, yogurt, lemon juice and naturally sweetened with maple syrup! It makes the perfect light dessert!
Scale
Ingredients
For Almond Crust:
2 cups

fine unblanched almond flour

1/3 cup

coconut oil, melted

3 tablespoons

maple syrup

1 teaspoon

ground cinnamon
For Filling:
8 oz

softened cream cheese

1 cup

plain greek yogurt

3 tablespoons

maple syrup

2 1/2 tablespoons

lemon juice

1 teaspoon

vanilla bean paste

1 teaspoon

lemon zest
Instructions
Almond Crust
Preheat oven to 350 degrees F.
Spray a 10″ spring form tart pan with cooking spray.
In a small bowl mix together almond flour, coconut oil, maple syrup and ground cinnamon. Mix until all the ingredients are combined and the mixture is somewhat sticky.
Add almond crust mixture to the spring form pan. Spread the mixture out evenly along the bottom and up the sides. Pressing into the pan. (if the mixture sticks to your hands just add a little oil to your hands)
Poke the crust with a fork all over the bottom and a few times on the sides. This will prevent the crust from bubbling up.
Place pan in the oven and bake for 12-15 minutes, until the crust is lightly browned. Remove from oven and let cool.
Cheesecake Filling
To a medium bowl add cream cheese, greek yogurt, maple syrup, lemon juice, lemon zest and vanilla bean paste.
Using a hand mixer, blend until the mixture is smooth and there are no lumps.
Pour the cheesecake mixture over the almond crust and evenly spread to cover the entire bottom with a spatula.
Top the tart with slices of fresh lemon and fresh raspberries.
Let chill and set for 1-2 hours. Serve.
---
Nutrition
Serving Size:

1 slice

Calories:

294

Sugar:

10 g

Sodium:

102 mg

Fat:

23 g

Saturated Fat:

9 g

Carbohydrates:

17 g

Fiber:

3 g

Protein:

9 g

Cholesterol:

14 mg
Keywords: Easter Recipes, Easter Dessert Recipe, Mothers Day Recipe, Lemon Tart Recipe, Lemon Tart, Easy Lemon Tart, Almond Crust Recipe, Healthy Dessert Recipe, Healthy Summer Dessert
Want more Easy Lemon Recipes?
Gluten Free Lemon Poppyseed Scone Recipe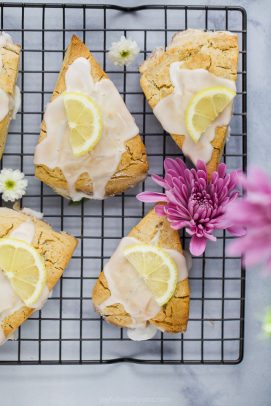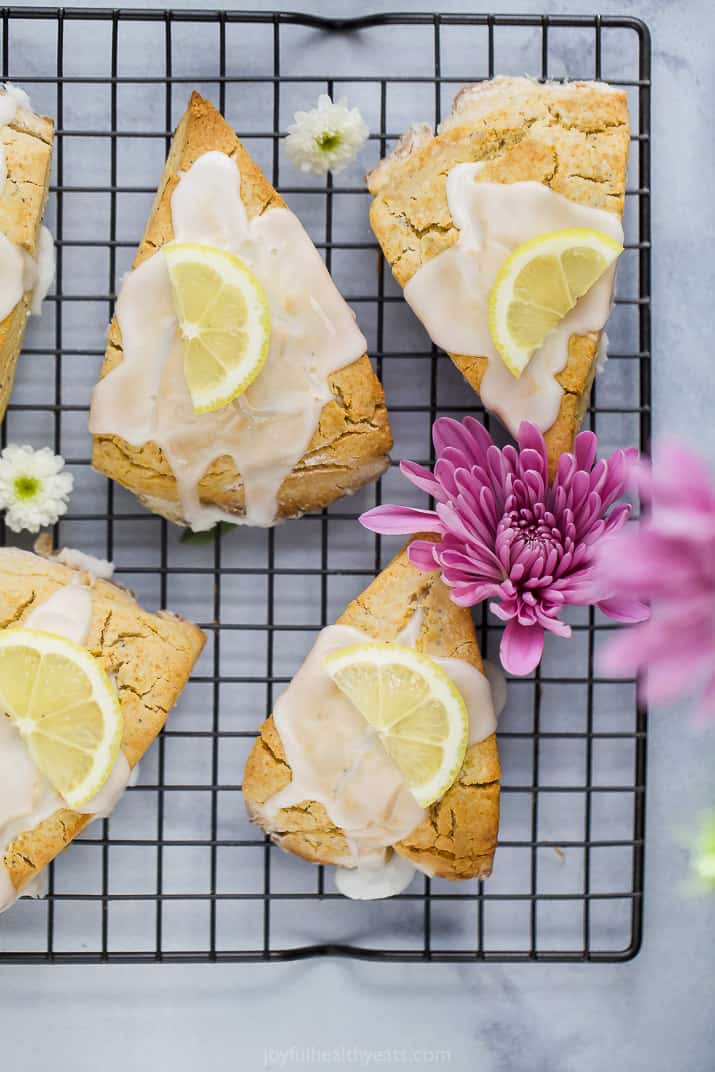 Grilled Asparagus with Lemon Zest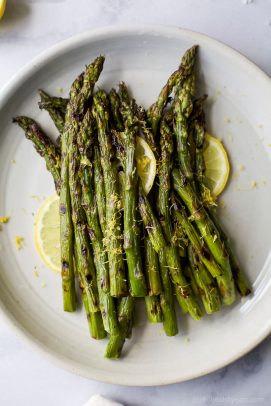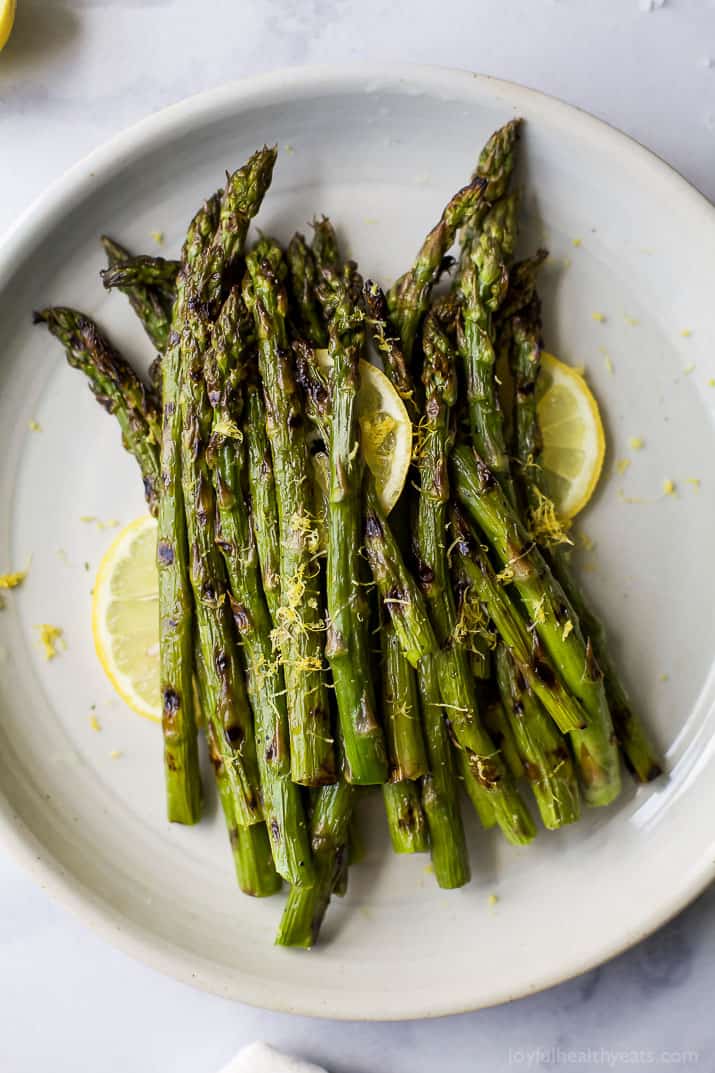 Chia Raspberry Lemonade Spritzer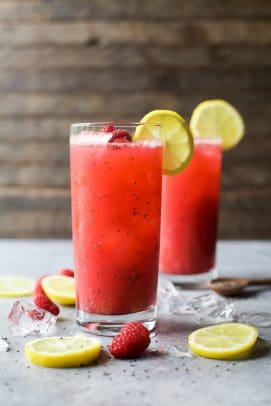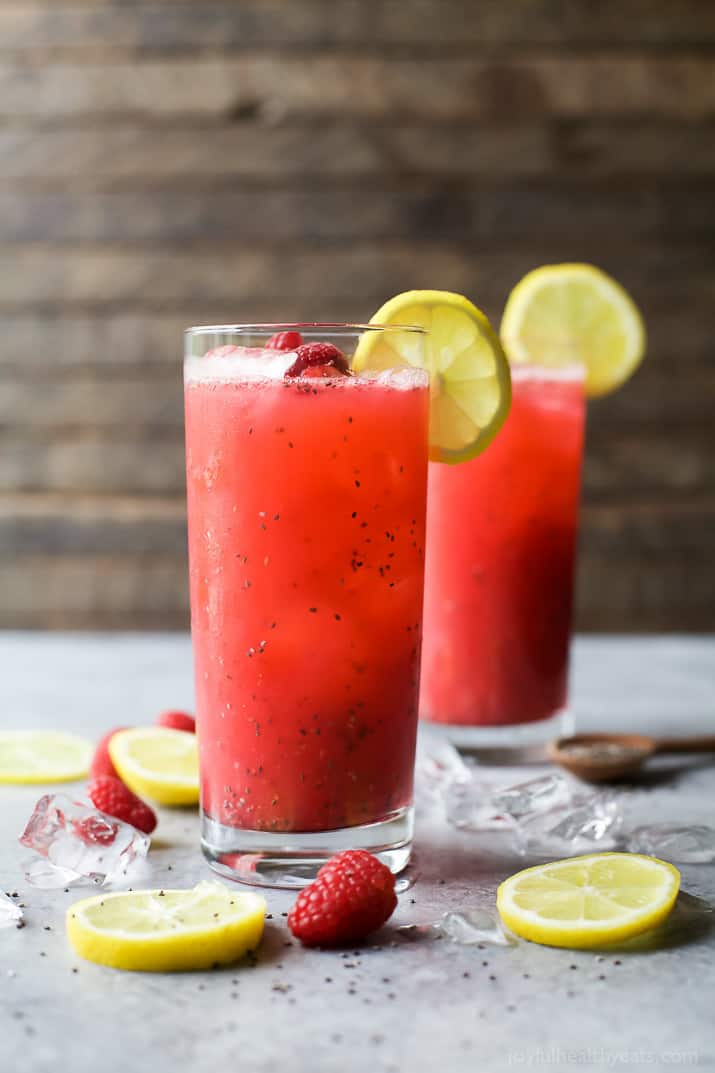 Lemon Raspberry Protein Muffins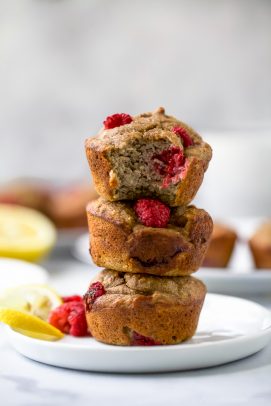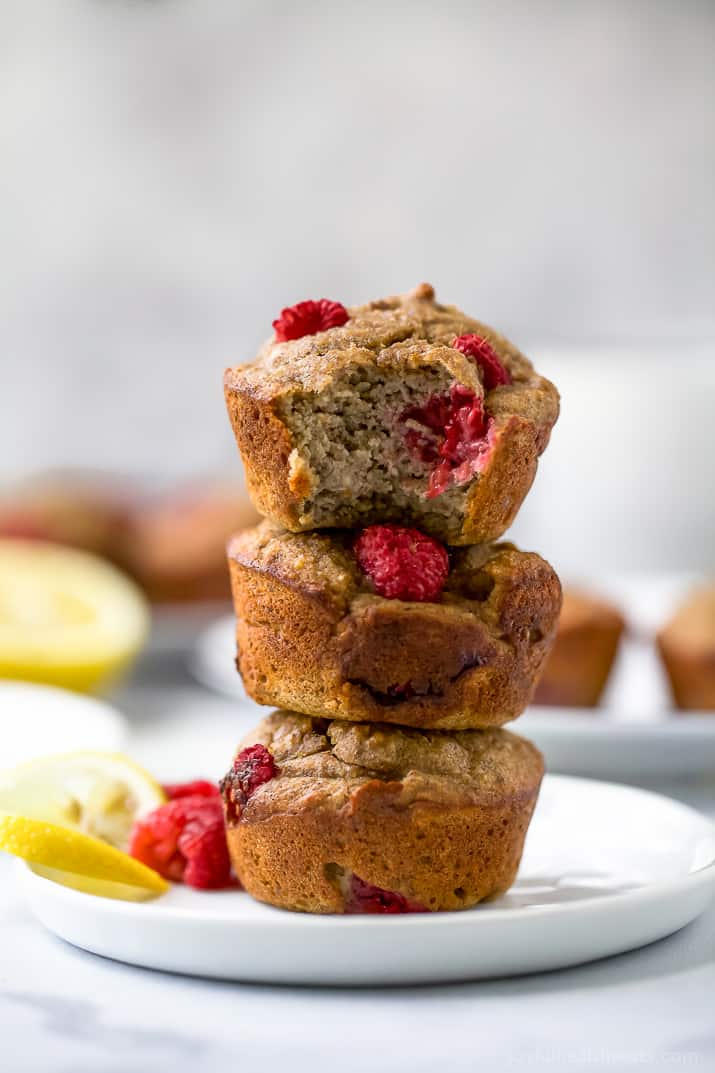 Creamy Lemon Pasta with Prosciutto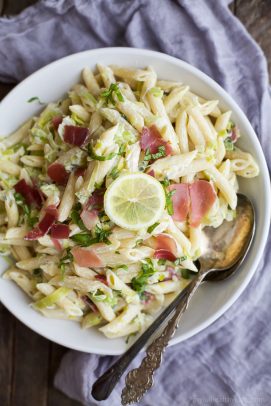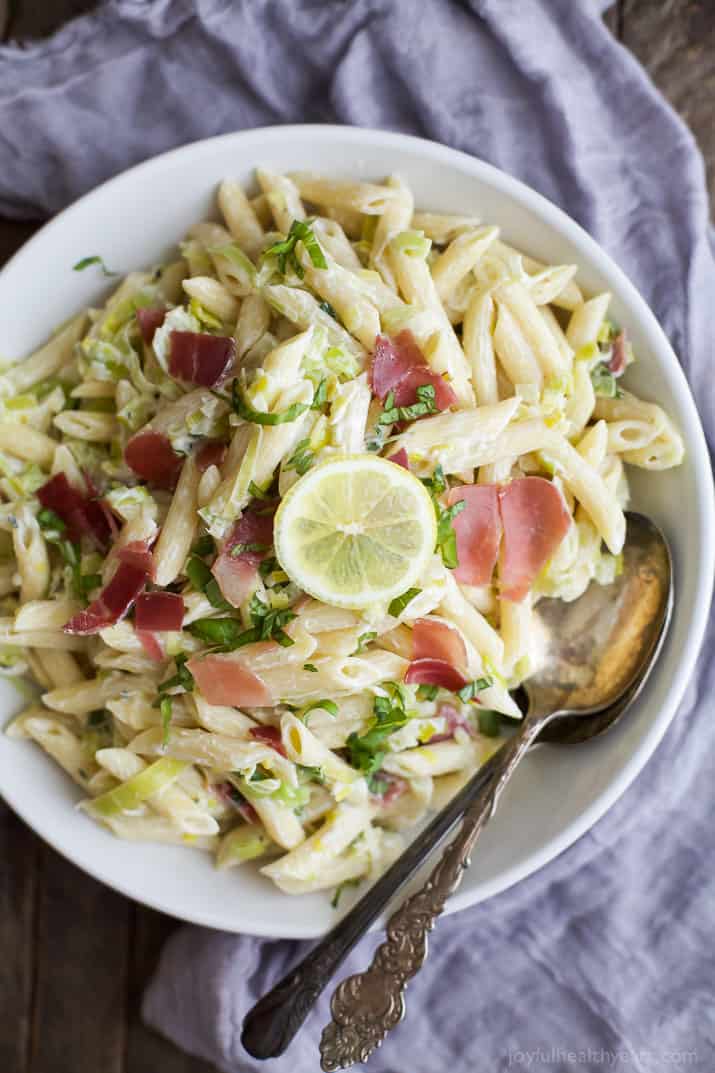 DON'T MISS A RECIPE ->