How to Make the Ultimate Cheese Board in less than 10 minutes, an easy appetizer everyone loves! Learn how to assemble the best cheese board – everything from which cheeses to buy and how to arrange on the board. Make a charcuterie board for your next party paired with the perfect wine.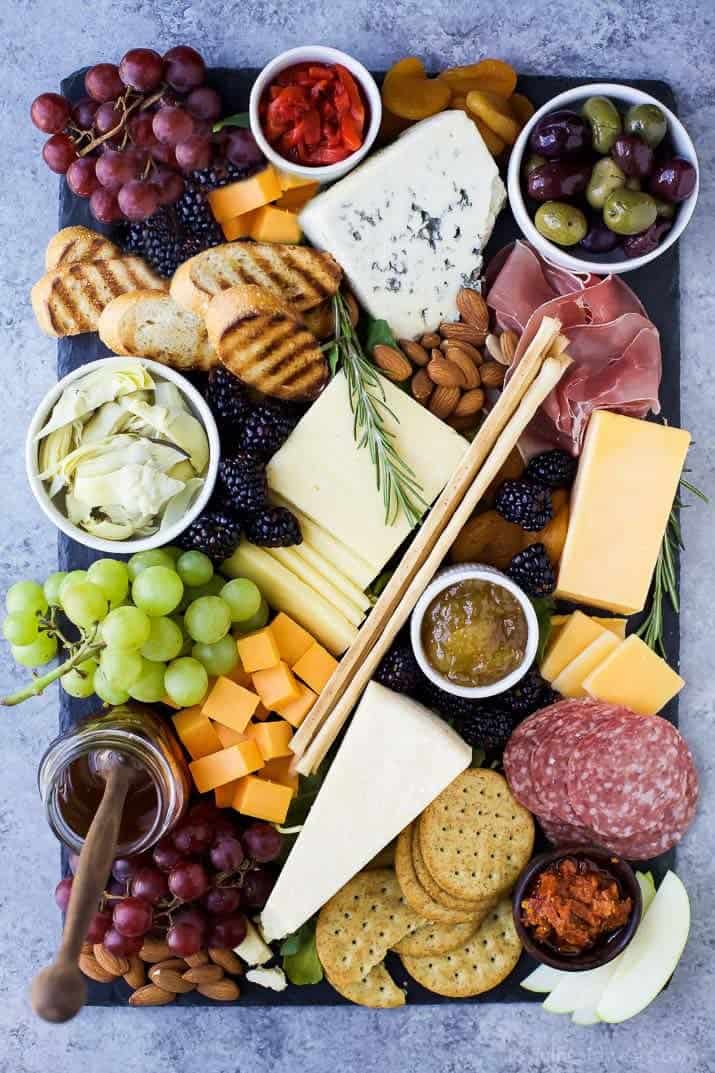 How to Make a Cheese Board
I'm a Wisconsin girl born and raised. Cows. Farms. Cheese. Brats. Beer. That's what most people think of when they think of Wisconsin. Well, that and the Packers! Duh!
I grew up on cheese. It was like its own food group. Cheese is in my blood!
There is nothing better than a slice of aged cheddar cheese that has a slight sharpness to it then melts in your mouth.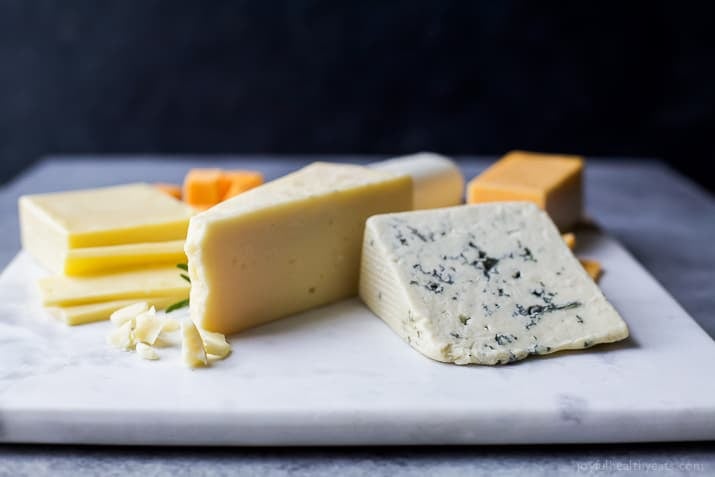 Cheese reminds me of home. It brings up all the fun memories I had growing up. Memories of driving past farms with the windows down and radio blaring. Of going to the Wisconsin State Fair and stuffing my face with Cream Puffs and fried cheese curds. Ya'll have NOT had cheese curds until you've had Wisconsin cheese curds. And memories of driving back home from college on the weekends and passing the huge"CHEESE STAND" sign.
We are all about cheese. So I find it appropriate to take you on a "road trip" of some of my favorite cheeses, paired with meats and wines. Because sitting out back with a board of cheese to devour and wine to sip with friends is real enjoyment to me!
Have you ever thought. There has to be a trick to making those Cheese & Charcuterie Boards?
Well, I'm gonna show you a few tricks. It's not as complicated as you think.
What to buy for a Cheese Board?
Step 1: Pick out 3-4 cheeses. A soft cheese. A semi-soft cheese. A semi-hard cheese. And a hard cheese.
Today I picked aged sharp Cheddar cubes made in Texas! A stinky Gorgonzola cheese and extra-aged Asiago cheese from Wisconsin. The asiago was hands down my favorite! A rich and creamy aged white Cheddar cheese made in California! And a smoked Gouda made in Wisconsin! Wisconsin cheese for the win!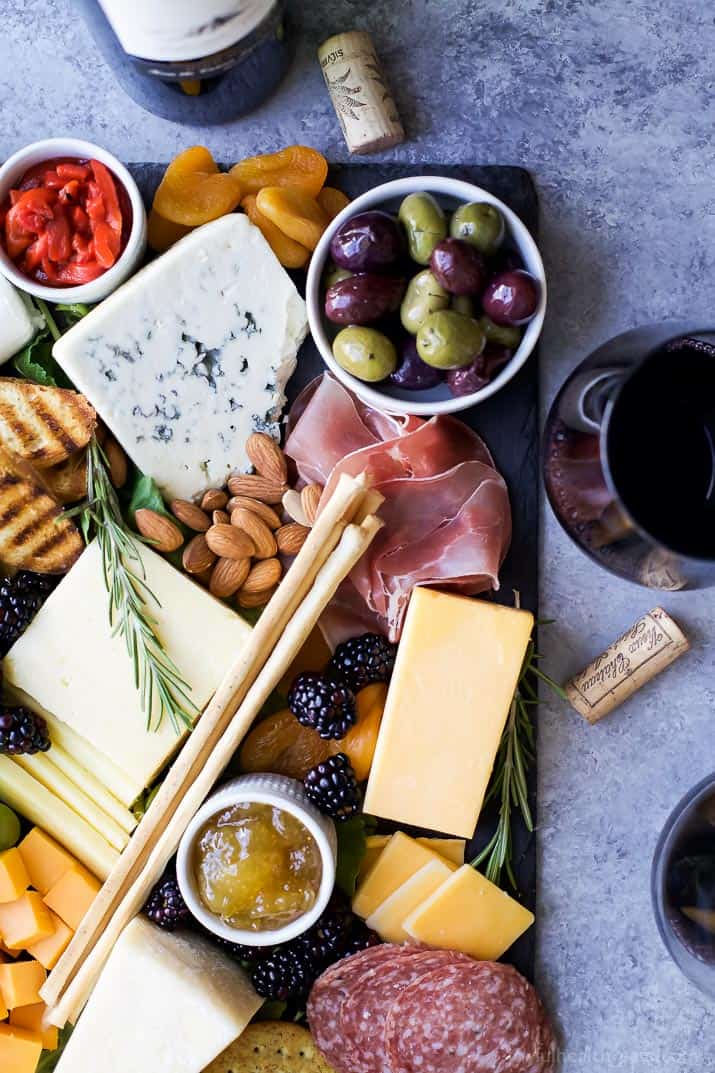 Once you have the cheeses picked – the main part is done. After all it is a CHEESE board. 🙂 When it comes to food, cheese is an easy wholesome choice, no need to pick reduced fat and all that jazz. Cheese is made from real, fresh ingredients and crafted for specific unique tastes. Whatever you pick is going to be great!
Step 2: Pick out a couple of cured meats to pair with the cheese. I went with a regular salty Prosciutto de Parma and Italian Dry Salami.
Step 3: The Vehicle. You need a few ingredients that the cheese can be served on. Things like toasted baguettes, crackers, or breadsticks are great to include.
Step 4: Fruits & Nuts. Pretty sure this is self explanatory, but just in case, here are a few examples. Raw Almonds, Raw Cashews, Honey Roasted Cashews, or Pistachios. As far as the fruits, grapes are always great, blackberries, strawberries, figs or any dried fruit. Just think of things you like and add those. They are great "space fillers" when you are putting the board together.
Last but not least.
Step 5: Other Additions. This area is for any other sauces or vegetables you'd like to add. Things like, fig jam, honey, sun dried tomato pesto, roasted red peppers, marinated olives, artichokes, basil pesto or bacon jam. The list goes on. Basically all the "fun" stuff to add to your "vehicle" along with that tasty cheese!
And voila!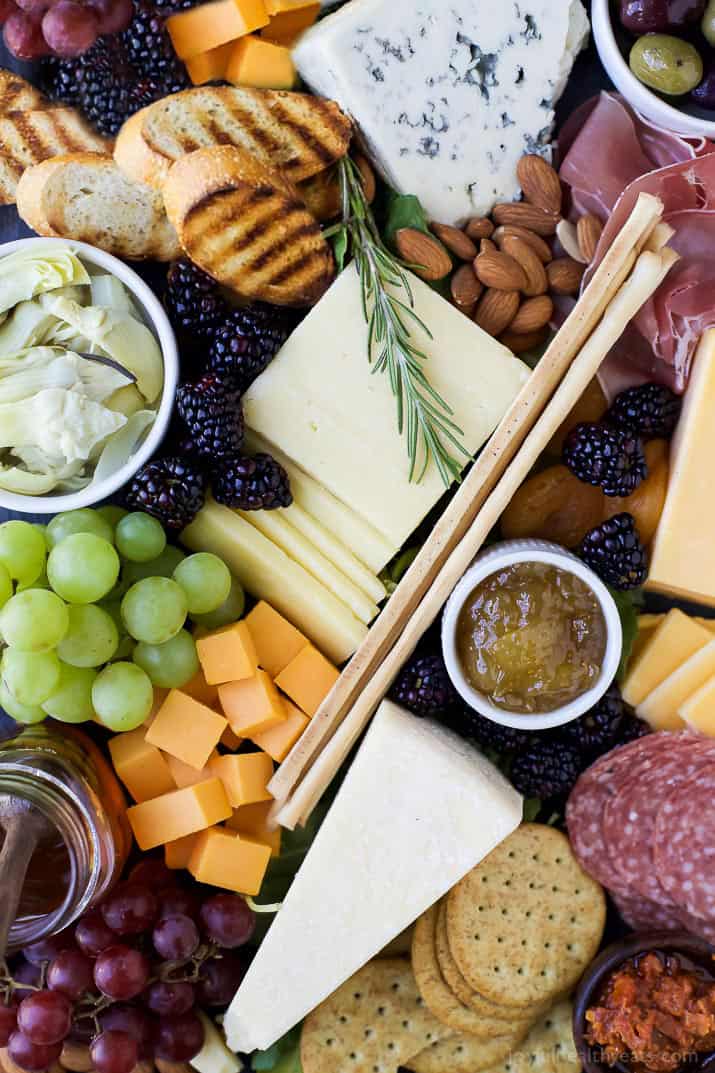 How to arrange a Cheese Board?
You don't HAVE to include all of these items. Maybe pick one or two from each category or just go with steps 1-3 for a simpler board.
When assembling the cheese board, I like to place my cheeses on the board first. Since they ARE the star of the platter. On this platter I actually put some greens underneath the cheese to prop it up a bit. Then I placed the meats in different areas to contrast the cheese. Then the bread/crackers and lastly use all the other ingredients to fill in the space. Your goal is to make sure you can't see the board. To make it look abundant and full of all kinds of goodies. So as soon as you bring it out your guest devour it!
Every time I make a Cheese Board it magically transports me back to Napa. Sitting with my husband and friends, looking out at a vineyard and slowly being overtaken by the peace of that moment! I hope this cheeseboard transports you too! Life is too short to not be enjoyed. And let's be honest. Cheese just makes people happy!
Ok, last but not least. How to pair all these wonderful cheeses with wine!
Cheddar Cheese and Aged Cheddar pair well with Cabernet Sauvignon, Chardonnay, Malbec, Pinot Noir, Pinot Gris, and Merlot.
Blue Cheese or Gorgonzola pair well with Cabernet Sauvignon, Riesling, Chianti, Malbec, Pinot Noir, and Merlot.
Asiago, Parmesan or other hard cheeses pair well with Cabernet Sauvignon, Chianti, Riesling, Sauvignon Blanc, Malbec, Pinot Noir, Pinot Gris, Shiraz and Merlot.
Gouda pairs well with Cabernet Sauvignon, Chianti, Champagne, Riesling, Sauvignon Blanc, Malbec, Pinot Noir, Pinot Gris, Shiraz and Merlot.
Bon Appetit friends!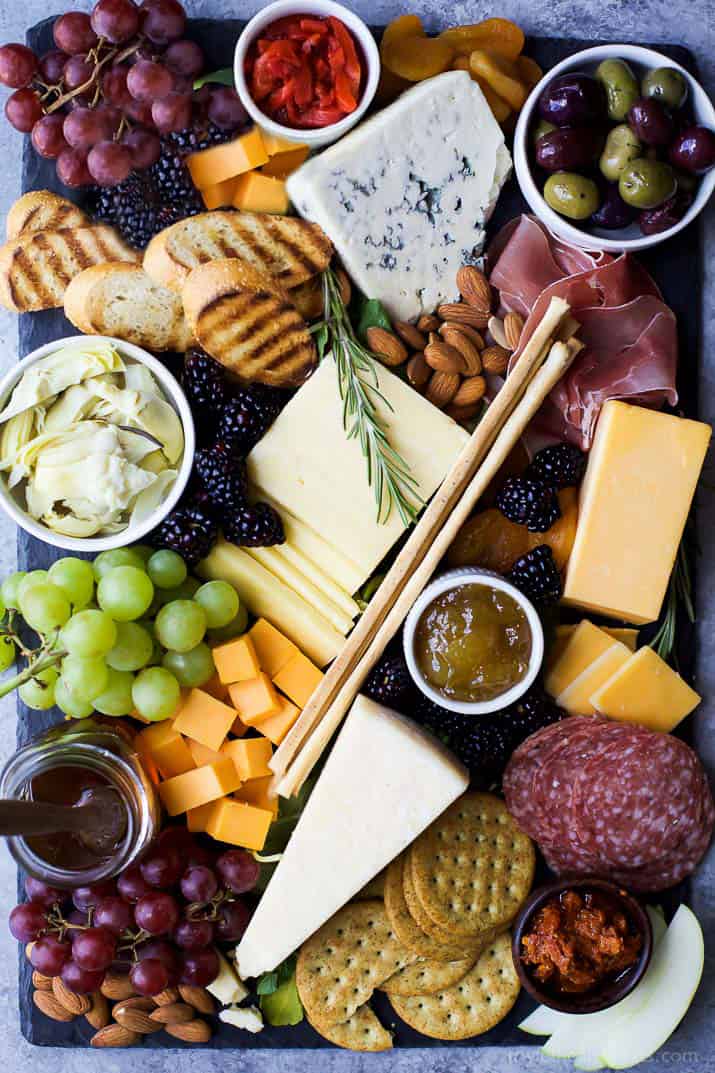 **Created with America's Dairy Farm Families and Importers, in partnership with the Innovation Center for U.S.Dairy. However, like always all opinions are 100% mine! Thank you for supporting the brands that support Joyful Healthy Eats. ***
Print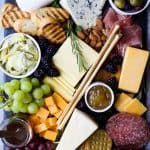 How to Make the Ultimate Cheese Board
Author:

Prep Time:

10 mins

Total Time:

10 mins

Category:

appetizer, kid friendly, snack, easy dinner ideas, 30 minute meal
---
Description
How to Make the Ultimate Cheese Board and which wines to pair it with! This appetizer recipe is easy to make and definitely a show stopper!
---
Scale
Ingredients
1

soft cheese (mozzarella, burrata, Brie)

1

semi-soft cheese (Gouda, jarlsberg,blue cheese, Gorgonzola)

1

semi-hard cheese (manchego, provolone, comte)

1

hard cheese (Asiago, aged Cheddar, Parmesan)

2

cured meats – salami, prosciutto
baguette slices
assorted crackers and breadsticks
nuts (almonds, cashews, pistachios)
fruit (grapes, figs, apple slices, pear slices, dried apricots, dried cranberries)
other (marinated olives, fig jam, roasted red peppers, stone ground mustard, sun dried tomato pesto)
---
Instructions
Assemble ingredients all over the board until the cheese board is completely full and you can't see the board.
---
IF YOU MAKE THIS RECIPE, BE SURE TO SNAP A PIC AND HASHTAG IT #JOYFULHEALTHYEATS. I LOVE SEEING WHAT YOU MAKE!
Want More Cheesy Recipes?
Patriotic Cheesecake Stuffed Strawberries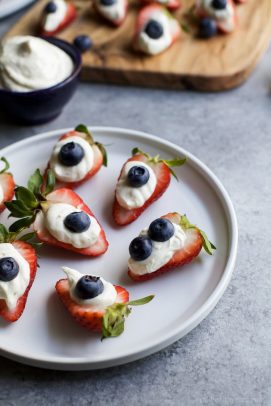 Classic Wedge Salad with Light Bleu Cheese Dressing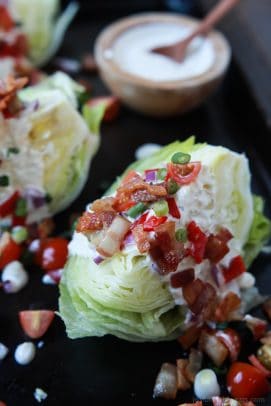 DON'T MISS A RECIPE ->
This post is created with America's Dairy Farm Families and Importers, in partnership with the Innovation Center for U.S. Dairy however the views and opinions included are my own.