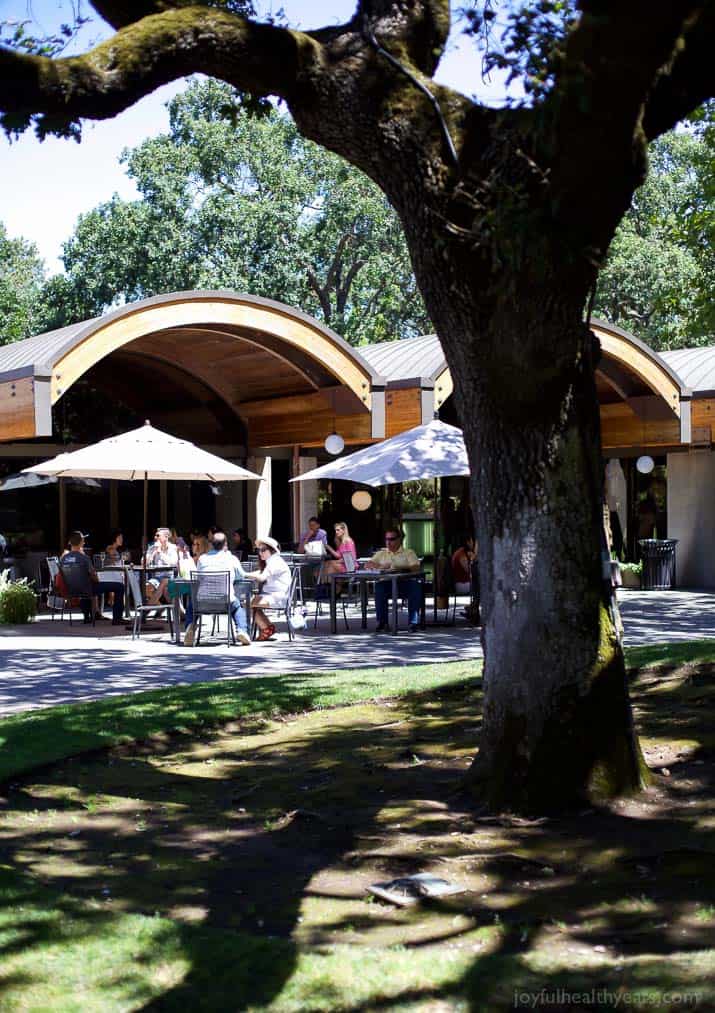 Tips on How to Plan the perfect Napa trip – with advice on where to stay, MUST eat at Restaurants, and the BEST Napa Valley Wineries in town!
The last time we took a trip to Napa Valley was two years ago. I loved every second of it and it is truly where I fell in love with wine … the process, the science that goes into it, the art of it, and the taste!
When we found out that we were going to be going to Napa again this year I couldn't have been more excited! Now with two trips under my belt I've found some amazing places to eat, cool quaint places to stay, and some of the best Napa Valley Wineries that I would continue to go back to! And guess what … I'm gonna share all my tips and tricks with you!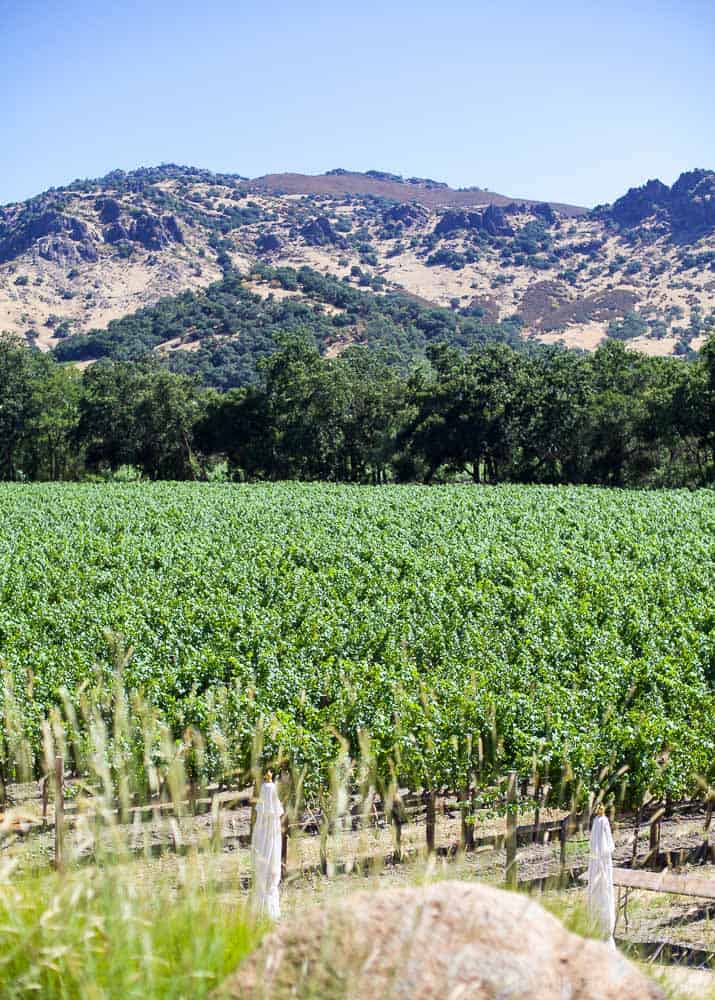 PLACES TO STAY
The last time we stayed downtown Napa at the Westin Verasa Napa, it was great! Had a gorgeous back patio and pool, amazing breakfast in the morning and is walking distance from the Oxbox Public Market, a must visit! The only down side is it is in Napa so can definitely be kinda pricey!
This time around we opted for cheaper "diggs" so we could spend more money on bringing home wine. We rented a home off of VRBO.com in Sonoma which is about 15 minutes from Napa Valley. The awesome thing about this house was it had a pool, awesome back patio area, and 4 bicycles! Every morning we would hop on the bikes and ride 10 minutes into Sonoma Square for Breakfast! It was great! I would totally do it that way again!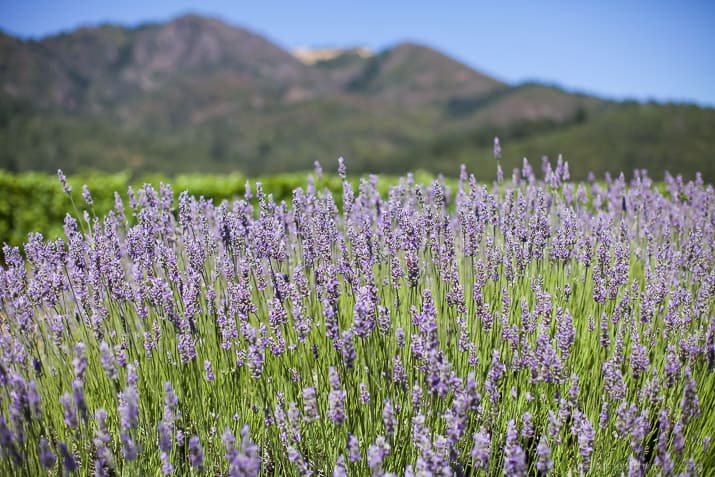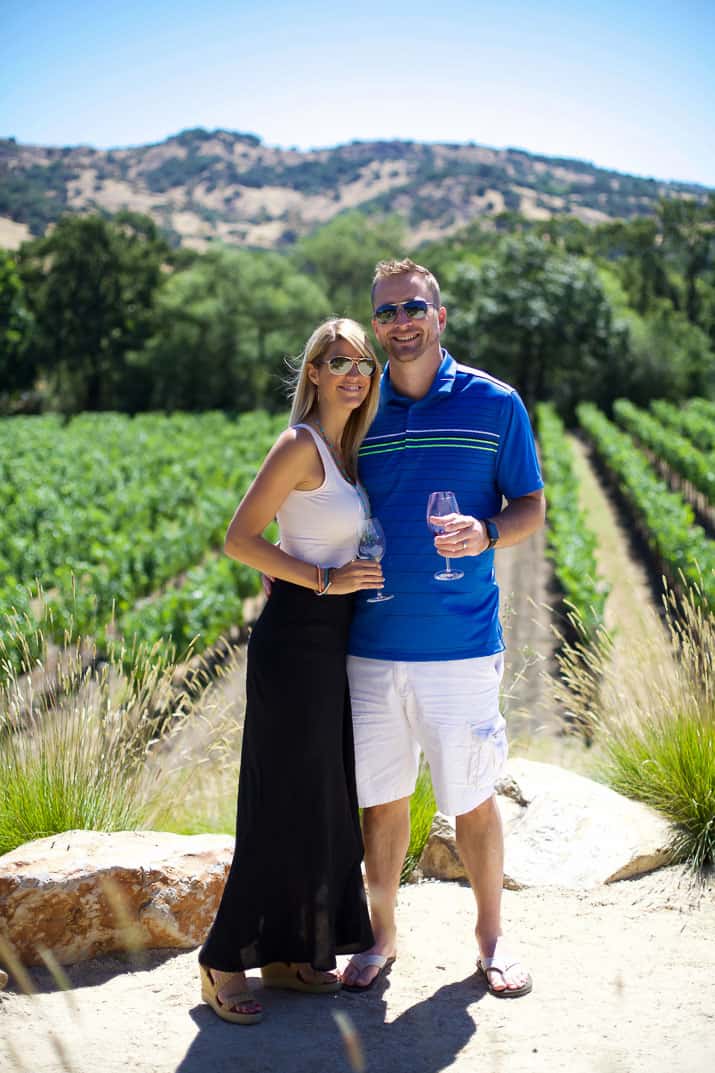 BRING ON THE FOOD
Not only is Napa known for wine but it also has some of the BEST food in the country! There are so many talented chefs out there so you really can't go wrong! We tried to go the fancy route and the "off the beaten road" route. Both were amazing!
For Breakfast – One of my favorite places was one that we actually didn't even search out! We were headed to a winery and wanted to get coffee and a quick bite for breakfast when all over a sudden we saw Southside Cafe. All it took was one word – ESPRESSO .. and we were hooked. Not only was the coffee amazing and included fun coffee art! Happy Dance! But the food was incredible! If you go, you NEED to try the Biscuits & Gravy .. it's OMG good with a Chorizo Sausage Gravy that will blow your mind!
The other breakfast place I would highly recommend checking out is actually in Sonoma Square, it's called Sunflower Cafe. Make sure to get your number and head out to the back patio – it's the best ambiance to eat breakfast in! Gorgeous greenery, fountains, and pergola's bring you to another place. The espresso is on point and the food definitely has that fresh California flare! Lastly, The Fremont Diner, which is located in between Sonoma and Napa is KNOWN for it's breakfast! This place was actually featured on Diners, Drive-ins, and Dives and when you go there you'll know why! Be sure to get the Basket of Biscuits with the Plum Cardamom Jam … it's life changing and heals any kind of wine headache you might have!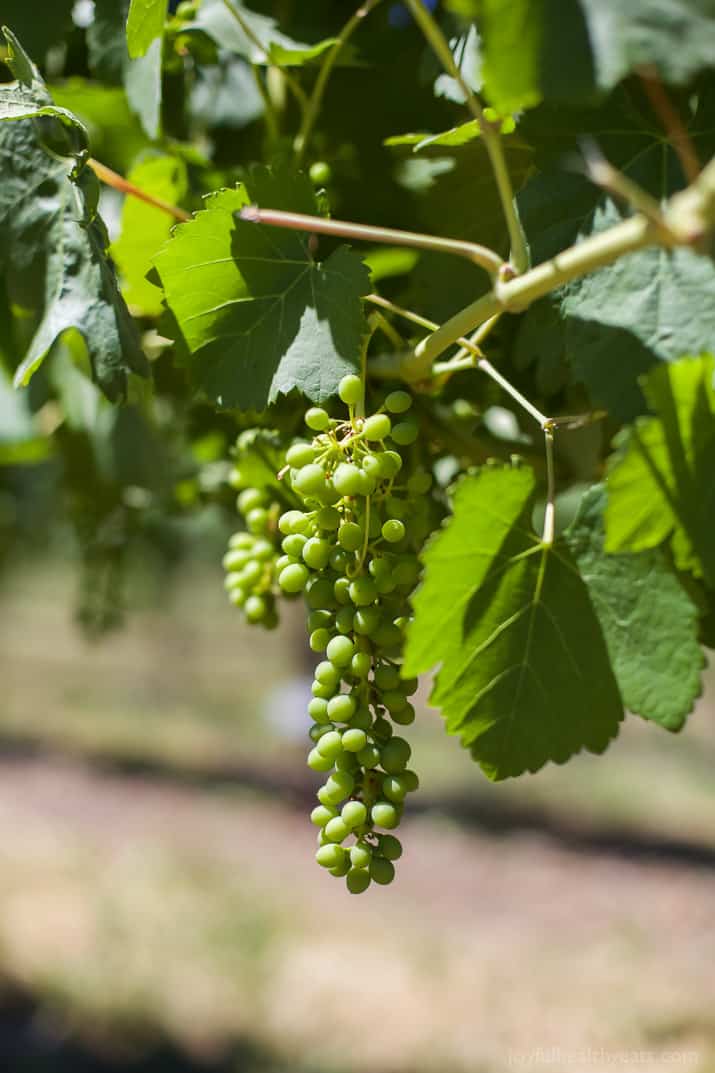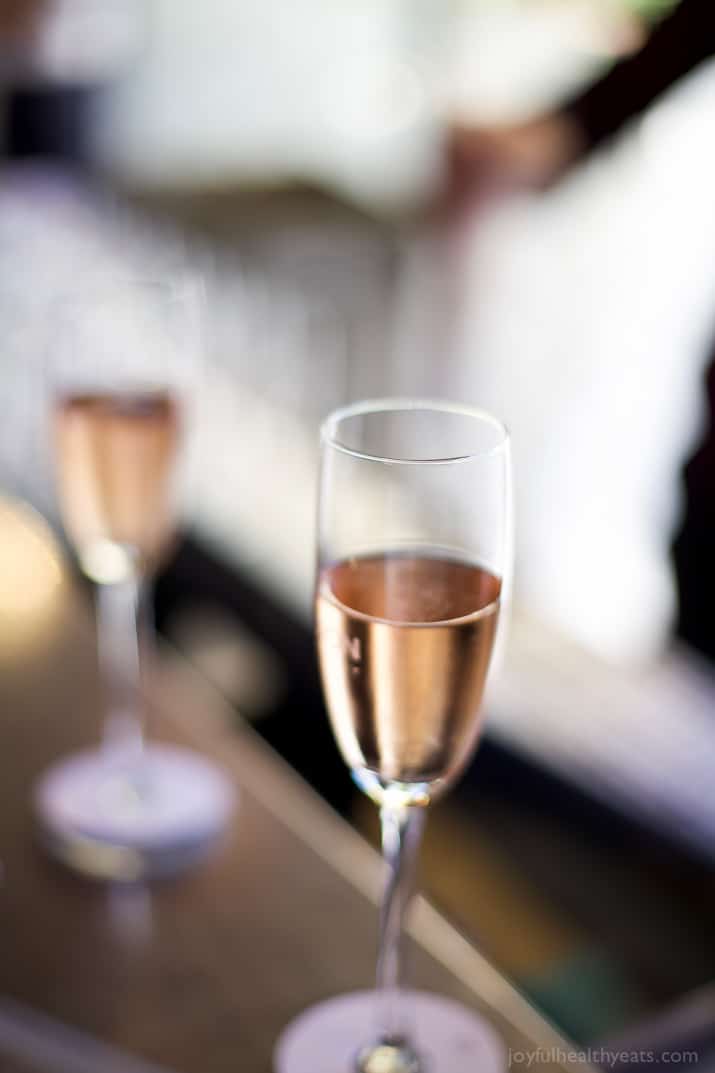 For Lunch/Dinner – Last time I fell in love with Bottega! It's an Italian Restaurant that's located in Yountville (downtown Napa) and is owned by Food Network Star Chef Michael Chiarello. It's a great place to end the evening after a long day of drinking wine. I still dream of the rack of lamb I had there! It's a must stop!
But this trip hands down my favorite was The Girl & the Fig. It was highly recommended to us by multiple people so I knew we needed to stop. This place was incredible, even the burgers were good (which was of course our husbands food of choice)! The ambiance was so fun, definitely make reservations and if you can get out of the patio … do it! The Oxbox Public Market is a must try as well, it is located right on the Napa River. It has fresh organic foods to buy and pack for a long day of wine tasting, a coffee shop, bakery and a bunch of amazing restaurants – of the restaurants there I've tried Gott's Roadside (a BBQ place), C Casa (an innovative Taqueria), and Ca'Momi Enoteca this place has one amazing wood fire grilled Margherita Pizza! It's definitely a must stop and will appease a night where there are multiple opinions on where to go! 🙂 Cuz we all know that happens!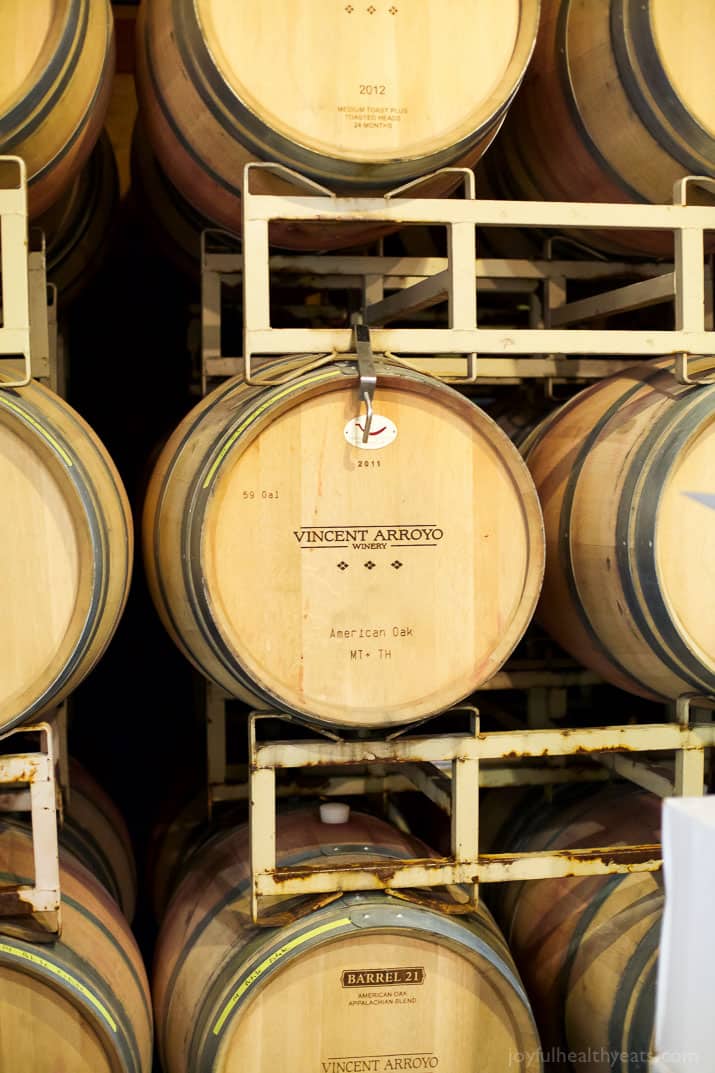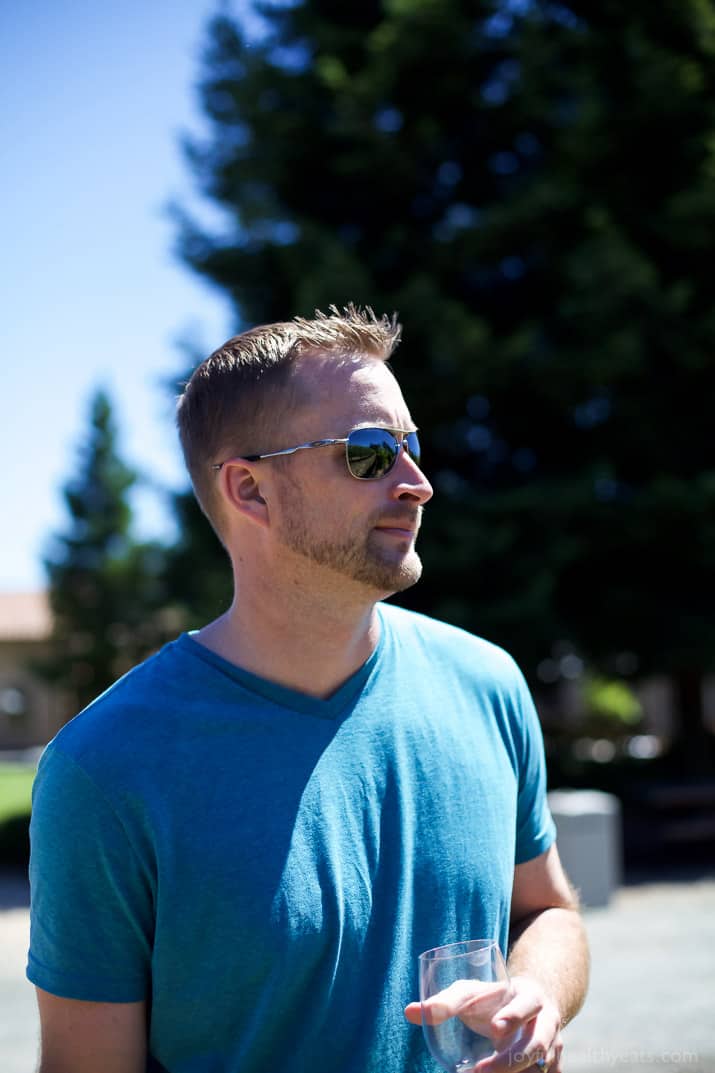 THE BEST NAPA VALLEY WINERIES …. AND A FEW SONOMA!
Ok, let me just start off by saying I know everyone is different. When I first started drinking wine I was all about the sweet white wines … Riesling, Moscato, you name it. Part of that was because I would get a headache from Red Wine. But I found out it was because I was getting the cheap wines that are mass produced and loaded with tannin's. After my last visit to Napa, I now know what a good red wine tastes like and have officially converted to a Cabernet Sauvignon lover … which happens to be what Napa specializes in.
When picking wineries to visit I would recommend starting with some of the favorites that you already buy in the grocery store! Going from there I would move to some of your favorite wines and finding out which places specialize in those wines.
Once you have all that picked out I would highly recommend hiring a private driver to take you around. You NEVER want to drink and drive and there is something to say about just chillin in the car while someone else drives you around! Plus Groupon is running deals all the time … which is what we did. (a 5 hour wine tour in a private SUV) Well worth it!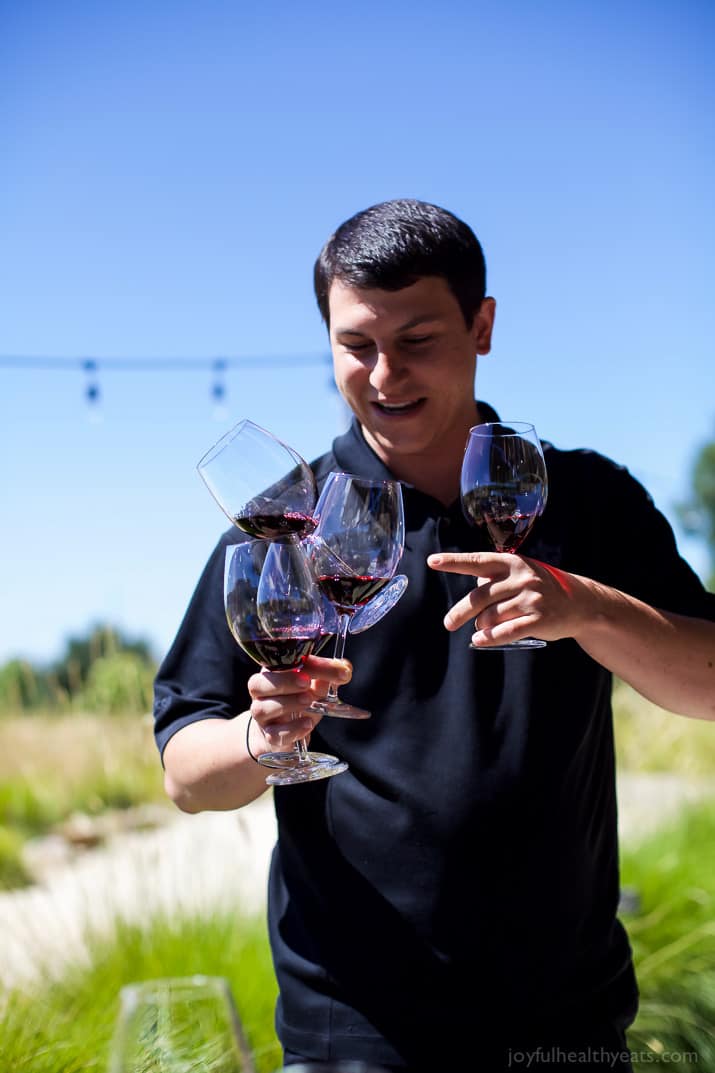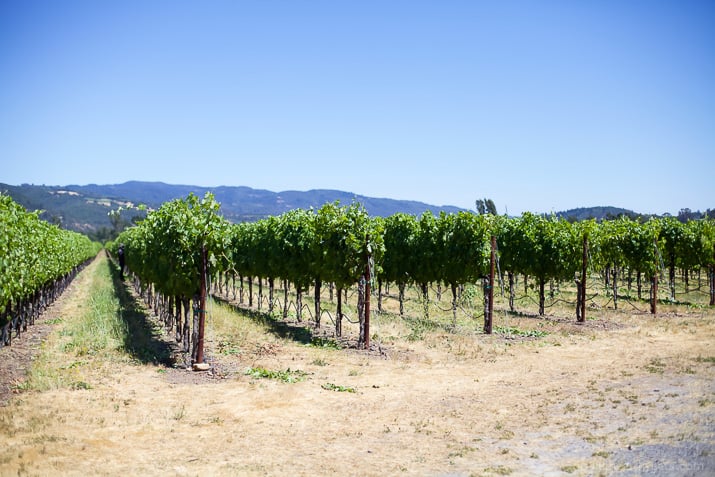 So with that said. Here is the low down on our favorite places to visit in Napa Valley. Nickel & Nickel is a must stop. The grounds are gorgeous and you get a full tour of the property, a description of the wine making process, and it ends with a tasting in their cellar! (appointments are required)
Stags Leap is a wine that we've liked for a while. They make a really good Cab but I was surprised by how much I liked the Chardonnay there. They also just built a new wine tasting location that has a gorgeous patio that overlooks the vineyards and hills.
Vincent Arroyo was one of our favorite stops this time. It is a smaller winery, family owned but they put a whole lot of love and care into their wines. They took us through the vineyards and explained why they cut the vines a certain way based on the type of grape it is. Took us into their back barrel room, explained the process of how they make their wine, the type of barrels they use and then we got to try wine from a thief straight out of the barrel. We actually ended up buying 3 bottles from that barrel that won't be bottled for another couple months! It was hands down the coolest experience ever! Not only do they make GREAT wines but they totally take your experience over the top! Definitely a must visit.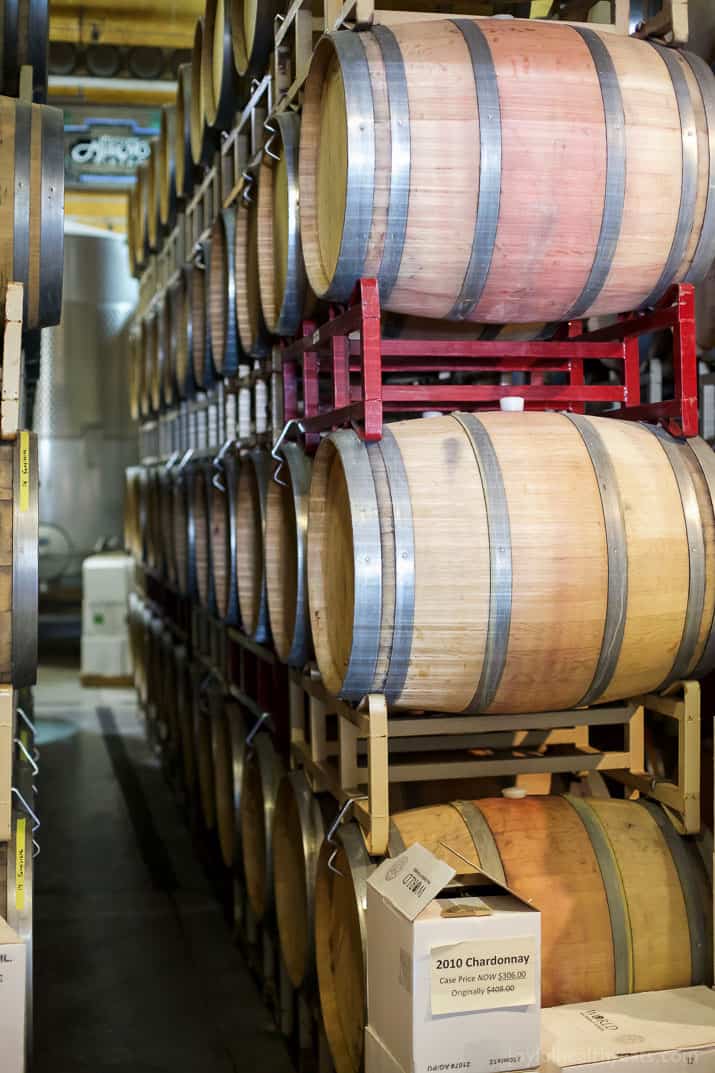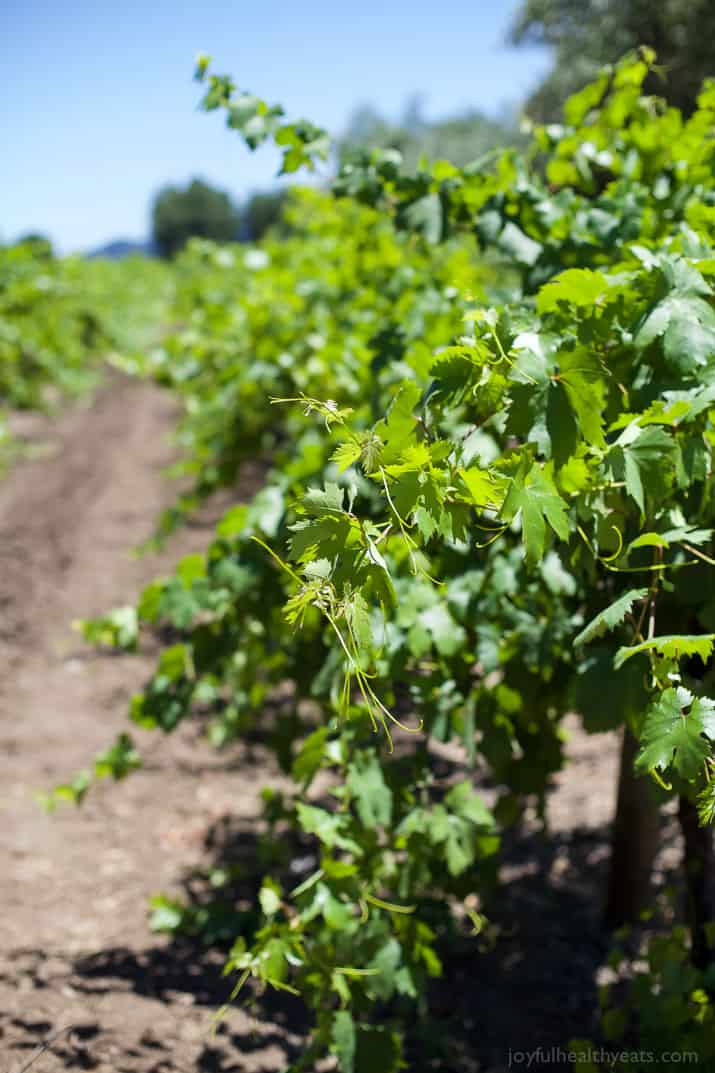 The other winery that tied for first place was Artesa, which is located in between Napa and Sonoma. We actually went to this place twice it was that good! The owner is Spanish and they originally specialized in Sparkling wines in Europe. They decided to expand to the US and set up shop in Napa, but after being there a while they realized they needed to expand their wines and went into reds and wines. The property is gorgeous, it is located on a hill that overlooks the vineyards. The tasting room and barrel room are actually build right into the hill! It's crazy! The wines are incredible! We loved their Malbec's, the Albarino (which is a really light refreshing wine white) and all of there Cabernet Sauvignon's especially their Cask Reserva! De-lish! This is a place to just chill, order a Charcuterie board, enjoy the wine and the views!
The winery that surprised me the most was Domain Chandon. I'm not typically a bubbly kinda girl. But my sweet friend Marsais IS so we headed over for some giggle juice. As we walked up to the entrance I was mesmerized. It was on a hill top and completely shaded by these big gorgeous trees. As you walk up the stairs to the tasting room you are face to face with a wall of windows overlooking a large patio with the same gorgeous tress and big bar loaded with tons of sparkling wine bottles. We decided to split a classic flight and I fell in love with the Sparkling Rose they had. It is definitely worth a visit!
Lastly, Hagafen Wine Cellars was a favorite of ours from the last trip we took. The grounds are pretty and you can wonder through the barrel room or walk through the vineyards with the chickens. (hehe yes chickens) The wines are definitely the star of this place. Their wines have been served at the White House for the past 35 years and they have won numerous awards for their different varietals! The Cabernet Franc was one that blew my mind!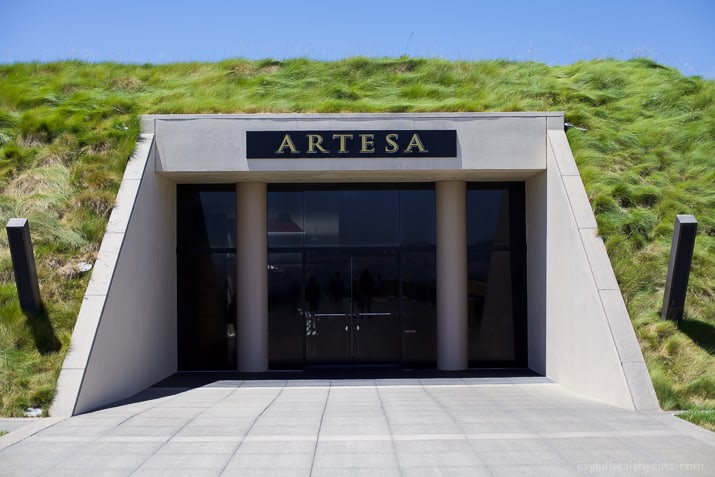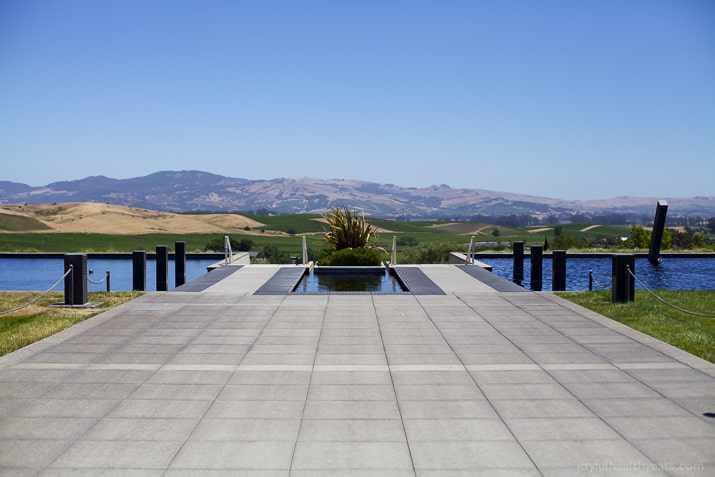 OTHER TIPS & TRICKS … AND OTHER THINGS TO DO
One of the tips I highly recommend when visiting all these wineries is splitting a fight/tasting with someone else. They usually pour you about 1 oz. which is about 2-3 sips per person. A lot of times when you buy the flight, the wine person helping you will pour you extra wines off menu. Most tasting range from about $15-40. But if you purchase a bottle of wine or two they normally wave the tasting fee. 🙂
We've gone two routes when visiting Napa. We've tried to hit up as many wineries as possible in one day and spent most of the day at one winery. It all depends on what your goals are. But after this last trip I would recommend picking your top 6 wineries and visiting those … truly spending time there, take a tour, talk to the people, soak it in. I guarantee it will make your visit there that much more enjoyable!
Make sure to eat during the day!!! (wine and an empty stomach don't go together too well)
One thing I wish we would have done is go on the Hot Air Balloon Tour. We tried to go but they were filled up, soooo if you decide you want to do it make sure you book it way ahead of time!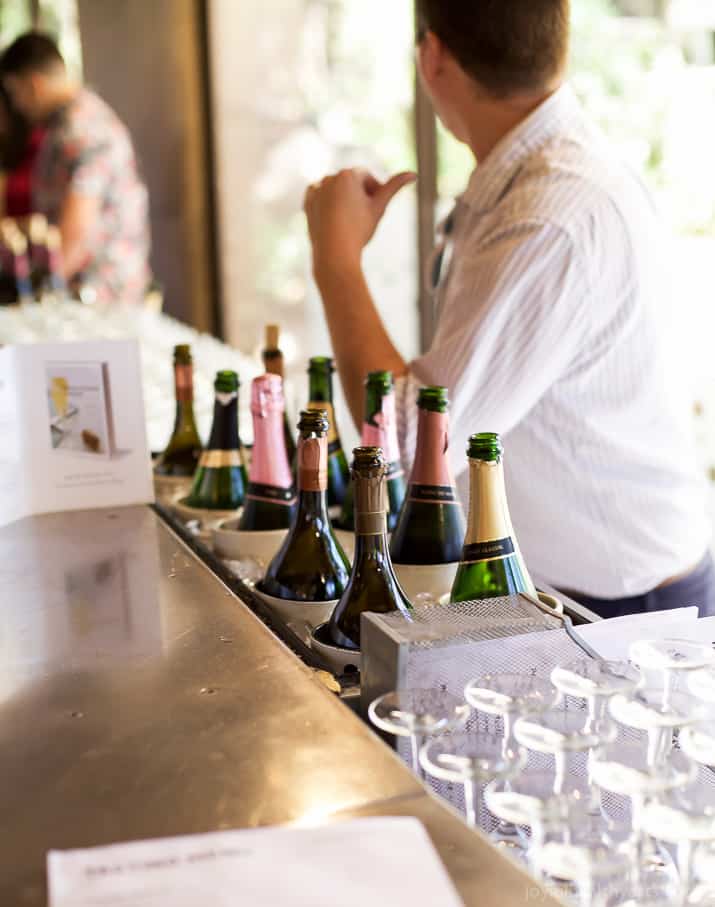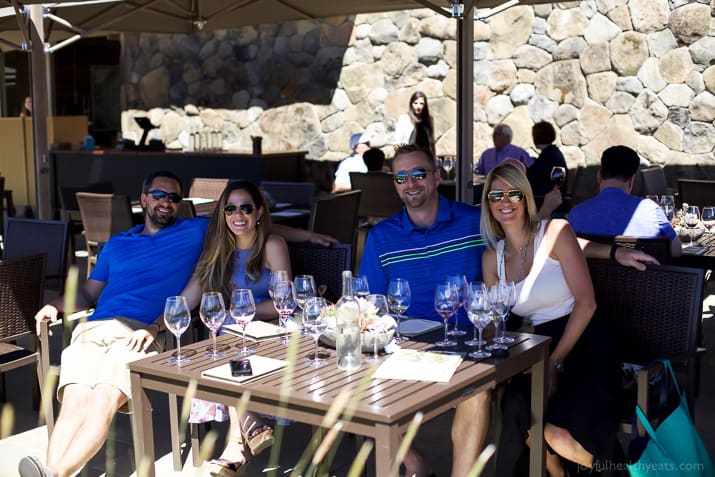 Alright folks. That sums up my tips on the how to plan the Perfect Trip & visit the BEST Wineries Napa Valley!
My last tip, make sure you take this trip with friends! It makes it that much more enjoyable and you'll make memories that will last a life time! Happy travels friends and as always if you have any questions or need more recommendations shoot me an email!