This Chicken Mole recipe is the ultimate combination of dried chili peppers, garlic, tomatoes, almonds, raisins, and Mexican chocolate for one epic bite. If you're looking for a chicken recipe that packs a punch of flavor this mole is it – and it's super versatile!
We love to serve this mole in sweet potatoes and top it with my pickled onions and guacamole!
The Best Chicken Mole Recipe
Are you ready for an incredible cooking and eating experience? I can't even just call this post a recipe because there's so much more to it. This Chicken Mole recipe is the type of recipe that you want to make when aren't rushed, you have a glass of wine in your hand, and your favorite tunes playing in the background.
I won't lie to you, the ingredient list for this Chicken Mole is long. But when you look at it your mouth is going to immediately start to water and your tastebuds are going to get to work, too. They'll wonder how all of these flavors are going to work together, but in a good way!
Chicken Mole has it all. Smokey-dried chilis, almonds, tomatillos, sweet and tangy tomatoes, earthy spices, and, of course, Mexican chocolate. (Everyone always wonders about the chocolate!) I promise you will love this recipe as much as you love your favorite Mexican restaurant version, and maybe even more!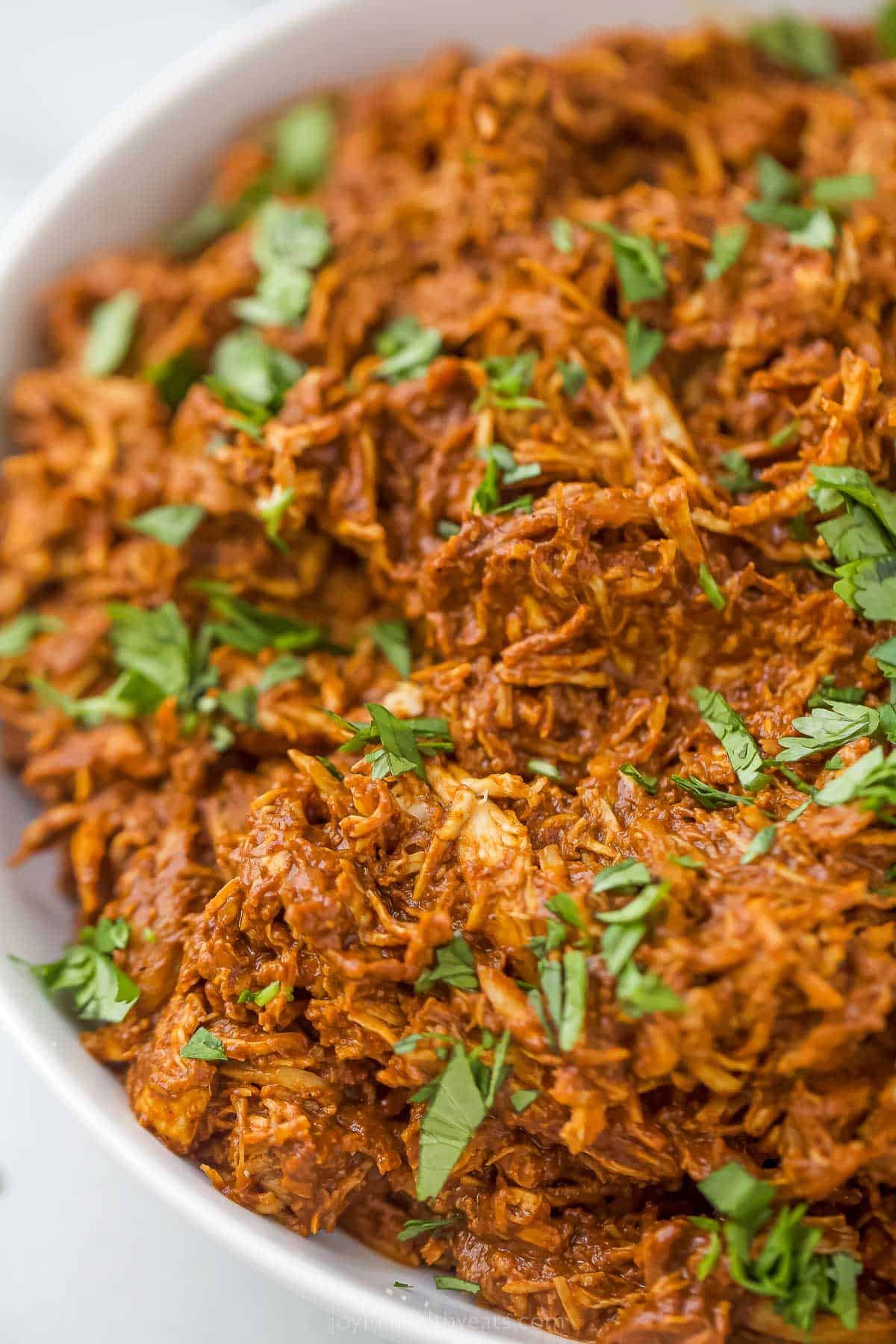 What Is Mole?
The basic meaning of "mole" is that it's a sauce. Traditionally, most mole sauces have dried peppers and spices, nuts, and usually dried or fresh fruit. Most also have Mexican chocolate or dark chocolate.
The sauce is always pureed and pourable. It can even be used as a marinade.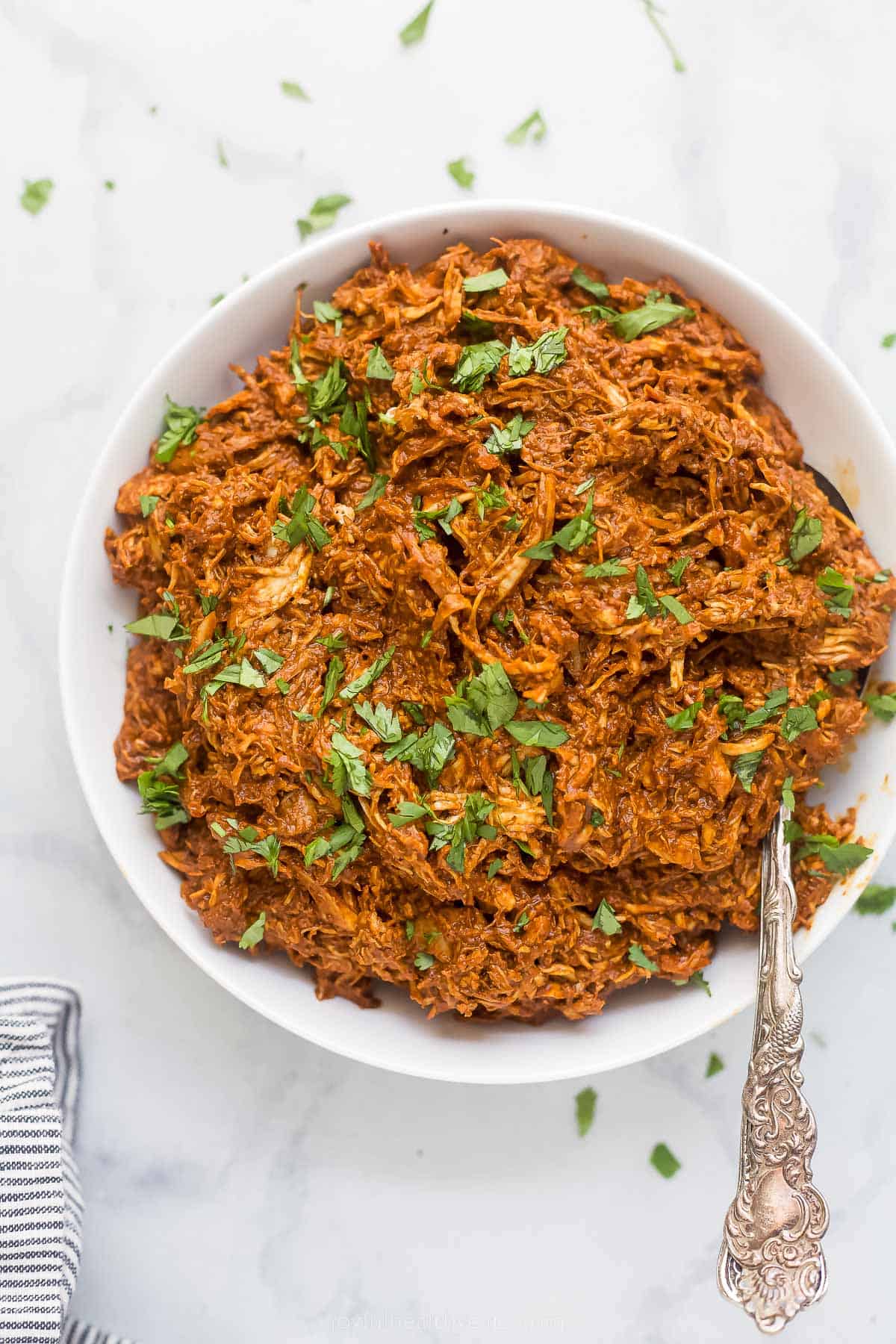 Recipe Ingredients
Bare with me, this list is a little long – but so worth it! Please scroll down to the bottom of the post for the Chicken Mole recipe card which has all of the important details you need for the recipe.
Chicken
Chicken: I used boneless and skinless chicken breasts and thighs.
Salt and Pepper
Avocado Oil: Or the cooking oil you have on hand.
Chicken Stock: You could also use chicken broth, vegetable stock, or water.
Mole Sauce
Dried Chili Peppers: I used pasillo, ancho, and guajillo peppers. You'll want to remove the stems and seeds from the dried peppers.
Almonds: Almonds add an earthy nutty flavor to the sauce (without it tasting too much like peanuts or peanut butter because we'll add some of that later).
Sesame Seeds
Cumin Seeds
Coriander Seeds
Anise Seeds
Black Peppercorns
Avocado Oil: Or the cooking oil you have on hand.
Onions: Yellow or white onions work great.
Garlic: Always use fresh cloves of garlic for this recipe.
Tomatillos
Roma Tomatoes: You could also use another red tomato but I like to use Roma tomatoes because of their low water content.
Raisins
Orange Juice: Fresh squeezed will give you the best flavor.
Cinnamon Stick
Dried Thyme
Dried Oregano
Salt
Mexican Chocolate: Or 90% dark chocolate.
Peanut Butter: All natural and smooth is best.
Honey: You can also use maple syrup or brown sugar.
How to Make Chicken Mole
Grab your glass of wine and turn on the music! Here's what you need to do to get started.
First, you'll cook the chicken. Sear the chicken first (in batches if you need to). Remove the chicken from the pan with each batch. Then, add the chicken back into the pan, with the chicken broth, cover, and simmer for about 15-20 minutes.
Shredded the cooked chicken. And remember to keep the broth to use later!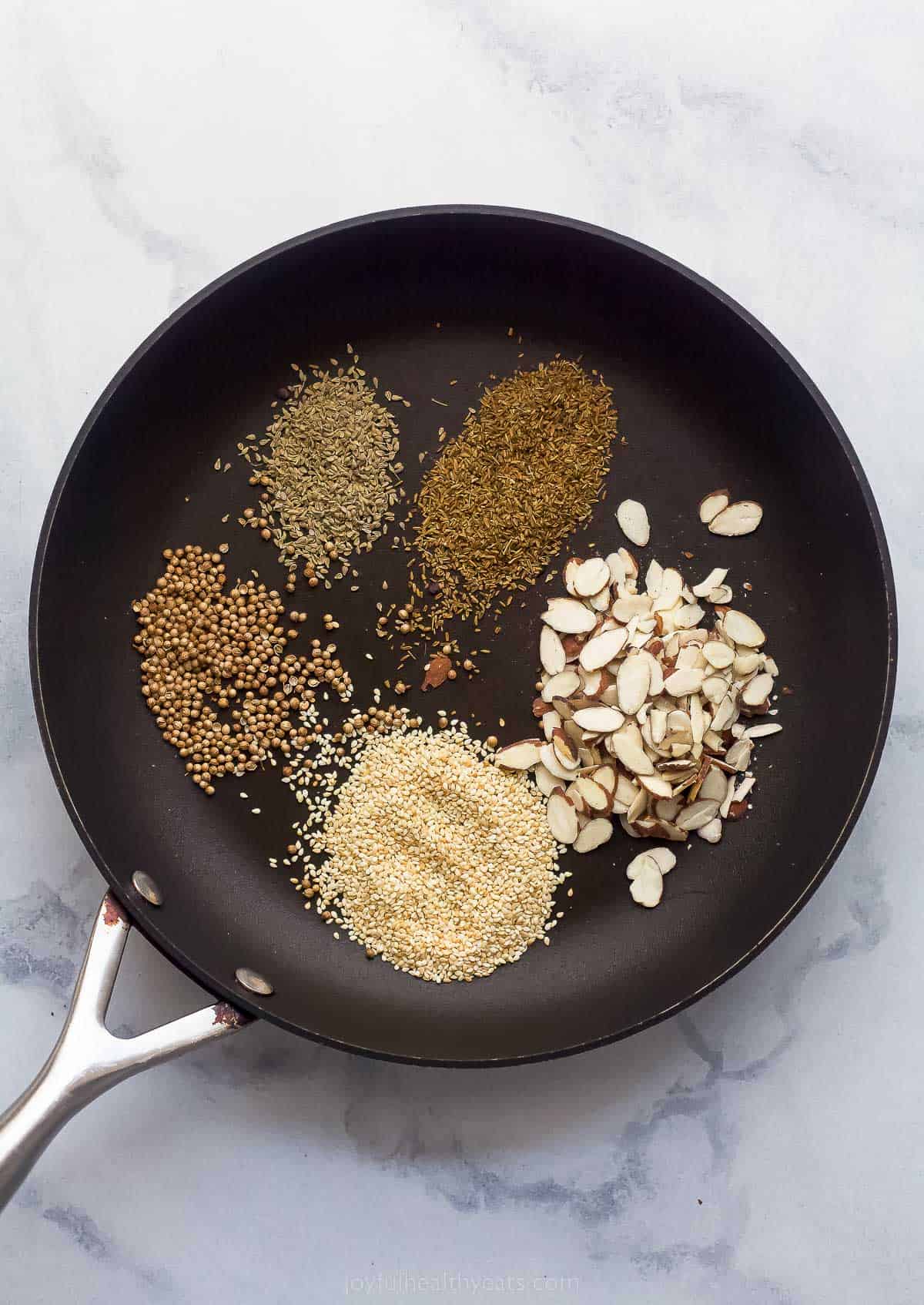 Now you'll begin to make the mole sauce. Start by toasting the dried chili peppers first (in three batches) in a non-stick pan or cast iron skillet.
Then toast the other dry ingredients. Add the almonds and the whole spices and toast until they are fragrant.
Then cook the onions and garlic. Now work in a large dutch oven and first saute the onions. Then add the garlic and stir until it becomes fragrant.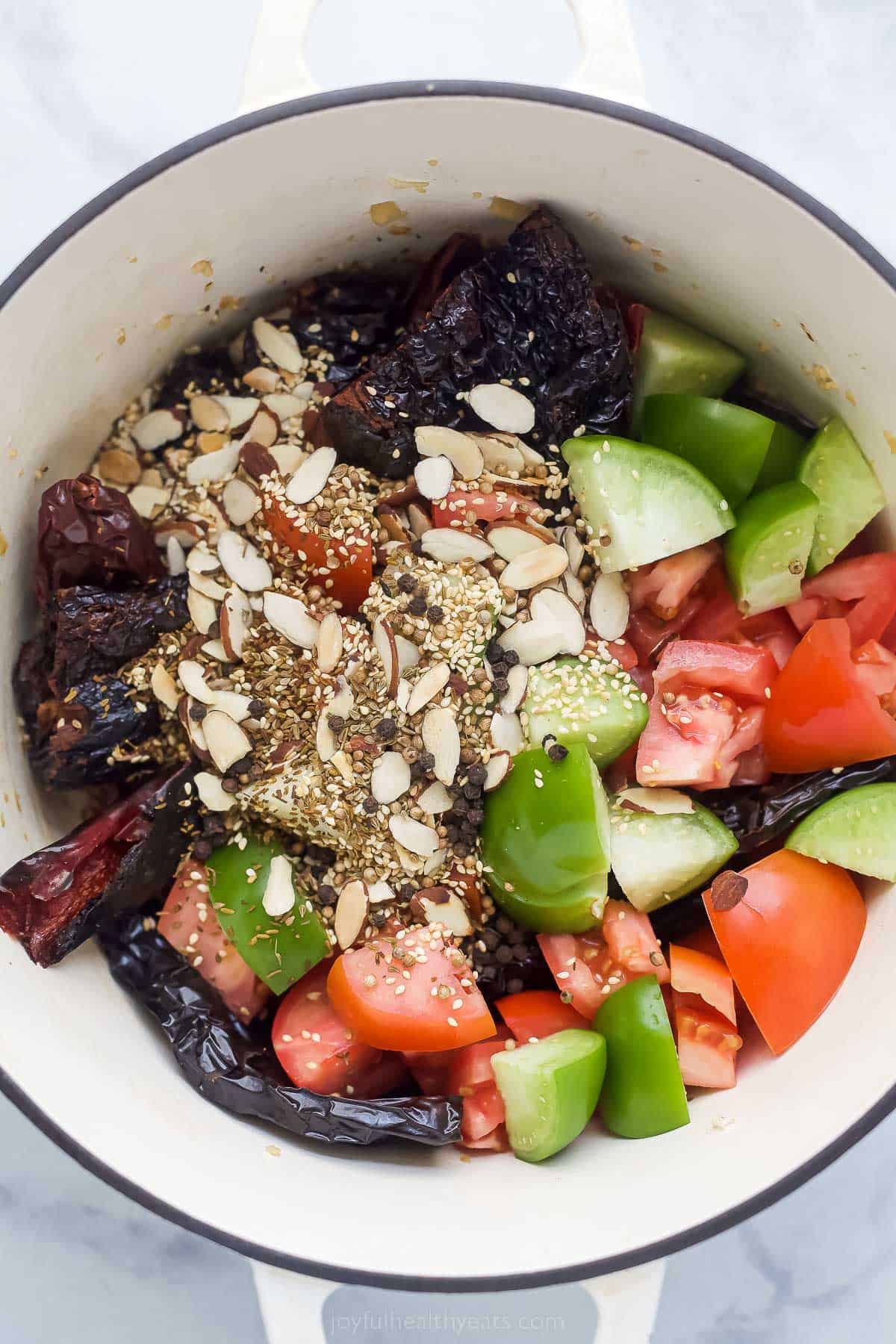 Next, add the other ingredients. Now you'll add everything else to the dutch oven (except the chocolate). Remember to use the chicken broth that was used to cook the chicken beforehand.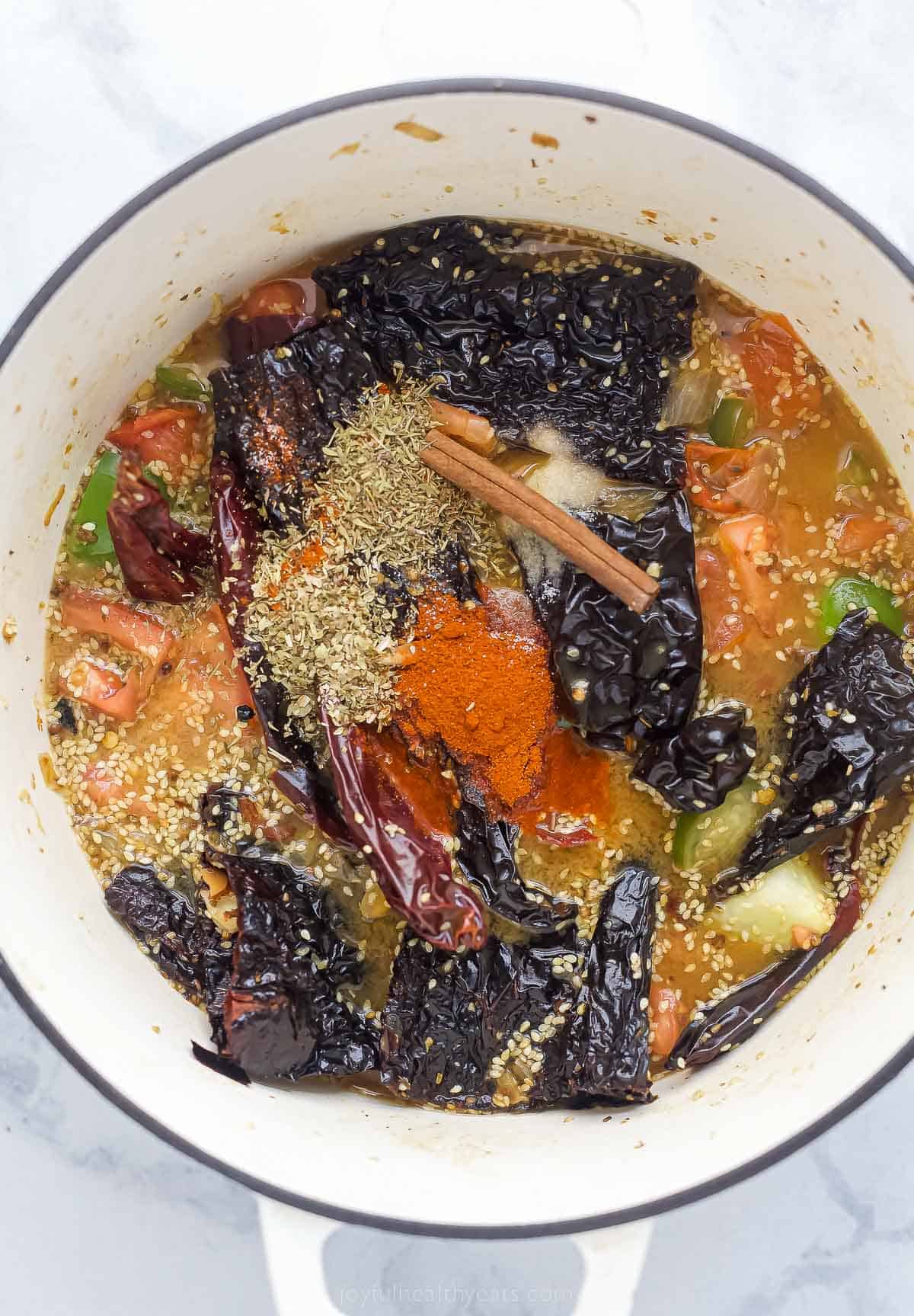 Let the sauce simmer. You'll want to cook everything until the peppers become soft and tender (about 30 minutes).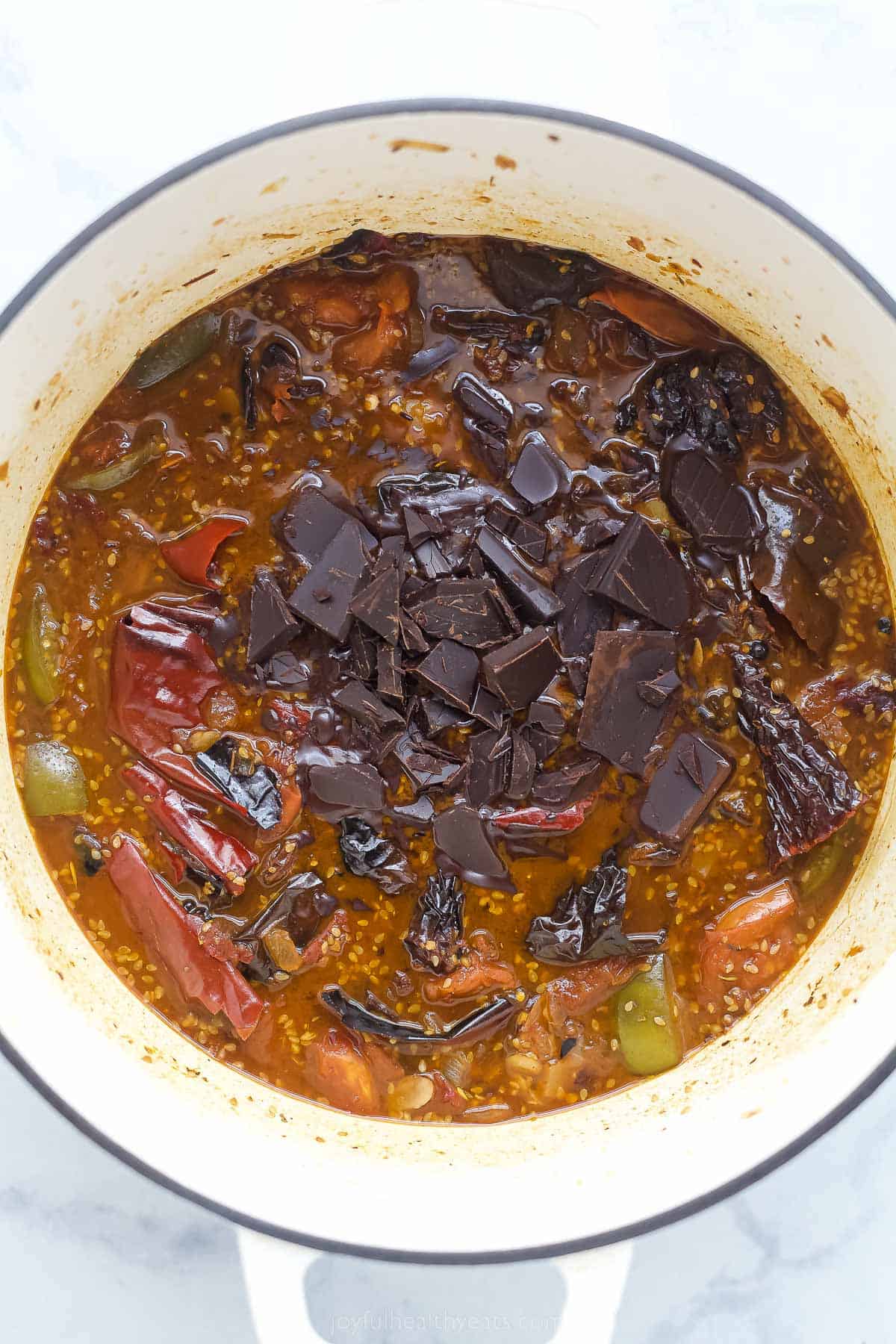 Then add the chocolate. And stir until the chocolate melts.
Next, puree the sauce. You should do this with a high-powered blender so that it's nice and smooth. You can always strain the sauce after blending if you are using a standard blender.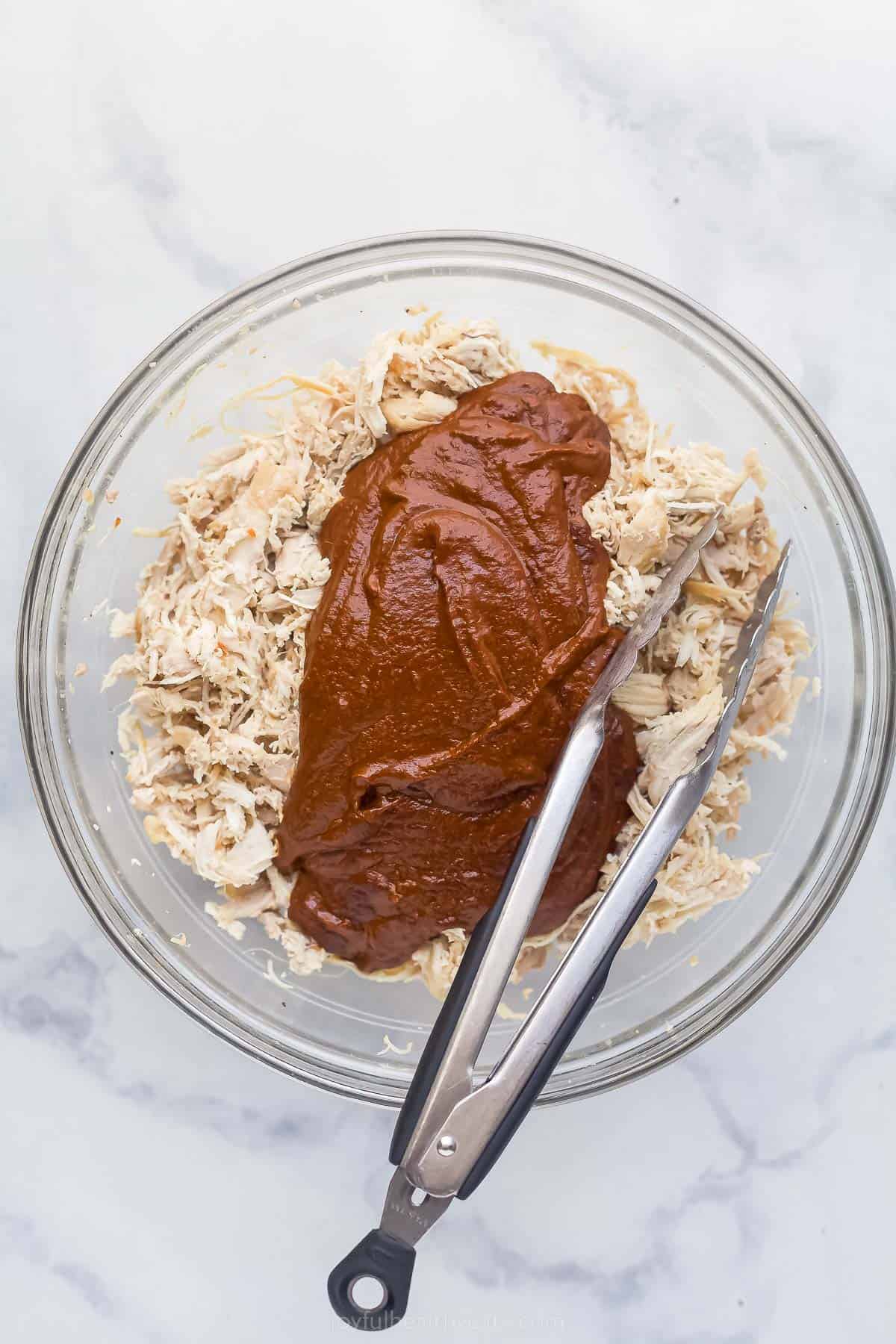 Finally, toss the mole sauce with the chicken. You'll want to do this quickly while everything is still hot. And then your Chicken Mole is ready to be served!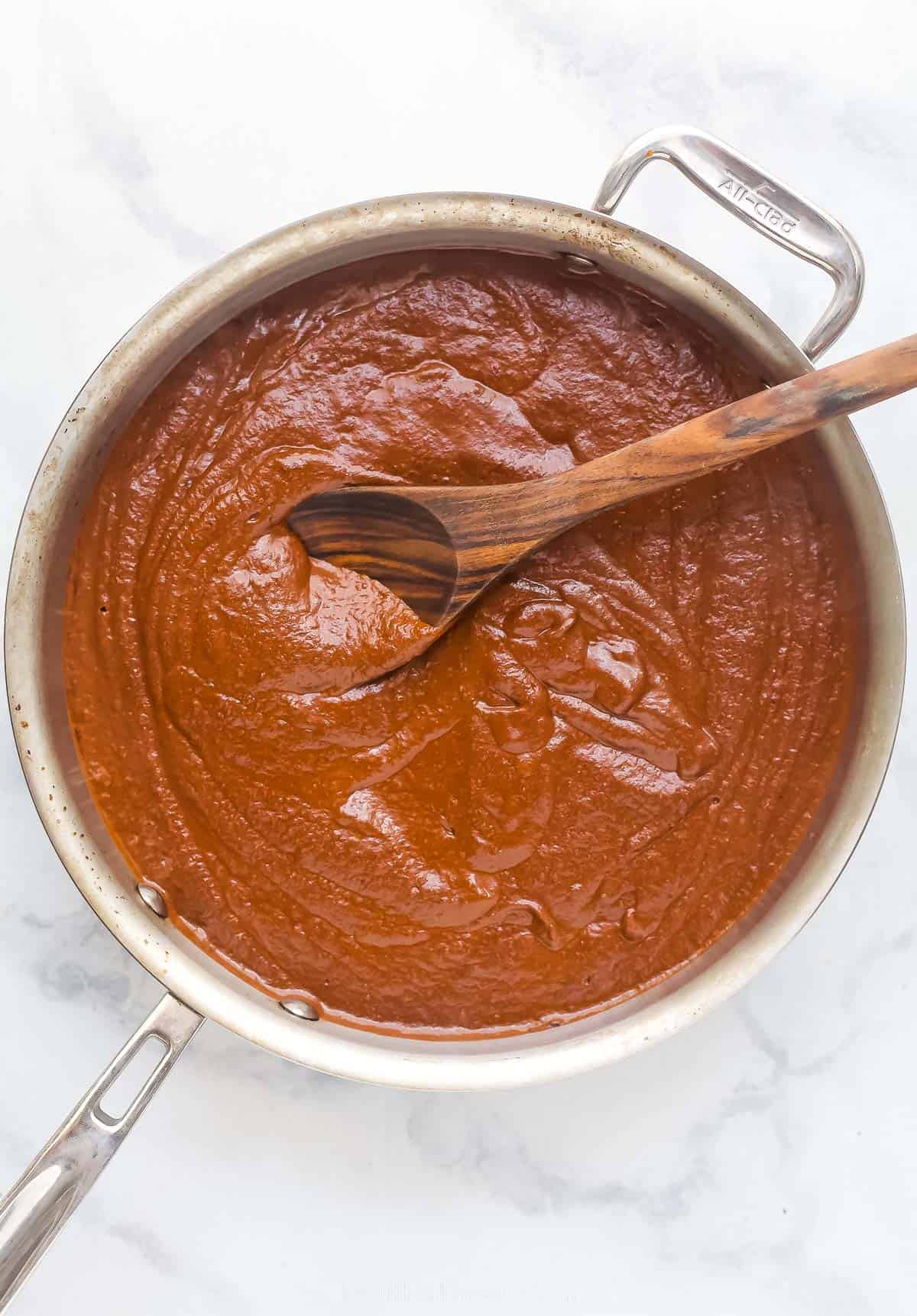 Tips for Success
Follow these helpful tips so that your Chicken Mole comes out the best that it can possibly be!
Don't char the peppers too much. This also goes for the whole spices…if you char them too much, they will become bitter. But you need to toast them a bit to get their full flavor potential.
Use a different nut if you can't find almonds. The recipe needs nuts to create a smooth and rich flavor. You could use cashews or peanuts as substitutes if needed.
Want to make the mole sauce thicker? Add some crushed tortilla chips when pureeing to make it a little thicker Ideally, you'll want them to sit in the sauce for a minute so that they soften before being pureed.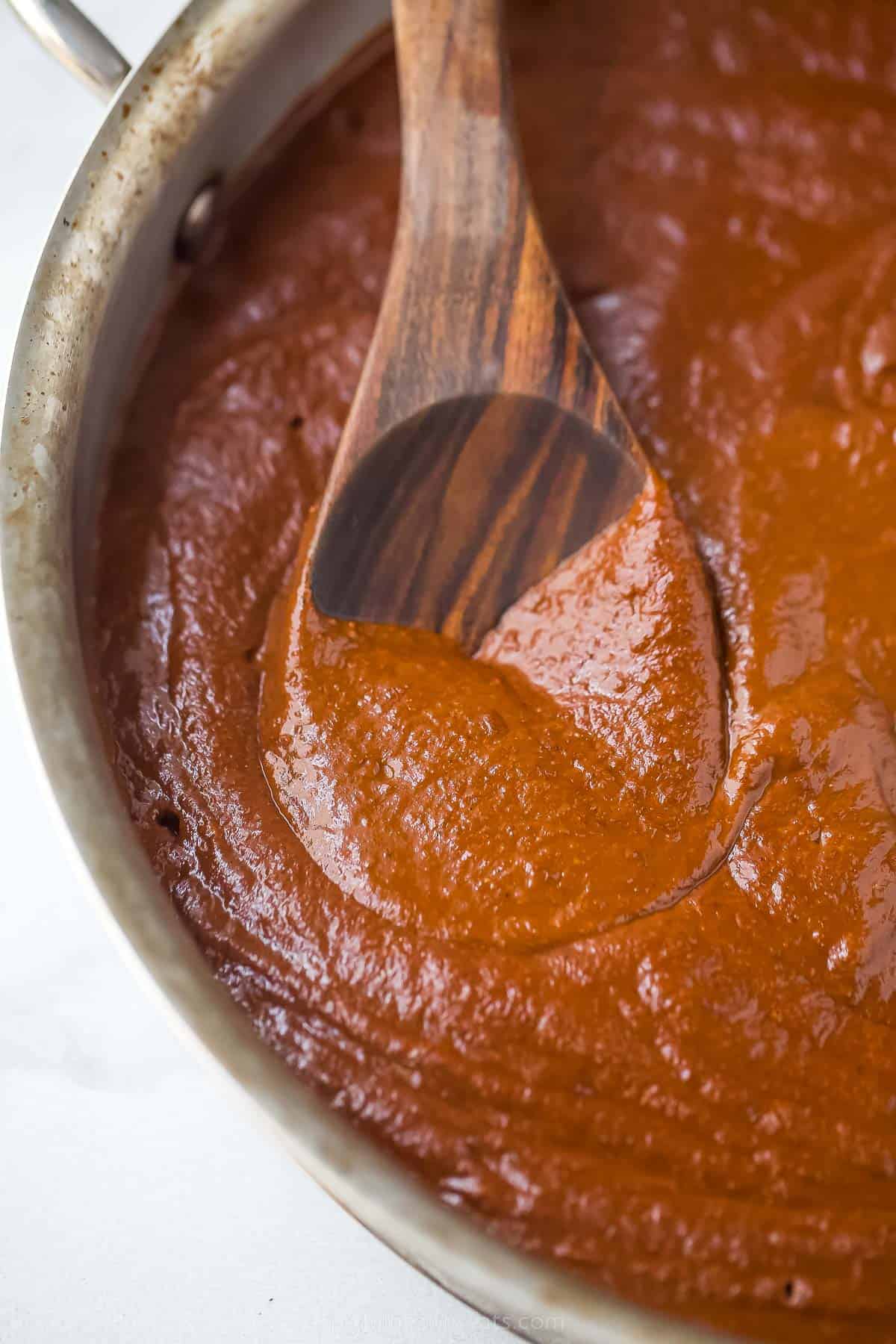 What to Serve with Pollo Mole
Here are some of my favorite recipes to serve alongside Chicken Mole.
How to Store & Reheat Leftovers
All of that hard work will not go to waste! This Chicken Mole recipe makes great leftovers.
I recommend storing it in an airtight container (plastic bags work great) and then you can keep it in the fridge for 4-5 days or in the freezer for up to 3 months.
Then when you're ready to reheat you can do so on the stovetop or even the microwave. It's so easy!
Print
Super Flavorful Chicken Mole Recipe
Author:

Prep Time:

10 minutes

Cook Time:

1 hour 30 minutes

Total Time:

1 hour 40 minutes

Yield:

6 cups

1

x

Category:

Chicken

Method:

Stove

Cuisine:

Latin
---
Description
This Chicken Mole recipe has dried chili peppers, almonds, tomatoes, garlic, orange juice, tons of spices, and Mexican chocolate. The smooth and rich sauce is tossed with shredded chicken.
---
Chicken:
1.5

lb. boneless skinless chicken breast

1.5

lb. boneless skinless chicken thighs
salt & pepper to season

1 tablespoon

avocado oil

4 cups

chicken stock
Mole Sauce:
5

dried pasilla chilis, seeds and stems removed

5

dried ancho chilis, seeds and stems removed

5

dried guajillo chilis, seeds and stems removed

1/4 cup

almonds

2 tablespoons

sesame seeds

2 teaspoons

cumin seed

2 teaspoons

coriander seed

1 teaspoon

anise seed

1 teaspoon

black peppercorn

1 tablespoon

avocado oil

1

large yellow onion, diced

8

garlic cloves, minced

2

tomatillos, roughly chopped

3

roma tomatoes, roughly chopped

1/2 cup

raisins

1/2 cup

orange juice

1

cinnamon stick

1 teaspoon

smoked paprika

1 teaspoons

dried thyme

1 teaspoon

dried oregano

1 teaspoon

salt

3 oz

. mexican chocolate or

90

% dark chocolate

1 tablespoon

peanut butter

1/2 tablespoon

of honey
---
Instructions
Cook the Chicken:
Pat chicken dry. Season both sides of the chicken breast and chicken thighs with salt and pepper.

Heat a large bottom skillet or dutch oven to medium-high heat. Add in the avocado oil. Working in batches, sauté the chicken on each side for 3 minutes or until lightly browned. Remove and let chicken rest on a plate and repeat process until all chicken is cooked.

Return all the chicken with its juices back to the skillet or Dutch oven. Add in the chicken broth and bring to a boil. Cover and reduce to low heat. Let chicken simmer for 15-20 minutes or until chicken is cooked.

Carefully remove chicken and place in a clear bowl. Reserve the broth for later use. Using two forks shred the chicken.
Make the Mole:
Heat a large skillet to medium heat. Working in two to three batches, add the peppers to the pan and dry roast for 1 to 2 minutes per side. Do not burn, they will get bitter. Remove from the skillet and let rest.

Next add in almonds, sesame seed, whole cumin seed, whole coriander seed, whole anise seed and whole black peppercorns. Dry roast over medium heat until toasted and fragrant, shaking the skillet occasionally. Transfer to a bowl or plate; set aside.

Heat a dutch oven to medium high heat. Add in avocado oil and onion. Saute until onions are slightly caramelized, about 7-8 minutes. Next add in the garlic and saute for 30 seconds, stirring the whole time.
Add the toasted chili peppers to the dutch oven along with the toasted nuts, seeds, whole spices, tomatillos and roma tomatoes. Stir everything together and cook for 3-4 minutes – stirring occasionally.
Now add in your raisins, orange juice, reserved chicken broth from the chicken we cooked earlier, cinnamon stick, smoked paprika, dried thyme, dried oregano and salt. Stir everything together, cover and bring to a boil, then reduce to medium-low and simmer for 30 minutes, or until the peppers are very soft, stirring occasionally.

Remove the mole from the heat; stir in the chocolate and let stand 5 minutes or until melted.

Transfer the mole mixture to a high powered blender (I use my Vitamix), add peanut butter and honey. Purée until smooth, leave a corner of the lid open and covered with a paper towel so steam can escape and it doesn't explode. (NOTE: If you don't have a high-powered blender you'll want to strain your mole sauce through a fine mesh strainer.) Season with salt, pepper, and/or honey to taste. For a thinner sauce, add additional chicken broth or water.
Make the Chicken Mole:
To the bowl filled with shredded chicken add 1/2 to 3/4 of the mole sauce. Using tongs or a wooden spoon, mix everything together until ever piece of shredded chicken is covered. Serve!
---
Keywords: Mexican chicken mole, pollo mole, Mexican recipes
Filed Under:
More Mexican Recipes
DON'T MISS A RECIPE ->
FACEBOOK | TWITTER | PINTEREST | GOOGLE+ | BLOGLOVIN