These skinny Pulled Pork Sliders with Red Cabbage & Avocado will be the star of your appetizer table. Just throw it in the crock pot and deliciousness awaits!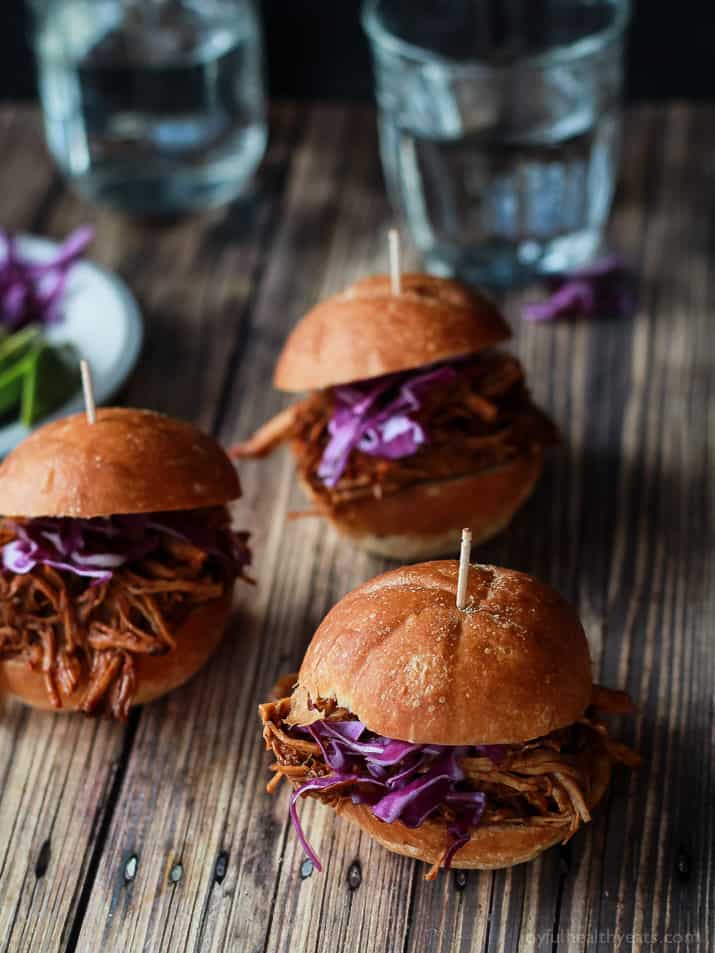 Healthy Pulled Pork Sliders with Red Cabbage & Avocado
What is your identity?
When someone asks you what you do, what do you say?
Do you reply with a simple job description or job title at work. Do you tell them that you are married or single, how many kids you have?
When someone asks you, "tell me about yourself?, how do you respond?
Do you tell them where you grew up, how many brothers or sisters you have, what school you went to, what your parents did.
I would venture to say that most people respond that way, wouldn't you? Seems like a normal way to respond.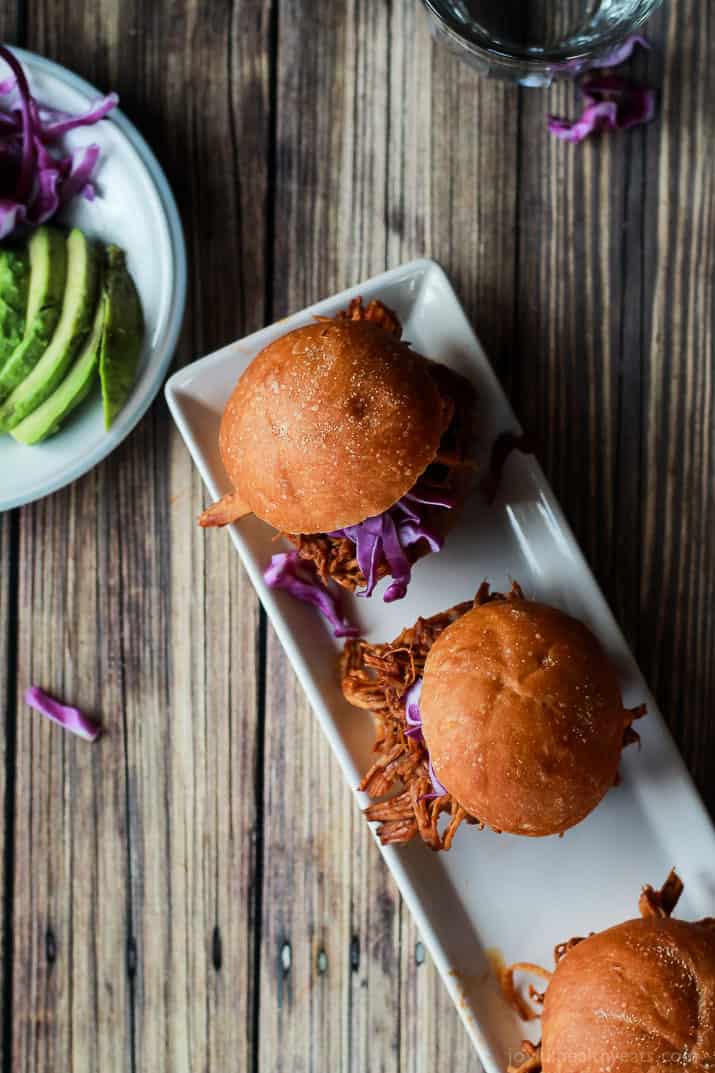 But what if people responded differently, more than just the typical: this is my job and where I grew up.
When someone asks me what I do, I want to say "I am living out the identity that God has given me." That's a different response and begs for more questions to be asked. Right?
Do you believe each person has a destiny designed specifically for them? Something only they can do, that will fulfill every part of who they are. What their passions are, what their strengths are, what their values are – it is specifically designed for that person and in that identity they will find joy beyond measure.
I thought a couple years ago I was in that role. I was working at the church, helping people find community and small groups, working in my strengths with people I loved, and I enjoyed every second of it. Until I asked God what HE said my identity was. Genius idea right? If he made the world, surely He knows my identity.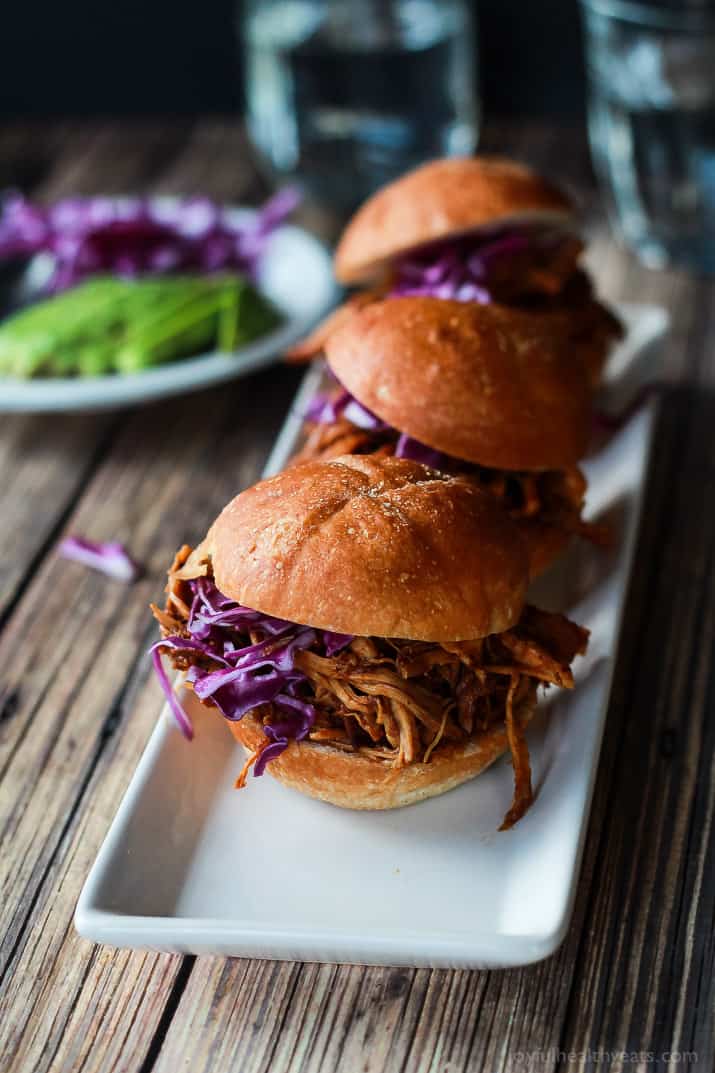 What does God sound like? Well, the only way I can describe it is … it almost sounds like your subconscious talking. You know, like something just randomly pops into your head. Kinda like that. Now I know, how do I know that it's not just my own head saying something I want to hear?
Well because I have heard thinking like: "I love you.", "beloved daughter", "lean on me", "you are strong", "I can help you through", "don't be afraid".
Do you tell yourself those things frequently?
Probably not, most people tell themselves: "you aren't good enough", "you're never going to be as good as them", "that outfit looks horrible", "you're never going to be as pretty as that girl", "you're not loved", "you don't fit in" … the list goes on.
Bottom Line: your voice speaks things that are hurtful, things that bring you down, and things that are not true. God's voice gives you hope, joy, life, and makes you say… "what"?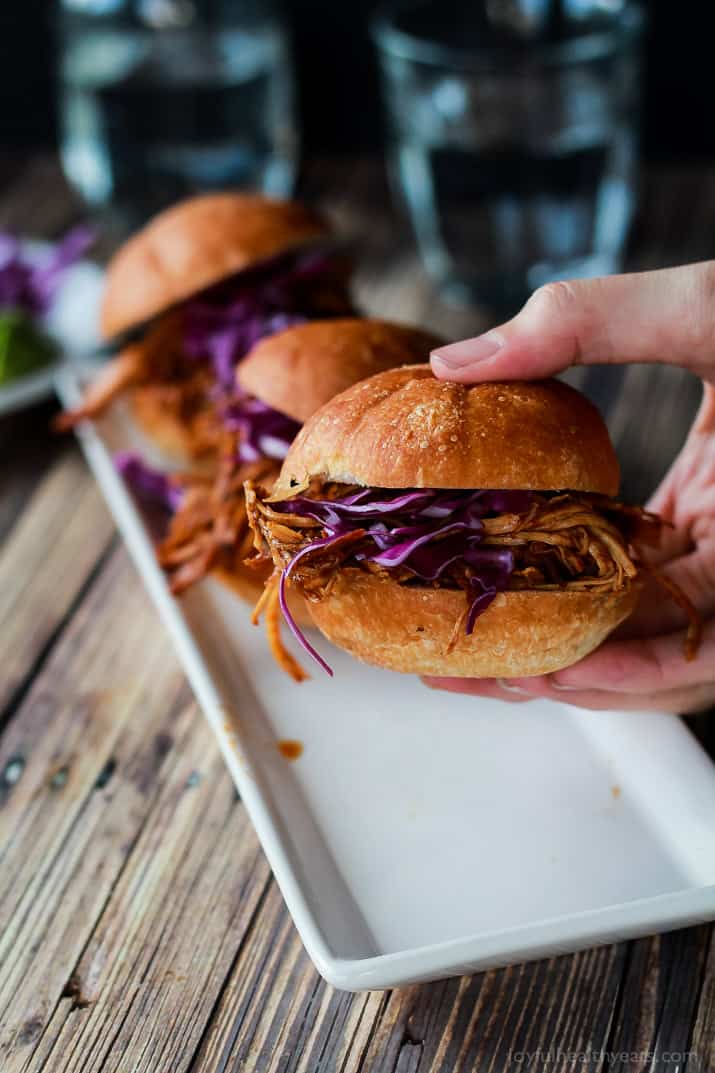 So who do I say I am? What is my identity?
Well, I have heard that I am a beloved daughter of the high king and that I am an International Food Blogger. That is what I am living out in my life now and I am finding unmeasurable joy in that identity.
What is your identity?
If you don't know, it's ok. Just ask God, if he doesn't answer right away. Keep asking! Then…. live it out! Love you dear friends!
Ok, now on to the recipe.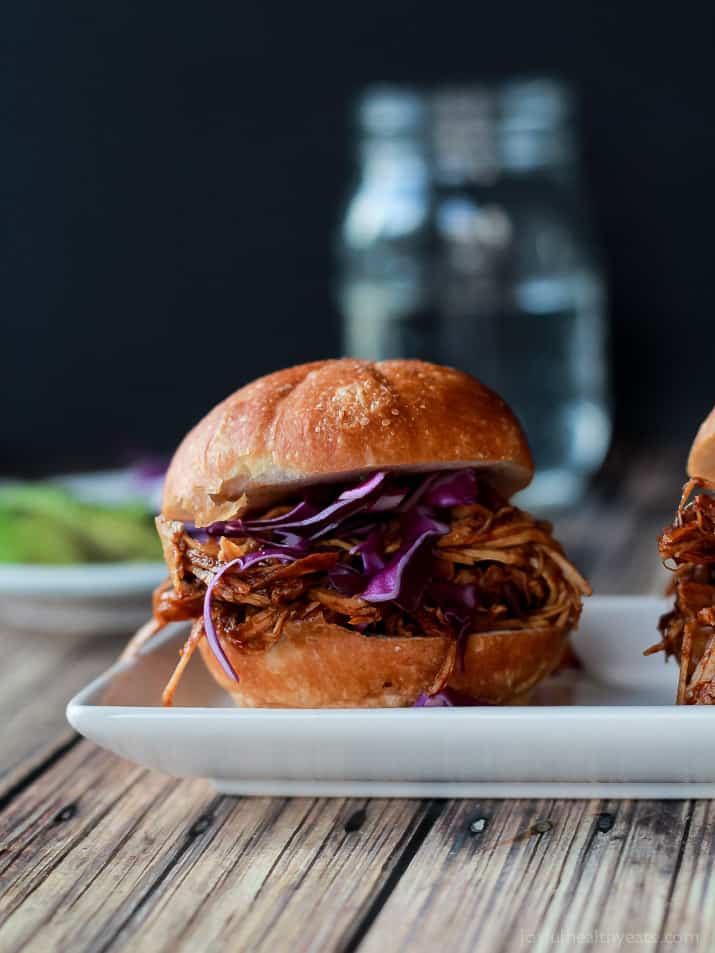 Since the Superbowl is coming up, I knew I needed to amp up the appetizer recipes here at JHE! Which isn't that hard because it's one of my favorite things to make! I could probably live off of appetizers!
As I was thinking about what to make, I remembered these cute little sliders my mom and I made for the New Years Eve party we had this year. BINGO! Sliders it is. I already have a stellar Burger Slider on this site so I went the pulled pork route today. I don't like pulled pork sandwiches – said no one EVER! Why? Because they rock!
These Skinny Pulled Pork Sliders are super tender because they spend 6 hours cooking in the crock pot and the sauce incredible! It is inspired by my Braised Short Rib sauce. Seriously guys, I could bathe in this sauce its so good. It has tomato sauce, balsamic vinegar, garlic cloves galore, and then dried dates for a sweetener. Can you say yum-factor!?
Not only is the meat tender and the sauce delicious but then you top it with plain jane purple cabbage for a little color and crunch and avocado! These babies will be the first thing disappearing off your appetizer table! I hope you give this a go at your next party, it beats the socks off that queso dip everyone always has!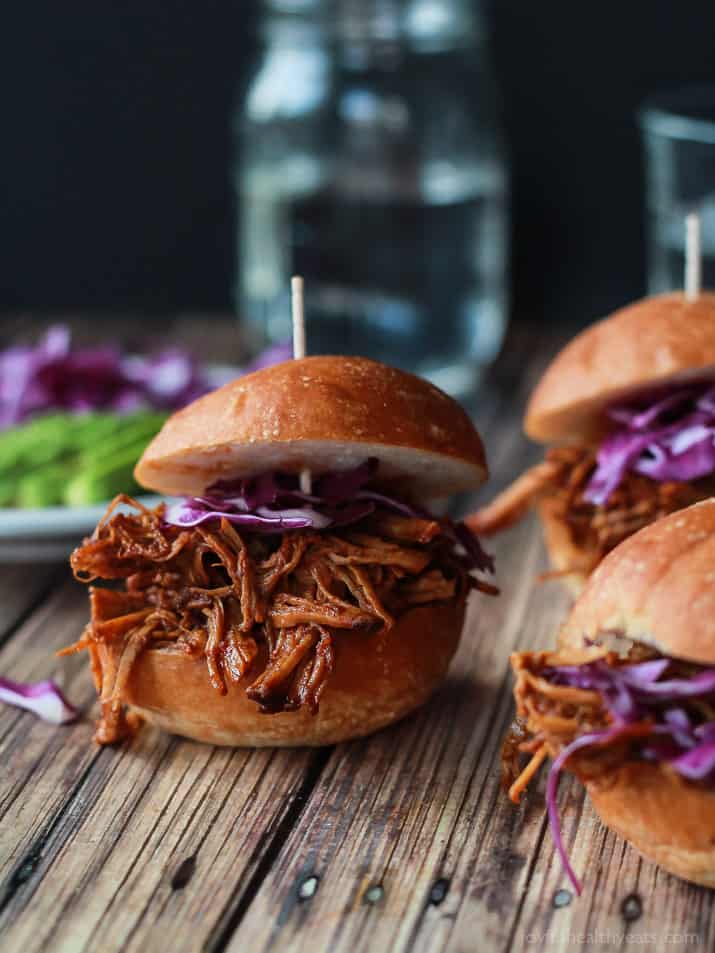 Print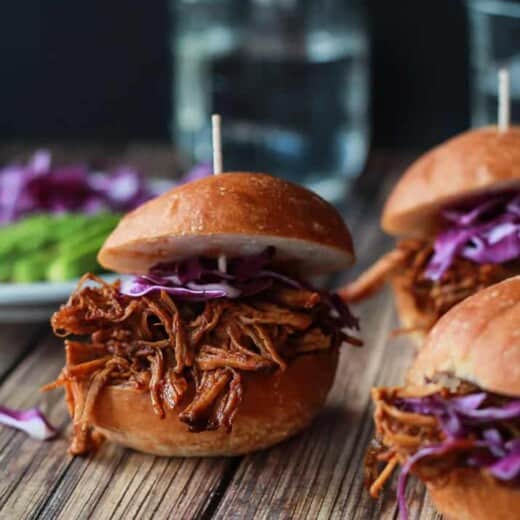 Pulled Pork Sliders with Red Cabbage & Avocado
Author:

Prep Time:

5 mins

Cook Time:

6 hours

Total Time:

6 hours 5 mins

Yield:

24

sliders

1

x

Category:

Appetizer

Method:

Crock Pot

Cuisine:

American
---
Description
These skinny Pulled Pork Sliders with Red Cabbage & Avocado will be the star of your appetizer table. Just throw it in the crock pot and deliciousness awaits!
---
2

–

3

lb. pork loin

1 teaspoon

of course sea salt

1/2 teaspoon

of black pepper

1 teaspoon

of garlic powder

1 teaspoon

of smoked paprika

1 teaspoon

of dry rosemary

15 oz

. tomato sauce

4

dates (dried and pitted)

1/2 cup

of balsamic vinegar

1 Tablespoon

of coconut oil, melted

6

garlic cloves, peeled and smashed

24

whole wheat slider buns

4

avocados, sliced

1 1/2 cups

of purple cabbage, thinly sliced
---
Instructions
In a small bowl, add sea salt, pepper, garlic powder, smoked paprika, and rosemary. Mix to combine.
Rub dry rub all over pork loin and place in a crock pot.
To the crock pot add, tomato sauce, dates, balsamic vinegar, melted coconut oil, and garlic cloves. (just throw them in it will all get cooked together in the end)
Cook pork loin on HIGH for 6 hours.
Using two forks begin to shred pork in crock pot until there are no more chunks, toss shredded pork around in the sauce.
Serve on top of whole wheat sliders with fresh purple cabbage and avocado slices.
---
Keywords: pulled pork sandwich, pulled pork sandwich recipe, pulled pork sliders, pulled pork crock pot, pulled pork crock pot recipe, easy pulled pork crock pot, easy pulled pork recipe, best pulled pork recipe, healthy appetizer
Filed Under:
More Sandwich Recipes
Steak & Fontina Cheese Panini with Chimichurri Sauce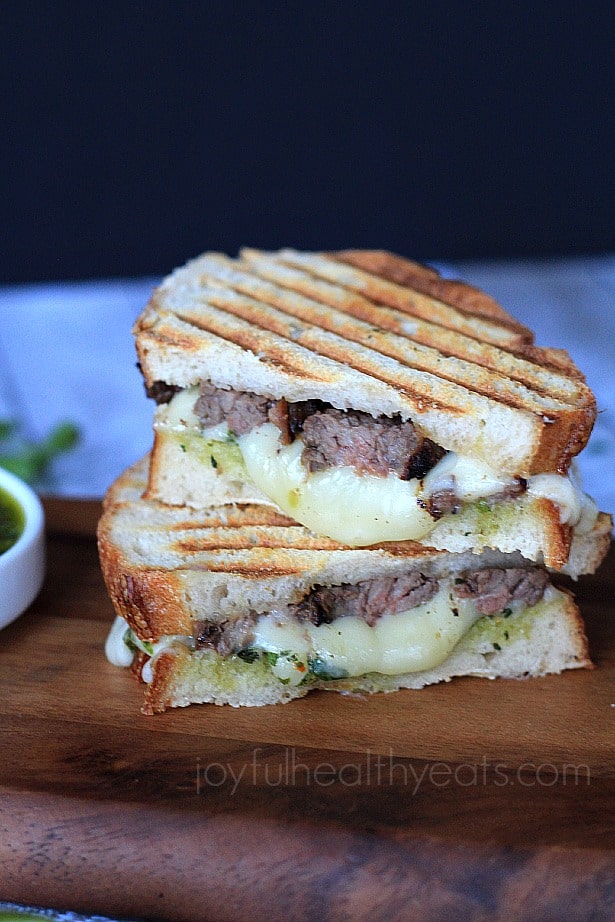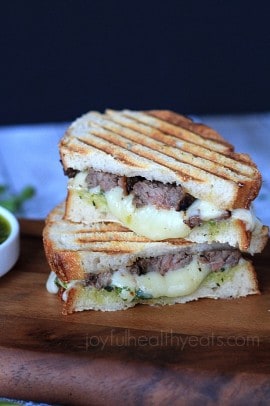 Grilled Portabella Burgers with Balsamic Reduction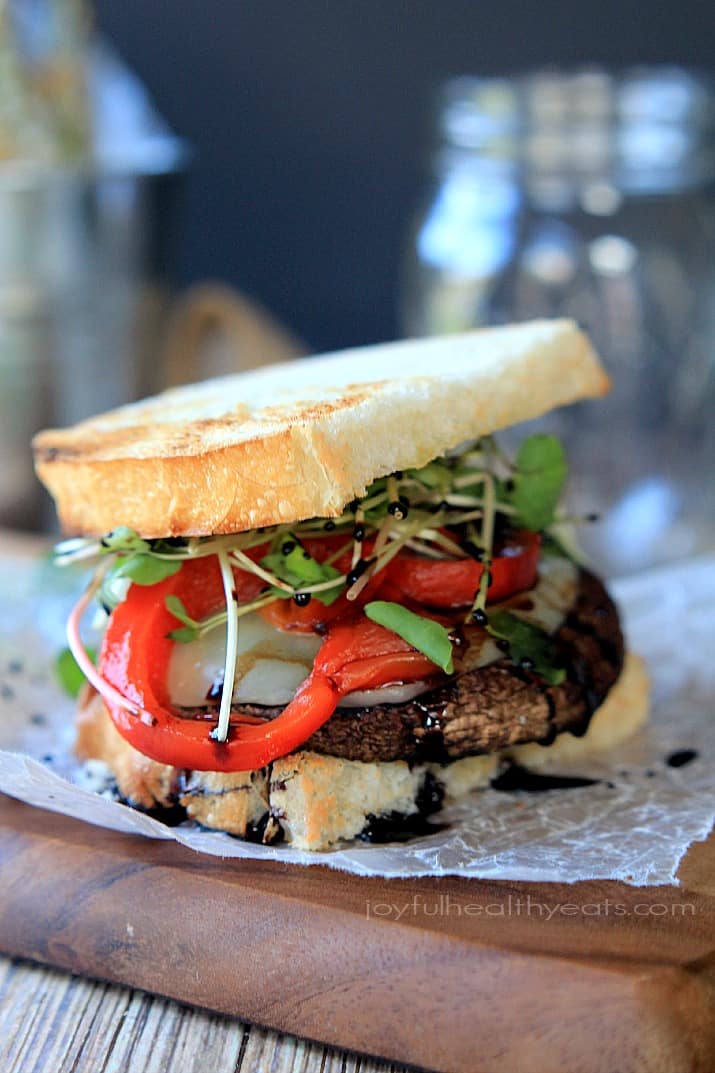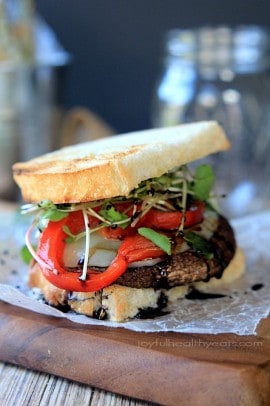 DON'T MISS A RECIPE! FOLLOW US ON ->