Made in just 20 minutes, Prosciutto-Wrapped Asparagus is a healthy appetizer, side dish or snack that you'll want to serve on every special occasion. This stress-free, mess-free dish is guaranteed to get gobbled up quickly!
These Prosciutto Asparagus Wraps are Roasted to Perfection!
I'm a huge fan of baked asparagus – partly because of its tender-crisp texture and its savory tang, but also because of how healthy it is. Packed with potassium, fiber, vitamins and protein, the only way to make it better is by adding crispy prosciutto! And that's exactly what this recipe does.
You simply wrap a few stalks of fresh asparagus into a slice of meat, place the bundles on a greased baking sheet and roast away. There are no other tools or dishes involved! Easy preparation meets effortless cleanup in this fail-proof snack, side or appetizer.
What is Prosciutto?
Prosciutto is lean, thinly sliced ham that's dry-cured to bring out its flavor. It's a staple in Italian kitchens that can be added to charcuterie boards, mixed into pasta dishes and loaded onto pizzas. Because of how thin it is, prosciutto works great in roasted veggie bundles like these asparagus wraps.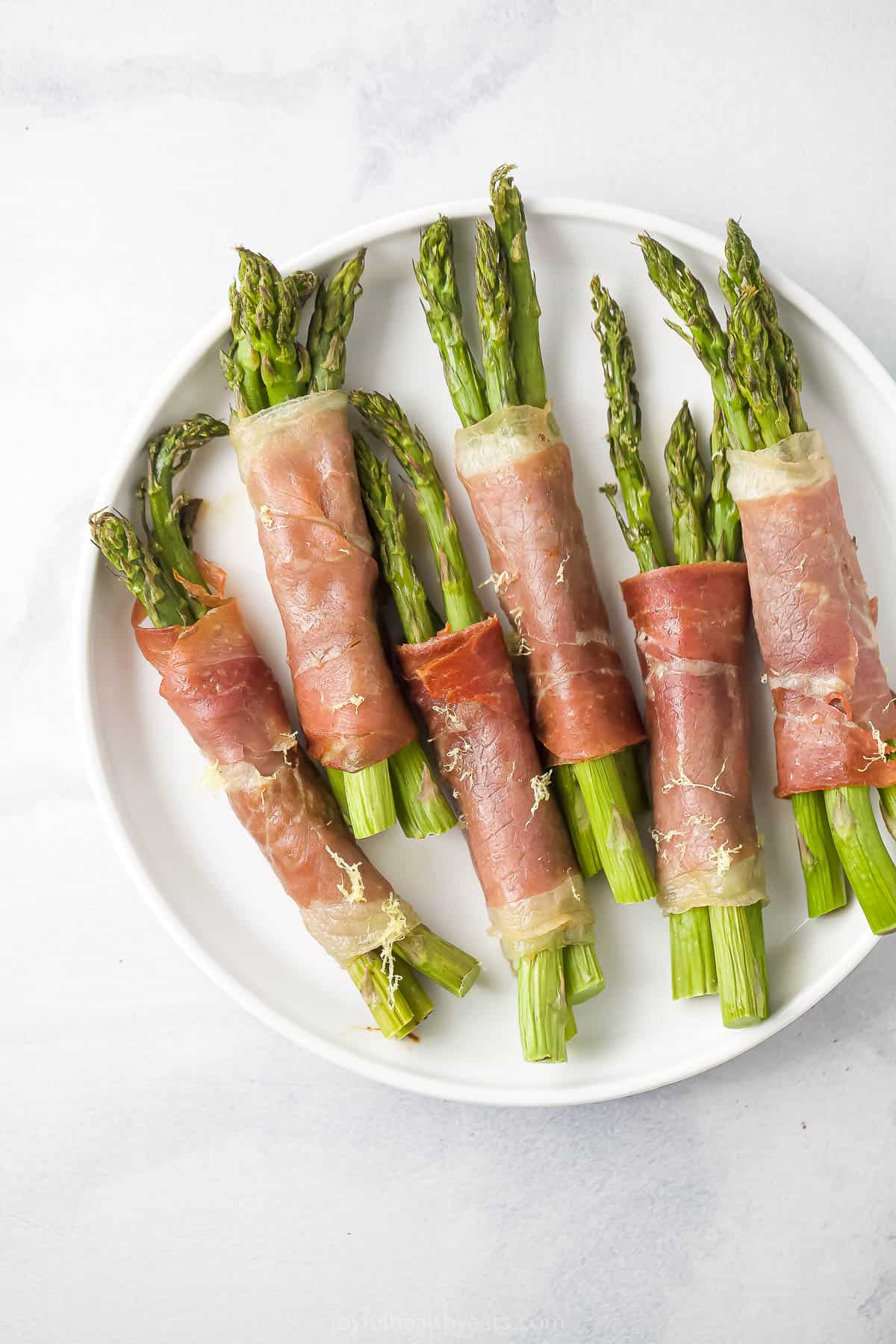 Recipe Ingredients
First thing's first, let's gather up the ingredients we'll be working with. Don't forget to grab a baking dish and your cooking spray or parchment paper as well.
Asparagus: Trim or snap the tough root end off of each stalk.
Prosciutto: I recommend getting this fresh from a deli or the deli section at your local grocery store.
Olive Oil: To help everything get nice and crispy in the oven.
Salt: Added to taste.
Lemon Zest: Or lime zest.
What Kind of Asparagus Should I Use?
I recommend sticking with regular, medium-sized asparagus stalks for this recipe. You can go with larger ones if you'd like, but the thinner stalks aren't ideal for roasting.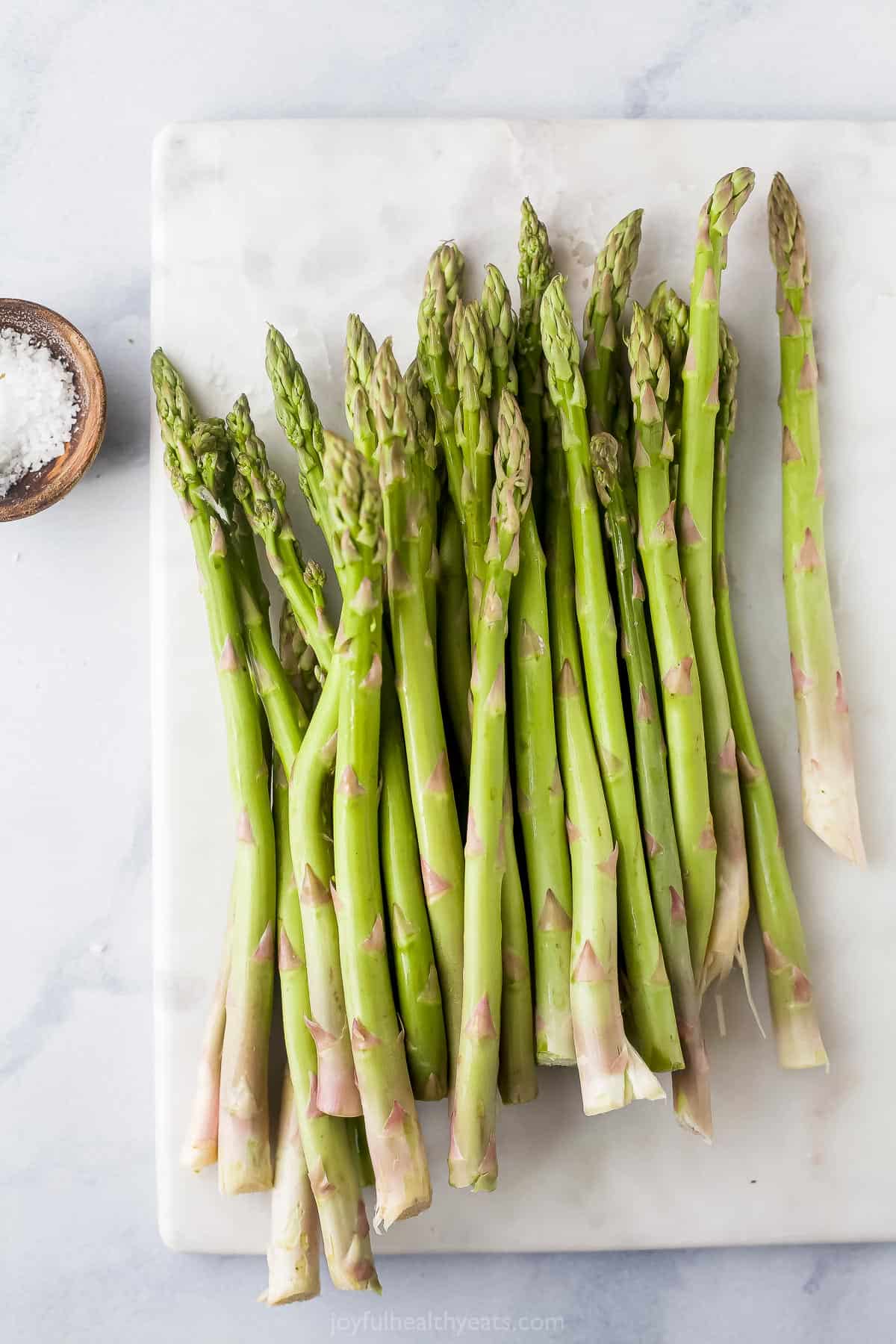 Shop This Recipe

How to Make Prosciutto-Wrapped Asparagus
Now that all of our supplies and materials are rounded up, let's go over the process of putting it all together.
Prep for Baking: Preheat the oven to 400°F. Spray the baking sheet with cooking spray or line it with parchment paper.
Wrap Asparagus: Wrap three stalks of asparagus with one slice of prosciutto. Repeat until everything is used up.
Add Oil & Salt: Place the asparagus wraps onto the prepared baking sheet. Drizzle the wraps with olive oil and sprinkle them with sea salt to taste.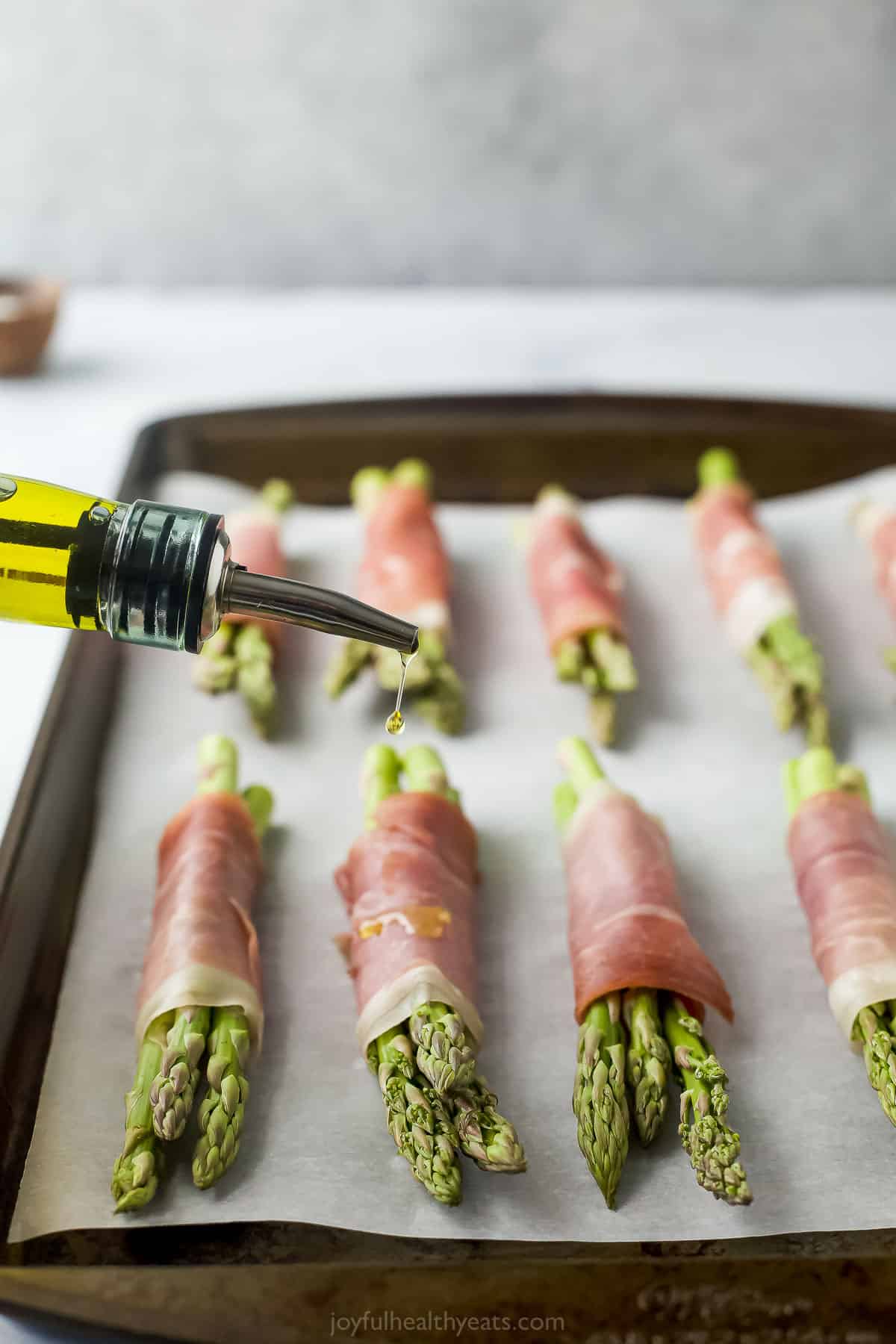 Bake: Bake the wraps for 15 minutes.
Enjoy! Transfer your prosciutto-wrapped asparagus from the baking sheet to a serving dish and garnish it with the fresh lemon zest.
Tips for Success
These quick tips and tricks will help you make your asparagus wraps as tasty as possible. I've got this down to a science!
Don't Overstuff the Wraps: If you're using medium-sized asparagus stalks, keep your wraps at 3 stalks apiece. Overstuffing the bundles will result in uneven cooking. If your stocks are large, you may want to go with 2 apiece.
Keep the Salt to a Minimum: These wraps don't need as much salt as regular roasted asparagus. The prosciutto already brings some salty flavor to the dish, and you don't want to overdo it.
Avoid Over-Baking: Over-baked asparagus will be soft and mushy rather than tender-crisp. It should take about 15 minutes to roast, but not all ovens are exactly the same. Once the stalks turn from bright green to a more muted olive color, your wraps are ready to go.
Serve Immediately: I like to enjoy these asparagus wraps while they're warm and the prosciutto is crispy. It's best not to let them sit at room temperature for longer than 2 hours.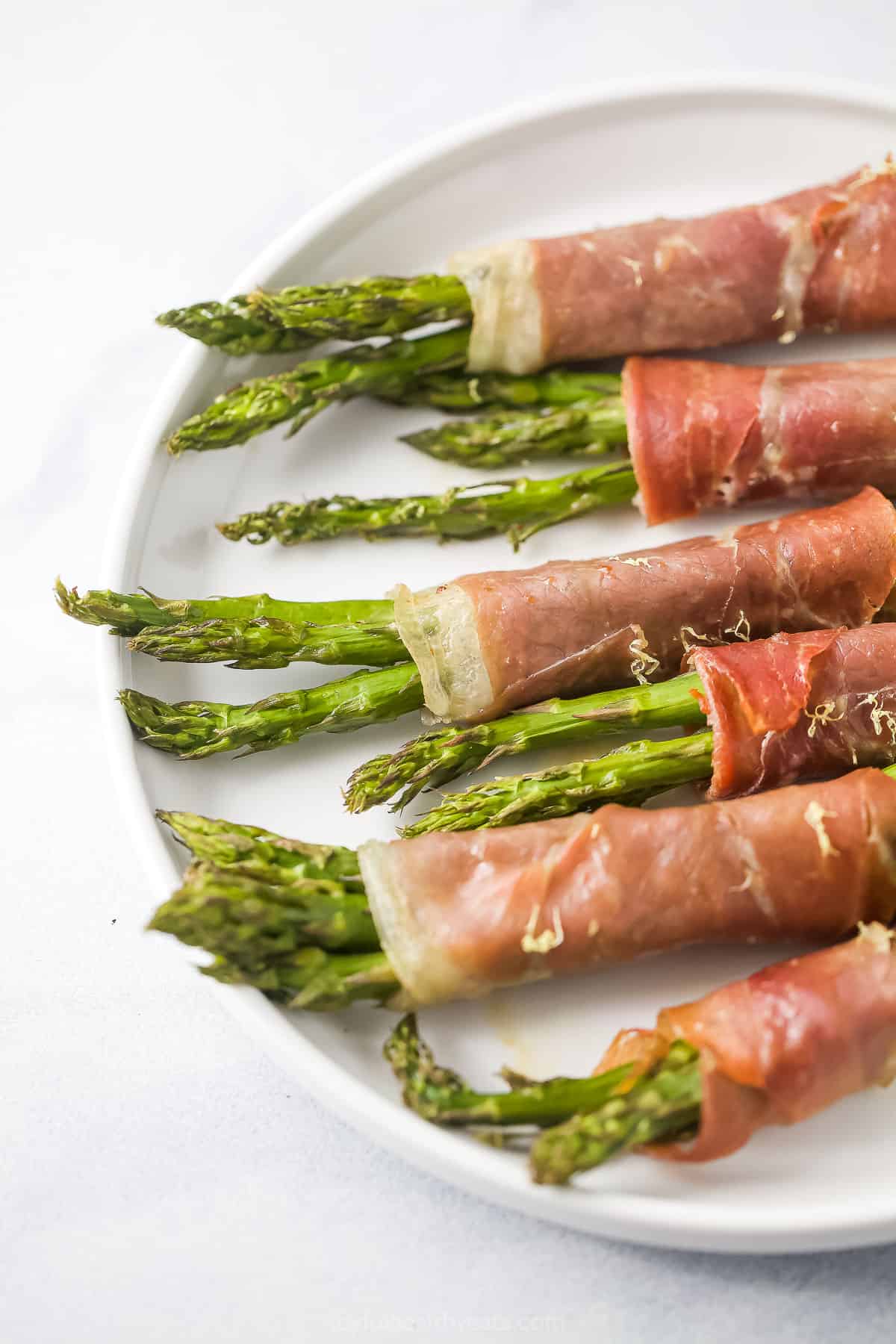 Variation Ideas
There are plenty of ways to add extra flair to your prosciutto-wrapped asparagus. Don't be afraid to get creative.
Use Different Veggies: Zucchini spears and green beans also taste amazing in roasted prosciutto wraps. Keep in mind that the bake time may vary depending on the size of the vegetables.
Make Bacon-Wrapped Asparagus: If you'd like, you can substitute the prosciutto for thin-cut bacon. Thicker cuts are not ideal as they take longer to cook.
Add Herbs & Spices: So many different seasonings can be added to these asparagus wraps. Spices like smoked paprika and garlic powder should be sprinkled on before baking, whereas herbs like basil and parsley should be added afterward.
Make Cheesy Prosciutto Asparagus Wraps: Try topping your freshly-baked bundles with shredded parmesan or cheddar cheese! It's a simple addition that makes them even dreamier.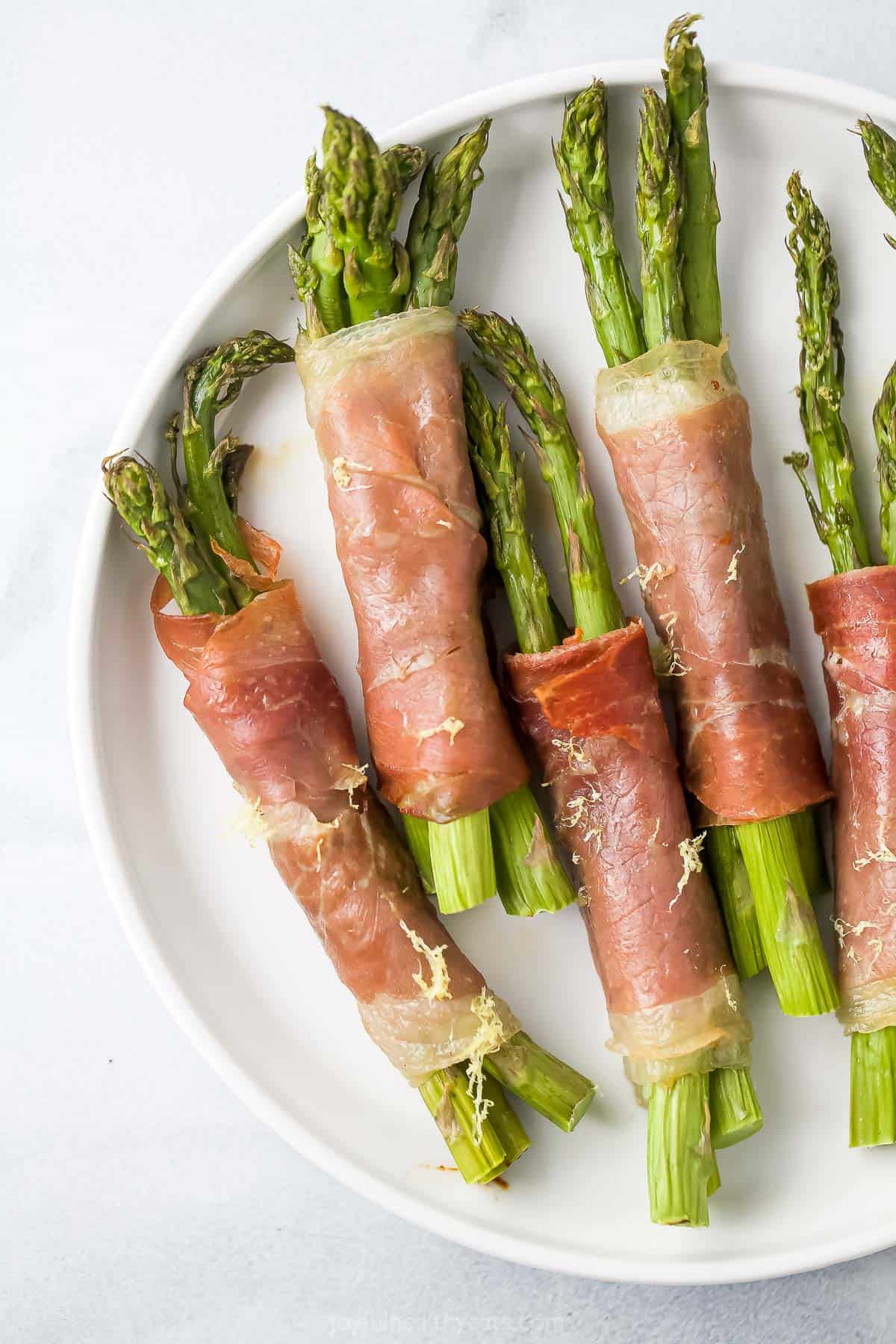 Serving Suggestions
There are no limitations on what you can pair with these asparagus wraps. The following dishes are a great place to start!
Serve with Stuffed Tomatoes: Need a second healthy crowd-pleaser for your midday snack? My Mediterranean Quinoa Stuffed Tomatoes are loaded with fresh ingredients and drool-worthy flavors.
Pair with Mushroom Pasta: Channel your inner Italian chef by preparing this Creamy Mushroom Pasta to go along with your prosciutto-wrapped asparagus. It's easy to make with garlic, goat cheese, hazelnuts and cooking wine.
Serve with a Protein: You can't go wrong here. A simple Cast Iron Steak, Roasted Shrimp or Grilled Chicken is a great option alongside these asparagus.
Storage and Reheating
Once cooled, leftover prosciutto asparagus wraps should be kept in an airtight container in the fridge. Enjoy them within 2 days for the best results. Reheat your wraps in a 400°F oven or toaster oven until they're warmed through.
Can I Freeze Prosciutto-Wrapped Asparagus?
I don't recommend storing these particular veggie wraps in the freezer. The asparagus would be fine, but the texture and flavor of the prosciutto would not be ideal.
Print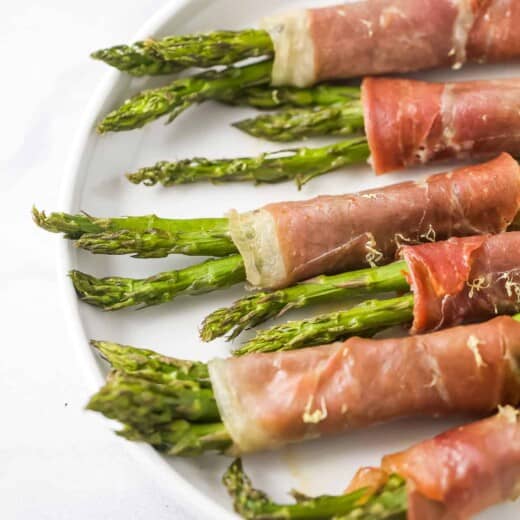 Easy Prosciutto Wrapped Asparagus
Author:

Prep Time:

5 minutes

Cook Time:

15 minutes

Total Time:

20 minutes

Yield:

6

1

x

Category:

Side Dish

Method:

Oven

Cuisine:

American
---
Description
Made in just 20 minutes, Prosciutto-Wrapped Asparagus is a healthy appetizer, side dish or snack that you'll want to serve on every special occasion. This stress-free, mess-free dish is guaranteed to get gobbled up quickly!
---
1

bunch of asparagus, trimmed

10

slices of prosciutto (from the deli)

1 tablespoon

olive oil
salt to taste

1 teaspoon

lemon zest
---
Instructions
Preheat oven to 400°F.
Wrap three stalks of asparagus with one slice of prosciutto. Repeat until everything is used up.
Spray a baking sheet with cooking spray or line with parchment paper.
Place prepared asparagus on baking sheet. Drizzle with olive oil and sprinkle with sea salt.
Bake for 15 minutes.
Remove from baking sheet and garnish with fresh lemon zest.
Serve.
---
Notes
To Store: Once cooled, keep leftovers in an airtight container in the fridge. Enjoy within 2 days.
To Reheat: Reheat wraps in a 400°F oven until warmed through.
Keywords: asparagus wrapped in prosciutto, healthy side dish, prosciutto asparagus wraps
Filed Under:
More Easy Holiday Side Dishes
Looking to level up your holiday meals with some exciting new side dishes? Say less!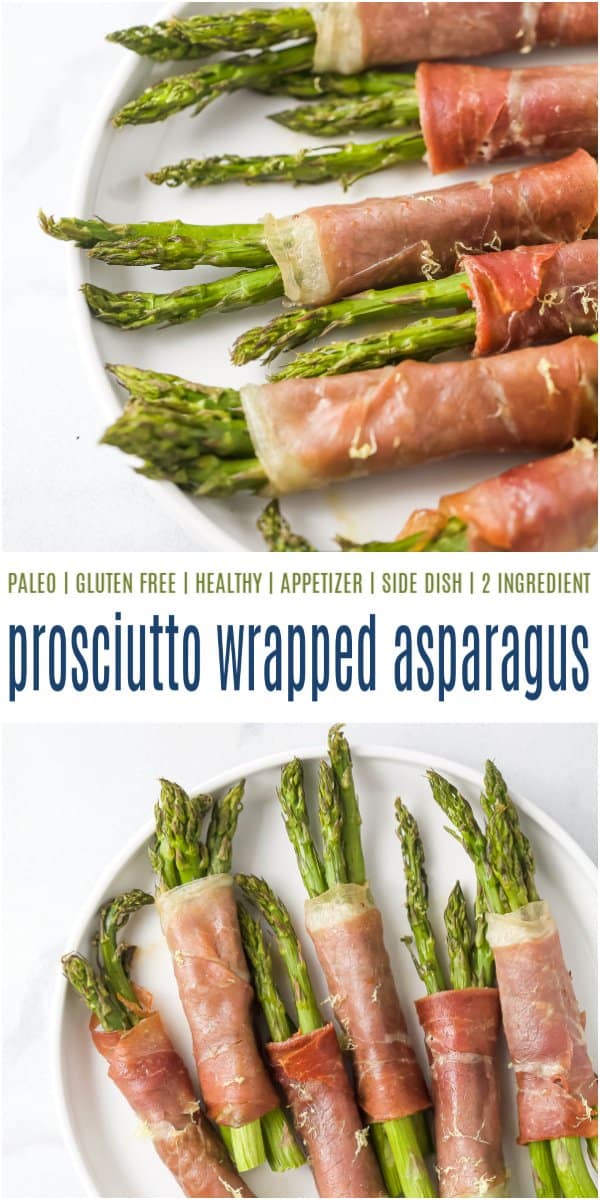 DON'T MISS A RECIPE ->
FACEBOOK | TWITTER | PINTEREST | BLOGLOVIN | INSTAGRA