This easy 30 Minute Grilled Salmon is rubbed with a chili lime spice blend, grilled to perfection then topped with a creamy Mango Avocado Salsa. A healthy summer recipe that makes the perfect family dinner! Learn my tips on how to grill salmon without it sticking to the grill!
Grilled Salmon Recipe
Day Two of Grill Week and I'm so excited to share this one with you! One of the most frequent asked questions I get is "how to grill fish?" Or, "how do you get your fish to not stick to the grill?"
Let me tell you. Fish can definitely be a little tricky when you're grilling. But if you follow my simple steps I guarantee you won't end up with a seafood massacre on your grill grates. Trust me, I've had a few of my own massacres to clean up and I've learned! It just takes a little prep and some patience and you'll be mastering grilled salmon in no time!

The first and most important step when you are grilling anything this summer, especially fish, is cleaning your grill!
In the words of Salt'n'Pepa. Clean it. Clean it real good.
But honestly though. It is so important to start off with a nice clean grill every time. This is my process after I finish grilling every time. I turn the heat way up, like all the way up and leave it on for 5-10 minutes. After the time is up, most of the items that stuck to the grill should be turned to ash. Then using a grill brush I scrap the remaining bits off and turn the grill off. This leaves me with a clean grill to start with every time!
How to Prepare a Grill
Grab a grill brush, oil (avocado or grapeseed oil), a bowl and tongs and roll up an old kitchen towel.
Start the fire.
Once the grill is warm but not so hot you cannot work, scrape down the grates to remove food residue. Having the grill hot when you do this will help along the food to "cook off" and make it easier for you to remove the bits of food.
When you are ready to cook, dip the old kitchen towel into oil and rub it over the hot grates until they are smooth and shiny. This is KEY and helps prevent food from sticking.
Clean a shiny grill grates are key to successful grilling! Now, go get cooking!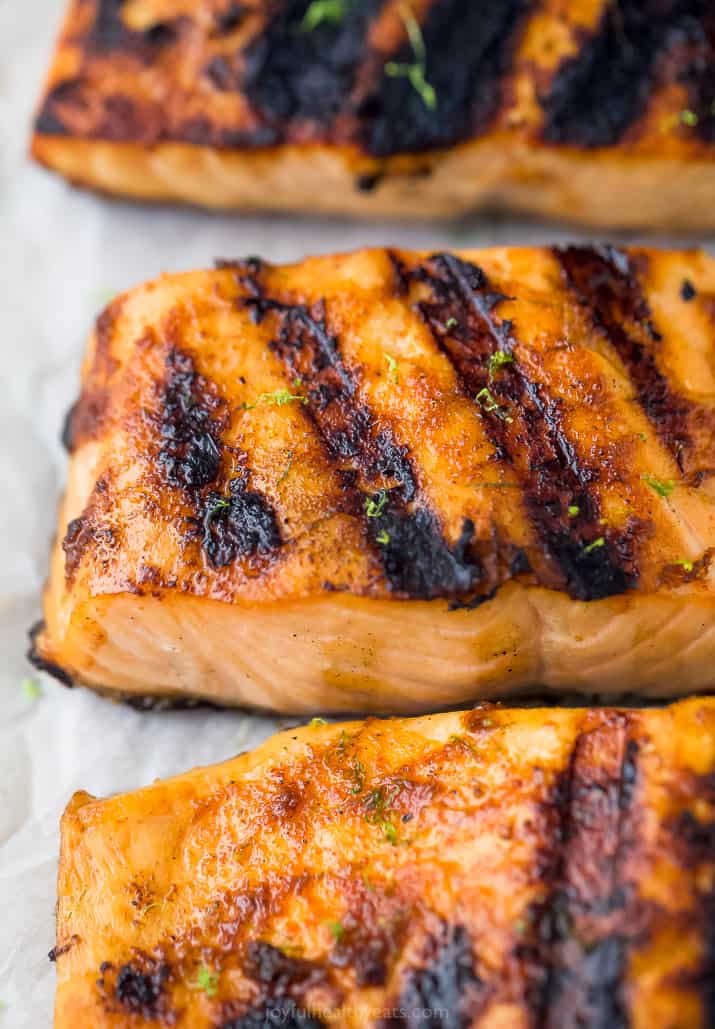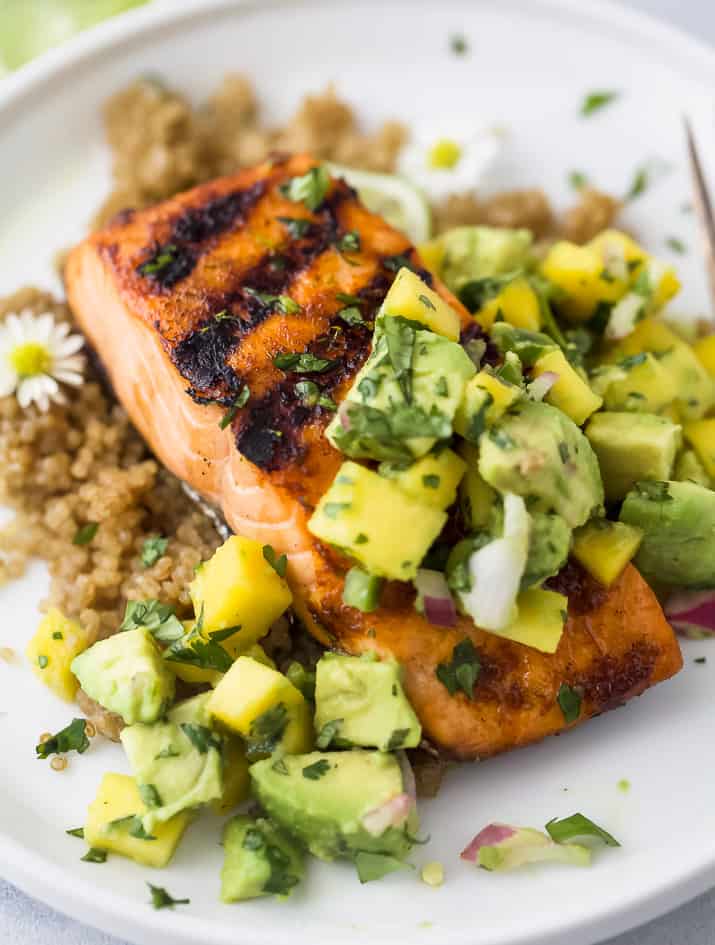 How to Grill Salmon
Preheat grill to medium high heat, about 375-400 degrees F.
Rub spice blend on the flesh side of the salmon.
Clean grill grates and rub grates with oil soaked rag.
Place salmon skin side down first. Grill for 4-5 minutes. (do not touch it during that time)
Gently flip the fish using a spatula (fish should not stick to the grill grates, if it does then you need more cook time). Grill on flesh side for another 4 minutes. Remove from grill and let rest.
Serve salmon filets.
How long do you grill salmon?
Grill Salmon for 3-5 minutes per side depending on thickness of filet.
What temperature should salmon be done?
The USDA recommends that the internal temperature of a fish be 145 degrees F, so that is what I'd recommend! However, some people say that salmon is overdone at that temperature. So, for a medium to medium well temperature on your salmon, I'd recommend removing the salmon from the grill when it reaches 125-130 degrees F internal temperature and let it rest for 5 minutes.
Do you grill Salmon skin up or down?
When you're cooking salmon, keep the skin on. It also provides a layer of safety between your fish's flesh and a hot pan or grill. Start with the skin-side down, and let it crisp up then flip it to flesh side down. It's also way easier to slide a fish spatula under the salmon's skin that's crispy than under its delicate flaky flesh.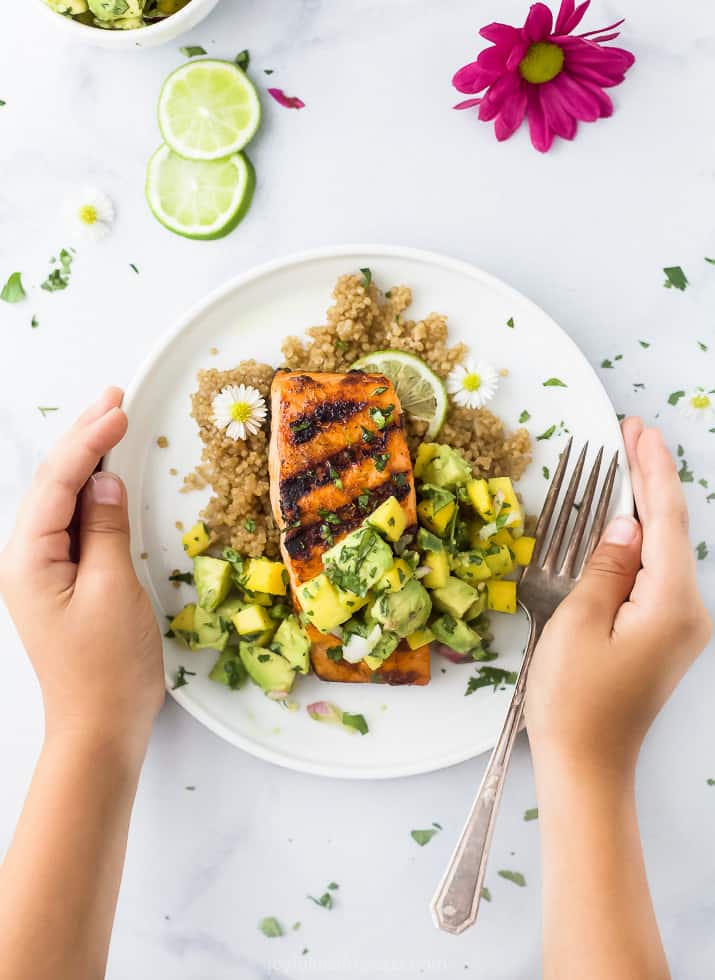 If you're looking for an easy healthy recipe to whip up for the family in minutes then this Chili Lime Grilled Salmon is it, and they are going to love the Mango Avocado Salsa on top! Trust me, both of my kiddos ate it. (that's a 7 year old and a 15 month old)
This recipe is gluten free, paleo, high protein with 30 grams per serving and low calorie. Serve it as is or with any of the recommendations below, I'd recommend the asparagus because salmon and asparagus are pals. Just sayin.
Bon Appetit friends!
What goes with Grilled Salmon?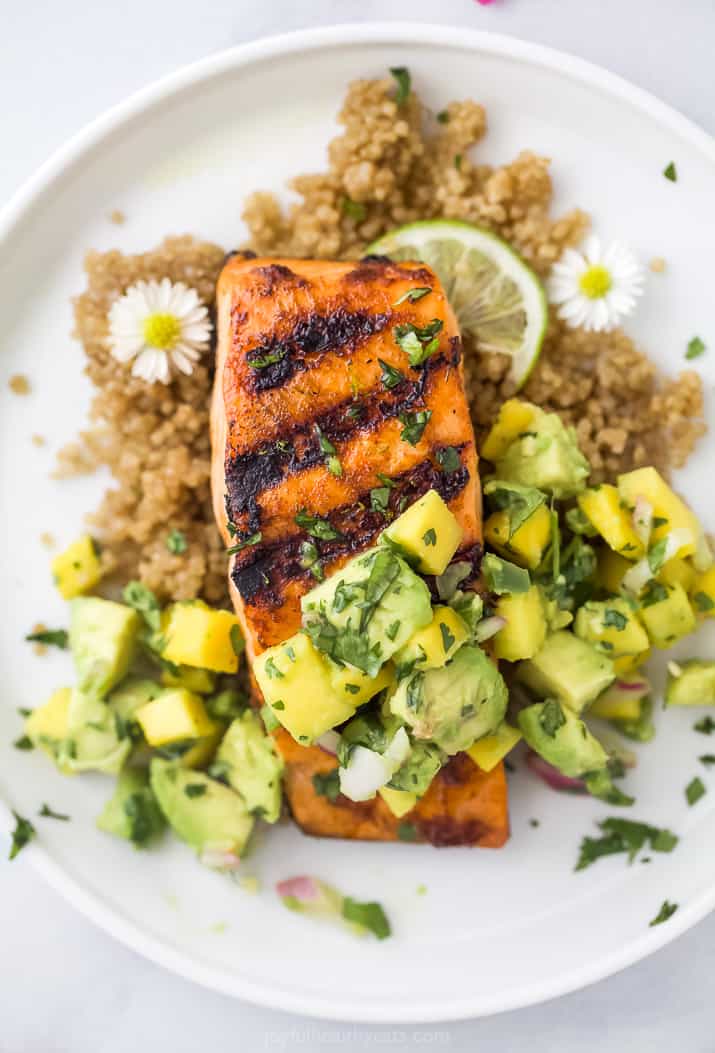 ** This post does contain affiliate links. Thank you for supporting Joyful Healthy Eats.**
Print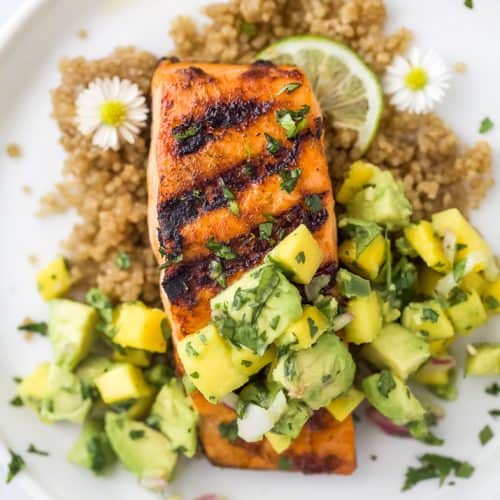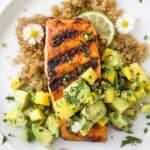 Chili Lime Grilled Salmon with Mango Avocado Salsa
Author:

Prep Time:

10 min

Cook Time:

10 min

Total Time:

20 minutes

Yield:

4

1

x
Category:

Grilling, Gluten Free, Paleo, 30 Minute Meals, Kid Friendly, Fish and Seafood

Method:

Grill

Cuisine:

Mexican
---
Description
This easy 30 Minute Grilled Salmon is rubbed with a chili lime spice blend, grilled to perfection then topped with a creamy Mango Avocado Salsa. A healthy summer recipe that makes the perfect family dinner!
Scale
Ingredients
Chili Lime Salmon
4

(4 oz.) salmon filet, skin on

1 teaspoon

fresh lime zest

1/2 teaspoon

smoked paprika

1/4 teaspoon

ancho chili powder

1/4 teaspoon

garlic powder

1/4 teaspoon

sea salt

1 tablespoon

lime juice

1 tablespoon

avocado oil
Mango Avocado Salsa:
3/4 cup

diced mango

2

avocados, diced

1/4 cup

diced red onion

1/4 cup

chopped fresh cilantro

1 1/2 tablespoons

diced jalapeno

1 tablespoon

red wine vinegar
juice of 1 lime
salt to taste
Instructions
Preheat grill to medium high heat, about 375-400 degrees F.
To a medium bowl add diced mango, avocado, red onion, cilantro, jalapeno, red wine vinegar, lime juice and salt. Gently stir ingredients together until everything is mixed. Set aside
To a small bowl, add fresh lime zest, smoked paprika, ancho chili powder, garlic powder, salt, lime juice and avocado oil. Stir together using a spoon.
Rub on spice blend the flesh side of the salmon.
Make sure that grill grates are clean. This will ensure the fish does not stick! Spray grill grates with cooking spray or rub down with an olive oil soaked rag.
Place salmon skin side down first. Grill for 4-5 minutes. (do not touch it during that time)
Gently flip the fish using a spatula (fish should not stick to the grill grates, if it does then you need more cook time). Grill on flesh side for another 4 minutes. Remove from grill and let rest.
Serve salmon filets with mango avocado salsa
---
Nutrition
Serving Size:

1 salmon filet + salsa

Calories:

381

Sugar:

6 g

Sodium:

219 mg

Fat:

23 g

Saturated Fat:

2 g

Carbohydrates:

14 g

Fiber:

6 g

Protein:

30 g

Cholesterol:

0 mg
Keywords: grilled salmon recipe, grilled salmon, easy salmon recipes, lime salmon, how to grill salmon, how to cook salmon, best way to grill salmon, avocado salsa, mango salsa, healthy seafood recipes, grilled salmon seasoning,
Other Salmon Recipes:
The Best Pan Seared Creamy Tuscan Salmon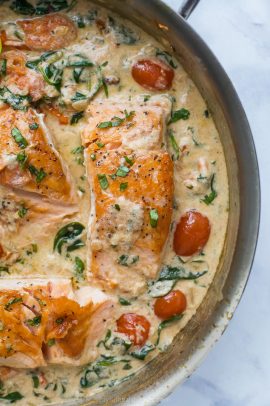 Pineapple Chipotle Salmon Tostadas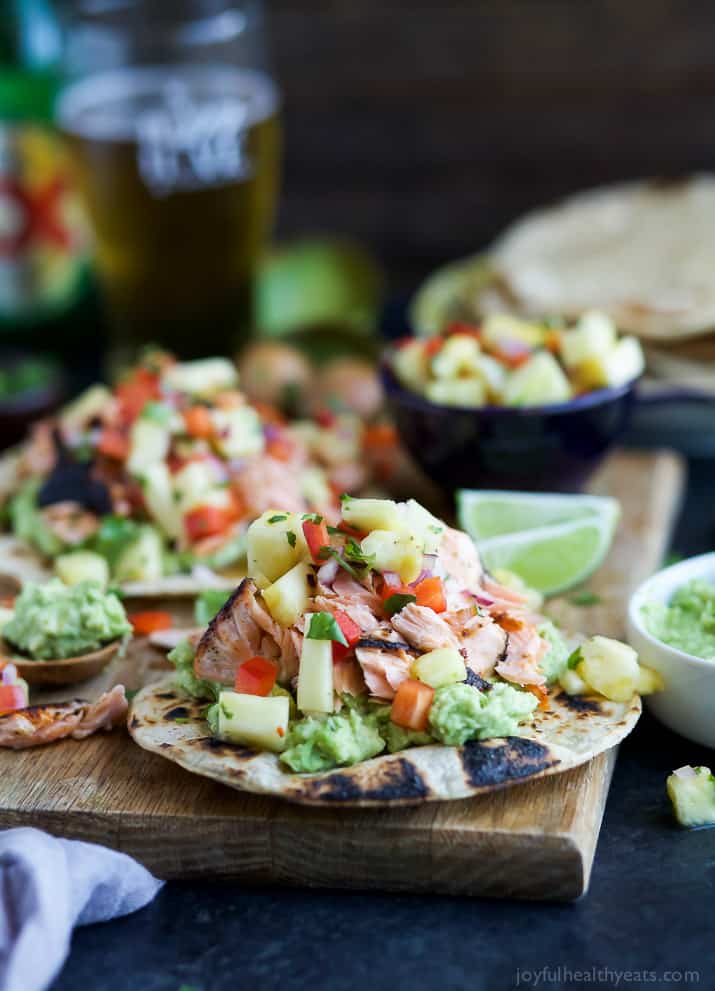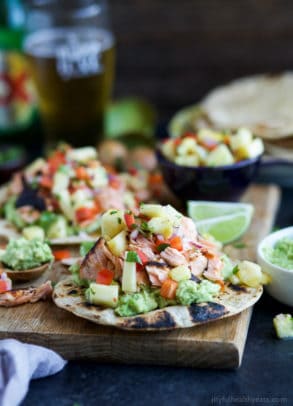 Spice Rubbed Cedar Plank Salmon with Strawberry Salsa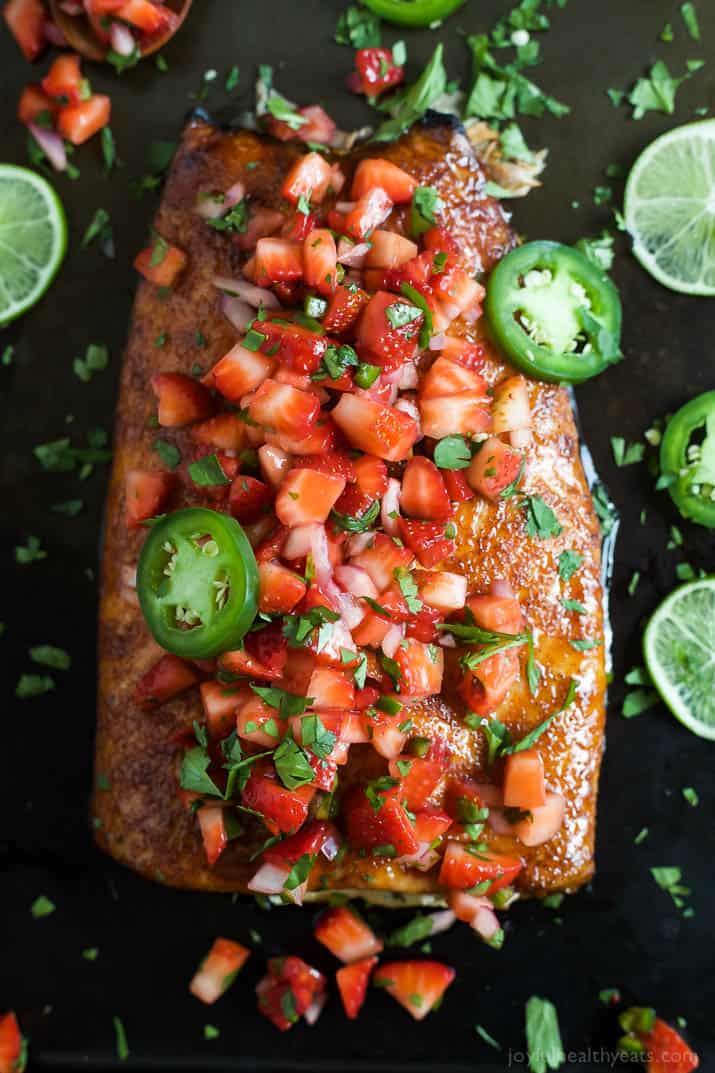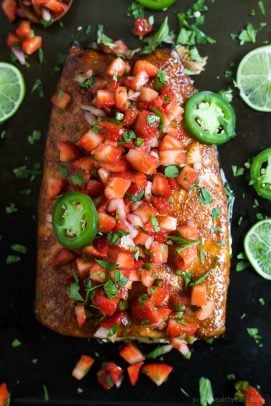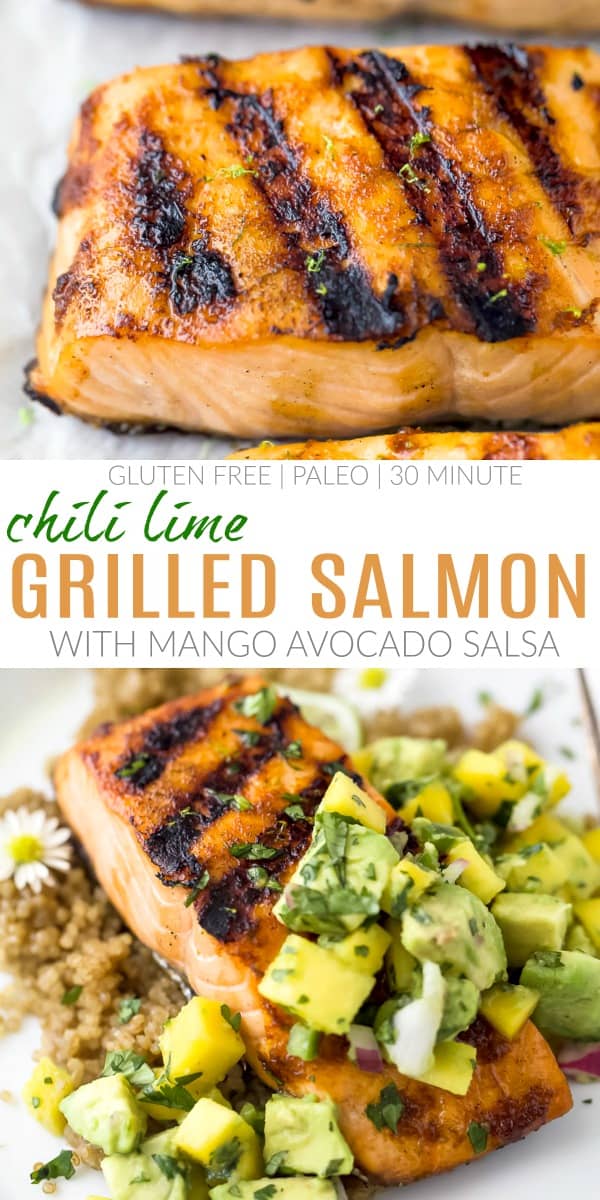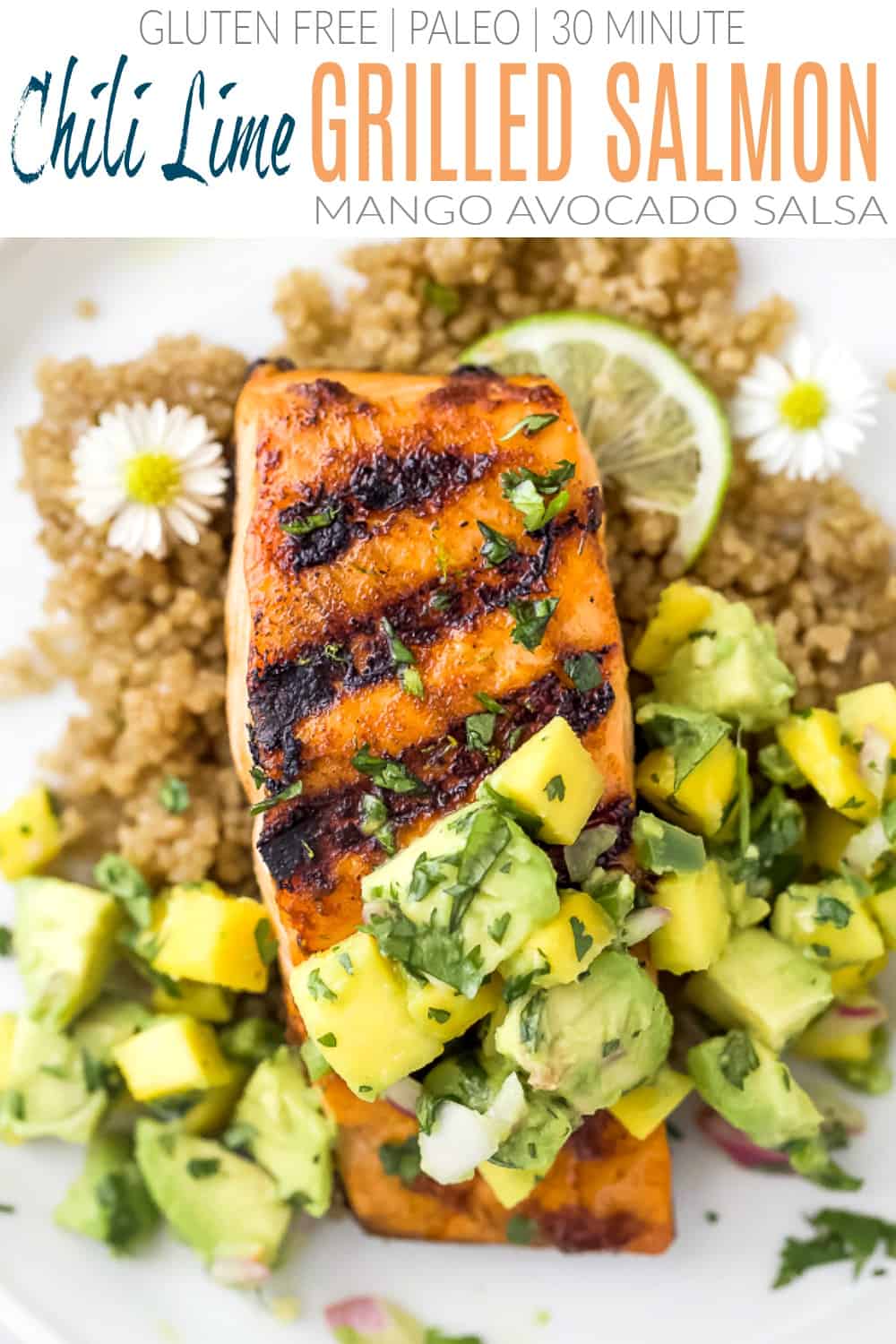 DON'T MISS A RECIPE ->