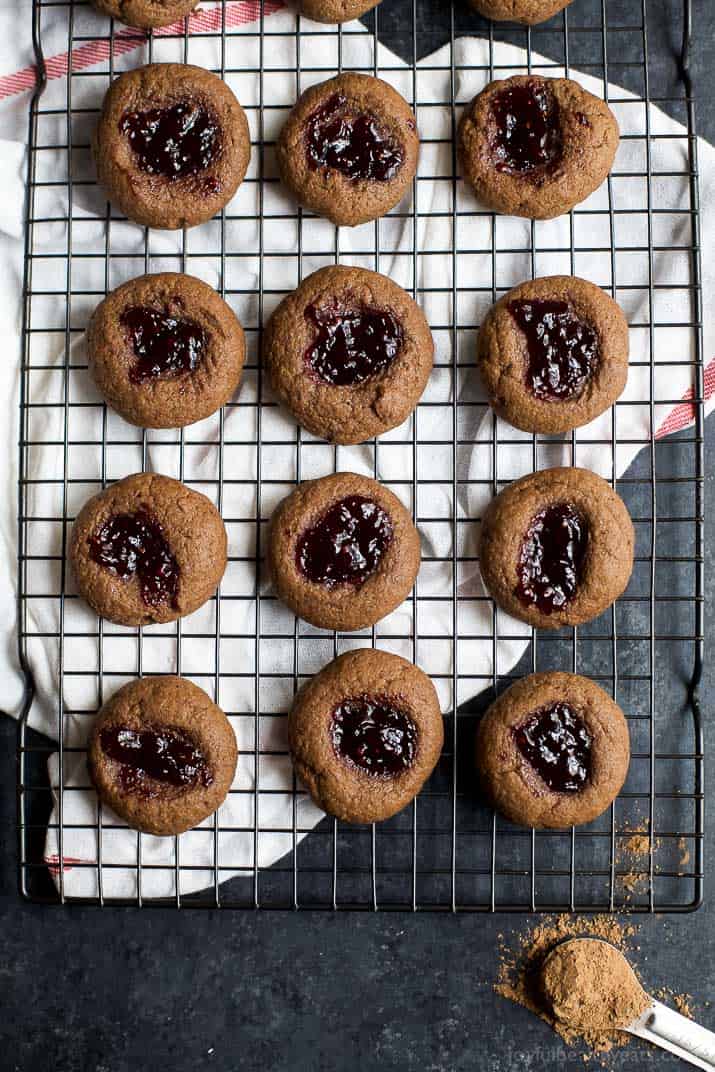 Thumbprint Cookies are a classic Christmas Cookie around the holidays. These CHOCOLATE RASPBERRY THUMBPRINT COOKIES have a subtle chocolate flavor with a burst of raspberry that you'll fall in love with!
Cookies and I? Well … we kinda have a love hate relationship.
Especially around the holidays!
Growing up my mom use to make 8-10 different kinds of cookies around Christmas time. Every year we would have a huge 3 tiered silver platter that would to the "home" for said cookies. And every year I would set up shop in front of the silver platter and not even bother counting how many cookies I would pack down.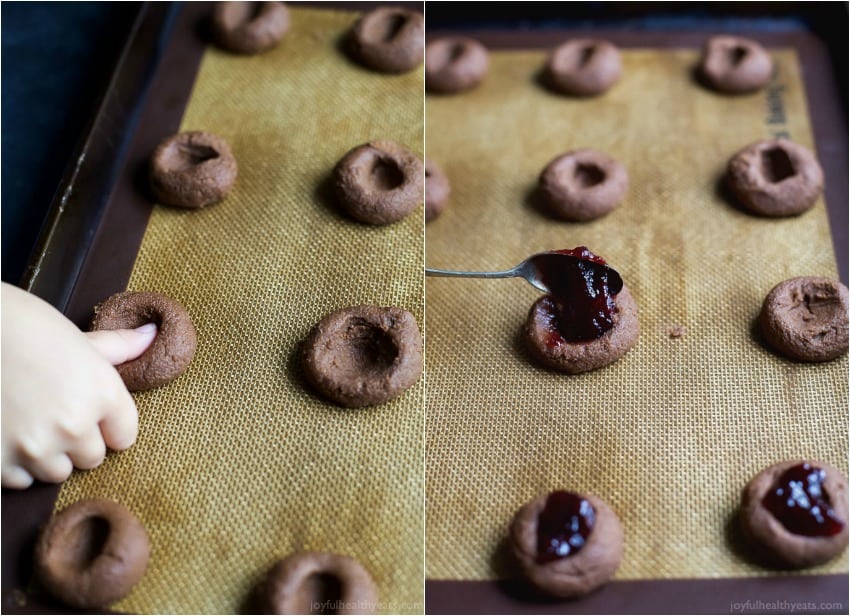 Cookies and I … we have a love hate relationship.
I LOVE anything sweet. Unfortunately, I've inherited that "gift" from my father who is a sweet-aholic. My brother and my mom … pffff… no problem. The cookies, they can stay out and not even phase them. My dad and I … we sniff out chocolate and attack!
I LOVE cookies. But I HATE that I have no self-control when it comes to quantity eaten. I keep saying, one more. And then I take a bite and think … hmmm… maybe one more. Ughhh… ya'll it's a problem!
And these Chocolate Raspberry Thumbprint Cookies are no exception!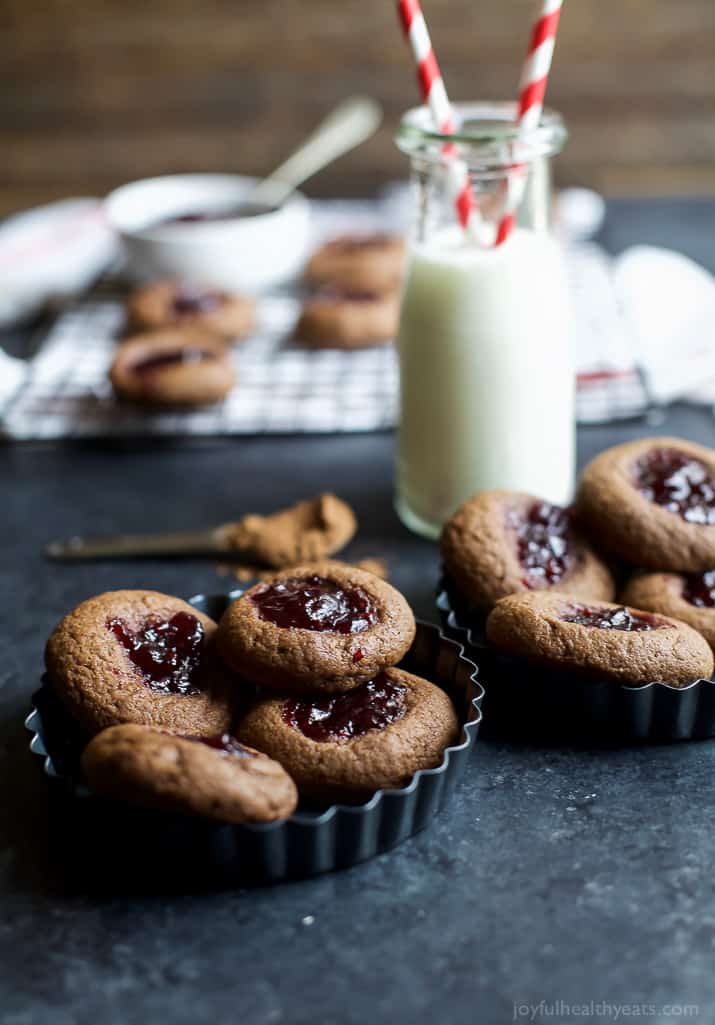 These Thumbprint Cookies are chewy and soft (hard cookies are a huge pet peeve of mine), they have a subtle chocolate flavor, and are complimented by a tart raspberry jam to reach ultimate cookie perfection!
Not only are these cookies freakin' delicious but they are super fun to make … let's say with a few children sou chefs! 🙂
Cason basically took over. He rolled the dough into balls, pressed his thumb down to make the imprint and then filled it with the jam. He even put the oven mits on and pulled the cookies out of the oven, which always give me a mommy heartattack.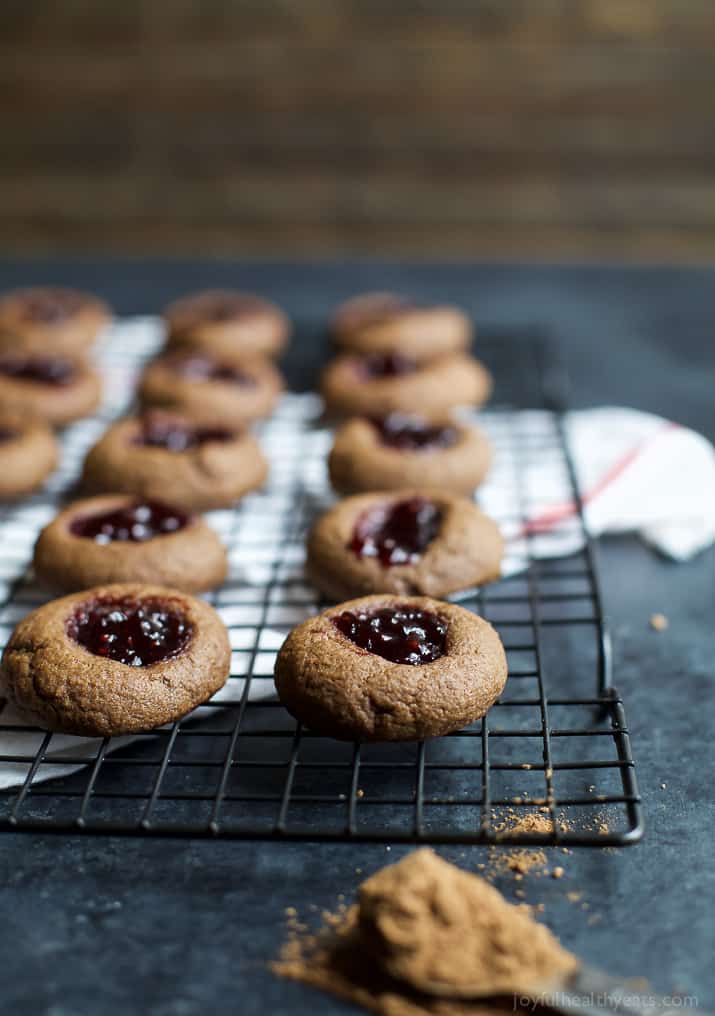 But can I tell you a secret?
I didn't really use Raspberry Jam. It had raspberry in it, but it was Raspberry Amaretto Jam. What?!?
I know right. I have a stash of the stuff in my pantry and my husband is kinda obsessed with it. So when Cason and I were making the cookies he said … "mommy we have to use the stuff daddy likes."
Of course, I willingly agreed. 🙂 The good news is the jam part of these cookies is easily substituted to whatever you like! Woohoo!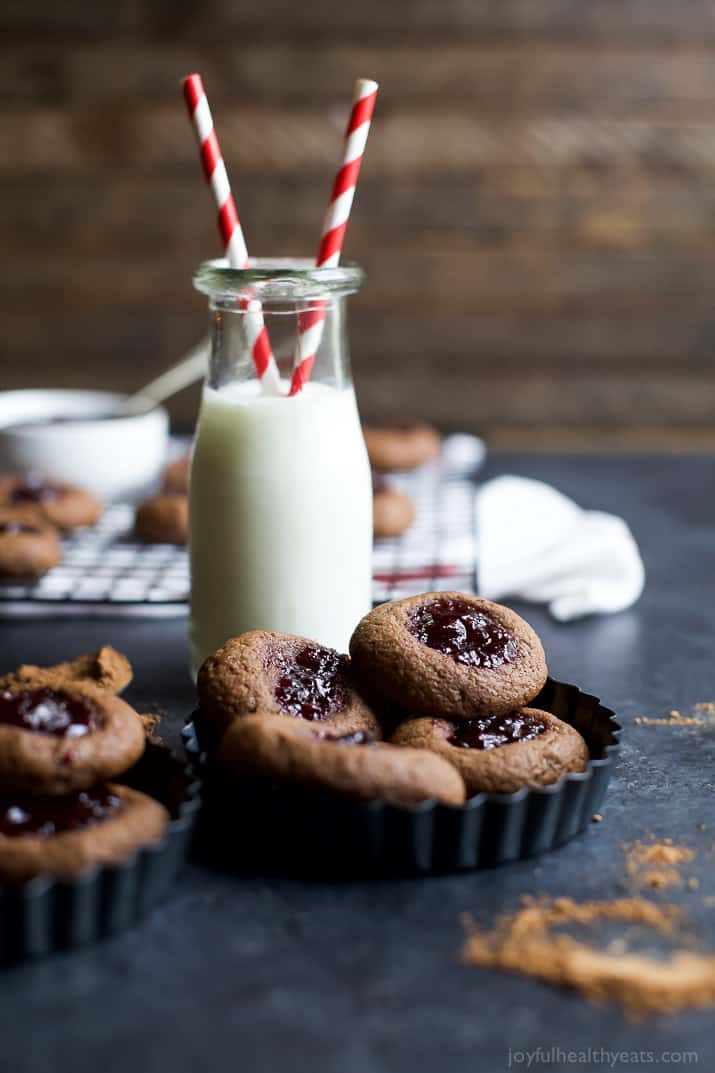 Ya'll. Thumbprint Cookies are a classic around the holidays! They look pretty, tasty dreamy, and are secretly super easy to make!
These are a must have for your cookie platter this holiday season! Make sure you don't miss out! If you don't like chocolate, then make sure to try these Flourless Lemon Raspberry Thumbprint Cookies. Either way.. NO EXCUSES on the Thumbprint Cookie Front.
Bon Appetit friends!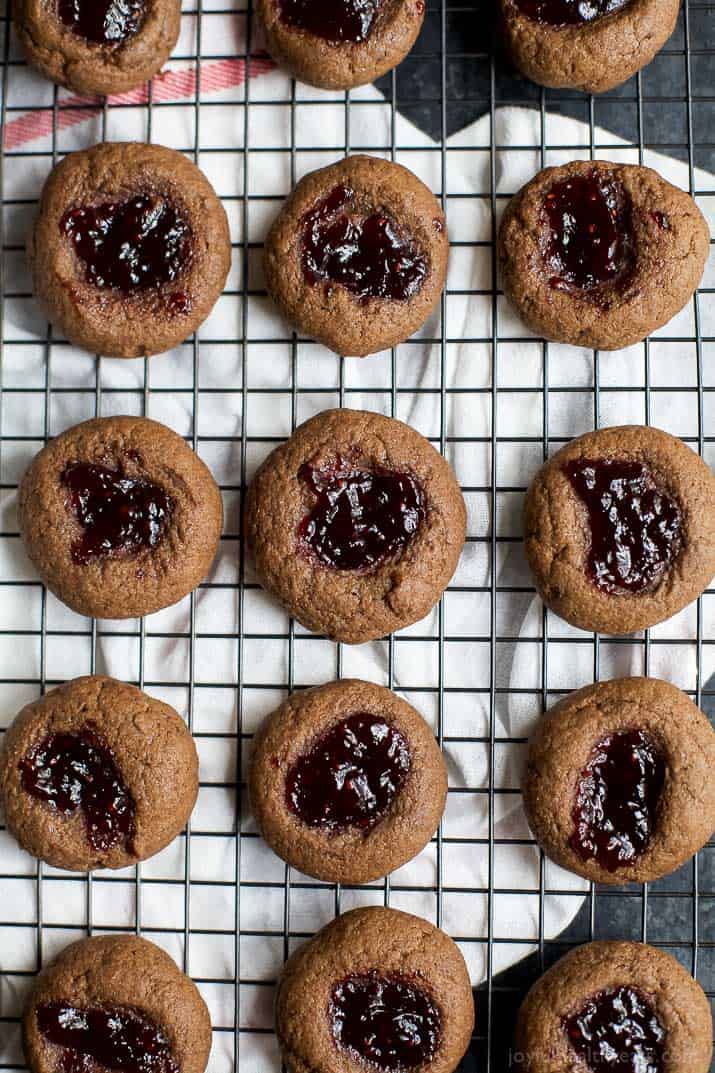 Chocolate Raspberry Thumbprint Cookies
Author:
Krista @ JoyfulHealthyEats.com
Nutrition Information
Serving size:

1 cookie

Calories:

107
Fat:

5 g

Saturated fat:

3 g

Carbohydrates:

13 g

Sugar:

9 g

Sodium:

38 mg

Fiber:

1 g

Protein:

1 g

Cholesterol:

24 mg
Recipe type:
Dessert, Kid Friendly, Holiday
Prep time:
Cook time:
Total time: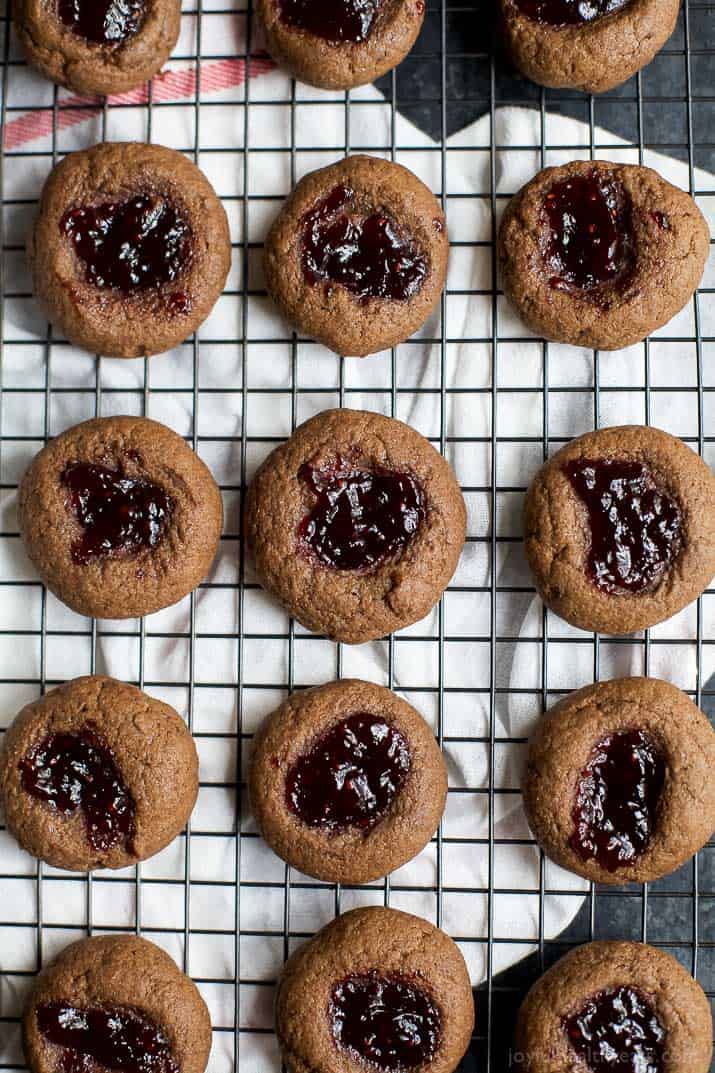 Ingredients
½ cup butter unsalted butter, softened
½ cup sugar
1 cup white whole wheat flour
¼ cup dutch processed cocoa powder
¼ teaspoon baking soda
⅛ teaspoon salt
1 teaspoon vanilla extract
1 egg
⅓ cup raspberry jam with preserves
Instructions
Preheat oven to 375.
In a stand mixer add butter and sugar. Beat until creamy.
Add in the cocoa powder, baking soda, and salt. Beat until all the ingredients are combined. Scrap the sides to mix everything if you need to.
Next add in the egg and vanilla extract. Beat until combined. Then add in the flour and beat until combined.
The dough should be a good ball rolling consistency, if not, put the dough in the refrigerator for a bit to harden up.
Roll dough into 1" balls and place on parchment lined baking sheets (or you could use silicon mats, which is what I prefer) about 2" apart.
Using your thumb, press each ball in the middle making a slight imprint.
Add ½-1 teaspoon of raspberry jam to each chocolate ball imprint.
Bake for 8 minutes.
Remove cookies from the oven and let cool on a wire rack. Serve!