This Chicken Pozole Rojo Recipe is made with a variety of red chilis for deep rich flavors, shredded chicken and hominy. Each bite boasts of authentic Mexican flavors for the perfect comforting dinner recipe.
Love Mexican flavors in your chicken soup? You might also like this Chicken Tortilla Soup or make it creamy with my Creamy Chicken Tortilla Soup – both of these are BOMB!
A Warming, Nourishing Mexican-Style Chicken Soup
If you're a fan of Mexican food, you're going to love this recipe. And even if you're not, I highly recommend giving it a try. Chicken Pozole Rojo is a very safe way of venturing into a different cuisine for your meals! There's not a lot of spice (unless you want to add it, of course!) and it features simple ingredients that you can find right at your regular grocery store.
Chicken Pozole Rojo is a Mexican chicken and hominy stew. And this recipe, like most authentic ones, features whole foods. There are no hidden or funky ingredients here…and that's what makes it so delicious. I love nothing more than a dish that comes together flawlessly with simple whole foods. Their flavors speak for themselves and blend together without necessary processed products.
This stew has perfectly-cooked pulled chicken, my Homemade Red Enchilada Sauce [LINK], sweet and nutty hominy, smoked paprika, and oregano. Plus, you can add toppings at the end to liven up the dish!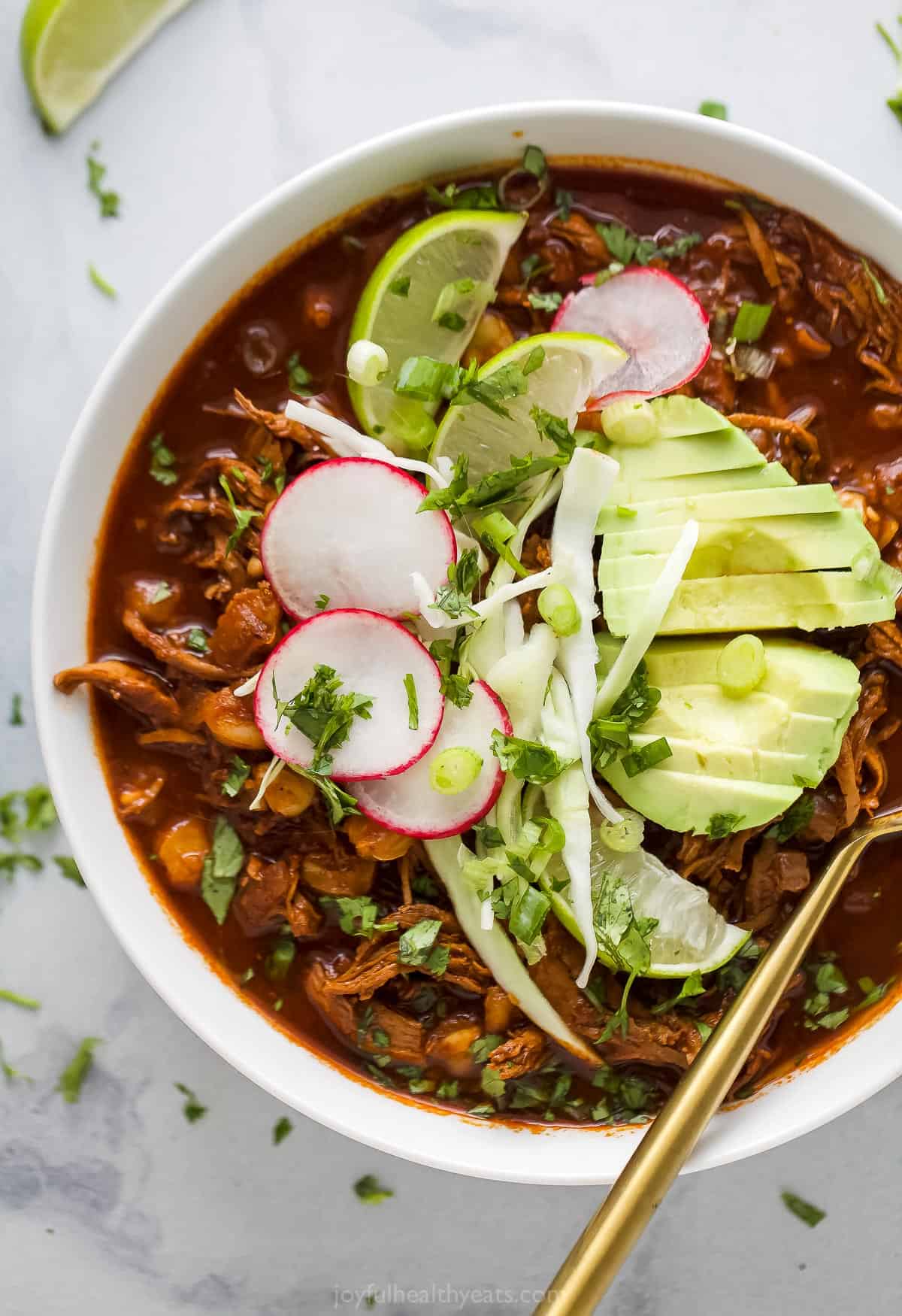 Is Pozole Rojo Good for You?
This recipe is one of the good ones! Not only is it quick and easy, but it's also good for you. As I said, there are no hidden ingredients here. I highly recommend using my homemade enchilada sauce for the best results. When you do this, you are guaranteed to know everything that's going into your stew! Plus, you can brag that it's 100% homemade!
There's very little fat in this recipe. Plus, it's gluten-free. Hominy is a corn product, however. So please be mindful of that if you are following a Whole30, Paleo, or Keto diet. Hominy tends to have a lot of carbs, but that doesn't take away from the quality of the dish. It's still packed with protein from the chicken and antioxidants from the red chilis.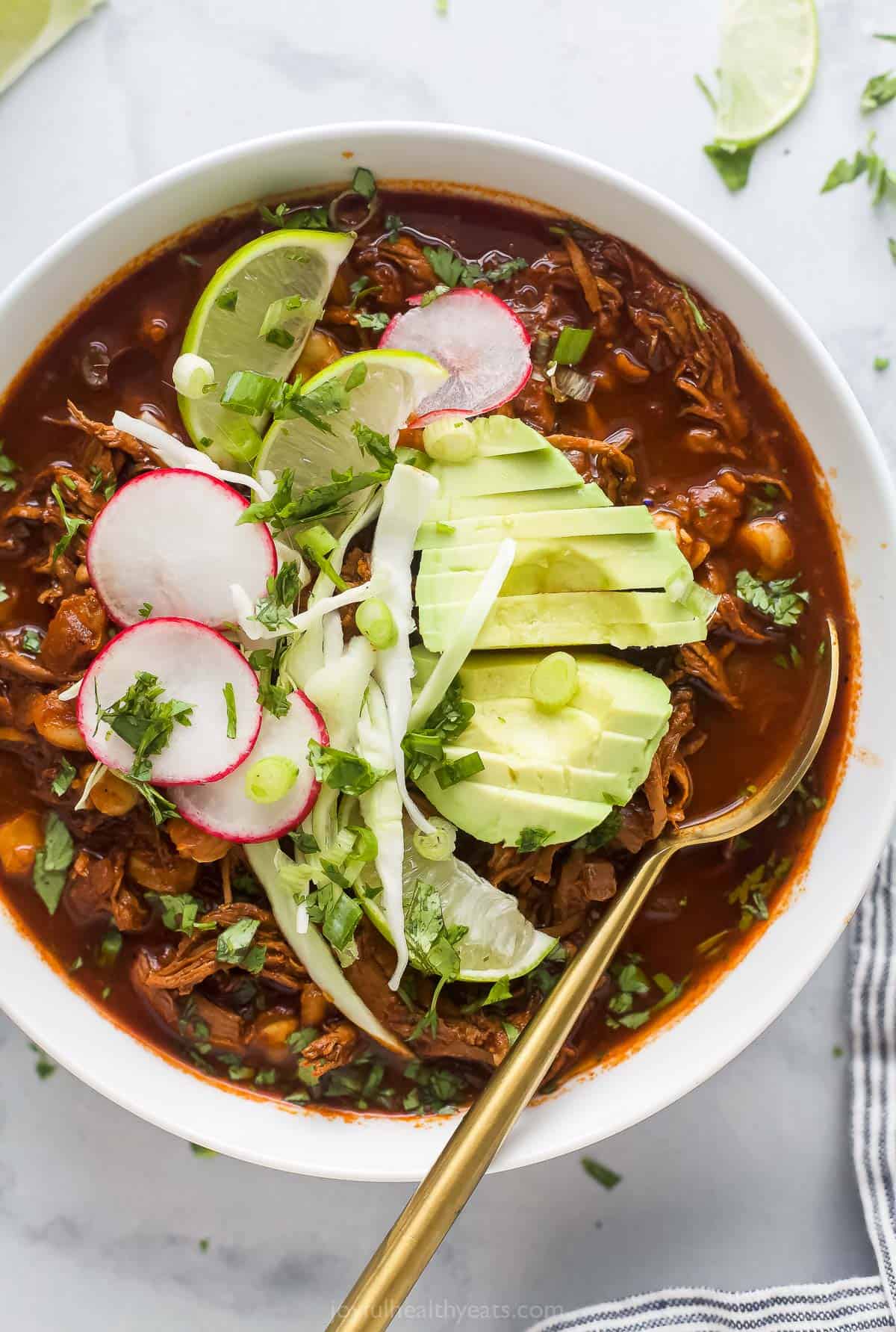 What Is Pozole Rojo Made Of?
The ingredient list is quite simple! You should be able to find the ingredients at your regular market. Keep in mind that the exact amounts are in the recipe card below.
For the Stew:
Avocado Oil: I like using avocado oil to sear meat. But you can also use sunflower oil or vegetable oil.
Chicken Breasts: Bone-in will give you the best flavor. You can also use legs and thighs. Or even use a whole rotisserie chicken and pull all the meat off.
Salt & Pepper
Yellow Onion: White onion or red onion would also work here.
Garlic: Bring on the garlic! The recipe calls for 8 cloves. For garlic lovers like myself, there is absolutely no judgment if you want to add more!
Chicken Stock: I recommend using homemade chicken stock or low sodium so that you keep the salt level low for this dish. You want to be able to control the salt yourself!
Water
Bay Leaves: Honestly, this might be the easiest way to add flavor to any soup or stew. 1-2 leaves are all you need.
Homemade Red Enchilada Sauce [LINK]: If you're short on time and you don't have any premade, it's ok to buy the sauce at the store. Try to find one with just the basic ingredients and, again, not a crazy high amount of sodium.
Smoked Paprika: I LOVE this ingredient, especially with rich and flavorful stews. It makes a big difference! If you're stuck and you can't find smoked paprika, regular paprika is also ok to use.
Oregano: You can use dried or fresh here. I always have dried oregano on hand for soups and stews. It adds a great herb flavor!
Garnish Options:
Sliced Avocado
Shredded Cabbage
Sliced Radishes
Chopped Cilantro
Lime Wedges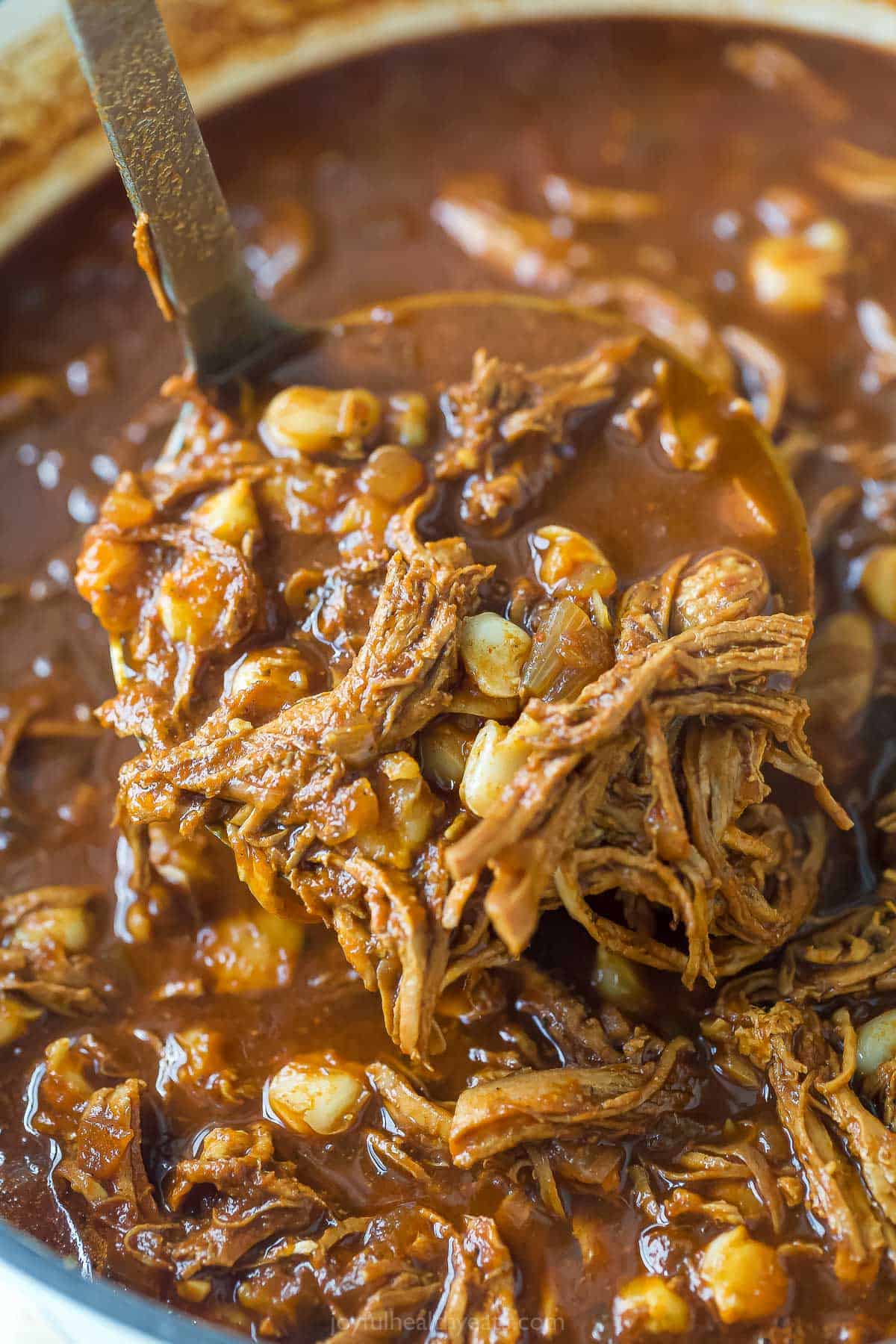 Common Questions
What Is the Difference Between Corn and Hominy?
Hominy IS corn, however, it's not the same corn off the cob that you're used to. Hominy is corn kernels that have been nixtamalized. That means they have been soaked in a lye or lime solution and then rinsed several times. This process removes the hulls and changes the texture of the kernel.
Is Hominy Healthier than Corn?
Believe it or not, this stripping process actually does increase the nutritional value of the corn. The vitamins and nutrients that hominy has are more easily absorbed in the body because the hull has been removed.
Does Hominy Taste Like Corn?
Hominy does taste like corn but it has a more developed flavor. It's a little sweet, earthy, and nutty. It resembles the flavor of corn tortillas or masa with its richness and depth of flavor.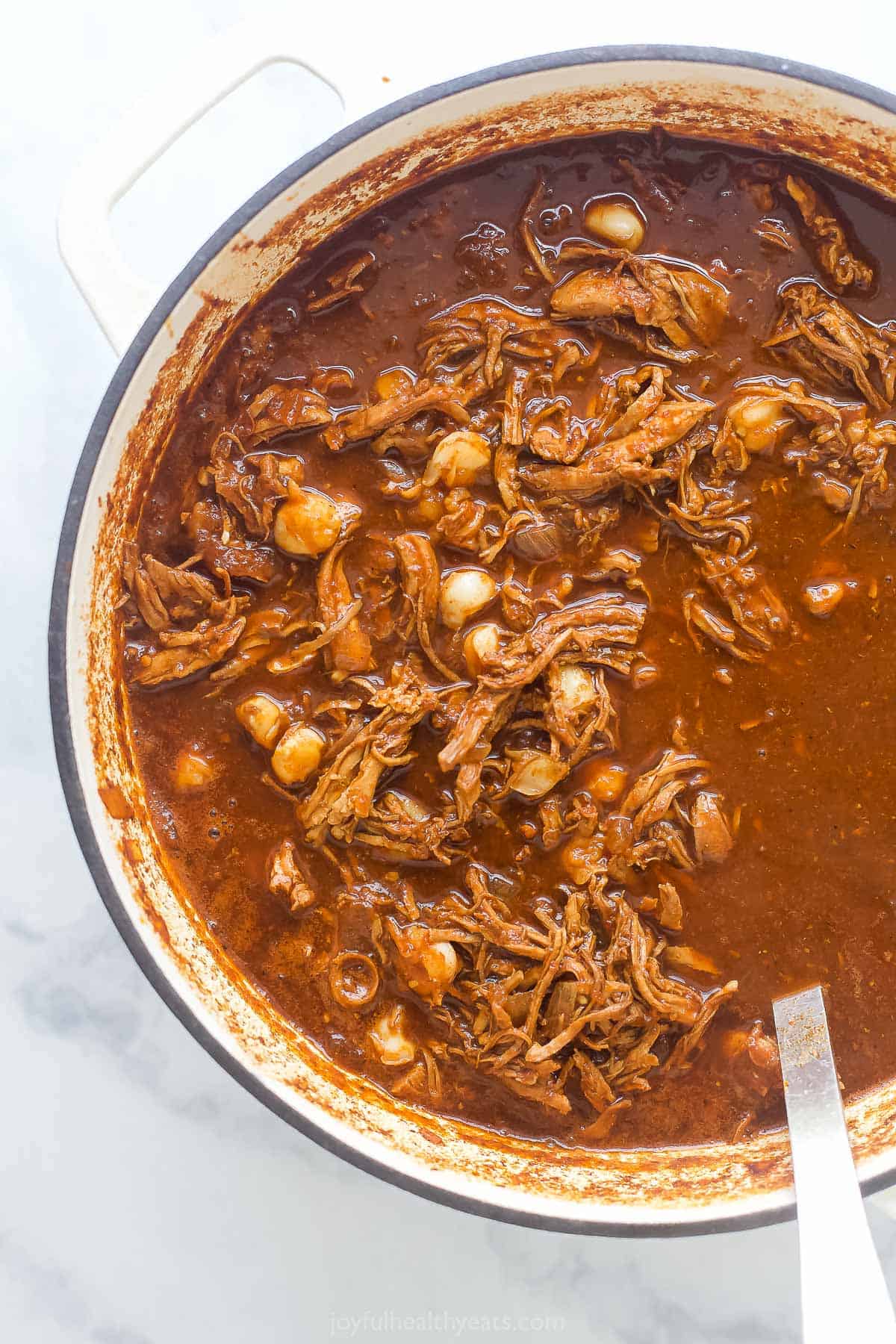 How to Make Chicken Pozole Rojo
Here's how to make this simple stew. Your house is going to smell amazing and you'll have a delicious dinner in about an hour.
First, sear the chicken breasts. Searing meat adds a ton of flavor. I don't suggest skipping this step! Do this right in the dutch oven that you're going to cook the stew in.
Remove the chicken from the pan and add the onions and garlic. You want to "sweat" the onions and garlic. This means that they will release their natural juices while cooking and start to get soft and tender. When they do this, mix them around so that the moisture picks up any of the leftover bits of chicken from searing. It's another way to add more flavor!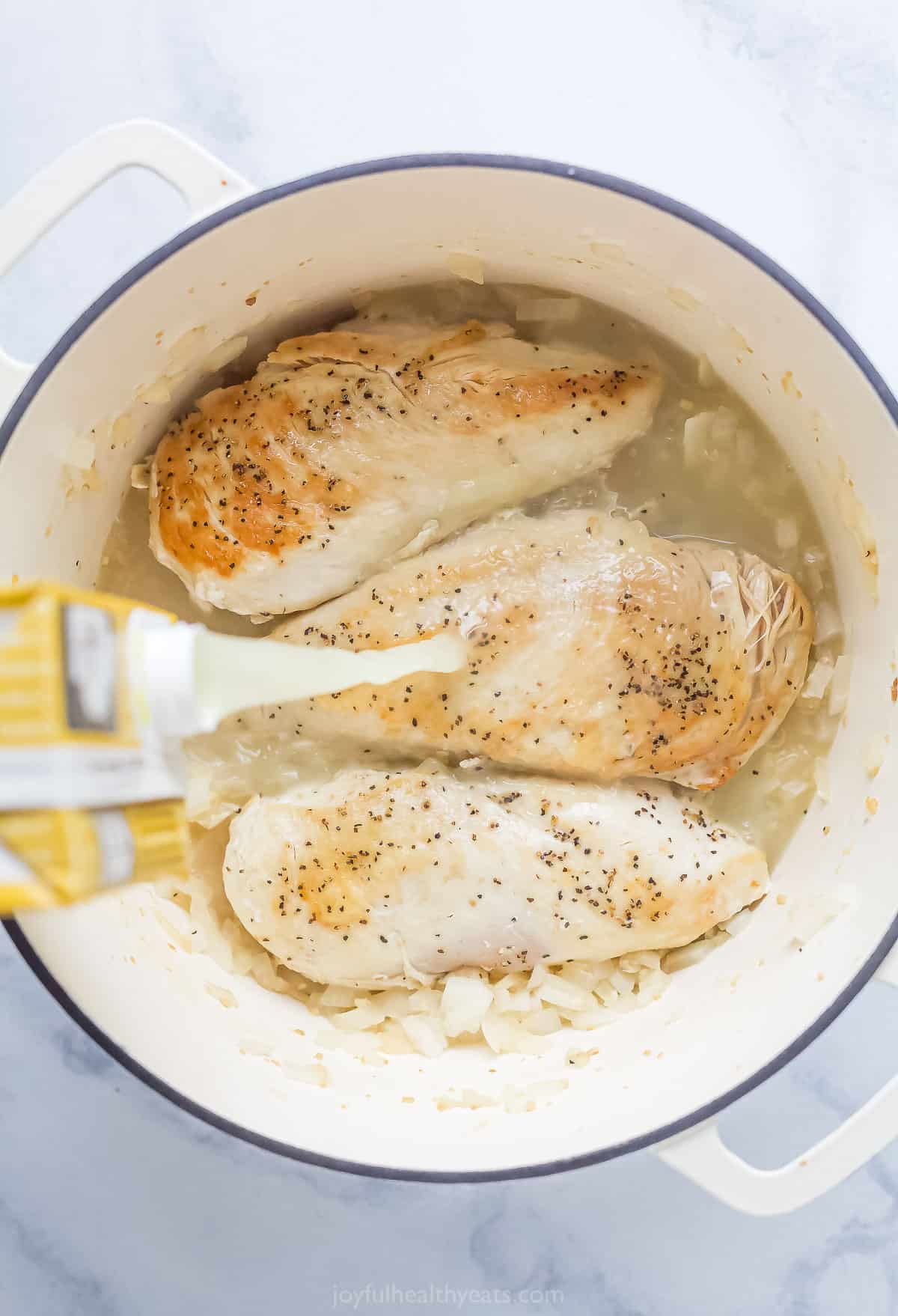 Next, add chicken stock, water, and the chicken breasts back to the pot. Again, you can stir up the stock a little bit to clean the bottom of the pan and mix the flavors and seasonings. Now let the chicken cook in the stock for about 15 minutes.
When the chicken is cooked, remove it from the pot. Then shred with two forks. Then, put the chicken back into the dutch oven.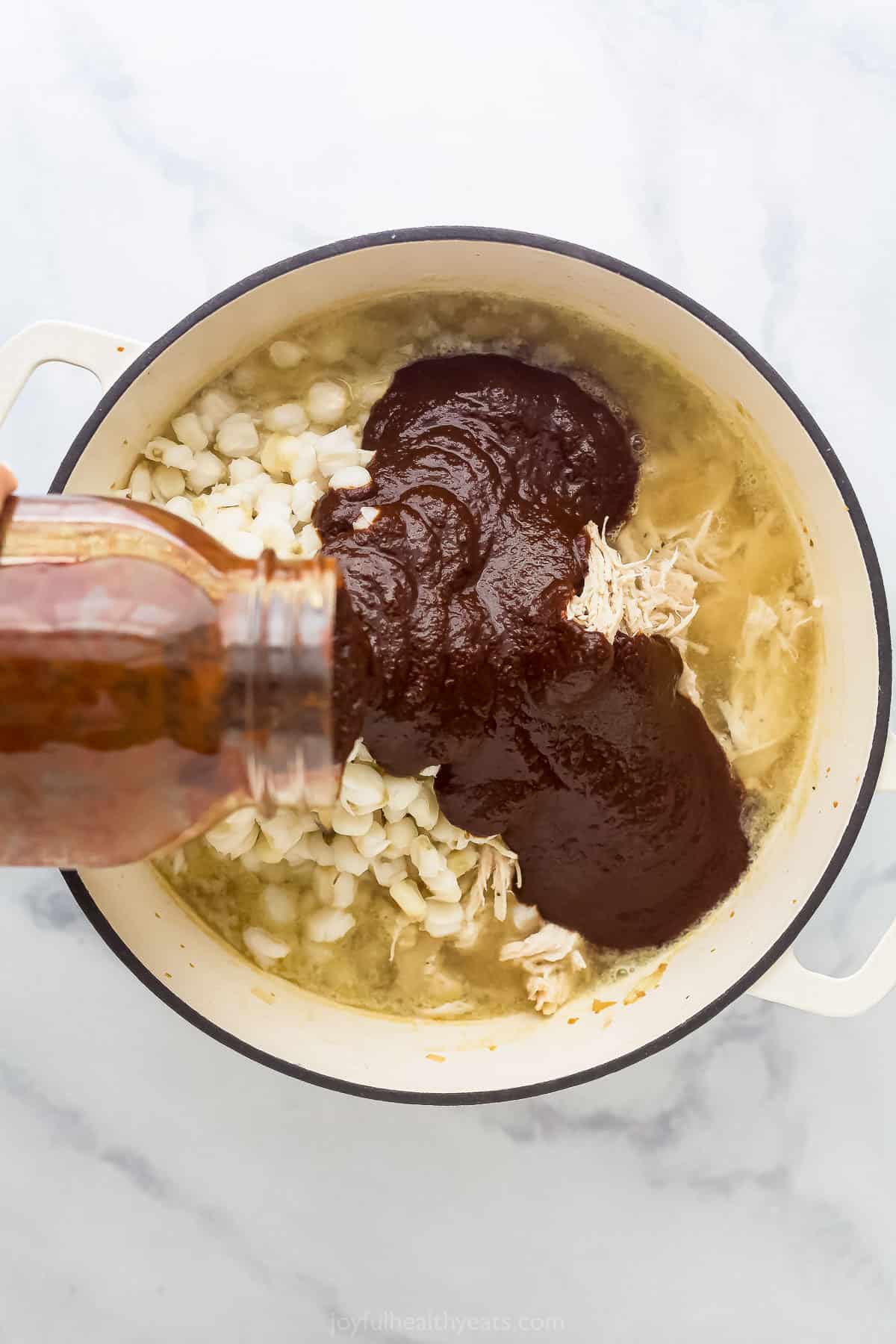 Add the rest of the ingredients. Add the enchilada sauce, hominy, smoked paprika, and oregano to the dutch oven.
Simmer for 30 minutes. I recommend covering the dutch oven so that none of the liquid evaporates.
Serve the stew immediately and garnish. You can garnish with avocado, sliced cabbage, cilantro, and sliced radishes if you'd like.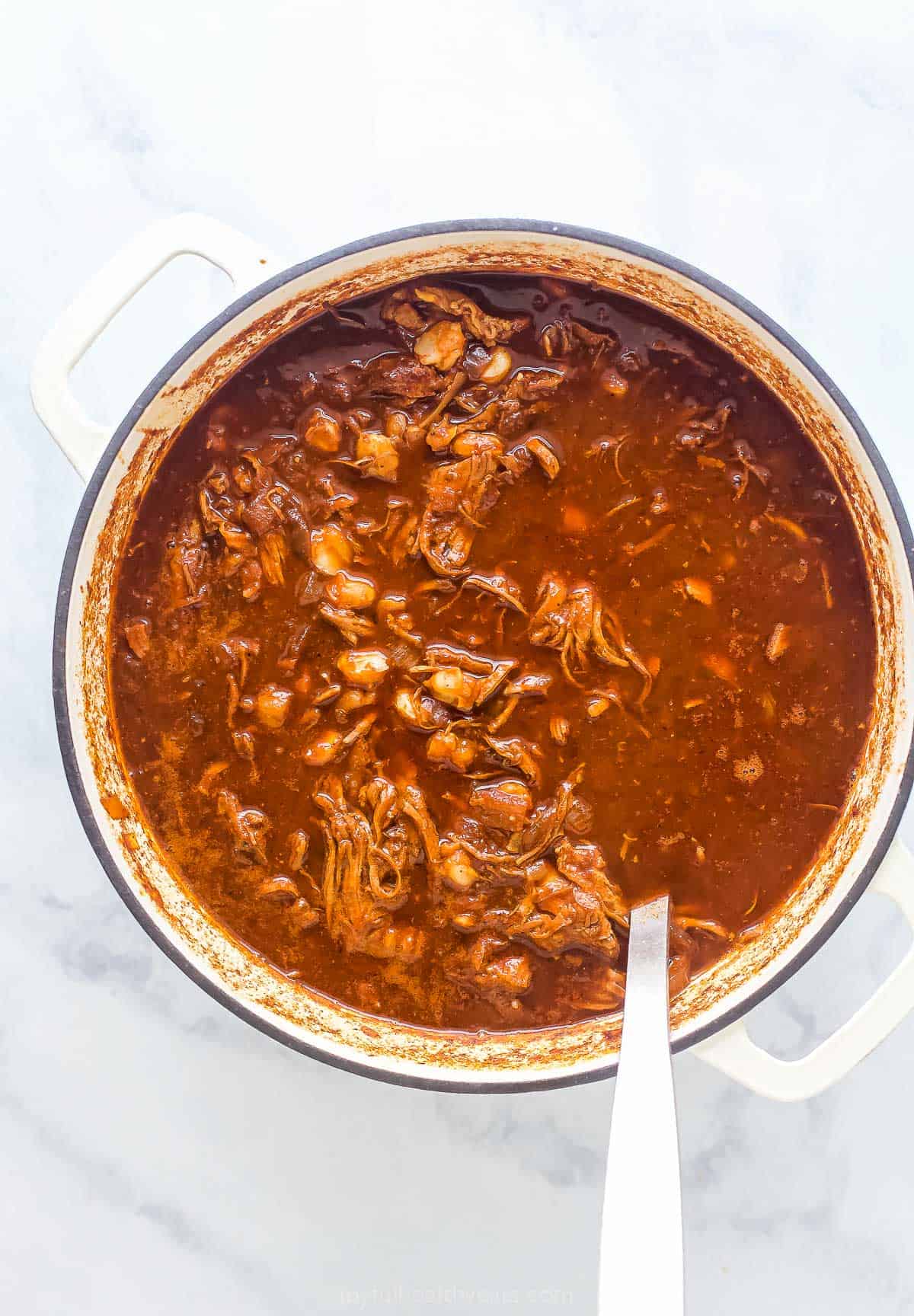 Recipe Notes
Here are a few things to keep in mind when making Chicken Pozole Rojo.
Don't forget to rinse the hominy. Hominy is soaked in an alkali solution that's thick and a little gooey. You'll want to rinse the kernels well before putting them into the stew.
Bone-in meat will have the best flavor. Just make sure that no bones get tossed into the soup with the chicken!
I highly recommend garnishing this stew. This is a great opportunity to add flavor and boost the ones that are already in the soup. For example, fresh lime juice works wonders when it comes to elevating flavors.
What to Serve with Chicken Pozole Rojo
I can't emphasize enough how much I love adding the garnishes to this stew! But there are also a few other things that pair really well with this dish.
Tortilla Chips or Corn Chips: This is a great way to add a little crunch. Throwing in a side of Homemade Guacamole would be delicious, too!
Fresh Salads: Soup and Salad Night anyone?! You can serve this stew alongside a fresh salad like my Chili Lime Grilled Corn Salad or Mexican Quinoa Salad.
Cornbread: It tastes amazing when you dip the bread into the stew.
Rice or Pasta: You can use rice or pasta shells as a base and put the stew on top!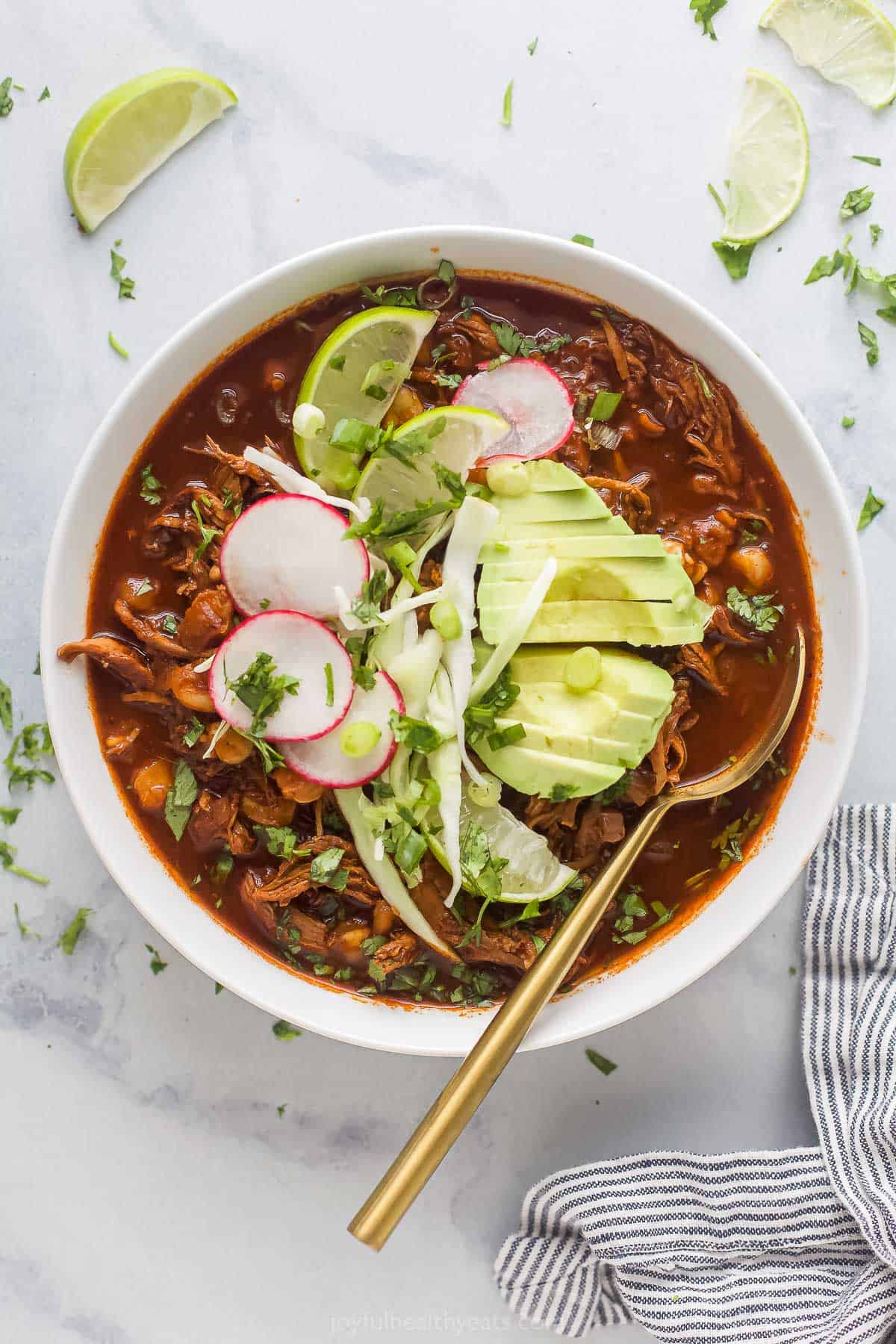 How to Store and Reheat the Leftovers
This stew tastes even better the next day! I highly recommend making a big batch and keeping some for leftovers.
Simply store the stew in an air-tight container in the fridge for up to 5 days. Then reheat in the microwave or on the stovetop. If you use the microwave, I recommend covering it with a paper towel so the stew doesn't splatter everywhere!
Does This Soup Freeze Well?
You can also freeze Pozole Rojo. In doing so I like to use gallon-sized freezer bags. I then lay them flat in the freezer so they don't take up as much room.
Just make sure that you thaw the night before you want to eat the soup. Then it's a breeze to reheat in the dutch oven.
Print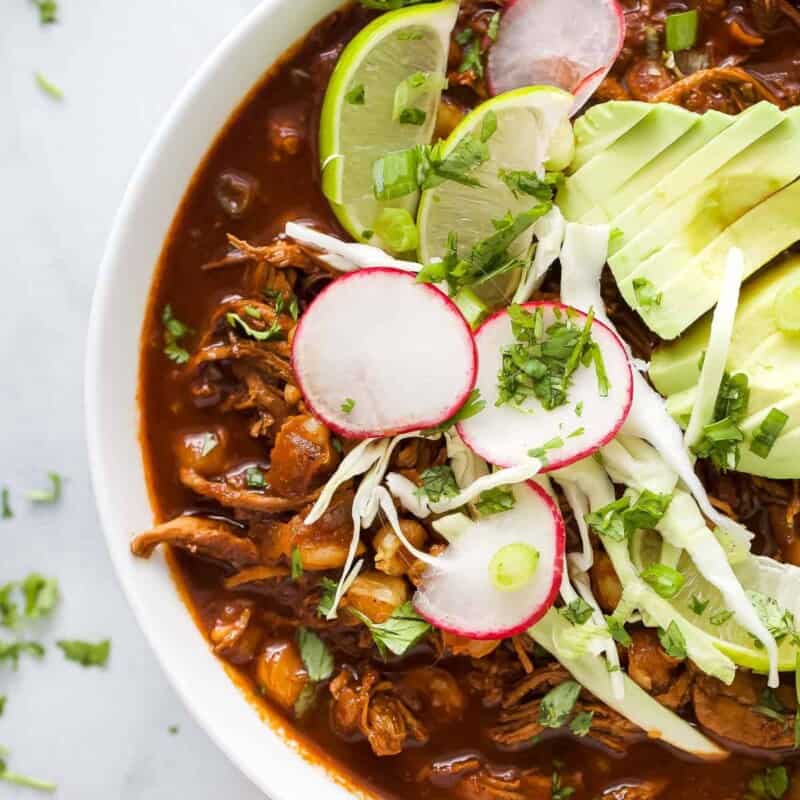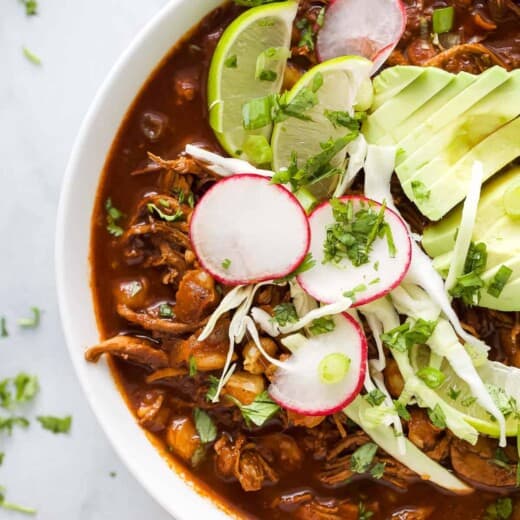 Chicken Pozole Rojo Recipe
Author:

Prep Time:

10 minutes

Cook Time:

50 minutes

Total Time:

60 minutes

Yield:

8

–

1

0

1

x

Category:

Soup

Method:

Stovetop

Cuisine:

Mexican
---
Description
Chicken Pozole Rojo is a Mexican stew with chicken, hominy, and red chilis. The stew is simple and has incredible authentic flavors. It's ready in an hour!
---
2 tablespoons

avocado oil

2

lb. skinless chicken breast (bone-in will give you more flavor)

1 teaspoon

salt

1/2 teaspoon

black pepper

1

large yellow onion, diced

8

garlic cloves, minced

4 cups

chicken stock

1 1/2 cups

water

3

bay leaves

4 cups

homemade red enchilada sauce

30 oz

. can hominy, rinsed and drained

3 teaspoons

smoked paprika

1 teaspoon

oregano
salt to taste
Garnish with sliced radish, avocado, green onion, sliced green cabbage and lime wedges.
---
Instructions
Season both sides of chicken breast with salt and pepper.
Heat a large dutch oven to medium high heat, add 2 tablespoons of avocado oil and chicken breast. Sear each side for 3-4 minutes until browned. Once browned remove and let rest on a plate.
Immediately add onion and garlic to the pot and saute fro 3-4 minutes, until onions are translucent or slightly browned.
Add chicken back to the pot along with chicken stock, water and bay leaves. Bring to a boil and reduce to a simmer for 10-15 minutes or until chicken is poached and cooked through.
Remove chicken from the pot and shred using two forks. Add chicken back to the pot along with hominy, homemade red enchilada sauce, smoked paprika, oregano and salt to taste. Stir to mix everything together, cover and simmer for 30 minutes.
Serve. Garnish with sliced radish, avocado, green onion, sliced green cabbage and lime wedges.
---
Keywords: pozole, pozole soup, mexican chicken soup, mexican stew
Filed Under:
More Hearty Soup Recipes
DON'T MISS A RECIPE ->
FACEBOOK | TWITTER | PINTEREST | BLOGLOVIN | INSTAGRAM