This Creamy Avocado Egg Salad is a healthier alternative to traditional egg salad because there's minimal mayo and tons of flavor from dijon mustard, lemon juice, red onions, and fresh herbs.
Serve this with my LIghtened up Broccoli Salad with Bacon, Creamy Cucumber Salad or Homemade Pita Chips.
Simple and Healthy Egg Salad Recipe
I'm here to share that I've found the perfect good-for-you substitute for the deli counter egg salad with my Avocado Egg Salad. Every time I'm at the deli counter the creamy bright yellow egg salad just screams out at me. It's so tempting to grab a pint with some crackers and call it lunch!
Egg salad is a great vegetarian lunch recipe and it's loaded with protein from hard boiled eggs. But is it that good for you? I hate to break it to you, but that deli counter version isn't all that healthy! It's usually loaded with mayonnaise and salt. But what if we made it at home? And what if we didn't use as much mayonnaise?! Genius, right?
I think so! Instead of loading the salad with mayonnaise, I used pureed avocado and it works so well! The texture is the same and there isn't a strong avocado taste (for those of you who don't like them). I added tangy dijon mustard, crunchy red onions, lemon juice, and fresh herbs. It might not taste exactly like the deli counter version, but that's the point! This one is even better.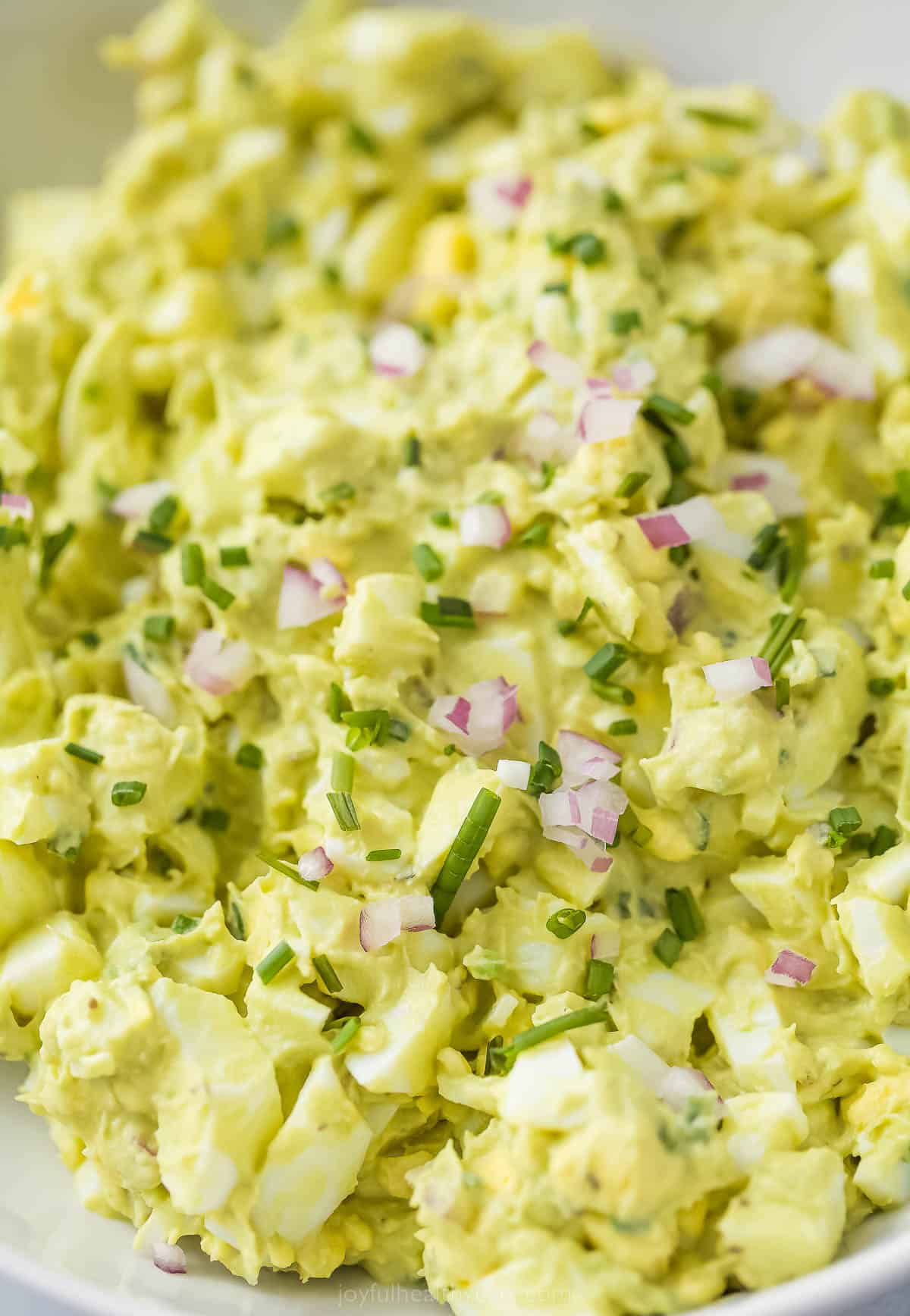 Why You'll Love This Recipe
Here's why you'll be swapping this Healthy Egg Salad immediately!
Made at home with whole ingredients. There's no guessing what went into this egg salad. You're making this simple recipe therefore you know that the ingredients going into are unprocessed whole foods.
It's great for breakfast and lunch. Egg salad isn't just for lunch because you can easily have it for breakfast, too! I love making it in the morning and serving it with some toast and a side of fresh berries.
Fast and fresh. The recipe is ready in about a half hour but it's even faster if you have the eggs hard boiled already. Nothing beats the flavor of this freshly made egg salad.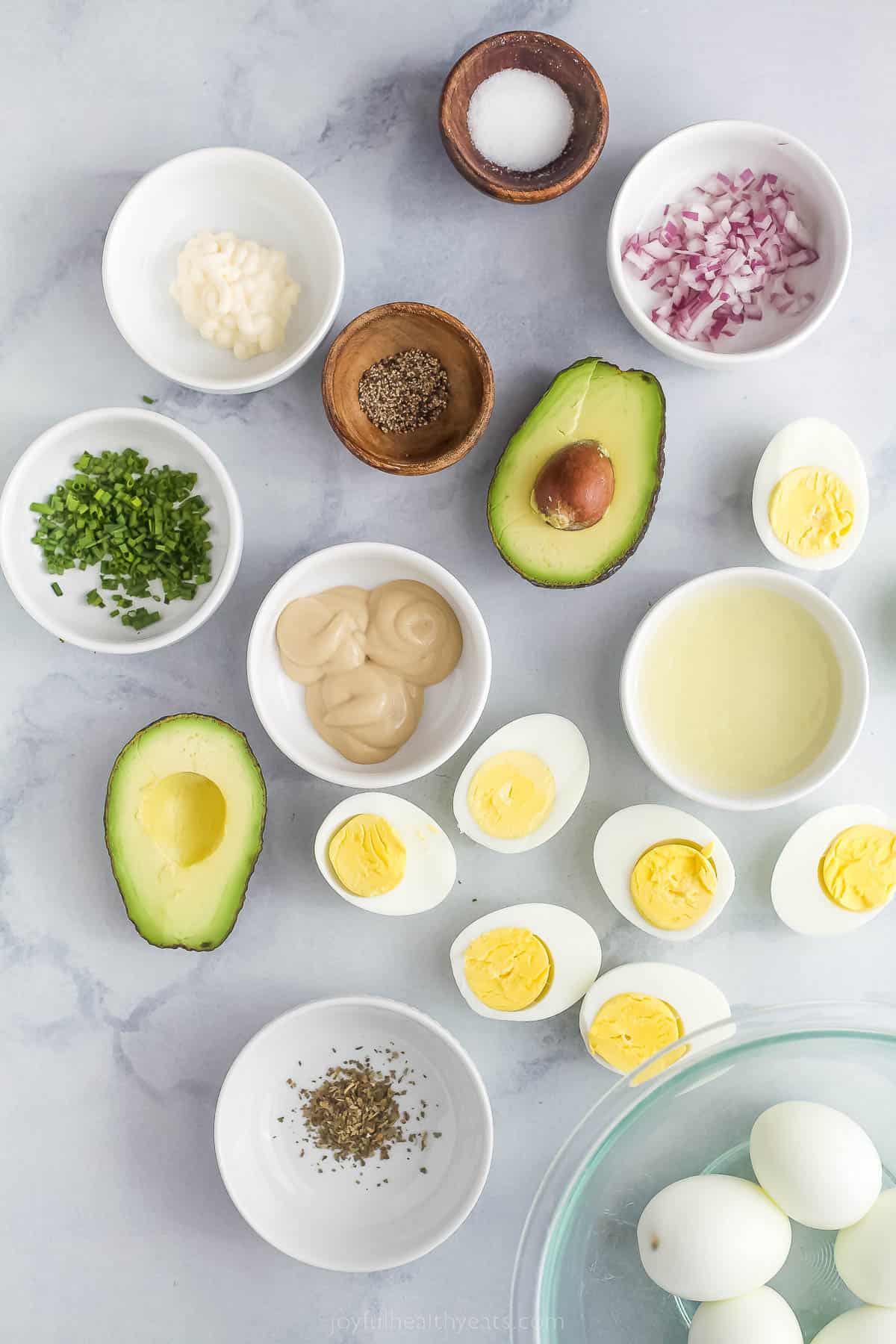 Recipe Ingredients
The ingredients for Avocado Egg Salad are below. For exact amounts of each ingredient please scroll down to the recipe card at the bottom. It has all the details!
Hard Boiled Eggs: I like to keep a stash of hard boiled eggs in the fridge for the week for quick snacks and recipes just like this one. Having them boiled ahead of time will make the recipe move so much quicker.
Avocado: Look for ripe avocados that are soft to the touch but still have a little firmness to them. You don't want them to feel mushy when you press on the skin.
Dijon Mustard: You could also use a different mustard if that's what you have. Yellow mustard will give you a more traditional picnic-style flavor and it's just as good!
Mayonnaise: This recipe calls for far less mayo than what you're used to. Use avocado mayo for an even healthier option!
Dried Basil: You can also use fresh basil, too, and just chop it up very fine.
Chives: Sliced green onions would also work.
Lemon Juice: Adding acidity highlights all of the other flavors of the egg salad like the herbs, mustard, and onions. It will also preserve the freshness and color of the avocado.
Red Onion: Honestly, this is one of my favorite ingredients! It adds a crunchy texture and onions just belong in egg salad in my opinion! The bright and crisp flavor balances the creaminess of avocado and mayonnaise.
Salt and Pepper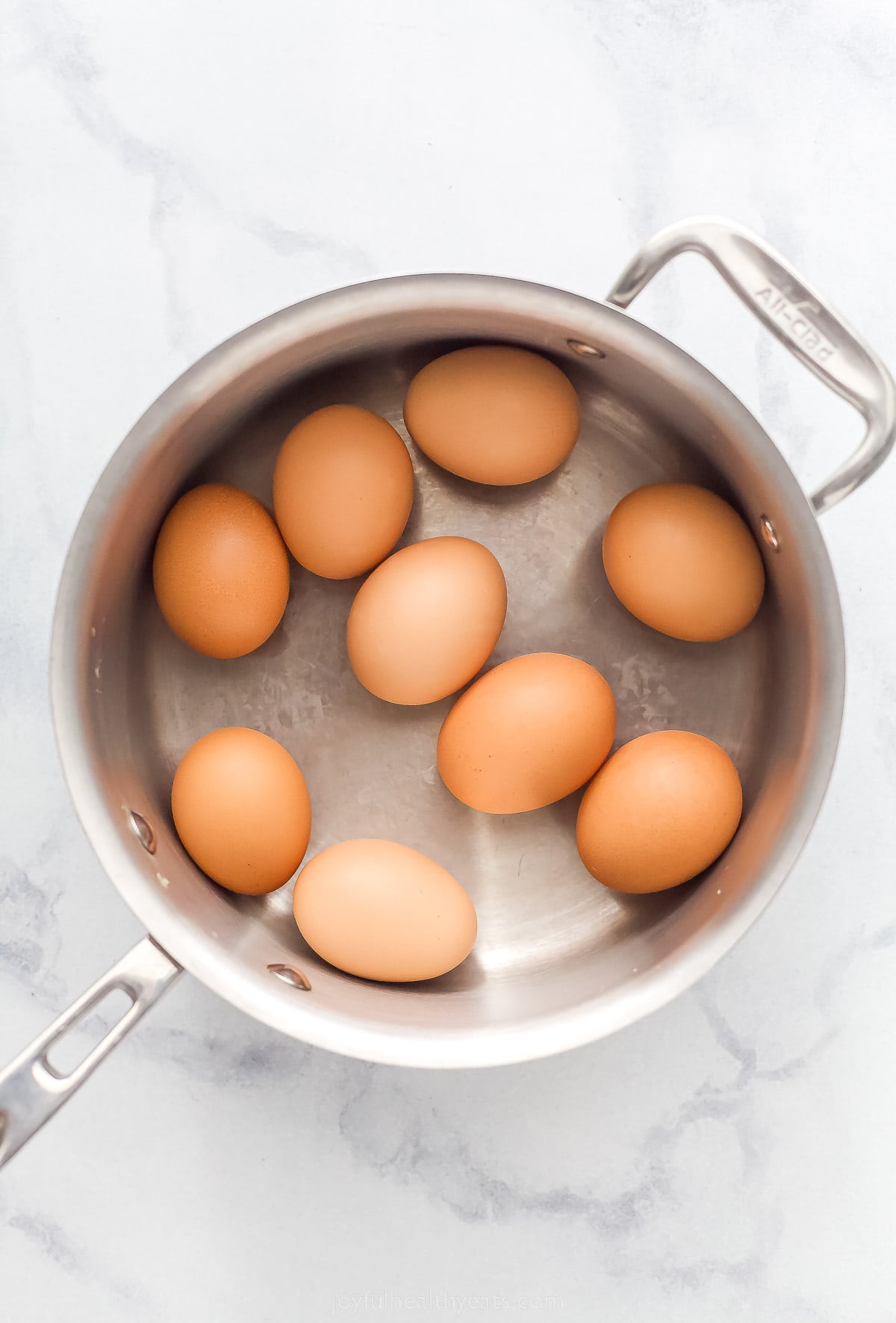 The Best Way to Make Hard Boiled Eggs
Are you like me and always curious about the best way to make hard-boiled eggs? I always wondered how people got the eggshells to fall off so effortlessly and without getting shells all over the place!
After much trial and error, I've found the fool-proof way for making the most perfect hard-boiled eggs. I think you'll agree that this method is the best way, too.
First, carefully place the eggs in a pot and then cover them with cold water. Then bring to a boil and once it starts boiling turn off the heat. Don't let them continue to boil!
They'll sit in the pot for 10-15 minutes. Once that time is up, carefully put the eggs in an ice bath (a large bowl with ice and cold water) to chill. Let them sit there for another 5-10 minutes. Then your eggs are ready to peel!
Another pro tip is to peel the eggs under cold running water. The water kind of seeps into the eggshell and helps it slide off easily.
How to Make Creamy Avocado Egg Salad
Here's how to make this amazing egg salad recipe. Say goodbye to the deli counter salad and hello to this healthy low carb swap!
First, chop up the hardboiled eggs. If you haven't already hard boiled the eggs, do that first. But I recommend doing the eggs ahead of time so that they have time to chill.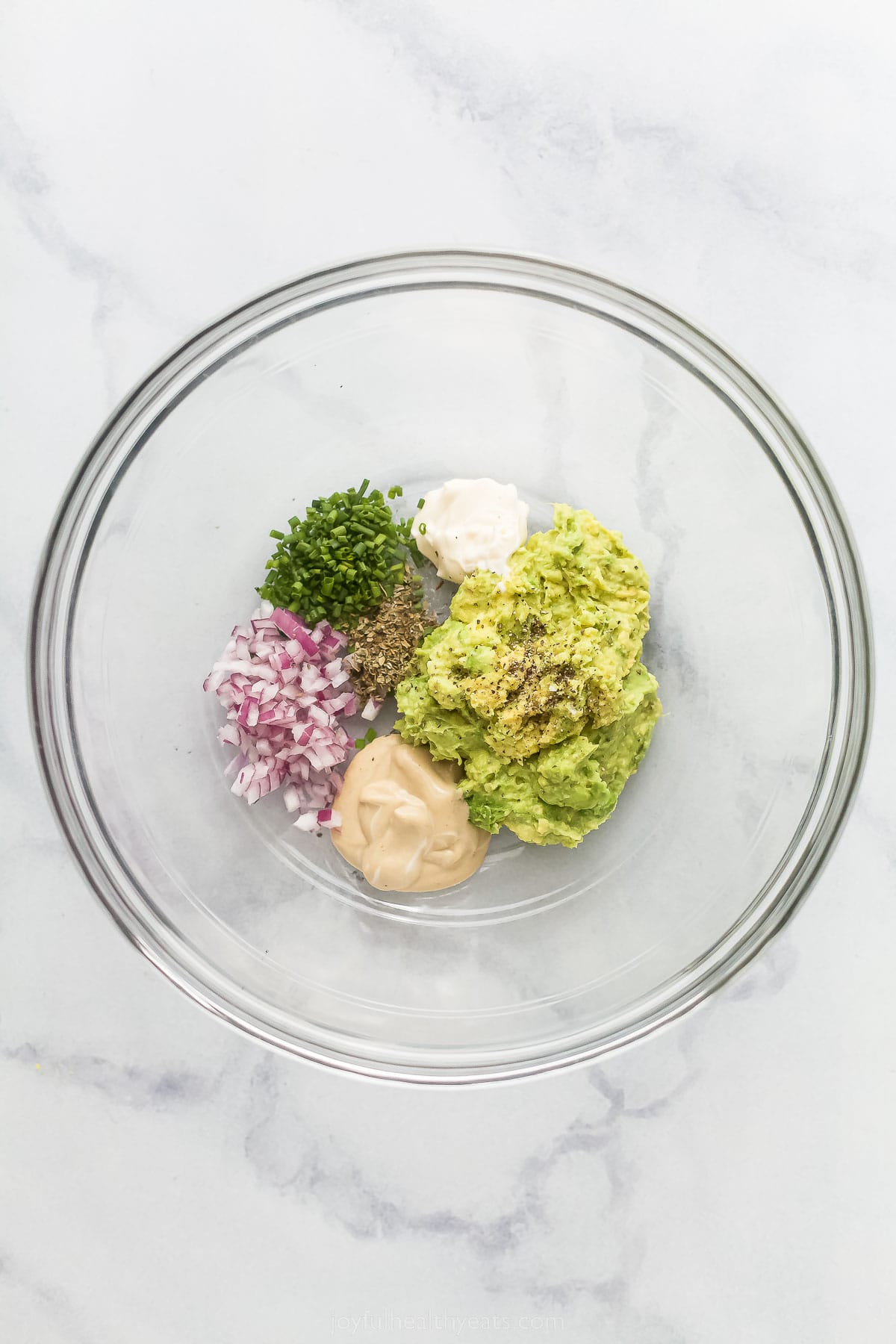 Next, combine the avocado, mustard, mayo, herbs, onions, lemon juice, and salt and pepper. Mix until it's smooth and creamy.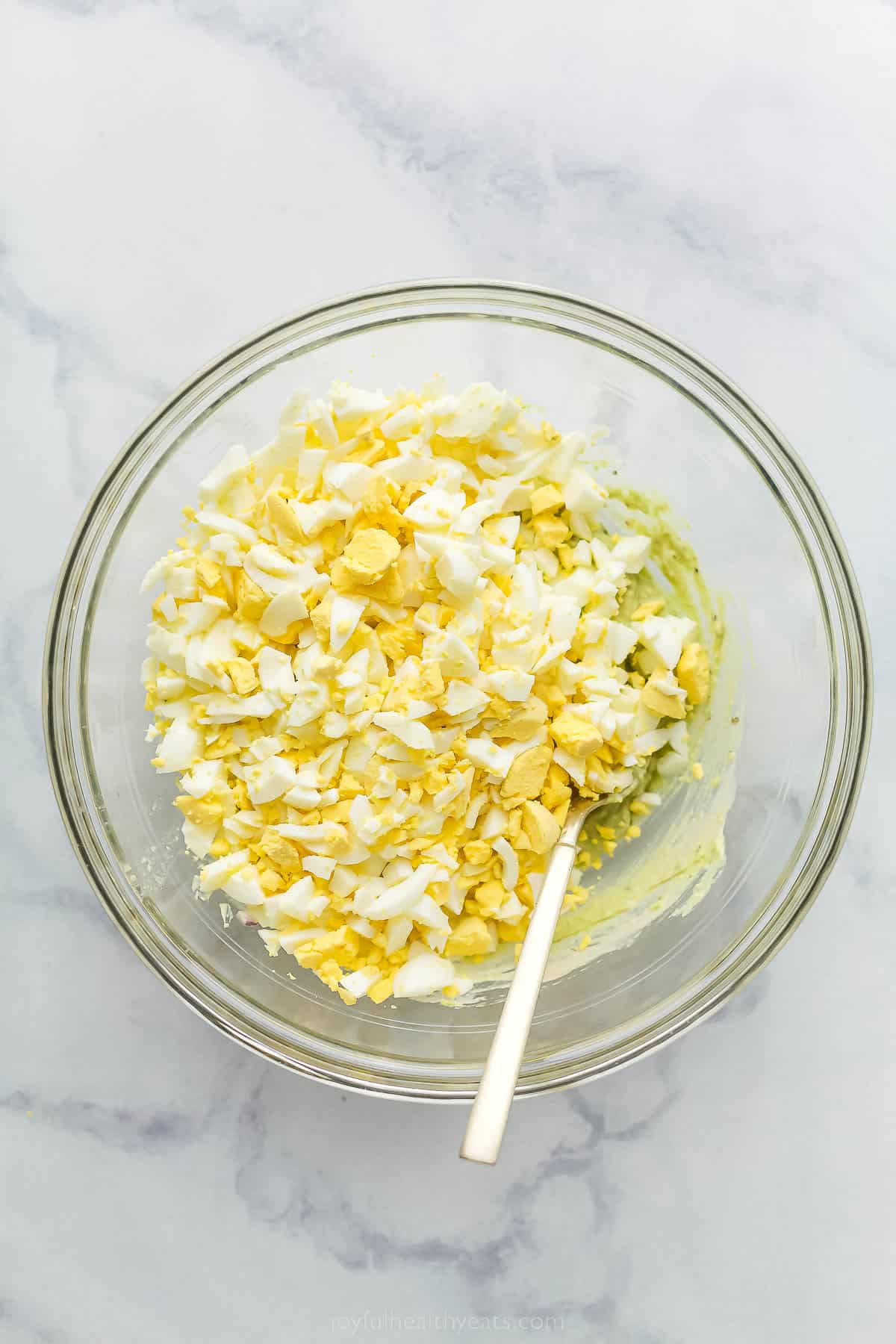 Then add the eggs. Stir together so that the eggs are well coated.
Serve immediately! The serving options are endless. Serving on crackers or in a sandwich are great ideas.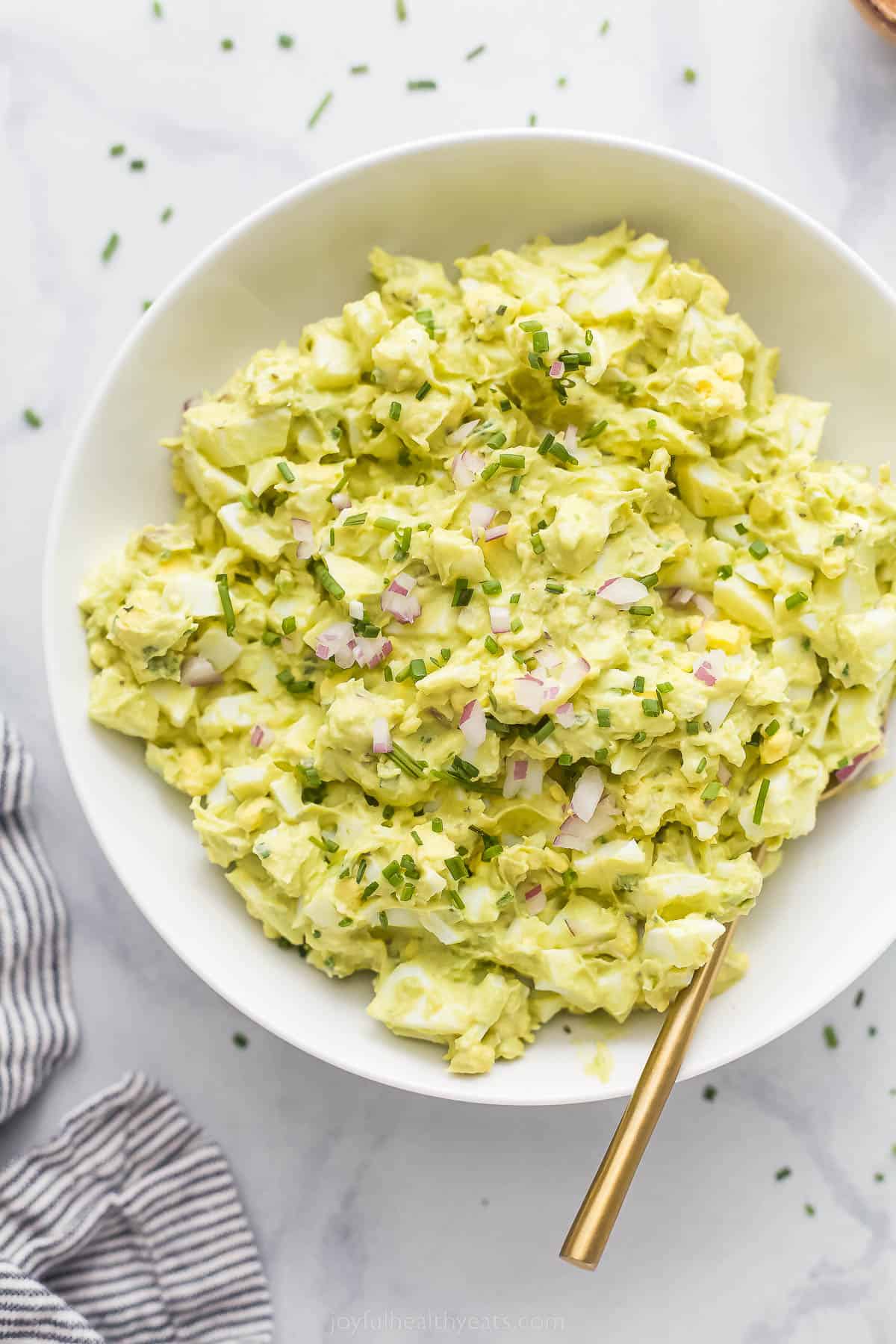 Recipe Variations
Some recipe variations are below for when you might be tight on ingredients or want to mix it up a little bit.
Add other herbs. Cilantro would be great to add for a Mexican-style Avocado Egg Salad. Add a dash of cumin and use lime juice instead for more Mexican flavor.
Use Greek yogurt instead of mayonnaise. This will result in more a more tangy flavor, but it's still so good!
Mix in other vegetables. You could also add diced celery or even minced kale for extra nutrition and texture.
Tips for Success
Follow these tips and you'll be making the perfect Avocado Egg Salad every time.
Make a batch of hard boiled eggs ahead of time. I'll make a dozen eggs for the week and we can make this egg salad or use them as a snack.
Fresh eggs do not hard boil as well. I honestly heard this from a farmer and was blown away! It's true though! Farm fresh eggs will not be as easy to peel as eggs that you buy at the grocery store. Don't ask me why, but I trust the farmers (and save the farm fresh for fried eggs).
Serve the egg salad with contrasting textures. Crackers and egg salad are the best, right? I love when I have something crunchy with this egg salad as it creates the perfect bite every time! So toast your bread and pitas before adding the egg salad. You won't regret it!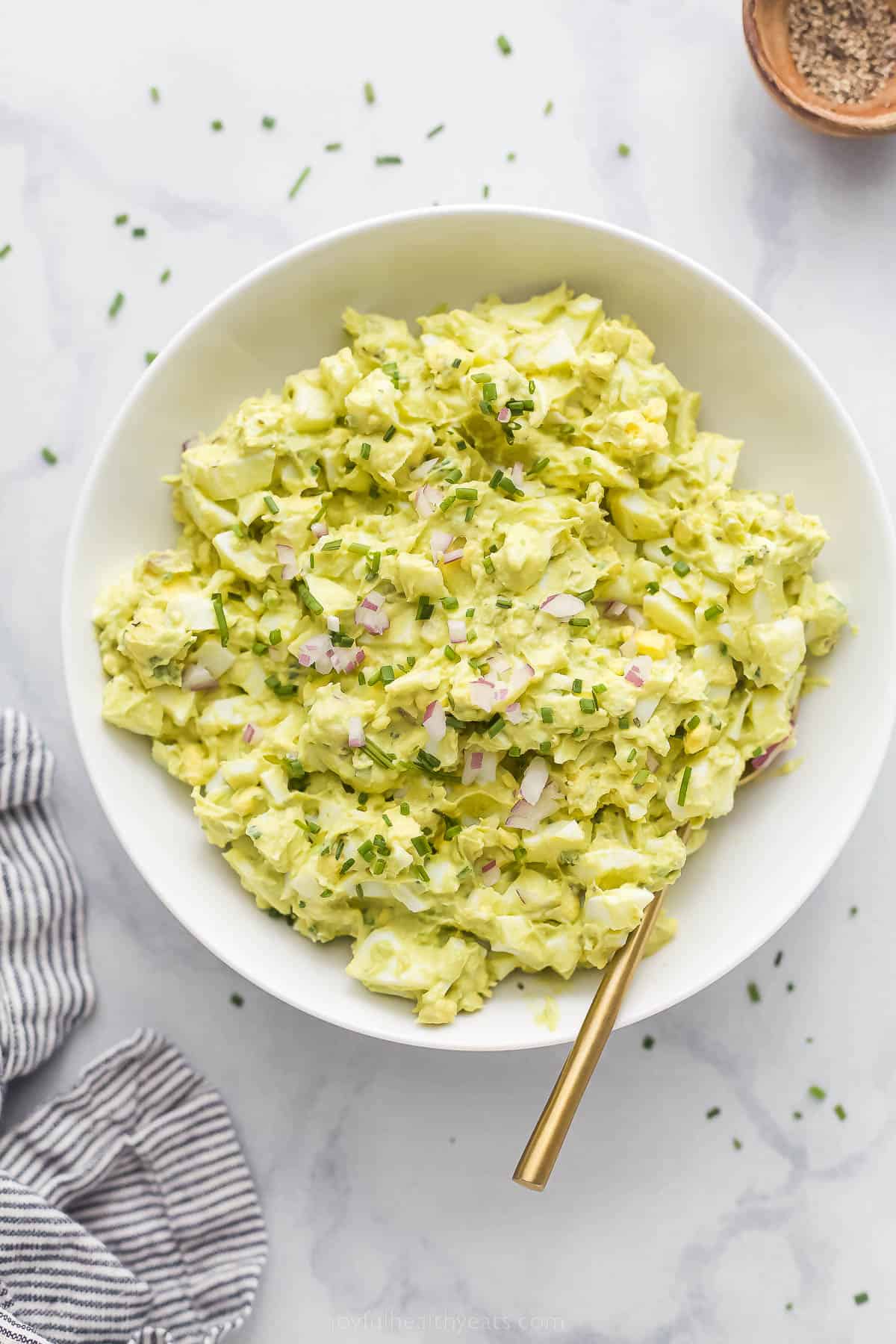 What to Serve with Avocado Egg Salad
Here are some of my favorite serving suggestions for this recipe.
On top of crackers: Your favorite cracker will work just fine and it makes a quick and easy lunch. I sometimes will use tortilla chips or my Wonton Chips, too!
In a sandwich or pita: A simple egg salad sandwich with a slice of tomato and iceberg lettuce is sometimes all you need! Classic and comforting – the perfect lunch!
On top of salad greens: You can add a scoop of this lettuce to some salad greens, too (especially with a drizzle of Honey Mustard Dressing!).
Can I Make This Ahead of Time?
The one catch about this Avocado Egg Salad recipe is that avocados are a main ingredient. And we all know that avocados don't necessarily keep for that long once they have been cut into. So, because of that, I recommend eating this salad right away.
It's such a bummer, but you don't want to eat egg salad that's developed a brown tint to it due to the avocado. If you had to make it ahead of time (I don't suggest longer than an hour or so beforehand), I recommend placing a piece of plastic wrap flat down on top of the salad. It must be touching the salad for it to stay fresh!This Creamy Avocado Egg Salad is a healthier alternative to traditional egg salad because there's minimal mayo and tons of flavor from dijon mustard, lemon juice, red onions, and fresh herbs.
How to Store Leftovers
As I mentioned before, Avocado Egg Salad is best served fresh. It won't keep very well in the fridge due to having fresh avocado as an ingredient.
If you have any leftovers, I suggest sharing them with your family. The recipe yields about 3 cups which is the perfect size for a family-friendly lunch assortment of egg salad sandwiches!
Print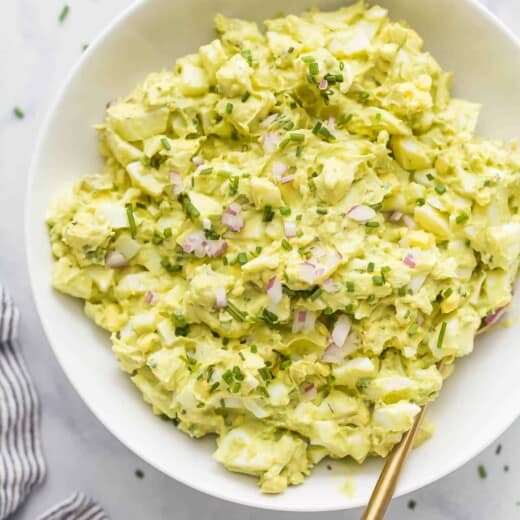 The Best Avocado Egg Salad
Author:

Prep Time:

5 minutes

Cook Time:

30 minutes

Total Time:

35 minutes

Yield:

3 cups

1

x

Category:

Lunch

Method:

Stove

Cuisine:

American

Diet:

Gluten Free
---
Description
Avocado Egg Salad is a healthy alternative to traditional egg salad. The dressing is made with minimal mayonnaise and instead features tangy dijon mustard. It's bursting with flavor from red onions, fresh herbs, and lemon juice.
---
8

large eggs, hardboiled

2

avocados, mashed

3 tablespoons

of dijon mustard

1 tablespoon

of mayonnaise

1 teaspoon

of dried basil

1 teaspoon

chopped chives

2 teaspoons

lemon juice

2 tablespoons

of red onion, finely chopped
salt & pepper to taste
---
Instructions
Place eggs in a large pot, be sure they are in a single layer and not piled on top of each other. Cover with cold water. Place on stove over high heat and bring to a boil.
Once boiling, turn the heat off, cover and let sit for 10-15 minutes. In the meantime, fill a large bowl will ice cubes and water.
Then, using a slotted spoon, transfer eggs to the ice bath and let sit for 5-10 minutes. Gently, peel the shell off hard-boiled eggs, rinse with water to ensure there is not residual shells. Roughly chopped hardboiled eggs and set aside.
Next, to a large bowl add mashed avocado, mustard, mayonnaise, dried basil, chives, lemon juice, red onion, salt and pepper to taste. Mix to combine.
Lastly, add in the chopped hard boiled eggs. Stir until well combined.
Serve in a pita pocket, over bread, or with a lettuce cup.
---
---
Nutrition
Serving Size:

1/2 cup

Calories:

201

Sugar:

1 g

Sodium:

249 mg

Fat:

15 g

Saturated Fat:

3 g

Carbohydrates:

5 g

Fiber:

4 g

Protein:

9 g

Cholesterol:

249 mg
Keywords: egg & avocado salad, best egg salad recipe, healthy egg salad, how to make egg salad
Filed Under:
Other Easy Salad Recipes
DON'T MISS A RECIPE
FACEBOOK | TWITTER | PINTEREST | BLOGLOVIN | INSTAGRAM