Salmon is a great protein option that's good for you and there are so many different and delicious ways to prepare it. Here's my list of 20 Healthy Salmon Recipes for when you need a little recipe inspiration.
The Best Easy Salmon Recipes
Either you love salmon or you hate salmon. I totally get it, but I'm here to share some recipes that hopefully get you on our side of the salmon-loving folks! It doesn't always have to be plain old baked salmon, which may steer some people away. Instead, check out this list of healthy salmon recipes that are not only good for you but taste pretty darn good, too.
The great thing about salmon is that it's flavorful, but without being too fishy. It's meaty, and filling, and can take on so many different flavors. You can make tacos with salmon or you can grill it. You can also put it on salads or serve it with a creamy sauce. The options are truly endless.
What Makes Salmon Healthy?
I eat a lot of salmon because it's so darn good for you! Salmon has a lot to brag about.
It's a great protein option. You don't always have to stick to beef or chicken when you are trying to add protein to your diet.
Salmon is high in omega-3 fatty acids. And these fatty acids are considered "essential" which means our body can't produce them on its own.
It's high in Vitamin B. Which helps your body turn food into energy and promotes brain health.
Salmon will help with weight management. This is mostly because it's high in protein and will help you feel full longer and help control your appetite.
Tips for Buying Salmon
The first step to cooking salmon is buying it. I get it, buying seafood can be a bit intimidating. Here are some tips for buying salmon the right way.
When buying fresh salmon: Fresh salmon should be bright pink without any grey or dark spots. It also shouldn't smell "fishy". If the smell is too potent, it's likely not good.
Frozen salmon is a great option, too. There's no need to always lean towards fresh fish, especially if you're eating salmon in the off-season.
Do your research. And don't be afraid to ask questions at the fish market. They are there and happy to help you. Sometimes buying farm-raised is just as good as wild-caught salmon. It all depends on the source and their working standards.
How to Store Leftovers
You can keep the leftovers of most of my salmon recipes. And honestly, they taste just as great as when you first made the recipe.
It's important to keep the leftovers in an air-tight container and eat them in a timely manner. The salmon will usually stay fresh for up to 3 days.
20 Healthy Salmon Recipes
Here's a list of some of my all-time favorite good-for-you salmon recipes!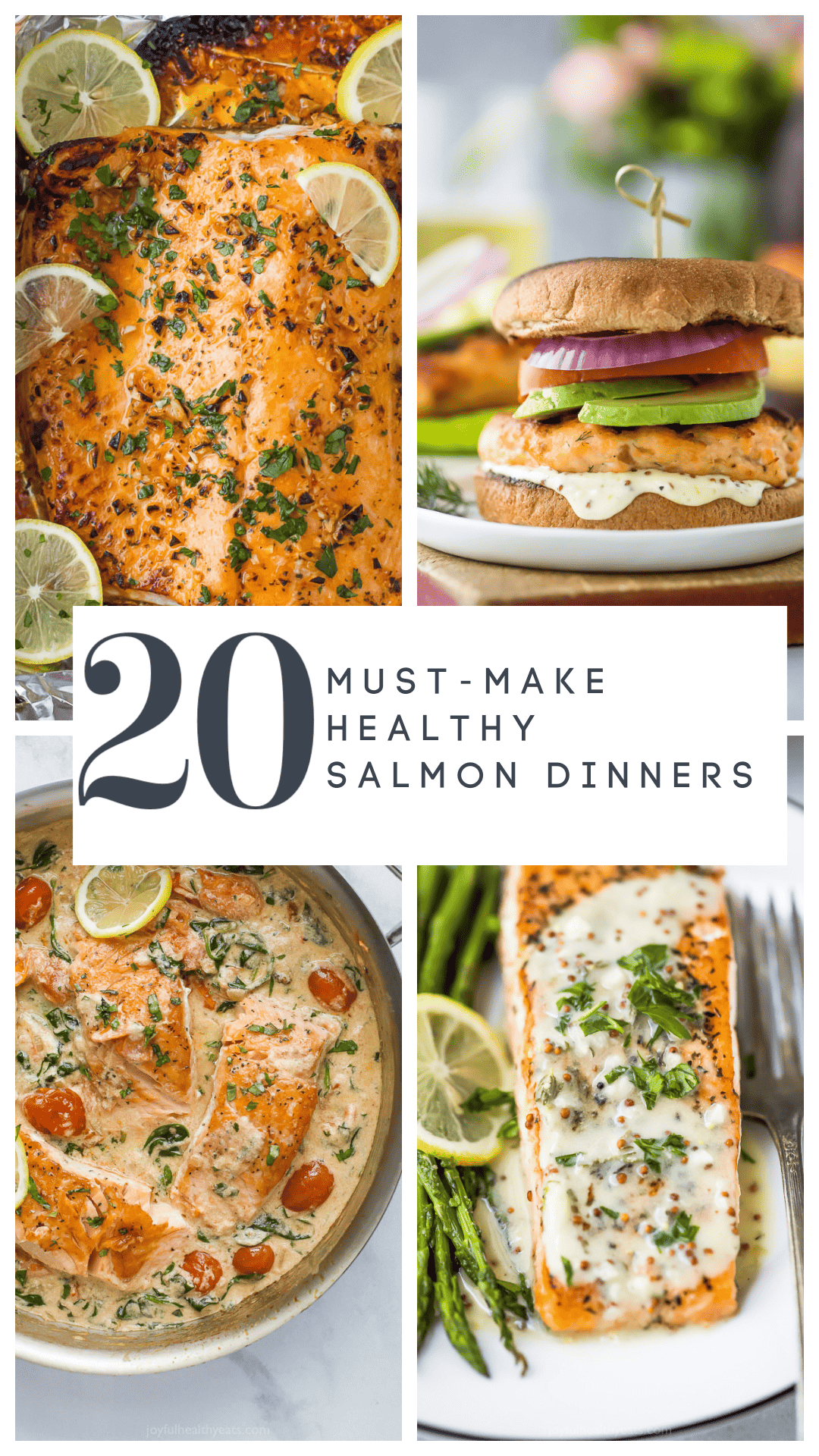 DON'T MISS A RECIPE ->
FACEBOOK | TWITTER | PINTEREST | BLOGLOVIN | INSTAGRAM