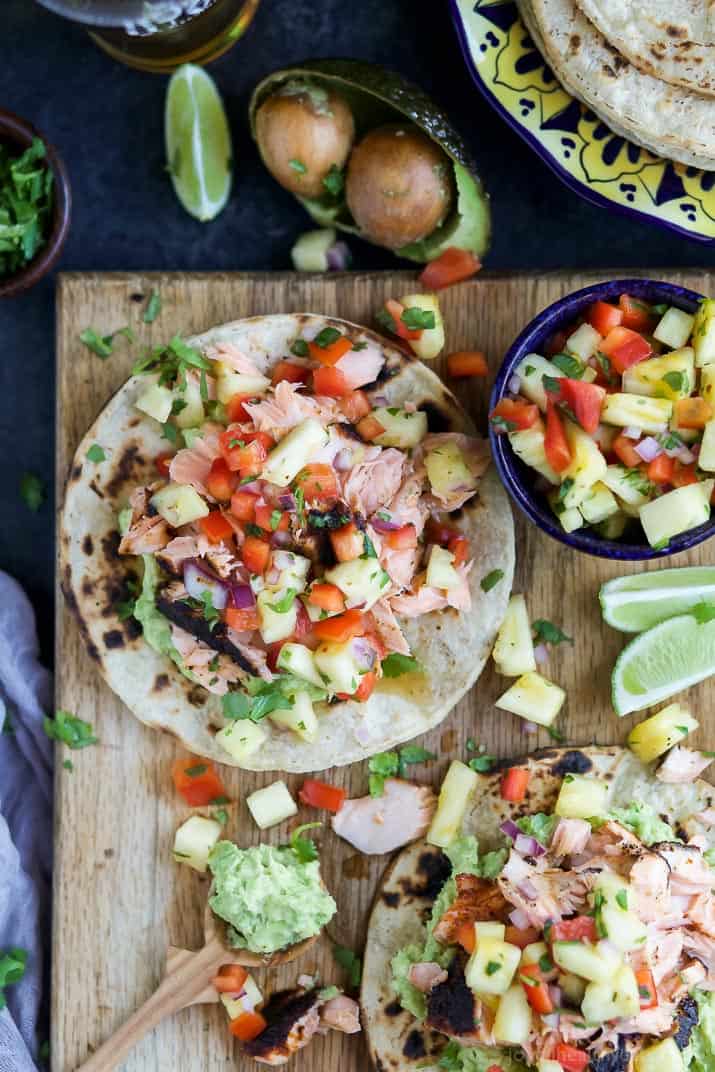 PINEAPPLE CHIPOTLE SALMON TOSTADAS – slightly charred smoky Salmon combined with Spicy Pineapple Salsa and creamy Avocados. These Tostadas take 30 minutes to make and are only 283 calories, a must make for a busy weeknight!
I don't know if I shared this with ya'll yet or not. Last year in the very beginning of the year I was starting to write a cookbook. A grilling cookbook. That was going to be published, which is kinda surreal to think about.
I ended up not accepting the offer because some things didn't line up. But I did put together a table of contents, it was going to be a healthy grilling cookbook. I also put together and a few recipes as a "teaser" for the publisher.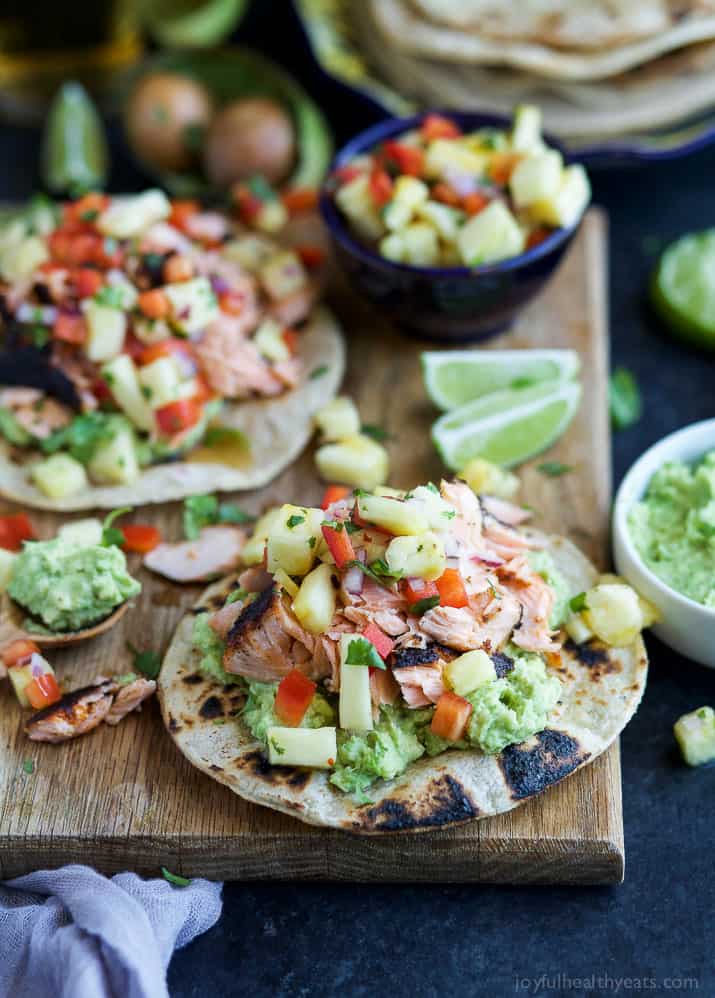 It was such a cool experience and I'd definitely still want to write a cookbook, but of course things would need to line up and the timing would need to be right! It is a HUGE endeavor! But how cool would it be to say, yeah I wrote a cookbook and it's sold at Barnes & Noble! 🙂
EEK!
All that to say, I have been sitting on a few recipes that I've been dying to share with ya'll and I think now is the perfect time! NO better time than the present right. Right!?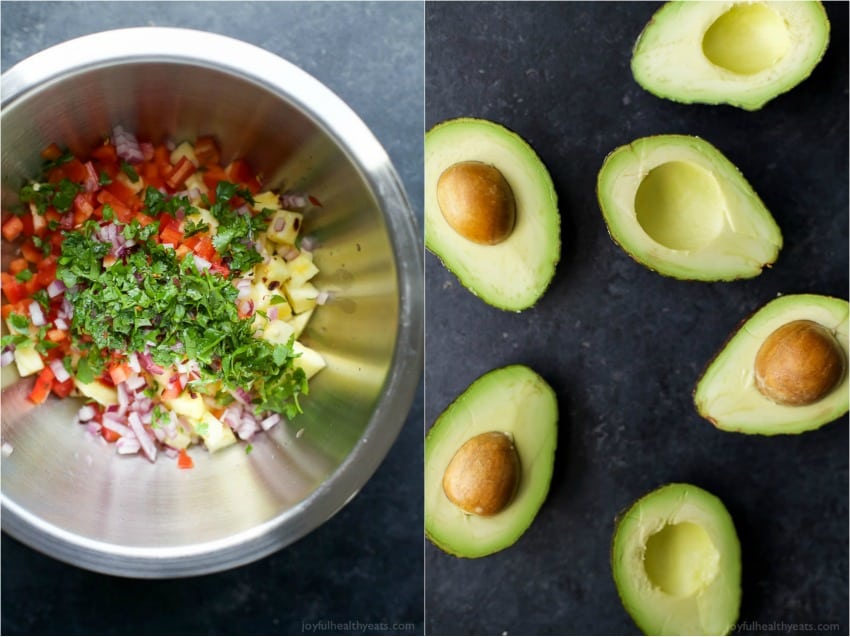 Originally this recipe was made on the grill, cuz uh … it was a grilling cookbook. But I easily switched it up to make this inside and it's just as tasty!
These Pineapple Chipotle Salmon Tostadas have so many different flavors going on. Your mouth is going to explode with wonder. Or just start drooling. Either or. I prefer the first. 🙂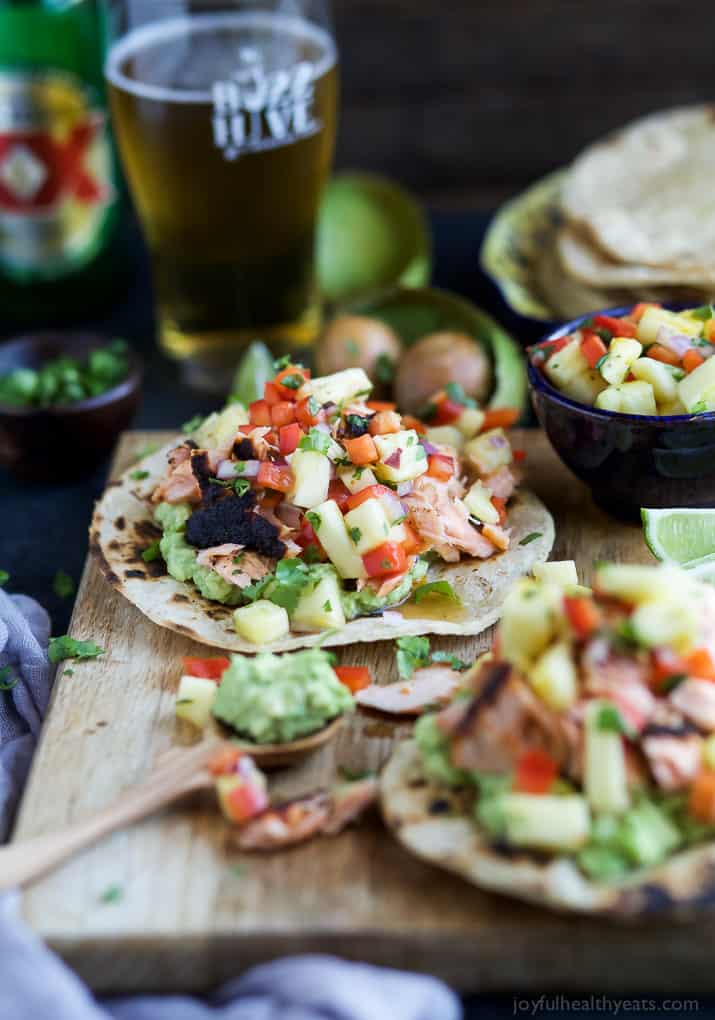 The Salmon itself has a deep smoky flavor from the spice blend that's rubbed in. Believe me, it's killer! But in my opinion, the trick to this Salmon is making sure it gets nice and crispy. It adds another texture to the dish that's amazing!
In order to do this, the pan has to be HOT so as soon as you put the flesh side down on the skillet you hear a sizzle and crack. Then LEAVE IT ALONE! The worst thing you can do to any protein is try to flip it before it's ready, you miss out on the nice crust. And in the words of Megan Trainer "I'm all about that crust."
It takes some self control, but set your timer if you have to. Don't flip the fish until it easily pulls away from the pan (or the grill) if it sticks then it's not ready! Ok, rant over.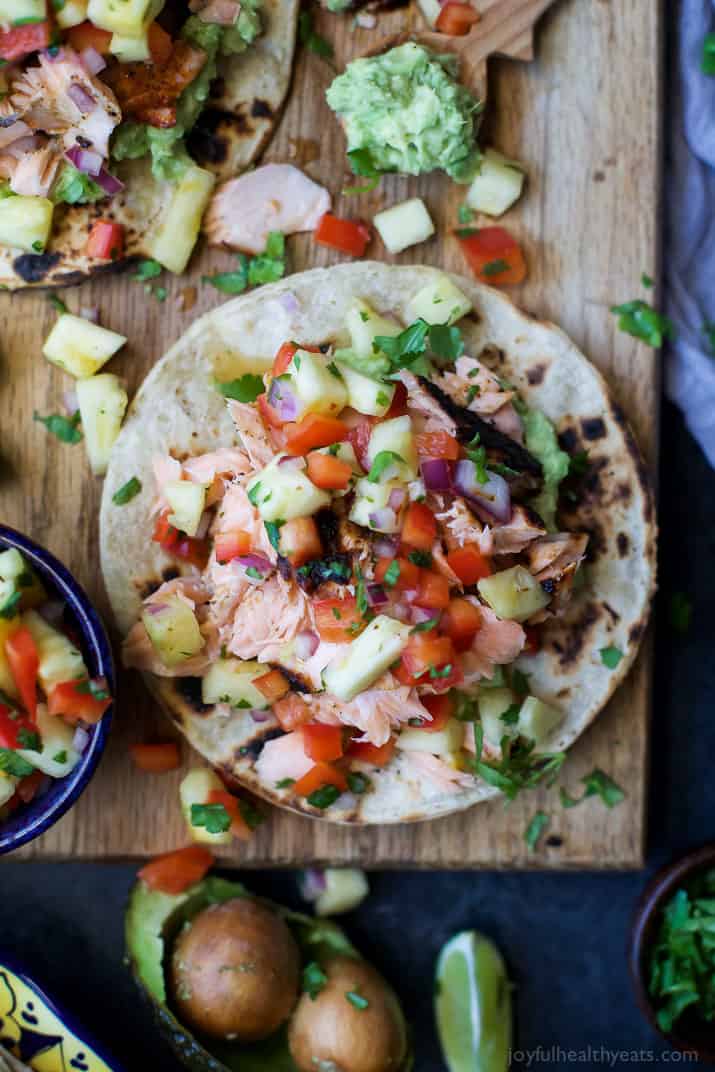 Now, the smoky crispy Chipotle Salmon combined with mashed avocado and a fresh sweet & spicy Pineapple Salsa. Yeah, pretty much … it's amazing! I like to finish mine with a squeeze of fresh lime juice to bring the fish back to life after being cooked! (I highly encourage it)
I really really REALLY hope you guys give these Chipotle Salmon Tostadas a try. They only take 30 minutes to make, so you won't be slaving away in the kitchen. Plus, they're low on calories and high on protein. Which after the Super Bowl is a big perk! Recover is always in order after Game Day Sunday and a strong "dip" game.
Alright folks, Bon Appetit. I hope you enjoy! Happy Monday!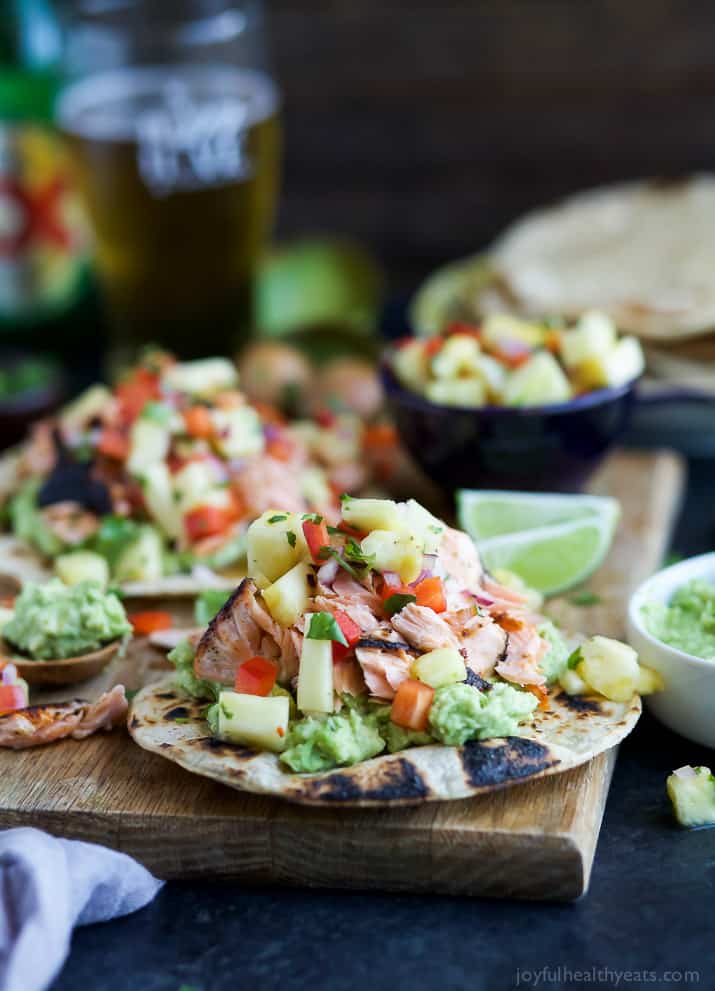 Pineapple Chipotle Salmon Tostadas
Author:
Krista @ JoyfulHealthyEats.com
Nutrition Information
Serving size:

1 tostada

Calories:

283
Fat:

17 g

Saturated fat:

2 g

Carbohydrates:

13 g

Sugar:

5 g

Sodium:

190 mg

Fiber:

5 g

Protein:

13 g

Cholesterol:

0 mg
Recipe type:
Seafood, Gluten Free, Kid Friendly, 30 Minute Meal
Prep time:
Cook time:
Total time: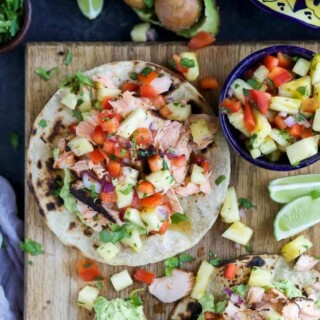 Ingredients
1 lb.fresh salmon, (skin on)
1 teaspoon smoked paprika
½ teaspoon garlic powder
¼ teaspoon chipotle chili powder
½ teaspoon sea salt
1 tablespoon canola oil
6 corn tortillas
Pineapple Salsa:
1¾ cup fresh diced pineapple
½ cup diced red pepper
¼ cup finely diced red onion
¼ cup chopped fresh cilantro
1 tablespoon minced chipotle pepper in adobe sauce
1 tablespoon of fresh lime juice
3 avocados, smashed
juice of 1 lime
salt to taste
optional: lime wedges to squeeze on top
Instructions
In a medium bowl add, diced pineapple, red pepper, red onion, cilantro, chipotle pepper, lime juice, and salt to taste. Lightly toss to mix.
In a small bowl add, avocado, juice of 1 lime, and salt to taste. Gently smash the avocado and stir, it will look like a chunky guacamole. Set both the pineapple salsa and smashed avocado aside.
Remove salmon and bring to room temperature, pat dry.
In a small bowl add smoked paprika, garlic powder, chipotle chili powder, and sea salt. Stir. Season the flesh side of salmon with seasoning. Rub mixture into salmon to completely cover it.
Heat large skillet to medium high heat.
Add canola oil to the pan. Place salmon on pan flesh side down. Saute for 4-6 minutes. Using a flat spatula gently flip the salmon and saute the on the skin side for another 4-6 minutes until crispy. You'll know the salmon is done when it starts to turn opaque or if the fish feels firm instead of spongy when you touch it. Remove from the pan and let sit.
Add tortillas directly on the burners and brown until crispy. You want the tortilla to be like a hard shell taco but not burnt.
With a fork, gently flake the salmon apart.
Assemble the tostadas. Start with tortilla on the bottom, smear 1-2 tablespoons of avocado on tostada, pile shredded salmon on top, and finish with pineapple salsa.
Finish with a squeeze of fresh lime juice and serve!
IF YOU MAKE THIS RECIPE, BE SURE TO SNAP A PIC AND HASHTAG IT #JOYFULHEALTHYEATS. I LOVE SEEING WHAT YOU MAKE!
Want More Salmon Recipes?
Paleo Baked Salmon with Avocado Salsa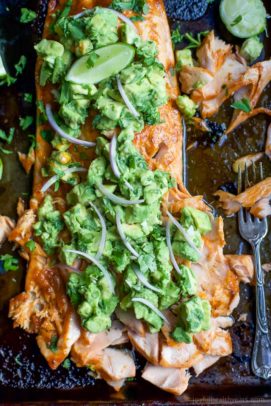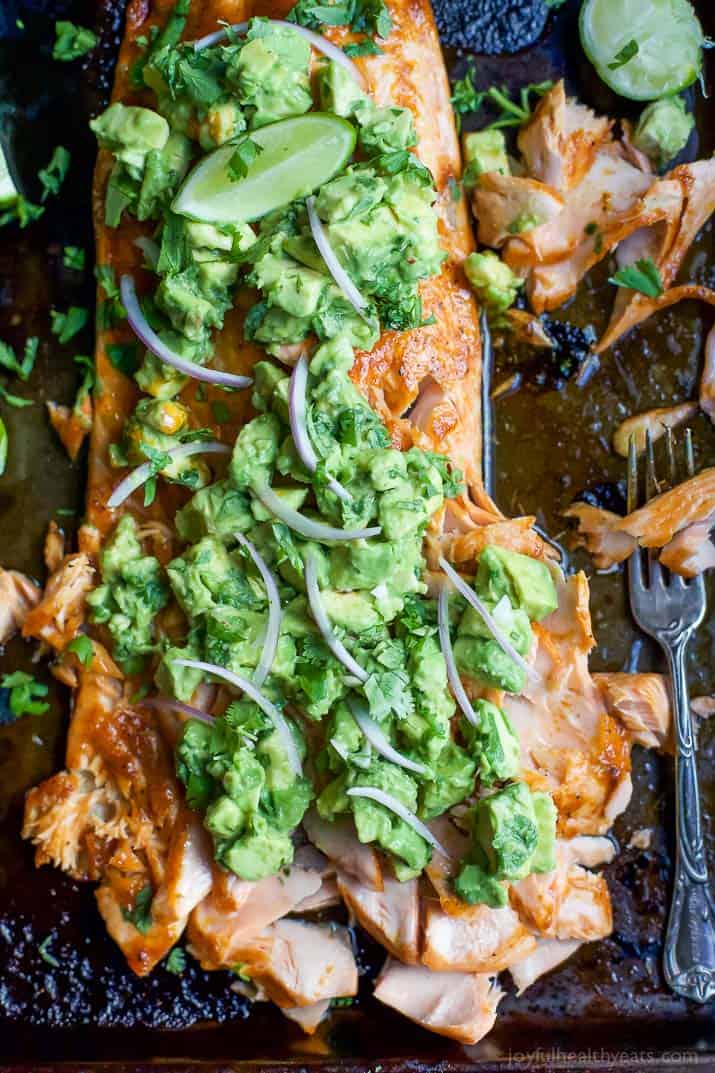 Caribbean Grilled Salmon Kabobs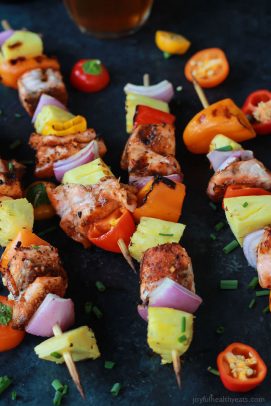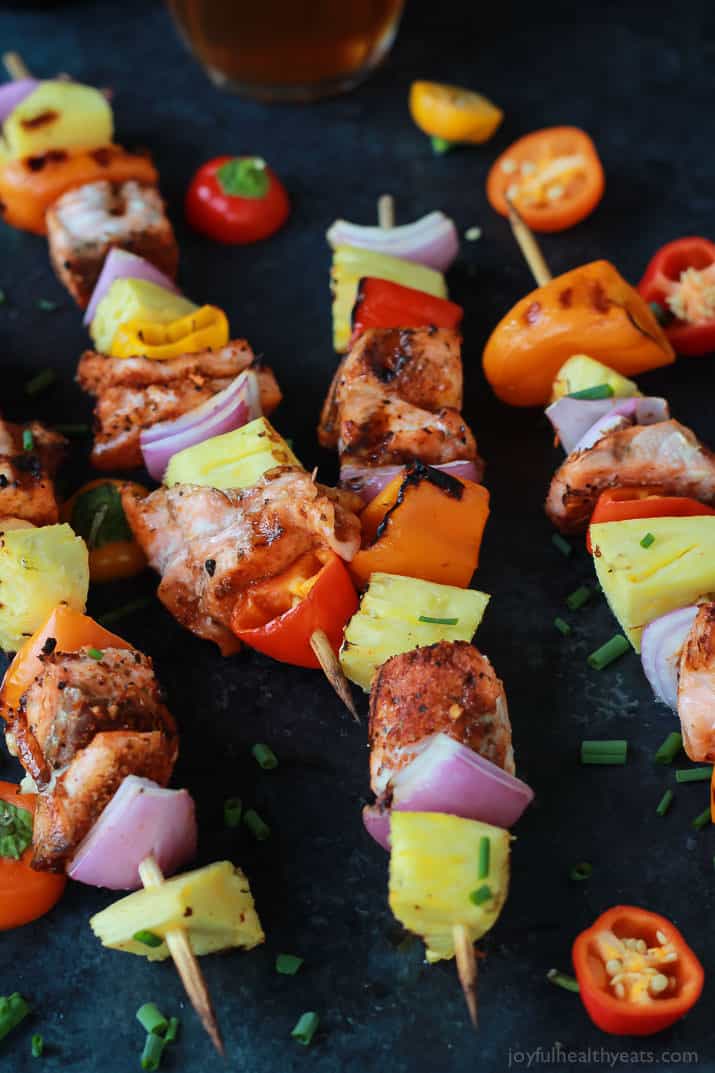 Blackened Grilled Salmon Salad with Pineapple Salsa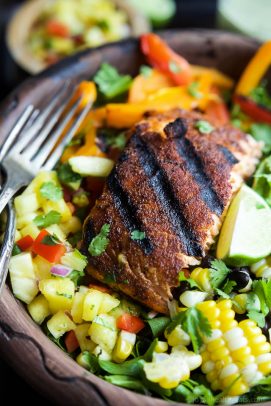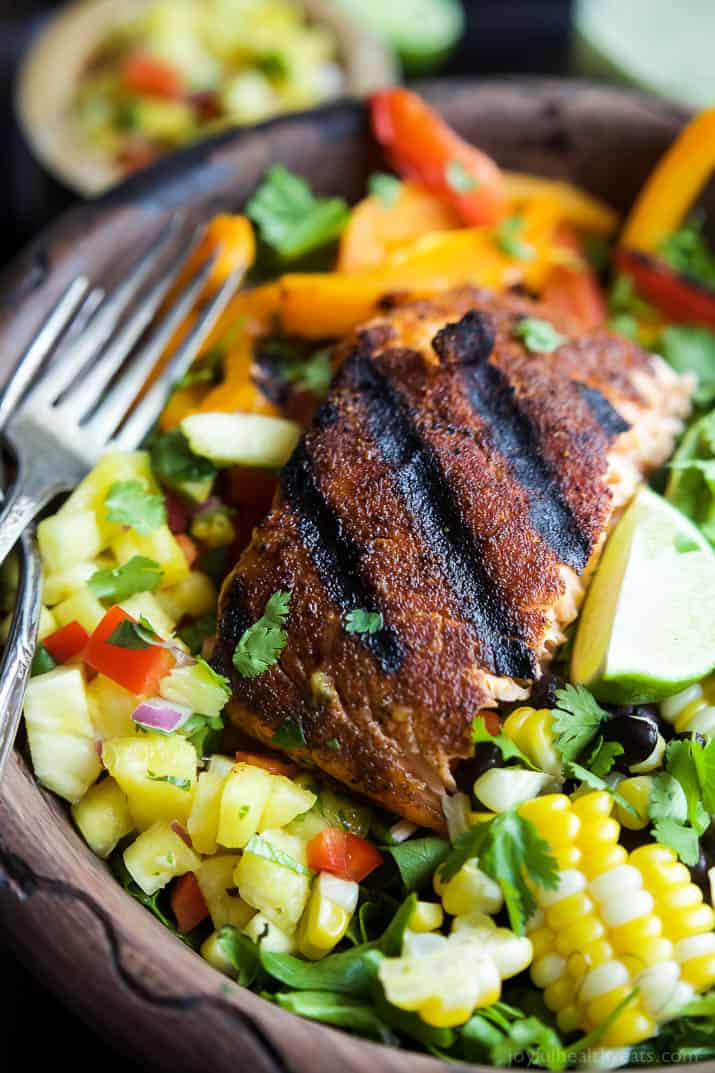 DON'T MISS A RECIPE ->