In this Ultimate Gift Guide for the Home Chef, you'll find the latest in kitchen appliances & tools, gadgets, and last but certainly not least, an entire section of gifts under $35! Taking all the guesswork out, who's ready to get shopping!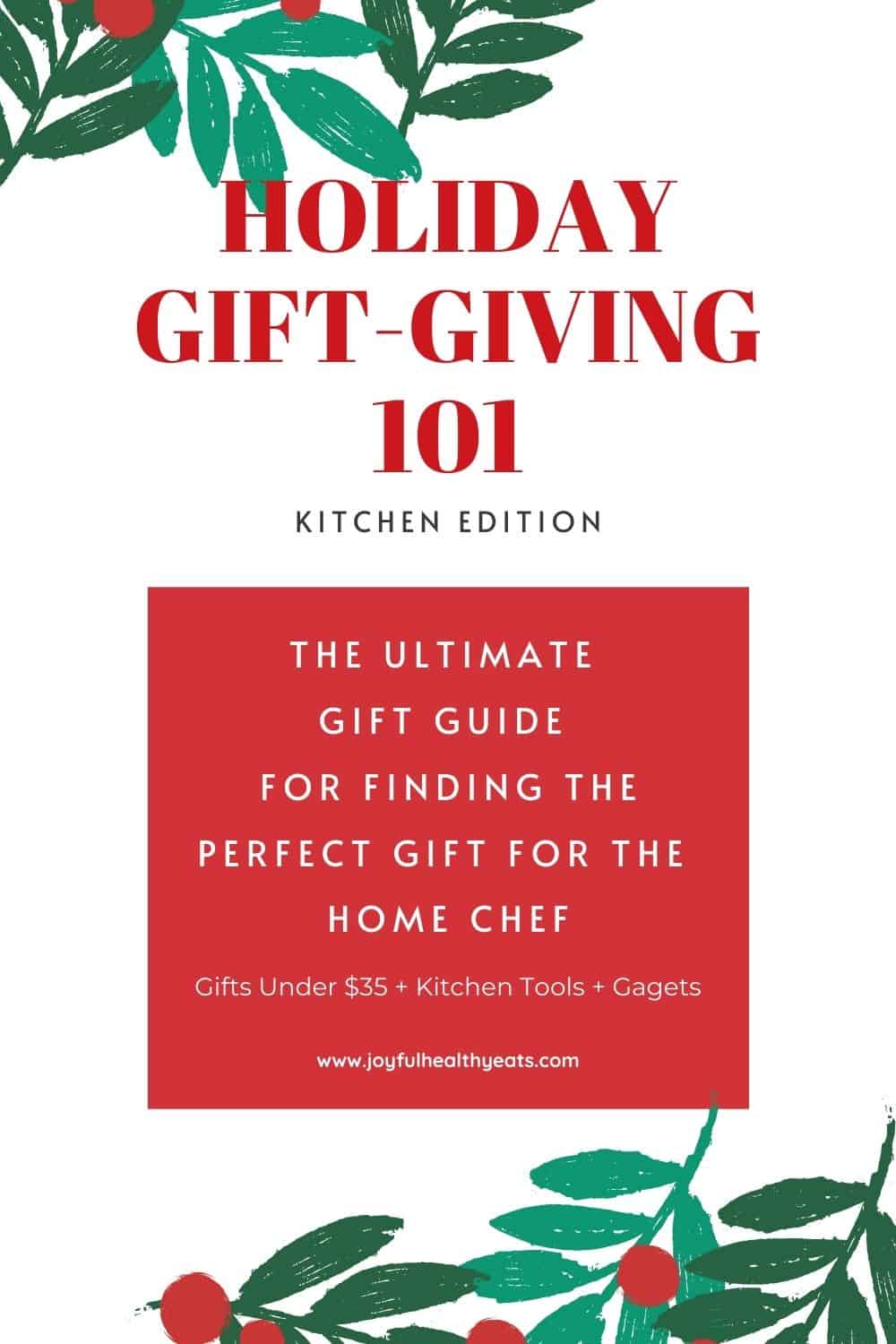 2020 Holiday Gift Guide for the Home Chef
I am so excited about Christmas 2020!! Let's be honest; this year has been a challenge, to say the least.
I didn't know if I would be the super elf or the Grinch when it came to the gift-giving season, but let me tell you, I am so ready! Bring on the Holidays, there's so much cheer and kindness in the air. As of today our house is all decked out for Christmas, 2020 is the first year I've ever put up decorations up before Thanksgiving! (gasp)
Since my decorations are up, I figured lets dive head first into the holidays with my Ultimate Gift Guide for the Home Chef!! We can be a little hard to shop for; after all, will we really be excited when we open up that kitchen appliance on Christmas morning? The answer is Yes!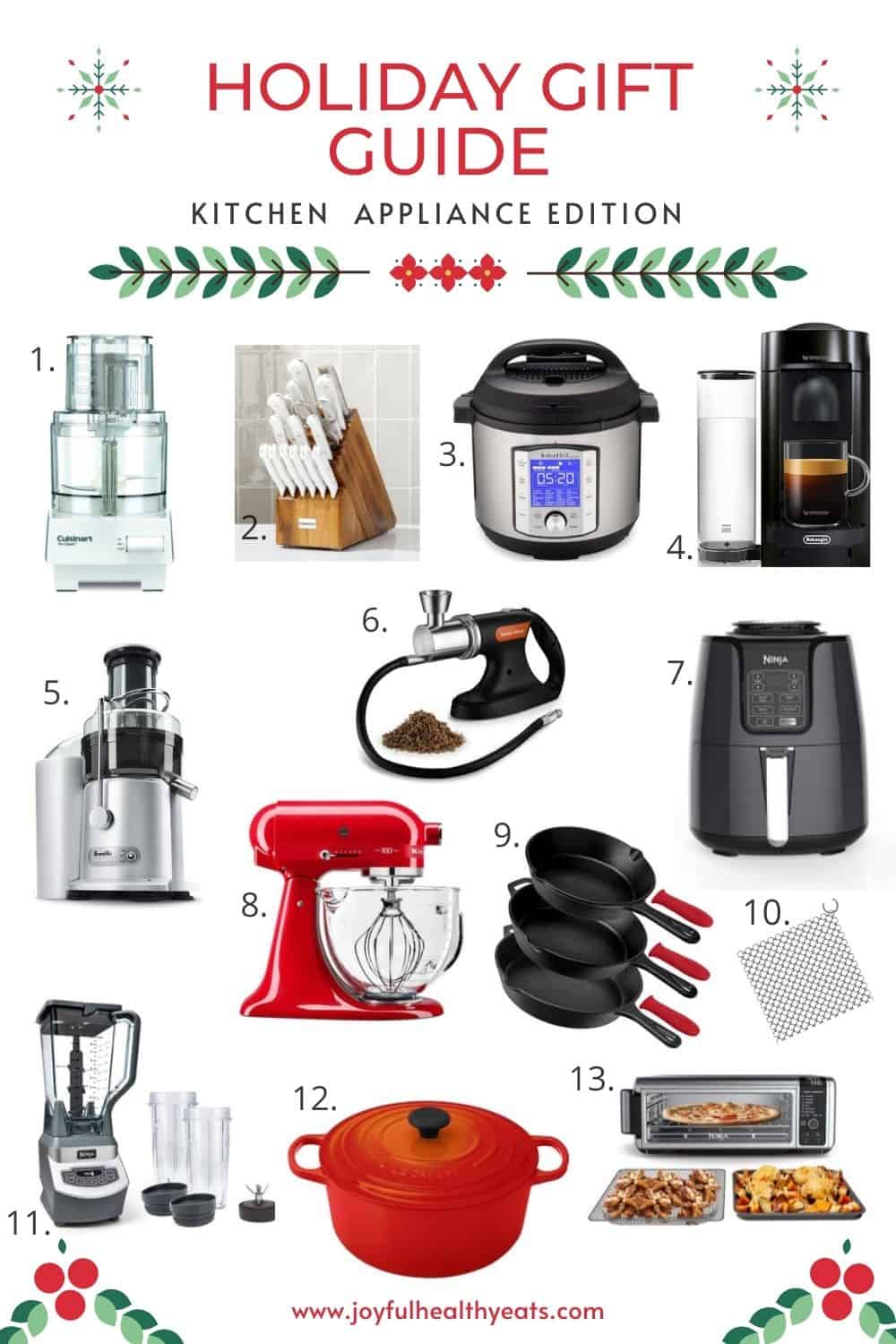 1|2|3|4|5|6|7|8|9|10|11|12|13 KITCHEN APPLIANCES & TOOLS
Yes, appliances can be a little bit on the expensive side, which is why they make the perfect Christmas gift. Not to mention there are HUGE deals this year!
The Cuisinart 15 piece knife set is $60 off making it a steal at $99. It is most likely the splurge item they would never buy for themselves but would love to receive! There are so many new and innovative kitchen appliances; some can even turn hours in the kitchen into mere minutes. Plus, they are super fun!
I have to admit I was slow to get on the air fryer train, but I am all aboard now! The Ninja Air Fryer is the perfect gift for someone who may have their eye on their New Year's resolutions – and it is currently $30 off!
1. Cuisinart Food Processor: the Pro Classic 7-cup Food Processor makes all of your favorites, from stir-fries and main course salads to peanut butter and homemade bread.
2. Cuisinart 15 Piece Knife Set: the Triple Rivet Cutlery Block Set is not only stylish but currently on sale for $99.
3. Instant Pot Duo Evo Plus: the latest evolution of the all time bestseller Instant Pot Duo series; cooks up to 70 % faster.
4. Nespresso Vertuo Plus Coffee and Espresso Machine: one convenient Coffee maker for 5 cup sizes.
5. Breville Juicer: can create a 8 ounce cup of juice in just 5 seconds.
6. MITBAK Portable Handheld Cold Smoking Gun: finish off a perfectly cooked meal with a hint of cold smoke. There's no need to fire up your backyard BBQ when you are equipped with this handy food smoker. Your food will taste like you've been smoking it low and slow for hours.
7. Ninja Air Fryer: currently $30 off, enjoy guilt free food; Air fry with up to 75 percent less fat than traditional frying method.
8. KitchenAid Queen of Hearts Stand Mixer: the passion-inspired trim has hundreds of miniature red hearts, sleek chrome accents and a custom chrome Power Hub cover celebrating 100 years of the KitchenAid Brand.
9. Pre-Seasoned Cast Iron Skillet 3-Piece Chef Set: these cast iron skillets have a smooth finish to help provide even heat distribution for improved cooking and frying, even on grills, stoves or induction cooktops.
10. Blisstime Cast Iron Cleaner Premium Stainless Steel Chainmail Scrubber: makes cookware cleanup quick & easy.
11. Ninja Professional Countertop Blender: a professional performance power with 3 speeds, pulse, and single serve functions.
12. Le Creuset Signature Enameled Cast-Iron: 7-1/4 Quart Round French (Dutch) Oven, the superior heat distribution and retention of Le Creuset enameled cast iron.
13. Ninja Foodi Digital Fry, Convection Oven, Toaster, Air Fryer, Flip-Away for Storage: he ultimate meal making machine with 8 in 1 functionality: Air fry, air roast, air broil, bake, bagel, toast, dehydrate, and keep warm all in one powerful appliance.
Must-Have Kitchen Appliances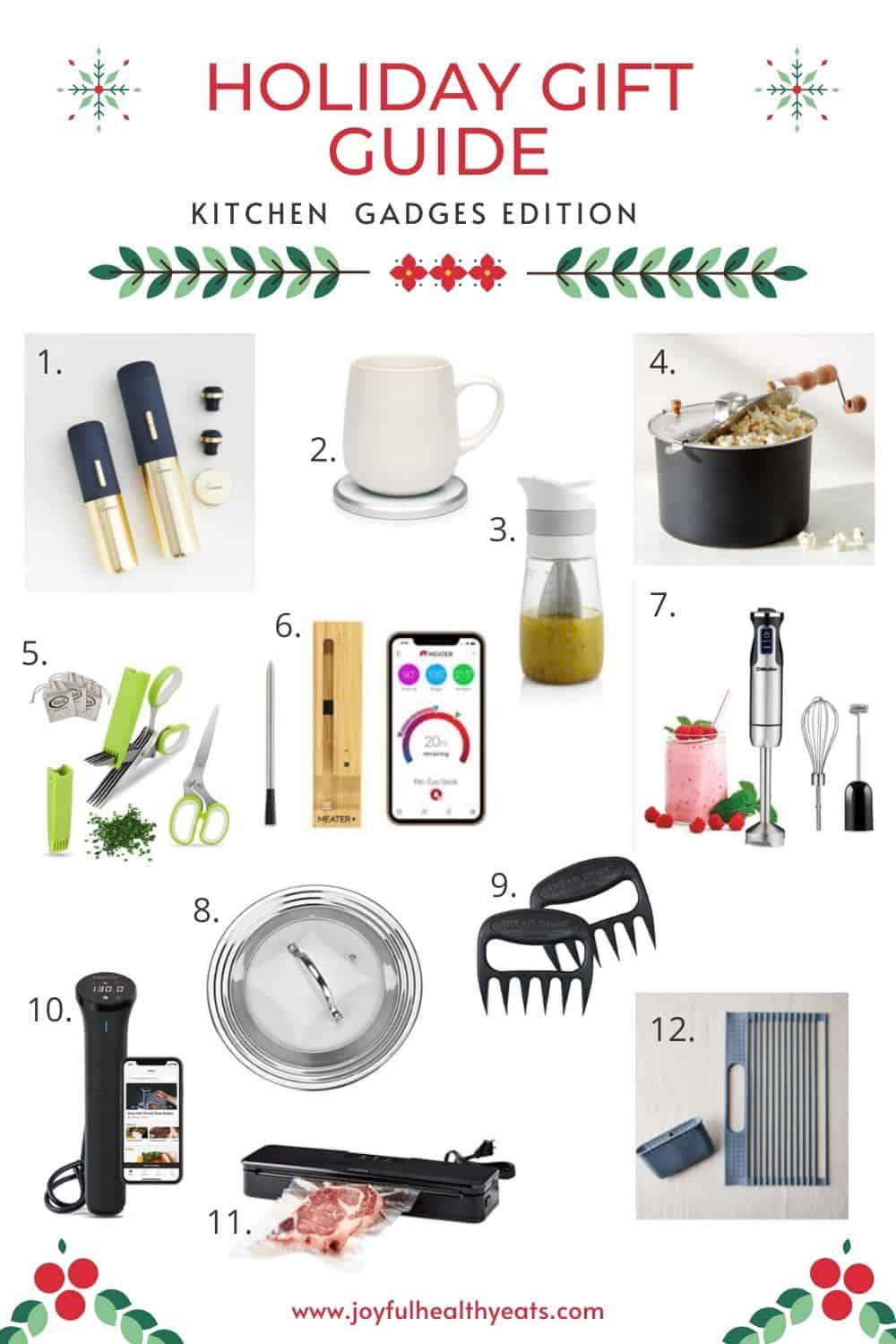 Kitchen gadgets are not only fun; they can make the life of a home chef so much easier. So of course I needed to include them in this Home Chef Gift Guide. I remember the first time I made my pulled BBQ sliders using my Bear Paws #lifechanging! The gift that keeps giving for the home chef and ALL moms is the Kopi Mug & Warmer. Say goodbye to drinking cold coffee with this fantastic set, and bonus, the base also serves a phone charger!!
Getting any meat cooked to the perfect temperature can be tricky. Let the Meater Plus Thermometer take the guesswork out of your cooking and grilling; it is wireless and has a 165′ range. I am mildly obsessed with the FIVETWO Over the Sink Drying Rack. Dishes are an inevitable part of life. You can always find dishes drying on my countertops, slowly ruining them – this is a game-changer!
1. Rabbit Electric Wine Opener and Preserver: have you ever seen a sleeker more gorgeous wine opener? And bonus it is electric removing the cork with the touch of a button.
2. Kopi Mug & Warmer: say goodbye to cold coffee/tea. The Kopi Mug/warmer keeps your drink toasty, keeping the temperature around 135º and, better yet, the warming base doubles as a wireless cellphone charger.
3. OXO ® Twist & Pour Salad Dressing Mixer: stir, serve, and store salad dressing in one convenient container. Twist-activated propeller easily mixes oil, vinegar and other ingredients. The mixer has a drip-free spout for pouring and a leak-proof, airtight seal to keep dressings fresh.
4. Stovetop Black Popcorn Popper: get ready for family movie nights. Pop up to six quarts of perfect popcorn with this easy-to-use black stovetop popper.
5. All Prime Herb Scissors: these 5 blade herb scissors easily chop herbs and vegetables. These shears are also great for paper crafts.
6. MEATER Plus Smart Wireless Meat Thermometer: 165ft Long Range Model, 100% WIRE-FREE that's perfect for outdoor cooking walking you through every step of the cooking process to guarantee a perfect and consistent result.
7. Mueller Austria Ultra-Stick: 9-Speed Immersion Multi-Purpose Hand Blender comes with a whisk and milk frother attachments
8. Modern Innovations Universal Lid: this remarkable tempered glass universal lid was specially designed to fit all your pots and pans perfectly. No more rummaging through the kitchen cabinets to find the right lid.
9. Original Bear Paws Shredder Claws: TIME SAVER – Bear Paws are the answer to perfectly shredded meat without the mess and headache of knives and forks.
10. Anova Culinary Sous Vide Precision Cooker: never over or undercook your food again. The Anova Precision Cooker Nano sous vide circulates water at the exact temperature required for perfectly cooked meals.
11. Anova Culinary Precision Vacuum Sealer: Vacuum sealing is hands down the best way to ensure no air enters your bag during a sous vide cook – ensuring your food will stay fully submerged while cooking, and seal in maximum flavor.
12. FIVETWO Over the Sink Drying Rack: stop sacrificing your counter space when waiting for pots and pans to dry, and use this easy roll-out drying rack made from silicone-coated stainless steel.
My Favorite Kitchen Gadgets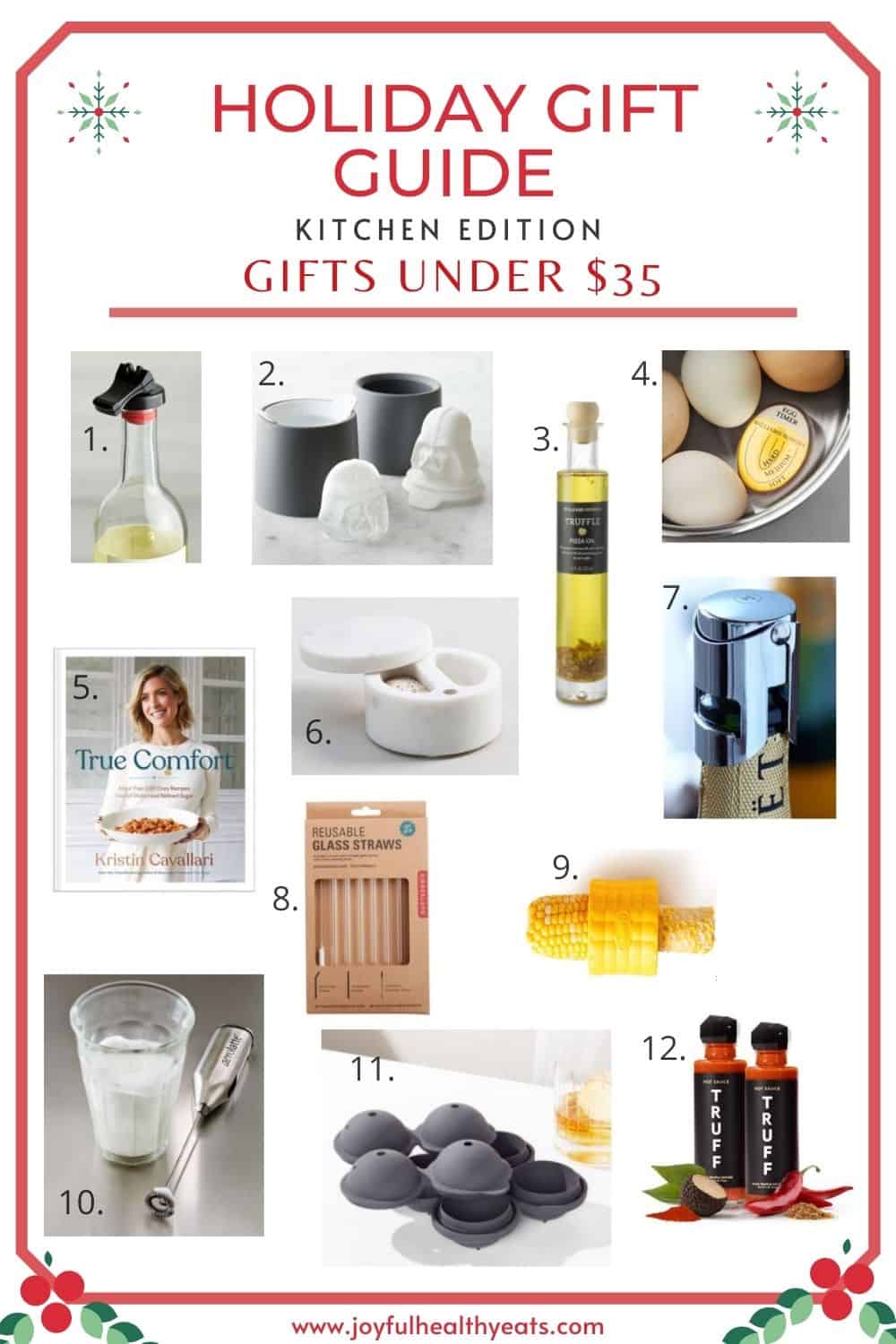 1|2|3|4|5|6|7|8|9|10|11|12 GIFT GUIDE FOR THE HOME CHEF UNDER $35
Finding unique gifts can be a challenge in and of itself – not to mention finding affordable gifts! Whether you are shopping for the home chef, a hostess gift, or fun stocking stuffers for your spouse, I have you covered. Star Wars is huge in our house. I could not pass up these Star Wars Ice Molds. Years ago, I found the best wine saver/stopper and since find myself gifting them every year (a whopping $1.95), pair it with a bottle of wine, and it is the perfect hostess gift. If champagne is more, your speed try this Champagne stopper!
Is there anything better in the world than truffles??? Yeah, I didn't think so! Surprise your favorite person with the perfecting toppings! I hope Santa brings me this White Truffle Pizza Oil; I can already taste it on my best-grilled pizza! And Truff Hot Sauce – is sure to be the ultimate topper for your Chicken wings!
1. Wine-Bottle Stopper: by far, the best $2 you will ever spend. Keep your wine fresh with an airtight seal.
2. Star Wars™ Ice Mold: whether you are buying for a fun treat for the kids or for the kids at heart, this Star Wars ice mold is too cute to pass up!
3. White Truffle Pizza Oil: elevate your pizza to luxurious new levels—just a drizzle of the tantalizing truffle oil is all it takes, YES, please!
4. Williams Sonoma Perfect Egg Timer: this timer uses temperature instead of time to gauge whether an egg is soft-boiled, medium-boiled or hard-boiled. The tool absorbs heat exactly as an egg does, changing color from the outside edge to the center to display the level of doneness.
5. True Comfort – by Kristin Cavallari: Kristin shares 139 of her favorite recipes for healthy, natural, wholesome comfort food in this essential cookbook.
6. White Marble Divided Salt Cellar: it features a divided interior that can hold pepper and salt separately. The simple design highlights the beauty of the durable stone and makes this kitchen essential an ideal gift for a host.
7. Open Kitchen by Williams Sonoma Champagne Stopper: is designed to preserve the signature bubbles in champagnes and sparkling wines, the sturdy stainless-steel stopper has an airtight silicone seal that keeps the festive fizz inside an opened bottle.
8. Clear Glass Straws: designed with a bent tip for easy sipping, they offer an elegant and reusable alternative to plastic.
9. Chef'n Cob Corn Stripper: keep the mess at bay. Easily removing the corn from the cob in one quick twisting/pushing motion.
10. Aerolatte Handheld Milk Frother: count on this convenient handheld tool to whip up rich, creamy froth for your favorite beverages.
11. Peak Sphere Ice Tray: allows you to craft mixologist-quality ice at home. This tray creates four seamless ice spheres that not only look cool fabulous in a glass or punch bowl.
12. TRUFF Hot Sauce 2-Pack Bundle: flavor and spice meet prestige and charisma in this delightful balance captured in a bottle.
Must-Have Stocking Stuffers Under $35

There you have it. Your ultimate Ultimate Gift Guide for the home chef filled with kitchen appliances & tools, kitchen gadgets, and last but not least unique gifts Under $35! These gifts are sure to make not only the home chef super happy but are perfect for your grilling spouse or super fun hostess gifts!