Check out our Top 10 Quinoa Recipes – everything from quinoa chili to easy quinoa salad recipes. You're sure to find a dinner favorite! It's a great healthy way to use up that quinoa sitting in your pantry!
My Favorite Easy Quinoa Recipes
Quinoa has always been a pantry staple for me. Recently, I bought a huge storage jar at The Container Store and usually have that baby full of quinoa at all times. It's a great source of fiber, protein, magnesium along with lots of other nutrients. And it's a great "filler" ingredient to make your meal stretch longer than it normally would, so that it feeds more people or leaves you with yummy leftovers.
What is quinoa?
Quinoa is a seed, not a grain. Which means it's also gluten free!
How do you cook 1 cup of quinoa?
I have definitely cooked my fair share of quinoa. I've found the best way to cook quinoa so that you're left with a fluffy end product requires a little bit of babysitting.
Add 1 cup of dry quinoa and 2 cups of water to a small saucepan. Stir the quinoa so that it's all coated in the water and absorbs.
Bring the water to a boil, uncovered. (this is the babysitting part, you don't want it to boil too long)
Once the water is boiling, reduce the heat to the absolute lowest it can go. A slow simmer. Let the quinoa simmer for 15 minutes, covered.
After 15 minutes, check to make sure the water is evaporated. If it is, then immediately fluff with a fork.
How do you make quinoa recipes taste good?
There are a few tricks I use when I'm making a quinoa recipe and I want it to taste bomb! It doesn't take a lot, just a few simple swaps and your perfect!
You can cook the quinoa in chicken broth instead of water for added flavor.
Throw a whole garlic clove into the saucepan when cooking the quinoa.
Toast the quinoa ahead of time for a more nutty flavor.
Finish with olive oil, fresh lemon juice and fresh herbs.
And now, on to my favorite Easy Quinoa Recipes…
One Pot Quinoa Stuffed Pepper Casserole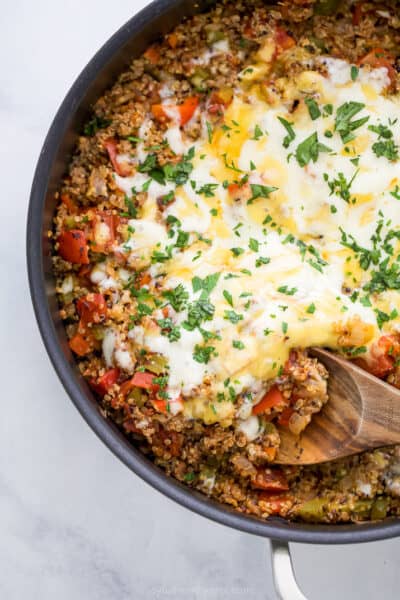 One pot is always a winner in my book, you're going to LOVE this Easy One Pot Quinoa Stuffed Pepper Casserole! It's done in 30 minutes and has all the flavors of a classic stuffed pepper recipe. Made with quinoa, ground beef, peppers, Italian spices, fire roasted tomatoes and topped with cheese.
Crunchy Thai Quinoa Salad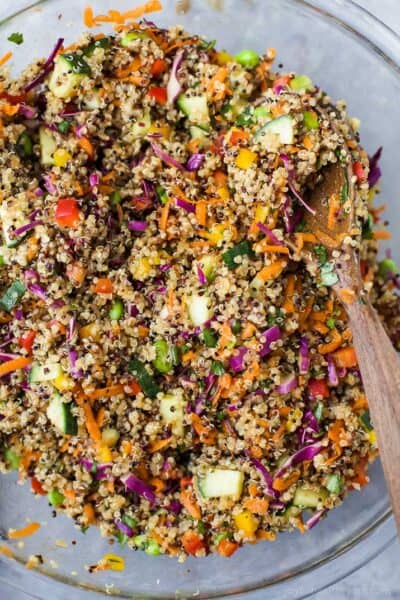 This Crunchy Thai Quinoa Salad is one of my favorite quinoa recipes in the summer! It's loaded with fresh veggies then tossed with a Light Sesame Dressing. Guaranteed to become a favorite around your house!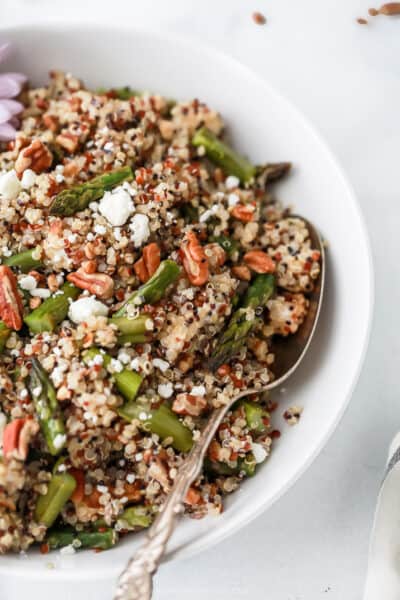 Healthy Goat Cheese Asparagus Quinoa Salad – another tasty quinoa recipe to add to your menu! Hearty quinoa tossed with roasted asparagus, garlic and creamy goat cheese. This quick easy salad is perfect for a simple lunch or side dish.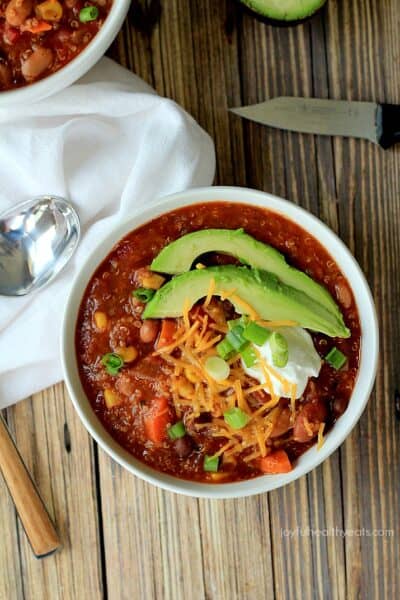 This Crock Pot Quinoa Vegetarian Chili is a hearty & delicious chili cooked to perfection in the crock pot. This savory soup is the perfect comfort food during a time when comfort is needed!! Plus all you have to do is throw everything in the crock pot!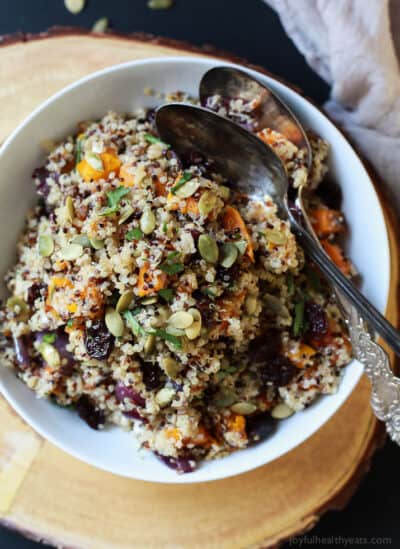 Another one of my favorite quinoa recipes! Roasted Butternut Squash Quinoa Salad – this dish is creamy and has a surprise spice that makes it pop with flavor. If you don't have butternut squash just sub with sweet potatoes, but you have to make this dish!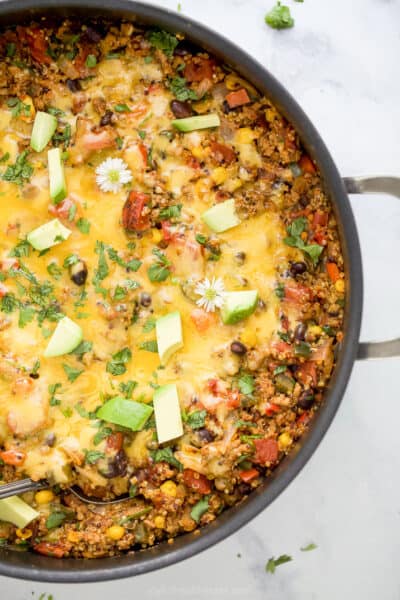 This Healthy One Pan Cheesy Quinoa Taco Skillet is an easy quinoa recipe that's done in 30 minutes! A quick dinner idea filled with turkey, quinoa, black beans, corn, tomatoes and Mexican spices cooked in one skillet and topped with cheese! This delicious gluten free dinner will be your family's new favorite weeknight meal!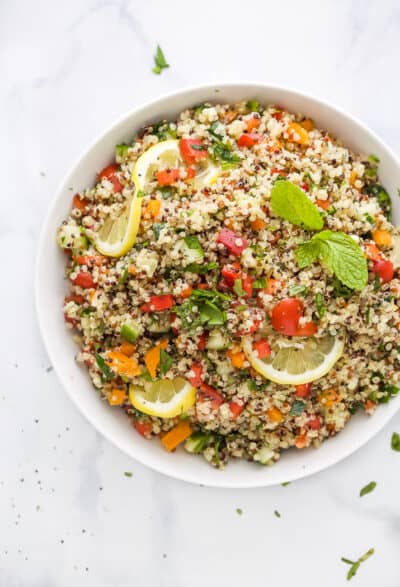 Need something light and refreshing? This 20 minute Quinoa Tabbouleh Salad will be your jam! An easy salad recipe that's filled with fresh herbs, vegetables, hearty quinoa and lemon juice.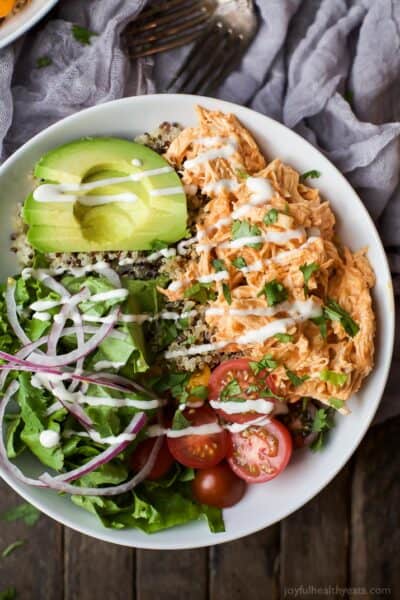 Now this quinoa recipe is my husbands favorite – Buffalo Chicken Quinoa Bowls. Served on a bed of quinoa each one is topped with a shredded buffalo chicken mixture, avocado, tomato and ranch!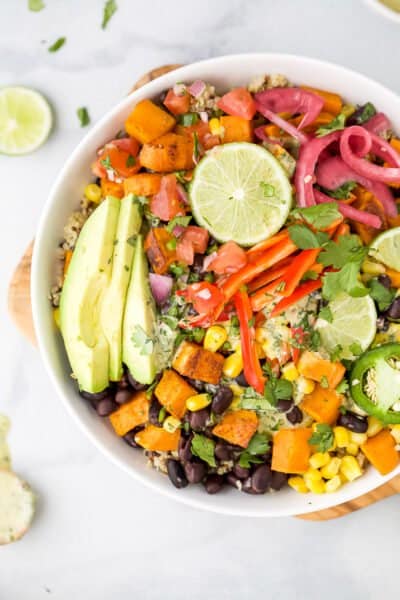 In the mood for tex-mex? Sweet Potato Black Bean Quinoa Bowl drizzled with a zesty Cilantro Lime Crema. This fresh vegetarian meal is filled with roasted sweet potatoes, black beans, quinoa, roasted red peppers and corn. Perfect for a quick dinner recipe!
If all else fails, top it with grilled steak! Easy Mediterranean Steak & Quinoa Bowls filled with juicy tender steak, crisp vegetables, grains and a creamy tzatziki sauce. A balanced meal that's light, quick and loaded with greek flavor. These quinoa bowls are a dinner your family will love!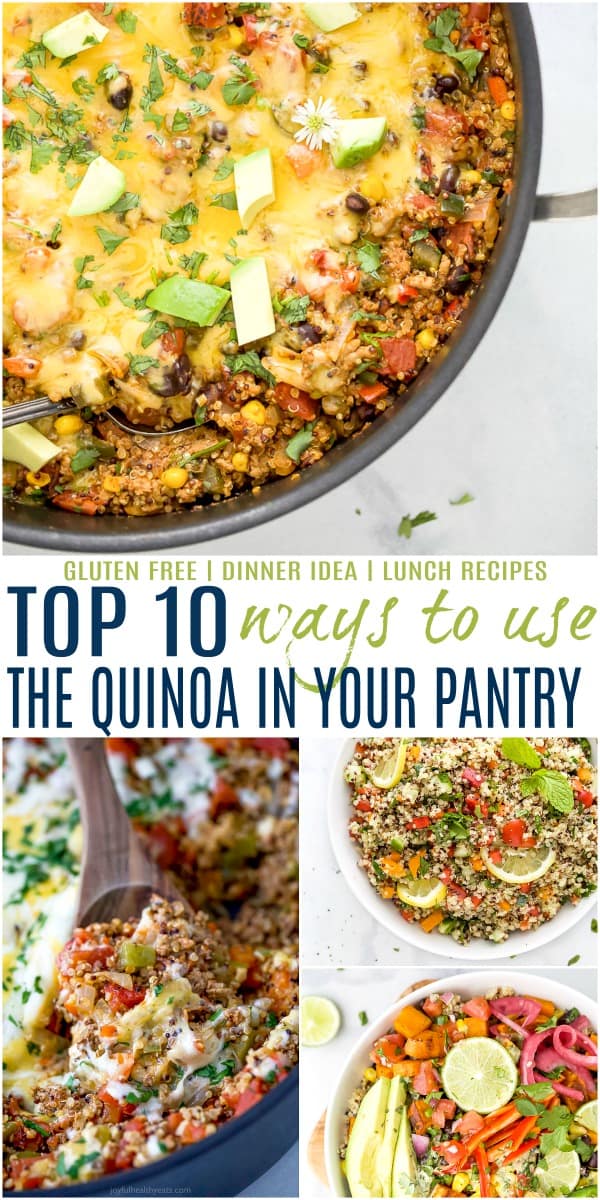 DON'T MISS A RECIPE ->