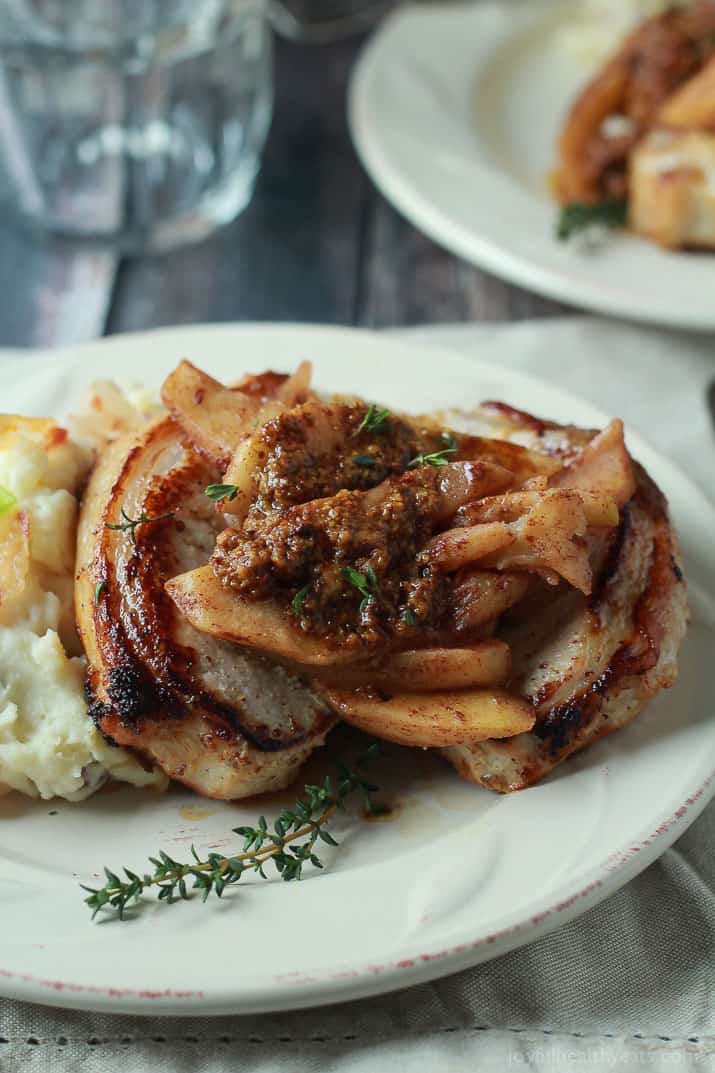 The BEST way to cook pork and this Mustard Crusted Pork Chops with Bourbon Glazed Apples, your day just got better. The flavor combination for this is out of this world fantastic. Restaurant quality for sure!
Have ever had one of those terrible, horrible, no good, very bad days?
I feel like most of the time when I have one of "those days" it starts off with me being kicked and punched in the head at 3am by my wonderful son (who doesn't like to sleep in his bed so comes and joins mommy & daddy in their bed EVERY night around 2am)
When you are abruptly woken up like that … it's never a good start to a day.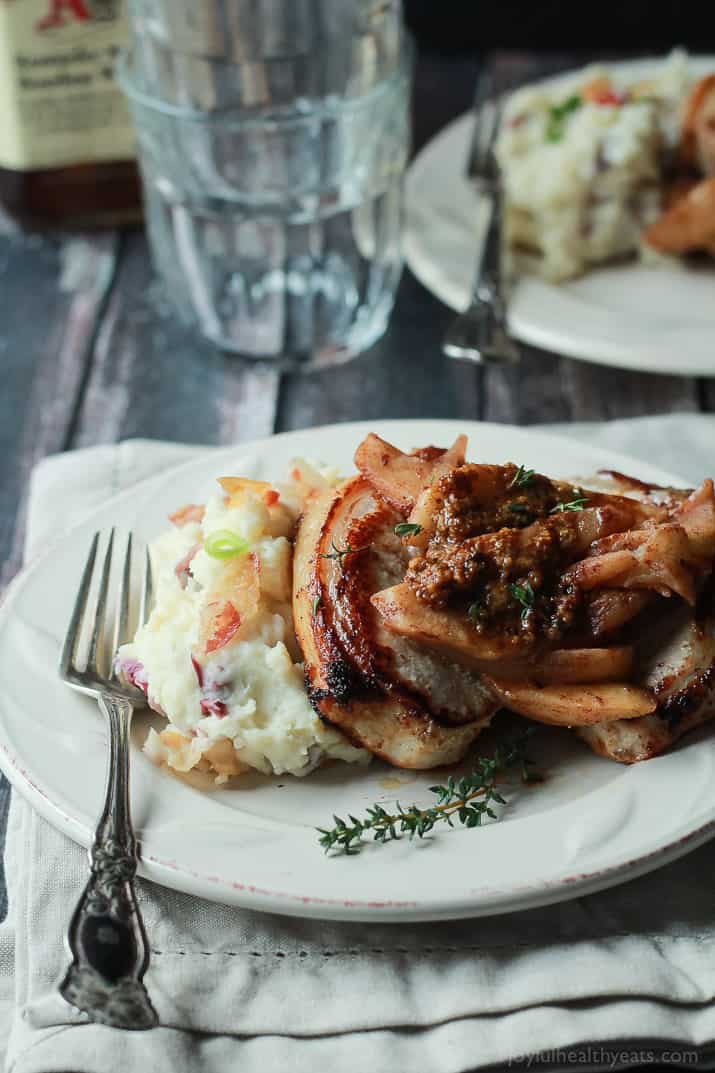 Then off course, my cute little son decided to wake up early to play and was ready to go. NoW! So I felt smacking on my head.. "Mommy you get up and play. Mommy get up" (yank on the arm) "Mommy you come out here with me. Mommy I have fruit snacks?"
So I pulled myself out of our comfy tempurpedic bed, put on "paw patrol", got little man his morning drink and banana and crawled back in bed to TRY and catch 30 more minutes of shut eye.
Nope.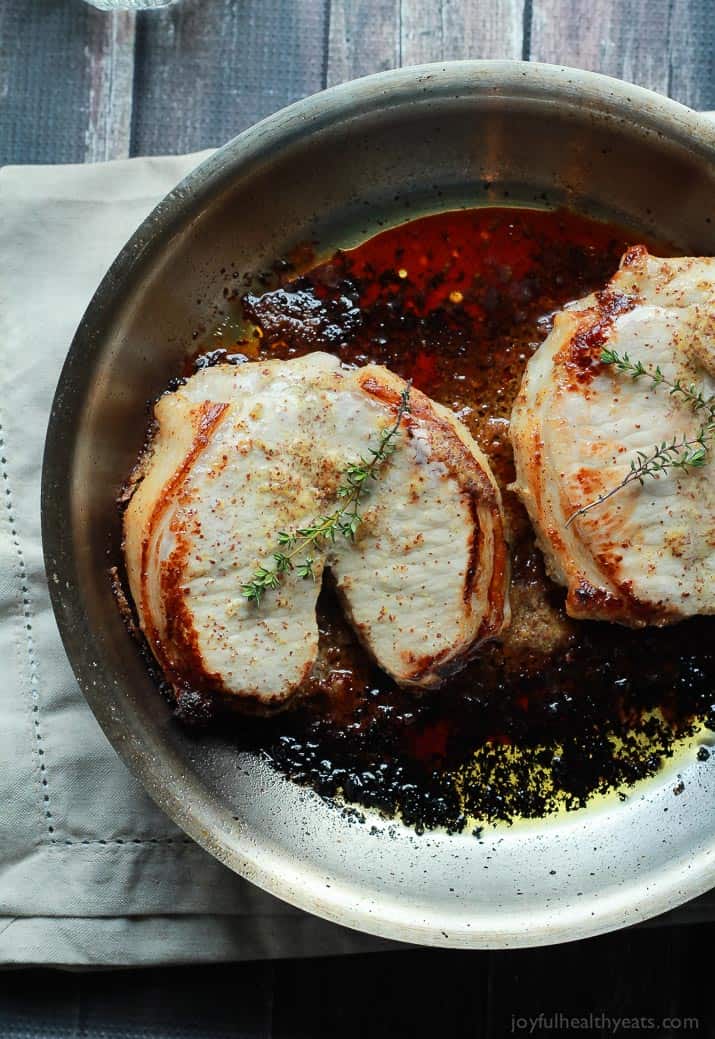 All of a sudden I heard a crunchy bag outside my room, I got up and Cason looked at me and said "I want chips mommy." Ugh… (as you can probably tell, I'm not a morning person.)
I got up, sat down on the couch and tried to put together my grocery list. In between being jumped on and my list getting knocked out of my hands. When I finally finished we packed up and headed out. First stop haircut for little man, second stop Target for diapers (because my child refuses to be interested in sitting on the potty), third stop grocery store (didn't find everything I needed .. ugh), fourth stop Bed Bath, and & Beyond to find a 6″ round cake pan – nothing, fifth stop World Market – no cake pan.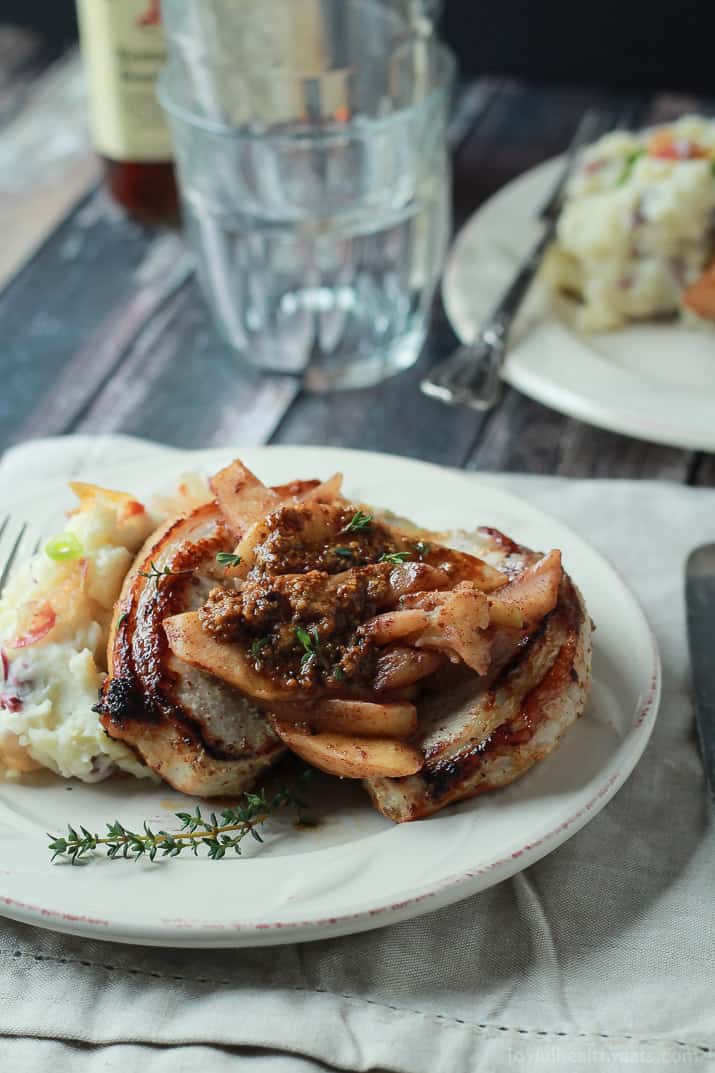 On a side note, anything more than three stops with a toddler can be exhausting. In and out of the carseat, in and out of the store cart, and telling them "no touch rule" every two seconds. (sigh) Needless to say when we got home I just wanted to eat lunch and crash.
And we did, until Cason decided he didn't want to eat again. I had to fight to give him dinner the night before, fight to give him breakfast, and now (again) I had to fight to give him lunch. I gave him an ultimatum, eat lunch or its nap time. He choose nap time. As I put him in bed I asked him one more time, are you sure you want to go to sleep instead of eat lunch? "Yes, I sleep."
Thirty minutes later I heard ear renching screams, "I no want to sleep mommy. I no want to sleep." So I walked in there calmed him down …. and had to do that every 15 minutes after for a hour and a half. Annoyed, yes! Get much work done, no!
To finish off my terrible, horrible, no good, very bad day I decided to inflict pain on my body and get a brazilian wax. Ouch is right! May be worse than childbirth… its debatable! I know, I'm so smart and a glutton for punishment.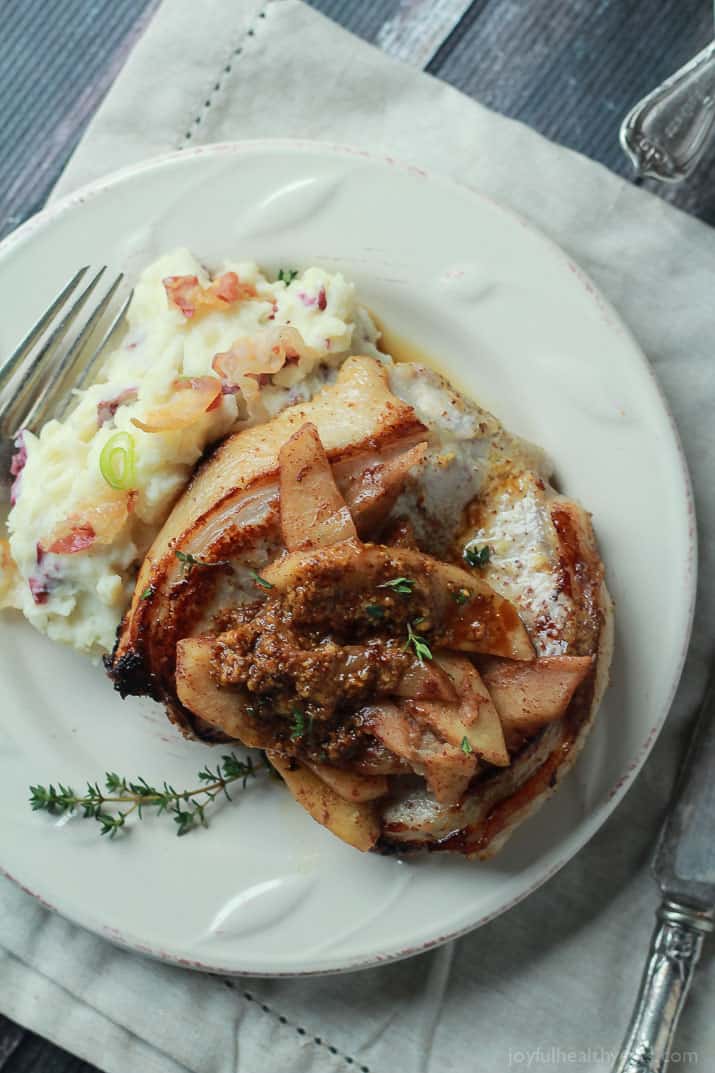 The only good thing about today was that I finished it off with a homemade Strawberry Jalapeno Sangria Recipe (coming to a blog near you next week :)) AND these awesome Mustard Crusted Pork Chops with Bourbon Glazed Apples.
Bourbon Glazed anything and your day is immediately looking better so you know this one is a winner.
When I was dreaming up this recipe the Mustard Crust was no where on my radar and then randomly I thought of this dish I had at one of my favorite restaurants and the recipe was formed.
Be sure to get a whole grain mustard and not a dijon, you want the big mustard seeds visible in the mustard so that they stick and make a nice crust on the outside of your pork chops. The combo from the tangy mustard crust, juicy pork chops, and the sweet spicy bourbon glazed apples – ya'll it will take you to flavor town and back OMG!
I don't even like pork, in fact I think this is the very first time I have made it at home, but again, one of my challenges this year was to "expand my horizons" with the things I make and boy am I glad I did. Outcome = Mustard Crusted Pork Chops with Bourbon Glazed Apples. Can I get an AMEN!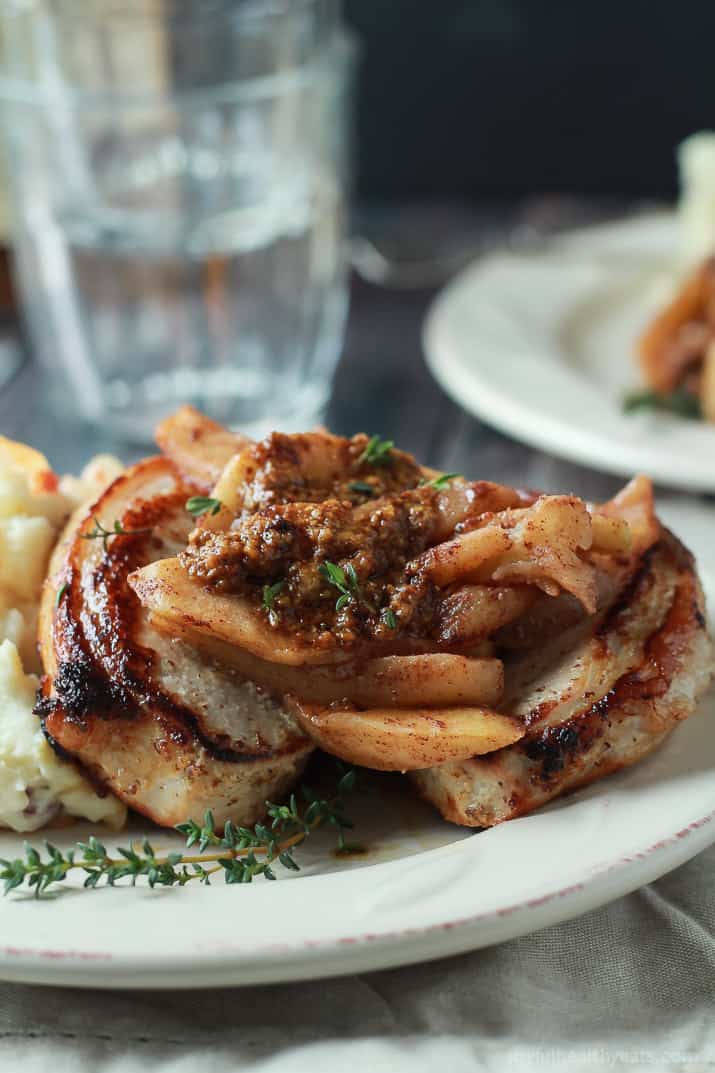 Print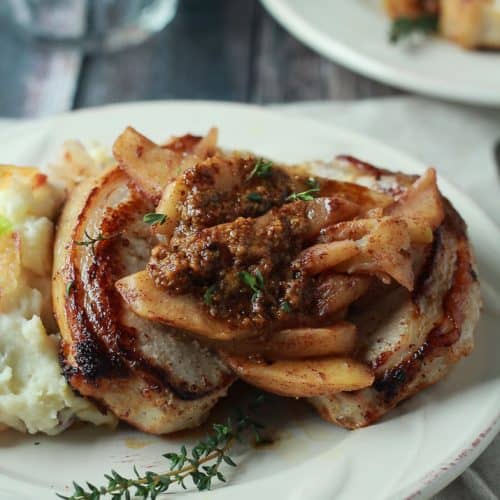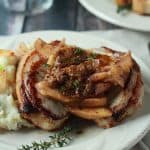 Mustard Crusted Pork Chops with Bourbon Glazed Apples
Author:

Prep Time:

15 mins

Cook Time:

20 mins

Total Time:

35 mins

Yield:

4

pork chops

1

x
Category:

Pork, Holiday
---
Scale
Ingredients
Mustard Crusted Pork Chops
1 tablespoon

of apple cider vinegar

1/2 cup

of whole grain mustard

1 teaspoon

of ground mustard
salt & pepper

2 tablespoons

of grapeseed oil

4

boneless pork chops
Bourbon Glazed Apples:
2 tablespoons

of butter

2

granny smith apples, peeled and thinly sliced

1/2 teaspoon

of ground cinnamon

1/4 teaspoon

of ground allspice
pinch of salt

3 tablespoons

of bourbon
Instructions
For Mustard Crusted Pork Chops:
In a small bowl, mix together whole grain mustard, ground mustard, apple cider vinegar, salt & pepper.
Pat dry pork chops, rub mustard mix on both sides of pork chops. Cover and place in refrigerator for 10-15 minutes to let mustard coat pork chops.
Preheat oven to 350.
Heat a large oven safe skillet to medium high heat, add 2 tablespoons of grapeseed oil and place porks chops in skillet. Sear each side of the pork chops for 2 minutes (make sure it is really hot or it will not seal all the flavors in – you want a nice golden brown color on each side)
Once you sear each side, place the skillet into the oven and cook for 15 minutes. (until internal temp is 150 degrees – for medium)
Remove from oven and let sit.
For Bourbon Glazed Apples:
Heat medium sized skillet to medium high heat, add butter and apples to pan.
Saute apples for 5-7 minutes, until they start to get tender. Add in ground cinnamon, ground allspice, and pinch of salt. Stir and saute another minute.
Add in bourbon, cook down bourbon for 1-2 minutes until the liquid has disappeared and soaked into apples.
Serve pork chops with bourbon glazed apples on top.
IF YOU MAKE THIS RECIPE, BE SURE TO SNAP A PIC AND HASHTAG IT

#JOYFULHEALTHYEATS

. I LOVE SEEING WHAT YOU MAKE!
Want More Savory Recipes?
Chili Rubbed Flank Steak with Chimichurri on Parsnip Puree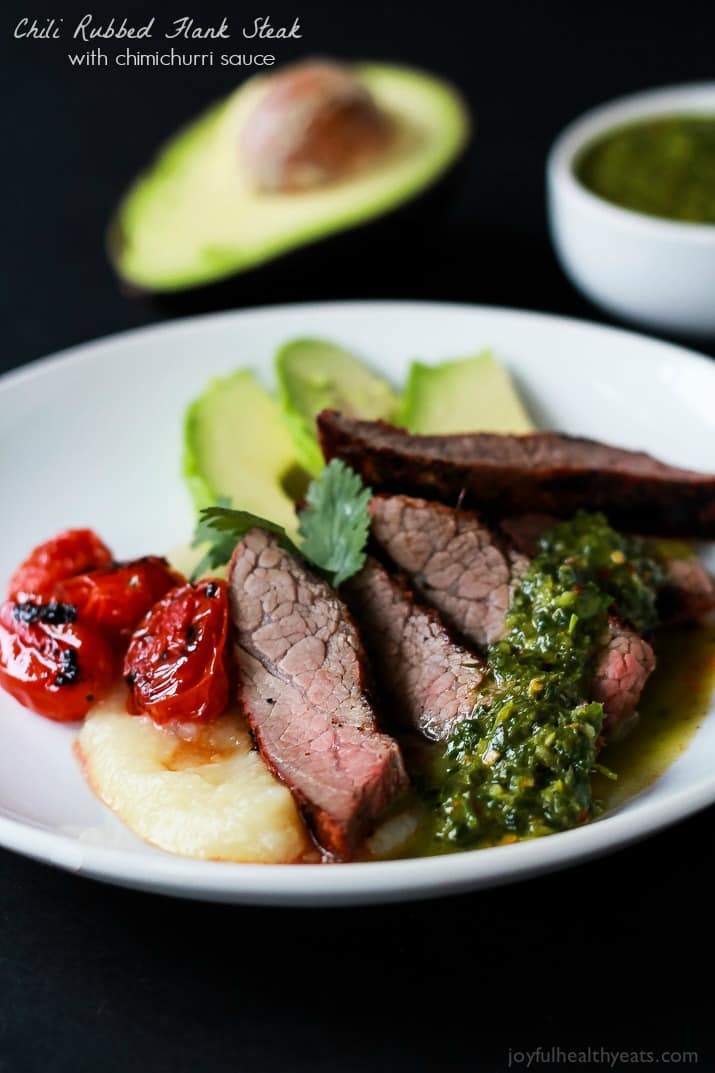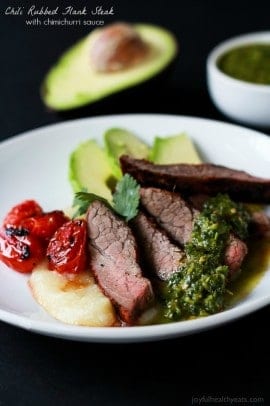 Pan Seared Chicken with Wild Mushroom Thyme Sauce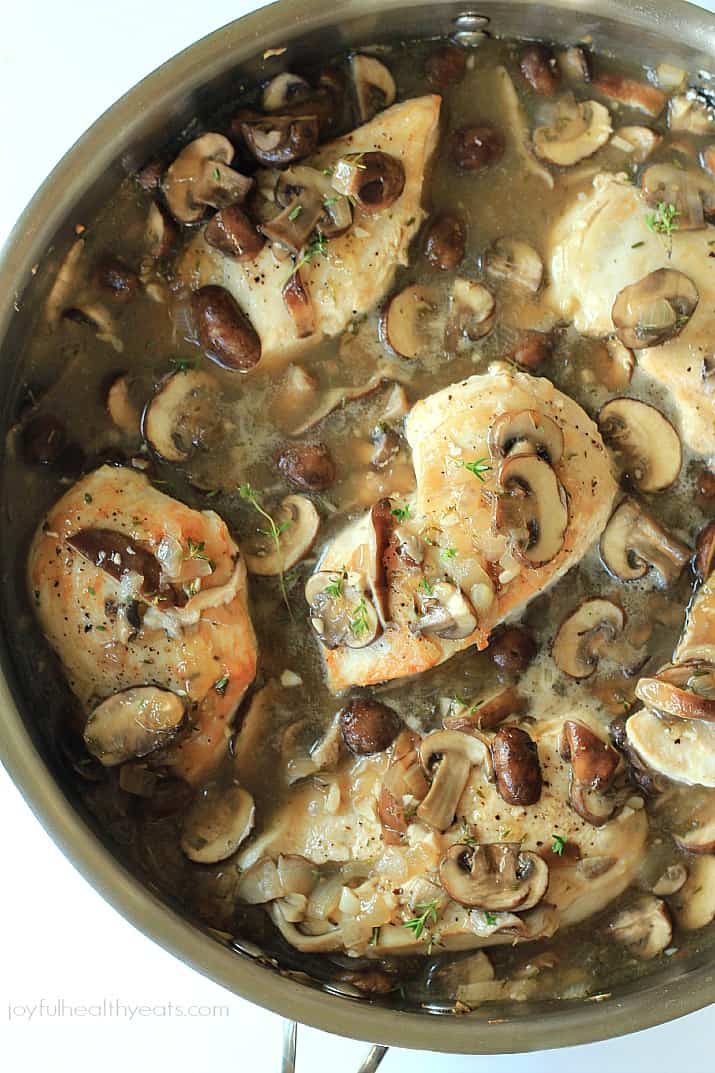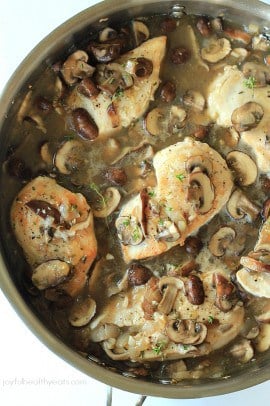 Garlic Herb Roasted Shrimp with Homemade Cocktail Sauce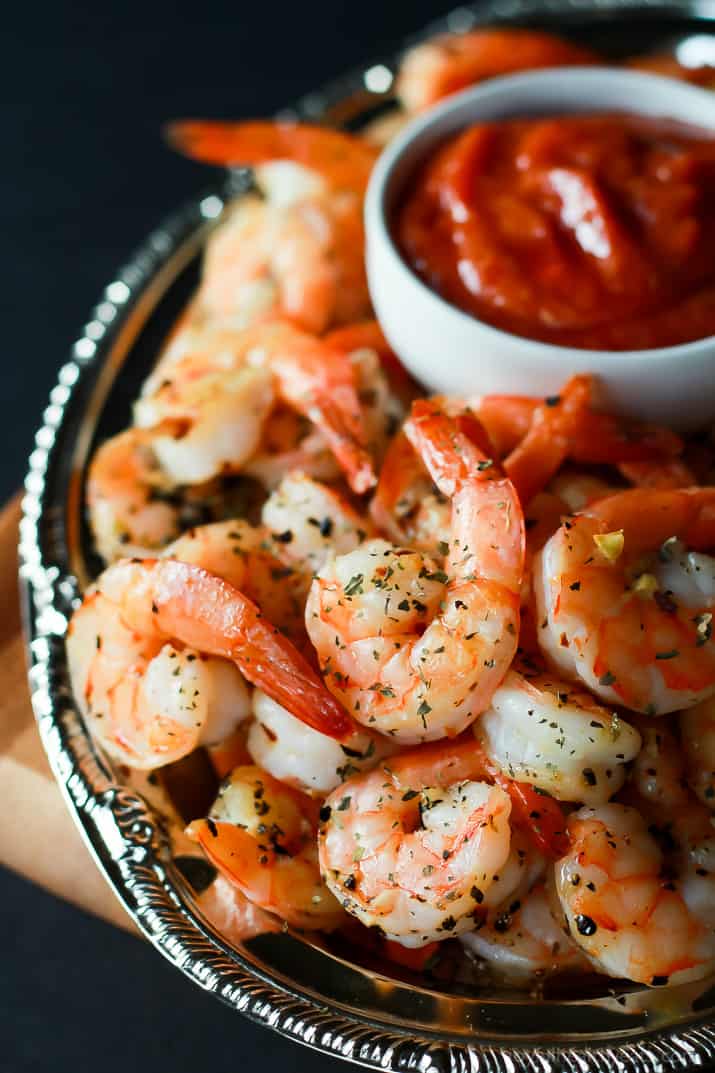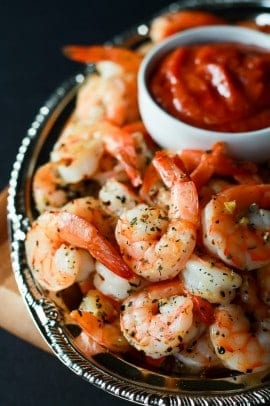 DON'T MISS A RECIPE! FOLLOW US ON ->