A Light and Fluffy Pancake Recipe topped with homemade Strawberry Compote and Vanilla Mascarpone Cheese. These easy pancakes are perfect for Valentines Day, a brunch or Saturday morning breakfast.
Looking for more Breakfast Recipes? Try out my Egg White Vegetable Breakfast Casserole or my Creamy Strawberry Chia Pudding Recipe.
This post is sponsored by Bob's Red Mill. All opinions and statements are 100% mine. Thank you for supporting Joyful Healthy Eats.
Light & Fluffy Pancake Recipe
Breakfast in bed on Valentines Day? Um, yes please! I just need you to watch the kids for me so I can actually enjoy breakfast in bed. Mkay!?
I feel like the days of breakfast in bed are now gone, unless I'm on vacation. Most days I'm jumped on or smacked in the head with a book. But pancakes in the morning, I will always say yes to that and so will the kids! Since we are coming on up Valentines Day I thought I jazz my pancakes up a bit, give them a pop of red with a sprinkle of "oohh that's fancy."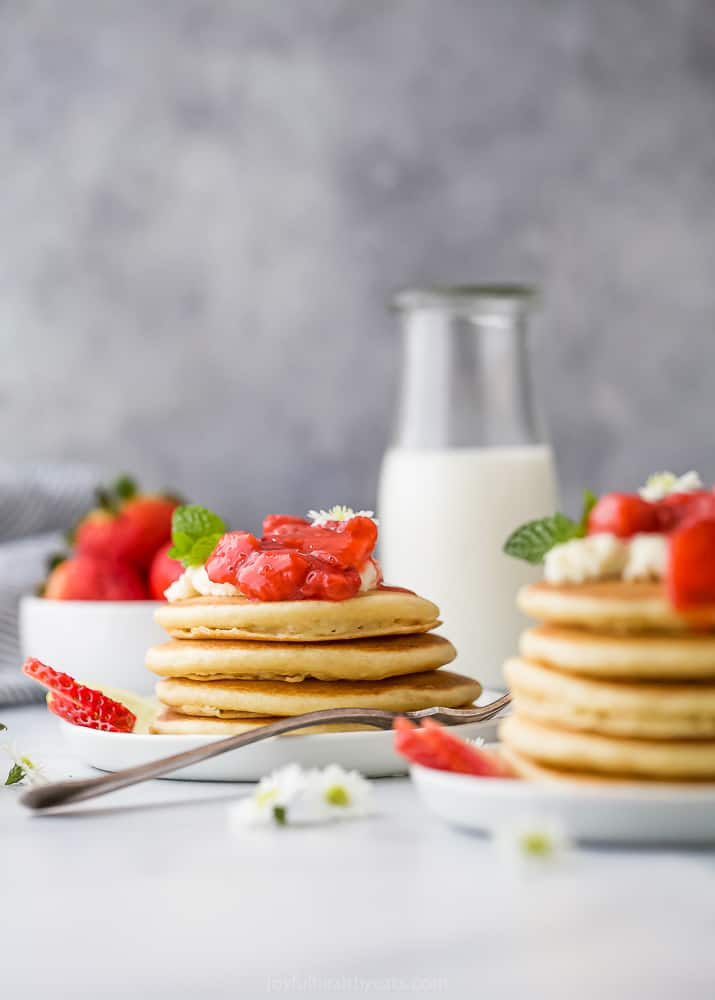 My idea of the perfect Pancake:
Light and fluffy, not dense and thick. Texture is everything!
For me, a pancake NEEDS to have flavor to it. I don't want it tasting like flour. Blah. Anything can taste good if it's drowning in maple syrup, a good pancake has flavor already added to the batter.
If you want to make your pancakes from scratch, I have an awesome Blueberry Pancake Recipe.
But, if you want to take the easy button while also making sure that the flavor is there you need to start with a quality product and I highly recommend Bob's Red Mill Homestyle Pancake & Waffle Mix. Their products can be found in almost any grocery store. They offer one of the largest lines of organic, whole grain foods in the country. Like honestly, most of the time Bob's Red Mill has their own section at down the baking aisle. It's crazy! All of their products are certified Kosher and made with ingredients grown from non-GMO seeds. For over three decades, Bob has been committed to providing people everywhere with the best quality foods available and helping their customers live a life through better nutrition.
All that to say, if you're going to use a pre-made pancake or waffle mix. Start with quality and minimally-processed products from the mill to your table!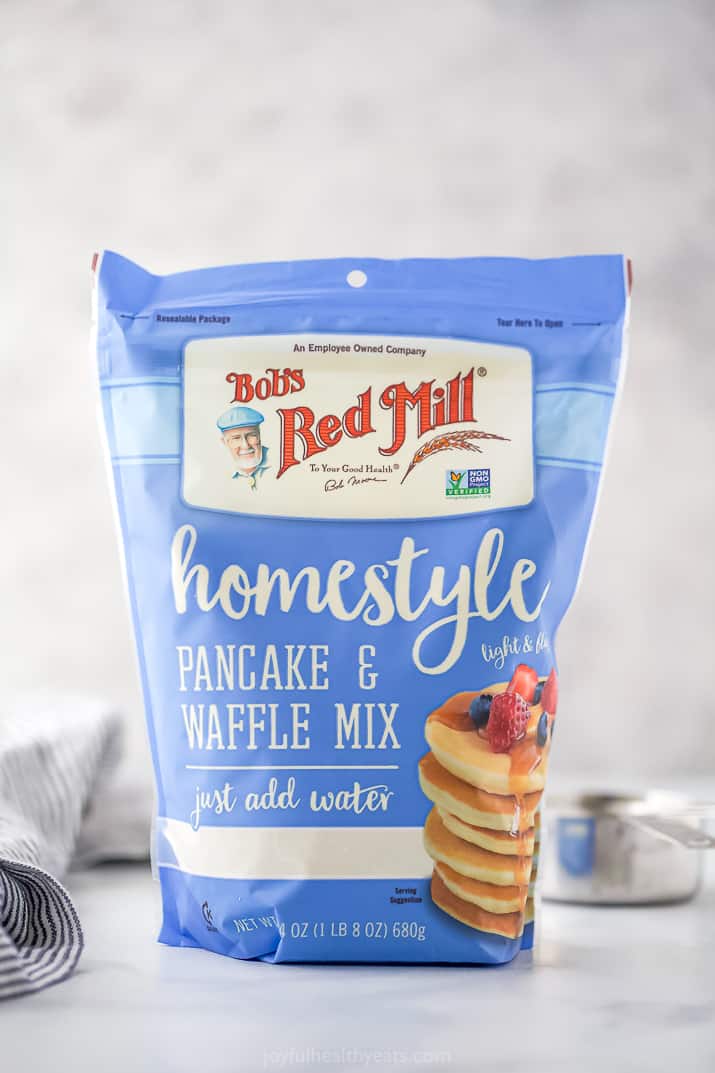 What makes pancakes light & fluffy?
Pancakes get fluffy when the baking soda or baking powder react with the salt and gluten in the batter, it creates bubbles in the pancake mix when stirring and when your cooking them on the stove. This leads to light and fluffy pancakes.
Can you add water instead of milk to pancake mix?
You can. Most of the time pancake mixes that call for you to add water, also have a non-fat powdered milk in the mix. Which is why technically all you need is water for the milk. However, if you want to make them richer in flavor or more moist you can use milk.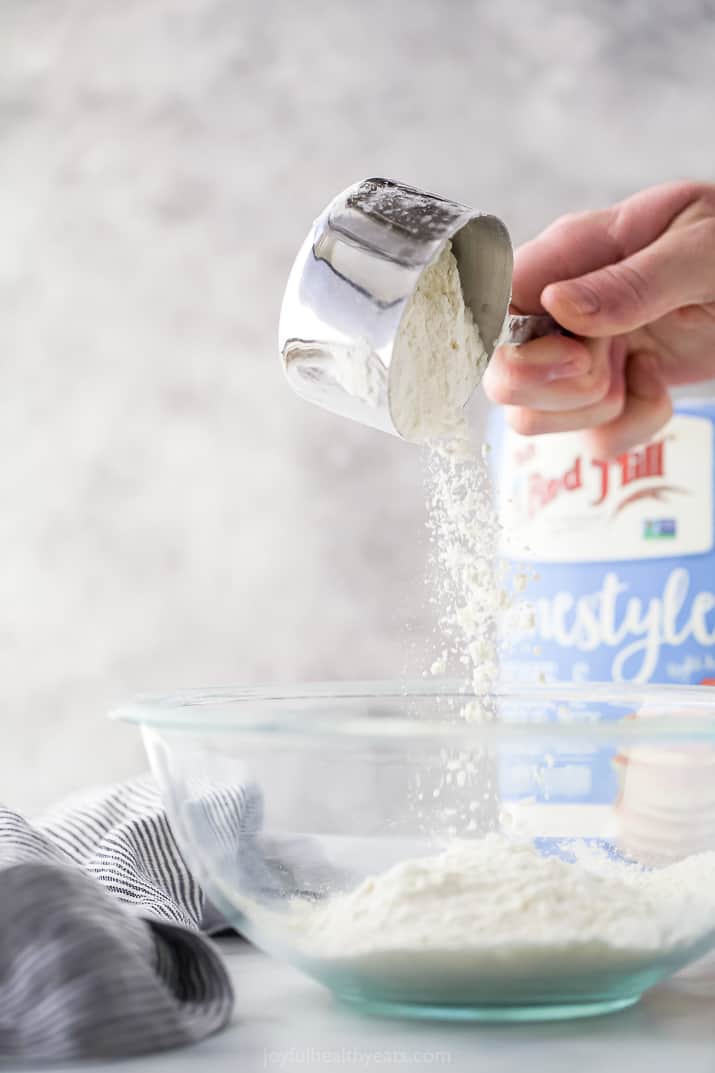 Are pancakes better with milk or water?
Trust me. Don't just add water. If you want to add water, add sparkling water or soda water. The carbonation will give you super light and fluffy pancakes. Adding milk instead of water will give you richer tasting pancakes that will also still be light and tender. Adding buttermilk really gives it that extra punch of flavor.
Should you let pancake batter rest?
Actually yes. I like to let my batter rest for 3-5 minutes before cooking them. It's basically enough time to let the griddle get hot. While the batter to rests the gluten will start to relax and not seize up as soon as it hits the pan, leaving you with nice tender melt in your mouth pancakes!

What are the best toppings for pancakes?
I think this depends on the mood you're in or the flavors your like. Here are some of my favorite toppings:
Peanut Butter – I could do this every day, all day.
Fresh Fruit – You can never go wrong with fresh berries or banana.
Chocolate Chips or Nutella – If you have a sweet tooth like me, then anytime you can add chocolate in some form or fashion is a win.
Strawberry or Berry Compote – Essentially a compote is a fresh fruit simmered in a saucepan with water and a sweetener until it thickens.
Whipped Cream, Cream Cheese or Whipped Mascarpone Cheese – Adding a creamy element on top of your pancakes can sometimes be the thing that takes the flavor over the top.
Bacon – This is perfect for that little bit of salty or savory bite along with that sweet fluffy pancake recipe.
Today's recipe I used a couple of these toppings and made one epic Valentines Day Breakfast. Fluffy Pancakes + a fresh Strawberry Compote + slightly sweet Vanilla Bean Mascarpone Cheese = Oh My Goodness. There's sweet, there's tart, there's creamy .. you could even add some bacon on the side to add that salty combo too! All in all it's divine. My kids devoured it to the last bit of mascarpone, so I know you will too!
Bon Appetit friends!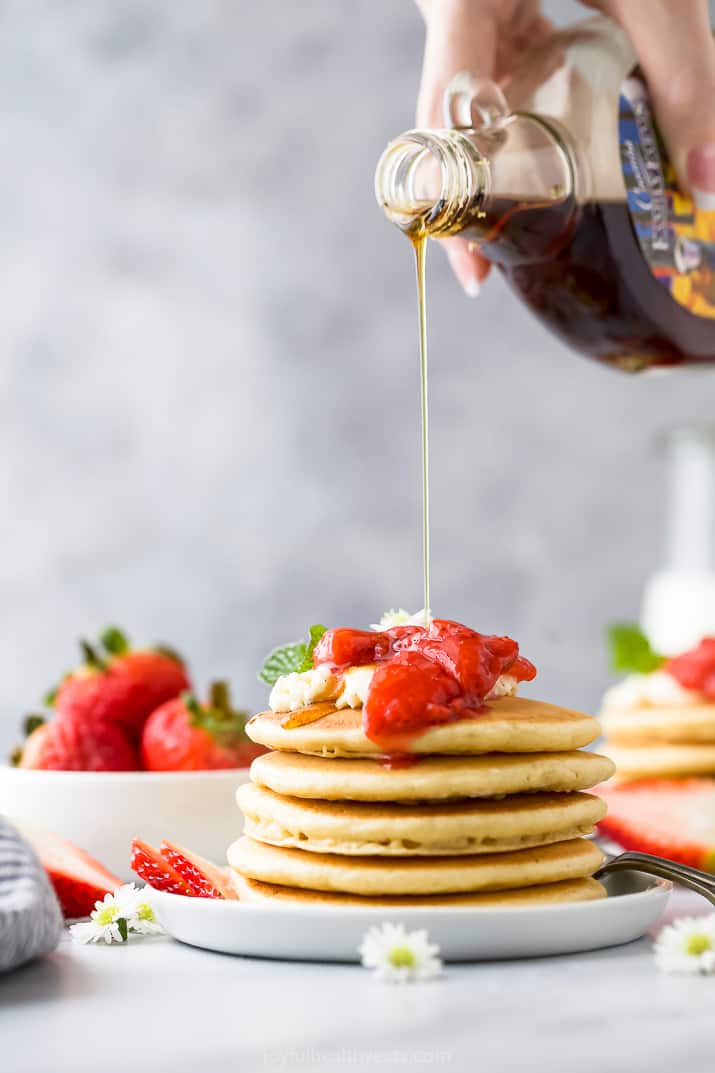 Print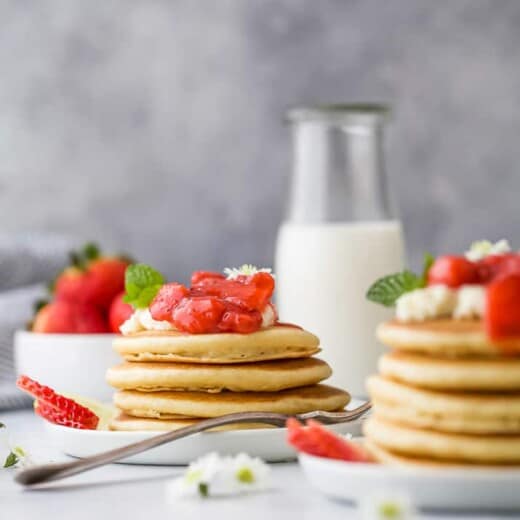 Fluffy Pancakes with Strawberry Compote and Vanilla Mascarpone
Author:

Prep Time:

10 minutes

Cook Time:

15 minutes

Total Time:

25 minutes

Yield:

6

pancakes

1

x

Category:

Breakfast

Method:

Stove

Cuisine:

American
---
Description
A Light and Fluffy Pancake Recipe topped with homemade Strawberry Compote and Vanilla Mascarpone Cheese. These easy pancakes are perfect for Valentines Day, a brunch or Saturday morning breakfast.
---
Strawberry Compote:
2 cups

sliced fresh strawberries

1/2 tablespoon

sugar

1 tablespoon

water

1/2 teaspoon

lemon zest
Vanilla Bean Mascarpone:
8 oz

. mascarpone

1 tablespoon

maple syrup

1 teaspoon

vanilla bean paste
---
Instructions
For Strawberry Compote:
To a small saucepan add fresh strawberries, sugar, water and lemon zest. Bring to a boil and reduce to simmer for 5 minutes until the mixture thickens, stirring throughout. Remove from heat and place in fridge to let mixture cool.
For Vanilla Mascarpone:
To a small bowl add mascarpone cheese, maple syrup and vanilla bean paste. Set aside.
For Fluffy Pancake:
To a medium bowl add Bob's Red Mill Homestyle Pancake & Waffle Mix and water. Whisk together until smooth.
Heat a large griddle to medium high heat. (I like to use nonstick)
Pour 1/4 cup of the mixture onto hot griddle. Cook until bubbly, then flip and cook until the center is cooked 1-2 minutes.
Serve with strawberry compote and mascarpone cheese topping.
Optional: top with maple syrup
---
Keywords: easy breakfast recipe, fluffy pancakes, fluffy pancake recipe, how to make fluffy pancakes, fluffy pancake recipe easy, what makes fluffy pancakes
Filed Under: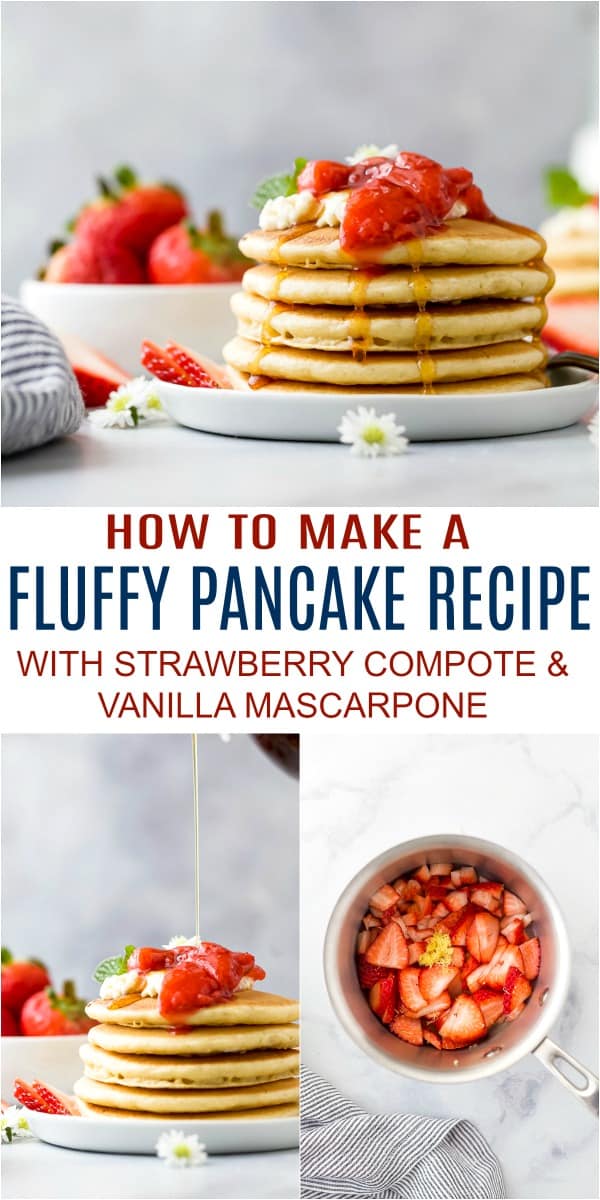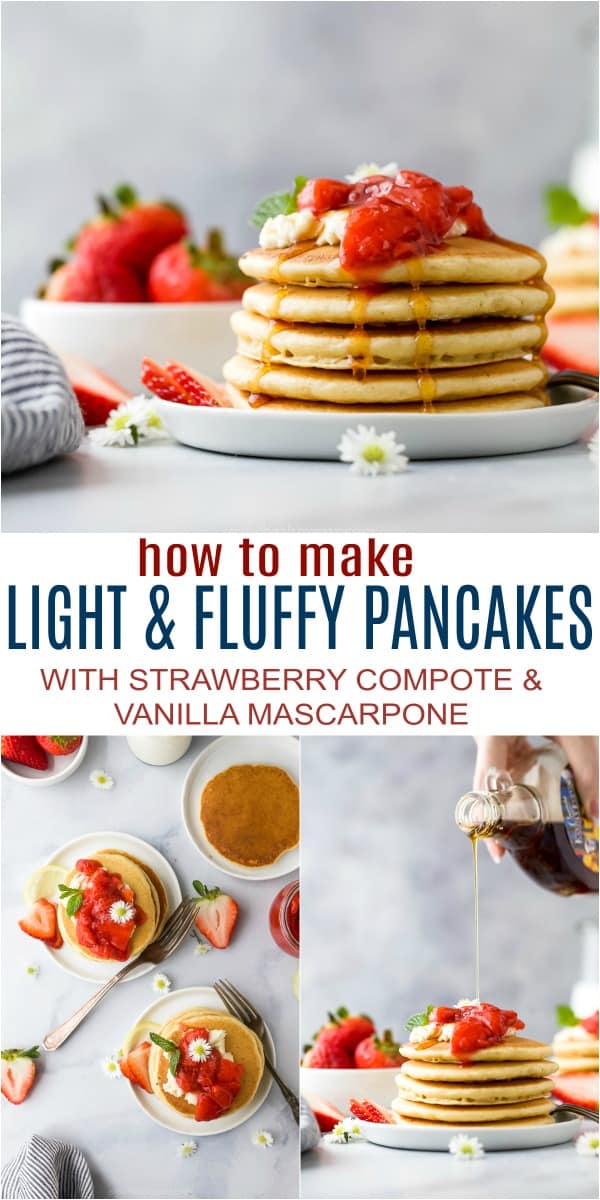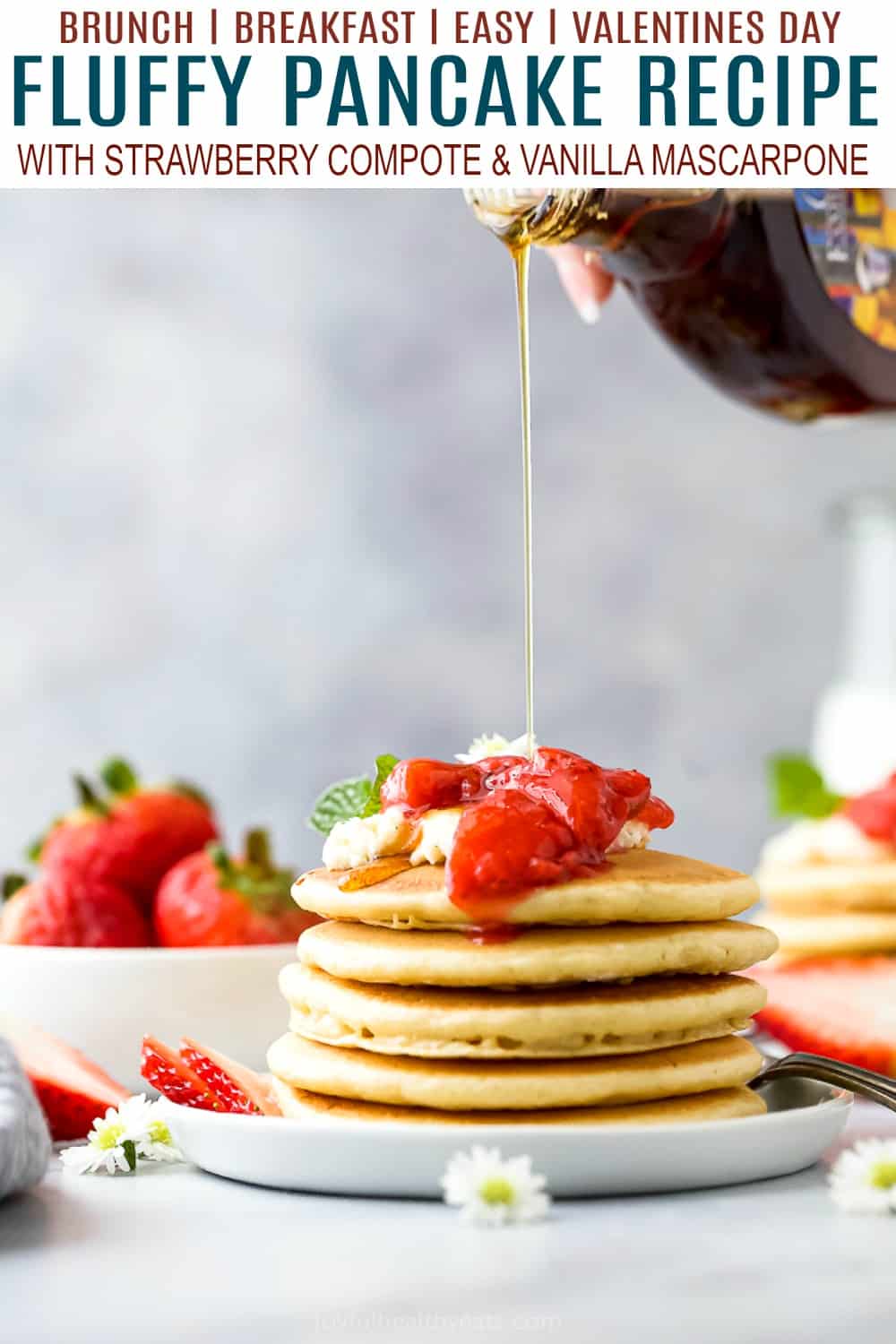 DON'T MISS A RECIPE ->