This Easy Hunan Beef is a recipe you'll be grabbing whenever you're craving Chinese takeout. It's so easy to make and has a ton of nutritious ingredients. It's the healthier choice when it comes to eating Chinese food at home.
If you like stir fry dinners, add my Chicken and Broccoli Stir Fry and Vegetable Stir Fry to your list of recipes to try.
A Quick, Easy Stir-Fry Loaded with Tender Beef and Crisp Veggies
I don't know about you but I love a good stir fry. Stir fry meals come together quickly and you can often use a lot of vegetables and proteins that are just sitting in your fridge. This simple Hunan Beef is a great example. It comes together quickly and with easy-to-find ingredients.
It's packed with iron-rich steak strips and nutritious vegetables. Then, it's tossed in a really basic (but so flavorful!) sauce. The ingredients are healthy and straightforward. It's pretty much a no-fuss meal that will leave you feeling full and satisfied in a good way after eating it. No takeout-induced food comas here!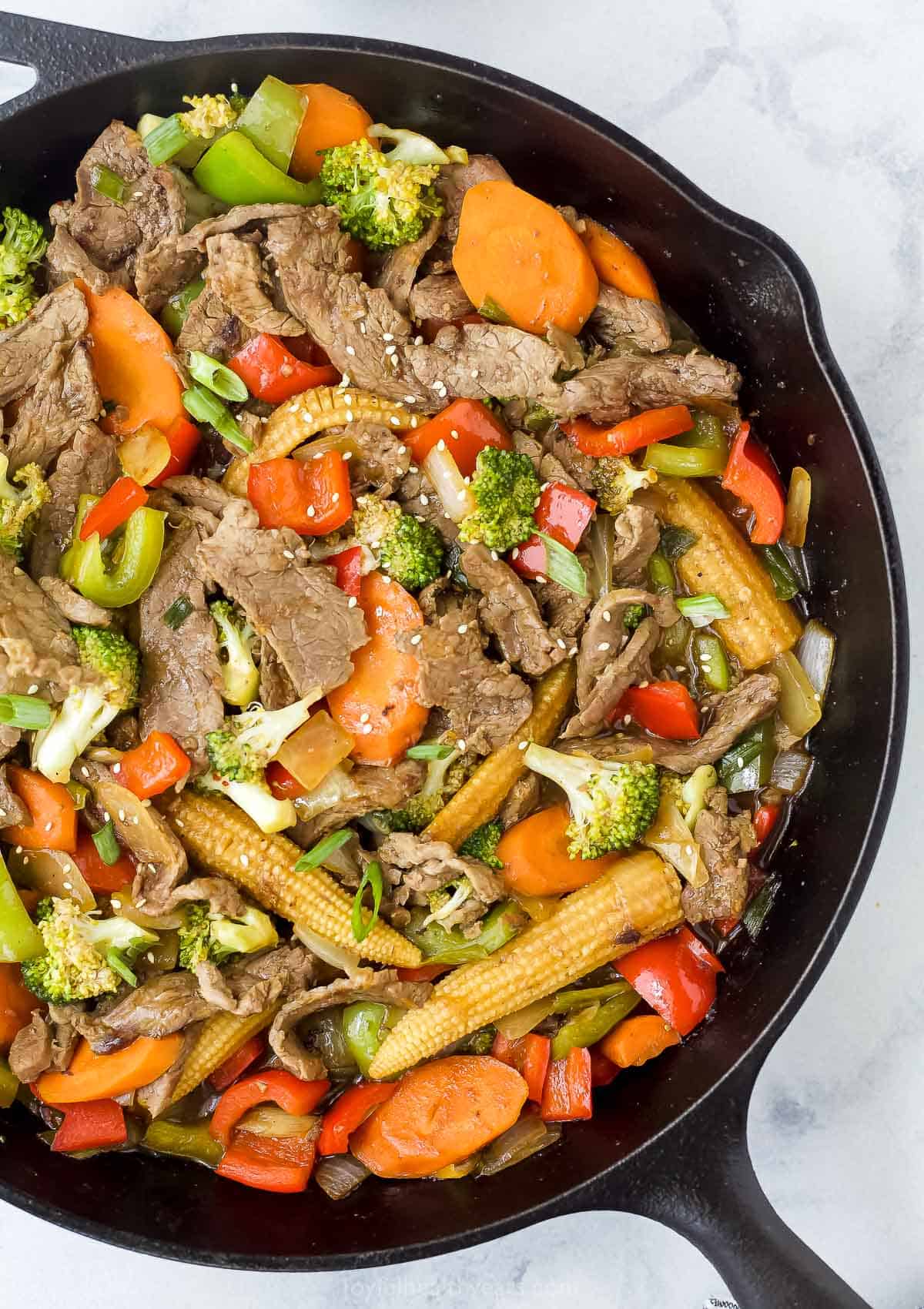 What's the Difference Between Hunan Beef and Szechuan Beef?
Hunan Beef and Szechuan Beef are two very popular Chinese dishes. You might think they are the same thing if you were to compare plates. But they are a bit different, and here's why.
The main difference that you'll notice almost immediately is that Szechuan Beef is sweeter. This dish tends to have a sauce that is more sweet and sour than it is savory. Usually, sweeteners like brown sugar are used. Hunan Beef has a strictly savory flavor and oftentimes, it's pretty spicy.
Some other major differences include the use of the Szechuan pepper. This particular black peppercorn seasons the Szechuan beef in such a particular way that it leaves a tingling sensation in your mouth!
So, basically, if you want spicy and savory, go with Hunan Beef. Go with the Szechuan Beef if you're looking for something sweet and tangy.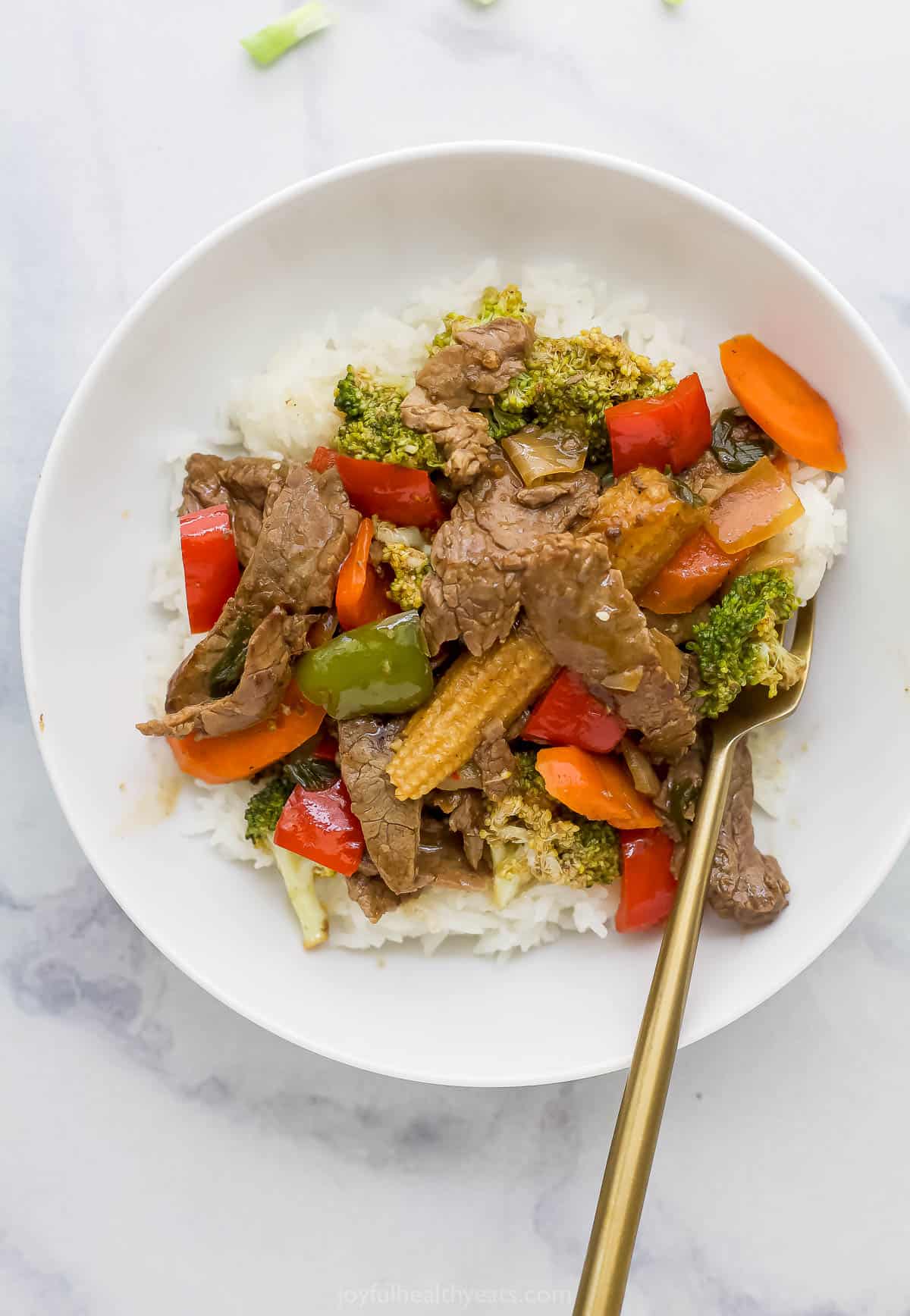 The Ingredients You'll Need
The best part about this easy stir fry recipe is that if you don't already have the ingredients, they are so easy to find! I always seem to have a lot of these vegetables and condiments on hand.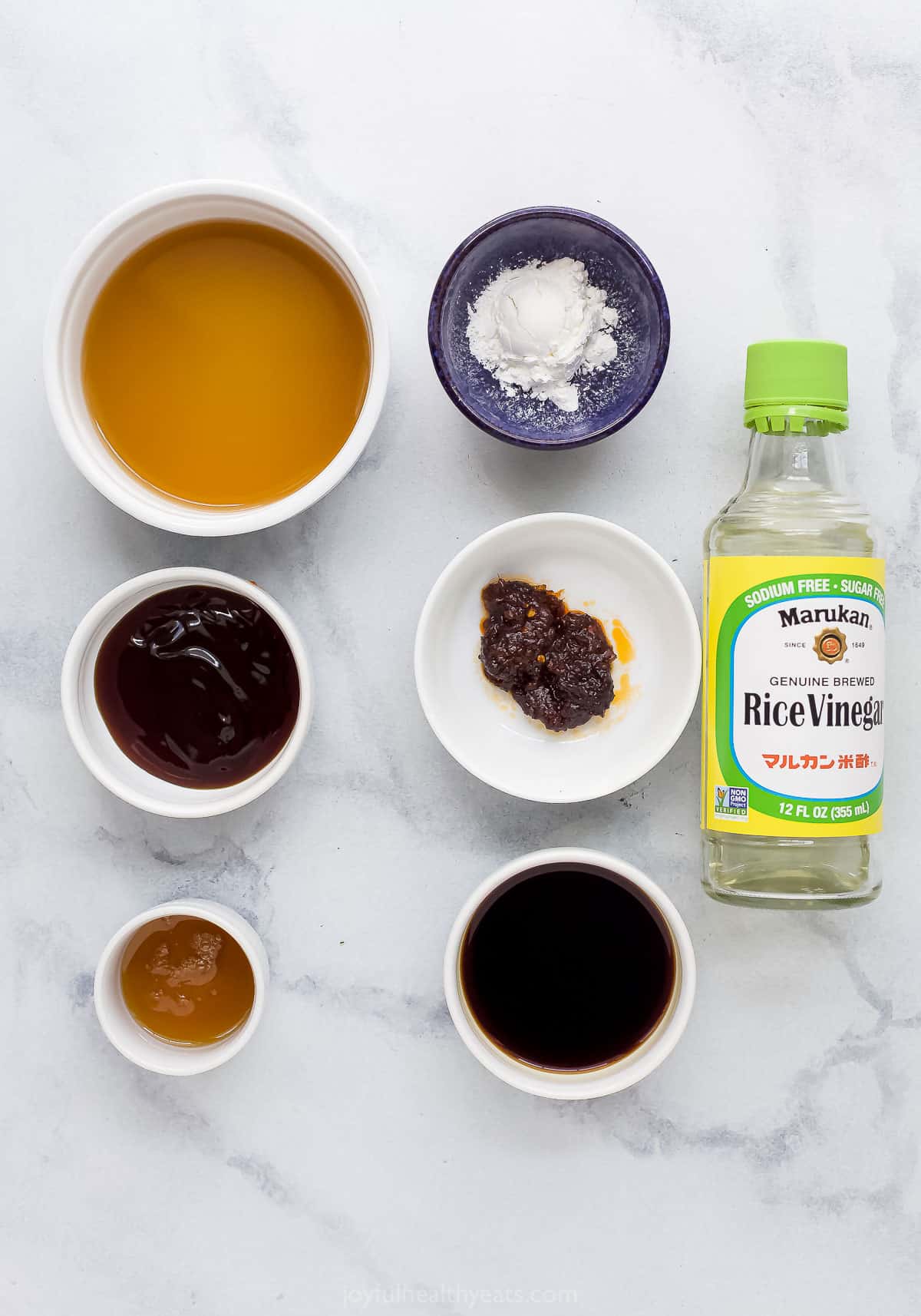 For the Hunan Sauce:
Beef Broth: You could also use vegetable or chicken broth.
Tamari Sauce: Tamari sauce is gluten-free. Soy sauce is also a good option, but it's not gluten-free.
Oyster Sauce: This gives the sauce a salty and savory flavor.
Rice Wine Vinegar: One of my favorite ingredients! Marukan is my favorite brand, but you can use whatever brand your grocery store has.
Red Chili Paste: This is also called sambal oelek. Add more or less, depending on the heat level you like!
Cornstarch: This is going to help the sauce thicken so that it coats everything nicely.
Honey: A little sweetness will help round out the flavor of the dish.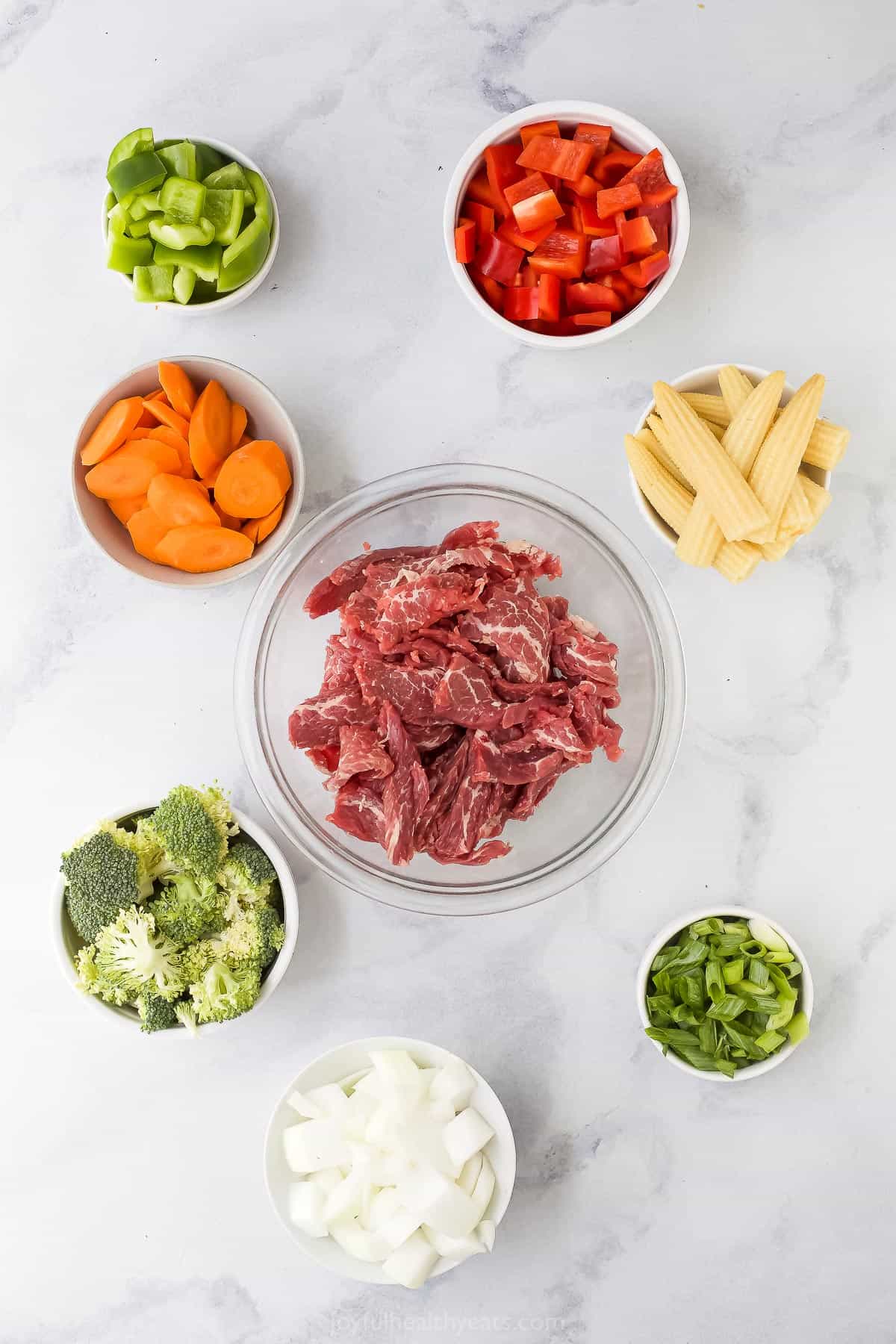 For the Hunan Beef:
Flank Steak: This is a great cut of beef for this dish. It has a ton of flavor and is perfectly tender.
Avocado Oil: I like using this oil for cooking, but you can use olive oil or vegetable oil, too.
Onion: I suggest using yellow or white onion for this dish.
Carrots: Not only do they brighten the dish with their orange hue, but they add a ton of antioxidants and potassium.
Broccoli: A produce powerhouse! Broccoli is packed with antioxidants, vitamins, and minerals.
Red Pepper: Fresh red peppers add more color to the dish and a little sweetness. You could use orange or yellow bell peppers, too.
Green Pepper: Adding bell peppers increases the fiber in the dish which will help you stay full for longer (a key component for when you are trying to maintain a healthy weight).
Green Onions: You can also use chives as a substitute. These green onions are used as a fresh garnish at the end.
Baby Corn on the Cob: I love this ingredient! It's fun, slightly sweet, and adds even more nutrients to this dish. Baby corn is high in iron and vitamins A and C (which help build up your immune system).
Tell Me More About Flank Steak
Flank steak is my favorite cut for this recipe. I love it because it's affordable and tastes great. It works perfectly for Hunan Beef. There are a few things to keep in mind when you're working with a cut like flank steak, though.
It's important that you cut the flank steak against the grain. But what does that mean?! You'll see fibrous lines when you're looking at a piece of meat. They will all be running in the same direction.
It's extremely important that when you cut meat, whether it's cooked or not, you slice against that grain. This ensures that your bites will be tender and not tough.
Additionally, you should cut the meat thin to also avoid it being too tough. There are other cuts of meat that are more tender, but they are more expensive. You can substitute Top Sirloin, NY Strip, or Ribeye if needed.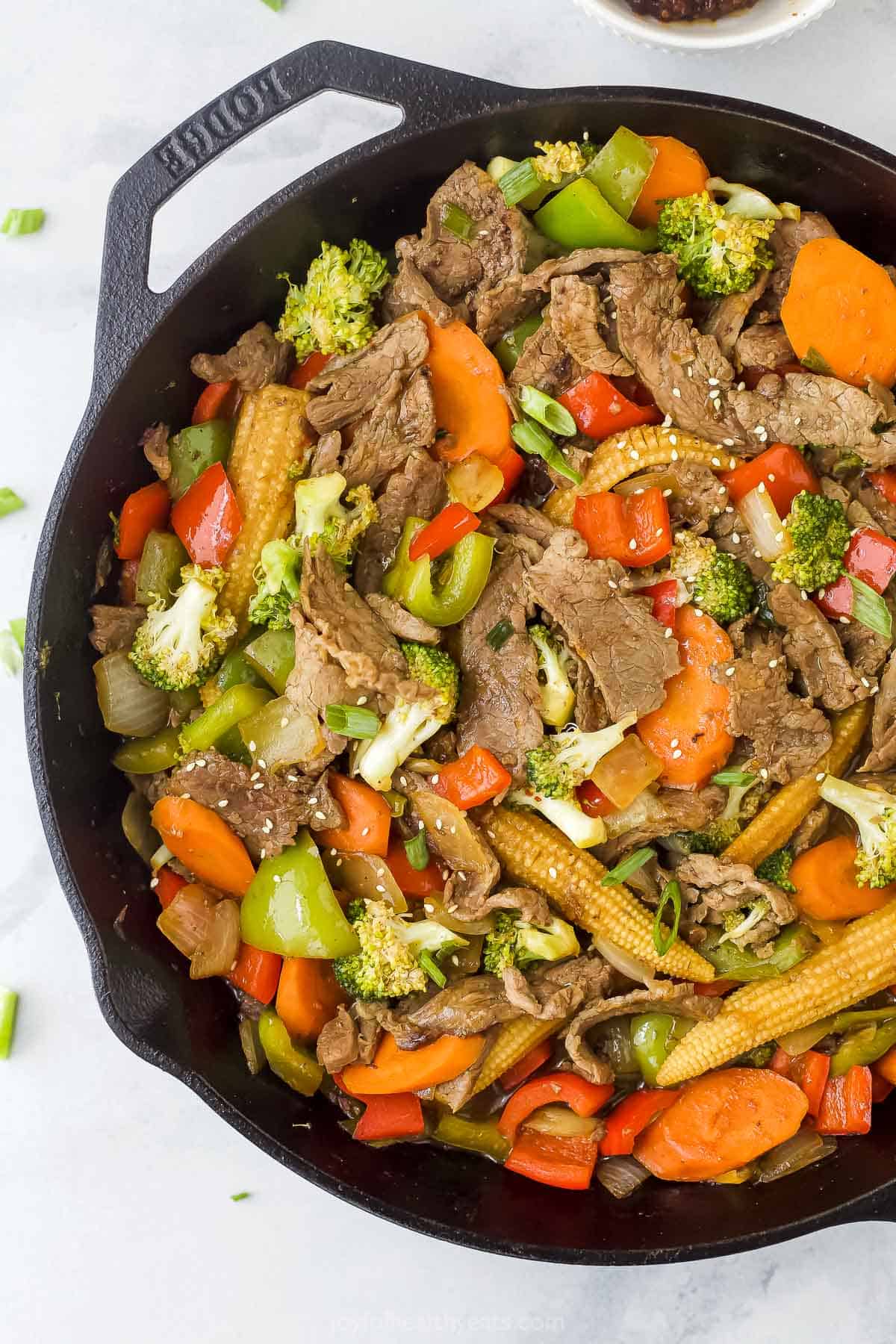 Let's Make Stir-Fry!
This recipe comes together in just a few simple steps. We'll first make the sauce, prep the meat and vegetables, and then get cooking!
First, you'll make the Hunan Sauce. All you need to do to make the sauce is mix the sauce ingredients in a bowl. Whisk them together so that the cornstarch dissolves completely.
Prep the vegetables and the meat. It's easiest if you cut everything and have it all ready to go. Remember, cut the beef against the grain!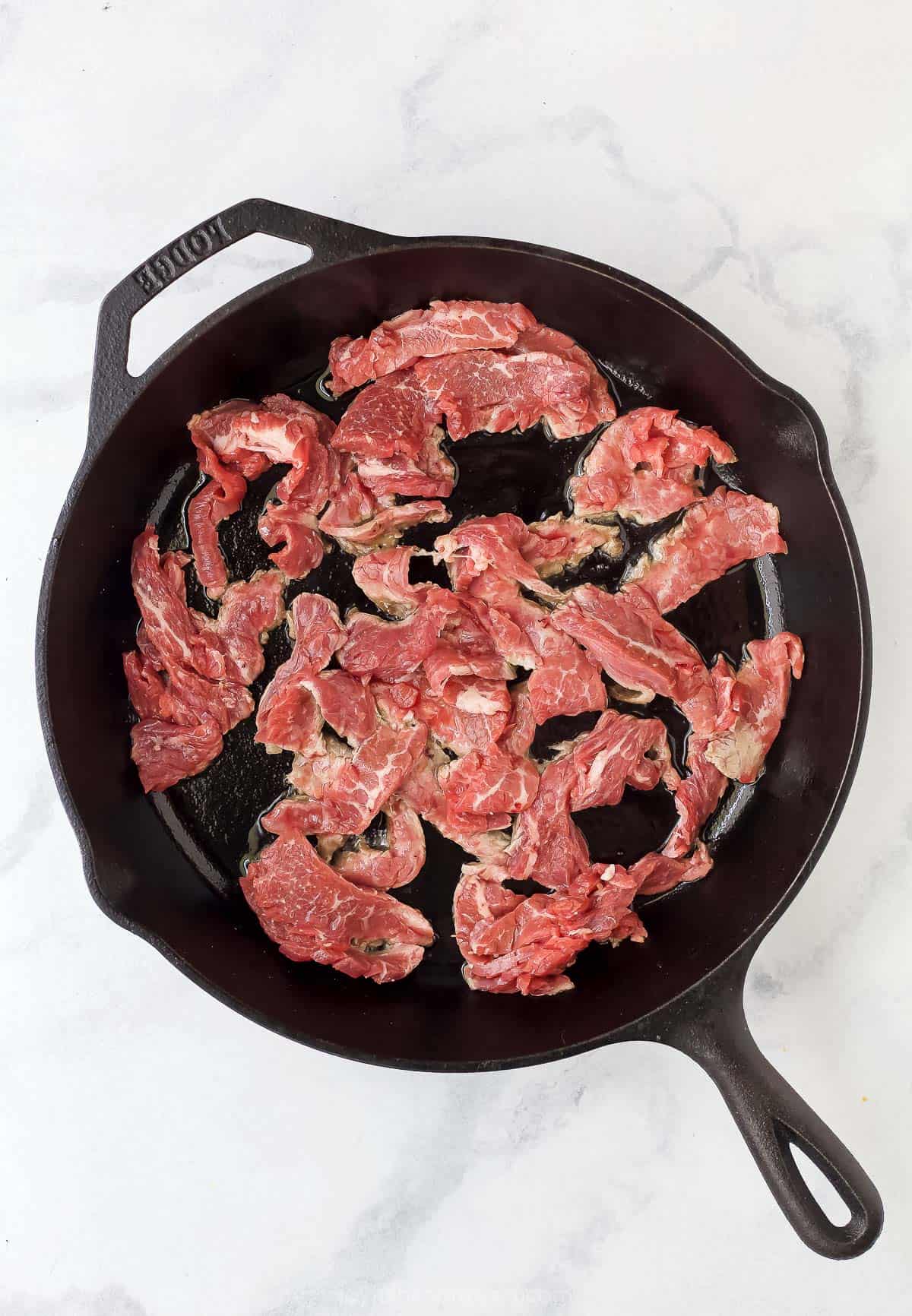 Then, sear the beef. You'll want to cook the beef first. Make sure that your pan is nice and not before adding the beef. This ensures that you get a good sear which means more flavor.
When the beef is done, cook some the vegetables. Remove the beef from the pan and add more oil if needed. Then, add the carrots, chopped onions, and bell peppers. You can scrape up any of the bits of beef on the bottom of the pan with the vegetables. This will just add more flavor to the dish.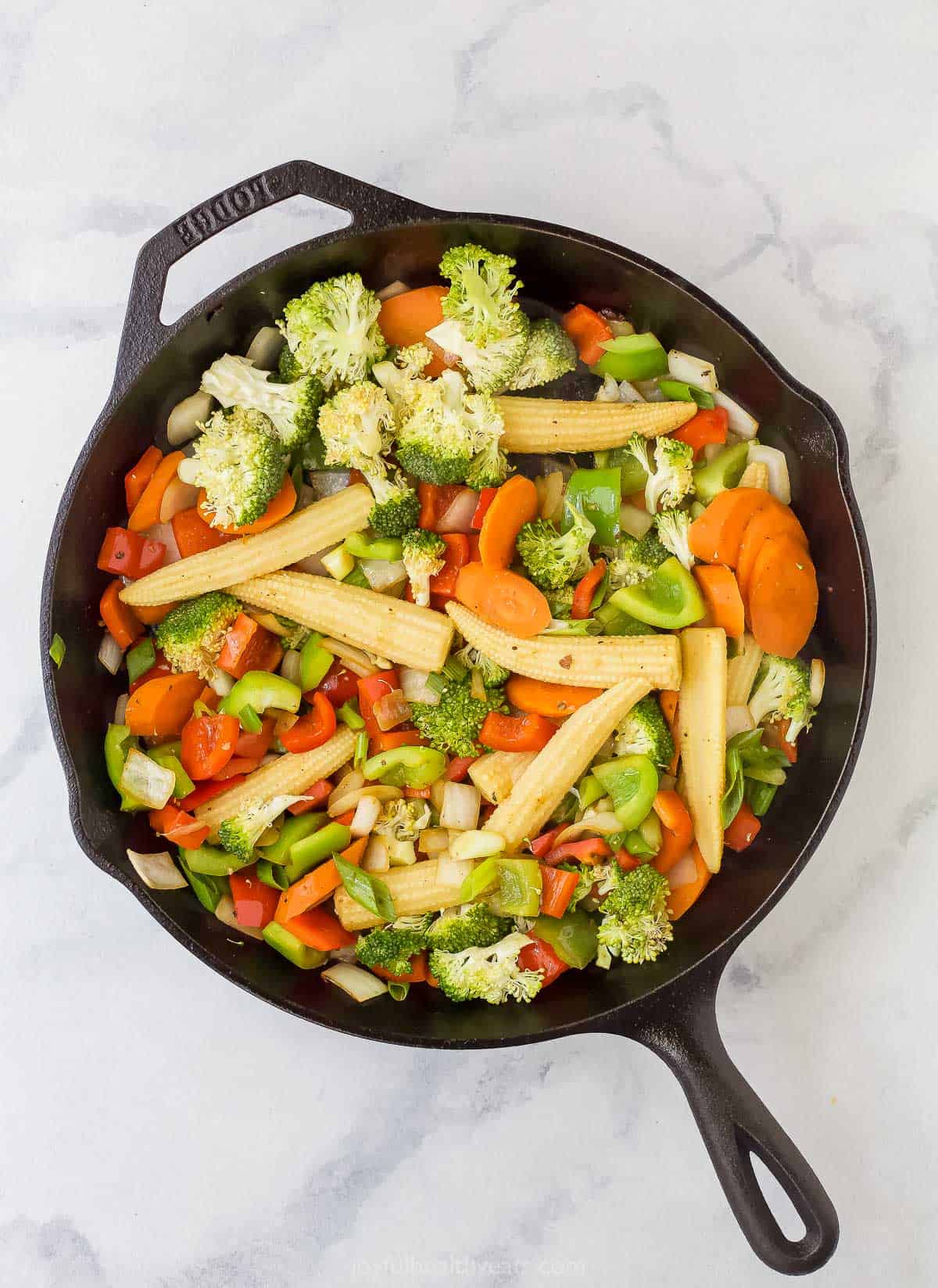 Add the broccoli and baby corn. These don't take quite as long to cook, which is why we will add them after the other vegetables. Then, add the beef strips back to the pan.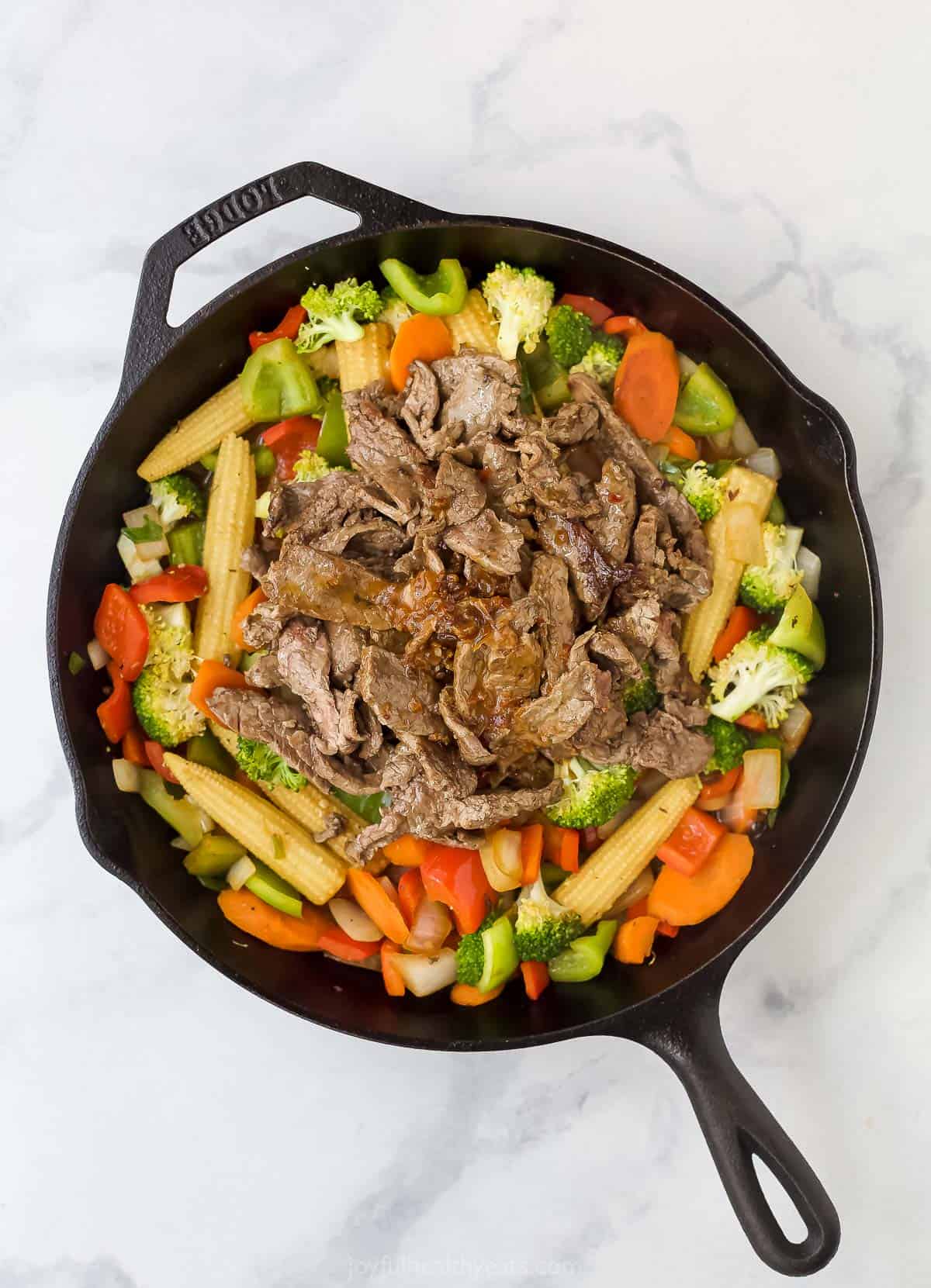 Finally, add the sauce and stir! The sauce is going to naturally thicken when it starts to heat up. Make sure that you coat the steak and vegetables with all of that yummy sauce!
Finish the dish with a fresh garnish. The last step is tossing the sliced green onions in with the rest of the ingredients.
Enjoy with your favorite sides. You can serve Hunan Beef alone, or it's great with your favorite kind of cooked rice.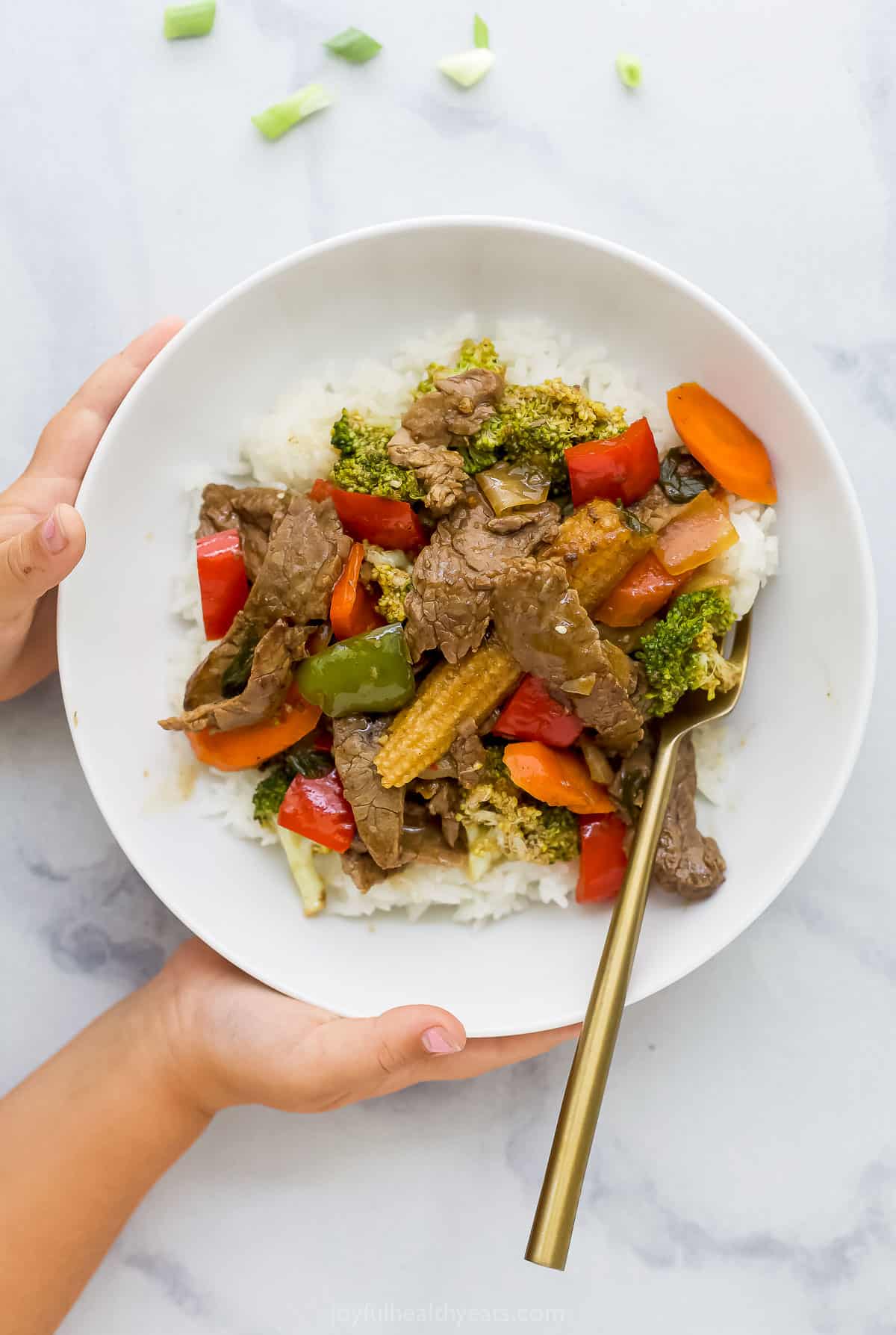 Recipe Hacks
Here are a few tips to ensure your Hunan Beef comes out perfectly! Plus, I've included a few tricks that will make this dish even easier to make.
Freeze the flank steak first: This seems a little weird, huh!? But a quick freeze will help the meat get a little harder so that it's easier to slice! Also, make sure you're using a really sharp knife for precise cuts.
Substitutes for chili paste: You can use sriracha or gochujang if you don't have any chili paste (sambal oelek) on hand.
Use frozen vegetables: You can easily use frozen vegetables when you don't have access to fresh produce.
Mix up the vegetable options: Hunan Beef doesn't have only include the vegetables I used. You can use your own assortment and substitute whatever you'd like. Chopped cabbage, celery, sweet potato, and snap peas are some of my other favorites.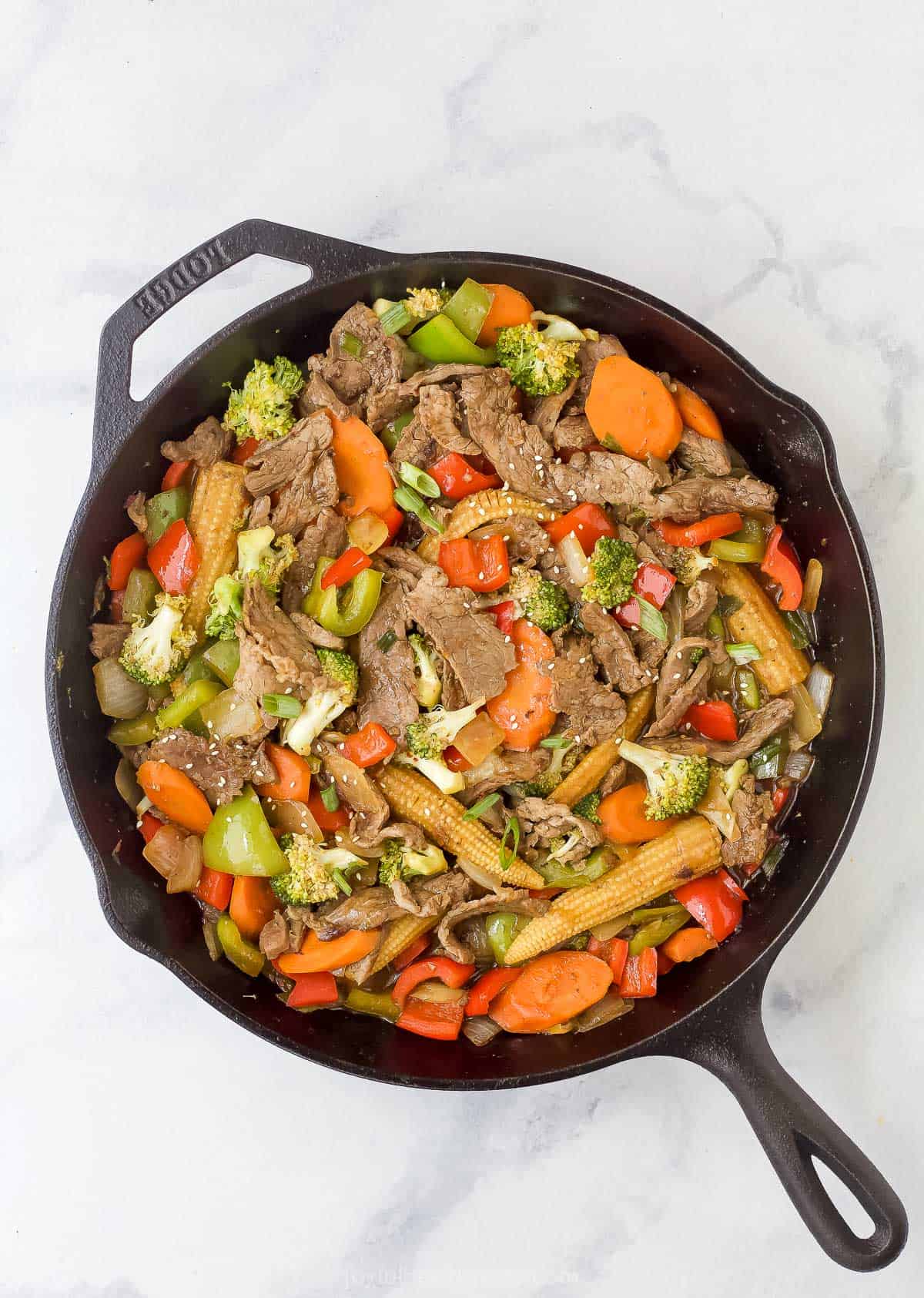 How to Serve Hunan Beef
There are plenty of different ways to enjoy this Easy Hunan Beef recipe. Here are some of my favorite ideas that cater to many different eating plans!
Enjoy it as is! You can eat it right out of the pan, without any sides, if you're sticking to a strictly meat and veggie diet.
Use a vegetable as your base. If you want to have a base, but still avoid starchy carbs, you can serve it with cauliflower rice or even zucchini noodles.
Serve it with rice. Serving Hunan Beef with rice is surely the traditional way to go. You can serve it with white or jasmine, basmati, or brown rice.
Add more protein. You can serve it with cooked quinoa if you're looking to increase your protein intake.
Got Leftovers?
I love having leftovers of this meal! It's a simple and easy weekday lunch. It's best to store any leftovers in an airtight container. The meal will stay fresh for up to 5 days in the refrigerator. Simply reheat in the microwave or in a saute pan when you're ready to eat!
Can I Freeze This Dish?
Here are a few suggestions for freezing Hunan Beef. I suggest freezing the meal before cooking it. Then, throw everything in the pan when you're ready to eat. This saves you the steps of cutting and prepping the ingredients when you're ready to eat.
Make the sauce ahead of time. You can freeze it in a small jar or container or you can use a small freezer-friendly bag. Freeze it flat so that it will fit nicely in the larger bag with the other ingredients.
Use frozen vegetables. This makes the meal so easy to put together! You could make 2-3 at a time! Just buy a few bags of frozen vegetables and scoop them into a gallon-sized freezer-friendly bag.
Don't cook the meat yet! Slice and portion the meat into another smaller freezer-friendly bag. Make sure that it's separate from the vegetables and uncooked!
Thaw the sauce and meat ahead of time. You can thaw overnight or the day of. You can cook the vegetables right from their frozen state if you'd like.
Print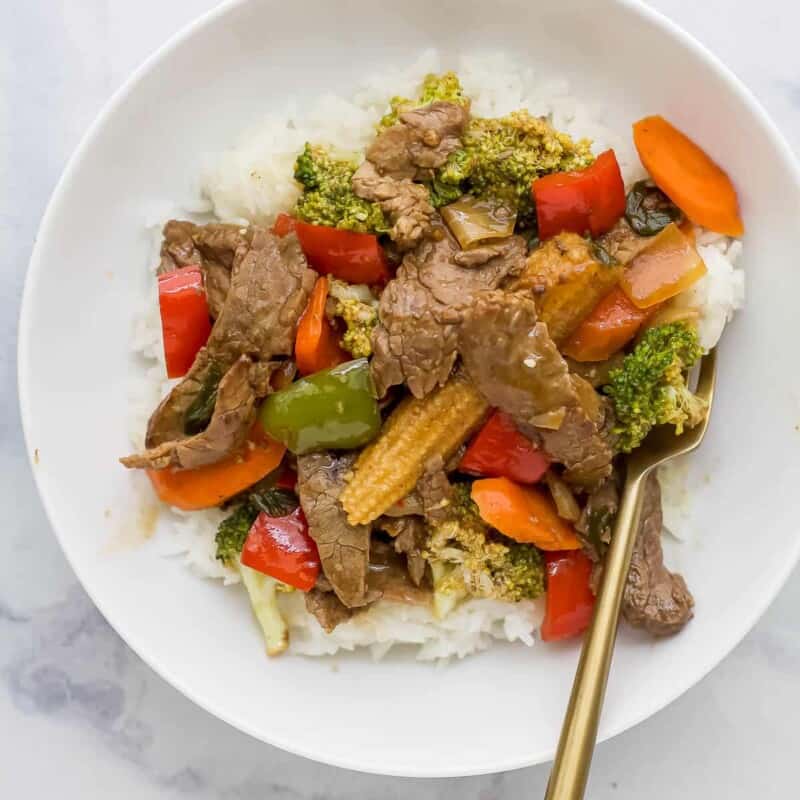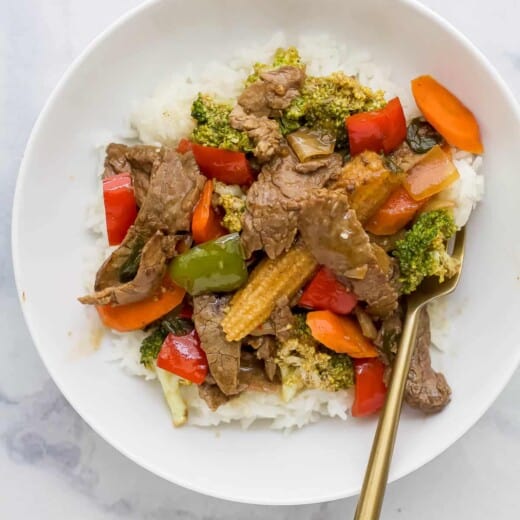 Easy Hunan Beef
Author:

Prep Time:

15 minutes

Cook Time:

20 minutes

Total Time:

35 minutes

Yield:

6

-8

1

x

Category:

Beef

Method:

Stove

Cuisine:

Asian
---
Description
This Easy Hunan Beef is just as good (if not better!) as ordering takeout. It's quick, simple, and full of healthy ingredients like fresh vegetables and lean steak strips. The sauce is perfectly seasoned with tamari, oyster sauce, and just a hint of honey.
---
Hunan Sauce:
1/2 cup

beef broth

2 1/2 tablespoons

tamari sauce (or soy sauce)

2 tablespoons

oyster sauce

1 tablespoon

rice wine vinegar

2 teaspoons

red chili paste (sambal oelek)

2 teaspoons

corn starch

1 teaspoon

honey
Hunan Ingredients:
1.5

lbs beef flank steak, thinly sliced

2 tablespoons

avocado oil

1

medium onion, chopped (about

1 cup

)

4

garlic cloves, minced

1 cup

sliced carrots

1 cup

fresh broccoli florets

1

red pepper, cut into

1

" cubes

1

green pepper, cut into

1

" cubes

4

green onion, sliced

15 oz

. can baby corn on the corn
---
Instructions
Make Hunan Sauce: To a small bowl add beef broth, tamari sauce, oyster sauce, rice wine vinegar, red chili paste, corn start and honey – whisk until well combined. Set aside.
Sear the Meat: Heat a large skillet or wok to medium high heat. Once hot, add 1 tablespoon of avocado oil to the skillet along with sliced meat. Sear the meat until the edges are gold brown, about 5-6 minutes. Remove the meat from the pan and set on a plate.
Cook Veggies: Immediately add 1 tablespoon of avocado to the pan along with garlic. Saute for 30 seconds and add in onion, red pepper, green pepper and carrots. Saute for 4-5 minutes until carrots are slightly browned, stirring occasionally. Add in broccoli and baby corn, stir and saute for 1-2 minutes.
Add Meat & Sauce: Next, add seared meat back to the skillet with the vegetables along with the human sauce. Toss everything together and let cook for 3-4 minutes allowing all the flavors to come together. The sauce will naturally thicken as you stir it.
Serve with jasmine rice, basmati rice or over cauliflower rice.
---
---
Nutrition
Serving Size:

1 cup

Calories:

258

Sugar:

5 g

Sodium:

624 mg

Fat:

11 g

Saturated Fat:

3 g

Carbohydrates:

12 g

Fiber:

3 g

Protein:

27 g

Cholesterol:

68 mg
Keywords: hunan sauce, hunan beef vs szechuan beef, hunan chinese food
Filed Under:
More Quick Beef Dinner Recipes
DON'T MISS A RECIPE ->
FACEBOOK | TWITTER | PINTEREST | BLOGLOVIN | INSTAGRAM