This 30-Min Beef Chili Recipe is hearty and packed full of flavor! Loaded with vegetables, ground beef, spices and beans, this easy chili is the ultimate comfort food. Simple, old-fashioned chili at its best.
An Easy & Healthy Beef Chili Recipe
It's September people! September! Which means it's time to pull out the pumpkins, yank up the boots, put on a sweater and make some chili! And if you don't mind a bit of unsolicited advice, this healthy chili recipe really is the BEST. It's quick and easy to make, and hits all the right feel-good notes.
Here in Texas, homemade chili is one of my favorite things to make in the cooler months. It's total comfort food that warms you up from the inside out. Plus it's super easy to make and pretty much everyone loves to eat it.
I love that I can make a big batch of chili that my family gobbles up, then still have some leftovers. Next day chili is just as good as same day chili – in fact, it may even be better since all the flavors have had time to mesh together in the fridge.
So without further ado, my famous 30 Minute Chili. This stuff is gone and scrapped off the bottom of the pot every single time!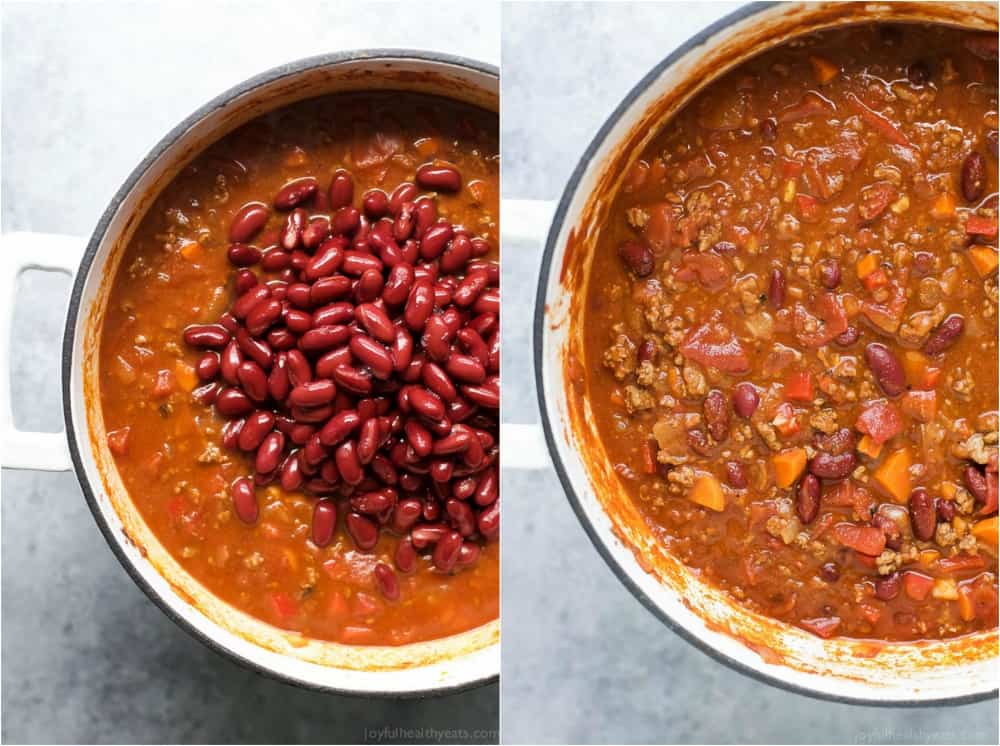 Beef Chili Ingredients:
Chili is all about adding layers of flavor on. So there are definitely more ingredients in a chili than in most other things. Although half of them are probably spices. haha.
Here are the ingredients you'll need for this 30 Minute Beef Chili Recipe.
Ground Beef – Buy grass fed beef, I promise you'll taste the difference. You can use 80/20, 90/10 or even 85/15 for this recipe.
Onion – I use sweet onion on this recipe, however you could use yellow or red onion if that's what you have on hand.
Garlic – A standard in most recipes, garlic is where it's at on flavor!
Avocado Oil – This is my oil of choice when cooking, it has a high cooking temperature so it can stand the heat and doesn't burn. Other oils you could use are grape seed oil or coconut oil.
Chipotle peppers – You can find this canned in the International aisle or latin cuisine, it's chipotle peppers in adobo sauce
Spices – I use a combination of ground cumin, chili powder, smoked paprika, ground coriander, salt and pepper. On occasion I add a little bit of cinnamon too, it adds an interesting yet addictive flavor!
Carrots – You don't need a ton, but the carrots add a nice crunch, flavor and some veggies to this primarily beef chili.
Red Pepper
Fire Roasted Tomatoes – I like the flavor you get from the fire roasted tomatoes, my favorite brand for this is Muir Glen Organic.
Tomato Sauce – Buy the no salt added kind, this allows you to control how much salt is in your chili.
Beef Broth – You could also use beef stock or bone broth, this adds a richer flavor and makes it taste like the chili has been simmering for hours.
Dark Red Kidney Beans – Red Beans are just a classic for me, it's what I grew up on. However, I've already used black beans in this recipe as well and it came out just as great. I would not recommend pinto or butter beans the flavor profile will not go with this chili.
What kind of beef do you use for chili?
I've tested out a couple of different kinds of ground beef for this recipe. The best is grass feed in my opinion you can taste a noticeable difference in flavor. As far as ratios, I like to use 85/15 – which is 85% fat and 15% lean.
What kinds of beans are best for chili?
When it comes to a traditional chili recipes, kidney beans are the star! Hands down they are considered the best beans for chili. Kidney beans retain their firmness and shape under high heat. They are also very hearty, and absorb spices and flavors like rockstars.
Should I drain the beans?
Technically because you're adding them into a chili you don't HAVE to drain or rinse them. However, I like to control the sodium content and most of the time beans that have been canned are sitting in a liquid that contains a lot of sodium. I find that by draining and rinsing the beans with water removes some of the salty liquid that would otherwise stick to them.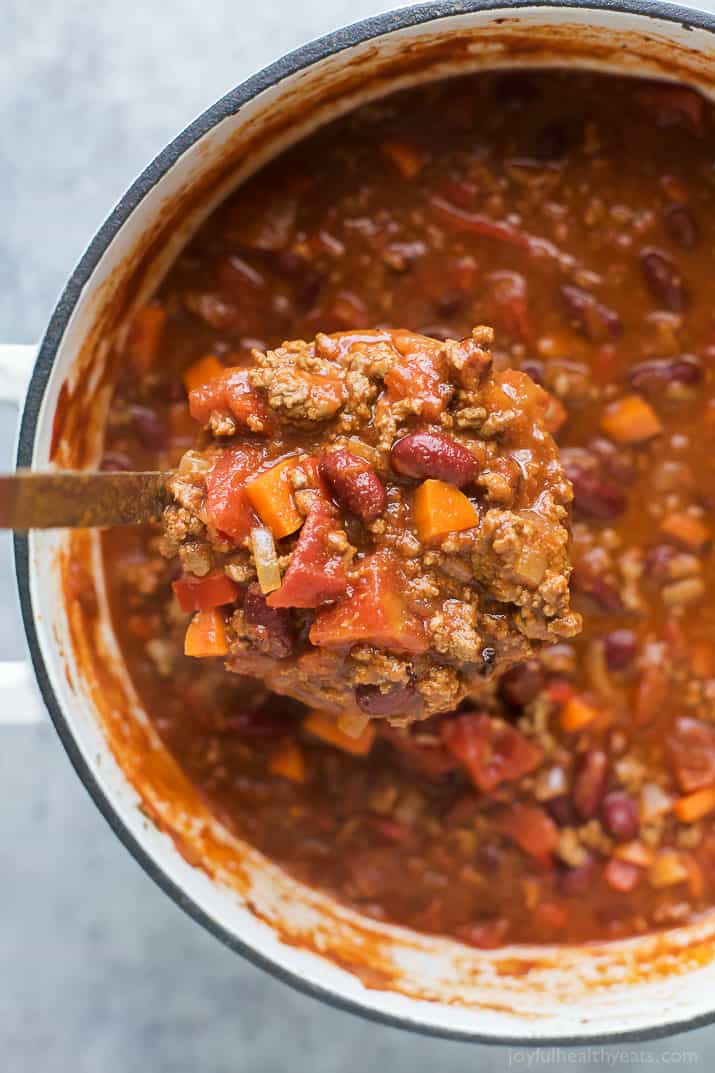 How to Make Beef Chili
Even though chili recipes can have a lot of ingredients, the great thing about them is they are still SUPER easy to make. Here's how to do it:
Warm oil & cook onions: Heat a large dutch oven to medium high heat. Add in avocado oil and onions. Saute until onions are translucent, about 2-3 minutes.
Add garlic: Next add in garlic and chipotle peppers, saute for 30 seconds to 1 minute. Stirring the whole time.
Brown the beef: Add in the ground beef. Cook until beef is no longer pink, about 5-7 minutes. Smashing and stirring the whole time so the meat is broken up.
Add spices, pepper and carrots: Next add in the spices, ground cumin, chili powder, smoked paprika and sea salt. Stir the spices in to the meat until everything is combined. Add in the red pepper and carrots, cook for 2 minutes.
Add tomatoes, broth and beans: Next add in the diced fire roasted tomatoes, tomato sauce, beef broth and kidney beans. Stir everything together and cover.
Cook: Keep the heat at medium high. Let the chili cook for 15 minutes.
Serve! You can top your chili with diced avocado and shredded cheese if you like.
The best thing about this Beef Chili Recipe is it's done in 30 minutes. But even though it's done in a short amount of time, it still packs a rich deep flavor from the spices and the beef broth. Hands down this is total comfort food and guaranteed to warm you up on those cold winter nights.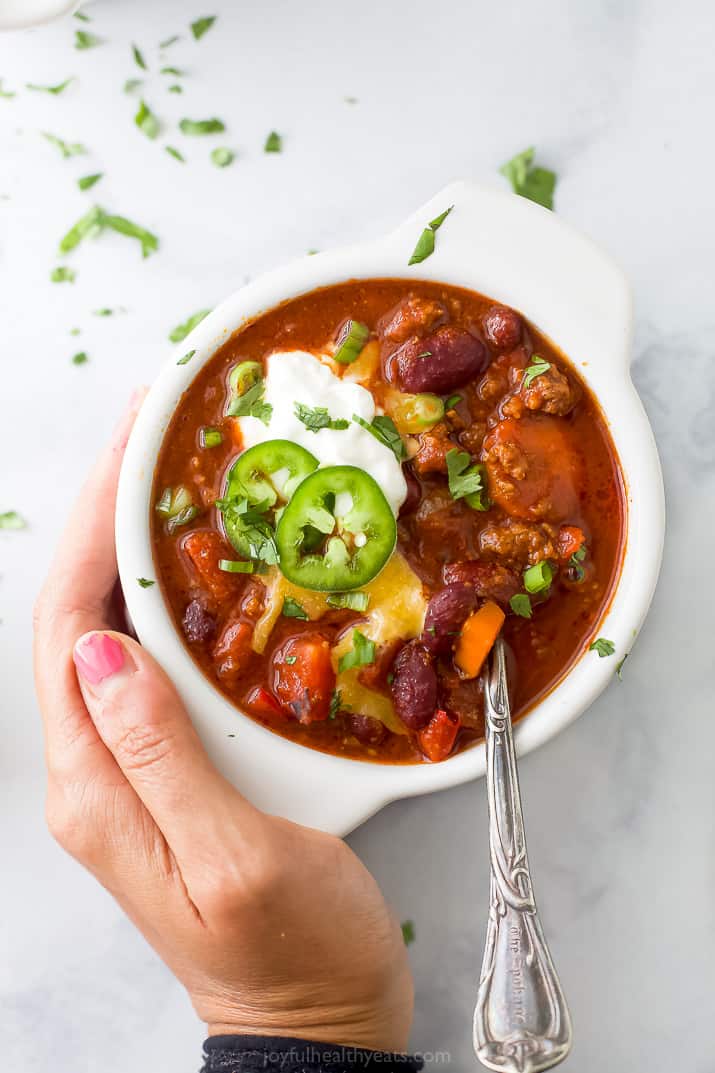 Tips for the Best Chili
To thicken your chili: If you want your chili to be a little thicker, the best way to do this is to just let it simmer on the stove a bit longer until you have achieved your desired thickness.
Meat substitutions: You can also use ground turkey or ground chicken in this recipe, though of course it won't be a beef chili anymore! Another idea is to add a second kind of meat in addition to the ground beef.
Bean substitutions: You can also use different kinds of beans instead of, or in addition to the red kidney beans. My suggestions would be canned black beans or pinto beans. Just use them in the recipe the same way you would the kidney beans.

Topping Ideas
Growing up my mom would put noodles in our chili because it was considered a "poor mans soup" so noodles would help it go further. When I moved down to Texas my chili game changed. Here are some fun ideas to top your chili with or even create a "chili bar" out of!
Shredded Cheddar Cheese
Sour Cream or Plain Greek Yogurt
Chopped Cilantro
Diced Green Onion or Diced Red Onion
Jalapeños (raw or pickled)
Fritos Chips
Tortilla Chips
Avocado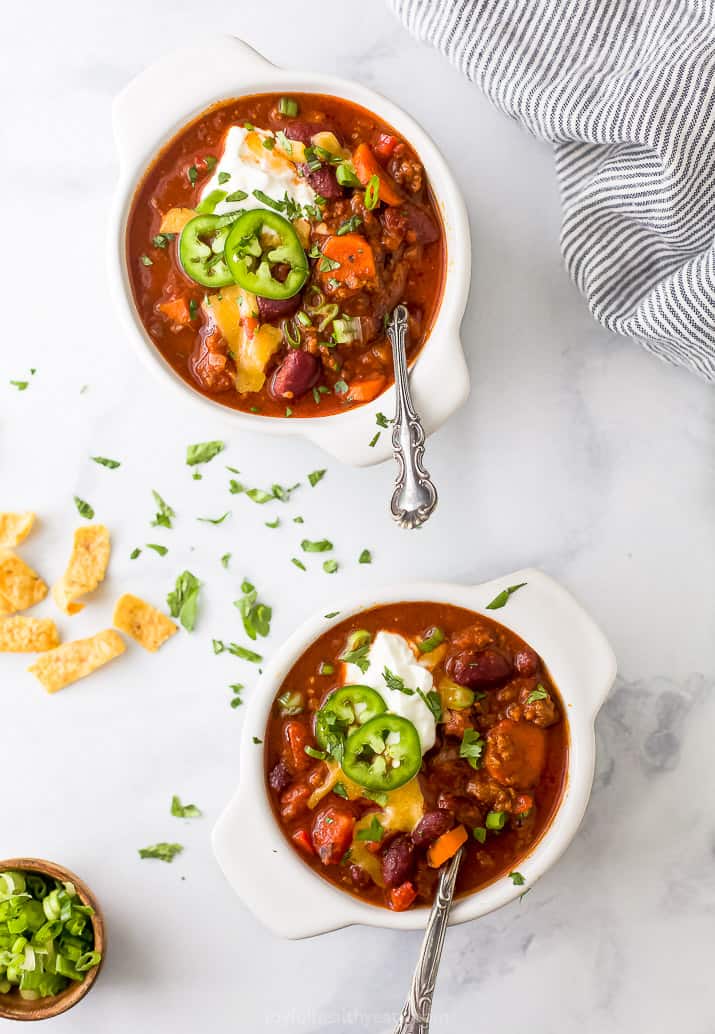 How to Store and Reheat Leftovers
Let your chili come to room temperature before moving it to an air tight container and storing it in the fridge. It will keep for 5-6 days.
When you're ready to heat up your leftovers, simply spoon the amount you want into a saucepan or microwave safe bowl. Heat over low heat on the stovetop, or for a few minutes in the microwave, until hot.
Can I Freeze Beef Chili?
Absolutely, chili may be frozen. To freeze, just cool chili completely and store in an air-tight container in the freezer for up to 3 months. Thaw overnight in the refrigerator and reheat to enjoy!
More Chili Recipes to Try: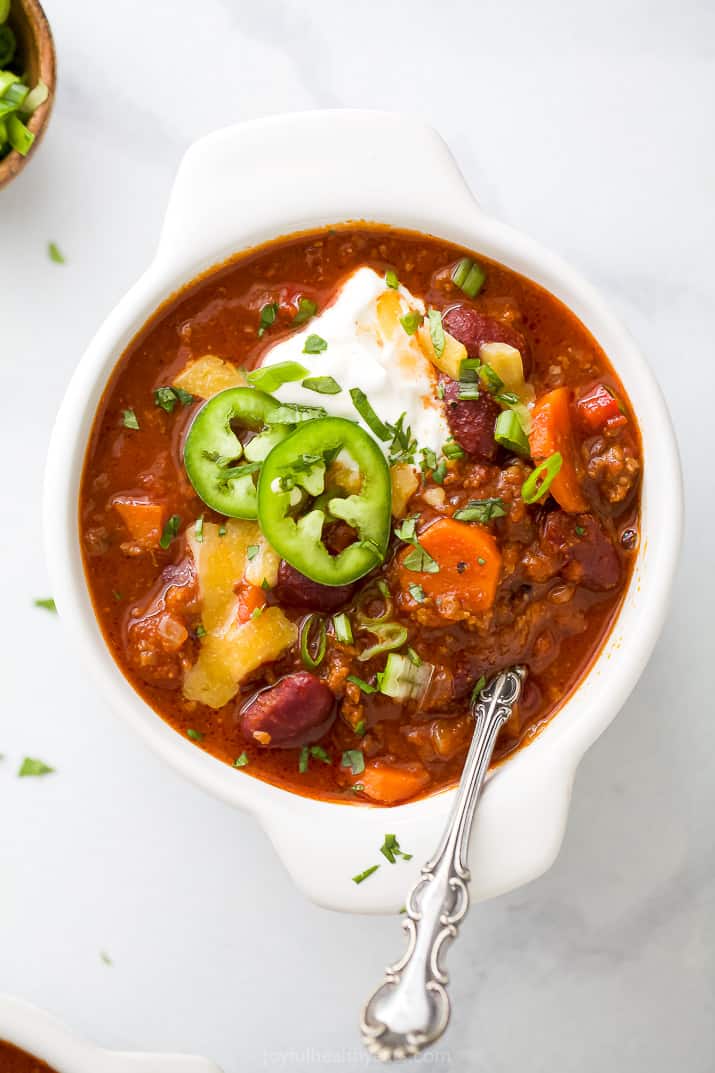 Print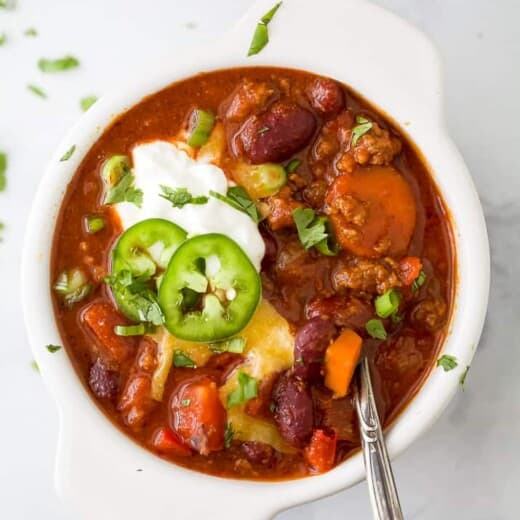 The Best 30 Minute Beef Chili Recipe
Author:

Prep Time:

5 minutes

Cook Time:

30 minutes

Total Time:

35 minutes

Yield:

8

servings

1

x

Category:

Soup

Method:

Stove

Cuisine:

American

Diet:

Gluten Free
---
Description
This 30-Min Beef Chili Recipe is hearty and packed full of flavor! Loaded with vegetables, ground beef, spices and beans, this easy chili is the ultimate comfort food. Simple, old-fashioned chili at its best.
---
2 tablespoons

avocado oil

1

large sweet onion, diced

4

garlic cloves, minced

1 tablespoon

diced chipotle peppers in adobo sauce

2

lbs. grass fed ground beef

1 1/2 tablespoons

ground cumin

2 tablespoon

chili powder

1 tablespoon

smoked paprika

1/2 tablespoon

ground coriander

1/2 tablespoon

sea salt

2

carrots, diced

1

red pepper, diced

28 oz

. muir glen diced fire roasted tomatoes

2

14 oz. muir glen tomato sauce (no salt added)

1 cup

beef broth

2

14 oz. can dark red kidney beans, drained and rinsed
optional: top with shredded cheese and avocado (if paleo just do an avocado)
---
Instructions
Heat a large dutch oven to medium high heat.
Add in avocado oil and onions. Saute until onions are translucent, about 2-3 minutes.
Next add in garlic and chipotle peppers, saute for 30 seconds to 1 minute. Stirring the whole time.
Add in the ground beef. Cook until beef is no longer pink, about 5-7 minutes. Smashing and stirring the whole time so the meat is broken up.
Next add in the spices, ground cumin, chili powder, coriander, smoked paprika and sea salt. Stir the spices in to the meat until everything is combined.
Add in the red pepper and carrots, cook for 2 minutes.
Next add in the diced fire roasted tomatoes, tomato sauce, beef broth and kidney beans. Stir everything together and cover.
Keep the heat at medium high. Let the chili cook for 15 minutes.
Serve!
Optional: top with diced avocado and shredded cheese.(if paleo, do not add the cheese)
---
---
Nutrition
Serving Size:

1 1/2 cups

Calories:

347

Sugar:

12 g

Sodium:

1498 mg

Fat:

8 g

Saturated Fat:

2 g

Carbohydrates:

38 g

Fiber:

11 g

Protein:

33 g

Cholesterol:

65 mg
Keywords: best chili recipe, beef chili, homemade chili, easy, quick, basic, healthy chili recipe, ground beef chili, chili beans, texas chili
Filed Under: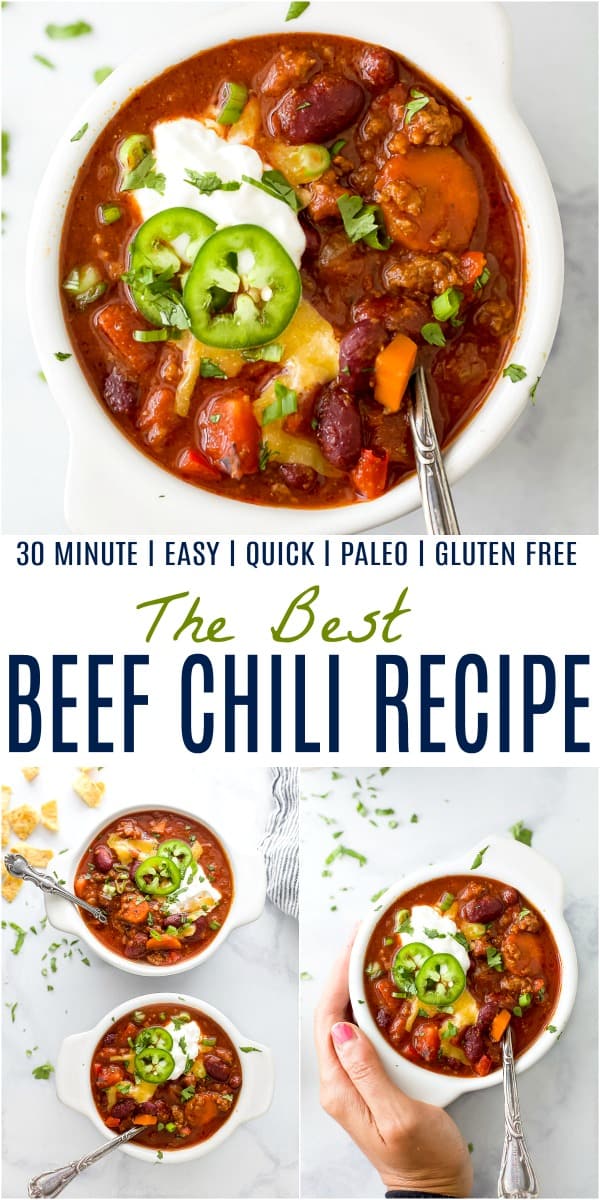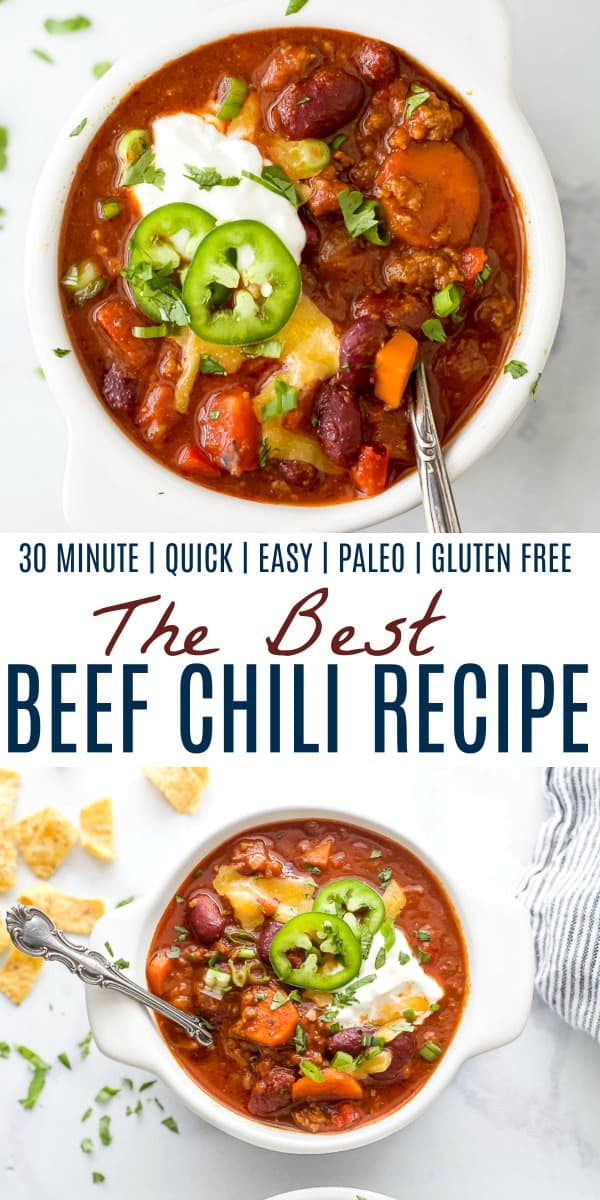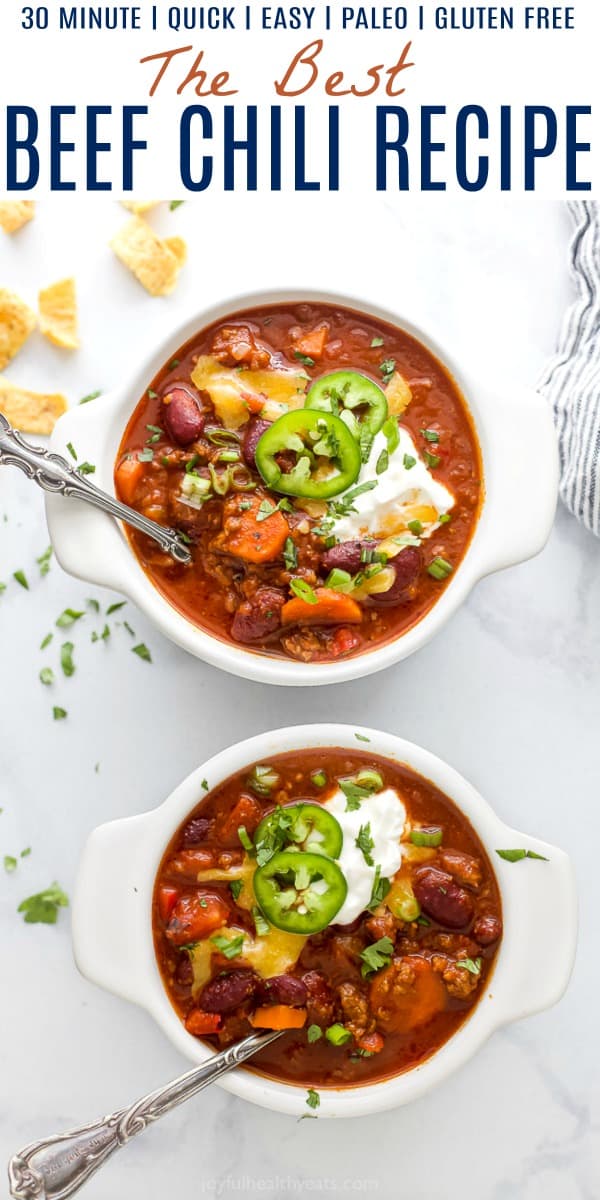 DON'T MISS A RECIPE ->