This Whole Roasted Cauliflower has so much flavor you won't even know it's vegetarian. Rubbed down with a smoky maple spice rub then roasted till tender and topped with an Avocado Poblano Sauce that's swoon-worthy. It's the perfect side or main dish for the veggie lover.
Easy Whole Roasted Cauliflower Recipe
Look no further for your new favorite meatless Monday meal. This is so good, you're going to want to eat it more than once a week, believe me! This Whole Roasted Cauliflower takes vegetarian cooking to the next level.
Sure, we know that we can do a lot with a head of cauliflower. And we know that it's a pretty healthy ingredient that we should be using more. We can make Mashed Cauliflower to replace carb-heavy mashed potatoes. We can even use cauliflower as a chicken wing substitute. But even when we keep it SO simple, we often find the best results.
You don't need to do anything to the cauliflower except clean it up a little. Seriously though, you are going to roast the whole thing (no dicing required!). And it's going to come out perfectly golden brown and smothered in my smoky maple spice rub. Then, with just a little extra effort, you can serve it with my beautiful bright green avocado poblano sauce.
This recipe is for veggie lovers and haters alike. Whether you break into pieces or slice it into cauliflower steaks, everyone is going to love it!
Why You'll Love This Oven Roasted Cauliflower
This is the vegetarian recipe that will convince the haters! Here's why it's so great.
It's healthy (and it won't leave you feeling hungry). Cauliflower has a ton of fiber. So when you eat a lot of it, it's going to leave you feeling full longer.
There is so much flavor that you won't even know you're eating cauliflower! Ok, so this one is for the haters. The spice rub is packed with so much flavor from smoked paprika, cumin, coriander, chili powder, and the star of the show – maple syrup. Every bite is incredible.
It makes great leftovers. You can make this at the beginning of the week as a great meal plan option for easy lunches and dinners.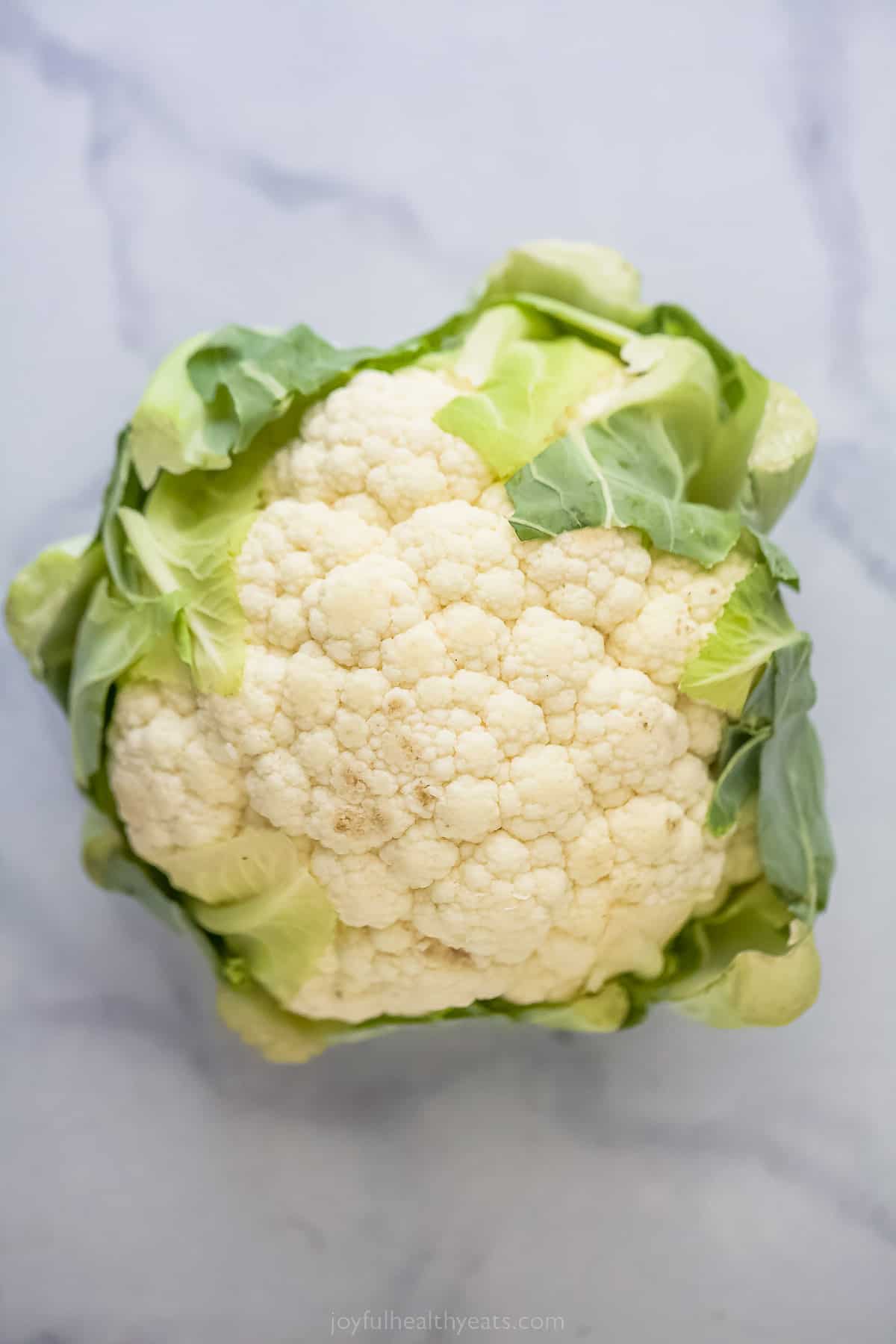 Recipe Ingredients
Here are the ingredients needed to make this roasted cauliflower recipe:
Cauliflower: The star of the show! Pick out a clean, large head of cauliflower for this recipe.
Maple Spice Rub Ingredients
Smoked Paprika: This is the ingredient that provides the smokey flavor. Don't skip out on this one!
Garlic Powder: You can also use granulated garlic.
Dried Thyme: You could also use dried rosemary or oregano as a substitute.
Cumin: If you don't have any cumin you can compensate with a little more coriander or chili powder.
Coriander: Same as with the cumin, if you're out of coriander, add more cumin or chili powder.
Ancho Chili Powder: This is another great ingredient that adds a little spice and smokiness to the rub.
Salt: Please don't forget the salt! You can cut back if you need to watch your sodium intake. But the salt makes a big difference with the seasoning.
Maple Syrup: A fun and sweet ingredient that rounds out the spice rub perfectly.
Olive Oil: You could also use sunflower oil or avocado oil. This helps the cauliflower get that perfect golden brown color.
Avocado Poblano Sauce Ingredients
Avocado: Pick a ripe avocado for this one. It's ok if it's still a little firm, but it needs to be scoopable. You don't want an overripe one or the sauce won't turn out as green.
Cilantro: Stems and all! This is another ingredient that adds so much flavor and makes the sauce a beautiful green color. It's a great way to use up cilantro stems.
Poblano: The flavor of the raw poblano adds a bit of heat to this sauce (which pairs PERFECTLY with the maple spice rub!)
Olive Oil: You can use a different cooking oil if that's what you have.
Lime Juice: The acid here is 100% necessary! It brings the other ingredients to life.
Red Wine Vinegar: This is another acid that helps balance everything out. You could use rice wine vinegar, too.
Honey: And, of course, we must add a little sweetness! Maple syrup or agave works well, too.
Cumin: This is that distinct spice that you taste in a lot of Mexican food. You can omit it, but the sauce will not have that earthy spice flavor.
Garlic Clove: Fresh garlic makes everything better! You could use garlic powder if you're in a pinch though.
Salt and Pepper: Taste the sauce and season to your liking!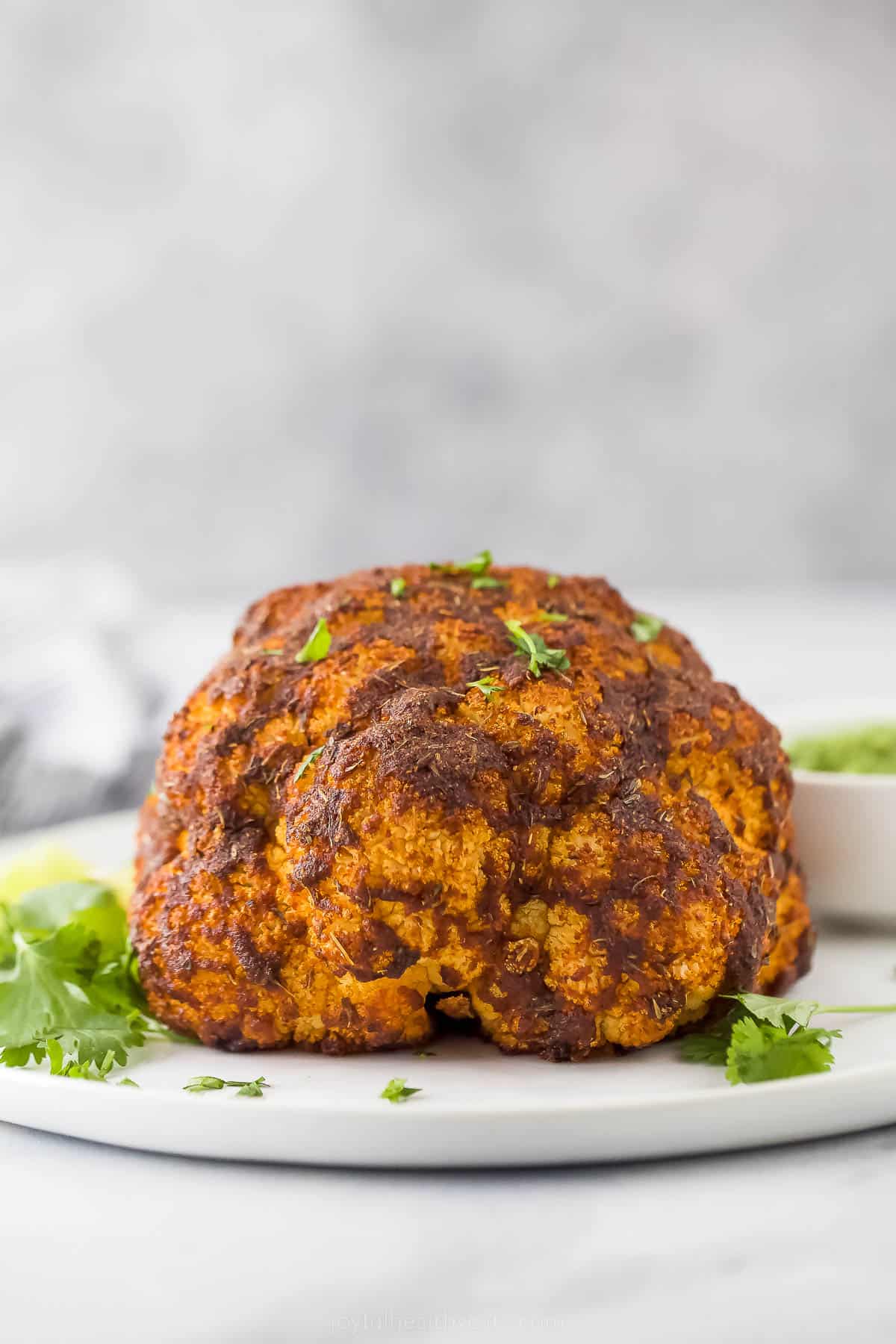 How to Make Whole Roasted Cauliflower
Here's how to make roasted cauliflower at home.
First, make the Avocado Poblano Sauce. It's really simple. You just need to puree everything until it's smooth and then season appropriately!
Then make the Smoky Maple Spice Rub. Again, really easy stuff here! Just combine the ingredients in a bowl and set aside while you prep the cauliflower head.
Prep and season the cauliflower. You'll need to clean the cauliflower and trim it up a bit. Then rub the spice mixture on all sides of the cauliflower. Once it's seasoned, place it in a cast iron skillet for roasting.
Roast the cauliflower. Cook the cauliflower in a preheated oven for 40-50 minutes. You'll want to let it rest for a few minutes before serving!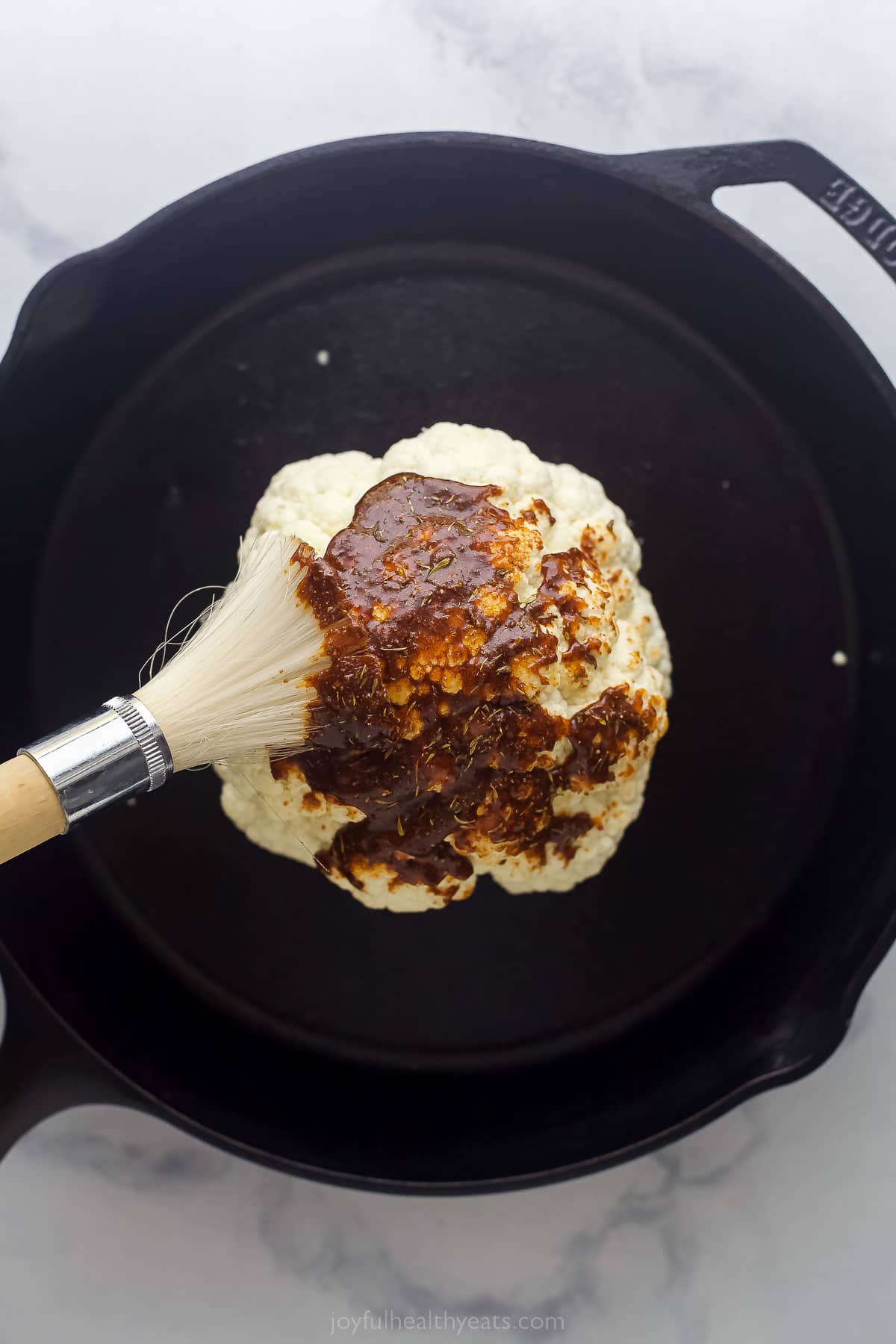 Tips for Success
Here are a few helpful tips for making roasted cauliflower.
Always preheat the oven. This can often be a missed step, especially with savory recipes. But putting the cauliflower into the oven that's already piping hot makes a big difference (and saves you SO much time!).
Don't be shy with the seasoning. You want it to seep into all the nooks and crannies!
Let the cauliflower rest before cutting into it. This will help the cauliflower maintain its shape a bit (if you're looking to slice whole "steaks").
Cook it to your liking. The joy of this recipe is that you don't need to cook it a certain amount for it to be safe to eat! It's safe to eat after any amount of cooking time. So, it will be done quicker if you like it more tender…and if you like it softer then cook it longer.
Slice into cauliflower steaks. You can break off pieces after roasting or you can slice thick cuts and serve it as cauliflower steak.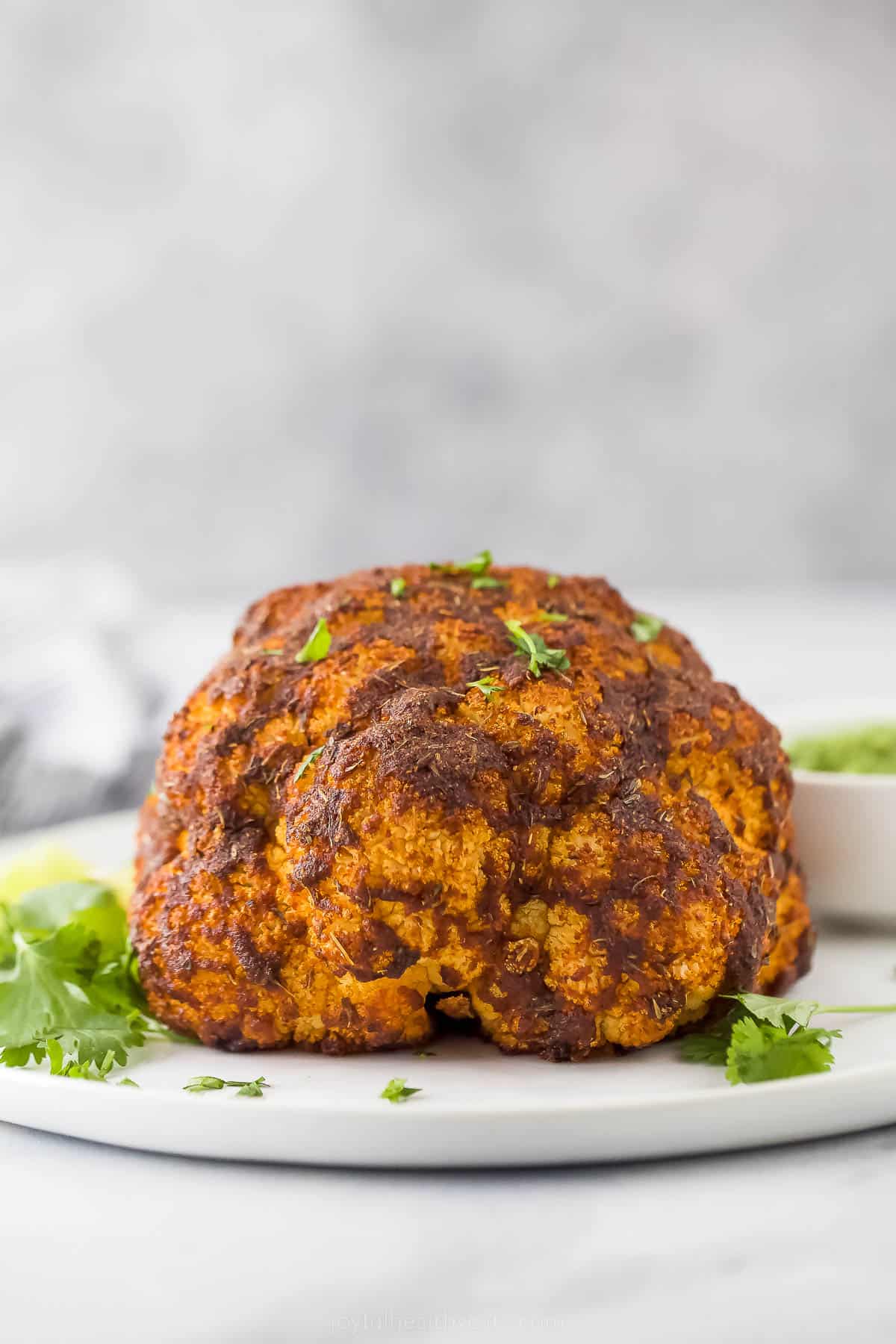 Serving Suggestions
Here are some of my favorite recipes to serve alongside roasted cauliflower.
How to Store & Reheat Leftovers
This recipe is great for leftovers. I like to make it at the beginning of the week to have delicious roasted cauliflower (hot or cold!) for lunch or a quick dinner.
Be sure to store it in an air-tight container in the fridge. It will stay fresh for 4-5 days. You can reheat many different ways! I like to use my air fryer or quickly saute some broken-off pieces in a pan.
Print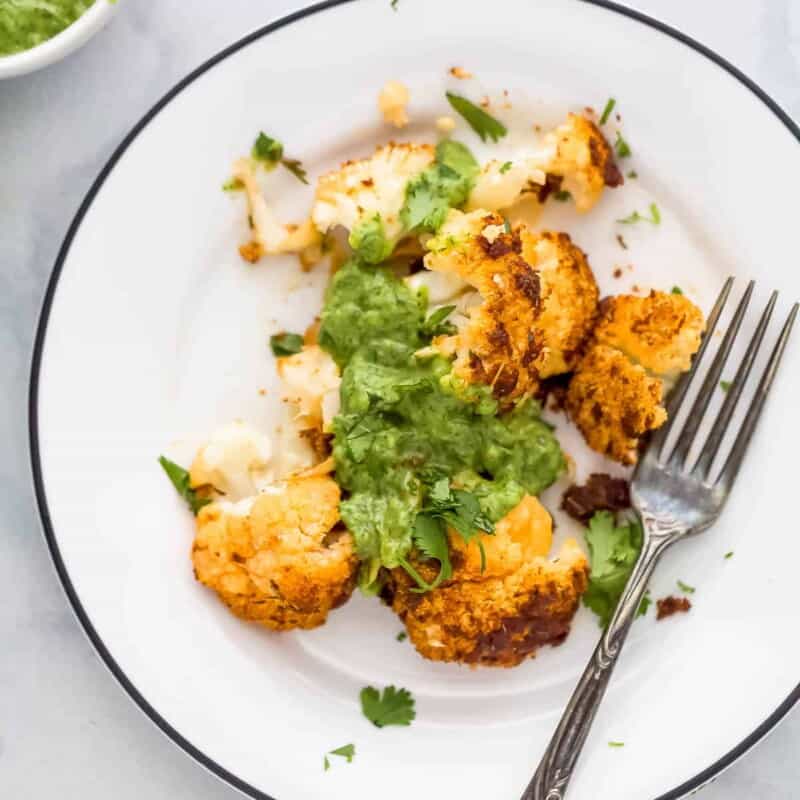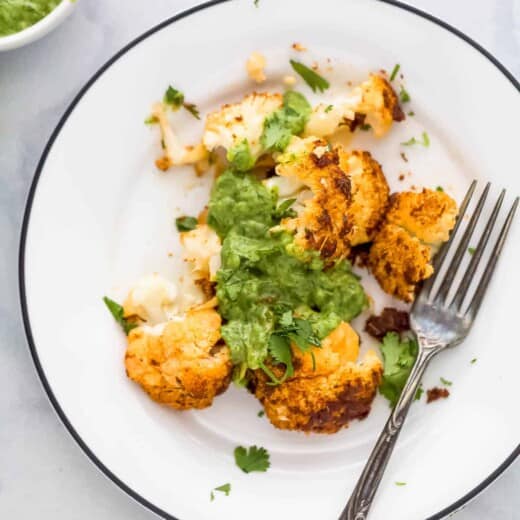 Whole Roasted Cauliflower with Smoky Maple Spice Rub
Author:

Prep Time:

10 minutes

Cook Time:

50 minutes

Total Time:

60 minutes

Yield:

4

-6

1

x

Category:

Vegetables

Method:

Oven

Cuisine:

American

Diet:

Gluten Free
---
Description
This Whole Roasted Cauliflower is seasoned with a smoky maple spice rub. You can also serve it with a delicious bright green Avocado Poblano Sauce!
---
1

large head of cauliflower
Smoky Maple Spice Rub
1 tablespoons

smoked paprika

1 tablespoons

garlic powder

1/2 tablespoon

dried thyme

1 teaspoons

cumin

1/2 teaspoon

coriander

1/2 teaspoon

ancho chili powder

1/2 tablespoons

salt

1 1/2 tablespoons

maple syrup

2 tablespoons

olive oil
Avocado Poblano Sauce:
1/2

avocado

1/2 cup

fresh cilantro

1/3 cup

roughly chopped raw poblano

2 tablespoons

olive oil

2 tablespoons

lime juice

2 tablespoons

red wine vinegar

1 tablespoon

honey

1/2 teaspoon

cumin
garlic clove
salt & pepper to taste
---
Instructions
Make Avocado Poblano Sauce: To a food processor add avocado, cilantro, poblano, olive oil, lime juice, red wine vinegar, honey, cumin, garlic, salt and pepper. Pulse until mixture is pureed. Set aside.
Heat Oven: Turn the oven on to 400°F. Then fill a small baking sheet with water and place on the bottom rack. This will provide steam for the cauliflower to cook.
Make Smoky Maple Spice Rub: To a small bowl add smoked paprika, garlic powder, dried thyme, cumin, coriander, ancho chili powder, salt, maple syrup and olive oil. Mix together until combined and set aside.
Prep Cauliflower: Rince and dry the head of cauliflower. Careful cut off the bottom stalk of the cauliflower without removing too much so the whole head stays intact. Peel off any remaining leaves and place the cauliflower in a cast-iron skillet or baking pan.

Season Cauliflower: Flip cauliflower upside down and add about 1/2 tablespoon of the spice mixture to the core, rub around. Flip cauliflower back over and pour remaining spice rub on cauliflower and rub all over until every inch is overed.

Roast Cauliflower: Place cast iron skillet in the oven and cook for 40-50 minutes, or until cauliflower is fork tender. (if you like your cauliflower a little softer then roast longer)
Rest: Remove the skillet from the oven and let rest for 5 minutes before serving.
Serve: You can serve the cauliflower as is or for a fun pop of flavor and color top with the avocado poblano sauce.
---
---
Nutrition
Serving Size:

1 cup + sauce

Calories:

374

Sugar:

57 g

Sodium:

328 mg

Fat:

11 g

Saturated Fat:

2 g

Carbohydrates:

63 g

Fiber:

3 g

Protein:

3 g

Cholesterol:

0 mg
Keywords: whole roasted cauliflower, oven roasted cauliflower, baked cauliflower, easy cauliflower recipes
Filed Under:
More Easy Cauliflower Recipes:
DON'T MISS A RECIPE ->