GF Turkey Stuffed Poblanos filled with fire roasted tomatoes & black beans then topped with melted cheese and an Avocado Crema to die for.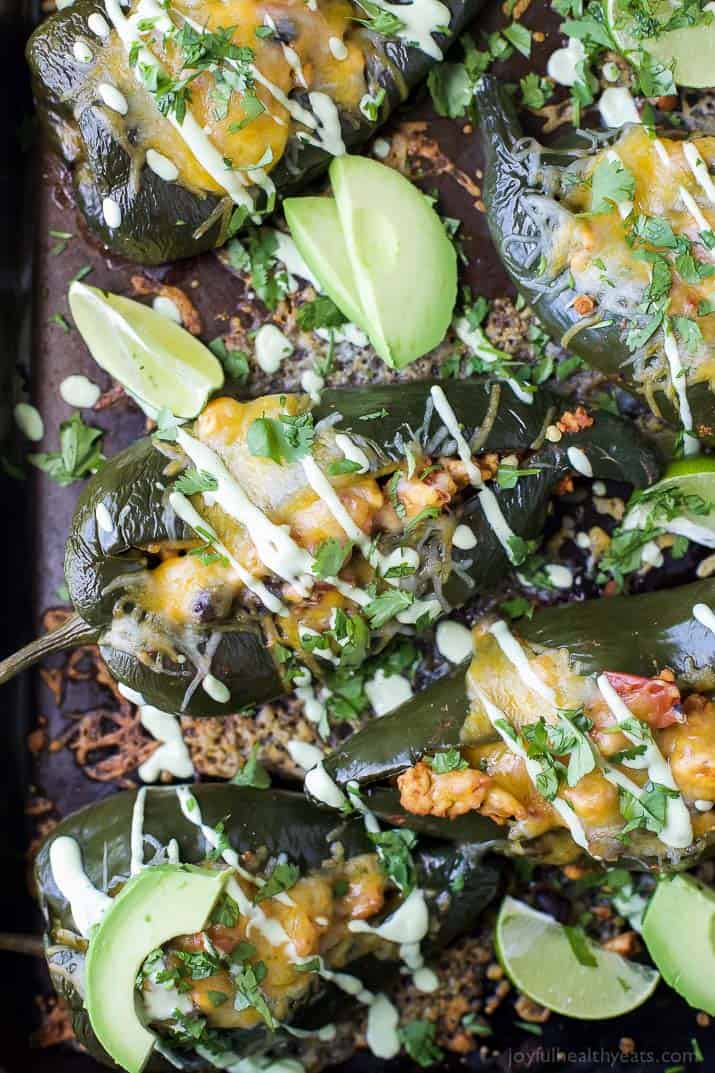 Turkey Stuffed Poblanos filled with fire roasted tomatoes and black beans then topped with melted cheese and an Avocado Crema to die for. A gluten free meal that will quickly become your families favorite!
This past week has been one big blur. As most of you know, I live in Houston, TX. A little over a week ago we were hit by Hurricane Harvey, which turned out to be a category 4 hurricane that hit the coast and then turned into a Tropical Storm once it made landfall. The problem with Harvey was it just literally "sat" on the Texas coast and didn't move. We were nailed by rain for 5 straight days. There was no place for the water to go, it just kept rising.
Many homes were flooded or completely covered in water. I actually heard of one rescue boat whose propellor actually hit a roof top during a rescue attempt. Power was lost for days. And flash floods and tornado warnings were constantly going off.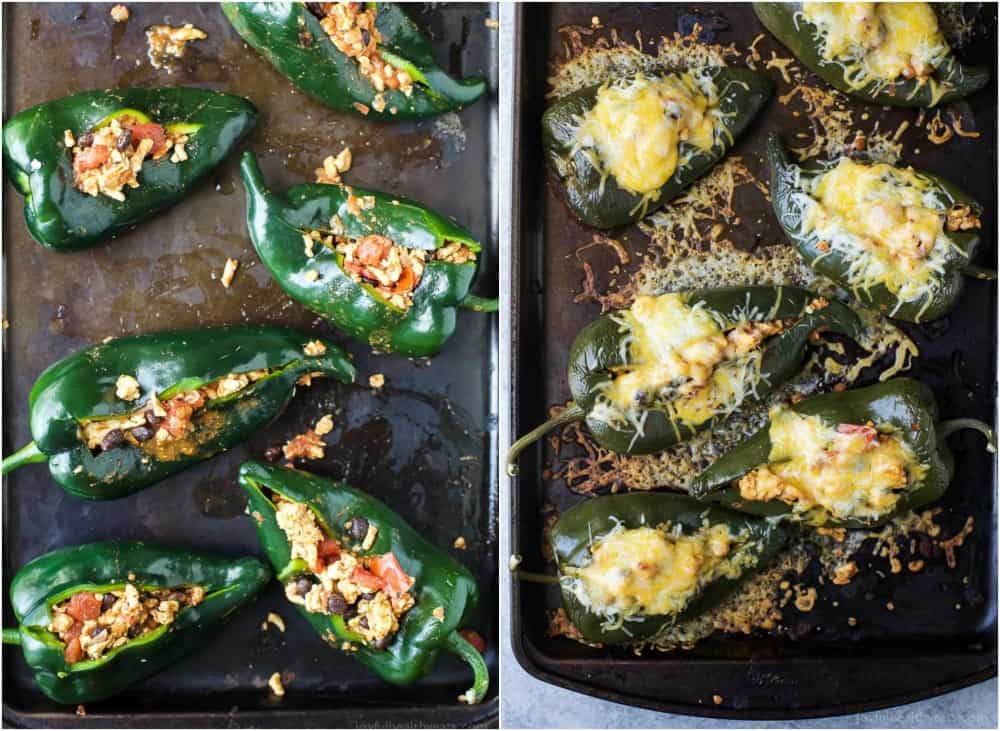 My in laws evacuated by boat on Monday night and crashed at our house. Luckily our home was not affected by flood waters and we still had power. Tuesday afternoon my father-in-law was able to make it back into the neighborhood and see the damage. Their house didn't have any water but my brother-in-laws had about 9″-10″ of water on their first floor. The water didn't come in through the doors, it came in through the walls so there was nothing they could do to stop it.
Luckily by Tuesday evening they were able to drive back to the house, saw that they still had power, the water in the house was gone (thanks to my father-in-laws hard work that day) so they decided to stay the night and start the cleaning process the next day.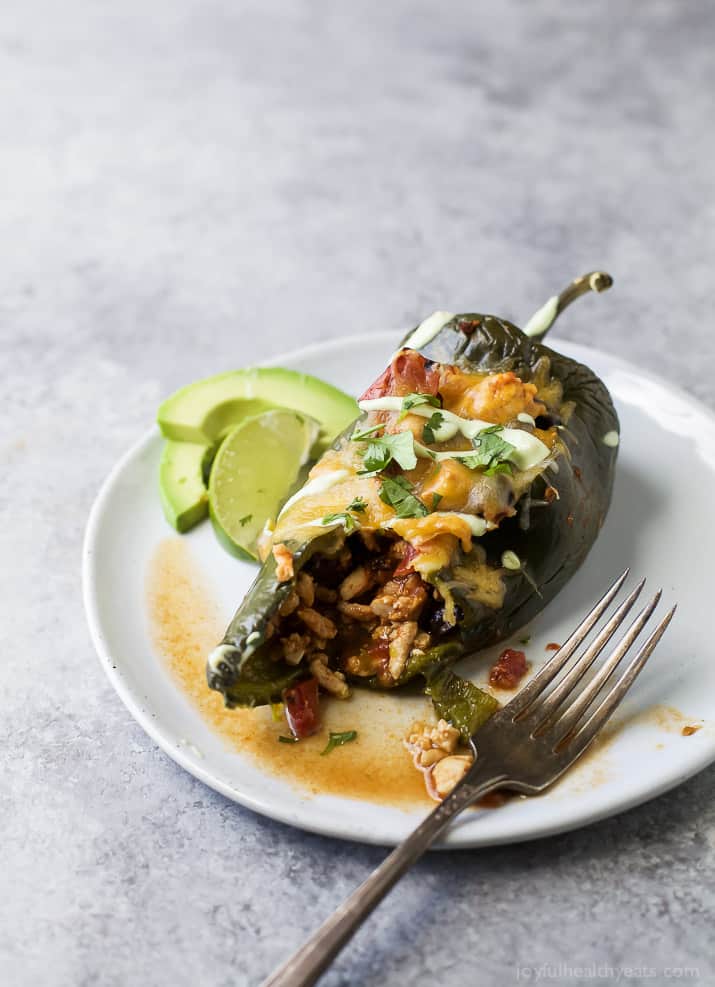 In the meantime, our church had set up a local distribution center and was working with the county commissioner to make it the "hub" of our area. So Wednesday morning we had loads of donations, put together lunches to then deliver to home owners and clean up volunteers, and then sent out tear down/cleanup crews to help tear out carpet, wood, furniture and dry wall. Basically anything that was damaged by the water.
It has been absolutely crazy. But so cool to get out in the community, talk to the people in need and either just listen to their story or get the chance to pray with them and bring hope in a time of loss. Our God is so big and to see the outpouring of love during all this was incredible!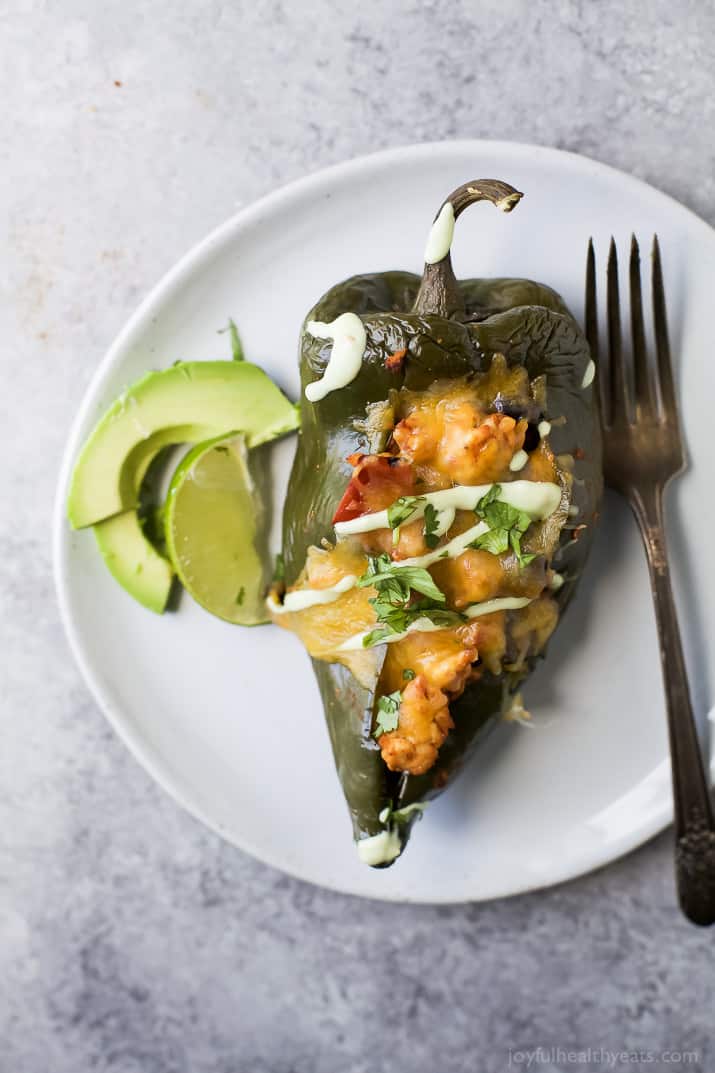 With all the crazy going on right now I have been making "comfort foods" like nobody's business. Coming home after a long day on my feet, all I want to do is chill out on the couch and eat something that makes me relax. So this week I made my Chicken Tortilla Soup, my homemade Creamy Tomato Basil Soup with Grilled Cheese, and then these Turkey Stuffed Poblanos with an Avocado Crema.
Growing up my mom use to make Stuffed Peppers at least once every two weeks, especially in the fall. It was one of my favorite meals because she'd stuff it with all kinds of good stuff! And these Stuffed Poblanos are no different.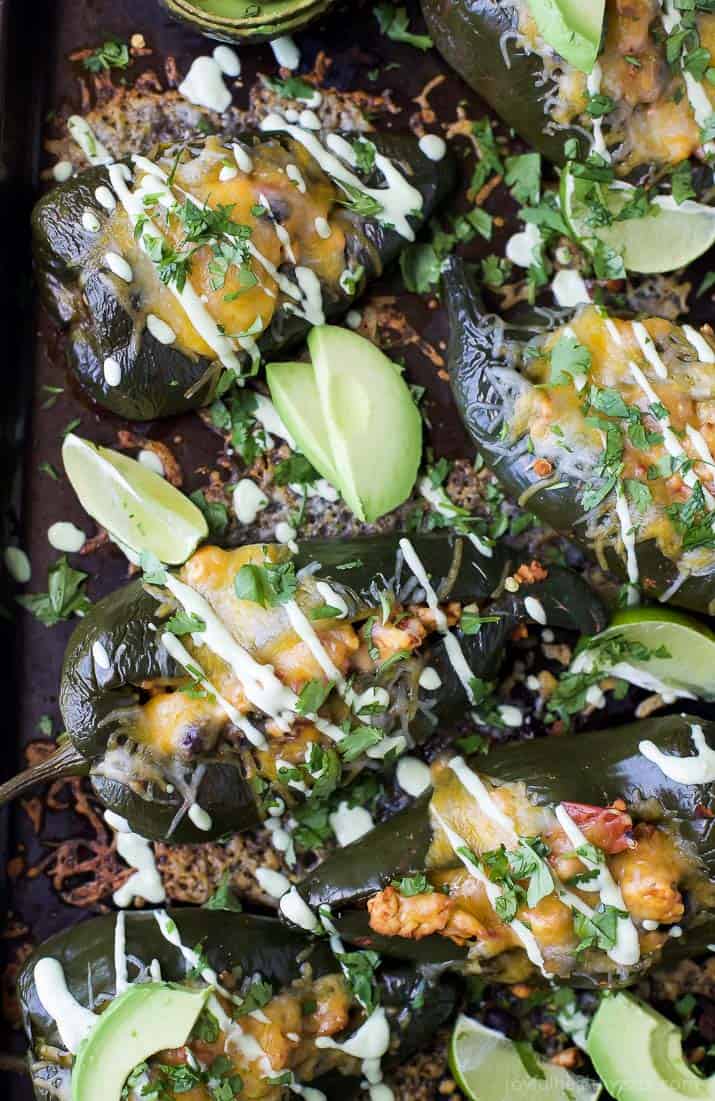 If you want your stuffed peppers to be killer you need to make sure your filling is on point. And this filling is definitely on point, it has a couple different spices to give it that nice "taco" flavor, fire roasted tomatoes for tang and to keep the meat moist, and then some black beans for nutrition.
I kept my poblanos whole and just slit them down the middle to fill them with stuffing. (if you want to cut them in half and fill them you could do that as well) Then I topped these bad boys with cheese and oh my yum is this good y'all! The flavor in the stuffed poblanos alone is great but I'm a sauce girl, so oh course I needed to add a sauce on top to finish this dish off. I topped it with an Avocado Crema made from greek yogurt, avocado, lime juice and a few spices.
It is absolutely amazing and perfectly comforting on a cold fall day (or in this case rainy day)! I guarantee you'll love it!
Bon Appetit friends!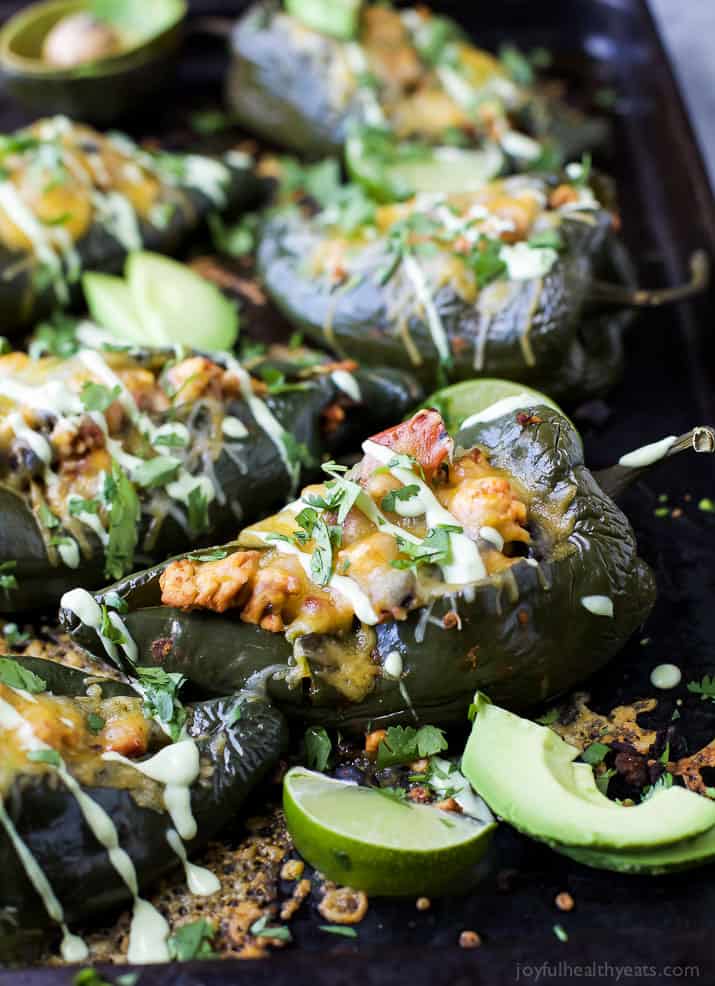 Ground Turkey Stuffed Poblanos with Avocado Crema
Author:
Krista @ JoyfulHealthyEats.com
Nutrition Information
Serving size:

1 stuffed poblano

Calories:

282
Fat:

12 g

Saturated fat:

3 g

Carbohydrates:

20 g

Sugar:

3 g

Sodium:

594 mg

Fiber:

8 g

Protein:

27 g

Cholesterol:

57 mg
Recipe type:
gluten free, poultry, kid friendly,
Prep time:
Cook time:
Total time: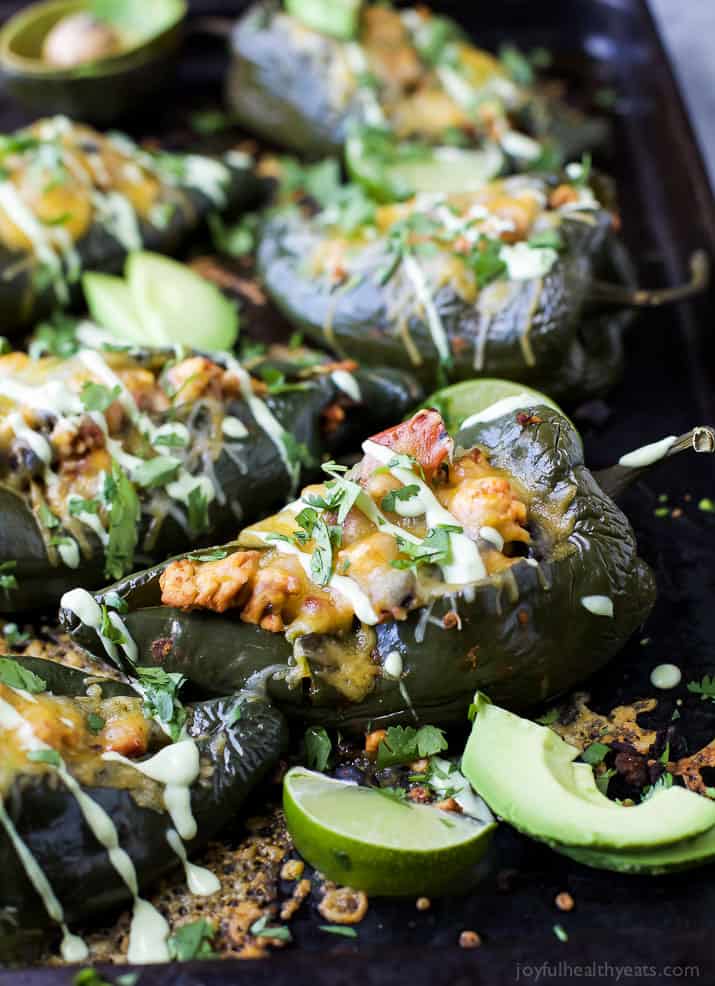 Turkey Stuffed Poblanos filled with fire roasted tomatoes and black beans then topped with melted cheese and an Avocado Crema to die for. A gluten free meal that will quickly become your families favorite!
Ingredients
Ground Turkey Stuffed Poblanos:
1 tablespoon grape seed oil
½ cup diced red onion
2 garlic cloves, minced
1 lb. ground turkey breast
2 teaspoons cumin
1 teaspoon smoked paprika
1 teaspoon chili powder
½ teaspoon salt
¼ teaspoon black pepper
½ cup low sodium black beans, drained and rinsed
14 oz. fire roasted diced tomatoes
6 poblanos
12 tablespoons shredded mexican cheese
Avocado Crema:
½ cup plain greek yogurt
1 avocado
1½ tablespoons fresh lime juice
¼ teaspoon ground cumin
¼ teaspoon red pepper flakes
¼ teaspoon salt
garnish: fresh cilanto
Instructions
Preheat oven to 350 degrees F.
Bring a medium skillet to medium high heat. Add grape seed oil and onions. Saute the onions until they are translucent, about 3-4 minutes.
Add in the garlic and saute for 30 seconds, or until fragrant. Next add ground turkey breast and cook until there is no more pink. About 5-6 minutes. Add in cumin, smoked paprika, chili powder, salt and black pepper. Stir to mix all the spices together.
Add black beans and fire roasted tomatoes to the ground turkey mixture. Mix everything together.
Slice about a 3-4" slit down each poblano pepper and stuff each pepper with the turkey mixture. Place stuffed poblanos on a baking sheet, stuffed side facing up.
Cover the baking sheet with a tin foil
Bake fro 35 minutes.
Remove from oven and sprinkle each pepper with 2 tablespoons of mexican cheese. Place poblanos back in the oven and bake for 5 minutes.
Remove from oven and let cool.
In the meantime, to a small food processor add greek yogurt, avocado, fresh lime juice, cumin, red pepper flakes and salt. Blend until mixture is combined and smooth.
Drizzle each poblano with avocado crema.
Garnish with fresh cilantro
IF YOU MAKE THIS RECIPE, BE SURE TO SNAP A PIC AND HASHTAG IT #JOYFULHEALTHYEATS. I LOVE SEEING WHAT YOU MAKE!
Want More Comfort Food Recipes?
Crock Pot Potato Corn Chowder with Roasted Poblanos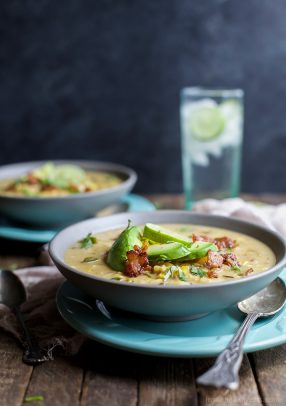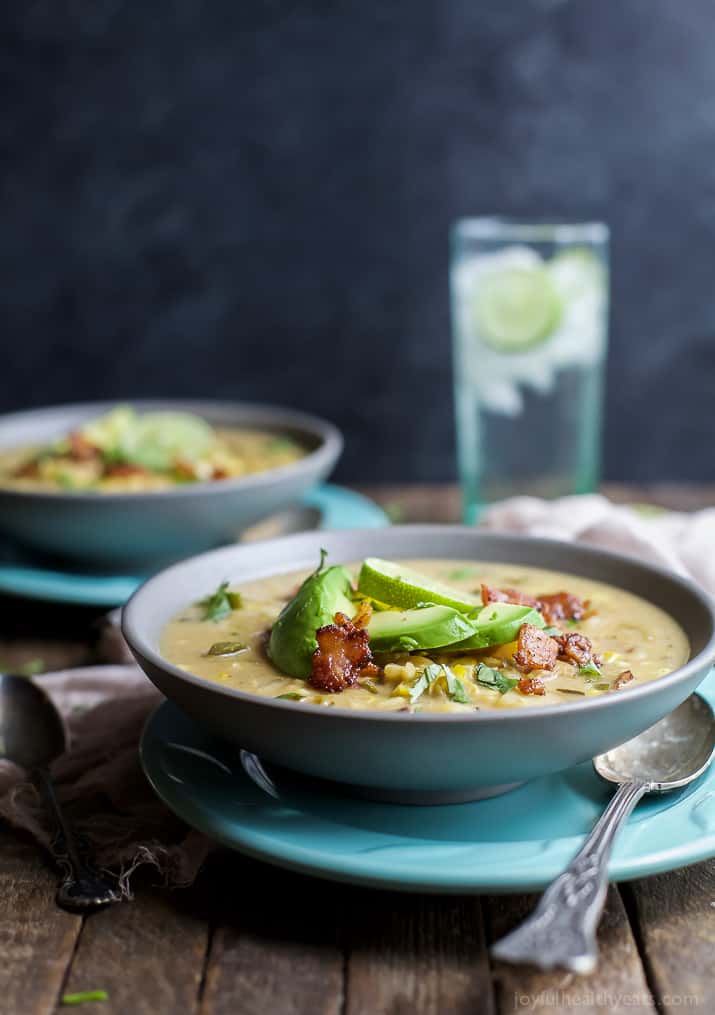 Creamy Lemon Pasta with Prosciutto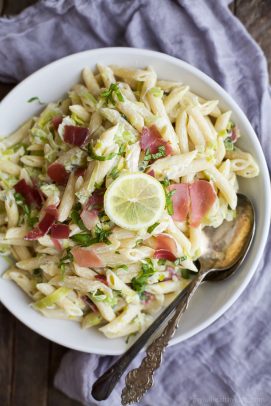 Roasted Fennel Cauliflower Soup with Crispy Bacon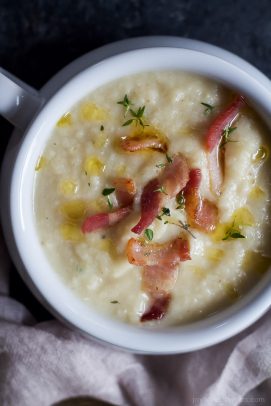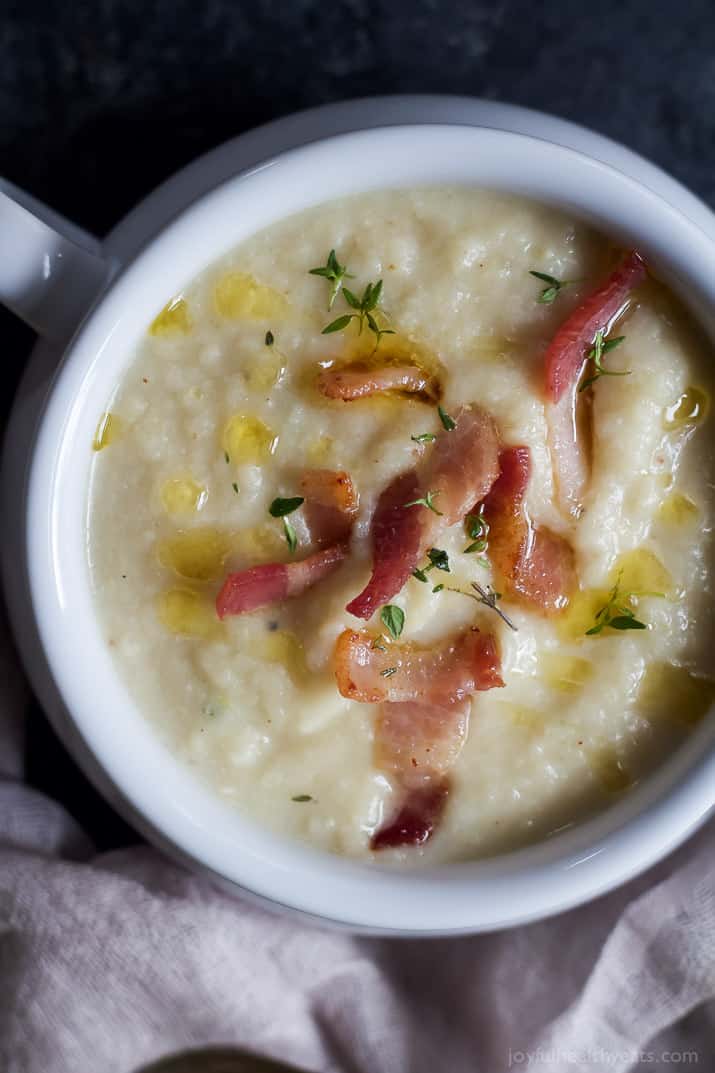 DON'T MISS A RECIPE ->